Stephania Bell:

New York Giants
October, 10, 2013
Oct 10
12:11
PM ET
The
New York Giants
travel to the Windy City to play the
Chicago Bears
in this week's Thursday night matchup. Here's a look at some of the injuries to key fantasy players heading into the game.
New York Giants
The winless Giants hope to turn things around Thursday. However, it will be a tough task for the Giants given the injuries on their roster. A few players already ruled out for the game include center
David Baas
(keeping them thin on the offensive line), cornerback
Corey Webster
(missing his fourth consecutive game, one of many injuries in the secondary) and starting running back
David Wilson
, who could miss more than Thursday night's game.
David Wilson, RB, neck (out):
Wilson is reportedly dealing with a disk-related problem in his neck, a source tells the New York Daily News. That's not surprising since
we said in this space Tuesday
that the "tingling" Wilson was experiencing reflected nerve involvement, which could be secondary to a disk injury.
ESPN's Adam Schefter reports that Wilson is expected to consult with renowned spine surgeon Dr. Robert Watkins on Monday to determine the next steps. The most obvious decision is whether Wilson will require surgery. Multiple factors go into making that choice, including the location and severity of current symptoms and whether there is significant risk involved with returning to play. Surgery would be season-ending, but if a conservative treatment course is the option, it could still be several weeks before Wilson is able to play.
This has a familiar ring to it. Last year around this time, former Giants (now Colts) running back
Ahmad Bradshaw
experienced tingling in his upper extremities after injuring his neck. He was found to have a bulging disk. He missed one week then returned to play. This year, Bradshaw experienced a recurrence of symptoms after Week 3 and is planning to undergo season-ending surgery. That is not to say this should be the expected course for Wilson, as there is extensive variability with these types of conditions. It is more a reflection of the overall bad luck the Giants have in terms of the health of their running backs.
It's worth pointing out that following Thursday's tilt, the Giants' next game is 11 days away (hosting the
Minnesota Vikings
for "Monday Night Football" in Week 7) followed by a Week 8 contest against the
Philadelphia Eagles
and a bye in Week 9. In Week 10,
Andre Brown
, on IR/designated for return with a fractured left fibula, could make his first appearance since the injury. Brown has begun running this week, a positive sign that the bone healing is satisfactory. Now it's just a matter of progressing his activity toward a return to football.
As for the immediate concern regarding who will be carrying the ball for the Giants on Thursday night, as ESPN.com's Dan Graziano
notes
, the Giants re-signed
Da'Rel Scott
to play alongside
Brandon Jacobs
, but they could also use rookie
Michael Cox
.
Brandon Myers, TE, ankle (questionable):
Myers has been physically banged up this season but has not missed any playing time. Still, he comes into Thursday night's game with a new ailment on the injury report (ankle), and his questionable status suggests he could be a game-time call. He was listed as a nonparticipant Monday when the Giants conducted a walkthrough, but he did progress to limited practice Tuesday and Wednesday.
Chicago Bears
The Bears are on a two-game losing streak, and perhaps in light of trying to ensure it is rested on a short week, the team did not practice Monday and conducted only walkthroughs in advance of the Thursday game. Since teams are still required to file injury reports, the listing of Bears players on this week's report represents
an estimation
of how much they would have done in a regular practice.
Alshon Jeffery, WR, ankle (probable):
Jeffery had a huge performance in Week 5 to the tune of more than 200 yards receiving and a score. No wonder his ankle needed a little rest. Given that the Bears kept it light for everyone on this short week -- and Jeffery was listed daily as a limited participant -- the probable tag tells us he's virtually certain to play.
Martellus Bennett, TE, knee (questionable):
Bennett has been on injury reports this season primarily because of the shoulder he injured in Week 2, but he has yet to miss a game. This week, it's a different ailment, his knee, although his shoulder is probably benefiting from the light walkthroughs on a short week as well. On Wednesday, coach Marc Trestman indicated that Bennett's status would be decided a few hours before game time, although he said he was
optimistic
regarding his availability. Fantasy owners will want to check before kickoff, but it's looking as if Bennett will take the field against his former team.
October, 8, 2013
Oct 8
2:39
PM ET
New York Giants
coach Tom Coughlin has removed any mystery as to running back
David Wilson
's status for Thursday night's game against the Bears: He will not play.
When Wilson left Sunday's game early with a neck injury, he did not seem overly worried. In fact, Wilson took to Twitter to say he passed all tests and the doctor was "just taking extra precaution." Still, it's hard not to consider any neck injury serious, given the structures in the area including discs, nerves and the vertebrae. Coughlin stated that Wilson experienced "some type of tingling" leading to his removal from the game, which suggests nerve involvement of some kind, even if temporary.
As ESPN New York's Dan Graziano
reported
earlier Tuesday, Wilson was out of practice Monday and Coughlin said the running back would need medical evaluation before being cleared to return. With the Giants playing on a short week, it seemed optimistic to think Wilson would be back. Graziano's report of the anticipated re-signing of
Da'Rel Scott
and Wilson's non-participation in practice Tuesday further hinted at his likely absence. As to how long the Giants can be expected to be without him, it is too soon to project given the lack of specificity regarding his injury.
September, 20, 2012
9/20/12
11:57
AM ET
This week's Thursday night game has the
New York Giants
visiting the
Carolina Panthers
. The Giants will be without two key fantasy players, running back
Ahmad Bradshaw
and wide receiver
Hakeem Nicks
. Although the news, especially the surprise downgrade of Nicks, had fantasy owners less than thrilled, the Giants thoughtfully informed everyone of this status change Wednesday, leaving ample time for roster adjustments. There is, however, at least one player in this contest whose status will come down to just before game time.
Running backs
[+] Enlarge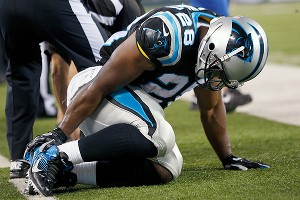 AP Photo/Julio CortezJonathan Stewart now has a toe issue in addition to his ankle injury that has bothered him the past few weeks and forced him to miss Week 1.
Jonathan Stewart, Carolina Panthers, ankle (Q):
Yes, it's Stewart who will be the game-time decision Thursday. After spraining his right ankle in the preseason, Stewart -- who has been on the injury report plenty but has rarely missed games in his career -- did not play in Week 1. Throughout the next week, coach Ron Rivera said Stewart was moving better in workouts, particularly with directional changes. Stewart made his season debut in Week 2, delivering 68 total yards and a score.
This week, however, Stewart remains on the injury report but with a notable addition, his toe. (Even though it is not listed on the official NFL injury report, Rivera talked about Stewart's toe limiting him in addition to his ankle.) The addition is of slightly more concern given Stewart's extensive history of foot injuries dating back to his University of Oregon days. He has not yet practiced, this is a short week (translation: less total rest for an ailing foot), and Rivera declared him a game-time decision. Because Stewart hasn't practiced this week, it's difficult to gauge how much the toe would impact him in a game, if at all. (The ankle did not appear to limit him last week.)
In Week 1, Stewart was showing some improvement by Friday, was listed as a game-time decision and then did not play. It doesn't mean he won't suit up this time, but Rivera told the Charlotte Observer, "It's one of those things where if we're playing on Sunday, he's got a much, much better chance than he does if we're playing on Thursday." Fantasy owners should be prepared to make a late lineup switch.
Ahmad Bradshaw, New York Giants, neck (out):
As noted above, Bradshaw has been ruled out for this game after suffering a neck sprain in Sunday's game. In
Tuesday's blog entry
, I mentioned the vague terminology used to describe Bradshaw's condition, and the Giants have left it at that. They have not shared the results from Bradshaw's MRI taken Monday, and he has not practiced. Given that a "sprain" typically refers to ligament or joint capsule damage and that there are double-digit numbers of tiny joints within the neck area, a literal interpretation of the diagnosis makes it impossible to localize the injury. In reality, it is often difficult to specifically localize spine injuries, as a big hit or awkward movement of the neck can affect many different structures simultaneously, even if only to a minor degree. In the absence of anything more definitive, the only measure of progress will be Bradshaw's function, as in when he is allowed to begin practicing and how his activity increases. Whether that will take several days or more than a week is unclear at this point, and the Giants likely won't provide any additional information until next week.
Wide receivers
[+] Enlarge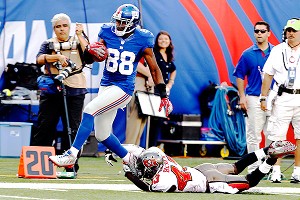 William Perlman/The Star-Ledger via US PresswireHakeem Nicks had 10 catches for 199 yards and a TD against the Bucs in Week 2 but won't be around to play Thursday night.
Hakeem Nicks, New York Giants, foot (out):
Since undergoing surgery to repair his fractured fifth metatarsal, Nicks has been very forthcoming about the status of his foot. After Week 1, when he saw limited action, Nicks acknowledged still experiencing soreness in the foot but told the Newark Star-Ledger, "It was maintainable. It wasn't excruciating pain or it wasn't extremely bad." He said, after talking to others who had been through similar surgeries, that he expected it would be sore for several weeks as he adapted to the repetitive loading.
In the days between the first and second game of the season, the Giants controlled Nicks' practice activity, clearly a wise move. Nicks broke loose in the second game to the tune of 199 yards and a score. He could be seen limping at one point but did return to the game. He later acknowledged being stepped on but downplayed the seriousness of the incident. Earlier in the week, although Nicks was listed as questionable, it appeared he would play, but lingering soreness Wednesday morning changed the minds of the decision-makers.
So how worried should fantasy owners be? Obviously, it would be preferable if Nicks felt fine and wasn't missing a game. Still, it's hardly time to panic. Nicks went from virtually two months of downtime during his recovery from surgery and missing virtually all of training camp and the preseason to playing in the season opener. His activity increased dramatically in the second week, likely contributing to some increased foot soreness. With the Week 3 game coming just five days later and Nicks experiencing pain, it would make sense to rest him now, giving his foot an additional 10 days to recover. The two-week downtime should help significantly. It would be a surprise to not see him in Week 4.
Domenik Hixon, New York Giants, concussion (out):
Hixon suffered a concussion in Week 2 and will miss Thursday night's game. The combination of Hixon and Nicks being out this week gives
Ramses Barden
a
chance to line up
opposite
Victor Cruz
.
Steve Smith, Carolina Panthers, knee (P):
Smith has had intermittent soreness in his right knee, and his status in Week 2 was less certain. This week, there is less doubt, but fewer numbers of practice reps will keep a player on the injury report (and given the short week, that comes as no surprise). Smith was held to limited practice Tuesday but was listed as a full participant Wednesday. With a probable designation, he is expected to play.
September, 5, 2012
9/05/12
12:00
PM ET
It's here! It's here! The excitement generated by the arrival of the first official NFL game of the season puts it on par with many a national holiday. Tonight's matchup between the Super Bowl champion
New York Giants
and one of their fiercest division rivals in the
Dallas Cowboys
is certainly buzz-worthy.
Nothing, of course, can compare to the launch of fantasy football rivalries worldwide. All the preparation, all the intense study, all the chatter, banter and braggadocio now comes down to the actual playing of games and the strategic setting of lineups. And what could be more threatening to an ideal lineup than injury concerns?
With those concerns in mind, here are the official injury report designations for Wednesday night's game, along with a few thoughts as to what it means for your fantasy teams.
Witten
Jason Witten, TE, Dallas Cowboys, (abdomen [D]):
Witten might have the most talked about spleen in the history of sports. After suffering a laceration to his abdominal organ in his first preseason game, Witten was put on strict rest to allow the spleen to heal. After escaping the original threat of surgery, the biggest risk for Witten is possible reinjury. Returning too soon before the spleen has returned to normal would make it vulnerable to retearing, which could lead to serious internal bleeding. In the worst-case scenario, it could present a life-threatening situation. It is with those concerns in mind that the decision about Witten's return to football have been made.
The good news is that Witten appears to have suffered the least serious form of injury (Jerry Jones referred to Witten's laceration as a Grade 1) and that he seems to be healing well (Witten returned to practice Saturday, although he was limited to noncontact). Still, the doubtful tag strongly suggests Witten will sit out the opener. With an additional 11 days until the Cowboys' second game, it seems likely that his season debut will be postponed for at least a week.
Nicks
Hakeem Nicks, WR, New York Giants (foot [Q]):
Nicks suffered a fifth metatarsal fracture in minicamp and immediately
underwent surgery to repair it
, giving him the best chance of being ready for the season opener. Despite being listed as questionable, Nicks is
expected to play Wednesday night
, according to ESPNNewYork.com's Ohm Youngmisuk.
Nicks has been working his way back from the surgery throughout the preseason, gradually increasing his activity and only joining the team in practice in mid-August. He did see game action, albeit very limited, in the team's preseason finale. Some soreness in the foot kept him out of practice for several days afterward, raising some eyebrows as to his game status. Nicks did return to a limited practice Tuesday, and for his part, he has insisted he will play.
Soreness post-surgery, especially as workload is ramping up, is not unusual. The bigger challenge for Nicks initially will be performing at game speed for an entire game after seeing only limited reps throughout the preseason. Nicks has certainly played and performed well through
significant discomfort in the past
. It may take a bit to get his football conditioning back to where he expects it to be, but the foot will not keep Nicks from seeing the field tonight.
Bryant
Austin
Miles Austin (hamstring) and Dez Bryant (knee), WR, Dallas Cowboys, (P):
Austin has been sidelined for much of the preseason, just as he was last year, by a balky hamstring. In 2011, Austin started the season on time but was injured again by Week 2. Ultimately, injuries to both hamstrings resulted in six missed games.
The big question headed into this season was how well his hamstrings would hold up, a question that got an unfavorable response when Austin felt the hamstring act up during practice in early August. That was enough for the Cowboys to decide to hold him out the rest of the preseason. Instead, Austin worked out on his own and under the watchful eye of the rehab staff until he returned to full practice late last week. He is expected to start Wednesday night and there will no doubt be fingers crossed that he makes it through the game unscathed. There is no doubt that Austin is productive when he's on the field; the concern is whether his legs will support him for a full season.
There is equal concern about whether Austin's teammate Dez Bryant can stay healthy. Bryant has dealt with ankle and thigh injuries over the past two seasons and this preseason did little to quiet the concerns. Bryant was limited by a sore hamstring early in camp. Midway through August, he suffered a separate injury during practice involving his right knee. Tests showed no apparent significant structural damage and the team termed Bryant's condition as patellar tendinitis, something not typically associated with an acute injury. In any event, he remained limited in practice until just last week. Bryant is expected to play Wednesday night, but the concern going forward is whether the knee will flare up again sooner rather than later.
Bradshaw
Ahmad Bradshaw, RB, New York Giants (hand [P]):
Bradshaw underwent another procedure on his ailing foot in the offseason, which he believes helped him turn the corner in what had become a chronic pain situation. After suffering a stress fracture in his foot near his surgically implanted screw during the season, Bradshaw underwent a procedure this spring that involved injection of a stem cell paste (utilizing his own cells drawn from bone marrow in his hip) into the foot. During my visit to Giants camp, Bradshaw told me he felt like he was running "free and easy," adding that it was the best he had felt in a long time. In fact, it was the first camp in which he had been able to run and practice every day without hesitation.
Then came the Giants' second preseason game and Bradshaw exited early, not because of a problem with his foot but because of an injury to his right hand, the result of a hit to another player's helmet. According to The (Newark) Star-Ledger, Bradshaw said afterward that he popped a cyst on the top of his hand, near his index finger. Nothing was broken and the injury was minor. Still, the Giants held Bradshaw out of the final two preseason games as a precaution.
Bradshaw is listed on the injury report because of his hand, not his foot, which is a good thing. He was a full participant in practice in the days leading up to this first game of the season. At probable, he is expected to play and there are no real concerns that this will impact his performance.
Murray
DeMarco Murray, RB, Dallas Cowboys (wrist [P]):
Murray's 2011 season ended early when he fractured his right ankle, but he bounced back after surgery to deliver a
strong training camp and preseason performance
. In the Cowboys' preseason finale, Murray banged his hand and thus is listed on the injury report. Murray did re-enter the game briefly and has practiced fully all week, so this is not a major concern. Expect Murray to be a full go for the season opener.
December, 31, 2011
12/31/11
2:19
PM ET
It's finally here! The last week of the NFL regular season is upon us and there is chaos everywhere. Who's resting? Who's playing? Who's playing a series, a quarter, a half, the entire game and into overtime if need be? This might be the most challenging week for fantasy owners making key sit/start decisions. Multiple variables factor into which players will rest and which will roll Sunday, but fortunately there are a few clues in the Friday team injury reports to help guide us.
Good luck in Week 17, everyone! May your players stay healthy and win for you.
Quarterbacks
[+] Enlarge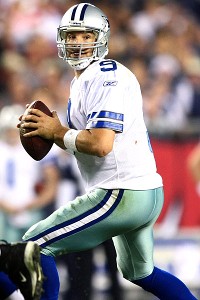 Douglas Jones/US PresswireWith the Cowboys' season on the line, expect Tony Romo under center.
Ben Roethlisberger, QB, Pittsburgh Steelers, ankle (P):
Roethlisberger practiced fully all week and is expected to play. He indicated the week off had allowed his ankle some recovery time and felt better moving around this week. The bigger question might be how long he remains in the game. At stake for the Steelers is a bye in the first round of the playoffs and home-field advantage (which also depends on the outcome of the Ravens game), so there is little doubt that they would like to secure a victory. But Roethlisberger, while improving, is not past the injury and there is no telling how the ankle will respond as the game progresses. If the Steelers get a big lead early, it leaves the possibility that Roethlisberger's day might be shortened. Of course, that might also mean fantasy owners would have gotten their points' worth by that time.
Tony Romo, Dallas Cowboys, hand, (P):
The probable tag tells you all you need to know: The Cowboys plan on having Romo under center. As far as the injury itself, on Thursday we noted the issues Romo could face if swelling persisted
in his bruised hand
. Obviously Romo has shown through the week of practice (in which he participated daily on a limited basis) that he can handle the duties. The game is too important to the Cowboys to have him out there at a significant disadvantage. As long as he doesn't aggravate the injury during the game, Romo should be able to function, just as he has through other ailments.
Tom Brady, New England Patriots, shoulder, (P):
On Thursday
we discussed
the non-separated non-throwing shoulder of the Patriots' quarterback. After sitting out Wednesday's practice (non-injury-related, according to the Patriots), Brady, while limited, did enough in Thursday and Friday's practice to demonstrate he could play. With 16 other Patriots listed as questionable and Brady holding the only probable designation on the team, it's clear they expect to have him on the field Sunday. According to ESPNBoston.com, teammate
Wes Welker
hints at Brady playing the entire game. From an injury perspective at least, it does not appear the shoulder will be a factor.
Christian Ponder, Minnesota Vikings, concussion, (P):
Ponder left last week's game early with a concussion but was cleared to return to practice by Wednesday. After putting in full practice sessions all week, Ponder is expected to start Sunday.
Kevin Kolb, Arizona Cardinals, head, (Q):
Kolb is still experiencing concussion-related symptoms when trying to practice.
John Skelton
will start again.
Running backs
[+] Enlarge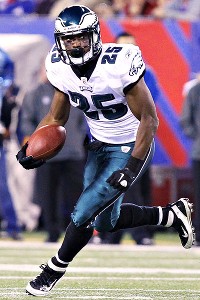 Debby Wong/US PresswireLeSean McCoy should get his usual touches in Week 17.
LeSean McCoy, Philadelphia Eagles, ankle, (Q):
The questionable designation is a bit mysterious since even coach Andy Reid has indicated that McCoy is expected to play Sunday. Naturally this allows for any pregame setbacks. But McCoy was a full participant in Friday's practice after a day of rest Wednesday and a limited workout Thursday. There seems to be little doubt that McCoy will play and will be given the ball plenty Sunday.
Chris Johnson, Tennessee Titans, ankle, (Q):
Johnson's ankle is in better shape after another week of healing time. He did not practice Wednesday or Thursday but was back to full practice Friday. The Nashville Tennessean reported that Johnson said he was having trouble just walking on the ankle last week. Johnson indicated the ankle was much improved this week and that the rest early on helped prevent setbacks. It seems a healthier Johnson would want to end his season on a much brighter note. It remains to be seen how effective he can be against the
Houston Texans
, although there is admittedly little at stake, considering their playoff berth is secure.
Arian Foster, Houston Texans, knee, (P):
There is no real injury concern with Foster here, other than the
potential
of suffering one if he plays too long in Week 17. It's hard to imagine the Texans, who have been so decimated by injuries at numerous key positions this year, risking Foster for an entire game. Foster can clearly score even in a short time but expectations for him putting in a full workload should be tempered.
Ahmad Bradshaw, New York Giants, foot, (P):
Bradshaw is following the same pattern of limited work during the week and playing Sunday. Expect him to play again in this critical Sunday night matchup against the Cowboys.
Felix Jones, Dallas Cowboys, hamstring, (Q):
Despite the questionable tag, Jones is expected to start Sunday night in a game in which the Cowboys' season hangs on the brink. Jones was removed early from last Sunday's game, which was perhaps the best move for his tight hamstring. He was able to return to daily limited practice this week and the Cowboys are planning on him being the featured tailback. His hamstring will not be fully tested until the game but the conservative approach so far in managing his work over the past two weeks will hopefully pay off now.
Kevin Smith, Detroit Lions, ankle, (P):
Smith still appeared to be struggling with his ankle to some degree in Week 16 but he was on the field. Smith practiced fully all week and at probable, is expected to play. The question is how much the Lions plan to use him.
Joique Bell
was signed by the Lions this week as insurance but coach Jim Schwartz has been vague as to whether he would actually play in Week 17.
Ryan Mathews, calf, (Q) and Mike Tolbert, hamstring, (P), San Diego Chargers:
Earlier in the week it seemed Mathews was faring better with his injury concerns than Tolbert. That seems to have changed Friday. Mathews sat out Wednesday with a sore calf but participated to some degree Thursday. Post-practice soreness led the Chargers to give Mathews another day off Friday in the hope he'd be well enough to play Sunday. Even if active, his response to Thursday's light workout suggests he could struggle to get through an entire game. And this is nothing new. Mathews dealt with a calf injury in October but benefited from a bye week immediately afterward. His status will not likely be known until game time. If he plays, he will be sharing with Tolbert who was bothered this week by a sore hamstring. Tolbert did not practice until Friday but participated in a full workout his first day back. Barring a setback, listed as probable, Tolbert will play.
Roy Helu, Washington Redskins, toe/knee, (Q):
Helu says he feels better this week after sitting out Week 16. But
Evan Royster
delivered such a solid performance in his absence, it's hard to know how the workload will be divided even if Helu plays. Tricky.
Maurice Jones-Drew, Jacksonville Jaguars, ankle, (P):
Jones-Drew has been remarkably durable this season and leads the league in rushing. So much for those who doubted him before the season began. He can help increase his chances of securing that title by playing Sunday, which he is fully expected to do. After getting some rest for his ankle Wednesday and Thursday, Jones-Drew turned in a full practice Friday.
Peyton Hillis, Cleveland Browns, elbow, (P):
It's no secret to fantasy owners how much the injury bug has impacted Hillis this season. Now he's on the report because of his elbow but the Browns plan to have him on the field after he put in limited practices daily. Hillis faces a tough Steelers defense but undoubtedly would like to finish the season strong after what can otherwise only be called a disappointing year.
Chris "Beanie" Wells, Arizona Cardinals, knee, (Q):
Again Wells is listed as questionable for the Cardinals but again he is expected to play. The Arizona Republic reports Wells is likely to have offseason surgery on his right knee, not entirely unexpected given the chronic irritation he has dealt with since injuring his knee in Week 6. Still, with one final outing awaiting him, Wells is expected to gut it out once more.
Shonn Greene, rib/shoulder and LaDainian Tomlinson, quadriceps, (P):
Greene has been playing through the rib injury for weeks and will do so again. Tomlinson has a sore quad that kept him out of practice Wednesday but he returned to full practice Thursday and Friday. The probable tag for both indicates the Jets expect them to play.
Michael Turner, Atlanta Falcons, groin, (P):
The groin injury has kept Turner on the injury report and appears to have hampered his effectiveness in the latter portion of the season. Nonetheless, the probable tag indicates the Falcons are planning on him being in Sunday's lineup, although how much time he'll see is questionable.
Marion Barber, Chicago bears, calf, (D):
Barber is again listed as doubtful, making Kahlil Bell the feature back for the Bears again Sunday.
Wide receivers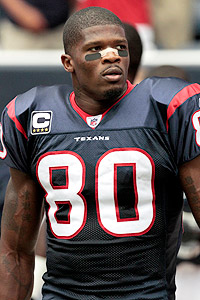 AP Photo/Bill BaptistFeeling lucky? Andre Johnson's status could be dicey.
Andre Johnson, Houston Texans, hamstring, (P):
Johnson will play; this much coach Gary Kubiak has indicated. Kubiak also shared that Johnson is likely to be restricted to approximately 15 to 20 plays. From a health standpoint Johnson appears ready, but how much can he do for fantasy owners in that window? That, friends, is the roll of the dice inserting Johnson into your lineup will require.
A.J. Green, Cincinnati Bengals, shoulder, (P):
Green suffered a third-degree shoulder separation in Week 15 but returned to finish the game. He was active in Week 16 and although his numbers weren't extraordinary, he did make an impressive catch while well-defended, suggesting the shoulder was not holding him back. Another week of recovery should only help. After limited practice Wednesday and Thursday, Green returned to a full practice Friday and, at probable, is expected to face the Ravens on Sunday.
Laurent Robinson, Dallas Cowboys, shoulder (P):
Robinson practiced fully each day and will be in the lineup again Sunday night.
Mike Wallace, Pittsburgh Steelers, ankle, (P):
Wallace was limited Wednesday but fully practiced Thursday and Friday. At probable, the Steelers plan on having him Sunday.
Calvin Johnson, Detroit Lions, Achilles, (P):
Johnson rested Wednesday and Thursday but returned to limited practice Friday. At probable, he is expected to play Sunday at Green Bay.
Mario Manningham, knee and Hakeem Nicks, hamstring, New York Giants, (P):
Manningham has struggled off and on with swelling in his knee but managed to practice every day this week. Nicks has been dealing with a hamstring issue but insisted early in the week it would not keep him down. After resting Wednesday and Thursday, Nicks returned to a limited workout Friday. Both players are now expected to be available in the game that will determine whether their season continues or ends abruptly.
Brandon Marshall, Miami Dolphins, knee, (P):
Marshall played through the knee soreness in Week 16 just fine and is expected to do so again Sunday. Marshall practiced on a limited basis Wednesday and Thursday but was back in full practice Friday.
Vincent Jackson, San Diego Chargers, groin, (P):
Jackson did not practice until Friday as he rested the sore groin that plagued him last week. He was available for a full workout Friday, however, and the Chargers obviously feel confident he will go against the Raiders this Sunday. It's worth noting that Jackson has typically played well despite injuries in the past but was clearly not up to par in Week 16. The layoff during the week no doubt helped move him along and with the team feeling more confident about his status this week, Jackson is presumably faring better.
Wes Welker, knee and Deion Branch, groin, New England Patriots, (Q):
Both Welker and Branch were listed similarly last week and both played without limitations. While the receivers are being kept to limited work during the week, both are expected to be on the field again in Week 17. That is, of course, unless the Patriots decide to surprise us all and rest their starters. Welker told ESPNBoston.com that he expects to play all four quarters. Fantasy owners would be wise to check pregame inactives just in case.
Santonio Holmes, New York Jets, hip, (P):
Holmes was an addition to the Thursday injury report after being limited in practice but coach Rex Ryan said they expected him to be ready by Saturday. The probable tag supports that and fantasy owners can put him in their lineups.
Jacoby Ford, Oakland Raiders, foot, (Q):
Ford is looking to make his return after missing the last seven weeks because of a foot injury. He was able to practice on a limited basis all week but has yet to test his foot in a game situation. While he presents another option for
Carson Palmer
, it is unclear how much Ford would be utilized after missing so much time, and with Denarius Moore demonstrating last week that he is back to full strength.
Anquan Boldin, Baltimore Ravens, knee, (D):
Boldin underwent knee surgery last week and missed Week 16. Originally projected by the Ravens to miss the remainder of the regular season, it was a bit surprising that he was not officially ruled out in advance of this week's game. Perhaps that was due to the encouraging sight of Boldin back in practice Friday, albeit on a limited basis. The doubtful tag confirms though that Boldin is likely to be out again this week.
Tight ends
Jermichael Finley, Green Bay Packers, knee, (P):
Finley didn't practice early in the week but managed to make it back to limited workouts Thursday and Friday. At probable, he is expected to play but the Packers have already hinted at resting a number of their starters. It does not seem likely that Finley will play the entire game.
Dallas Clark, Indianapolis Colts, neck, (Q):
Clark missed the last two games after suffering a stinger-type injury but was back in full practice for the first time this week. It would seem he has a chance to play, but check the pregame inactive list to be sure.
Anthony Fasano, Miami Dolphins, head, (P):
Fasano missed Week 16 with a concussion but returned to full practice daily this week and is expected to play.
Owen Daniels, Houston Texans, knee, (P):
Daniels only practiced on a limited basis and although he is expected to play Sunday, that too may be on a limited basis. The Texans already have their playoff berth secure and may want to limit the risk exposure for their key starters.
OUT
This space is intended for a list of key fantasy players, not including those who have been moved to injured-reserve status, who are officially listed as "out" for the upcoming game.
Reggie Bush, RB, Miami Dolphins, knee:
This one is a bit surprising since Bush made it seem like the injury was not a big deal. He never was able to practice this week, however, so with the Dolphins out of contention, resting him Sunday seems wise.
Greg Jennings, WR, Green Bay Packers, knee:
Since spraining his MCL three weeks ago, it always seemed the Packers would keep him sidelined until the playoffs. Jennings has returned to running but will not see game action again until the postseason.
James Starks, RB, Green Bay Packers, knee/ankle:
Starks has struggled to get his ankle healthy, suffering multiple setbacks over the last month. The decision to hold him out in advance of the playoffs is no surprise.
Mark Ingram, RB, New Orleans Saints, (toe):
As noted Thursday, Ingram suffered a setback to the toe in practice this week and it sounds as if it could be a problem for the playoffs. All fantasy owners need to know is that it will be a problem for this week, as in, he won't play.
Lance Moore, WR, New Orleans Saints, (hamstring):
Moore suffered an in-game setback with his strained hamstring in Week 16 and was forced to leave the game early. After not practicing at all this week, Moore's status for this Sunday is not surprising, especially with the playoffs looming for the Saints.
Darren McFadden, RB, Oakland Raiders, (foot):
McFadden isn't coming back after all, at least not during your fantasy season. He might not be available during the playoffs, either, but first the Raiders have to get there.
Jackie Battle, RB, Kansas City Chiefs, foot:
Battle was in a walking boot mid-week and never really seemed as if he would be ready to play.
Jake Ballard, TE, New York Giants, knee:
Ballard injured his PCL and, as expected, will miss the game again this week.
Delanie Walker, TE, San Francisco 49ers, jaw:
Walker left Week 16's game holding his jaw after inadvertently getting kicked in the head, and a break was later confirmed.
Be sure to check out Fantasy Football Now, Sundays on ESPN2 at 11:30 a.m. ET, and Fantasy Surround on ESPN.com starting at 10 a.m. ET Sunday for last-minute inactives, rankings, injury impact and more!
August, 11, 2011
8/11/11
5:46
PM ET
I started off this week with a visit to
New York Giants
training camp. Here are some observations from my evening in East Rutherford, N.J.:
The Giants made some adjustments to their training camp this year as a result of the lockout. The primary change is the actual location of the camp; this year it's being held locally at their training complex, the Timex Performance Center in East Rutherford, instead of Albany, New York. Having never been to this facility before, I was in for a treat when the weather and the time of day cooperated to create a picture-perfect backdrop. From the sideline of the practice field, I enjoyed the comfortable early-evening temperatures -- certainly the players had to be thankful practice was not at high noon when it was approaching 90 degrees -- while taking in the sight of the grand new stadium just off to the left. To the right, off in the distance, the postcard-like view of the Manhattan skyline shone brightly as the glass from the skyscrapers reflected the sharp glare of the setting sun. In fact, I wondered if the Giants players ever paused to admire the glorious outdoor "office" where they go to work each day.
My quiet admiration of the view was interrupted, however, by a workout that was up-tempo and intense. There was alternate yelling and cheering, by both coaches and players, as plays were either missed or made, and no one was taking it easy. With the new collective bargaining agreement, teams are now relegated to one full-contact practice a day. Combine that with the fact that there is an unspoken sense of urgency to get familiar with the playbook, the rulebook and, to some degree, each other (new free-agent acquisitions and rookies have been with their teams for days, not weeks), and it's easy to see why every minute of practice is valuable.
And to be honest, the main reason the Giants were on my list of camps to attend was because they had quite a few injuries to check on. The Giants have a number of key players returning from injury, and just in the few days since camp has opened, the injury list has expanded. Rookie
Prince Amukamara
fractured the fifth metatarsal in his left foot Saturday, requiring surgery and an expected absence of at least six weeks. Defensive end
Osi Umenyiora
, already at odds with the team over his contract, is having issues with his knee again. He spent the early portion of practice gently pedaling a stationary bike, then stood with teammates and watched drills after that. Just how extensive his injury is and how much, or how long, it will limit him are unclear, but he will reportedly
consult with a specialist Thursday
.
Meanwhile, wide receiver and popular
Eli Manning
target
Steve Smith
, coming off microfracture surgery, was already targeted for the PUP (Physically Unable to Perform) list and a delayed start, but now he's permanently unavailable to the Giants after signing a one-year deal with the
Philadelphia Eagles
. The same can be said for tight end
Kevin Boss
, who just signed with the
Oakland Raiders
. His expected replacement at tight end,
Travis Beckum
, has been nursing a hamstring injury. The Giants could use Beckum, who played in every game last season, in a multitasking role on offense (tight end, receiver) ... if he's healthy.
But fantasy football enthusiasts are perhaps most interested in the players below, the guys who will be running and catching the ball on Sundays. Here's who I was tracking and what I saw, from an injury perspective: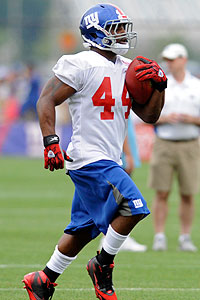 AP Photo/Bill KostrounAhmad Bradshaw has been getting plenty of touches in camp.
Ahmad Bradshaw, RB:
Bradshaw underwent surgery on his left ankle in the offseason (February, to be precise), a procedure that was reportedly similar to what he underwent last year on his right ankle. Of course, Bradshaw also had procedures on both feet in 2010, so this must have seemed relatively minor.
Bradshaw looked nimble and quick in practice. He was very involved in the offense, including on numerous short-yardage passing plays, hinting that he will touch the ball frequently in 2011. He seemed intent on ball-control, often tucking the ball in protective fashion as he moved through a crowd of defenders. Most notably to me, he made sharp cuts and showed agility while eluding would-be tacklers on several occasions. It was good to see Bradshaw's speed and ease of directional change on display early in camp.
Hakeem Nicks, WR:
Nicks missed a few weeks last season after undergoing a fasciotomy to relieve pressure in his lower leg. Nicks made an excellent recovery and returned to play well. He wasn't done with the injuries, however. He ended up breaking the big toe on his left foot and did not play the final week of the season. Nicks had reportedly looked strong at some of the player-organized workouts, but it was worth seeing for myself. Nicks ran well and looked capable, making a couple of spectacular catches.
Mario Manningham, WR:
Despite a few nicks and bruises last season, Manningham played in all 16 games. With Smith now departed, he's expected to step up, and he played the part in the practice I saw, getting plenty of action with the first team, lining up opposite Nicks.
Domenik Hixon, WR:
Hixon is on the mend from ACL reconstructive surgery and is rotating days of practice with days of rest. He was watching practice when I attended, reviewing plays with fellow receivers during drills, seemingly engaged despite not being able to participate. It was just one year ago, less than a full day into practice at the New Meadowlands Stadium, when Hixon's ACL gave out on him, ending his season prematurely. He has been working out his knee ever since and hopes to showcase his talents this year. It is not immediately clear where Hixon sits on the WR depth chart, but he has value as a kick returner. Sometimes the long return from an injury such as this inspires a player to a new level of achievement, and that could be the case here. Hixon told me he's eager to return, saying, "I can't wait to put my uniform back on."