Stephania Bell:

New York Mets
September, 17, 2013
9/17/13
11:11
AM ET
When Mets third baseman
David Wright
injured his right hamstring in early August, the team indicated he could miss somewhere on the order of three to five weeks. Given the severity (Grade 2, or moderate), some thought it would be wise for the Mets to shut him down and start fresh next year. For his part, Wright made it clear that it would go against everything he believed in if he just put a lid on the season.
The concern on the part of fans is understandable. Why rush a player back to a team that's out of contention and risk a setback and a potentially more serious injury?
The key word is "rush." As long as there was no pressure, no "rush" to return, Wright's goal of returning is not only admirable, it is smart. If an athlete is healthy enough to return to competition, why not have him do so? The risk of
not
returning is going the entire offseason with the question mark of wondering how the leg will respond all that time later.
It sounds as if Wright's progression has been logical and step-wise. He began fielding ground balls last week, followed by baserunning days later. The next step was batting practice, and now he appears to be knocking on the door of a return to the lineup. Of course, with hamstrings there is no way to know if one is truly healthy until the athlete returns to competition ... and gets through it without a setback.

Wright has done all of the right things to work his way back and is now a little more than six weeks post-injury. It's hard not to get excited about a hardworking, highly motivated athlete as part of a fantasy lineup. Wright could rejoin the Mets during their series this week against the San Francisco Giants, and it sounds as if he plans on playing just as he always does. Hopefully, his rehabilitated hamstring will cooperate.
August, 27, 2013
8/27/13
4:45
PM ET
The New York Mets certainly have had their share of discouraging news recently.

Third baseman and face of the franchise David Wright suffered a significant right hamstring injury in early August. Although he is working diligently to return, it is far from a foregone conclusion that he will.

Closer Bobby Parnell has been dealing with a herniated disk in his neck since July, and he is still weighing whether to undergo season-ending surgery.

Now add ace Matt Harvey to the list. He was diagnosed with a partial tear of his right ulnar collateral ligament (UCL) and is on the disabled list. The bigger question is whether he will stay on the DL through 2014, a likely outcome should he require Tommy John surgery.
[+] Enlarge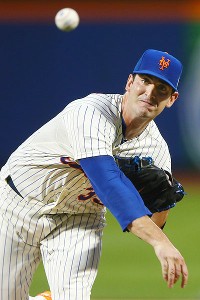 AP Photo/ElsaMatt Harvey could undergo Tommy John surgery but has yet to make a decision on what to do with his injured elbow.
The surgery has become so familiar that most know what is reasonable to expect following the procedure. Major league pitchers typically take a year to return to competition after undergoing a deliberate rehab process, although that timetable can vary by weeks or even months in either direction, depending on the individual.

When a pitcher suffers a blowout injury (actually not that common), the decision for surgery is fairly easy to make. More often, however, the picture is clouded by inconsistency in terms of both pain and function, along with incomplete damage to the ligament itself. In Harvey's case, he was diagnosed with a partial tear of the ligament, and he noted when speaking to reporters after receiving the news that his pain primarily has been in the forearm. He seemed surprised to learn the ligament was involved.
While some are suggesting he should waste no time and go immediately to surgery, the decision to wait and re-evaluate in a few weeks is completely justified. First, it's likely that the majority of major league pitchers who are considered "healthy" when it comes to their elbows have some type of compromise of their UCL, simply based on the stresses placed on them.

The Mets may have a previous MRI of Harvey's elbow with which to compare the latest -- and this could indicate whether this indeed is a new finding -- but in the absence of a recent test, it's hard to know just how acute this partial tear is. If the damage is not necessarily new (or significantly different) and Harvey has been pitching as well as he has this season, why not see if this is just an episode of inflammation that might respond to conservative treatment?
Additionally, given the time of the calendar year, there is really no harm in waiting an additional few weeks. Harvey likely would miss most, if not all, of the 2014 season if he were to undergo surgery this week. Four to six additional weeks is not going to cost much, if anything in terms of his in-season availability.

Also, as I wrote in a piece on Tommy John surgery this spring: This is not a procedure one enters into lightly given the intensive recovery time. One of the reasons a trial of conservative therapy is typically the first option when there is a suspected UCL tear (beyond the obvious scenario where the athlete's injury was mild and he recovers enough to return to play), is to validate for all involved the need for surgical repair.
At the end of the day, it would not be a surprise if Harvey ends up requiring reconstructive surgery on his elbow. He would not be the first pitcher with a partial tear whose elbow simply reached the point of not allowing him to throw effectively, even if the pain itself was not an impediment. But the athlete deserves the opportunity to see for himself whether he really needs to lose a year of his career to surgery and rehab.

The good news is that the success rate following Tommy John surgery is generally very high, although as Arizona Diamondbacks pitcher Daniel Hudson can attest, after suffering a second tear just 11 months removed from the procedure, return is not guaranteed.

As Hudson posted on his Twitter feed when the Harvey news was announced, "Hoping Matt Harvey's injury doesn't require TJ… Wouldn't wish it on my worst enemy."
For all of the Mets fans and fantasy owners who are still trying to adjust to the devastating news, imagine how Harvey feels. Let's at least give him the opportunity to evaluate what his next steps will be.
April, 19, 2013
4/19/13
2:07
PM ET
Mets general manager Sandy Alderson announced that catching prospect Travis d'Arnaud has a non-displaced fracture of the first metatarsal (the long bone of the forefoot which connects the midfoot to the big toe) in his left foot and is being further evaluated by team doctors in New York City Friday. According to ESPN New York, D'Arnaud sustained the injury while behind the plate during a Wednesday game and is currently in a walking boot.
[+] Enlarge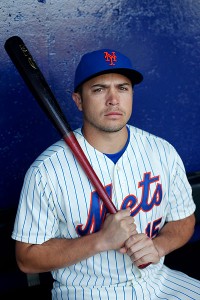 Chris Trotman/Getty ImagesTravis d'Arnaud has twice been traded for Cy Young award winners, first going to Toronto as part of the Roy Halladay trade, then to the Mets in the package for R.A. Dickey.
D'Arnaud missed a good chunk of last season with a torn PCL in his left knee; now he is contending with another injury to the same side. While the team has not officially listed a timetable, expect d'Arnaud to miss at least two months. There is the matter of the bone healing, which typically takes between four to six weeks. It is critical to regain full range of motion in the foot in order to walk without even a minor compensation. Then there is the return to normal running and baseball activities. Since d'Arnaud is a catcher, his unique position-specific demands place significant load on the first metatarsal. In the crouch position behind the plate, resting with weight shifted forward, there is already load through a catcher's foot. The explosive force necessary to then move quickly to standing translates dynamic stress through the foot and up through the leg. Every pivot or sideshift through the foot places shear on that area of the foot. Even routine running, where the last part of the body to leave the ground is the big toe, places load through the first metatarsal.
If the All-Star Break was a target date for bringing d'Arnaud to the majors, it is certainly no longer automatic.
March, 6, 2012
3/06/12
3:42
PM ET
PORT ST. LUCIE, Fla. -- Tuesday was all about
Johan Santana
. The
New York Mets
' southpaw has been on the road to recovery from shoulder surgery for over a year. Santana underwent a repair for a torn left anterior capsule in
September 2010
. He was able to pitch in a couple minor league games in 2011 but never appeared in the majors. He threw in Instructional League in the fall before shutting it down for some offseason rest. Entering this spring, Santana has appeared on track, gradually increasing his workload and throwing bullpens in advance of Tuesday's outing. So far, the shoulder has responded positively, and this Grapefruit League outing was just another step in the right direction.
Santana saw two innings of action Tuesday, as planned. He threw 29 pitches, 17 for strikes. He gave up a hit and a walk, and his fastball hovered in the high 80s, topping out at 90 mph once. He mixed in a couple of changeups and even a couple of sliders, which Santana later said was something he "couldn't do in the past." He appeared upbeat after the game, speaking candidly with reporters, his left shoulder wrapped in ice under an ace bandage. "The most important thing," Santana said, "was I felt good." He didn't pay much attention to the radar gun readings, saying his focus was on mixing in various pitches and location.
Santana said the key over the next couple days will be to see how the shoulder feels and get ready to make his next start in five days. He noted that late last year in Instructional League he was able to return in the five-day window, so he doesn't anticipate any problems this time around. He acknowledged continuing to work on locating his pitches and says that is his "challenge" as he builds up his workload. Of course, the primary issue from the health perspective will be to see if increasing that workload remains uneventful.
Santana is the planned Opening Day starter for the Mets, and early signs point toward him meeting that target.
July, 19, 2011
7/19/11
3:58
PM ET
As baseball rolls into the second half of the season, the
New York Mets
are looking to get two big stars back into the lineup, including one Tuesday night.
Jose Reyes
, the speedy shortstop who has been nursing a minor left hamstring injury, is in the lineup after a successful rehab outing Monday. As recently as last Friday it appeared the Mets would slow the return of Reyes as a
measure of caution
, but it appears there is enough confidence in his health to bring him back now. As is always the case with these types of injuries, the only way to determine whether Reyes is truly past the hamstring issue will be to see if he is able to play without a setback. At some point, there is nothing further to test in rehab when a player has performed all drills, played in a game situation and has no lingering symptoms. Duplicating the exact scenario of a major league game is nearly impossible, making return to play at the big league level the final test. The Mets will be hoping that Reyes passes with flying colors.
[+] Enlarge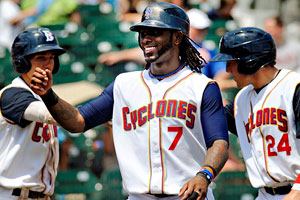 AP Photo/Henny Ray AbramsJose Reyes looked just fine Monday playing for the Class A Brooklyn Cyclones.
• Reyes' teammate
David Wright
has been on a rehab assignment as he approaches a return to the majors following a stress fracture in his lower back, which has sidelined him since mid-May. On Monday, Wright played a full nine innings after only being expected to go seven, surely a good sign. According to ESPN New York, Mets manager Terry Collins anticipates Wright will rejoin his teammates this weekend after playing a full slate of rehab games through the remainder of the week. Given the type of rehab program Wright has been through over the last couple months that emphasized training deep core muscles to protect the spine, his improved strength could certainly have him on track for a stellar second half.
• Pitcher
Roy Halladay
, normally unflappable, was challenged by the heat in Monday's game and left in the fifth inning, a rare occurrence. Halladay appeared flushed and looked to be struggling -- at times taking long walks off the mound or bending over to rest his hands on his knees -- but resisted valiantly for as long as he could. In the end, the heat won the battle and Halladay's streak of consecutive road starts pitching at least six innings came to a close. Better an early departure than a more serious heat-related consequence (credit
Philadelphia Phillies
head athletic trainer Scott Sheridan, who visited Halladay on the mound in the fifth and likely helped in the decision for him to exit). The Phillies sound confident that Halladay will make his next scheduled start.
• The Phillies have certainly had their share of injury woes but will be getting one of their injured players back Tuesday, although admittedly at slightly less than 100 percent health. Outfielder
Shane Victorino
has been sidelined with a sprained right thumb, the result of an awkward fall in the outfield on July 3. Victorino acknowledges that he still has some discomfort in the thumb and, according to the Philadelphia Inquirer, will wear a thumb guard while on base. The protective device no doubt is intended to help protect his thumb from getting bent awkwardly during a headfirst slide. As for hitting, Victorino has demonstrated during his rehab outings that he can effectively swing the bat, so barring a setback in the course of play, he should be able to contribute at the plate immediately.
• To DL or not to DL? That seems to be the recurring question for
Milwaukee Brewers
outfielder
Ryan Braun
, who has been up and down with a left calf strain for several weeks. Braun originally sustained the injury July 2, and when the symptoms persisted for several days, he underwent an MRI. Following the MRI, Braun pointed out that the injury appeared to be localized to a tendon behind the knee (tendon bridges muscle to bone and helps transfer the contractile force of the muscle to the bone, resulting in movement; however, it has a poorer blood supply than muscle, which can make it slower to heal). This slower-to-heal tendon appears to be behaving the way these things often do; after a rest period, the injured area feels better and the athlete increases his activity only to experience a recurrence of discomfort when the area is maximally stressed.
[+] Enlarge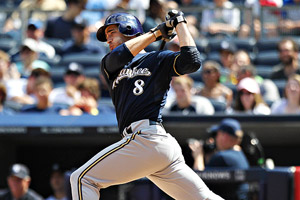 Debby Wong/US PresswireRyan Braun is just 2-for-18 in July, missing eight games before the break and sitting out the All-Star Game.
Braun sat out the All-Star Game to rest his leg, returned to the lineup July 14 and just two days later was forced to leave early with tightness in the leg. According to the Milwaukee Journal-Sentinel, Braun acknowledged that despite being in the lineup, he still was not able to run full-speed, leading to a situation where he is attempting to avoid placing undue stress on his leg. Braun said, "I jog as quickly as I can, whenever the situation warrants it. But obviously whenever I can avoid running or putting any extra stress on it, I think that's probably in my best interest and the team's best interest."
Despite the setbacks, the Brewers still do not appear to be thinking a DL stint is required. Manager Ron Roenicke told the Milwaukee Journal-Sentinel on Monday, "We're going day by day. I'm hoping he can play tomorrow." There has to be some concern when an athlete is deliberately trying to hold back while playing for fear of aggravating an injury, particularly one that impacts his ability to play both offense and defense. It's hard to envision this completely resolving while Braun continues to play, or, at the very least, that Braun can play at top level while trying to guard against further injury.
• Is the third time the unlucky charm for
Grady Sizemore
? He finds himself on the DL for the third time this season (he started the season on the DL following left knee microfracture surgery, then suffered a bone bruise in his right knee in early May during a slide into second base which led to DL stint No. 2), again with a right knee contusion. More concerning than what the injury is being called, however, are the words Sizemore used to describe his fears about this latest setback. According to the
Cleveland Indians
website, the sharp pain Sizemore experienced in his right knee Sunday as he rounded first base harkened to what he felt in his left knee last summer. "It's similar," Sizemore said. "It's hard to say whether it's the same. I think it's definitely a concern based on what I went through last year. It's the same area and similar symptoms. It does feel a lot like it, but I can't say for sure."
An athlete's instincts are to be taken seriously when it comes to a second occurrence of an injury; for instance when an athlete has experienced a torn ACL, he knows intuitively the moment the same injury occurs on the opposite leg. While there has been no official word yet as to the specifics of the injury to Sizemore's right knee, his concerns and his gut response certainly raise red flags. It's hard not to feel for a young player who has been through the serious injuries and lengthy recoveries that Sizemore has already endured. Here's hoping that his intuition was not correct this time around and that the injury is not severe enough to warrant surgery. In the meantime, it's wait and see.
• Finally, best wishes go out to
Texas Rangers
CEO and president Nolan Ryan, released from a Houston hospital Tuesday after experiencing discomfort Sunday morning. Ryan has a cardiac history, including double-bypass surgery in 2000, but according to the Rangers, no new developments were discovered during this latest episode. Good news for Ryan and the Rangers, who have no doubt been under particular duress this July. On Tuesday, the team also announced new safety measures for Rangers Ballpark, including raising the height of the railing, following the death of a fan who fell trying to catch a ball earlier this month.
August, 5, 2009
8/05/09
2:34
PM ET
A number of players went under the knife during this past week, with most of them hoping to return next season. We mentioned
Chien-Ming Wang
(shoulder) and
Kevin Slowey
(wrist) last week. Slowey had a bone chip removed, and his rehab is expected to take anywhere from two to four months, giving him plenty of time to be ready for spring training. Wang's future is less certain, both in terms of timetable and location. His surgeon, Dr. James Andrews, indicated that following surgery (reportedly to address a tear in the shoulder capsule, the fibrous tissue that surrounds the joint), Wang might require a year before he can return to pitching in the majors, according to the Journal News. Whether he will return as a Yankee remains to be seen.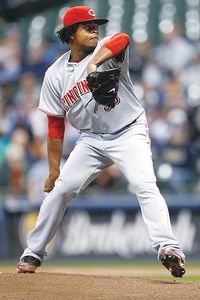 Scott Boehm/Getty ImagesEdinson Volquez has shown promise over the past two seasons, but he probably has little value even next year.
This week, we add
Cincinnati Reds
pitcher
Edinson Volquez
, who struggled with back spasms earlier in the season before developing numbness in his throwing hand. It turns out the numbness was foreboding of what was to come. Back in June, when the numbness in Volquez's fourth and fifth fingers first appeared, we discussed that these ulnar nerve symptoms can be reflective of instability at the elbow, associated with ulnar collateral ligament problems. Volquez rehabbed to the point of a simulated game but then had to abort the effort because of elbow pain. The next step was indeed ulnar collateral ligament reconstruction (Tommy John surgery), along with a repair of the flexor tendon. Volquez likely won't return until late next season. This serves as a good reminder that imaging studies are not perfect, since Volquez underwent two MRIs during his injury stint, neither of which showed the tears. In fact, according to the Reds' Web site, the decision as to what specifically would be required in surgery was not made until the team's medical director, Dr. Tim Kremchek, actually looked inside the elbow.
And then there's
Arizona Diamondbacks
ace
Brandon Webb
. Webb, who made an abbreviated Opening Day appearance and then was never seen on the mound again, underwent what the team termed "minor" shoulder surgery this week. According to the Diamondbacks' Web site, Webb underwent a debridement, or clean-up procedure, of the shoulder. As Webb put it, the findings in surgery were "just normal wear and tear you get from pitching. It was as good as could be expected." He is expected to begin the rehab process later this week and plans to stay in Arizona in the offseason to continue his therapy. Webb is correct in pointing out that all the strengthening he has done for his shoulder so far can only help him with his overall recovery. For those in keeper leagues, take note: Webb has no major structural damage and did about as much "prehab" as one can do. That should bode very well for his 2010 season.
Ah, but where to begin as we tour the league looking at those players hoping to return in 2009? We start with the team that has the dubious honor of most player appearances in this column.
The New York Mets:
That's right. I'm just listing the whole team now. And why not? Sadly for the Mets, the list of injured players (and injured players who have suffered setbacks) continues to grow. One of the latest Mets to succumb to the injury bug is second baseman
Luis Castillo
. Here's how you know things really aren't going your team's way: Your middle infielder sprains his ankle -- not while rounding the bases, nor when an opponent slides into him as he tries to turn a double play, but while stumbling down the dugout steps. Castillo might not have huge fantasy impact, but another injury sends a ripple through an already-struggling team, further limiting its available options.
It got even worse Wednesday, when starting pitcher
Jonathon Niese
left the game in the second inning with a hamstring injury suffered while fielding his position. And
Gary Sheffield
(who was just activated from the disabled list Sunday) also was pulled from the game in the sixth inning with an injury.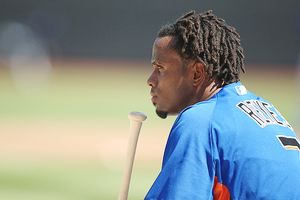 Ezra Shaw/Getty ImagesJose Reyes might continue to watch from the sidelines the rest of the season.
In last week's blog, I expressed some skepticism (despite manager Jerry Manuel's optimism) about shortstop
Jose Reyes
' impending return: "It's understandable that the Mets want to see the glass half-full, but fantasy owners need to see the Mets' glass as balancing on a very unstable surface, one that could tip over and spill at any minute."
It appears that glass indeed might have come crashing down, as the New York Daily News reported Tuesday that Reyes returned to New York to be examined by team doctors "because of continued discomfort with his right leg." Although the outcome of that visit is not known, it doesn't take great medical insight to appreciate that this is not a good thing. Throughout this process, Reyes has never progressed to the point of being able to run the bases. His fantasy owners can't say they weren't warned, at least in this column, as Reyes has had trouble with soft tissue injuries healing slowly in the past. There's at least a possibility that he will not return this season, and even if he does, it's difficult to imagine him regaining full speed.
On the positive side, the New York Daily News reports that
Carlos Delgado
continues to progress, but in a truly one-day-at-a-time fashion. He pretty well summed it up by saying, "I'm going to be ready when I'm ready. If by mid-August I'm not OK, it's going to be longer." Actually, the significance here is that Delgado appears to be quite aware of the importance of not pressing to return from hip surgery too quickly, despite the fact that his team is hemorrhaging players. Delgado, who has started hitting outdoors, still has to work up to running full speed straight ahead, then base running, sliding, aggressive defensive drills and, ultimately, rehab games. Although mid-August remains possible, later in the month sounds more reasonable (insert here: assuming no further setbacks).
Meanwhile, teammate
Carlos Beltran
is a tougher read. Beltran, who has been out since June 22 with a bone bruise, is doing more "stuff," but still has pain, something that continues to raise flags in terms of his overall recovery picture. While Delgado was hitting balls to the outfield earlier this week, Beltran was working on his defensive outfield skills. On the one hand, Beltran seemed pleased with the result, telling the Daily News, "Today was a good day for me, honestly ... because I was able to go out and move around and that gave me confidence to continue to improve and to do a little bit more every single day." On the other hand, Beltran acknowledged that he still felt pain, although the frequency and intensity were less than what he has experienced in the past, which led him to believe he is making progress.
While Beltran's determination to return is admirable and any signs of progress are encouraging, it is worth noting that the Mets' Web site noted he still had an observable limp as recently as this past Saturday. A recent MRI confirmed the bone bruise is still present, and as the New York Post reported last week, doctors advised Beltran to continue resting, but
he
wanted to try to increase his activity anyway. He desperately wants to return and help his team. Fantasy owners need to be cautious here because this is a very unpredictable situation that could change daily. Even if Beltran returns (which he is hoping will happen mid-month), his condition is not likely to have healed, and we know what happened the last time he tried to play through it. It will be important to see how his knee responds as he tries to increase his running work this week.
Roy Oswalt, P, Astros:
Last week, the team was calling Oswalt's injury a left-side low back strain, but we discussed the concern related to his history of disc problems. So far, his treatment and symptoms have all the sounds of a disc-related problem. Add to it the fact that this is taking (not unexpectedly) a little longer than a minor muscle strain should to heal. In fact, Oswalt confirmed to the Houston Chronicle that the disc is the source of the trouble. "I got a bad disk. It's herniated. It's sticking out and it's pressing on a nerve going around to my side. And my hip and leg tends to go to sleep some time," he said. Hmm ... sounds just like what we were surmising last week.
Oswalt received an injection to help with inflammation in the area and appears to be making progress, albeit more slowly than the team initially hoped. A DL stint has not been ruled out, but he remains hopeful that he will be able to start Saturday. According to an AP report, Oswalt's recent checkup went well and he is scheduled to throw a bullpen session Wednesday. How the bullpen goes will go a long way in determining whether Oswalt is ready to go this weekend. Bear in mind that his first effort at throwing off the mound Monday did not go as well as his flat ground sessions, so this will be a big test.
On the Mend
•
Seattle Mariners
pitcher
Erik Bedard
is throwing bullpen sessions, but it does not appear he will be ready to return to the rotation when eligible Monday. The never-easy-to-read Bedard said simply, "I felt OK," after his Tuesday session, according to the Tacoma (Wash.) News-Tribune. Given Bedard's history and slow progress, this remains a sketchy situation.
•
Chicago Cubs
catcher
Geovany Soto
is expected to return to the lineup Friday in Colorado, according to the Chicago Sun-Times. He has not played since early July after originally being diagnosed with a mild oblique strain that looked as if it might keep him down for only a week or so.
•
Houston Astros
first baseman
Lance Berkman
, recovering from a strained calf, is eligible to come off the DL on Friday, but it doesn't appear that he will. He tried some light running Monday and paid the price Tuesday. The Astros' Web site reported that Berkman's lingering soreness led manager Cecil Cooper to hint at a delayed return from the DL. One of the clues as to the degree of recovery of a muscle strain is whether there is any lingering soreness not only during or immediately after the activity, but a day later. A legitimate concern for the Astros would be if Berkman returns too quickly; he could end up tearing the calf muscle and miss the remainder of the season. It is worth keeping a close eye on this situation, as it could change fairly quickly.
• Newest
Chicago White Sox
right-hander
Jake Peavy
, formerly of the
San Diego Padres
, raised a lot of eyebrows when he was dealt while still on the DL. Peavy, who continues to work his way back from a partial tear of the posterior tibialis tendon (which courses through the leg and attaches to the foot), is hopeful that he will be able to contribute later this season, but his real value is expected to be realized in 2010 and beyond. Many people have expressed surprise that a team would be willing to deal for an injured player, but while there is naturally some risk involved, it isn't all that surprising, given the nature of Peavy's injury and where he is in his rehab program.
Specifically, Peavy's injury is of lesser concern going forward since it was not to his throwing arm. A big question after any significant arm injury that requires extended downtime for a pitcher, whether it's surgical or non-surgical, is just how well the pitcher's delivery will return to pre-injury form. Will he have the velocity, command and consistency that got him to the majors in the first place? An injury to any other body part is assumed to have less of an impact, since the arm is not directly affected and a thrower can continue to work the arm to some degree.
We have seen, though, that any injury can compromise a pitcher's return to form. Exhibit A: Chien-Ming Wang, who struggled in his return from a foot injury and then suffered an arm injury. Peavy insists that his leg is feeling good and he had a pain-free throwing session Sunday in his new town. As the Chicago Sun-Times reports, he thinks it is just a matter of returning full strength to his ankle to react defensively and restoring the endurance to his throwing arm. Peavy still hopes to contribute in September and appears on track to do so as of now.
• Whew. Everyone in Atlanta is breathing a little easier knowing that it was a proximal hamstring (near the top attachment by the pelvis) strain and not a setback to Braves pitcher
Tim Hudson
's recently reconstructed elbow. Hudson hopes to make a rehab start soon and get back on track for a late-season return.
And finally ...
Phillies pitcher
Brett Myers
continues his impressive return from hip surgery in June. Myers is scheduled to pitch a simulated game Thursday and has begun light jogging, according to the Philadelphia Inquirer. Although the team insists it is not counting on him, his steady progress has to be encouraging, and there remains the possibility that he could provide some bullpen support in September and October.
May, 20, 2009
5/20/09
11:36
AM ET
By
Stephania Bell, ESPN.com
| ESPN.com
Didn't we start this column last week by celebrating Josh Hamilton's comeback from a strained rib-cage muscle? He came back all right, playing just as hard, including running into walls. Now the center fielder is sitting out Tuesday with another crash-into-the-wall-induced injury; this time it's a strained right groin. No word yet as to how long the team expects him to be sidelined, although this does not appear to be as big a deal as the previous injury which forced him onto the DL. In fact, on the Rangers' official Web site, Hamilton indicated that he felt better Tuesday and hoped he could return to the lineup Wednesday. That might be a little ambitious, but it does sound as though he could return this week.
Last week we also celebrated the return of Angels ace
John Lackey
. Well, he only lasted two pitches in his first start Saturday. When I first heard that news I wondered what devastating injury could have befallen him so quickly in his season debut. I later found out he had been ejected after hitting a batter (after first throwing behind him) and was relieved, as Lackey fantasy owners everywhere must have been, that his early exit was not injury-related. Incidentally, he did return to pitch Monday and notched his first victory of the season. He did not pitch deep into the game, but assuming his elbow continues to feel good, it will just be a matter of increasing his endurance.
The Angels also saw the return of
Ervin Santana
last week who, despite being a bit rusty, survived his first outing. Santana's ability to deliver his breaking pitches, most noticeably his slider, inspired confidence that his elbow is feeling good. When
Kelvim Escobar
rejoins the team -- which appears to be targeted for early June if all goes well in his rehab starts -- the Angels can really feel as if they're overcoming the big injury hurdle.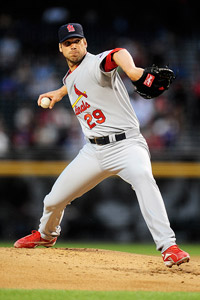 Mark J. Rebilas/US PresswireChris Carpenter hadn't allowed an earned run in 10 innings in his first two starts of the season.
And there is more good news about an ace returning. Cardinals ace
Chris Carpenter
is expected to return today after missing time with an oblique strain. Carpenter's oblique was not injured, as one might expect, during pitching, but rather during batting. We see pitchers with oblique injuries and hitters with oblique injuries, but a pitcher succumbing to an oblique injury while hitting is rare. Carpenter's season had been off to an impressive start after he missed nearly two full years with various throwing-arm issues including Tommy John ligament reconstruction and nerve decompression surgery. Since this most recent injury was not to his throwing arm and he was able to maintain his physical conditioning, the hope is that he will be able to pick up his performance right where he left off. Fantasy owners who remained faithful to Carpenter over the past six weeks should be well-rewarded.
Here are the other walking wounded we're talking about in the world of baseball this week ...
Carlos Delgado, 1B, Mets:
Delgado tried to play through the hip injury that has been bothering him since April. But after sitting out 10 straight days and trying all forms of conservative treatment -- a cortisone injection, therapeutic mobilization to the hip (which the New York Post accurately described as his leg being "pulled to create space in the hip") and rest -- all to no avail, the surgical option became imminent.
The Post reported that Delgado underwent surgery Tuesday to address a mechanical impingement, a labral tear and a bone spur. The Mets say they expect to have him back within about 10 weeks, a timetable similar to that given to Yankees third baseman
Alex Rodriguez
this preseason and Royals third baseman
Alex Gordon
in April.
However, although his timetable is similar to those two, there are a couple of differences in Delgado's situation. Beyond the fact that his name is not Alex, his fielding demands are somewhat different, since he plays first base, not third. Additionally, Delgado's injury -- unlike those of Rodriguez and Gordon -- is to his lead hip when he swings the bat since he bats left-handed. How does that impact his return? It doesn't necessarily alter the time frame, but it does shift some of the emphasis of his rehab.
It is also worth noting that despite the fact this injury is dated to late April when Delgado hurt his hip sliding into third, this hip has bothered him in the past. Last year Delgado missed time with "impingement" in the same hip. Although a longer-term injury can sometimes translate into more damage within the joint, based on the post-surgical rehab time frame issued by the Mets, this does not appear to be the case. In fact, one could potentially make the case that if indeed Delgado's hip has been a limiting factor, even intermittently, over the past two years, he might be able to improve his overall performance once he's fully recovered.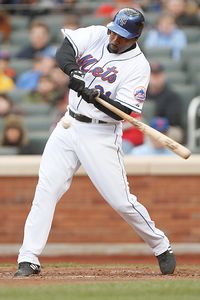 Ezra Shaw/Getty ImagesThe hips are key to generating power for a slugger like Delgado.
A word of caution to fantasy owners. Take a look at some of Rodriguez's struggles since he has returned. He has hit some beautiful home runs, but his limited ability to connect the bat with the ball consistently exposes his lack of a true spring training. ESPN's Jayson Stark wrote this week
in his Rumblings and Grumblings column
that a scout recently made this observation about A-Rod's defensive play: "His defense has been terrible. He doesn't look like he could move off a dime. He's a dead-stand-up stationary third baseman right now." Presumably some of this is a reflection of Rodriguez still working his way back into the demands of the position post-surgery. In order to effectively play first base when he returns, Delgado will need to have the mobility in his hip to stretch off the bag and the strength to maintain his position. The fact that he has seen playing time early in the season should help his return to hitting, but he is 36 years old, soon to be 37. Returning to sliding along with regaining his defensive play might take longer still. Ten weeks would bring Delgado back in late July, but fantasy owners should not be shocked if that timetable is extended a bit. Stay tuned for updates.
Joey Votto, 1B, Reds:
Votto's dizziness remains unexplained, and until there is some resolution, he won't be back on the field, much to the dismay of the Reds and fantasy owners alike. The trouble with dizziness is that there are hundreds of possible causes. Some of those potential causes are easier to eliminate than others, and no doubt the medical specialists evaluating Votto now are working their way through multiple tests and algorithms. According to the Reds' official Web site, Votto will continue to undergo further testing over the next few days, at which point the team will be "more prepared to discuss the cause of [his] dizziness."
Votto is in San Diego undergoing tests at the Scripps Clinic. After removing himself from Saturday's game against the Padres because of dizziness, Votto stayed in San Diego for evaluation. He has been experiencing dizziness intermittently since mid-May, shortly after a bout with the flu, which may or may not be related. It is impossible to prognosticate Votto's condition here without knowing the root cause, but it is worth mentioning that in many instances dizziness is very treatable, once the source is identified. Stay tuned.
On the mend
Red Sox first baseman
Kevin Youkilis
is scheduled to rejoin the team Wednesday. He has been absent from the lineup for two weeks with an oblique strain. Remember, just last Tuesday Youkilis was expected to play but aggravated the injury during batting practice and was instead forced onto the DL for some additional rest. In other words, he's been
almost
healthy for about a week. He should be able to jump right back in.
Jorge Posada
, who has been out with a Grade 2 hamstring strain, is making strides. According to the Yankees' official Web site, Posada rates himself as 85 percent improved, despite the fact that he's still experiencing some tightness. The challenge with muscle strains is that there is no way to be absolutely certain that complete tissue healing has occurred. Although Posada has improved, he will still have to face a rehab assignment before rejoining the team. Fantasy owners should plan on at least another 10 days to two weeks.
Speaking of rehabbing Yankees, pitcher
Chien-Ming Wang
has looked impressive in his rehab starts. He has even indicated that he feels his balance is better since doing the strengthening work. Wang threw a bullpen session Tuesday and according to The (Newark, N.J.) Star-Ledger, Wang feels he's ready to return. The Yankees staff watched the session to evaluate Wang's command. The Yankees have not yet said out loud that they're ready to have him back, and they might opt to have him make another rehab start, but it looks as if his return is coming sooner rather than later.
Daisuke Matsuzaka
, on the DL since April 15 with a right shoulder strain, could pitch for the Red Sox as soon as Friday. He certainly looks ready, striking out nine in his most recent rehab start. According to the team's official Web site, the decision has not been confirmed, but all signs point to that happening very soon.
An Associated Press report confirms that Angels outfielder
Vladimir Guerrero
is expected to begin a rehab assignment this week. Keep in mind that his rehab at this stage will only involve hitting and he could return to the team, perhaps as soon as Memorial Day, as a designated hitter. There is still no indication when he will be able to begin throwing.
And finally, the Dodgers' official Web site is reporting that pitcher Hideki Kuroda, who has been battling a lingering left oblique injury, passed the test of a three-inning simulated game this week and could start a rehab assignment Friday. If that progresses well, he could rejoin the team within the next ten days to two weeks.