Stephania Bell:

New York Yankees
September, 19, 2014
Sep 19
5:33
PM ET
Stephania Bell discusses the expectations for
Masahiro Tanaka
for his return on Sunday.
July, 11, 2014
Jul 11
11:19
AM ET
The American Orthopedic Society of Sports Medicine (AOSSM) picked an inopportune time to gather for its annual meeting. Or so it would seem for those who depend on the nation's elite orthopedists for their services, given the rash of baseball injuries since the conference started Wednesday in Seattle. The AOSSM meeting is the annual congregation of sports medicine practitioners who come together to share their research and clinical perspectives in the interest of advancing the field. With all the injury news of the past 48 hours, some of them may be commiserating over what awaits them when they return.
Masahiro Tanaka, SP, New York Yankees (elbow): So what does a baseball player do when his team physician is attending the conference? He travels to him, of course. At least that's what Tanaka did, traversing the country for a visit with Yankees team doctor Chris Ahmad. One could even make the case that Tanaka, who has been placed on the DL with a partial tear of his ulnar collateral ligament, benefited from the timing of the conference. With all the experts gathered in one location, Tanaka could seek multiple opinions without making another trip.
[+] Enlarge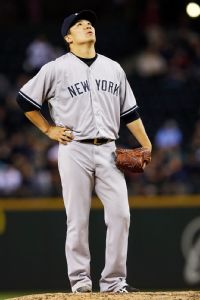 AP Photo/Ted S. WarrenMasahiro Tanaka's workload over the years in Japan may have caught up with him.
And now the plan for Tanaka has been shared with all of us. Yankees general manager Brian Cashman told reporters Thursday that Tanaka will receive a PRP (platelet-rich-plasma) injection and undergo a rehab process in the hopes that he will be able to return in approximately six weeks. Cashman did note that if the conservative treatment fails, Tanaka could be a candidate for Tommy John surgery.
The rehab course is not unusual as an initial intervention. After all, if it is successful, Tanaka will have avoided an invasive surgery and a 12-18 month recovery process. Considering the calendar, there is nothing to lose. If Tanaka were to have surgery immediately, there is no guarantee that he would be able to pitch in 2015, so why not opt for a conservative measure that might be sufficient to allow him to resume? It is true, however, that many pitchers still have lingering issues following the injection and rehab effort, thus leading them to eventual surgery. In those cases, they at least have the peace of mind of knowing that surgery was not just an option, but the option.
Although Tanaka did not complain of elbow soreness prior to his last outing, there were signs that things were not right for him of late, most notably his yielding nine runs in his past two starts. What was not known was whether an injury was responsible for his decline or whether he was contending with adjustments to the American system. Perhaps it is a little of both. Elbow injuries are rarely single-episode events. More often they are the result of cumulative wear and tear, ultimately leading to failure.
Despite his young age of 25, Tanaka has accumulated a large workload. Among all active MLB pitchers, Tanaka ranks fourth overall in total innings pitched through their age-25 season (which includes minor leagues and Japan). Given the young age by which Tanaka had acquired so much mileage on his arm, a fair portion of work presumably occurred when his throwing arm was still adapting to the stress of pitching. Research is beginning to connect the dots between early workload as a youth pitcher and elbow ligament failure. Sports Illustrated's Tom Verducci outlined the potential risks associated with Tanaka based on his youth workload, portending future complications.
Coincidentally enough, at the very AOSSM meeting where Tanaka is traveling for evaluation, a paper was presented Thursday reporting 60 percent of MLB pitchers who have undergone Tommy John surgery did so within their first five years in the league. This would hint at earlier and more strenuous workloads resulting in earlier ligament failure in professional pitchers than what was seen even a decade ago.
There's no denying that Tanaka is now pitching under different conditions. Four days' rest is the average for American starting pitchers, whereas Tanaka came from a system that afforded him six or seven days off between starts. As ESPN.com's Wallace Matthews notes, the Yankees did give Tanaka an extra day off every other start as a means of helping him physically adapt to the new regimen.
The test will come when Tanaka resumes a throwing program. Will the soreness be gone? Can he effectively locate his pitches? Will he maintain his velocity? And we all know what the next step will be if the answer to those questions is no.
Carlos Beltran, New York Yankees (head): Tanaka isn't the only Yankee to suffer an injury this week. Beltran was hit by a tipped ball during batting practice, resulting in a concussion and a broken nose. The concussion allowed the Yankees to place Beltran on the seven-day DL, and he will gain up to four additional days because of the All-Star break. Manager Joe Girardi said he did not anticipate surgery for Beltran but he was scheduled for further evaluation. The rest can only help the inflammation in his other joints, namely his knee and elbow.
Even if no facial surgery is in order, Beltran will have to pass all concussion tests in order to receive clearance to return, something the Yankees hope will happen when the team returns to action Friday following the All-Star break.
April, 10, 2013
4/10/13
12:20
PM ET
The normal focus heading into any game is who is in the starting lineup. But this year is anything but normal, especially for the Yankees, when it comes to starting lineups. Injuries have hit the Yankees so hard in the offseason, with a couple scares early in the season too, that their DL roster could be confused with a starting lineup. Since many Yankees stars will be out for Wednesday's game against the Indians (7 p.m. ET, ESPN2 and WatchESPN), it seemed appropriate to provide some quick updates on their collective road to recovery.
Hitters:Curtis Granderson, OF
(injured Feb. 24, due back mid-May): Even Granderson was surprised when the "bruise" from a
J.A. Happ
fastball in a spring exhibition game turned out to be a fracture. Granderson has remained focused on conditioning ever since so that once the healing in his arm permitted it, he would be able to get baseball-ready in short order. Manager Joe Girardi says Granderson could hit soft toss or off a tee as soon as this weekend, keeping him on track for a mid-May return.
[+] Enlarge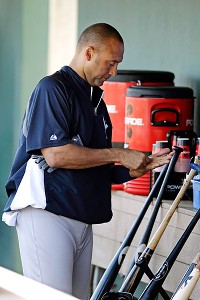 AP Photo/Kathy WillensDerek Jeter is still a ways off from being able to rejoin the Yankees starting lineup.
Derek Jeter, SS
(injured in October, no timetable for return): It almost feels as if once Jeter realized he could not make Opening Day, the reset button was hit on his return clock. Jeter was pushing to be back by the start of the season, but his still-healing 38-year-old ankle would not cooperate. It's hardly a failure -- except perhaps to the ultracompetitive, hardworking athlete that Jeter is -- that he could not get to game readiness by Opening Day; recovery from this type of surgery (plates and screws in the lower leg to restore ankle stability) takes months to heal and additional months to return to every-day playing form. Jeter is working out in Tampa, Fla., doing baseball drills and, most importantly, progressing his running from water to land. The team (wisely) will not hear of his return until he can play in minor league games on back-to-back days, something which is still a ways off. The Yankees are not being coy about a timetable; it is a stepwise process where the next level of activity is dictated by response to the previous level. Jeter is as day-to-day as they come, but based on what he is doing, it appears as if early May is in his sights.
Mark Teixeira, 1B
(injured March 5, due back in May): Teixeira hopes he will avoid the fate of Blue Jays outfielder
Jose Bautista
, who also suffered a partially torn tendon sheath, which ultimately required surgery. Teixeira's right wrist was immobilized after his injury in the hopes that the sheath would heal itself, and he says he did not experience any instability of the tendon itself -- something Bautista did feel, which led him to surgery. All reports of Teixeira's progress have been excellent so far. On April 1, he was permitted to remove the brace (other than for workouts), and he has been focusing on strengthening exercises for his wrist and forearm. He still has not been cleared to swing a bat, and doing so, especially from the left side -- the side he bats from primarily and also the way in which he was originally hurt -- will be the ultimate test. Even if the early swings are uneventful, the big challenge will be when he returns to hitting in a game situation, going all out on his swing repeatedly. Teixeira hopes he can return by the start of May, but there will be no rush. After all, if the sheath re-tears or he proves unable to function at the plate, he will find himself following in Bautista's footsteps into the operating room.
Alex Rodriguez, 3B
(estimated back around All-Star break): There hasn't been much to report on Rodriguez because, well, he has remained mostly hidden from view. When he did emerge to meet the media on Opening Day, Rodriguez merely confirmed that he was dedicating himself to the rehab of his surgically repaired left hip. He was guarded about his progress, saying he was in "Stage 1" of his recovery. Based on the surgical procedure to address hip impingement along with a labral repair, it is reasonable to expect Rodriguez to be ready around the second half of the season. But until he is participating in baseball activities and approaching minor league games, it's too early to make any definitive claims.
Pitchers:
Phil Hughes, SP
(returned April 6): After a bulging disc in his back derailed Hughes' spring, the Yankees were just glad to have him back the first week in April, even if the outing was unspectacular. Perhaps they are happier that he appeared to suffer no physical setback and is in line to take the mound again Thursday.
Hiroki Kuroda, SP
(no missed time): This is what you call dodging a bullet. Kuroda was hit by a line drive on the middle finger of his pitching hand, fortunately sustaining no break in the bone but a scare nonetheless. There was concern whether he would be able to make his subsequent start, but Kuroda pitched Monday, pain and all. At least the Yankees avoided sending yet another key player to the DL.
Michael Pineda, SP
(surgery May 2012, due back June/July): Pineda's debut season with the Yankees went exactly the opposite of how everyone envisioned it and ended abruptly with him undergoing surgery to repair a torn labrum. The rehab has been long and arduous, and Pineda has used the time to get in better physical shape, something he unquestionably needed to do. While there are never any guarantees as to how a pitcher will perform following shoulder surgery, recent signs of Pineda's recovery and his young age are encouraging. He has been throwing bullpen sessions, even incorporating breaking pitches in the past month. He still has a ways to go before he can definitively return to healthy status, but there is reason to be optimistic he will contribute in the second half.
Meanwhile, in the Indians training room ...
I certainly couldn't leave Cleveland completely out of the conversation. While the Indians can't compete with the Yankees when it comes to starters on the DL, they do have one injury concern.
Carlos Santana, C
(DTD): Santana bruised his left thumb Monday when he absorbed a fastball from
Chris Perez
. X-rays came back negative, but given that the impact was such that even Santana thought he broke it initially, don't be surprised if he's out for a few days.
March, 11, 2013
3/11/13
4:59
PM ET
Derek Jeter
has now played a couple of games at DH and is beginning to get his baseball legs back. During pregame warm-ups, he looked more at ease trotting around the bases (although he was just trotting) and fielding ground balls. The next step will be Wednesday, when Jeter is expected to
reprise his role as shortstop
. Jeter has still not put the pedal to the floor when running the bases, but that's to be expected.
Despite receiving confirmation from his surgeon that the bone in his ankle had completely healed and he was clear to return to all activities, Jeter still has to adjust to those activities. It's worth pointing out that after the extended period of inactivity -- which includes two months of being off the foot after surgery followed by another two months of being protected -- the ankle develops considerable weakness. In other words, the bone may be back to normal, but everything around it is continuing to strengthen. After the basics of rehab are complete, the only thing left to train is high-level sports activity, and the only way to train is to participate in the activity itself.
So Jeter is back to baseball, but it will be some time before he is really
back
. Noted foot and ankle surgeon Dr. Robert Anderson, who performed Jeter's surgery, says that beyond the typical six-month recovery (return to activity) for this type of injury, it often takes athletes another 12 weeks to get comfortable performing all their high-level skills. In Jeter's case, this includes rounding the bases sharply and quickly as well as reacting defensively to field balls and to turn and make sharp throws. He is clearly using these early spring games as a means of getting comfortable again with his ankle, which is an integral part of the normal rehab process. Jeter has made it clear that his goal is to be ready for Opening Day, but even if he is playing shortstop then, he may still be a couple of months away from looking like his former self.
Furcal set for surgery
St. Louis Cardinals
shortstop
Rafael Furcal
was headed to visit Dr. James Andrews when I visited their spring training. Now Furcal is scheduled to have surgery this week to reconstruct his ulnar collateral ligament, with Andrews expected to perform the surgery. The rehab time for a position player is shorter than for a pitcher (approximately six to nine months) and Furcal should be ready to go by this time next year, although where he will be remains a question (Furcal is a free agent after this season). The most recent comparable example of a shortstop returning following this procedure is the
Cincinnati Reds
'
Zack Cozart
, who injured his elbow acutely via a hyperextension mechanism in 2011 and ultimately required surgery. He returned in 2012 and had no issues with the elbow.
June, 27, 2012
6/27/12
3:23
PM ET
CC Sabathia
is headed to the disabled list with a Grade 1 left adductor (groin) strain.
New York Yankees
manager Joe Girardi shared the news with reporters Wednesday but remained optimistic that Sabathia would miss only two starts. As
ESPN New York's Andrew Marchand reported
, Sabathia first felt discomfort in the leg during his Sunday outing, but it wasn't until the soreness persisted through a bullpen session Tuesday that he decided to inform the team.
[+] Enlarge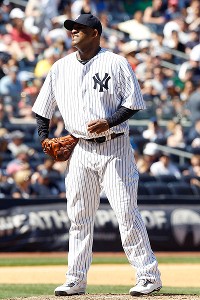 William Perlman/The Star-Ledger/US PresswireCC Sabathia will miss at least two starts, but he will have extra time with the All-Star break to heal.
A subsequent MRI confirmed a Grade 1, or mild, strain, but the team made the decision to proactively rest Sabathia in an effort to prevent a lingering injury. Despite Sabathia's apparent reluctance to go on the DL, the Yankees made a good decision for several reasons.
There is no doubt that regardless of the strength a pitcher has in his throwing arm, the real genesis of his power comes through the legs and the trunk. Any weakness in either region will render a pitcher susceptible to an injury in his throwing arm as he tries to compensate to avoid discomfort, enhance his delivery or both. The adductor muscle group (there are several) must be simultaneously strong and flexible -- strong enough to function as a core stabilizer of the pelvis and help transfer energy from the legs upward during both early and late phases of throwing and flexible enough to stretch during the drive toward ball release. As a southpaw, Sabathia's injury is on his stance leg, which demands power and control while balancing on a single limb. The adductor and hip flexor muscles must then be able to properly stretch or lengthen as he transfers weight toward the right leg when releasing the ball. At 6-foot-7 and 290 pounds, the demands on the stabilizing muscles are not insignificant.
Given those demands, it is imperative that Sabathia's injury heal properly so this does not turn into a chronic issue. As the evolution of understanding these injuries comes about, it is becoming more apparent that chronic tears or defects in the core musculature, particularly groin or abdominal injuries located near their attachment on the pelvis, may ultimately require surgical intervention. Injuries, such as the one recently surgically addressed by
Troy Tulowitzki
, were actually coined "
Baseball Pitcher and Hockey Goalie Syndrome
" early on because of the athletes the injury was typically observed in. No one in the Yankees organization wants to see Sabathia headed in that direction.
The good news is that this is reported to be the mildest variant of a muscle strain. Rest and proper rehabilitation can help prevent this from becoming something more severe.
A look around the league reminds us that a number of stars have been lost for significant portions or even all of the season. The team that emerges victorious in the postseason may well be the team with the most players left standing. So the Yankees will sit Sabathia now in hopes that he will be standing on the mound for them this fall.
[+] Enlarge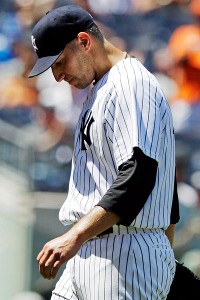 AP Photo/Frank Franklin IIAndy Pettite entered Wednesday's game with a 3.29 ERA before getting hurt.
• The
New York Yankees
wasted no time adding a second member of their starting rotation to the DL. Barely had the Sabathia announcement come out when
Andy Pettitte
was hit in the left leg by a line drive from the
Cleveland Indians
'
Casey Kotchman
, suffering a fractured ankle. Despite initially trying to stay in the game, Pettitte was forced out by pain immediately upon throwing the first pitch to the next batter,
Lou Marson
. Perhaps that was for the best given that there is, as it turns out, a break in Pettitte's fibula, the long, skinny bone that forms the outer aspect of the ankle joint.
The Yankees have indicated Pettitte
will miss at least six weeks
. The good news is the fracture does not require surgery, suggesting it is non-displaced (bony ends remain in alignment). Typical bone healing takes approximately six weeks, although depending on the precise dimensions of the break, Pettitte may be cleared to resume baseball activities sooner. Initially, it will be a matter of resting and unloading (taking weight off) the ankle via crutches and a protective boot, followed by gradual resumption of range of motion and progressive strengthening of the leg. Throughout the recovery period, Pettitte will continue upper-body and core strength and cardiovascular conditioning, but weight-bearing conditioning will be on hold for a while. Once he is cleared to resume activity, it will be a matter of building up his throwing endurance again, just as he had to when emerging from retirement earlier this year, until he and the Yankees are satisfied he can return to the mound.
It's worth noting that
Tampa Bay Rays
' starter
Jeff Niemann
fractured his right fibula in a similar fashion on May 14. He was initially projected to miss at least four to six weeks but shortly thereafter was transferred to the 60-day DL.
March, 14, 2012
3/14/12
6:05
PM ET
TAMPA -- Spring training is a chance for teams to practice everything, including playing at night. That's what happened Tuesday when the
New York Yankees
played host to the
Boston Red Sox
, albeit at George M. Steinbrenner Field instead of Yankee Stadium. With the number of veterans in the Yankees' starting lineup, there are bound to be some durability concerns. A few have taken steps to make sure that any chatter about them this season surrounds what they do on the field, not the time they miss.
[+] Enlarge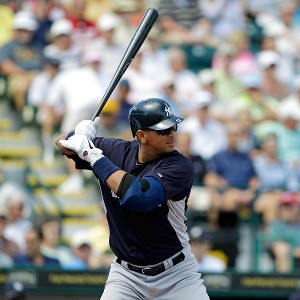 AP Photo/Matt SlocumAlex Rodriguez looks good during spring training after undergoing a unique procedure in Germany this offseason.
Of the Yankees who underwent offseason procedures, perhaps none traveled further than third baseman
Alex Rodriguez
. Rodriguez went to Germany in December to undergo Orthokine treatment -- a biologic therapy which involves drawing some of the patient's blood, centrifuging it and injecting the concentrate in the injured area -- on his right knee and left shoulder. Rodriguez followed in the footsteps of Los Angeles Lakers guard Kobe Bryant who had undergone a similar procedure with the same physician. In fact, according to the New York Post, it was Bryant's recommendation that led Rodriguez to seek the treatment. Yankees team physician Dr. Chris Ahmad and the organization, with approval from Major League Baseball, allowed Rodriguez to receive the treatment. The premise of the therapy is the use of the body's own anti-inflammatory proteins as a means of alleviating pain and delaying degenerative joint changes. It is no secret that arthritic joints are the cause of many an athlete's decline; mitigating such age and activity-related changes could potentially prolong an athlete's productivity and thus, his career.
Getting Rodriguez to say much about the procedure or how he feels it has specifically impacted him proved challenging. He deferred to the doctor who performed the procedure, Peter Wehling, whom he referred to as "a very smart doctor." Rodriguez's summary of how his body feels during this spring training year came down to three words: "I feel good." How is it different this year than in the past? "All I can say", said Rodriguez, "is I feel good." Not exactly insightful commentary, but the true measure of success will ultimately be how he holds up this season. Last year Rodriguez missed roughly six weeks following surgery to address a meniscus tear in his right knee, and he also dealt with a sore left shoulder and a thumb ailment. At the age of 36, with parts of 18 seasons of major league ball under his belt, it would stand to reason that Rodriguez's body is being confronted with the physical toll of such longevity. Clearly Rodriguez is taking steps to try to ward off those effects; only time will tell whether those steps are, in fact, working.
Across the infield, first baseman
Mark Teixeira
is noticeably fit this spring. He says he normally loses about five pounds each offseason, but this year he has dropped about 15. He credits his diet with helping the weight "just sort of melt off" and notes that while he doesn't eat poorly during the season, he can eat much better in the offseason. "I try to eat all organic foods, nothing processed, including a lot of cold-press juices," said Teixeira. He says he considers himself blessed with only landing on the DL twice in his career and believes that eating healthy along with his conditioning is a factor. Teixeira insists that other than paying more strict attention to his diet, he hasn't changed anything about his training to prepare for the season. As he enters his ninth season in the league, it will be interesting to see how his body holds up. There's no question that he looks as healthy as ever heading into 2012.
Then there's the medical marvel of closers,
Mariano Rivera
, who threw 13 pitches while delivering a scoreless inning in relief and looked to be pretty much in midseason form. At 42 years old, Rivera has managed to avoid significant injury in his lengthy career, something most pitchers cannot claim to have accomplished. He has had an operative procedure on his shoulder (a relatively minor surgery on the AC joint in 2008) and has not been on the DL since 2003. He did undergo surgery this offseason, but it was to remove polyps from his vocal cords. When asked if there was any noticeable difference for him pitching during a spring game versus a regular season outing, given that he looked as comfortable as if it were July, Rivera acknowledged the subtleties of continuing to work the strike zone. While he enjoys spring training, still, Rivera said, "You have to come here to work."
The Yankees stable of "mature" players is sizeable, including the likes of shortstop
Derek Jeter
and pitcher
Hiroki Kuroda
. Their expected level of contribution indicates the team is counting on the veterans' collective ability to stay healthy. They certainly
look
to be in great form this spring, but when all is said and done, only time will tell.
March, 7, 2011
3/07/11
8:28
PM ET
After having the opportunity to see different members of the
New York Yankees
in two different spring training outings, the impressions so far -- at least from a return-from-injury perspective -- can be described only as positive.
Catcher
Russell Martin
caught for five innings Monday against the
Philadelphia Phillies
, a follow-up to his five-inning catching debut (in prior appearances he served as DH only) last Friday night against the
Boston Red Sox
. Martin is coming off a hip fracture that ended his 2010 season prematurely and a subsequent meniscus surgery, both on his right side. As reported on the Yankees' official website, Martin had been held back from catching previously because of some residual stiffness in his knee.
Martin has said that he is pushing his knee daily to test it, and I was eager to see if it appeared he was favoring the right side in any way, offensively or defensively. The answer, quite simply, is no. Martin may not yet be running full speed but he appears to be giving full effort. An attempt to run out a ground ball today showed that he was willing to press, even if he can still improve his speed. When behind the plate, he appears comfortable in his crouch and is able to move effectively enough to block and get out of his stance quickly. Naturally the big question is how Martin will physically endure the demands of repeat performances. Unfortunately, that answer will not come during spring training but only as the season progresses. With
Francisco Cervelli
out for potentially a couple months with a foot fracture and
Jorge Posada
likely to retain his DH role, Jesus Montero, who saw backup catcher duty today, could earn that spot.
On the throwing side of the ball, Yankees ace
CC Sabathia
is another player returning from rehab. Beyond his right knee (meniscus) surgery, Sabathia has done some addition by subtraction, shedding a reported 25 pounds in the offseason. Surgery on the landing leg is no small issue for a pitcher since that leg absorbs the impact of the delivery and controls the body during follow-through. The strengthening and conditioning program Sabathia has undertaken is equally important as the surgery and weight loss in preserving the long-term health of his knee. While his performances this spring may not impress in the statistics department, there's no denying his physical transformation. Sabathia has started slowly before and pulled out of it; now he has the bonus of improved physical health on his side.
Some of the other notables this spring training are players who might have been considered finished in some circles. Pitcher
Mark Prior
, the No. 2 overall draft pick in 2001 whose name is now associated with the way shoulder injuries can derail a career, is back on the mound at the age of 30, trying to earn a spot with the Yankees. While he's not blowing the ball by anyone, he is still getting some favorable attention for his performance. More importantly, he's had several outings without incident. If nothing else, his persistence and determination are admirable.
Joining Prior in the almost-forgotten category is
Bartolo Colon
, who is surprising many with his performance this spring. At age 37 (and not far from 38), Colon does not have youth on his side, and injuries have severely limited him in the past few years. He has never been svelte, which may have contributed to the back injury that knocked him out for months in 2008. Prior to that season he struggled with a rotator cuff injury along with a series of other arm injuries. Colon, who did not pitch in the majors last year, spent much of 2010 strengthening his arm, according to the New York Daily News. He looked solid against the Red Sox Friday night, pitching three scoreless innings, and could earn a spot on the Yankees' roster. There's no doubt that he still carries some injury risk but he may just have something left in the tank.
Last but not least,
Eric Chavez
, who has seen more time on the disabled list than the active list in recent years, is also at Yankees spring training as a non-roster invitee after signing a minor league contract with the team in February. Chavez dealt with a number of predominantly soft-tissue woes during his career with the Oakland A's and never seemed to be able to get out of the injury cycle. Following unrelenting neck and back issues for the past few years, it appeared he might not be able to stay healthy enough to return.
Could things be different this year? It certainly seems that way. Chavez looks as fit and healthy as ever, and his performance thus far in spring training seems to be opening the door for an opportunity with the team. Monday he saw playing time at first base, which is likely where he will spend part of his time if he joins the roster. Chavez is hitting the ball well and certainly looks as if he owns the part. Spine problems are always at risk for recurrence and there are no guarantees that his injuries are behind him. But the key to longevity for Chavez may lie in how he is utilized. Filling in as a reserve corner infielder will limit his injury exposure and allow him ample recovery time between outings. This could be a win-win situation for a player who clearly has talent and a team whose starting corner infielders --
Mark Teixeira
and
Alex Rodriguez
-- may benefit from intermittent downtime.
March, 8, 2009
3/08/09
12:49
PM ET
By
Stephania Bell, ESPN.com
| ESPN.com
Just when it seemed that
Alex Rodriguez
might be headed down the path of conservative management (aspiration of the cyst followed by rest and rehab), his treatment course took yet another turn.
The Yankees have now announced that Rodriguez will undergo a surgical procedure on his problematic right hip that should have him back on the field within six to nine weeks. Six to nine weeks? Just a few days ago we were saying a 10-week projection was optimistic, especially given that
Chase Utley
and
Mike Lowell
are rounding the four-month mark following their respective hip surgeries, and they're still not locks for their Opening Day lineups.
So how is it possible that Rodriguez could return from his hip surgery so quickly?
The only plausible scenario, which the Yankees have confirmed, is that Rodriguez's intended surgery will be less complex, at least for now.
Simply put, many labral repairs also require some bone work or resurfacing of the joint. A condition known as FAI (femoral acetabular impingement) often exists in conjunction with labral tears. In basic terms, it describes a scenario in which the femur (thigh bone) and the acetabulum (the bone that forms the hip "socket" for the femur) repeatedly come into abnormal contact in certain hip positions as a result of an athlete's particular anatomy combined with the demands of his sport. That repeated abnormal contact, or impingement ("pinching"), can lead to bone issues such as spurring, and over time, can ultimately result in damage to the labrum, as well as the cartilage surface.
The bone can be burred or remodeled to eliminate the presence of impingement, but the bone is more fragile initially after this procedure, and thus the rehab is slowed accordingly to allow proper healing. The time frame for healing (normally given as four to six months for return to sports) incorporates adequate time for the bone to heal, along with the labral repair. This is the timetable that has framed Utley's and Lowell's rehabilitations.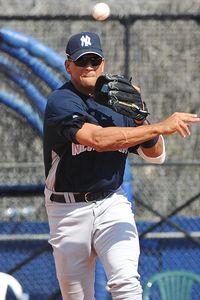 Al Messerschmidt/Getty ImagesOne of the biggest challenges A-Rod faces in his rehab is the ability to make the throw from third to first while pushing off on his repaired hip.
Surgery to repair the labrum alone, without addressing any underlying bone issues, results in a shortened time frame. During surgery the damaged piece of labrum is either repaired or resected (removed), depending on the extent and location of damage. Since the labrum does provide some protection for the joint surface itself, surgeons aim to preserve as much of the healthy tissue as possible. Following surgery, the athlete is required to go through a "protective" phase, during which the amount of weight-bearing is limited to allow the tissue to heal, and range-of-motion and strengthening exercises are increased incrementally. Later in rehab, the athlete returns to weight-bearing exercises, which then get more complex in scope (meaning they start to look sport-specific -- baseball-type exercises, in Rodriguez's case -- as opposed to basic leg-strengthening exercises). Once the athlete has demonstrated sufficient strength and stability, he can return to sports drills and eventually return to play. Complete recovery from a labral resection or repair typically ranges from 10 to 16 weeks. This scenario allows Rodriguez to return for the majority of this season, with the announced second surgery in the postseason to address any bone issues.
Perhaps most important, it appears that the Yankees, Dr. Marc Philippon (the hip specialist who will perform the surgery in Vail, Colo.) and Rodriguez have carefully evaluated the options and come to a consensus as to the best approach. For Rodriguez as a
patient
, this is the most significant component in moving forward.
Let's face it: Rodriguez is an amazing athlete who will no doubt work diligently to get back as quickly as possible, but it is still a challenging rehab schedule that presumes zero setbacks. It is worth bearing in mind that Rodriguez has sacrificed the majority of his spring training while dealing with his hip problem. It is a fact of baseball life that most players need a month or so to shake off the rust of the offseason. So is it reasonable to expect Rodriguez to hit the ground in midseason stride?
It's certainly possible, but consider all the tests his hip will have to pass. He needs to be able to turn, with power, on a high-speed fastball, something he acknowledges he has been struggling with since the hip became problematic. He needs to be able to rush bunts from third base. And perhaps the biggest challenge for that right hip will be turning and pushing off it to make that tough throw from third to first. If his hip muscles have been weakened because of the presence of the paralabral cyst (which has since been aspirated), it may take extra time to get that strength back.
The Yankees have said they will be very aggressive in getting Rodriguez back on the field, but that is different from saying he will be back right away to the elite level we're accustomed to seeing. Because he's Alex Rodriguez, the Yankees are likely willing to let him get into game shape while in the lineup, so don't be surprised if the initial on-field results are less than spectacular. However, once he's cleared every hurdle, we can expect to see the A-Rod of old finish the season.
March, 5, 2009
3/05/09
9:18
AM ET
The
Alex Rodriguez
story has taken a few twists and turns since ESPNdeportes.com first reported that
Rodriguez would have surgery on his injured hip
. In an interview with ESPN's Karl Ravech on Baseball Tonight, A-Rod's agent, Scott Boras, confirmed that Rodriguez has a torn labrum in his hip. Boras also said that doctors aspirated (withdrew fluid from) the previously-disclosed cyst as a first step in the All-Star's treatment. Yankees general manager Brian Cashman said Thursday afternoon that the three-time MVP will be treated conservatively in the hopes of avoiding surgery. Assuming the aspiration is successful at relieving Rodriguez's symptoms, the next step would be rehab to strengthen the muscles around the hip, with the goal of getting Rodriguez back on the field in the near future. However, surgery may ultimately be necessary.
For the Yankees and fantasy players, the major concern is that if Rodriguez
does
need surgery to repair the torn labrum, the recovery time would very likely be longer than the initially-reported timetable of 10 weeks, and perhaps something closer to four months, as Cashman suggested Thursday. Labral tears of the hip are usually the result of repetitive trauma, and in the case of a power hitter the rapid torsion that the hips are repeatedly subjected to during the bat-swinging process is the likely culprit. So while many rushed to link Rodriguez's admitted past use of performance-enhancing drugs to the discovery this week of a cyst in his hip, there is a less sinister explanation. To fully understand the possibilities, it's helpful to first understand cysts.
We certainly have a broader wealth of information when it comes to examining cysts in the shoulder, a more common occurrence with overhead athletes. In many cases involving the shoulder, the presence of a tear in the labrum (the cartilage ring that helps deepen the shoulder joint and enhances overall shoulder stability) will lead to fluid accumulation that results in the formation of a cyst in the soft tissue. These cysts can irritate the muscles around them, such as the rotator cuff in the shoulder. In the case of the shoulder, a cyst can also cause nerve entrapment, which then leads to weakness of the surrounding muscles as a secondary effect. It is quite possible then that a tear in the hip labrum, a type of injury seen in power hitters, could lead to similar soft-tissue cysts, which could then result in weakness of the surrounding muscles, affecting performance.
In the presence of a soft-tissue cyst, the patient may experience pain, but more often than not, the primary symptoms are weakness, stiffness and/or tightness as a consequence of the muscles' not functioning properly. According to ESPN, Yankees manager
Joe Girardi
indicated that Rodriguez, who has been bothered by the hip somewhat since last year, "expressed a little stiffness. There was really no pain." Newsday reported that Rodriguez told the Yankees that the hip was limiting his bat motion and affecting his power. This combination of symptoms certainly hints at a weakness in the hip muscles that would affect his performance at the plate.
Treatment may involve addressing the cyst directly -- for example, aspiration (withdrawal of the fluid) or pain-relieving injections. Such treatment may prove effective, particularly in the short-term management of the problem. Ultimately, treatment may require repair of the primary tissue (the labrum), as this eliminates the source of irritation responsible for creating the cyst in the first place. In cases of such paralabral cysts in the shoulder, primary treatment to repair the labrum has been shown to be effective in restoring normal strength to the surrounding muscles.
Recently we have seen other high-profile baseball players undergo surgery to address labral injuries, including Phillies second baseman
Chase Utley
and Red Sox third baseman
Mike Lowell
. Utley, for one, had labral surgery in late November and is optimistic that he'll be ready for Opening Day. "Optimistic" is not "certain," though, and the time lapse between Utley's surgery and Opening Day will be about 19 weeks.
Stephania Bell is a physical therapist who is a board-certified orthopedic clinical specialist and a certified strength and conditioning specialist. She received her Master of Science degree in Physical Therapy from the University of Miami (Fla.)