Stephania Bell:

Nick Foles
October, 29, 2013
10/29/13
4:11
PM ET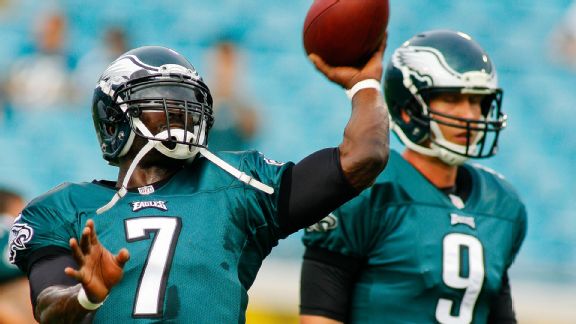 Phil Sears/USA TODAY SportsMichael Vick (No. 7) and Nick Foles are both recovering from injuries.
It's a quick-hit Tuesday.
Fortunately, this week was a little less dire than last in terms of the volume of serious injuries. There were still some of the season-ending variety, however, and more than enough scares for a Halloween week. The
Miami Dolphins
lost wide receiver
Brandon Gibson
to a torn patellar tendon, the
Tampa Bay Buccaneers
moved wide receiver
Mike Williams
to injured reserve after his hamstring injury worsened, and injury-plagued
Detroit Lions
wide receiver
Ryan Broyles
-- who has spent the last two years recovering from torn ACLs in each knee -- tore his Achilles tendon and once again is lost for the season. Some injuries really don't seem fair.
In the meantime, the majority of players are dealing with injury concerns of a lesser nature, but these maladies are still serious enough to threaten playing time. Here are some quick takes on who may be out, and who may be returning soon.
Michael Vick (hamstring) and Nick Foles (concussion), QBs, Philadelphia Eagles:
Vick returned to action after missing the Eagles' last two games, but made a quick exit when he re-injured his hamstring. Vick said he felt a "pop," and coach Chip Kelly has already said he is not expecting to have Vick in Week 9. Given that three weeks after the initial injury it only took Vick three series to suffer a setback, this is hardly looking like a fast track to recovery. According to ESPN's Ed Werder, this episode is not considered to be as severe as the initial injury and he will continue to be evaluated weekly. While it's impossible to say just how long Vick will miss, plan on more than a week, given the ease with which he suffered a setback.
Then there's the question of what happens once Vick is finally deemed healthy. That question might be answered based on the play of the one who fills in for him. Foles was out in Week 8 due to a concussion sustained the week before, leaving
Matt Barkley
to fill in, but Foles returned to practice Tuesday for the first time. If Foles continues to be well through the rest of the week, he is expected to start Sunday.
Robert Griffin III, QB, Washington Redskins, (knee):
Griffin left Sunday's game late with an apparent injury to his left knee, which is the one that is not surgically repaired. While the fanbase and fantasy owners may not have liked the sight of Griffin heading to the treatment table on the sideline -- escorted by Dr. James Andrews -- the good news is that everything checked out just fine. The decision was made to hold him out for the remainder of the game, despite Griffin lobbying to return. Coach Mike Shanahan later told reporters he expects Griffin to return to practice Wednesday, and it looks as if he will make his usual Sunday start.
Julius Thomas, TE, Denver Broncos, (ankle):
It's great when players help us out with their injury updates. Like Thomas, for instance, whom fantasy owners can thank for his tweet regarding the status of his ankle. On Monday, Thomas tweeted the following message: "Just left the facility MRI showed it wasn't a high ankle sprain so I won't be down long. Be back soon #CantWait"
The Broncos have a bye this week, so Thomas will have an opportunity to rest. No guarantees just yet that he will be ready to return in Week 10, but this can certainly be viewed as positive news. Perhaps he and his quarterback can work on their ankle rehab together.
Arian Foster (hamstring) and Ben Tate (ribs), RBs, Houston Texans:
The Texans had a bye last week, so their running backs should be healthy now, right? Not so fast. Foster suffered a hamstring strain which forced an early exit in Week 7, and Tate left that game with four cracked ribs. While both undoubtedly benefited from the rest, it's not reasonable to expect that they have healed completely.
Fractures can take multiple weeks to heal, and the challenge for Tate will be pain tolerance. Foster's history of soft tissue injuries makes his injury somewhat worrisome, but he has shown himself to be fairly resilient in the past. Whether either back has healed enough to suit up Sunday is the question, and it's not like there's an overabundance of confidence in Houston. Coach Gary Kubiak made his unease about the situation clear when asked if he was concerned.
"On a scale of what? One to ...?
The highest number
, whatever that is," Kubiak said, adding, "I don't think we're going to know anything until later in the week."
According to ESPN.com's Tania Ganguli, Tate says his pain has improved, and he expects to play Sunday, while Foster expects to "work toward" playing. We will see. Judging from the fact the Texans signed three running backs to their active roster Monday, there is reason for both Foster and Tate fantasy owners to be concerned.
Quick takes
•
St. Louis Rams
running back
Zac Stacy
was sidelined late in the fourth quarter of Monday night's game with what has been labeled an ankle sprain. The Rams have to be hoping this will not keep him from playing Sunday against Tennessee.
•
Buffalo Bills
running back
C.J. Spiller
sat out Week 8. Will he also miss Week 9? It sounds like the groundwork is being laid for that possibility. Coach Doug Marrone told reporters Monday that Spiller is dealing with a high ankle sprain, and that he will be re-evaluated this week. Meanwhile, teammate
Steve Johnson
has a hip flexor strain, and is expected to be limited in practice. Johnson has had various hip and back ailments so far this season, and this latest issue starts to prompt questions about whether he can get healthy enough to play four quarters before the team's Week 12 bye.
• Keep an eye on
New York Giants
running back
Andre Brown
(fibula fracture), who says he'll be ready to go in Week 10 when the Giants come off a bye.
Brandon Jacobs
thinks his hamstring will allow him to run again in Week 10 also, so the Giants may have some decisions to make at the position.
• Detroit Lions wide receiver
Nate Burleson
(forearm fracture) says he's eyeing a Nov. 10 return.
October, 22, 2013
10/22/13
3:25
PM ET
Heading into Week 8, both of the Philadelphia Eagles' top two quarterbacks,
Michael Vick
(hamstring) and
Nick Foles
(concussion), are battling injury.
Despite being active for Week 6 as an emergency quarterback, Vick was inactive for Week 7 after his hamstring proved a little more problematic than expected. Vick acknowledged he could still "feel it" if he tried to burst, and the concern about potential aggravation of the injury given his style of play led the Eagles to hold him out.
Foles started in his place Sunday but exited early with a concussion. As is the case with all players who suffer concussions, Foles will be progressed through a staged protocol and there is no predictability as to when he will be cleared to return.
The question for the Eagles is whether Vick is indeed healthy enough to take the field this Sunday. It appears his return is imminent based on a report from the Philadelphia Inquirer stating that Vick will start Sunday when his team faces the Giants. ESPN.com's Phil Sheridan reported that Vick took the first-team reps in Tuesday's practice. Perhaps this recent injury will translate to fewer designed run plays, but even if Vick is not yet 100 percent, he will run.
The hope is that given the time off and treatment, Vick has improved to the point where he is at a lower risk for re-injury than he was a week ago. Because time is a hamstring's best friend when it comes to recovery, the decision to hold Vick out last week will have helped. Unfortunately, we won't know whether the two weeks off was sufficient until we see whether Vick can last the entire game Sunday.
October, 15, 2013
10/15/13
3:03
PM ET
The best indicator of how well
Michael Vick
's hamstring was progressing last week was his being active for Week 6, despite not playing a down. The fact that the team was willing to activate him as the emergency quarterback suggests he was healthy enough that he could have stepped in if something had happened to
Nick Foles
.
Last week, Vick participated in practice daily, netting a full practice on what was one of the lightest workdays, but he was still out there on the field and not limited to strictly rehab work. Late in the week, Vick sounded positive about his readiness for Week 7, and if he were to ramp up his activity this week without incident, it would seem he should be ready to go by the time Sunday rolls around. But maybe ramping up is the problem. Vick acknowledged to reporters Tuesday that when he tries to "burst," he can still feel it in his leg. That signals a warning that his hamstring may not be ready for the type of demand Vick would likely place on it in a game situation. "I think another week of rehab can put me in position where I start gaining some confidence in it and doing things that I normally do," he added.
Coach Chip Kelly has not tipped his hand, saying only when speaking to reporters Monday that health would play a factor in deciding who starts under center this week. Kelly reiterated what we all know about the role Vick's running ability factors into his particular quarterback style. "Mike's legs are a big, important part of his game," Kelly said. "That's part of the decision in terms of putting the whole thing together, in terms of where he is and what he can do and what's his effectiveness."
On Tuesday, it was Foles taking first-team reps at practice. Offensive coordinator Pat Shurmur indicated that once both quarterbacks are considered healthy, Kelly will address the issue of who is going to start. "At this point," Schurmur said, "we'll go with Nick, and when Mike's healthy we'll have that discussion."
All hamstring injuries can be tricky in terms of identifying when the risk of reinjury is low enough to justify a return to play, setting up the scenario where the Eagles could make the case -- at least for another week -- of resting Vick for health reasons, even if they would simply prefer the idea of Foles at quarterback.