Stephania Bell:

Nick Johnson
April, 5, 2009
4/05/09
5:05
PM ET
By
Stephania Bell, ESPN.com
| ESPN.com
NL EastFlorida Marlins: Hanley Ramirez
Last year Ramirez made this list because there were concerns about his left (non-throwing) shoulder after offseason surgery to repair a torn labrum. Ramirez held up in 2008, although his productivity languished a bit compared to 2007. This year there are new concerns about his shoulder ... the other one. The Miami Herald reported that Ramirez came to camp much bigger this year after an offseason weight-training and swimming program. He then developed some right-side rotator cuff tendinitis which caused him to sit out a few games. Not to worry. By the close of spring training Ramirez was back playing shortstop and hitting homers, even stealing a base or two for good measure. He is 25, so his best years are still ahead of him.
Washington Nationals: Nick Johnson
After missing more than a full year with a slow-to-heal leg injury, Johnson made an emotional comeback in 2008, only to exit in June with a wrist injury. Johnson underwent surgery to address a ligament injury in his right (non-throwing) wrist and spent the remainder of the offseason rehabbing and retooling his swing under the watchful eye of Nationals hitting coach Rick Eckstein. Johnson has shown that his swing is healthy this spring; if his body can hold up its end of the bargain in 2009, the Nationals could be in for a treat.
[+] Enlarge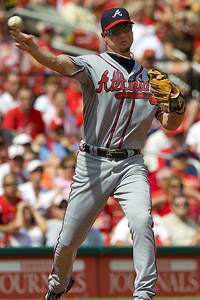 Scott Rovak/US PresswireJones' owners won't get 160 games, but the games they do get will be quite productive.
Atlanta Braves: Chipper Jones
Like that Energizer Bunny, Jones takes a lickin' and, well, minus a few days off here and there, just keeps on tickin' with remarkable consistency. Sure, he'll get banged up, but as a team leader, he's going to play through as much pain as he can. Last year's nagging quadriceps and hamstring strains finally forced him onto the DL in July, but he still finished the season batting .364. This spring an oblique strain squeezed him out of the World Baseball Classic, but fear not: Despite being 37 years old, he'll be back in the lineup come Opening Day. Yes, he remains an injury risk, but the Braves' willingness to extend his contract indicates their belief that the reward outweighs that risk.
New York Mets: Johan Santana
Some worried that Santana's offseason arthroscopic knee procedure might affect him, but it was a bout of elbow pain that set off alarm bells earlier this spring. A few weeks later, those alarms have all but subsided thanks to Santana's performance in recent outings, along with his declaration that he is symptom-free. The Mets certainly have to hope so. He is set to pitch on Opening Day in Cincinnati and will no doubt be a big draw to the new Citi Field, not to mention a key to the Mets' postseason aspirations. Whenever a pitcher has elbow pain there's reason to be cautious, but in Santana's case it's not time to be overly concerned -- yet.
Philadelphia Phillies: Chase Utley
Much was made of Utley's offseason hip surgery and how far into the 2009 season it would be before he could return. Well, surprise, surprise. Utley has been a model patient, working diligently to exceed his rehab targets while being mindful not to overdo it and create a potential setback. Utley has clearly demonstrated his readiness to return by not only offensively hitting for power this spring, but also defensively by sliding, throwing hard across his body and even diving for balls without hesitation. Manager Charlie Manuel has already proclaimed Utley a member of the Opening Day lineup, and he will continue to be a regular fixture thereafter.
NL Central
Sign up today for the most customizable free Fantasy Baseball game out there. You set the rules, scoring, everything. Sign Up Today!
Chicago Cubs: Rich Harden
He is awesome when he plays. But his health history leaves everyone on the edge of their seats wondering when the injury bug is going to strike again. Harden had his highest number of starts in four years in 2008, and his shoulder, which had limited him previously, appeared much improved. It's also worth noting that his outings were carefully managed, and he will continue to be monitored for pitch counts in 2009. So far this spring, the only thing to affect him was an unpleasant round of food poisoning. The Cubs have to be keeping their fingers crossed that this is the worst thing Harden has to deal with this year.
Milwaukee Brewers: Trevor Hoffman
Yes, Hoffman might be older than a couple of his teammates combined. Sure, he's starting the season on the DL with a strained oblique. But don't count this guy out. The all-time saves leader appears to have a relatively minor version of this injury and has already returned to playing catch. As a closer he needs fewer innings to prepare for the season, so he could join the club within the first two weeks. Baseball years do add wear and tear to the arm, however, and oblique injuries can recur. Hoffman will be consistent when present; the Brewers just hope he can be consistently present.
St. Louis Cardinals: Chris Carpenter
Carpenter's past two seasons can be summed up as follows: bone spur removal, Tommy John surgery, nerve problems in shoulder, nerve transposition surgery at the elbow. After more than two years, Carpenter can finally say that he feels good. And it shows. His performance this spring has been both impressive and inspiring. The Cardinals are optimistic, albeit cautiously so, but it does appear that Carpenter is headed for a stellar season.
Houston Astros: Lance Berkman
The Astros' first baseman began experiencing soreness in his left (throwing) shoulder in February. As recently as last week he was having trouble lifting his hand above his shoulder. The team is calling it biceps tendinitis, and Berkman is brushing it off as no big deal. They had better hope it is just a little spring training aggravation and not a sign of something that continues to flare up during the season. After all, those chronic, nagging injuries generally start out as small annoyances. Only time will tell, but there is reason to keep a close watch on Berkman's status; it may become more of an issue if he cannot get back to the field at the season's start.
Cincinnati Reds: Bronson Arroyo
When you hear the diagnosis of "carpal tunnel syndrome" it usually conjures up the image of an overworked software programmer whose hands are going numb from endless hours at the keyboard. But this injury is affecting the Reds in a different way. The electric-shock-like pain in Arroyo's thumb and index finger is keeping him from writing; playing guitar; and, most important for the Reds, pitching well. The plan, along with anti-inflammatories and intermittent rest, is for Arroyo to pitch through this, something he has done in the past. But the level of symptoms he is experiencing, on top of the fact that this is a chronic condition, makes it impossible to guarantee that Arroyo will be able to do so. Don't be surprised if he is forced to endure a stint on the DL early on.
Where should they go?

Check out a new tool from ESPN Insider: the Draft Analyzer. With it, you can figure out where a player should go in your fantasy MLB draft, relative to value. Draft Analyzer
Pittsburgh Pirates: Jack Wilson
Wilson was at an all-time low in 2008. He played in his fewest games, largely as a result of injury. After a torn calf muscle and broken right (throwing) index finger derailed most of his season, Wilson wasn't sure he would still be in Pittsburgh this year. But in Pittsburgh he remains, and although he's not going to be a rock star, the hope is that he'll be healthy enough to continue to provide primarily a solid defensive presence. Despite missing a few days with a bruised knee in spring training, he's hoping he'll have his best attendance record in years in 2009.
NL WestArizona Diamondbacks: Eric Byrnes
Byrnes, formerly known for his speed, had a terrible 2008 when both wheels came off, as in both hamstring muscles were injured. Byrnes opted for a conservative treatment approach (meaning no surgery) and has recently been showing that his legs are healthy this spring. Although Byrnes is not currently slated to be an everyday player for the Diamondbacks, the ability to slot him in anywhere in the outfield makes him valuable off the bench. He still has plenty left in the tank, and is already looking speedier than before he was injured last year. Don't overlook him.
Los Angeles Dodgers: Manny Ramirez
With all the concern apparent in Dodgerland when it initially seemed as if Manny might not be signed in 2009, there had to be similar concern when Manny was sidelined by a hamstring strain almost as soon as he joined the team. No doubt beads of collective sweat began to form in the Dodgers' front office. That concern has been for the most part alleviated as Manny has returned to both hitting and fielding duties. But, you may ask, don't hamstring problems tend to recur? Yes -- more beads of sweat -- but in this case, there are several things working in the Dodgers' favor. First, the injury was a minor strain. Second, because of the timing of the World Baseball Classic, Manny could actually be brought along more slowly, limiting his running early in his recovery, enhancing the healing process. Third, the Dodgers have an all-star medical staff. Relax. Manny can just be Manny.
Colorado Rockies: Troy Tulowitzki
Tulowitzki had a rough 2008 season. First, he was sidelined for weeks with a torn left quadriceps (not his fault). Shortly after his return from that injury, a laceration requiring 16 stitches to his right (throwing) hand kept him out for two additional weeks (his fault -- he slammed his bat, and it broke and bit him back). After an offseason to heal his leg fully and to settle down his frustration with last year's numbers, Tulowitzki should be in good shape for a strong 2009 season.
San Francisco Giants: Noah Lowry
Health issues have challenged Lowry in the last few years, most recently wiping out his entire 2008 season. This has to be disheartening for a young pitcher who showed so much promise when he first joined the bigs. Remembering that first season is perhaps why he continues to plod along through each rehab stint. Lowry, shut down last year with compartment syndrome in his left (throwing) forearm followed by elbow surgery, has already been bothered by shoulder pain this spring. A visit to Dr. James Andrews resulted in an injection into what was otherwise termed a structurally sound shoulder. Lowry is still optimistic that he can provide an option for the Giants later this season, but cumulative arm injuries do not historically bode well for pitchers.
San Diego Padres: Chris Young
Young has Ivy League smarts and toughness. No one could doubt the mental fortitude of this Princeton graduate after he came back to the mound just 10 weeks after taking a pitch to the face. The impact resulted in not only a broken nose, but also a skull fracture. Despite post-surgical sinus and ear infections, a strain in his throwing forearm forced him onto the DL again in August. Given his injuries last year, Young's spring tendinitis and poor outings have some concerned. For his part, Young says that both are typical of his spring performance and that he will warm up as the season approaches. Last year's injuries should have no carryover effect. Young has every reason to be optimistic in 2009.
May, 16, 2008
5/16/08
2:13
PM ET
The injuries just keep on coming. It seems like someone comes off the DL and two more go on. Can the DL also be a place to work out your confidence or mechanics issues? The Tigers certainly have to be hoping that will happen with
Dontrelle Willis
(although his latest rehab outing was less than outstanding). It may be where
Jason Isringhausen
is headed, too, as he tries to get himself back to being an effective closer.
Chipper Jones, 3B, Atlanta Braves:
Jones sat out Thursday night's game with a groin strain, but don't be alarmed. This is likely to be one of the myriad of minor muscle strains you can expect Jones to face as the season goes on. This year Jones has already dealt with a quadriceps strain and back spasms, so another addition to the list is not surprising. At this point it does not appear serious, and Jones himself makes a good point. He told the Atlanta Journal-Constitution, "If I can miss one game here and there to avoid missing six or seven, or a 15-day DL stint, then I have to be smart enough to be able to step aside for one game." And this is how you preserve one of the hottest bats in baseball. Jones expects to be in the lineup Friday.
[+] Enlarge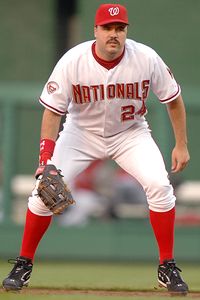 Mitchell Layton/Getty ImagesYou have to feel bad for Nick Johnson. He just can't stay healthy.
Nick Johnson, 1B, Washington Nationals:
You just have to have sympathy for Johnson. It was so exciting to see him back in the lineup to start the season after missing more than a year with a slow-to-heal broken femur (thigh bone). And he came back hitting hard! But a small slump followed, and then, alas, another injury. The latest setback for Johnson couldn't be something minor. No, he had to go down with what is being reported as a torn tendon sheath in his wrist, according to the Nationals' Web site. He is expected to miss 4-6 weeks, but as is often the case with wrist injuries, the time to return to form can extend beyond the time away from the game. Johnson injured himself during his final at-bat Tuesday and an MRI Thursday confirmed the severity of the injury. No more specifics have been given as to which tendon sheath was directly affected, but it is safe to say that the potential complications are similar to those following most wrist injuries, namely concern about power at the plate as a result of a decrease in grip strength.
Dmitri Young
, recovering from his own lower back injury, is expected to replace Johnson in the meantime.
Jason Isringhausen, P, St. Louis Cardinals:
This just in: Isringhausen is struggling in his closer role. Clearly this is not news to the Cardinals or to Isringhausen's fantasy owners, for that matter, but what happens next might be. Isringhausen is scheduled to visit with the Cardinals' team physician today and the St. Louis Post-Dispatch is reporting that he could be sent to the DL. Has injury been the source of Isringhausen's struggles? Not if you ask him. In the same Post-Dispatch report, Isringhausen denies that injury is the reason for his struggles: "I feel healthy." He does go on to say that "maybe my 'healthy' just isn't good enough." It's no secret that Isringhausen has an arthritic hip, but following an arthroscopic surgery in the offseason before 2007, Isringhausen went on to have one of his best seasons. Although sudden drops in performance can often be a sign of underlying injury, pain and stiffness are most commonly associated with arthritis, and if there has not been a dramatic increase in either of these related to his hip, it would be surprising if this was the culprit. That being said, if the hip is indeed bothering him to some degree, the Cardinals could place him on the DL to rest him and then follow the rest period with some rehab starts to perhaps permit him to work out some of his pitching kinks. The other option is a trip to the minors, and if confidence is really his primary issue, demotion may not necessarily be the way to regain it. Stay tuned closely to see how the Cardinals decide to move Isringhausen, but expect that he will be out of the closer role for at least a couple of weeks.
Rafael Furcal, SS, Los Angeles Dodgers:
It started as back stiffness. That really doesn't sound so bad. After all, who among us hasn't woken up with a stiff back or felt the effects of overdoing it in the company softball tournament? But Furcal's back problems stuck around long enough to warrant a trip to the DL. Keep in mind that he had similar back problems last fall that resulted in extended time off. On a positive note, Furcal received a cortisone injection Monday that "hit the spot," according to manager Joe Torre on the Dodgers' Web site. He would be eligible to return next Wednesday, and if the effects of the cortisone are more than temporary, it is a reasonable expectation. He will be evaluated daily, so in weekly leagues it may be best to wait and see how he progresses.
[+] Enlarge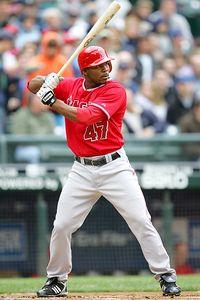 Paul Jasienski/Getty ImagesHowie Kendrick is quickly getting a reputation as a player who can't stay healthy.
Howie Kendrick, 2B, Los Angeles Angels:
Kendrick continues to work his way back, slowly, from a hamstring strain that has been plagued with setbacks. Most recently, Kendrick thought he reinjured the hamstring in early May, but according to the Los Angeles Times, Kendrick may have torn some scar tissue as opposed to creating new tissue damage. While that still results in some discomfort and a potential setback, if that is in fact what happened, it does typically translate to a quicker recovery. Ultimately this simply means that Kendrick's setback wasn't as bad as it could have been. The latest report from the team is that he has minor tightness in the hamstring at this point. The team is encouraged by his progress and hopes he will be able to resume his formal rehabilitation program soon. But if ever there were a player who exemplified day-to-day, this has to be the guy. Keep checking in.
Mark Prior, P, San Diego Padres:
Well, it may have been too good to be true. Prior, who had been having a very successful rehabilitation following surgery to address a torn labrum and damaged rotator cuff, has hit a major bump in the road. Prior reported pain during a throwing session earlier in the week, saying it felt like a "firecracker" going off in the back of his shoulder. That is never a good thing. Prior was sent for a repeat MRI and a follow-up visit with his surgeon, Dr. James Andrews. Perhaps the most telling outcome of his visit with Dr. Andrews is what we didn't hear. We did not hear that the MRI showed no new damage, nor did we hear that he could resume his throwing program. What we DID hear is that the team is trying to evaluate what the next steps will be. Hmmm. Although it's too soon to write him off completely as being able to return this season, for fantasy purposes, if you were holding out hope that he could be a post-All Star break value, you may want to give that space on your bench up for someone with a more certain future.
Alex Rodriguez, 3B, New York Yankees:
No blog would be complete without a status update on Rodriguez's thigh. Rodriguez, who has not played since he aggravated his quadriceps strain on April 28, has been gradually increasing his activity over the past week. Rodriguez had a Grade 2 (moderate) strain, and a repeat MRI this week showed improvement in the tissue but not complete healing. Consequently, Rodriguez has been asked to test his leg with increasingly vigorous but controlled activity to see how it responds. So far, so good. Rodriguez ran the bases Thursday and said he was running at about 95 percent without complaint, according to a report in Newsday. The plan is for him to work out again Friday, play third base in an extended spring training game Saturday, DH on Sunday and play third again in another extended spring training game Monday. The hope is that if all goes well, he will rejoin the Yankees to play third base on Tuesday. It is worth noting that his muscle healing may not yet be 100 percent, but his successful stepwise rehab progression is the determining factor in his ability to return to play. The fact that he is feeling good and has passed all his tests thus far bode well for him, but all players acknowledge that it's nearly impossible to reproduce the intensity and explosiveness of a game environment until they're actually playing in one (and no, extended spring training games are not the same as playing in the real thing, with your teammates, the fans and the pressure to be productive). Fantasy owners will want to get him back in their lineups without a doubt, but he remains a bit of a risk until fully tested.
That's it for Friday! Have a healthy and happy weekend, and may none of your fantasy players go on the DL.
April, 1, 2008
4/01/08
2:08
PM ET
By
Stephania Bell, ESPN.com
| ESPN.com
Play ball! These words were heard around the country as most teams officially opened their seasons this week. And so it is time for me to resume my regular season of injury blogging. We talked about key injury concerns during the offseason, and I shared some of my observations from training camps in Florida and Arizona, but now that the real deal is here, it is time to monitor how those preseason injuries are progressing (or not), and who is being added to the injury list each week.
We start this season off by welcoming a long absent player back from injury. Of course, because this is the injury blog, we also have to add to the injury list the players who have already gone down early in Week 1.
Welcome back!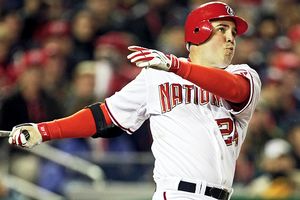 Drew Hallowell/Getty ImagesNick Johnson is looking good after missing all of 2007 with a broken leg.
Nick Johnson
has returned to the lineup in grand style. The
Washington Nationals
first baseman missed the entire 2007 season after suffering a broken right femur (thigh) in September 2006 as a result of a violent collision with right fielder
Austin Kearns
. It takes a lot of force to break a femur, and that's what happens when two adults moving at high speed in opposite directions crash into each other. Johnson had a titanium rod and screws placed into the femur to stabilize it, but persistent pain in his hip and knee resulted in subsequent surgery to remove the hardware. After first relearning how to walk, then run, Johnson had to reteach his leg some of the basics of baseball. One of the most challenging skills? Sliding. Imagine leading with that leg, knowing it will come into contact with something -- whether that something is a base or a body -- and overcoming the anxiety of that leg enduring the impact.
Well, Johnson came back with a vengeance, delivering an RBI double in the first inning Sunday and demonstrating confidence in his leg on a slide into second, which occurred without a second thought. It is wonderful to see someone who has been through so much and who has worked so hard to get back to the game be able to succeed. Forget the fact that Johnson's performance helped secure a Nationals victory on Sunday night to open their brand new park, as well as earn another victory Monday. His success was already evident by the fact that he earned the starting position, somewhat ironically, over
Dmitri Young
, the 2007 National League comeback player of the year. With two great outings to start the season, Johnson is making the Nationals very excited to see what is yet to come from him and his teammates in 2008.
New Injury Worries
Cleveland Indians
catcher
Victor Martinez
folded while trying to run to second when a pitch got away from
Chicago White Sox
catcher
A.J. Pierzynski
on Monday. An athlete's instinctive reaction to acute discomfort is to pull back immediately on the speed and grab the leg, a sure sign of a strained or pulled muscle. According to an ESPN report, Martinez, who has what the team is calling tightness in his left hamstring, will undergo an MRI to determine the extent of the injury. He is considered day-to-day for the time being. Last year, Martinez strained his left quadriceps on Opening Day and subsequently missed six games. The Indians have to hope this is not the beginning of a trend.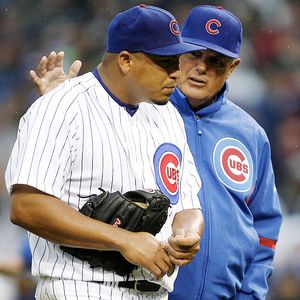 Tom Fluegge/US PresswireCarlos Zambrano, left, leads the Cubs with eight wins and is second on the team with a 3.01 ERA.
Chicago Cubs
pitcher
Carlos Zambrano
managed to pitch 6 2/3 innings in Monday's opener but complained of discomfort in his forearm. That was enough for the medical staff. Zambrano exited the mound, perhaps a proactive move to prevent it from becoming a significant problem. According to the Cubs' official Web site, Zambrano was experiencing forearm cramps and is not expected to miss his next start. For his part, Zambrano says he needs to "drink water." Can't hurt.
Kansas City Royals
outfielder
David DeJesus
left Monday's game with a sprained left ankle. Apparently, the ankle had been bothering him all week and was aggravated during the game when he chased down a ball. The Kansas City Star is reporting that X-rays on DeJesus' ankle were negative and that the pain he experienced Monday is not as severe as when he originally injured it March 24. The challenge with sprained ankles is avoiding re-injury while trying to recover, and this is an example of the type of minor aggravation that can set you back. Fortunately, this does not sound serious for DeJesus and should not result in an extended absence.
Washington Nationals pitcher
Chad Cordero
did not make his anticipated entrance at closing time on Sunday night, leading everyone to wonder what the problem might be. As it turns out, Cordero told The Washington Post that he felt a "sharp pain" that shot down his arm while playing catch before the game. Cordero received a cortisone shot, and the team is calling the injury tendinitis. He is not scheduled to throw before Wednesday at the earliest, and his next attempt at activity should give a better clue as to how serious the shoulder condition is. Sharp pain with throwing is always more of a concern than stiffness or tightness, but until Cordero tests the arm again, there is not much to go on.
Sticking with the Nationals, outfielder
Elijah Dukes
left Sunday's game with a strained right hamstring, the same hamstring he originally injured in mid-March, and was placed on the 15-day disabled list immediately after the contest. Hamstring injuries can easily become chronic and nagging, so this serves as a tiny red flag for Dukes that he will need to rest this ailment sufficiently and not return too soon. Otherwise, it has the potential to simmer just beneath the surface and crop up intermittently throughout the season.
That's it for the early week injury blog. Be sure to check back later in the week as we take a closer look at the players who started the season on the disabled list and what we can expect from them. As always, we will update any new injuries as well. Good luck to all of you playing fantasy baseball and remember, no matter what happens this week, it's a long season. I'll be with you the whole way.