Stephania Bell:

Pedro Martinez
April, 19, 2008
4/19/08
1:56
PM ET
By
Stephania Bell, ESPN.com
| ESPN.com
First-timers and familiar faces head to the disabled list this week as the injuries continue to rack up in baseball, especially in the pitching department. Not that everything is gloom and doom, though; there are a few folks who are recovering from their injury stint who have return dates on the horizon. What's new in the world of injuries? Let's take a look.
[+] Enlarge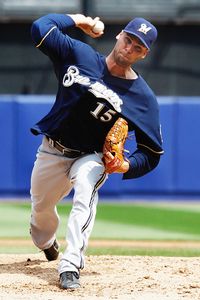 Nick Laham/Getty ImagesSheets and injury go together, unfortunately, like peanut butter and jelly.
Ben Sheets, SP, Milwaukee Brewers:
The all too familiar combination of the name "Sheets" and the word "injury" is back in print. Sheets, who is off to a fabulous start for the Brewers this season with three victories, left Friday night's game in the sixth inning with what is being called "tightness" in his pitching arm. ESPN reports that Sheets felt tightness in his right triceps and even after the game, while all wrapped up in ice, Sheets acknowledged that he was "really sore." He referred to his discomfort as a "kind of crampiness in there." In fact, Sheets began feeling soreness in the triceps Monday, the day after his victory over the Mets. The soreness never really dissipated over the week and the Brewers, comfortably ahead in the sixth inning on Friday, decided to pull Sheets and avoid risking further injury. Sheets' concern over this latest setback may be explained by the fact that his current symptoms are located near where his pain was when he tore his latissimus dorsi muscle in 2005, according to a report in the Milwaukee Journal-Sentinel. That problem lingered into the following season, so naturally Sheets is gun-shy about anything that feels remotely similar. In addition to the latissimus injury, over the past two years Sheets has dealt with a groin strain and a significant finger injury, all of which have amounted to a good stretch of missed time. It is unclear at this point how much time, if any, Sheets will miss with this latest ailment, but the team will continue to evaluate him over the next few days. Fantasy owners who drafted Sheets had to know there was an associated injury risk, and although it is not yet panic time, be sure to secure a backup.
Peter Moylan, RP, Atlanta Braves:
The Braves have to be wondering where the black rain cloud came from that seems to be hovering over their pitching staff. After
Rafael Soriano
went on the disabled list with tendinitis in his throwing arm, the team turned to Moylan for relief. That turned out to be short-lived, because pain in Moylan's elbow after pitching April 11 led to testing which revealed damage to his ulnar collateral ligament (the Tommy John elbow ligament) associated with a bone spur. Moylan paid a visit to Dr. James Andrews, who confirmed the team's findings and suggested Moylan attempt a two-week rehabilitation period to see if he could calm the symptoms and pitch again this season. Although Moylan has said the arm has felt a bit better over the past week, the team is not overly optimistic, and it's likely Moylan is ultimately facing reconstructive surgery on his throwing elbow. For his part, Soriano has thrown from flat ground without any ill effects this past week, and should begin throwing from a mound this week as part of his rehab progression. He is eligible to come off the DL on April 22, and he is confident he will be ready to go, but keep in mind, every step in the progression is more stress on the throwing arm. Until we see the evidence that Soriano can handle the increased workload, it appears
Manny Acosta
will most likely serve as the primary closer.
Carlos Pena, 1B, Tampa Bay Rays:
Pena complained of right hamstring tightness Thursday when the Rays faced the Twins, and was removed after the fourth inning as a result. The good news is that Pena did not feel any pain at the end of the game, according to a report in the Tampa Tribune. There was no audible "pop," or anything else that would suggest a serious injury here. As Pena said, he may just have exceeded his "speed limit" and his leg gave him a warning. The Rays have to be somewhat relieved since Pena has jumped out to such a strong home run start. He was held out of Friday's game, largely as a precautionary measure, but he may return to DH this weekend, according to an Associated Press report. The team is wise to give him a few extra days of avoiding hard running so this does not evolve from a minor episode of tightness to a major muscle injury. In the big scheme of things, fantasy owners should not be too concerned about this, because it appears to be just a minor setback.
In brief
Tom Glavine, SP, Atlanta Braves:
All good things must come to an end. And so it is with Glavine's amazing 22-year run of avoiding the disabled list. The Braves placed Glavine on the DL Friday, retroactive to Monday, with a strained right hamstring. Although Glavine, who injured his leg Sunday, was expected to be able to pitch against the Dodgers Saturday, ESPN reports that the Braves' team physician apparently felt Glavine's body was not quite ready for competition. In the interest of keeping this from becoming a more serious injury, Glavine will rest and continue to rehabilitate the leg until at least May 1, when he is eligible to be activated. The Braves have certainly had their share of pitching woes early in the season, but as Glavine says, maybe "we're getting it all out of our system."
Jose Reyes, SS, New York Mets:
Reyes was back in the lineup Tuesday after missing several games with a strained hamstring but showed no ill effects, going 4-for-5 against the Nationals. Unfortunately he may have something new to contend with as he hit his head against Phillies' second baseman
Chase Utley
's knee during a headfirst slide Friday night. Although Reyes was tended to for several minutes after the slide, he remained in the game and finished it out. While that would suggest that the injury was not serious, it is worth watching to see if the Mets hold Reyes out at all through the remainder of the series.
[+] Enlarge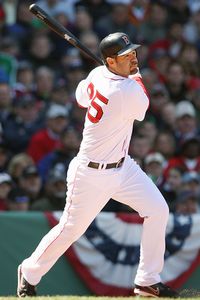 Elsa/Getty ImagesIf he continues his progress, Lowell could be hitchiking in no time.
Mike Lowell, 3B, Boston Red Sox:
The Boston Globe is reporting that the swelling in Lowell's sprained thumb has decreased significantly to the point where he may be able to start swinging a bat soon. There are still a number of rehab steps for Lowell to take, of course. He will begin by hitting from a tee, then progress in batting, then begin fielding exercises, with the ultimate progression to situational exercises, such as diving for balls. Manager Terry Francona told the Globe he did not expect Lowell to be ready to return when he is eligible to come off the DL (Friday), but that is not a big surprise given Lowell's initial timetable was a range from two to four weeks. Nonetheless, the improvement in the swelling is significant because that can be the biggest barrier to progressing activity after this type of injury.
Your questions
Since I have had so many outstanding questions in my Friday chats, and we never have enough time to answer them all, I decided to incorporate some of your questions into my blog each week. Many people are wondering about the long-term ramifications of
Pedro Martinez
's hamstring injury, including this writer:
JimBob (Wash DC):
Hi Stephania, My question relates to Pedro Martinez. ... How serious is his injury, is it a universal injury or is it related to his age, is it going to be a reoccurring injury and/or indicative of other injuries to come, and how do you value him (upon his return) with reference to other pitchers (e.g., is he at the level of Peavy, Billingsly, or
Randy Johnson
)? Thanks!
Stephania:
You are asking a great question, because it reflects all of the different variables you have to consider when evaluating Pedro's situation. Yes, hamstring injuries are universal in the sense that they affect everyone. We have seen pitchers, who rely on the hamstring for trunk and body control during ball delivery and follow through, suffer a strain here. We also have seen hitters suffer hamstring strains, generally during baserunning, because they use the muscle for speed and power. The degree of injury can vary widely, ranging from tightness (which suggests a minor strain or microtearing) to an audible pop, which suggests a more significant injury. The location of the injury can vary as well, from the tendinous region (where the muscle anchors to the bone) which can be near the top, near the pelvis, or near the bottom portion, near the knee to the muscular portion, which is usually felt in the middle of the thigh. Age is relevant in the sense that it can take longer for these injuries to heal in an older athlete, although that is not exclusively the case. The degree of injury and the athlete's level of fitness and flexibility all play a role. In Pedro's situation, perhaps the most concerning thing is the fact that he is dealing with a shoulder that has come off of an extensive rotator cuff repair. He simply cannot throw as hard as he used to, and he relies on his core strength and his legs to help him deliver the ball effectively and offload the arm. If his leg is not at full strength, it potentially compromises his arm. In my estimation, this is why he will not return until the team is convinced his leg is at full strength, and why we heard earlier this week that his return could be delayed until June. I think his value drops as a result of these factors, and even prior to this injury, we did not really expect him to go deep into games, which may mean less "wins" for your fantasy team. I think he is highly motivated to return, which is a positive for him, and he already came back from a shoulder surgery from which few recover. But the physical limitations are what they are, and as a result you need to temper your expectations for his performance, whenever he makes it back.
Thanks for all the great questions and I will keep posting them here on a weekly basis. Best of luck this week and may all your fantasy players stay healthy!!!
April, 4, 2008
4/04/08
3:49
PM ET
By
Stephania Bell, ESPN.com
| ESPN.com
Starting on the DL
Every season there are a number of players who start out on the disabled list. Some are still recovering from early offseason procedures while others incurred some type of injury during spring training. But it seems as if the number of key players starting off this season on the disabled list has mushroomed, with the starting pitching rotations being particularly affected. Today we take a look at National League players who were noticeably absent from their team rosters on Opening Day and evaluate the likelihood of them making an appearance in the near future and what we should expect when they do show up.
[+] Enlarge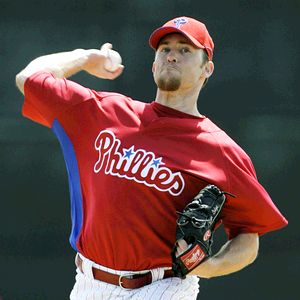 AP Photo/Paul SancyaLidge is hoping to resurrect his career in Philly.
Brad Lidge, Philadelphia Phillies:
Lidge underwent offseason surgery to address a cartilage injury in his right knee and was originally on track for an Opening Day appearance as the Phillies' new closer. Then in late February while throwing batting practice, Lidge caught a spike in the mound, resulting in a torn medial meniscus (fibrocartilage disc on the inner aspect of the knee joint). The good news from the Phillies' medical staff was that the tear was small, most of the meniscus was preserved (good for long-term knee health) and the previously operated-on portion of the knee (where the original cartilage injury was located) looked fine. Lidge has made a nice recovery from this second procedure, and has been gradually increasing his throwing program with the emphasis on restoring his velocity and increasing his endurance. He has been pitching in Clearwater, Fla., and it is uncertain exactly when he will rejoin the team according to a report in the Philadelphia Inquirer. His most recent outing in Clearwater was less than stellar, so it would not be a surprise to see him extend his minor league appearances through the weekend and then meet up with his teammates.
Scott Eyre, Chicago Cubs:
Eyre began the season on the disabled list because of inflammation in his left (throwing) elbow. According to the Chicago Cubs' official Web site, Eyre has a bone spur in his elbow that has been there for several years. Recently it has become more inflamed and painful, so Eyre took a cortisone shot to try to settle the symptoms down. The plan called for him to rest the elbow, then gradually resume a throwing program, with the goal being to rejoin the team's bullpen within a week or two. This still appears to be the plan, so expect Eyre to resurface soon. There is always the possibility that the symptoms recur, with the worst-case scenario being that the pain becomes disabling enough that the spur itself needs to be addressed, but there is no immediate cause for concern.
Randy Johnson, Arizona Diamondbacks:
Johnson is making yet another return from yet another back surgery, his third to be precise. Working in his favor this time around is the extra recovery time before the start of the season, the experience of having been through it all before and the patience he and the Diamondbacks are showing in bringing him back slowly. Johnson started the season on the DL, but has now been assigned a scheduled start date of April 14 in San Francisco, according to the Diamondbacks' official Web site. Johnson still has "the arm of a 25-year-old" according to GM Bob Melvin and he can still deliver strikeouts. This spring the Diamondbacks were particularly happy to see the return of Johnson's slider, a pitch he can use to decrease the reliance on his fastball. Although he has already shown that he can put the speed back on the ball, the ability to mix up his pitches so that he doesn't have to throw as hard as often may go a long way in preserving Johnson's health across the season.
[+] Enlarge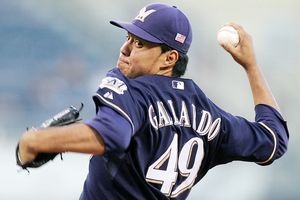 AP Photo/Keith SrakocicYovani Gallardo looks to excite Brewer fans and fantasy owners alike.
Yovani Gallardo, Milwaukee Brewers:
The Brewers' young ace injured the left lateral meniscus (fibrocartilage disc in the lateral or outermost compartment of the knee joint) in February, resulting in surgery for him and much anxiety for the Brewers organization and fantasy owners. All in all, the surgery was relatively minor and Gallardo, only 22 years old, has given every indication that he is on the road to full recovery. In fact, Gallardo has been impressive thus far in his return and in the past week has pitched five scoreless innings. The Brewers placed Gallardo on the 15-day DL to start the season to afford him more rehab starts as well as time to increase his pitch count. A few missed days here translates to less risk down the road, a worthwhile tradeoff for the Brewers.
Mark Prior, San Diego Padres:
Mark Prior has not pitched in the majors since 2006. He is expected to make his return, barring any setbacks, as soon as June of this year. Prior underwent surgery in April 2007 to address damage in his rotator cuff and labrum. Prior has been throwing bullpen sessions and, more recently, began facing live batters. His next stop will be the minor leagues, perhaps by the end of the month. The team placed him on the 60-day disabled list as a routine measure given his rehabilitation timeline. On the plus side, Prior is still relatively young (27), he has been through extensive, detailed rehab and is back in his hometown (which happens to be home to a pitcher-friendly park as well). He does, however, have a tendency to place his elbow high above his shoulder at lead foot contact (when his front foot hits the ground), placing the shoulder joint under additional stress, but if he modifies this, it could significantly enhance his overall durability. This may be Prior's best chance for a solid season in three years.
Nomar Garciaparra, Andy LaRoche and Tony Abreu, 3B, Los Angeles Dodgers:
It's no secret that third base for the Dodgers has a hex on it. At least not now. The Dodgers cannot seem to find someone to stay healthy enough to hang around at this position (except maybe Blake Dewitt, who got the Opening Day start after playing no higher than Double-A ball in his career thus far). Garciaparra was hit by a pitch, which ultimately resulted in a small fracture, on the same day LaRoche tore the ulnar collateral ligament in his thumb. LaRoche's injury required surgery and will cause him to miss two months at least. Garciaparra has to allow the swelling to go down and the pain to subside before he can effectively swing the bat and grip the ball. Keep in mind, Garciaparra has had prior problems with this wrist, which could tack some extra healing time onto this episode. Meanwhile, Abreu is coming off of sports hernia surgery in the offseason. Normally this is a fairly straightforward recovery process, but Abreu has been plagued by various muscle strains (gluteus and, most recently, groin) since the operation. These muscles are all tied into the region that was addressed surgically, so it appears that Abreu still has some healing and strengthening to do. He too began the season on the disabled list, but given his ups and downs across the spring, his return timetable is unclear. Stay tuned.
New injury worries
New York Mets
ace
Pedro Martinez
is on the disabled list with what the team is calling a "mild hamstring strain." His projected timetable is four to six weeks, although the combination of this latest setback with his age and injury history suggests that it will, in fact, be longer. For more details on Pedro's injury, click
here
.
Seattle Mariners closer
J.J. Putz
gave the team a scare Monday night when he complained of pain in his rib cage area after delivering a pitch in the ninth inning. Putz later underwent an MRI and was given a diagnosis of mild costochondritis, inflammation of the junction where the rib and the cartilage that anchors it to the sternum (breastbone) meet. Putz has been placed on the 15-day disabled list and barring any setbacks, this time frame appears reasonable for him to return. For more details on the injury to Putz, click
here
.
The
Detroit Tigers
have their hands full with injury woes and it's not yet one full week into the season.
Curtis Granderson
started the season on the disabled list with a broken third metacarpal bone and now two more of his teammates threaten to join him.
Third baseman
Miguel Cabrera
was scratched from Thursday's contest because of a pulled left quadriceps muscle (the large muscle on the front of the thigh). According to an ESPN report, manager Jim Leyland said Cabrera "could hit but he can't run," so he did not want to use him. Leyland went on to add that Cabrera had some trouble with the quad during the winter months and that it was still sore during the spring. Not only is Cabrera's absence from the lineup not good news for the Tigers, it is also troublesome that his quadriceps muscle issue is perhaps not entirely acute. Winter and spring are not nearly as taxing as the regular season, and if Cabrera could not fully improve during the more restful offseason, this could be a sign that the quadriceps will give him trouble intermittently throughout the rest of the year. As for Friday, Cabrera is back in the lineup as a designated hitter, but there is no immediate timetable as to when he might return to the field.
Designated hitter
Gary Sheffield
tore a tendon in his ring finger as he tried in vain to turn a single into a double on a slide in the eighth inning of Thursday's game against Kansas City. According to an ESPN report, Sheffield said he was unable to straighten the finger after the injury and also reported losing feeling in the finger for a period of time. Although Sheffield initially indicated that he would try to play through the pain, he is out for Friday's game, but it appears that he may not miss much more time. In fact, according to a report on mlive.com, Sheffield will not go on the disabled list and could return as soon as this weekend. As expected, he will have the finger splinted, but given that the injury is at the tip of the finger, he should be able to hit. It remains to be seen whether there will be an adjustment period for him as he returns to hitting, given that he will be likely outfitted with some protective padding, but I suspect that won't last long and he will be effective in short order.
Check back later in the week as we look at who are the key American League players that started out on the disabled list and anticipate their return. Let's hope for a healthy weekend of baseball and best of luck in all your fantasy leagues!!