Stephania Bell:

Peyton Manning
November, 12, 2013
11/12/13
4:26
PM ET
Stephania Bell joins Eric Karabell to discuss what to expect from a hobbled
Peyton Manning
in Week 11.
October, 24, 2013
10/24/13
7:21
PM ET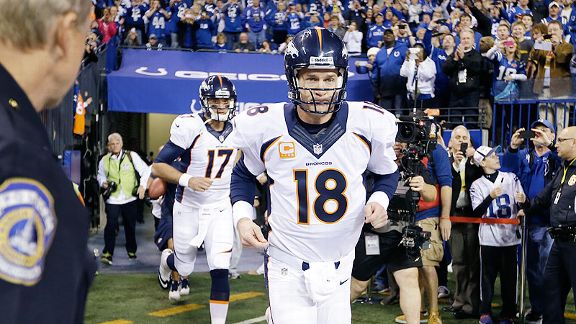 AP Photo/Michael ConroyPeyton Manning should be coming out of the tunnel to start Sunday's game against Washington.
After a brutal Week 7 on the injury front, there are some big names with concerns heading into Week 8, but none is bigger than the one that tops this week's injury notebook.
Peyton Manning, QB, Denver Broncos (ankle):
Manning missed practice Wednesday due to a sore ankle. As if Manning would let a little ankle issue get in the way of playing this week. By the way, he still threw during the walk-through on Wednesday because, as we might expect, Manning doesn't really rest. He was back in full practice on Thursday with business as usual. It's not as if anyone is counting on Manning to run, so there should be little concern about his readiness for Sunday.
James Jones, WR, Green Bay Packers (knee):
Jones sat out the Week 7 contest with a sprained PCL. Last week we discussed
the challenges
of this specific injury, but Tuesday coach Mike McCarthy sounded as if it could be this week or next when Jones might return. Jones did not practice Wednesday or Thursday, casting doubt on his availability for this week.
Cecil Shorts (shoulder) and Justin Blackmon (hamstring), WRs, Jacksonville Jaguars:
After a long trip to London for the Week 8 game, both players were given Wednesday off. If Shorts played last week, he will play this week. In fact, given the SC sprain he
sustained in Week 6
, an incredibly painful injury, his performance last Sunday was impressive. The best thing about this week's game is that it comes seven days later, giving Shorts some additional healing time. He returned to practice Thursday on a limited basis and has already indicated he plans to play.
Blackmon returned to practice Thursday on a limited basis. He continues to press on despite a hamstring ailment and is expected to do so again.
DeMarco Murray, RB (knee) and Dez Bryant, WR (hamstring/wrist), Dallas Cowboys:
Murray returned to limited practice Wednesday after sitting out the Week 7 contest with an MCL sprain. In fact, Murray was doing some running as early as Monday. The fact he has been able to increase the workload a bit each day is a very positive sign heading toward Sunday's game. His effort so far this week suggests he'll play. Murray was reluctant to sit out last week as he tries to shed the injury-prone label that has been attached to him. The week off may have helped his outlook going forward though, at least as far as his knee is concerned.
Bryant was limited in Wednesday's practice due to a sore hamstring and a wrist ailment, but he was out there in full on Thursday. There is no real concern about Bryant's availability.
Brandon Jacobs, RB, New York Giants, (hamstring):
Jacobs' dramatic comeback to the football field in Week 6 was followed by an absence due to a sore hamstring in Week 7. Surely he would like to get back out to the field. That did not happen Wednesday as Jacobs was held out of practice again because of the hamstring. He remained out on Thursday and it looks increasingly as if he could miss another week.
October, 30, 2012
10/30/12
6:29
PM ET
Week 8 is in the books! The season is approaching the halfway mark, the point where some fantasy teams attempting to reach the playoffs must decide whether to fish or cut bait when it comes to players with injury concerns. Unfortunately, there are still a number of question marks out there with players whose return status is unclear.
[+] Enlarge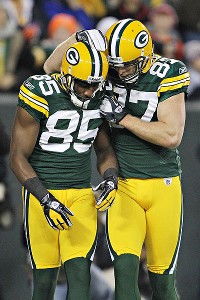 Jonathan Daniel/Getty ImagesGreg Jennings may not be back for a while, but Jordy Nelson could return this week.
Green Bay Packers
wide receiver
Greg Jennings
was impacted by Hurricane Sandy in an unusual way. Jennings was scheduled to undergo abdominal surgery in Philadelphia on Tuesday, but due to travel difficulties associated with the storm, surgery has been postponed. No word as of yet as to how long until Jennings' operation is rescheduled. While a delay of a few days is not likely to significantly impact his overall recovery, every week counts. It would not be a surprise if he doesn't return until December.
Jacksonville Jaguars
running back
Maurice Jones-Drew
(foot) has already been ruled out for Week 9, according to coach Mike Mularkey, but there is no definitive word on when to expect him back. (I still expect him to return this season, but whether it's in the next two or three weeks or more than a month away is unclear.).
San Diego Chargers
wide receiver
Vincent Brown
was an exciting prospect in the preseason, then a fractured ankle sent him to IR/designated for return. The question now is when he will return, as he has yet to practice and hasn't even begun running. Head coach Norv Turner acknowledged Monday, "I don't expect him back real soon." Brown was always projected to miss at least eight weeks and the Chargers indicated he was on track throughout his recovery process. Once he became eligible to join the team in practice, though, his absence became more noteworthy. It's not a huge surprise given the challenges of regaining functional strength and mobility in an ankle after a fracture, even if the bone has healed. Still, given the notion that Brown is still multiple weeks away from a return, fantasy owners should consider looking elsewhere for midseason help.
There are some other players whose status is worth tracking. Here's who we're keeping an eye on heading into Week 9:
Peyton Manning, QB Denver Broncos, (thumb):
The Broncos have to be breathing a sigh of relief that Manning did not suffer a more serious injury when he hit his thumb on a helmet. Manning said afterward he was "lucky" that the impact was on the nail (as opposed to further down on the bone itself) and coach John Fox told reporters Monday that Manning's thumb was fine. Whew.
[+] Enlarge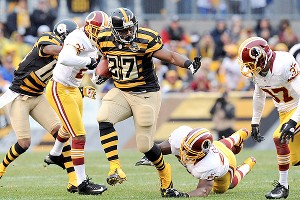 AP Photo/Don WrightJonathan Dwyer has two straight 100-yard rushing games, but now he's dealing with the injury bug.
Rashard Mendenhall (Achilles), Jonathan Dwyer (quad) and Isaac Redman (ankle), RBs, Pittsburgh Steelers:
The three lead running backs for the Steelers are all on the injury report and there is some uncertainty around the status of each. Mendenhall strained his Achilles in Week 6 and has not practiced since. Although the indications are that the injury was not serious, the Steelers would prefer it not become serious, and Mendenhall is still early in his return from ACL surgery. Last week, head coach Mike Tomlin indicated Mendenhall was making progress and he will begin individual drills Wednesday. It would not be surprising if he is able to return this week, although much depends on how he responds to increased work.
Redman is still recovering from an ankle injury also sustained in Week 6. He did make it back to limited practice late last week and, if he gets through a week of practice, he should be available by Sunday. Dwyer got the start last Sunday with both Mendenhall and Redman sidelined, but he was reported to have a strained right quad after the game, leaving the question as to who will be available (and starting) this week. On Monday, Tomlin announced that Dwyer would not practice Wednesday but could be back in the mix Thursday. In other words, this situation will not likely shake out until late in the week.
DeMarco Murray (foot) and Felix Jones (knee), RBs, Dallas Cowboys:
Murray has been out since suffering a foot sprain in Week 6 but it sounds as if he is making some progress. According to the Dallas Morning News, head coach Jason Garrett said, "It seems like he's moving around a little bit better." Garrett also cautioned that it is the type of injury that warrants caution and that Murray is day-to-day. Foot injuries are very tricky, even those that don't require surgery, as we have seen in the past (Exhibit A: Raiders running back
Darren McFadden
, who was unable to return after his midseason injury last year). Murray moving better is a far cry from hard running and making sharp cuts in practice. Consider me skeptical until we see evidence that he can do these things without limitation before declaring him ready to return. In the meantime, Jones entered the Week 8 game with a bone bruise in his knee and managed to escape without further injury. Jones would likely get the start again if Murray remains out.
Dez Bryant, WR, Dallas Cowboys (hip):
Anyone watching the Cowboys this weekend probably saw the spectacular catch that Bryant made in the end zone late in the game, the one that was just fingertips shy of a touchdown. While many were watching the multiple replays of the catch, some may have noticed that Bryant seemed a bit shaken up on the play and even appeared to be limping as he left the field. He did return to finish the game but there were still questions about his hip. On Monday, coach Jason Garrett told reporters the Cowboys did not think the injury was "that severe." It appears Bryant should be fine to play in Week 9.
Jordy Nelson, WR, Green Bay Packers (hamstring):
Nelson was out in Week 8 because of a hamstring strain suffered in last Wednesday's practice. Nelson should get back to practice this week. How he responds should offer further clues about his availability for Sunday.
Calvin Johnson, WR, Detroit Lions (knee):
Johnson is on the playing field weekly despite being a regular on the injury report, so it hardly merits a mention. Most of the time. This week, however, Johnson made some postgame comments suggesting his knee is more of a problem than he has let on. When referencing a dropped pass, Johnson told reporters, "It's tough to stick my foot in the ground with my knee hurting, but that's not [an] excuse." Johnson is not typically one to make excuses, nor is he one to complain about physical ailments, but his words suggest that the pain is literally impacting his performance. Will that alter his status heading into Week 9? Don't count on it. Coach Jim Schwartz said of Johnson Monday that he is "plowing through," suggesting that he will continue to do so until or unless it becomes physically impossible. Expect Johnson to get a big break in practice this week to help preserve him for Sunday.
Ben Tate, RB, Houston Texans (hamstring):
Tate was dealing with a toe injury recently, and now he's got a strained hamstring. As Texans head coach Gary Kubiak told reporters Monday, "It seems like it's been one thing after another." The Houston Chronicle reports that Tate maintained a regular rehab schedule during the Texans' bye week in the hopes of being ready for Monday practice, yet he still could not participate. The cumulative injuries have prompted Kubiak to suggest that Tate will miss some time to try to get his health right. No indication whether that time is the span of a few days or more than a week, but it hints at an absence for Week 9.
Justin Forsett
suddenly becomes more interesting.
[+] Enlarge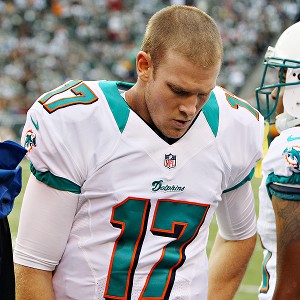 AP Photo/Seth WenigThe Dolphins cruised to a win in Week 8, even with Ryan Tannehill leaving with an injury.
Ryan Tannehill, QB, Miami Dolphins (knee):
Tannehill suffered a bone bruise in his left knee along with a quadriceps contusion (deep bruise) early in Week 8 and
Matt Moore
came in to finish the game. According to ESPN news reports, an MRI did not reveal any more specific structural damage, but Tannehill's status for Sunday remains uncertain.
Wes Welker, WR, New England Patriots, (ankle):
Welker sprained his left ankle in the fourth quarter of the Patriots' London game against the
St. Louis Rams
and did not return. As reported by ESPN Boston, Welker said his foot got "stuck in the turf" and he remained walking the sidelines following the injury. There doesn't seem to be much concern about Welker's chances for Week 10, as he will have the benefit of a bye week to recover.
Aaron Hernandez, TE, New England Patriots (ankle):
Hernandez, who did not travel with the team to London, should also benefit from the bye week. Although Hernandez has returned to play since injuring his ankle in Week 2, he was still experiencing some limitations with mobility and agility. Eliminating a long road trip combined with two weeks of relative rest and focused treatment should have Hernandez in better shape by Week 10.
March, 7, 2012
3/07/12
12:31
PM ET
Sometimes, even if a parting of the ways is anticipated, it is still difficult to process when it actually transpires. And so it is on this day as the
Indianapolis Colts
announce they will release
Peyton Manning
.
It is no secret that this cascade of events was triggered by questions about the veteran quarterback's health, specifically the health of his neck and its relationship to his throwing arm. The whispers of concern over Manning's health began last May, grew to rumblings in late summer and became overt points of discussion as the NFL season progressed. In medicine, the degree of success following a surgery, therapy or any other form of treatment is typically measured by return to prior level of function. In Manning's case, that would be defined as a return to play in the NFL.
So what everyone naturally wants to know is what degree of "success" will Manning achieve?
The problem facing all parties involved in this discussion -- the Indianapolis Colts, any NFL teams who might be interested in Manning, the medical personnel involved in Manning's care, Manning's representatives, even Manning himself -- is that the answer is not yet definitively known. Until Manning comes back to the football field and performs at a level comparable to where he left off -- or determines that he will not or cannot do so -- the return to prior level of function cannot be fully measured.
In the meantime everyone, including Manning, can only project what they
think
is reasonable to expect. Here is some of the material that factors into that analysis.
The chronology
This has been repeatedly documented in detail but the highlights surround Manning's surgery dates.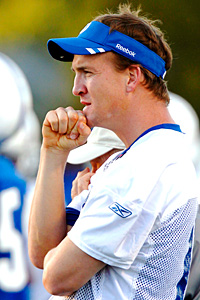 Photo/Michael ConroyPeyton Manning was a spectator at team practices during the 2011 preseason.
On May 23, 2011, Manning underwent a procedure to address a bulging disc. He engaged in a rehab program away from the team facility. When training camp opened, Manning had not progressed to participating in team football activities.
In September, the Colts indicated Manning would miss the season opener and concern about his progress quickly elevated.
Hours later, the Colts announced that Manning had undergone a
single-level anterior cervical discectomy and fusion
(ACDF) with Dr. Robert Watkins in California. Manning subsequently returned to the Colts' facility to resume his rehabilitation. In December, Manning's fusion was declared stable and he was cleared to progress his activity. The takeaway at that point was simple: The fusion (the bony segment where the two vertebra are fused together with bone graft) had healed. Manning could gradually increase his activity without fear of damage to the area that was repaired. Theoretically, the remaining piece was regaining strength and conditioning of the muscles that support the area (neck, upper back) as well as arm strength, further cardiovascular conditioning and resumption of sport-specific activities.
Manning did not return to play during the regular season.
In December, SI.com reported that Manning had undergone an additional "procedure" on his neck. The term procedure is non-specific and does not reveal anything about what may or may not have taken place. Consequently, this information is hard to incorporate into any analysis of Manning's overall medical condition.
In January, reports surfaced of Manning increasingly working on throwing, suggesting he was making strength gains in his right arm. ESPN's Chris Mortensen reported that Manning was cleared by Watkins to resume play and that the Colts' neurosurgeon, Dr. Hank Feuer, told Manning it would be safe to return. Colts owner Jim Irsay responded by saying that Manning had not yet passed a team physical.
There have been no further formal medical updates from either the team nor any of Manning's medical providers.
The medical precedents
Cervical fusions are not altogether unusual. Significant improvement is reported for most patients with disc herniation but the majority of individuals who undergo the procedure are not trying to return to contact sports. But what if they are?
As it turns out, there are athletes who have successfully undergone an ACDF and returned to play in the NFL. Not only have they returned to football but one could argue that in most cases, they have returned to play in positions (such as defensive back or lineman) that are susceptible to far more routine repeated contact or collision than Manning's position of quarterback.
Dr. Joseph Maroon, professor of neurological surgery at the University of Pittsburgh Medical Center and team neurosurgeon for the
Pittsburgh Steelers
, has performed ACDFs on perhaps the largest collection of such elite athletes. In a paper to be presented this April at a conference in Pittsburgh, Maroon reports on a series of 13 athletes (eight NFL players and five professional wrestlers) who underwent an ACDF. Maroon notes that each of these athletes recovered to the point of being able to return to their sport. The recovery time frame ranged from as little as nine weeks to as much as 12 months. (Although all athletes were cleared to return to sport, two opted to retire.) Many of these athletes returned to play for multiple seasons; some are still active.
Like any surgical intervention, the ACDF doesn't come with a foolproof guarantee. "There is a 15 to 18 percent chance that an individual could develop a problem above or below the level of the fusion, but that is with or without football," Maroon says. "One athlete in this study did have that happen." Still, as Maroon points out, this procedure can extend the playing time for an athlete who might otherwise be forced out of his career because of injury.
Manning's specific rehab progress
This is the hardest element to assess from a distance. For a long time, we heard nothing. When Manning underwent his surgery in May, the NFL was in a lockout. According to the terms of the lockout, Manning, like all players, could not communicate directly with the organization. Additionally, his rehabilitation took place away from the Colts' facility and away from the rehab staff with whom he was accustomed to working throughout the season. (This is not intended to comment one way or the other on the quality of the care he received but rather as simple point of fact.) While we heard the occasional reference to Manning undergoing rehab and that he was making progress, there was little, if anything, specific.
Then the lockout ended. Training camps began. And suddenly it became obvious, simply by his absence from team workouts, his sequestration from the media even, that Manning was not far enough along in his recovery to participate in football activity. A month before the season was to begin, this was clearly a concern. This is when reports of lingering weakness in Manning's triceps began to surface and the words "nerve regeneration" came to light. Once the Colts announced that Manning was undergoing a subsequent surgery, a single level cervical fusion, it was clear that his progress had, at best, plateaued.
[+] Enlarge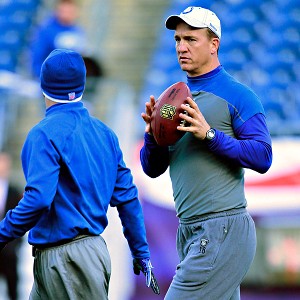 AP Photo/Michael DwyerManning has gradually been able to return to football activities.
Since that surgery, Manning's recovery has remained somewhat of a mystery. As his rehabilitation efforts continued away from the public eye, there could only be speculation, often fueled by comments from the various parties close to the situation, as to what Manning's real progress was. That is, until the video footage surfaced recently showing Manning, looking very much like a football player in helmet and pads, throwing a football very much like a quarterback needs to do. This is the first visual evidence of Manning being Manning-like and even this is merely a snapshot in time, many steps removed from returning to competitive play. But it signals progress.
As it stands now, Manning's evidence of progress in the video clip is the strongest affirmation yet that he has the potential to return to form. The window for him to make further physical or functional gains has not necessarily closed and no one can say with absolute certainty when that will happen. According to Maroon, within 12 to 18 months post-surgery an athlete has probably realized the maximum point of return. Even if Manning's May surgery is considered the starting point of the countdown clock, he is less than a year removed from that procedure. It's possible not only that Manning will continue to progress beyond the point where he is now, when teams will likely be wooing him, but that he could continue to improve even after returning to play. On the other hand, it's also possible that his body has achieved its full capacity for healing.
There is no way to definitively measure where Manning's maximum potential lies, no imaging test that will guarantee an outcome. Evaluating how completely Manning can and will recover is ultimately something that only happens in retrospect, with the assessment potentially ongoing for the duration of the next NFL season. That makes what the Colts are doing now and what any subsequent team who signs Manning later an exercise in uncertainty. There is a risk-reward element when it comes to medical conditions and athletes, which is nothing new. Free agents in all sports face these issues as prospective teams evaluate whether or not to sign them based, at least in part, on their medical history. Every year in the NFL draft these decisions are made as some teams pass on athletes whose medical concerns outweigh their perceived potential while other teams opt for the high upside and are willing to absorb the medical risk. The difference here is that this is not just any athlete; Manning is the face of a franchise, a projected Hall of Famer who is known equally for his work ethic and his contributions to the community as he is for his exceptional skills on the field, making the reward exceed the risk for many suitors.
Given the unknowns on the medical front, the only certainty at this point is that Manning and Andrew Luck, whom the Colts are expected to select with their No. 1 draft pick, will not be on the same sideline. The team that does succeed in securing Manning knows the potential for their investment; they just hope to also have a little luck on their side.
September, 8, 2011
9/08/11
5:54
PM ET
Now we understand why Manning will be out "awhile," as
Indianapolis Colts
owner Jim Irsay tweeted earlier.
[+] Enlarge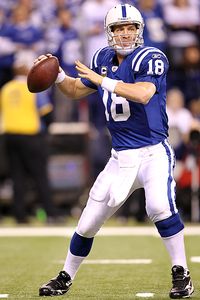 Andy Lyons/Getty ImagesFor now, there's still a chance that Peyton Manning could return to action this season.
The Colts announced that quarterback
Peyton Manning
underwent
further neck surgery
Thursday, specifically a single-level anterior fusion. According to an
official statement released by the team
, there is no estimation of a return date, and the team will keep Manning on the active roster until it has "a clearer picture of the recovery process."
Exactly what procedure did Manning undergo? Often referred to with the acronym ACDF, anterior cervical discectomy and fusion, the surgical procedure typically involves removal of the problem disc material, implantation of a bone graft as a spacer (filling in where the disc used to be) between the two vertebrae and placement of a metal plate over the area to secure the fusion. It is called anterior because the incision is made in the front of the neck to access the spine. Advances in surgery have allowed the incision to become smaller with less trauma to the surrounding tissue.
Rehabilitation focuses on strengthening of the stabilizing muscles that support the spine along with cardiovascular exercise, range of motion for the areas above and below the fusion, and gradual progressive return to activity. Key to offloading stress from the fused segment is maintaining good mobility in other areas of the spine along with strength of the postural muscles that provide stability. As the bone healing progresses and the athlete demonstrates increased endurance, more activity is allowed.
Although the team is understandably not issuing a specific timetable for Manning's return, there is every reason to believe that he can and will return successfully -- this year or next -- after this procedure. The typical recovery time for an athlete is often two to three months, but it can be longer based on the individual and how involved the nerve compromise was. The Colts will want to see that Manning's strength has returned completely and that the fusion has healed satisfactorily before he returns to competitive play.
Dr. Joseph Maroon, who is vice chairman and professor of neurosurgery at the University of Pittsburgh Medical Center, as well as team neurosurgeon for the
Pittsburgh Steelers
and medical director for the WWE, has extensive experience with these types of surgeries in this population of athletes. Maroon has performed this ACDF on at least 10 professional football players and wrestlers, all of whom returned to competition. Examples include wrestler John Cena, who returned to the ring within two months after surgery, as well as former NFL players
Ruben Brown
and
Mike Alstott
, who both played for several years after their surgeries. In an interesting note, cornerback
Kelvin Hayden
, recently signed by the
Atlanta Falcons
after spending the past six seasons with the Colts, underwent a similar procedure in the offseason. Hayden had to pass the Falcons' physical to join the team, and as he told the Atlanta Journal-Constitution, "My neck is fine. ... It's something that everybody was questioning. I'm just glad the Atlanta Falcons gave me an opportunity. I'm just excited to get out there and have some fun. I want to show that I can still play."
Maroon called this single-level fusion procedure "career-saving" for such athletes. Although some experienced additional neck problems down the line, they were able to extend their playing careers after surgery and intensive rehabilitation. Maroon expects Manning to be able to return without limitation as well, whenever that may be.
It only makes sense that Manning's neck, now subject to a third surgical procedure, may be an issue for him somewhere down the road. Just as many athletes undergo multiple knee or shoulder surgeries and are later forced to deal with residual degenerative changes and the discomfort that goes with it, Manning may be in line for some aches and pains later in life. After all, most football players carry such "reminders" of their former profession into their post-career years. For now, though, Manning's focus will be on recovery and return to work, something he will be only too happy to get back to doing.
September, 8, 2011
9/08/11
1:16
PM ET
There is no longer any suspense surrounding the status of
Peyton Manning
for the
Indianapolis Colts
' Week 1 opener against the
Houston Texans
. He is simply, as they say on official NFL injury reports, "Out."
[+] Enlarge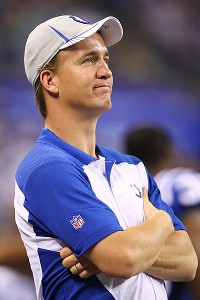 Michael Hickey/US PresswireThis is how we'll see Peyton Manning this week and maybe for a few more weeks after that.
The big follow-up question naturally is how long until Manning is ready to compete. The problem is there's no real way of knowing.
It is unknown, at least to those removed from his inner medical circle, whether his slow progress is due to the natural variable course of recovery from May surgery to address a bulging disc (because the timetable can be highly variable, even when no "problem" exists) or whether there's actually a secondary issue (such as scar tissue or another structural component). It may even be a case of where Manning made progress initially that has recently plateaued and the next steps are yet to be determined based on how he responds to a period of rest (doctors recently advised Manning to discontinue practicing).
The tissue seemingly responsible for most of Manning's current problems is nerve. Typically, disc procedures in the spine are undertaken to alleviate compression of the adjacent nerve root. The nerve roots in the neck or cervical spine lead to nerves that branch and are distributed in the shoulder, arm and hand. Those nerves relay signals responsible for sensation (such as pain and temperature) and motor function (muscle contraction). If the nerve is compromised, the individual can experience altered sensation ranging from pain to tingling to complete numbness. Specific muscles in the shoulder, arm or hand associated with the compromised nerve can be weak. Following surgery, the structural issues typically have been addressed but the affected nerve pathway often takes extended time to heal itself. Regaining full strength can take anywhere from weeks to months and is not accelerated, for instance, by increasing workout intensity or frequency. If anything, overdoing it too early can result in localized inflammation or other setback that can hinder the healing process. Simply put, even if Manning is the hardest working, most determined football player in the league, this is one play call he cannot completely control.
If Manning and the Colts are concerned about his halted progress this close to Week 1, it suggests the gap between where he is now and readiness to play is significant (meaning multiple weeks potentially missed). But whether that translates to a few weeks or a few months is anyone's guess. On Thursday morning, Colts owner Jim Irsay issued the following post on his Twitter account: "NFL Season opens 2nite! We had a good practice yesterday and r guys r fired up 4 the season. #18's out for awhile, but compete, we will/BELIEVE." The noteworthy excerpt "out for awhile" has engendered much speculation about just how much time Manning could miss.
There is no definitive answer, to be sure, but the condition doesn't lend itself to one. That's the problem for Manning and the Colts, too. It just feels now as if the uncertainty element surrounding his status going forward is far greater than it was a couple of weeks ago.
October, 13, 2009
10/13/09
12:43
PM ET
Week 5 saw the return of several injured players and some of them made quite a splash.
Seattle Seahawks
quarterback
Matt Hasselbeck
overcame the pain of still healing rib fractures to throw for four touchdowns and lead all signal-callers in fantasy points this week.
Philadelphia Eagles
quarterback
Donovan McNabb
also returned from a rib injury to the tune of three touchdown passes. Teammate
Brian Westbrook
rejoined the team as well after resting his sprained ankle during the bye. Westbrook played a limited role but emerged from Sunday's contest feeling fine, which may have been his most important stat.
Dallas Cowboys
wide receiver
Roy E. Williams
did not make the trip to Kansas City with the team, being forced to rest his injured rib cartilage that kept him out of practice all week. It never really appeared that he would be able to play, but Williams will have the benefit of a Week 6 bye.
New York Jets
wide receiver
Jerricho Cotchery
was active Monday night ... barely. He had one reception for four yards and was not at full strength with his recently strained hamstring. In fact, according to a Newsday report, he may have aggravated it further, potentially calling into question his status for Week 6.
Fortunately it was not a huge weekend for new injuries to key fantasy players but here's what we're looking at so far after Week 5's action ...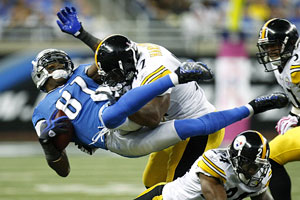 Gregory Shamus/Getty ImagesCalvin Johnson got banged up against the Steelers, and his status for Sunday is uncertain.
Calvin Johnson, WR, Detroit Lions:
Johnson headed into Sunday's game probable with a thigh bruise sustained in Week 4. He didn't last long, however, as an injury to his right knee forced him out in the first quarter. Coach Jim Schwartz does not offer injury details but did indicate that Johnson's injury does not appear serious.
Carson Palmer, QB, Cincinnati Bengals:
The bad news: Palmer suffered an injury to his thumb when he landed awkwardly on the ground. The good news: It's his left (non-throwing) hand. It's hard to imagine that this will threaten Palmer's status for Week 6.
Peyton Manning, QB, Indianapolis Colts:
The last time something happened to Manning's knee, he didn't miss any regular season playing time but many claimed that it affected his performance for several weeks. After Sunday night's game, Manning mentioned in his news conference that his left knee was bothering him after a couple
Tennessee Titans
hits that resulted in roughing-the-passer calls. On Monday, coach Jim Caldwell indicated that Manning's knee was sore but not injured, according to the Associated Press. As a point of reference, this is the same knee that Manning had surgery on last preseason to address an infection. Fortunately for the Colts, this is a bye week, so it appears Manning will have plenty of recovery time.
Other quick hits:
San Francisco 49ers
running back Glenn Coffee left the game with a leg contusion. The 49ers have a bye this week and hope to have Coffee and
Frank Gore
available for Week 7. There is plenty of time between now and then to see how things really shape up in practice.
The Detroit Lions will see what quarterback
Matthew Stafford
can do in practice this week and he remains day-to-day with his knee. Coach Jim Schwarrtz told the Detroit Free Press that the decision on whether to play Stafford will come down to his mobility, and the upcoming bye in Week 7 will not be a factor.
New York Giants
quarterback
Eli Manning
reportedly felt fine after his Sunday half-game performance. According to the Newark Star-Ledger, Manning believes he will be able to put in a full practice this week. The foot condition is something that Manning will likely have to contend with throughout the season, but the fact that he is feeling so good after a recent setback bodes well for him.
See you at the injury chats (Tuesday 11 a.m.-noon, Friday 11 a.m.-noon and Sunday pregame 10-10:30 a.m.), and we'll have the latest injury updates affecting Week 5 in the Saturday morning blog!