Stephania Bell:

Philadelphia Phillies
April, 15, 2014
Apr 15
2:57
PM ET
June, 26, 2012
6/26/12
11:32
AM ET
Did the return of catcher
Salvador Perez
to the
Kansas City Royals
portend a big comeback week? It certainly appears that way. Perez started the season on the DL after undergoing left lateral meniscus surgery this spring. The nature of the repair, combined with the squatting and pivoting demands of his position, caused him to miss nearly the first three months of the season. This week, two other players who have been sidelined to start the season are expected to join Perez in making their first major league appearance of 2012.
[+] Enlarge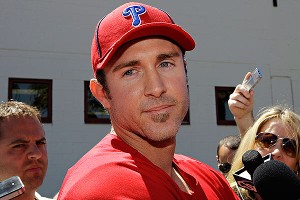 AP Photo/Kathy WillensLast year, Chase Utley didn't start his season until late May.
•
Philadelphia Phillies
second baseman
Chase Utley
could be returning to the lineup Wednesday if all goes well in a scheduled Tuesday rehab outing, according to CSNPhilly.com.
His return is not a huge surprise, but it is a relief; once Utley began a rehab assignment, the 20-day clock began ticking. He was slated to return by July 2, barring a setback that would have halted his rehab assignment. So far, there have been no setbacks, a strong indicator that he could fare well once he rejoins the lineup, presuming he sticks with his exercise program and does not scale his activity up too quickly.
Everything about Utley's progress to date has been very deliberate, very measured, and, perhaps most importantly, dictated by Utley's assessment of how his body has responded to each test. After a delayed start to both this season and last, Utley has been forced to take his rehab a step slower this year. It's no secret that he was diagnosed with chondromalacia under his patella (kneecap), the softening of the cartilage in that region, an irreversible condition. But the muscles that support and control not only the patella but the entire lower kinetic chain -- essentially the pelvis, hip, knee and foot -- are amenable to improvement if there are imbalances in flexibility and strength. The focus then is to adapt the surrounding tissues as much as possible to allow Utley to function at a high level, despite the diagnosis.
So far it seems to be paying off, because Utley has not hit any speed bumps in his recovery. He has not regressed in terms of the vigor of his activity at any point along the way. Naturally, both he and the Phillies are hoping this pattern will continue as he works back into major league play, but that remains to be seen.
[+] Enlarge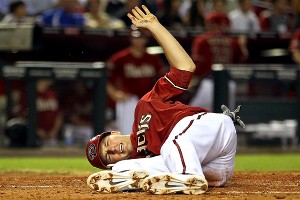 Christian Petersen/Getty ImagesStephen Drew hasn't played since suffering this ankle injury on July 20 last year.
• It has been nearly a year since
Arizona Diamondbacks
shortstop
Stephen Drew
suffered a nasty right ankle fracture on a slide into home plate. The seriousness of the injury was immediately apparent to anyone who saw it as Drew's ankle was rotated in a direction ankles don't typically go. After undergoing surgery to stabilize the fracture and repair the torn ligaments, Drew embarked on a lengthy -- and not particularly smooth -- course of rehab. There finally may be some light at the end of the tunnel, as Drew is expected to be activated Wednesday, according to remarks made last week by general manager Kevin Towers during an appearance on Arizona radio station KTAR-620.
One of the challenges Drew encountered was persistent soreness and stiffness in the ankle that impaired his running and agility. While this is not an uncommon effect associated with these types of injuries, the unpredictable nature of how his joint would respond to activity became a source of frustration. Even within the organization there were those who questioned Drew's commitment to return.
To Drew's credit, he seemed to tune out the noise and continued to focus on his workouts. Although his ankle is not yet fully recovered (something that could take months more to achieve), he has managed to clear some obstacles. For a long time, Drew was unable to participate in back-to-back games. Ten days ago he did just that. In fact, it was three consecutive games. More importantly, Drew did not appear to be any worse for having done so.
Still, the team is tempering expectations. Diamondbacks manager Kirk Gibson told the Arizona Republic, "I don't know if I can sit here and say he'll be available one day, two days, three days in a row," adding, "He may play one day and get really sore the next day."
The awareness on the part of Gibson that they will need to be flexible with Drew is critical. By allowing him to rest when necessary, the Diamondbacks benefit from having him available intermittently (as opposed to him remaining out on the DL) and can continue to influence his recovery in a positive direction while he plays.
Of course, it presents a nightmare for fantasy owners who may not know from one day to the next whether Drew will be available. Drew's playing time could be very unpredictable initially, but if he tolerates activity well and doesn't go backwards in terms of pain and stiffness, his status could evolve the next few weeks.
July, 19, 2011
7/19/11
3:58
PM ET
As baseball rolls into the second half of the season, the
New York Mets
are looking to get two big stars back into the lineup, including one Tuesday night.
Jose Reyes
, the speedy shortstop who has been nursing a minor left hamstring injury, is in the lineup after a successful rehab outing Monday. As recently as last Friday it appeared the Mets would slow the return of Reyes as a
measure of caution
, but it appears there is enough confidence in his health to bring him back now. As is always the case with these types of injuries, the only way to determine whether Reyes is truly past the hamstring issue will be to see if he is able to play without a setback. At some point, there is nothing further to test in rehab when a player has performed all drills, played in a game situation and has no lingering symptoms. Duplicating the exact scenario of a major league game is nearly impossible, making return to play at the big league level the final test. The Mets will be hoping that Reyes passes with flying colors.
[+] Enlarge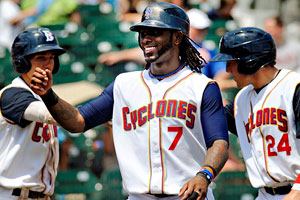 AP Photo/Henny Ray AbramsJose Reyes looked just fine Monday playing for the Class A Brooklyn Cyclones.
• Reyes' teammate
David Wright
has been on a rehab assignment as he approaches a return to the majors following a stress fracture in his lower back, which has sidelined him since mid-May. On Monday, Wright played a full nine innings after only being expected to go seven, surely a good sign. According to ESPN New York, Mets manager Terry Collins anticipates Wright will rejoin his teammates this weekend after playing a full slate of rehab games through the remainder of the week. Given the type of rehab program Wright has been through over the last couple months that emphasized training deep core muscles to protect the spine, his improved strength could certainly have him on track for a stellar second half.
• Pitcher
Roy Halladay
, normally unflappable, was challenged by the heat in Monday's game and left in the fifth inning, a rare occurrence. Halladay appeared flushed and looked to be struggling -- at times taking long walks off the mound or bending over to rest his hands on his knees -- but resisted valiantly for as long as he could. In the end, the heat won the battle and Halladay's streak of consecutive road starts pitching at least six innings came to a close. Better an early departure than a more serious heat-related consequence (credit
Philadelphia Phillies
head athletic trainer Scott Sheridan, who visited Halladay on the mound in the fifth and likely helped in the decision for him to exit). The Phillies sound confident that Halladay will make his next scheduled start.
• The Phillies have certainly had their share of injury woes but will be getting one of their injured players back Tuesday, although admittedly at slightly less than 100 percent health. Outfielder
Shane Victorino
has been sidelined with a sprained right thumb, the result of an awkward fall in the outfield on July 3. Victorino acknowledges that he still has some discomfort in the thumb and, according to the Philadelphia Inquirer, will wear a thumb guard while on base. The protective device no doubt is intended to help protect his thumb from getting bent awkwardly during a headfirst slide. As for hitting, Victorino has demonstrated during his rehab outings that he can effectively swing the bat, so barring a setback in the course of play, he should be able to contribute at the plate immediately.
• To DL or not to DL? That seems to be the recurring question for
Milwaukee Brewers
outfielder
Ryan Braun
, who has been up and down with a left calf strain for several weeks. Braun originally sustained the injury July 2, and when the symptoms persisted for several days, he underwent an MRI. Following the MRI, Braun pointed out that the injury appeared to be localized to a tendon behind the knee (tendon bridges muscle to bone and helps transfer the contractile force of the muscle to the bone, resulting in movement; however, it has a poorer blood supply than muscle, which can make it slower to heal). This slower-to-heal tendon appears to be behaving the way these things often do; after a rest period, the injured area feels better and the athlete increases his activity only to experience a recurrence of discomfort when the area is maximally stressed.
[+] Enlarge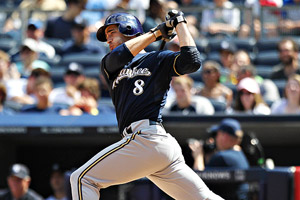 Debby Wong/US PresswireRyan Braun is just 2-for-18 in July, missing eight games before the break and sitting out the All-Star Game.
Braun sat out the All-Star Game to rest his leg, returned to the lineup July 14 and just two days later was forced to leave early with tightness in the leg. According to the Milwaukee Journal-Sentinel, Braun acknowledged that despite being in the lineup, he still was not able to run full-speed, leading to a situation where he is attempting to avoid placing undue stress on his leg. Braun said, "I jog as quickly as I can, whenever the situation warrants it. But obviously whenever I can avoid running or putting any extra stress on it, I think that's probably in my best interest and the team's best interest."
Despite the setbacks, the Brewers still do not appear to be thinking a DL stint is required. Manager Ron Roenicke told the Milwaukee Journal-Sentinel on Monday, "We're going day by day. I'm hoping he can play tomorrow." There has to be some concern when an athlete is deliberately trying to hold back while playing for fear of aggravating an injury, particularly one that impacts his ability to play both offense and defense. It's hard to envision this completely resolving while Braun continues to play, or, at the very least, that Braun can play at top level while trying to guard against further injury.
• Is the third time the unlucky charm for
Grady Sizemore
? He finds himself on the DL for the third time this season (he started the season on the DL following left knee microfracture surgery, then suffered a bone bruise in his right knee in early May during a slide into second base which led to DL stint No. 2), again with a right knee contusion. More concerning than what the injury is being called, however, are the words Sizemore used to describe his fears about this latest setback. According to the
Cleveland Indians
website, the sharp pain Sizemore experienced in his right knee Sunday as he rounded first base harkened to what he felt in his left knee last summer. "It's similar," Sizemore said. "It's hard to say whether it's the same. I think it's definitely a concern based on what I went through last year. It's the same area and similar symptoms. It does feel a lot like it, but I can't say for sure."
An athlete's instincts are to be taken seriously when it comes to a second occurrence of an injury; for instance when an athlete has experienced a torn ACL, he knows intuitively the moment the same injury occurs on the opposite leg. While there has been no official word yet as to the specifics of the injury to Sizemore's right knee, his concerns and his gut response certainly raise red flags. It's hard not to feel for a young player who has been through the serious injuries and lengthy recoveries that Sizemore has already endured. Here's hoping that his intuition was not correct this time around and that the injury is not severe enough to warrant surgery. In the meantime, it's wait and see.
• Finally, best wishes go out to
Texas Rangers
CEO and president Nolan Ryan, released from a Houston hospital Tuesday after experiencing discomfort Sunday morning. Ryan has a cardiac history, including double-bypass surgery in 2000, but according to the Rangers, no new developments were discovered during this latest episode. Good news for Ryan and the Rangers, who have no doubt been under particular duress this July. On Tuesday, the team also announced new safety measures for Rangers Ballpark, including raising the height of the railing, following the death of a fan who fell trying to catch a ball earlier this month.
March, 9, 2011
3/09/11
5:19
PM ET
The
Philadelphia Phillies
issued a statement from team physician Michael Cicotti on Wednesday regarding the health of
Chase Utley
, and it contained several ominous sounding words: patellar tendinitis, chondromalacia and bone inflammation. But what does it all mean for their star second baseman?
A closer look at the medical terms tells us that Utley is dealing with a complex issue with three contributing elements. Patellar tendinitis, literally speaking, refers to inflammation of the patellar tendon (the large tendon that anchors the quadriceps muscle on the front of the thigh to the tibia, or shinbone) and is used to generically describe various stages of the condition.
In medical circles in recent years, however, the term tendinosis has often been associated with chronic or recurrent episodes of anterior knee pain, particularly with overuse in athletes. The tendon actually starts to undergo structural changes where the tissue becomes thicker and more fibrotic. Given the repetitive nature of Utley's occupation and the fact that he has dealt with this in past years, it is not unreasonable to think that this degenerative process may also be occurring. The tendon, unlike the muscle it anchors, does not have a good blood supply, so it becomes less structurally sound and less capable of performing its function. This in turn creates the potential for chronic pain and irritation in the area of the tendon. The tendon is under most load when controlling the knee as it bends, something that happens every time the foot hits the ground when running.
Chondromalacia refers to the weakening or damage of cartilage and is not uncommon on the undersurface of the patella (kneecap). In and of itself, this is not a source of pain, but in the event that the cartilage surface erodes so that bone is exposed (cartilage is the protective lining on the ends of bone that protects the joint surfaces), the bone can become extremely painful. The presence of bone inflammation in Utley's knee suggests that the cartilage damage is extensive enough to create a reaction of the bone itself. That reaction results in edema (swelling), which is visible on MRI.
[+] Enlarge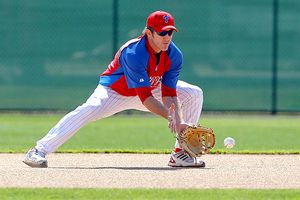 Derick E. Hingle/US PresswireChase Utley's knee injury is more bothersome when fielding grounders like this, as opposed to when he's hitting.
One major variable in just how severe this is for Utley -- and one that has not been revealed -- is the location of the bone inflammation. If it is on a weight-bearing area of the joint, specifically on the femur (thighbone), it becomes almost impossible to avoid aggravating it. Utley has not been able to run or play defense (which requires him to be able to squat or lunge sharply), all of which place substantial load on the joint. There is no way for him to effectively avoid putting pressure through the area. Weight bearing on a bent leg loads the contact area under the kneecap, whereas weight bearing on a straight leg does not. This may explain why batting has not been an issue for Utley, because as a left-handed hitter, his affected (right) knee straightens as he transfers weight onto it.
Knowing that these elements are all in play makes it tough to be positive about Utley's short-term outlook. Utley says they are "trying to pick as many brains as possible to try and find out the best way to go about this." Unfortunately, cartilage damage is not reversible. It comes down to whether the condition can be effectively managed (i.e., whether he can play through it) or whether it is ultimately deemed that a surgical option is best for Utley in the long term. For the joint condition, sometimes biologic treatments (like Synvisc, a joint lubricant) can be used to provide pain relief. Platelet-rich plasma (PRP) injections have been used with limited success in some patients with mild arthritis. As far as the "tendon" aspect of the injury, PRP, which has been shown to have some positive effects in people with elbow or Achilles tendinitis, has not yielded great results for patellar tendinitis. Surgery to debride, or clean up, the patellar tendon can be helpful, but that would address only part of the problem in Utley's case.
Utley is known for being a tough player who will give a 100 percent effort, even if it means absorbing physical punishment. At the age of 32, it appears as if that style of play is starting to catch up to him. Perhaps the best analogy for Utley's knee condition is that of a worn tire. You know that if you continue to drive on it, you may be able to get another 20,000 miles out of it, but if the tire blows, it won't come as a great surprise. And if you put the car in the garage and "rest" it, it doesn't improve the tire tread.
Utley may still surprise us, as he did after both his hip and thumb surgeries when he returned to competition faster than expected. For now, however, the fact that Utley is physically unable to play despite having that same will and determination is as ominous as the medical terms that describe his condition.
March, 6, 2011
3/06/11
11:36
AM ET
This story has been corrected. Read below
Domonic Brown
broke a bone in his right hand Saturday and in the next few days he and his team will learn what the specific course of treatment will be. The one thing everyone can agree on is that this is not good news.
Early X-rays indicate Brown fractured the hook of the hamate bone, one of the small carpal (wrist) bones towards the pinkie side of the hand. The bone sits at the base of the fourth and fifth metacarpals, the long bones in the hand that run from the base of the fourth and fifth finger to the carpals. Fractures of the hook of the hamate are not uncommon in athletes who play racquet or batting sports, often occurring as a result of repetitive stress transferred through a power grip, usually in the non-dominant hand. The injury can also happen acutely during a powerful swing or by falling on an outstretched hand.
According to the Philadelphia Inquirer, Brown's injury to his right (non-dominant) hand happened during the first swing of the bat in Saturday's spring training game. He is expected to travel to Philadelphia early next week to consult with hand specialist Randall Culp, the same surgeon who operated on Jimmy Rollins' wrist.
Presuming the presence of a fracture is indeed confirmed, surgery is often the mode of treatment (usually to remove the "hook" portion of the bone although sometimes fixation of the fracture is an option). Any procedure is followed by a period of healing and rehab to regain range of motion and strength of the hand. The biggest challenge for a baseball player is restoring the grip strength necessary to effectively wield the bat. The Inquirer reports Brown could be out for three to six weeks but the time it takes to restore power to his swing could take longer. Several Red Sox players have dealt with the injury, including
David Ortiz
and
Dustin Pedroia
. Pedroia had his surgery at the end of the 2007 season so he had plenty of healing time before the next season. Ortiz missed two months with the injury and acknowledged that it took some additional time to get past the soreness and restore full strength.
Fantasy owners should anticipate Brown's absence on Opening Day and potentially several weeks beyond, depending on the course of action. Perhaps more importantly it could be a couple of months before he returns to form.
An ESPN.com blog post regarding a medical examination for Philadelphia Phillies infielder Domonic Brown misidentified information about surgeon Randall Culp's previous work with the Phillies. Culp previously operated on Jimmy Rollins' wrist last December.
August, 12, 2010
8/12/10
6:22
PM ET
It's a sad day for the
Atlanta Braves
and their fans. Veteran third baseman
Chipper Jones
has suffered a torn ACL and is done for the season. It has to make you wonder whether he will even return to baseball when he was already sounding like someone on the brink of retirement.
Of course, it's always disheartening to see a player go down with a season-ending injury. But it's especially sad when that player is a team leader, nearing the end of his career. Jones has always been known as a tough athlete who will play through pain and he once told me that as long as he felt he wasn't hurting his team by being on the field, he would continue to play through injuries.
Not this time. A torn ACL is something you can't just mentally push through. Instead, Jones will need that mental fortitude to get him through the lengthy rehab he will face following surgery. And fantasy owners, sigh, will need to find a replacement at third base.
Who else needs replacing these days? We discuss ...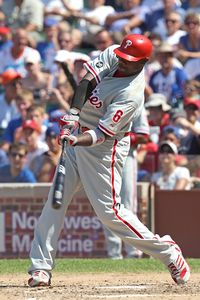 Jonathan Daniel/Getty ImagesFantasy owners could use Ryan Howard's bat in the lineup sooner rather than later.
Ryan Howard, 1B, Philadelphia Phillies:
Many of you regular readers know I have been questioning the risk-versus-reward value of the head-first slide given all the thumb and finger injuries that have occurred this year as a result. Howard's injury proves that even tagging a bag with your foot comes with its own dangers.
The power-hitting first baseman suffered a left ankle sprain Aug. 1 when he made an awkward stride into second base. Howard was trying to get back to second base, lunged with his left leg and his foot appeared to catch the edge of the bag. The ankle then buckled laterally (outwardly) as his momentum carried his body weight forward. The fact that his foot was relatively fixed against the bag probably made this injury worse. Initially, the Phillies seemed optimistic that it would just require a few days of rest, but shortly thereafter Howard was placed on the disabled list and his time away will in all likelihood exceed 15 days.
Even a moderate sprain can sideline a player for several weeks and this is an injury that routinely gets underrated in terms of recovery time. First, the swelling and pain have to subside to the extent that the athlete can bear weight through the ankle and regain normal range of motion. As of Monday, Howard was off crutches (a good sign), but the Philadelphia Inquirer reported that he was still walking with a noticeable limp. If you can't walk, you certainly can't run, so Howard remains a ways away from full activity.
The defensive demands of Howard's position are less stressful on an ankle than, for example, those of a shortstop, but he, nonetheless, needs to be able to move freely. He also needs to be able to run the bases without hesitation. Above all, the Phillies certainly don't want to send him back to competition only to lose him again to reinjury during what could be a critical phase.
Howard got his first taste of baseball activities on Thursday, as he took grounders and did some work in the indoor batting cages, according to the Philadelphia Inquirer. However, fantasy owners should expect Howard to be away for at least another week (and more likely two) beyond his eligible return date of Aug. 17.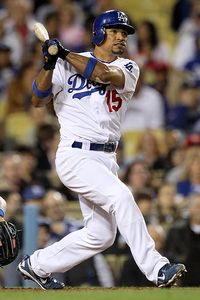 Stephen Dunn/Getty ImagesRafael Furcal is still second on the Player Rater among shortstops despite two separate DL trips this season.
Rafael Furcal, SS, Los Angeles Dodgers:
Just when it looked like we might not be writing about Furcal, as he was expected to rejoin the lineup Tuesday, pregame back stiffness instead sent him to the DL. The first important takeaway for fantasy owners is that this does not appear to be a serious episode and the Dodgers are hopeful that with the backdating of the DL date, Furcal could return within a week.
The second takeaway for fantasy owners, however, is to keep in mind that back problems tend to be recurrent and there's no telling when symptoms can crop up. Remember when Furcal had significant issues with his back in 2008, including pain radiating into his leg, which led to microdiscectomy surgery and a subsequent three-month absence? While this current problem does not appear to be
directly
related to his prior back problem (no leg pain, more generalized stiffness in his back than debilitating pain and, according to Dodgers director of medical services Stan Conte, no visible structural issues on MRI), it's not uncommon for anyone who has had prior back problems, including those who have undergone successful surgery, to experience another round of back pain.
It's worth noting that the demands of Furcal's position likely factor into the equation as well. He is an everyday player who, as leadoff hitter, is regularly on base (read: more running, more stealing) and therefore subjects his body to more strain than someone who doesn't carry the same load. While Furcal is known for being very diligent with maintaining his fitness program, it's not to say that the wear and tear he places on his body can be permanently kept at bay. Let's not forget he also dealt with a left hamstring injury earlier this year that sidelined him for the better part of a month (and hamstring issues often go hand-in-hand with back problems).
In essence, Furcal seems to be dealing with a minor episode of what could be, for him, a potentially recurring situation. In the short term, fantasy owners should be encouraged that this is not a major setback and Furcal is likely to return soon. In the long term, however, fantasy owners should bear in mind that such occurrences may be more likely to happen given Furcal's history. Not a reason to panic, but a reason to prepare.
Manny Ramirez, OF, Los Angeles Dodgers:
When is Manny not being Manny? When he's not in your fantasy lineup, of course. And this year he seems to have been away more than he's been present, due to the variety of muscular injuries he's sustained across the season. Ramirez seems to have aged before our eyes this year and there are certainly plenty of reasons to speculate as to why that's the case, including the fact that he is, after all, 38 years old.
That said, he can deliver some power when he's in the lineup, so fantasy owners want to know when they can get that power back. If the Dodgers have their way, that time could come within the next couple of weeks.
Ramirez is currently working out in Arizona, gradually increasing the amount of load on his injured calf through various activities and conditioning. But he has not yet run at full speed. In order for him to begin a rehab assignment, Ramirez has to demonstrate that running is no longer an issue, which means full sprints with power, without pain. Hopefully, that test will come within the next week or so. If he passes it, Ramirez will then be able to progress to rehab games. As unpredictable as Ramirez is, his injury is even more so but at least there are some targets on the horizon.
Russell Martin, C, Los Angeles Dodgers:
I feel like, more than in any other year, this year has made me say, "Wow,
there's
an injury you never see." First it was
Joel Zumaya
's elbow fracture that happened during a pitch. Then it was
Jake Peavy
's detached latissimus tendon. Now it's Russell Martin's subluxed hip and subsequent fracture.
For those of you still hoping Martin can return this season, let me help you put that to rest: He will not. But some questions remain as to exactly what lies ahead for him in terms of whether surgery will be required and how long it will take him to recover.
First, it's worth noting that the injury itself was truly remarkable in how it occurred. Martin was running home from third and at the plate he stumbles across
San Diego Padres
catcher
Nick Hundley
's outstretched leg. This causes him to flex forward as he continues to run and results in a few awkward strides. There is one particular step in which Martin lands on a completely straight outstretched leg. He is bent so far forward at the waist that his hip is the highest thing in the air. At the same time he twists to the right to look back at the plate, which further locks his hip. All the force of impact at Martin's heel travels right up the leg to reach its final destination of the hip joint. Bam! His hip fractures at that instant.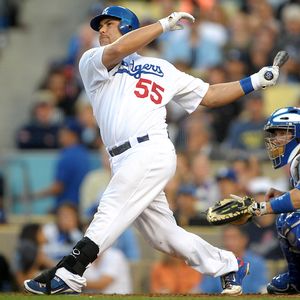 Kirby Lee/Image of Sport/US PresswireRussell Martin finishes his season hitting just .248 with five homers and six steals.
The posterior aspect, or back end, of Martin's hip joint sustained such force at that particular moment that the socket portion of the hip (acetabulum) cracked, causing a slight tear in the labrum (a cartilage ring that lines the joint) at the same time. While Martin was fortunate that his hip did not dislocate (come completely out of joint), Conte theorizes that the hip slipped in the joint just enough to cause the damage. As Conte told me, "The structures in the hip did their job, keeping it in the joint. But they paid the price."
The good news is that the fracture was non-displaced, meaning the bony structure remains in good alignment with minimal separation. Weighing all of the pros and cons of surgery to pin the fracture versus letting it heal naturally on its own, which was done in consultation with three of the top hip specialists in the country (Dr. Marc Philippon in Colorado, Dr. Bryan Kelly in New York and Dr. Thomas Byrd in Tennessee), the Dodgers have elected to allow the fracture to heal on its own. Given the non-displaced nature of the fracture, as well as its size and location, suggest that it can heal well. For the next few weeks, Martin will be on crutches, and he is only permitted to put a small amount of weight through his leg while the bone tries to repair itself. He will be re-evaluated in a month. If for any reason the bone is not doing its job, surgery then becomes an option.
As unusual as this injury is, and as disappointing as it must be to end the season this way, Martin has much for which he can be thankful. Had his hip actually dislocated, there could have been far more damage to the joint itself as well as to the structures around it. One of the biggest concerns with a major hip injury is damage to the blood supply in the joint. If that occurs, the next step is generally hip replacement (Bo Jackson underwent hip replacement after dislocating his hip). All indications at this point are that Martin did not suffer this type of damage to the valuable hip arteries. Assuming the fracture heals well (and there is good reason to expect that it will), Martin will have avoided surgery and can then get down to the business of rehabbing.
There is every reason to hope that Martin will be ready to start the season in 2011. But this injury is so unusual that when trying to find a comparison, as Conte puts it, "We're in no-man's land." Further complicating matters is the fact that Martin is a catcher and the crouch position he must sustain places significant load on the posterior part of the hip joint, the specific area that was injured. On a positive note, there is plenty of time between now and spring training for healing to take place and for Martin to regain his flexibility and strength. Assuming there are no setbacks, he could be charting a course for the next guy unlucky enough to suffer a similar injury.
And dare we say it ...
• Phillies outfielder
Shane Victorino
has been activated from the DL and is expected to return to the starting lineup on Friday. Victorino suffered an abdominal strain in his left side in late July, which thankfully did not end up as severe as it could have been. Within a week, he was swinging the bat and doing some long toss. By the second week he was playing in rehab games, testing the injury with multiple at-bats, slides and hard running. If the abdominal injury were still bothering Victorino, it would have certainly made itself known under that type of stress. Fantasy owners can feel confident putting him back in their lineups this weekend.
• Victorino's teammate,
Chase Utley
, got some good news this week. Utley was cleared to start taking swings with the bat after a visit with his surgeon, a good sign that things are healing as expected. However, Utley's goal to beat his projected timeline may not be reasonable. Associated Press reports indicate that while the team is encouraged by the positive news on Utley, assistant general manager Scott Proefrock says the team is sticking to its original timetable for his return. Utley, who had surgery to repair a torn ligament in his right thumb, has many hurdles to cross before he can return to full competition, which we
outlined back in June
. Fantasy owners should continue to eye the first week of September as an approximate return date.