Stephania Bell:

Plaxico Burress
November, 10, 2011
11/10/11
4:53
PM ET
Let the games begin! There are no bye teams this week, so there will be a full complement of games. The only fantasy roster substitutions will be because of injury, of which there are plenty, unfortunately. Tonight also marks the first of the Thursday night games, which will run through all but the final week of the regular season. The
Oakland Raiders
face the
San Diego Chargers
in a division matchup with plenty of key fantasy players in the mix. Be sure to set those lineups early!
The Raiders will be without running back
Darren McFadden
, who has yet to resume running since suffering a midfoot sprain in Week 7. According to the Vittorio Tafur of the San Francisco Chronicle, the Raiders will leave him behind on this trip in the hopes of having him in Week 11 against the
Minnesota Vikings
. McFadden is still in a walking boot, so he is not close to returning. In the meantime,
Michael Bush
starts in his place.
Kicker
Sebastian Janikowski
returned in Week 9 after missing a game with a hamstring injury and kicked a 48-yard field goal. Although there was no word on his status immediately after that game, Janikowski did not practice at all this week. He is listed as questionable, but given that he is the only kicker on the roster headed into Thursday night's game, the plan is clearly for him to play. Still, as if there isn't enough evidence by now, the hamstring is unpredictable. The Raiders have to hope that Janikowski will not suffer any in-game setbacks.
[+] Enlarge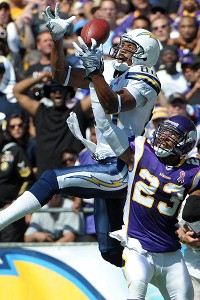 Kirby Lee/Image of Sport/US PresswireIt's probably safest for fantasy owners to sit Malcom Floyd for the Thursday night game.
The Chargers are expected to be without wide receiver
Malcom Floyd
, who apparently aggravated a hip injury in the Week 8 Monday night game. Floyd sat out the Week 9 game just four days ago, has not practiced at all this week and is listed as doubtful. He has a chance to be available (he played once this year already after being listed as doubtful), but clearly he would not be expected to contribute much.
On a positive note, the Chargers will be getting running back
Ryan Mathews
back after he missed Sunday's game with a groin injury. Mathews, currently listed as probable, was able to return to full practice Tuesday, the heaviest workday for teams playing Thursday.
Wide receiver
Vincent Jackson
has been contending with a hamstring injury for a number of weeks but has managed to play despite not being at full health. However, on Sunday, Jackson turned in one of his strongest performances of the season and seemed to emerge no worse for the wear. He is expected to play after practicing in full all week and is no longer listed on the injury report.
Meanwhile, tight end
Antonio Gates
has an all too familiar plantar fascia problem that has plagued him since last season. Recently, however, Gates has been able to play and practice on a fairly consistent basis, albeit in a controlled manner. It appears Gates will play in Thursday night's game, his fourth straight game after missing three weeks earlier in the season.
Quick Hits
• It's admittedly fatiguing reporting repeatedly on the status of
Houston Texans
wide receiver
Andre Johnson
, because it seems the story is unchanged. Johnson continues to do some work on his own, primarily running and individual workouts with the rehab staff, but so far, persistent soreness has prevented him from taking that next step and returning to the lineup. Johnson has not practiced, but on Thursday, coach Gary Kubiak said Johnson is "doing extremely well," according to Nick Scurfield of HoustonTexans.com. He suggests if Johnson is able to practice Friday, he could be a game-time decision. It's worth noting that this has also been the case in previous weeks, but he hasn't played.
The Texans have maintained they would not automatically rest Johnson through the bye in Week 11, but the timing is hard to ignore. It has been clear since the date of the procedure that the goal of surgery was to have Johnson avoid dealing with a nagging, chronic injury. It makes sense, then, that he would not return prematurely following the procedure and risk a setback that would yield the same result. While Johnson has looked good running, he has not yet felt like himself. Until he does, he will not return, and again this week, the decision likely will be in Johnson's hands.
•
New Orleans Saints
running back
Mark Ingram
returned to limited practice Wednesday, his first since suffering a heel bruise in Week 7. Ingram followed up Wednesday's effort with a Thursday practice, a good sign that he is healing, but perhaps not enough to convince us that he's ready for games. It remains to be seen what he does on Friday but at this point, Ingram's status still appears questionable. Teammate
Lance Moore
was not in practice Thursday because of a tight hamstring, so keep an eye on what he is able to do Friday.
[+] Enlarge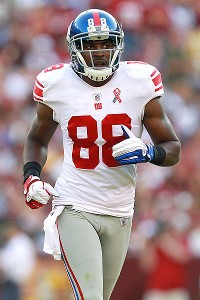 Ronald Martinez/Getty ImagesHakeem Nicks hopes to get back on the field after missing last week's Patriots game.
• The
New York Giants
have two big question marks heading into this weekend's big contest against the
San Francisco 49ers
. Wide receiver
Hakeem Nicks
sat out Week 9 with a hamstring injury but is making progress daily. Nicks ran on the side Wednesday, then followed that up with individual drills Thursday. According to the Newark Star-Ledger, if he continues to feel no aftereffects from these consecutive workouts, he could return to practice Friday and hopefully play Sunday. We know better now that with regard to hamstring injuries, it is too soon to lock Nicks into your lineup, but he is at least headed in the right direction.
Running back
Ahmad Bradshaw
has a known stress fracture in his foot and has not practiced this week. The criterion for his return revolves around when he can resume running without pain. Until we see him doing just that, it is hard to see him taking to the field.
• The 49ers have an injury concern impacting one of their own key players. Running back
Frank Gore
sustained an ankle injury in Week 9 and has been limited in practice this week. Gore finished Sunday's game and is expected to suit up again. But Gore was seen favoring his ankle in practice, according to CSN Bay Area, and if it is still bothering him Sunday,
Kendall Hunter
might see some additional work.
•
Dallas Cowboys
running back
Felix Jones
did some increased work Monday to test his
recovering left ankle
. Jones has not practiced since. His return to rehab instead of the practice field suggests he will sit out his fourth consecutive game.
• Just as receiver
Plaxico Burress
seems to be getting in a rhythm with his quarterback, his back starts to act up. Last week, Burress entered the game questionable because of back spasms but managed to endure. This week, Burress has not practiced because of his back, but at his age and coming off extended time away from football, he may be awarded a little more recovery time. Stay tuned to see whether he returns to Friday practice.
See you at the
injury chat Friday at 11 a.m.
and we'll have the latest injury updates affecting Week 10 in the Saturday morning blog!
December, 3, 2008
12/03/08
4:09
PM ET
Things are heating up for most fantasy league playoffs. Every player counts, as each week could be your last if you do not set your lineup wisely. Naturally, injuries play a big role. Just how banged up does a player have to be before he becomes a risk to your fantasy team? There are new faces on the "done for the year" list, and not all of them are there because of injury. At least you know you need to replace these guys. But other players are on the fringe as to whether they will be available for you this weekend.
So what do we know about Week 14? Based on early practice reports, here's what we're hearing on the injury front so far.
Ryan Grant, RB, Packers
:
Grant sprained his thumb Sunday and was kept out of the second half of the game. Grant and his coaches were concerned about his ability to protect the football with pain, inflammation and stiffness in the thumb. So will that thumb be ready to guard the ball safely in Week 14?
According to the Packers' official Web site, Grant may need to wear a protective splint on his thumb, and the decision as to whether he'll play may hinge on how well he can handle the ball with extra hand gear.
Brandon Jackson
played well on Sunday in Grant's absence, and that may make it easier for coach Mike McCarthy to play him this week. McCarthy indicated that he had "no qualms about playing with Brandon in all of the situations." If Jackson is available in your league, you may want to pick him up in the event that Grant can't go.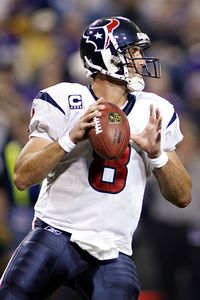 Bruce Kluckhohn/US PresswireMatt Schaub is set to return to his starting role Sunday in Green Bay.
Matt Schaub, QB, Texans
:
Although
Sage Rosenfels
has led the Texans to victory in their past two games, it looks as if Schaub will resume his starting role this weekend, barring any setbacks in practice. Schaub has missed the past four games with a sprained left medial collateral ligament, an injury that early on in his recovery had seemed as if it might sideline him for the remainder of the season. But Schaub is nothing if not determined, and his efforts in rehab and practice have convinced the medical staff and the coaches that he is prepared to return to play.
Schaub was active as the second quarterback for Monday night's game, but Rosenfels played the entire game. According to ESPN.com reports, coach Gary Kubiak said that although everyone felt Schaub could play and play well if needed, they were "very fortunate" that he did not have to play Monday. This allows Schaub another week of practice under his belt before returning to a game situation, and Kubiak added that "the extra rest will help him." Schaub is tough. His perseverance showed just that last season, as he was knocked around and banged up regularly. He likely will wear a protective brace on his knee to help minimize stress on the MCL should he take a hit on the outer part of his leg. His mobility may be hampered a bit, but he is not one to play tentatively. The Texans will play in unfamiliar cold when they travel to Green Bay, but that won't stop Schaub from looking for his favorite receiving target,
Andre Johnson
. Be sure to check after Friday practice reports, but as of now, it looks as if Schaub will get the nod.
Some other players to keep an eye on as the week progresses:
&#8226 According to a report on the Cowboys' official Web site, coach Wade Phillips announced during his Wednesday morning radio segment that
Marion Barber
would play Sunday. All along, it has looked as if Barber would give it a go, even though he dislocated his toe on Thanksgiving. Barber may not practice much and may require some adaptive footwear, but it is looking more and more like the Cowboys expect him in their lineup.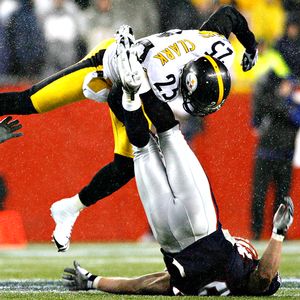 Stew Milne/US PresswireThis hit from the Steelers' Ryan Clark has placed Wes Welker's status for Week 14 in doubt.
&#8226 Patriots receiver and resident tough guy
Wes Welker
took a big hit in last week's game from Steelers safety
Ryan Clark
, which forced him out of the game. From the looks of the hit, it could have been Welker's chest, neck or head (or some combination of the three) that suffered the most. Because the Patriots are the Patriots, no specific information was provided as to a possible injury to Welker, but there are some good early signs. The Boston Globe reports that Welker was present for at least the early portion of practice Wednesday. Stay tuned as the week progresses to see what the Patriots report.
&#8226 Fast
Willie Parker
looks as if he'll play this weekend, but don't be surprised if a time-share between him and teammate
Mewelde Moore
continues. Parker's knee has proven to be easily inflamed, and sharing time may be a way of helping off-load some of the strain.
&#8226 Whether Bills quarterback
Trent Edwards
plays may well come down to a game-time decision Sunday. Edwards injured his groin last week, and it looks to be a fairly significant injury. Coach Dick Jauron told the Rochester Democrat and Chronicle that he hoped Edwards would be well enough to return to practice Wednesday. Despite Edwards' declarations that he wants to play, if he is unable to practice much this week, it is likely that
J.P. Losman
would get the start against the Dolphins.
Players you need to replacePlaxico Burress, WR, Giants
: OK, hopefully you already had an idea this was coming. But now it's official: Burress has been suspended for the remainder of the season, so he will not be available for any of your fantasy playoffs. Look for
Domenik Hixon
or
Amani Toomer
.
Derek Anderson, QB, Browns
: He probably wasn't on your roster, but if he was, you have a chance to replace him with someone who can help you down the stretch. And I don't mean
Ken Dorsey
, who becomes the starter in Cleveland. Consider
Jeff Garcia
,
Shaun Hill
or
Joe Flacco
, all still available in a number of leagues.
Deuce McAllister, RB, Saints
: The terms of the suspension have been issued, and McAllister, along with five others, has been suspended for four games without pay. Translation: McAllister is not available for your fantasy playoffs. Consider
Fred Jackson
, who has quietly made some nice contributions in Buffalo, or, dare I say it,
Cedric Benson
, who faces a decent matchup against a weak Colts run defense this weekend.
Don't forget that the Raiders face the Chargers on Thursday, so get your lineups in early! We'll have the latest injury updates affecting the remaining Week 14 contests and any postmortem on Thursday injuries in the Saturday blog.
November, 29, 2008
11/29/08
6:33
PM ET
By
Stephania Bell, ESPN.com
| ESPN.com
Plaxico Burress, WR, Giants:
It wasn't enough to be sidelined with a hamstring strain. Burress, who attempted to play last week despite the injury but had to exit the game after only one series, had already been ruled out for this week. Apparently his right hamstring would need a little more time before he would be able to return to action. It is not unusual for muscle strains to sideline a player for more than a week, especially when the risk of taking the field is that the injury could worsen and thus forcibly extend the player's time off. Just ask
Steven Jackson
.
Now it seems Burress has some additional issues, after ESPN's Sal Paolantonio reported that a league official confirmed Burress accidentally shot himself in his right thigh Friday night. The official indicated that the bullet went through skin and muscle in Burress' thigh (no word on whether that muscle was the ailing hamstring or not), but it did not hit any major arteries and no bones were broken. As of Saturday afternoon, he had been released from the hospital, but there has been no official word as to his roster status or expected recovery time. It doesn't take a medical background to appreciate that this does not
help
his healing time for his hamstring. We just don't know yet if it has been significantly set back. It sounds as if there will be several issues for the Giants to sort out here, along with the adjusted rehab plan, and we will certainly keep you posted. Best bet for your fantasy playoffs: Find another receiver, and fast.
Other noteworthy items
&#8226 Steven Jackson just might see his first action in six weeks. Actually, he did suit up once during the past five games, but played minimally, so we won't really count that one. Jackson is listed as questionable and will be a game-time decision. The rest apparently did him some good and he told the St. Louis Post-Dispatch that he was "light years" ahead of where he was in early November. Nonetheless, he remained limited in practice throughout the week and never really ran at full speed, something coach Jim Haslett said he wanted to see before he would activate Jackson again. That aside, Haslett did acknowledge that Jackson appeared to improve as the week went on and even sounded as if a good pregame warm-up by Jackson could influence his decision. Fantasy owners take a gamble, even if he does play, as to how much the Rams will actually use him his first time out of the gate.
&#8226
Reggie Bush
really thinks this is the week. There's no doubting his desire to come back from knee surgery, but everyone involved with the Saints wants to play this one cautiously to make sure he does not suffer a setback his first time on the field. An extra week allowed Bush to practice and eliminate some of the post-practice soreness and swelling that kept him out of action Monday. Plan to see the Saints spread their weapons around, but this week, Bush will be in the arsenal.
&#8226
Brandon Jacobs
is listed as questionable this week. Jacobs participated in full practices Thursday and Friday, however, and seems likely to play. The tag no doubt reflects caution by the Giants, who listed Jacobs as probable last week and then felt the ire of some when Jacobs was declared inactive before the game. Apparently after the long flight west, Jacobs did not feel he could play up to the level of expectation, and after sharing that with his coaches, the team opted to rest him another week. The idea that they might rest him was not a surprise, given the importance of having a healthy Jacobs down the stretch. It's just that after practicing most of the week and declaring himself ready to go, along with the team listing him as probable, it came as a surprise (or shock, if he was on your fantasy team). This week, his designation suggests that he is less likely to play, but I think he is more likely to play. Not only did the additional week help, teammate
Ahmad Bradshaw
has been out of practice all week with a sore neck. He too is listed as questionable, although he looks far less likely to see the field. Hmmm. It could be a big day for
Derrick Ward
.
&#8226
Willie Parker
is again listed as questionable because of his problematic knee. Parker continues to deal with inflammation in the knee, and it seems to get aggravated every time he takes the field. This is not unusual with knee ligament injuries, but it is enough to set Parker back in practice each week and put his status in doubt and it's not likely to resolve before the season ends. Parker was able to fully practice for two consecutive days, always a good sign that he'll be able to play, but expect the Steelers to continue to make use of
Mewelde Moore
.
&#8226 Add "oblique strain" to
Clinton Portis
' list of ailments. He remains questionable, and did not practice all week, but he hasn't missed a game yet. Assuming he gets up and runs for coach Jim Zorn on Sunday morning to his satisfaction, he will be in the lineup once again this weekend.
&#8226
Kellen Winslow
is listed as questionable for the Browns again this weekend because of his shoulder sprain. Knowing that Winslow played last week, and knowing how tough he is, this might not seem like such a big deal. But the concern here is that Winslow put in a full practice Thursday and then was limited Friday, calling into question whether he suffered a bit of a setback or whether the team was just giving him less work heading into the game. He will likely play. He generally does, but it's worth checking the inactive lists just in case.
&#8226 Broncos' receiver
Eddie Royal
is questionable with a toe injury. He could perform only limited practice late in the week. Teammate
Brandon Marshall
is listed on the injury report because of his nagging hip, but he went through full practices, is listed as probable and is expected to play. Meanwhile, running back
Selvin Young
, who the Broncos thought might be able to return this week, is listed as questionable but does not look like he'll take the field. The groin injury is still problematic and he has been very limited all week in practice.
Peyton Hillis
will continue to dominate the workload for the Broncos' backs.
Out:
This is a list of key fantasy players, not including those who have been moved to Injured Reserve status, who are officially listed as additions to the "Out" listing for Week 13.
Greg Camarillo, WR, Dolphins:
Camarillo suffered a knee injury that will keep him out the remainder of the season.
Brady Quinn, QB, Browns:
Quinn's fractured finger appeared to worsen and there was concern about tendon damage as well. He is currently evaluating whether or not to have corrective surgery. Either way, he won't be back for the Browns this season.
Derek Anderson
, barring injury, will finish out 2008.
Jeff Saturday, C, Colts:
Saturday has a calf strain that could sideline him even beyond this week. Uh-oh. We saw what happened to the Colts' offense when Saturday was out earlier this season. They have to hope this will not be a long absence.
Good luck in Week 13! Be sure to check out our site Sunday for pregame chats and Fantasy Football Now at noon ET.
November, 26, 2008
11/26/08
11:44
AM ET
No more
Brady Quinn
. No more
Ahman Green
. And no more
Shaun Alexander
. Quinn (finger) and Green (knee) both have injuries that will preclude them from making a return in 2008. As for Alexander, well, let's just say there's a reason the Seahawks decided to turn him loose at the end of last season (just like the Redskins did this week). Not that any of these guys were fantasy stars, mind you, but if they were on your roster, you have a hole to plug this week.
So who is still standing and healthy enough to count on in Week 13? Based on early practice reports, here's what we're hearing on the injury front so far: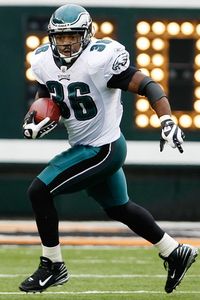 Scott Boehm/Getty ImagesThe Eagles need Brian Westbrook to play Thursday, and he knows it.
Brian Westbrook, RB, Eagles:
Westbrook's status looks to be a repeat of last week. He likely will not practice leading up to Thursday's game, and his injury label as of this post is questionable. Nonetheless, with the injury to backup
Correll Buckhalter
(MCL sprain), Westbrook is likely to be called upon more than the Eagles would have preferred.
Lorenzo Booker
now becomes Westbrook's backup, but he just hasn't seen enough playing time to provide the same offensive threat.
Expect Westbrook to be active for Thursday's game, but the knee and ankle troubles that have been plaguing him will not have gone away. On the Eagles' official Web site, Westbrook even said, "I don't think we're at the point where he would take me completely out, especially with our injury situation. I still think I can help out this team, whether it's picking up the blitz or running and catching the ball." His productivity, however, is likely to be limited again this week.
Reggie Bush, RB, Saints:
As Bush says, "This could be the week." And Mike Triplett of the New Orleans Times-Picayune, who has been tracking Bush's every move since his surgery more than a month ago, seconds that. It looked like Bush would return on the big Monday night stage until late last week, but credit the Saints with holding him back until they were satisfied that he was approaching full health. Apparently, they did not see enough in practice to give them the confidence that Bush was ready to take the field and absorb the unavoidable contact that comes along with playing his position.
Bush might not see a full workload in his first game back, and it would not be a surprise to me if he is held out of special-teams play. Expect him to see some offensive action, though, including catching passes out of the backfield, and if all goes well, his action should continue to increase.
Some other players to keep an eye on as the week progresses ...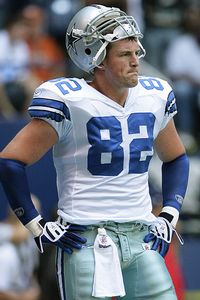 AP Photo/Matt SlocumJason Witten is pretty sore right now, but he'll play Thursday.
&#8226
Jason Witten
absorbed another huge body blow this week and had to get another set of X-rays. In addition to taking more hard shots to the chest, Witten also ended up with a sore jaw. Witten has played with a broken jaw before, so he knows what that pain is like. Luckily, there were no new fractures, and Witten, although no doubt very sore, practiced fully Monday and Tuesday and plans to play Thursday. Even though his broken ribs are still healing and his receptions are down, the team loves his presence on the field. But fantasy owners should keep in mind that he is at less than full health.
&#8226 Lions running back
Kevin Smith
banged up his shoulder last week and was held out of practice Monday. He returned to a limited practice Tuesday and is expected to play in the Lions' annual Thanksgiving day contest, but he might be less than 100 percent.
&#8226 Broncos running back
Selvin Young
is expected to return from his groin injury this week, assuming he is able to get in some full practices. That should serve only to cut into
Peyton Hillis
' workload. Broncos tight end
Tony Scheffler
is quietly getting healthier, and although he hasn't been very productive lately, he has a potentially good matchup Sunday versus the Jets.
&#8226 "Fast"
Willie Parker
might not be so fast getting back on the field after aggravating his knee again last week. Parker reportedly has inflammation in his recently sprained knee, and he's listed as questionable for Sunday's game. The word is that Parker will have more evaluative tests done this week, but it is reasonable to think that
Mewelde Moore
will again start in his place at New England. Receiver
Santonio Holmes
suffered a concussion last week, but coach Mike Tomlin said on the Steelers' official Web site that he expects Holmes to be ready to play Sunday.
&#8226
Plaxico Burress
was scheduled to have his hamstring further evaluated this week. Burress had a disappointing early exit from Sunday's game once he figured out that he could not run fast with the hamstring ailing, but the Giants are hopeful that he will not miss much more time. We should have a better idea as to his status later in the week, but you know how it goes with these delicate hamstring injuries. Have a backup plan in place. Meanwhile, teammate
Brandon Jacobs
should be able to play Sunday at Washington after he was a surprise late scratch just before this past Sunday's game. Jacobs, who had appeared to be healthy after full practices late last week, reportedly had stiffness in his knee following the team's flight to Arizona, according to the New York Daily News. In any event, the extra week should have helped him, and it would be a surprise if he is not on the field this Sunday.
There are three Thursday games this week, so don't forget to set your lineups early! We'll have the latest injury updates affecting the Week 13 weekend contests and any postmortem on Thursday injuries in the Saturday blog.
November, 22, 2008
11/22/08
4:31
PM ET
By
Stephania Bell, ESPN.com
| ESPN.com
Just when fantasy owners are coming up on their playoffs, it's the time of the season when NFL teams start thinking about their playoffs. And then they start resting their players to save them for the postseason -- shame on them. Fortunately, there are still some tight playoff races around the league, so we won't see too much of that happening just yet. So who will play this weekend? Here's what we know as we head into the Week 12 contests.
[+] Enlarge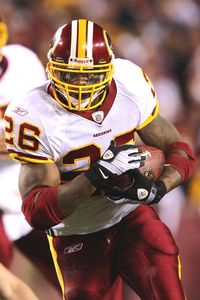 Jim McIsaac/Getty ImagesClinton Portis owners' are getting used to his game-time status lately.
Clinton Portis, RB, Redskins:
Portis is listed as questionable, and his status remains a game-time decision for Sunday. Wait, isn't this what we were saying a week ago? Actually, it's exactly what we were saying when the Redskins were preparing to face the Cowboys. And, much to our collective surprise, Portis played. He didn't emerge any worse from that contest, or so he says, so why the questions about his status a week later?
Well, even though Portis played in Week 11 despite reporting a Grade 2 medial collateral ligament (MCL) injury, he was not Portis-like. In fact, he sat out the majority of the second half. Portis himself said he lacked burst and explosiveness and had difficulty shedding tackles. Portis said he would focus on those things this week and, according to the Washington Post, said, "No ifs, ands, buts about it, I'll be playing."
But then there's the matter of practicing what you preach. Portis didn't practice all week, doing only limited work Friday. Coach Jim Zorn didn't appear quite ready to hand Portis the reins, saying only that Portis would need to work out before the game Sunday and prove that he was ready to play. In fact, Zorn seemed to retreat a bit from Portis' assurance that he would play, telling the Post that Portis was still not at full speed and that as much as he would love for Portis to play, Zorn would need to see Portis go at game time.
Given that Portis did play last week, it's hard to imagine him a week later at least somewhat healthier and still sitting on the sideline. Unfortunately for fantasy owners, he is playing in a late game, so the information about his status will come late in the afternoon.
Ladell Betts
is listed as probable and is expected to play, despite the fact that he himself practiced on a limited basis this week because of his knee, which was aggravated during Sunday night's matchup. It will likely be a mixture of Betts and Portis on the field, but it remains to be seen how their time will be distributed. When Portis plays, the Redskins' tendency has been to feature him, even when they say (as they did before last week's contest) that they plan to limit his use. If you can afford to wait until game time to set your lineup, that may be the best plan.
Reggie Bush, RB, Saints:
Bush is listed as questionable for the Saints' Monday night game and we likely won't have confirmation of his status until just before kickoff. It seems as if the team is hopeful that Bush will be able to play on Monday, which would mark a five week return after surgery to address a torn meniscus.
Bush tore the meniscus in his left knee in Week 7 and did not make the trip to London with his teammates so that he could stay behind for surgery. This knee is the same one in which he suffered a partial tear of his posterior cruciate ligament last year, an injury that forced an early end to his 2007 season. Given his injury history, the initial projected timetable for Bush of two to four weeks seemed a bit ambitious. Most meniscal procedures require closer to four weeks of recovery, and there is the issue of Bush already having had some trauma to that knee. Even a small amount of instability in his knee requires that Bush compensate for that deficit with improved quad and hamstring strength as well as excellent directional control, especially given his style of frequent lateral running and cutting. Therefore, it came as no surprise last week that the Saints opted to hold Bush out a little longer to have him continue to focus on the high-level skills that would prepare him to return to play.
Bush himself said earlier this week that with the extra day going into this game, he felt confident that he had enough time to do "all the things necessary" to help him be 100 percent for Monday. According to Mike Triplett of the New Orleans Times-Picayune, Bush even looked better this week as compared to last, running more fluid routes in practice. But the fact remains that Bush saw only limited action in practice throughout the week. Bush did not practice Friday but this was apparently a planned rest day since the Saints have an extra day before their game. He did some work Saturday, but again was limited.
The questionable tag is appearing more questionable than it did just 24 hours ago. The fact that Bush has not yet seen a full practice is of some concern. Nonetheless, I still think there is a chance that Bush is active, barring some episode of swelling or other such last-minute setbacks. Even if he does suit up, expect the Saints to control his playing time, perhaps choosing not to have him return kicks straight out of the gate, and limiting his overall number of touches. It appears a risky play from a fantasy perspective because there is no way of knowing in advance of Monday night whether Bush will play, and how much time he sees.
Other noteworthy items
[+] Enlarge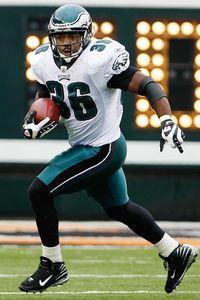 Scott Boehm/Getty ImagesWestbrook is facing a tough defense and is far less than 100 percent.
• All is not well with
Brian Westbrook
. He is officially listed as questionable because of his knee and his ankle, and -- you guessed it -- he is a game-time decision. This is not the same scenario of a Westbrook who rests during the week, then shows up Sunday and changes the entire Philly offense. This is an ailing Westbrook: His yards per carry has decreased in recent weeks, and he is dealing with not only a swollen knee (which he has managed for years), but also the lingering effects of an ankle sprain back in Week 3 (which looked as close to a high ankle sprain as it gets). Westbrook told the Philadelphia Inquirer that his ankle feels healthy enough to play each week but then gets "reinjured" during the game. He acknowledges that it limits him by affecting his ability to cut and avoid tackles. For his part, coach Andy Reid limits Westbrook's practice time when the team practices inside on the turf to try to minimize the stress on his joints. Despite the fact that the Eagles face a tough Baltimore run defense, according to the Philadelphia Daily News, Reid says that if Westbrook can go, he will play. In other words, this is not going to be a planned rest day for him. Reid also said, however, that he will call on
Correll Buckhalter
to do more Sunday. So here's your dilemma, fantasy owners: Westbrook may be active and yet may play very little. The game is early, so the best bet is to wait until game time to see whether Westbrook is even playing. But something tells me that this is the time to rest him, and that even if he sees the field, he will see a lot less of it this week than usual.
•
Brandon Jacobs
seems to have recovered nicely from the minor injury to his knee that forced him to leave last week's game early. After an MRI early in the week came back negative, Jacobs minimized the injury and said that he was feeling good. By the end of the week he had practiced fully and insisted that he had no pain and was ready to play. But will he play? Jacobs is listed as probable and therefore is almost certain to start. But you have to wonder how long the Giants will leave him in the game when they certainly don't want to risk any major setback and can be secure in their backfield depth in Derrick Ward and Ahmad Bradshaw. After all, Jacobs suffered an MCL sprain that kept him out for three weeks last year. When he said initially that this injury was similar to last year's (although he said he knew right away it was not as serious), the Giants had to be holding their collective breath until the test results came back negative. Fantasy owners can take a chance here. Jacobs is indeed expected to start. But I don't see him playing much, if at all, in the second half, especially if the Giants are faring well. Then again, he can rack up some nice first-half numbers. Let's put it this way: His knee will not be limiting him heading into Sunday.
• Fellow Giant
Plaxico Burress
was a midweek addition to the injury report with a hamstring strain. He did not practice Thursday or Friday, is listed as questionable, and really is one of those 50-50 designations to play. The Giants will have him warm up before the game and see how his leg feels running routes. Burress seemed very cautious when discussing his leg injury throughout the week, so even if he is active, it doesn't appear he will be 100 percent.
•
Tony Romo
(pinkie) and
Jason Witten
(ribs) are both listed as probable, and you know they're playing. You should also know that both are feeling better, and Witten in particular should have better numbers this week.
•
Matt Jones
went through a full practice Friday, is listed as probable and is expected to play. Jones sat out last week with a bruised thigh and was limited in the early part of this week. The Jaguars want him back in their offensive lineup, though, because he has been their top receiver so far this year.
•
Kellen Winslow
is listed as questionable for the Browns this weekend after suffering what the team called a shoulder sprain Monday night. If anyone can tough it out through an injury in this league, it's Winslow, and this week should be no different. The fact that he returned to practice Friday improves his chances of playing.
•
Derrick Mason
played pretty well for having only one good wing last week. Nonetheless, the challenges of his injured left shoulder became apparent when he could not bring both arms overhead to catch what would have been a touchdown pass. Mason did not practice Wednesday because of soreness in the shoulder and was limited Thursday and Friday. He is listed as questionable, and his status will not come down until just before the game, but given that he managed to tough it out last week, you can probably expect the same Sunday.
[+] Enlarge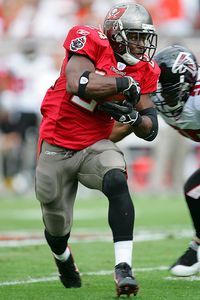 Paul Jasienski/Getty ImagesWill the engine get started this week for Cadillac?
• The potential return of
Carnell Williams
has created much anticipation. Williams is expected to see his first game action this week. Well, he
was
expected to, based on the hints coach Jon Gruden was tossing out all week, but surprisingly, he was an addition to the Friday injury report because of a hamstring problem. Williams has been out for 14 months recovering from a torn patellar tendon. He has made great strides -- so great, in fact, that the Buccaneers activated him from the physically unable to perform list and made room for him on the active roster. It seemed perfect timing to have him available Sunday with the loss of
Earnest Graham
to a season-ending ankle injury last week. Williams is listed as questionable, and it may come down to a game-time decision, but you can bet that if anything could compromise his recent tendon repair, the team will play it safe and sit him.
Warrick Dunn
is expected to remain the starter in Tampa.
Out:
This is a list of key fantasy players, not including those who have been moved to injured reserve status, who are officially listed as additions to the "Out" listing for Week 12.
Steven Jackson, RB, Rams:
The Rams decided to make it easy on fantasy owners, and Jackson himself, by making this announcement early in the week. There's still no telling when Jackson is expected to return from his lingering quadriceps strain.
Antonio Pittman
gets the start again for the Rams.
Matt Schaub, QB, Texans:
Early in the week, Texans coach Gary Kubiak hinted that Schaub could miss up to another month with his slow-healing MCL sprain. For fantasy purposes, it is probably worth dropping him to secure a playoff replacement.
Felix Jones, RB, Cowboys:
This week the Cowboys announced that although Jones' hamstring had recovered, during his rehab workouts he sustained a torn ligament at the base of his big toe that will require surgery, officially ending his season. It's a bummer for the rookie who had such a bright start to his year. Something about switching from the field at Arkansas to the pros has an effect on big toes; the Raiders'
Darren McFadden
and Jones will both have missed playing time as a result of their respective toe injuries.
Marty Booker, WR, Bears:
Booker has a knee ailment that will sideline him this week.
Brandon Lloyd
, who has not been much of a factor since spraining his posterior cruciate ligament early in the season, is listed as probable (now with a calf strain) and should play. With Booker out, Lloyd should see some more targets this week.
Arnaz Battle, WR, and Josh Morgan, WR, 49ers:
Not only is Battle still battling his foot injury, but now we also are hearing that Morgan is not expected back anytime soon because his groin injury is fairly severe. In fact, the Sacramento Bee reports that offensive coordinator Mike Martz said of Morgan's injury: "That was a pretty significant injury. I'm not sure we're going to get him back in the near future." Look for
Bryant Johnson
, who is now healthy (and who was a factor in the 49ers' receiving corps early in the season), to see some extra balls thrown his way.
Good luck in Week 12! Be sure to check out our site Sunday for pregame chats and Fantasy Football Now at noon ET.
November, 24, 2007
11/24/07
2:29
PM ET
This has been an unusual week because of the Thursday games and the Thanksgiving holiday. I posted plenty of updates in my
late Friday blog
, so today I'll keep the conversation brief, looking only at those players who did
not
appear in Friday's report.
OUT
The following players have been added to the list as officially out for Week 12.
<a href="javascript:
newWin('http://insider.espn.go.com/nfl/players/fantasy?statsId=5048')">Shaun Alexander, RB, Seahawks: We already knew he wouldn't play; now it's official.
<a href="javascript:
newWin('http://insider.espn.go.com/nfl/players/fantasy?statsId=3569')">Zach Thomas, LB, Dolphins: The lingering migraines continue.
<a href="javascript:
newWin('http://insider.espn.go.com/nfl/players/fantasy?statsId=7774')">Santonio Holmes, WR, Steelers: It wasn't looking good anyway. Now you know that <a href="javascript:newWin('http://insider.espn.go.com/nfl/players/fantasy?statsId=7492')">Nate Washington is starting in his place. In fact, you might want to go and get him.
<a href="javascript:
newWin('http://insider.espn.go.com/nfl/players/fantasy?statsId=6352')">Troy Polamalu, S, Steelers: The Steelers' defense takes a hit because of Polamalu's knee injury.
<a href="javascript:
newWin('http://insider.espn.go.com/nfl/players/fantasy?statsId=4065')">James Thrash, WR, Redskins: He'll miss because of an ankle injury. Moss and Randle El will handle the load.
Whether the following players suit up for Week 12 is still unknown.
Running Backs
<a href="javascript:
newWin('http://insider.espn.go.com/nfl/players/fantasy?statsId=4259')">Fred Taylor, Jaguars: Taylor is listed as probable, meaning he is virtually certain to play. He is on the injury report because of a thigh injury that kept him limited in practice early in the week, but he was able to practice fully on Friday.
<a href="javascript:
newWin('http://insider.espn.go.com/nfl/players/fantasy?statsId=6994')">Derrick Ward, Giants: I
discussed his injuries Friday
, but that was when he appeared to be a game-time decision. Since then, Ward has been downgraded to doubtful, meaning he has less than a 25 percent chance of playing. Go Reuben, go.
<a href="javascript:
newWin('http://insider.espn.go.com/nfl/players/fantasy?statsId=5920')">DeShaun Foster, Panthers: Not a big source of worry here. Foster has been bothered by a toe injury for several weeks. He did not practice Wednesday to give the toe a rest but was back in practice Thursday and Friday to finish the week strong. He is listed as probable and is expected to start.
<a href="javascript:
newWin('http://insider.espn.go.com/nfl/players/fantasy?statsId=7241')">Frank Gore, 49ers: The biggest worry when it comes to Gore right now is the offense he plays in, not any injury. Sure, Gore's ankle has not been 100 percent since he sprained it several weeks ago, but that is not the main reason for his lack of production. Nonetheless, the ankle is the reason he appears in this report. He was limited in practice early in the week to avoid aggravating the ankle, but he did practice fully Friday and is listed as probable. He will start again for the 49ers on Sunday.
Quarterbacks
<a href="javascript:
newWin('http://insider.espn.go.com/nfl/players/fantasy?statsId=7247')">Alex Smith, 49ers: He is listed as questionable, but we shouldn't expect him to do much. Smith is still resting his shoulder and forearm and will be re-evaluated in the coming week.
<a href="javascript:
newWin('http://insider.espn.go.com/nfl/players/fantasy?statsId=4416')">Matt Hasselbeck, Seahawks: Hasselbeck has bruised ribs, reportedly from the Week 11 game. He was held out of practice Wednesday and Thursday but was able to participate fully on Friday, taking most of the first-team snaps. According to the Tacoma News Tribune, Hasselbeck said he feels "as close to 100 percent as [he has] felt in a long time." Although he is listed as questionable, he is expected to start against the Rams, and it does not appear that he will be limited.
Wide Receivers/Tight Ends
D.J. Hackett, Seahawks:
Hackett, who missed several weeks because of a high ankle sprain but managed to return looking fantastic, now has a new injury issue: He is listed as questionable because of swelling in his knee. After resting the knee Wednesday and Thursday, Hackett was able to participate fully on Friday and reportedly looked sharp while running, although he
was
wearing a wrap, according to the Tacoma News Tribune. All signs point to his playing against the Rams, but be sure to check the inactive reports Sunday.
<a href="javascript:
newWin('http://insider.espn.go.com/nfl/players/fantasy?statsId=6837')">Bernard Berrian, Bears: Berrian has a toe that is bothering him, but it does not appear that it will keep him from playing Sunday. Berrian is listed as probable after being able to practice fully on Friday, and he should start Sunday.
<a href="javascript:
newWin('http://insider.espn.go.com/nfl/players/fantasy?statsId=5037')">Plaxico Burress, Giants: Burress' ankle has bothered him more of late, and it is possible that it is affecting his overall productivity. The Giants continue to do their best to manage his condition by keeping him out of practice all week to save him for Sunday. His designation is questionable, so it is always important to check his status before game time. But he is expected to start. Although the past few weeks have been unremarkable for Burress, he remains one of Eli Manning's top receiving targets and always has the potential to have a big day. He also has the potential to aggravate the ankle and leave early. Risk, meet reward.
<a href="javascript:
newWin('http://insider.espn.go.com/nfl/players/fantasy?statsId=5463')">Santana Moss and <a href="javascript:newWin('http://insider.espn.go.com/nfl/players/fantasy?statsId=5948')">Antwaan Randle El, Redskins: Moss (probable) still has a bruised heel, but the modified shoe with a heel cup insert seemed to help Moss in Week 11. He was allowed to rest the foot early in the week but was a full participant in practice Friday and will be ready to go Sunday. Randle El (also probable) is on this week's report because of a chest injury (no specifics given), but he practiced fully on Thursday and Friday and is expected to play.
Defensive players
<a href="javascript:
newWin('http://insider.espn.go.com/nfl/players/fantasy?statsId=6773')">Tommie Harris, DT, and <a href="javascript:newWin('http://insider.espn.go.com/nfl/players/fantasy?statsId=6869')">Nathan Vasher, CB, Bears: Harris did not practice Wednesday or Friday (he did only limited work Thursday) because he continues to battle a sore knee, but according to the Bears' official Web site, coach Lovie Smith said Harris "should be able to go." The news is not so good for Vasher, who has been hampered by a groin injury for weeks now. Vasher, officially listed as doubtful, is likely to miss his eighth straight game. We saw with <a href="javascript:newWin('http://insider.espn.go.com/nfl/players/fantasy?statsId=6783')">Steven Jackson how nagging these groin injuries can be, and when your position requires significant speed and directional running, a groin injury can be particularly challenging. Vasher admits that the injury is frustrating and hopes he can return relatively soon.
<a href="javascript:
newWin('http://insider.espn.go.com/nfl/players/fantasy?statsId=4658')">Chris McAlister, and <a href="javascript:newWin('http://insider.espn.go.com/nfl/players/fantasy?statsId=4305')">Samari Rolle, CBs, Ravens: Rolle has been on the Ravens' injury report for weeks now with a previously undisclosed illness, but Rolle announced this week that he has epilepsy. Rolle decided to speak publicly about it now that he has the condition under control, according to a report in the Baltimore Sun. Rolle has had three significant seizures since the start of the season, and the medications he was prescribed took their toll in side effects. Now Rolle seems to have struck a balance with the proper medication and has been gradually resuming his practice activity. His teammates, meanwhile, are reportedly thrilled to have him healthy and back on the field with them. Rolle is listed as probable and could see action Sunday. His teammate, McAlister, is not faring as well for Week 12, though. After returning to action in Week 11, McAlister's knee has been sore, and he has not practiced all week. He is listed as questionable and could play, but it will come down to a game-time decision.
<a href="javascript:
newWin('http://insider.espn.go.com/nfl/players/fantasy?statsId=5897')">Dwight Freeney, Colts: I put Freeney last on the list so that those of you who are not interested in reading about a player who has already been placed on injured reserve can stop reading now. However, for those of you who are curious about these "Lisfranc" injuries, read on.
Freeney underwent surgery on his foot after suffering a Lisfranc injury during Week 10. The term has become familiar enough that many now call it the "dreaded" Lisfranc injury, as it can be quite serious, even career-ending, if not managed well.
So what is this thing they call a Lisfranc injury? There is a region in the middle of the foot where the long bones of the forefoot (metatarsals) articulate with the small tarsal bones in the middle of the foot. This joint, for obvious reasons, is thus called the tarsometatarsal joint. It is also referred to as the Lisfranc joint. Why? Frenchman Jacques Lisfranc, a field surgeon in Napoleon's army, described an amputation technique through this region to address forefoot gangrene following frostbite. There is also the story that soldiers wounded in battle would fall from their horses, but a foot would often remain caught in the stirrup, right at that tarsometatarsal joint. Such an injury often resulted in amputation of part of the foot, from the injured joint forward. In fact, amputation to that region still bears the same name (although NFL players don't need part of their foot amputated when they suffer Lisfranc injuries).
Since NFL players aren't riding horses, how does this injury happen to them? There are several mechanisms for this type of injury, but in sports, especially football, the primary scenario is that the player is running forward, with his weight on the ball of his foot, and he gets hit or stepped on from behind against his heel. The resultant force through the portion of the foot in between the ball and the heel (midfoot) causes it to buckle, and the midfoot is injured.
Are all Lisfranc injuries the same? No. In fact, the name Lisfranc refers to the region of the foot, not necessarily the severity of the injury. By virtue of its important location (the midfoot essentially forms the arch), any injury to this region needs to be taken seriously. That said, not all Lisfranc injuries are created equal. When the midfoot buckles, the ligaments that connect the various bones can become damaged. Ligament injury without any bony impact would be the mildest version of a Lisfranc injury. The problem is that damage to the ligaments can affect the relative position of the bones in the area, and they can shift or dislocate, which is often accompanied by a fracture. Now it's getting more serious. In the worst-case scenario, an artery passing over that area can also be damaged, affecting blood supply to the foot. A shift of the bony alignment typically requires surgery to realign the joint and provide stability. Failure to do so can result in chronic instability and pain, eventually leading to major arthritis in the area. Even with surgery, it appears that people who have suffered a significant Lisfranc injury are more at risk for arthritis down the road, simply because of the trauma to the joint. The bottom line is that players who suffer these injuries must have their treatment managed carefully, not only with surgery, but in the postsurgical rehabilitation process as well. We have seen evidence of this with Lions running back <a href="javascript:newWin('http://insider.espn.go.com/nfl/players/fantasy?statsId=6789')">Kevin Jones, whose activity has been carefully monitored across the season, based on how his foot is feeling.
Good luck to everyone this week! Be sure to check our inactive reports leading up to game time here at ESPN.com.