Stephania Bell:

Ray Lewis
November, 29, 2011
11/29/11
5:16
PM ET
Week 12 is in the books and with three games happening on Thanksgiving, at least the pain of the cumulative injuries was spread out over several days.
• On Thursday, the
Detroit Lions
lost
Kevin Smith
late in the first half to an ankle sprain. The injury was reported as a high ankle sprain, but after the game Smith said the injury was not that bad. He told the Detroit News that he was cutting when someone fell on his ankle but pointed out he had 10 days to recover before the Lions' next game. Still, there are no guarantees with this type of injury that Smith will be ready to return. If Smith is unable to play,
Maurice Morris
would once again be in line for the start. As for
Jahvid Best
, he was placed on IR and is done for the season.
[+] Enlarge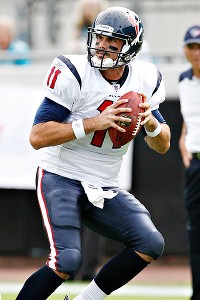 Matt Stamey/US PresswireMatt Leinart got exactly one game as the Texans' starting QB before being shelved for the season.
• The
Dallas Cowboys
were without the services of wide receiver
Miles Austin
as he continues to recover from a second hamstring strain, but
Laurent Robinson
didn't seem to mind. Austin has not yet returned to practice but is apparently moving around better, at least according to Jerry Jones. According to ESPNDallas.com, Jones said he expects Austin to play Sunday but, recognizing the tricky nature of hamstrings, he quickly followed that up with a caveat, saying, "We don't want to push that, because we've got a lot of football ahead of us." It sounds as if Austin is making progress, but the decision as to whether he will return to action will not likely be clear until late in the week.
• In the Thursday nightcap, the
Baltimore Ravens
were without the services of linebacker
Ray Lewis
, but it didn't stop the defense from halting the
San Francisco 49ers
' win streak. Lewis is still nursing a toe injury and may not be ready to return in Week 13.
• Sunday was supposed to be a happy day for the
Houston Texans
as they saw the return of wide receiver
Andre Johnson
after six games missed due to a hamstring injury. Johnson managed to get through the game just fine (albeit a little tired, per head coach Gary Kubiak) but the Texans lost their second quarterback in two games when
Matt Leinart
, replacing injured starter
Matt Schaub
, suffered a fractured clavicle. The Texans confirmed that Leinart will undergo season-ending surgery. This is not Leinart's first experience with a broken collarbone. In October 2007, Leinart, then with the
Arizona Cardinals
, broke his left clavicle and was placed on injured reserve. For now, the Texans' starting quarterback is
T.J. Yates
, with newly acquired
Jake Delhomme
and
Kellen Clemens
as backups.
There were a number of players who sat out Week 12 and fantasy owners are hoping to get them back soon with fantasy playoffs approaching. Will they be back in Week 13?
•
Minnesota Vikings
running back
Adrian Peterson
was optimistic last week that he would play but fantasy owners who have seen the impact of high ankle sprains knew better. Peterson never really tested the ankle last week and was not ready for action. He may not be ready this week, either. While he's reportedly improving, until he takes the practice field, there's no independent way to judge how close he is to game action. Fantasy owners should prepare for the possibility of another week without Peterson.
• The
Philadelphia Eagles
play Thursday night and it won't likely be enough time to get two key players back. Wide receiver
Jeremy Maclin
, whose already ailing hamstring tightened up in practice last week, is trying to work his way back from two injuries. He did not practice Tuesday, the big prep day for a Thursday game, and is not expected to be available.
Vince Young
led the Tuesday practice for the quarterback position, indicating
Michael Vick
will almost assuredly miss another week because of his broken ribs. With 10 days between this game and the next one, both players have a chance to be ready for Week 14. A good sign for Vick is that, according to Jeff McLane of the Philadephia Inquirer, he was throwing some balls to receivers on the side. No word on how uncomfortable -- or accurate -- he was.
[+] Enlarge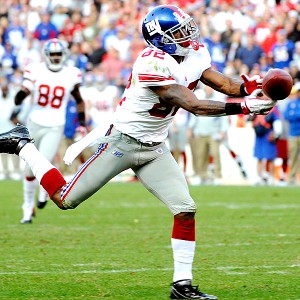 Thearon W. Henderson/Getty ImagesMario Manningham was a late scratch Monday night, opening the door for bigger things for Victor Cruz.
•
New York Giants
running back
Ahmad Bradshaw
was not ready to play in Week 12 despite his own announcement that he was improving. The fact he's been doing some side work is encouraging, but there's still the matter of allowing the cracked bone in his foot to heal adequately before returning to a game situation. The biggest clue will come when we see that Bradshaw has been cleared for practice. Until that happens, the presumption is he is not ready to return to play. Teammate
Mario Manningham
missed Monday night's game after swelling in his knee became an issue again this past week. Despite traveling with the team, he was not able to get through pregame warmups in a convincing enough manner to warrant playing. Fellow receiver
Hakeem Nicks
took his share of physical punishment in the game, leaving at one point with what the team later called a rib contusion. Nicks was able to return shortly afterward and maintained he was fine after the game. At this point, he does not appear in danger of missing any time because of the ribs.
• The
Oakland Raiders
have their share of walking wounded, many of interest to playoff-bound fantasy owners. Running back
Darren McFadden
has now missed four games since suffering a midfoot sprain in Week 7. Largely invisible over the past few weeks as he received treatment on the foot, McFadden was out of the boot and walking around the team facility early this week. He was also seen working out on the side during team practice. While those are the most encouraging signs thus far for McFadden, there is still quite a bit more for him to do to return to action. The Raiders certainly have the luxury of ensuring McFadden's gradual progress, given how well
Michael Bush
has been playing in his place. Even when McFadden returns, which appears as if it won't be before Week 14, the team is likely to ease him back into action alongside Bush.
• Receivers
Denarius Moore
and
Jacoby Ford
both missed Week 12 with foot injuries. Moore was a bit of a surprise addition to last week's injury report when he showed up with a walking boot on his right foot after apparently injuring it in Week 11. Ford has been out for two weeks now, and while he claims his injury is different than McFadden's, it is similarly slow to progress. According to Steve Corkran of the Contra Costa Times, Ford expects to return to practice Thursday but does not hold out much hope for playing Sunday. It looks like another week of drought for fantasy owners when it comes to some key Raiders.
• Finally,
Seattle Seahawks
receiver
Sidney Rice
suffered a concussion Sunday, his second of the season. With the Seahawks playing Thursday, the expectation is that Rice will not be available.
See you on Thursday as the practice updates start to shape up the game plans for Week 13.
November, 22, 2011
11/22/11
6:08
PM ET
How far the mighty have fallen. So many draft day stars have been taken down by injury, costing fantasy owners anywhere from one or two games (
Arian Foster
, who has since recovered beautifully) to an entire season (
Jamaal Charles
, so much potential, so sad). Perhaps the worst status is that of fantasy limbo where owners continue the hand-wringing over whether a player will or won't return in any given week (
Peyton Hillis
headed for a sixth straight absence,
Jahvid Best
headed for his fifth).
[+] Enlarge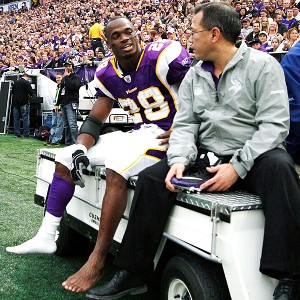 AP Photo/Andy KingAdrian Peterson scored his 12th touchdown of the season Sunday before suffering an ankle injury.
Add
Minnesota Vikings
running back
Adrian Peterson
to the list of stars who have suffered an injury that will lead to missed time (Grade 1 high ankle sprain). While Peterson has not officially been ruled out, the nature of the injury is such that no one expects him to suit up. He is in a walking boot and may test the ankle Friday, but it would be hard to imagine him being game ready by Sunday.
Earlier this year there was optimism that
St. Louis Rams
quarterback
Sam Bradford
would play the week following a high ankle sprain; he missed two games.
Dallas Cowboys
running back
Felix Jones
returned last week after missing four weeks with his high ankle sprain. While no two injuries are identical, the concern over proper healing of a high ankle sprain to prevent future problems and the demands of the running back position suggest Peterson will miss this week and perhaps longer.
The
Buffalo Bills
saw their star running back
Fred Jackson
go down with a calf bruise. Jackson was reportedly very sore Monday and is being called day-to-day by the team. Any bleeding in the calf is compounded by the tight muscle compartments in the area, making it difficult to eliminate swelling. It would not be surprising if Jackson is out in Week 12.
The
Chicago Bears
suffered perhaps the most devastating loss when they discovered quarterback
Jay Cutler
broke his right thumb, an injury that will require surgery. While the Bears are still leaving the door open for Cutler to return this season, the likelihood of that happening is small. Between waiting for the bone to heal, restoring range of motion and strength sufficient to both grip the ball and guide the ball when throwing, the timetable normally extends beyond six weeks. Although the Bears will wait and see how Cutler's progress evolves, from a fantasy perspective there is no reason to wait. Time, as they say, to move on.
With the altered holiday schedule resulting in three Thursday NFL games, we focus on those injury concerns here:
Green Bay at Detroit
•
Detroit Lions
running back Jahvid Best will not play Thursday. He is still recovering from symptoms following a concussion and has not yet practiced. He has been making strides, appearing at the team facility and watching some practice, but has steps to clear before returning to a game situation.
Kevin Smith
had a sensational game last Sunday and is expected to get plenty of work again Thursday.
• Wide receiver
Calvin Johnson
gave everyone a scare when he didn't practice Tuesday, the most significant practice heading into a Thursday game. Apparently he was getting some additional rest for his ankle, but Paula Pasche of the Oakland Press reported via Twitter that Johnson says he will, in fact, play.
[+] Enlarge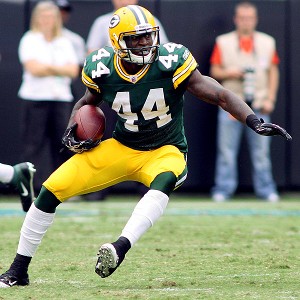 Jeremy Brevard/US PresswireJames Starks had been emerging as the Packers' primary running back but he could be limited for Thursday's game.
• The
Green Bay Packers
had two major fantasy player injury concerns coming out of Week 11. Receiver
Greg Jennings
had a bruised knee but was back in practice Tuesday and "running just fine," according to the Milwaukee Journal-Sentinel. Head coach Mike McCarthy has already indicated Jennings will play Thursday. Running back
James Starks
came out of Sunday's game with two injuries, sprains to both his right knee and ankle. Starks was in practice Tuesday as well but the Journal-Sentinel described him as appearing "cautious." The decision for Starks will come down to gametime, but there is a decent chance he does not play.
Miami at Dallas
• The Dallas Cowboys will likely be without wide receiver
Miles Austin
again Thursday. He has not yet returned to practice following his hamstring injury and cannot be expected to be running full speed in two days. Sitting out this week gives him another week and a half of rest. His chances of returning in Week 13 seem much better.
• Running back Felix Jones returned from his high ankle sprain and seemed to survive Week 11 without incident. Of course he didn't carry a full load, probably wise given that he was coming off a month away from the game. With
DeMarco Murray
playing as well as he has, the ratio of carries is likely to stay as it is, at least for the time being.
San Francisco at Baltimore
•
San Francisco 49ers
running back
Frank Gore
started last Sunday and had no reported problems with his knee or ankle following the game. According to CSNBayArea.com, Gore came out of the game once the 49ers were up 23-0, probably a smart move knowing the next game was four days and a coast-to-coast plane trip away. Expect Gore to start again Thursday night.
• Although receivers
Michael Crabtree
and
Braylon Edwards
have been limited in practice for multiple weeks, they have been playing on gameday and are expected to do so again Thursday.
• The
Baltimore Ravens
were without the services Sunday of linebacker and team leader
Ray Lewis
, who sat out the game with a toe injury. According to the Carroll County Times, Lewis says he is getting treatment and doing all he can "to prepare to play on Thursday." He says he is making some progress but there may not be enough time to make the progress he needs to play in a game. A decision on him may not come down until pregame Thursday.
Happy Thanksgiving and we'll have the latest injury updates affecting Week 12 in the Saturday blog!