Stephania Bell:

Rickie Weeks
August, 16, 2011
8/16/11
1:50
PM ET
We're rounding the bend and preparing to enter the final stretch of Major League Baseball's regular season, when injury issues are as critical as ever. Major league teams with an eye on the playoffs might be cautious about returning their stars too quickly, while fantasy owners are wishing those players could return, well, yesterday.
Adrian Beltre
(hamstring) is a good example of this; his owners need him back, but the Rangers have indicated they will proceed even more cautiously this time around with their power-hitting third baseman. Beltre strained his left hamstring in late July, his first such experience with the injury, but he is getting an education on why these ailments are so problematic. He reinjured himself running the bases a little more than a week ago, just before he was set to rejoin the team, and undoubtedly that activity will be postponed a while longer this time. According to the Rangers' official website, the team is not expecting Beltre back until September.
Meanwhile, Rangers teammate
Nelson Cruz
left Monday's game because of tightness in his left quad. This is not the same quad that sent him to the DL in May, but it is the one that bothered him in late July. According to the Fort Worth Star-Telegram, Cruz said after the game that he was removed as a precaution with the team in the lead, and he could be back in the lineup Tuesday. It's still worth watching to see if, indeed, he returns so quickly and more importantly, if it's truly a non-issue. His owners have to hope the problem doesn't affect him the rest of this season.
[+] Enlarge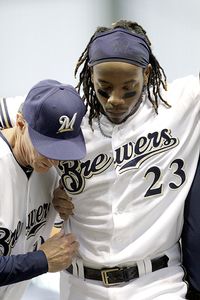 AP Photo/Morry GashRickie Weeks was the highest-ranked NL second baseman on the Player Rater when he suffered his ankle injury.
Rickie Weeks
is speaking again. Although he was understandably mum about the severity of his injury after spraining his ankle in late July, the Brewers' second baseman now says he's making progress, and even feels a little ahead of schedule, according to the team's website. He has been doing pool workouts and playing catch, and he progressed to fielding grounders last weekend. However, that's still quite a ways from doing everything necessary to resume play.
In fact, this is when an injury such as this can trick an athlete. The daily routine starts to feel normal, light activity even feels good. It gets an athlete thinking he can do even more and wanting to push ahead faster. Enter the rehab staff, which knows when to apply the brakes, or at least downshift so that no one gets ahead of himself. Progressions are not usually linear; regaining sprinting speed, especially rounding corners and high-level agility, can take much longer. Weeks originally was given a timetable of 4-6 weeks, and next week will mark one month since the injury. Given that he has yet to run, it does not appear he is going to beat that projection. Until he does start running, it's tough to even venture a guess as to how soon he could return.
New York Mets
shortstop
Jose Reyes
(hamstring) is making progress -- he's fielding ground balls and hitting -- but is still not expected to return from the DL when eligible, according to
Adam Rubin of ESPN New York
. There is no indication as to when he will test his running, but it sounds as if the Mets are being understandably cautious with their speedy infielder, given his history of hamstring issues and a previous DL stint this year for the same injury.
Stop me if you've heard this one before: The
San Francisco Giants
have injury concerns. No sooner do they make what looks to be the key trade to get them to the postseason, their acquisition, outfielder
Carlos Beltran
, suffers a vague hand injury. He has been day-to-day for more than a week, and even after getting a cortisone shot several days ago, the symptoms appear to be lingering. Beltran did not recall a specific time it happened, although it appeared to begin after an at-bat in which he struck out. The San Jose Mercury News reports Beltran could be out for the entire series against the
Atlanta Braves
if he cannot take batting practice. Could a DL stint be close behind?
Meanwhile the Giants are hoping there will be no second visit to the DL for
Pablo Sandoval
. The Panda fouled a ball off his foot in the first inning of Monday's game and was sent for X-rays. Fortunately they came back negative, but how long it takes for his foot to tolerate running and pivoting during his swing remains to be seen. In closing (see what I did there?), the Giants' closer and personality extraordinaire,
Brian Wilson
, is dealing with a sore back. Wilson managed to pitch through the issue Monday but blew the save. Whether the back was a factor is unclear. Stay tuned.
August, 5, 2011
8/05/11
4:45
PM ET
It's Friday. Time to get to the business of enjoying the weekend. With that in mind, we get right to some highlights of who we're keeping an eye on in the world of injuries.
[+] Enlarge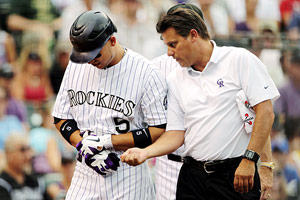 Doug Pensinger/Getty ImagesCarlos Gonzalez has been plagued by wrist injuries since last year.
•
Carlos Gonzalez
could return to the
Colorado Rockies
' lineup Sunday if his remaining rehab games go well. Gonzalez has been on the DL with inflammation in his wrist, an issue that has been ongoing since he collided with an outfield wall in early July. Even when Gonzalez struggled with discomfort in his wrist earlier this summer, he was still able to hit the ball out of the park. The concern for Gonzalez going forward is not so much whether he'll be able to produce when he returns (he went 2-for-4 in his first rehab outing), but whether he'll be able to play the remainder of the season without incident. An awkward landing on a defensive play or a hard bat swing will test him; until Gonzalez proves those are not issues for him, fantasy owners have reason to be a little anxious.
• The
Philadelphia Phillies
are also getting a player back this weekend as
Roy Oswalt
returns to the mound. As noted in Monday's blog entry, Oswalt's chronic back condition has not disappeared, but the hope is that the
symptoms will remain at bay
for the duration of the season.
•
Cleveland Indians
outfielder
Shin-Soo Choo
is making gains in his rehab efforts. Choo, coming off surgery to repair a broken thumb, added to his activities by taking live batting practice. As important as being able to connect the bat with the ball was Choo's report of no soreness afterward. He appears to be on track to return within the next few weeks, assuming his progression continues. What remains to be seen is how effectively (and how consistently) he will hit against live pitching. Once he participates in rehab games there will be better clues.
•
New York Yankees
third baseman
Alex Rodriguez
is at the team's complex in Tampa, Fla., now resuming baseball activities. Rodriguez has made steady progress in his recovery from meniscus surgery but now the real tests begin. According to the New York Post, Rodriguez has yet to take batting practice having only hit off a tee and fielded ground balls.
• This Sunday might mark one of the most well-attended games for the Class A Hagerstown Suns this season, when
Stephen Strasburg
makes an appearance. He is expected to throw only an inning or two, so get there early! At 11 months post-surgery, Strasburg is on the pace for recovery from Tommy John surgery. The rehab assignment starts the 30-day countdown but it is worth noting that the clock can be stopped anytime if the medical staff finds it necessary. If things proceed without limitation, it remains a possibility that Strasburg could deliver a handful of major league innings for the
Washington Nationals
in September.
• Proof that the clock on a rehab assignment can stop anytime came in the form of
New York Mets
pitcher
Johan Santana
, who will not throw for at least a week. Santana threw three scoreless innings in his minor league debut but persistent discomfort sent him back to the surgeon for a re-evaluation. Santana was reported to have "fatigue" in the shoulder and will not throw to allow his shoulder to rest but will maintain a fitness program. Once the medical staff feels he is strong enough, he can resume throwing. There is no formal timetable in place at this time.
•
Milwaukee Brewers
second baseman
Rickie Weeks
(severe ankle sprain) is out of a walking boot but manager Ron Roenicke says he is "still a long ways away," according to the Brewers' website. With the minor league season ending Sept. 5, the team acknowledges that it could make it difficult for the timing of a potential rehab assignment. "Once he's ready to go, if we don't have any places to send him, it's going to make it a lot more difficult for us," Roenicke said. Hmmm.
July, 28, 2011
7/28/11
2:24
PM ET