Stephania Bell:

Robert Griffin III
October, 29, 2013
10/29/13
4:11
PM ET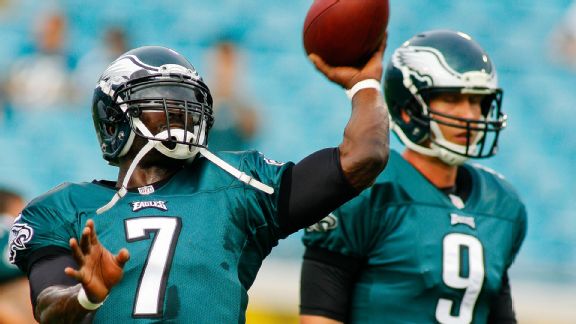 Phil Sears/USA TODAY SportsMichael Vick (No. 7) and Nick Foles are both recovering from injuries.
It's a quick-hit Tuesday.
Fortunately, this week was a little less dire than last in terms of the volume of serious injuries. There were still some of the season-ending variety, however, and more than enough scares for a Halloween week. The
Miami Dolphins
lost wide receiver
Brandon Gibson
to a torn patellar tendon, the
Tampa Bay Buccaneers
moved wide receiver
Mike Williams
to injured reserve after his hamstring injury worsened, and injury-plagued
Detroit Lions
wide receiver
Ryan Broyles
-- who has spent the last two years recovering from torn ACLs in each knee -- tore his Achilles tendon and once again is lost for the season. Some injuries really don't seem fair.
In the meantime, the majority of players are dealing with injury concerns of a lesser nature, but these maladies are still serious enough to threaten playing time. Here are some quick takes on who may be out, and who may be returning soon.
Michael Vick (hamstring) and Nick Foles (concussion), QBs, Philadelphia Eagles:
Vick returned to action after missing the Eagles' last two games, but made a quick exit when he re-injured his hamstring. Vick said he felt a "pop," and coach Chip Kelly has already said he is not expecting to have Vick in Week 9. Given that three weeks after the initial injury it only took Vick three series to suffer a setback, this is hardly looking like a fast track to recovery. According to ESPN's Ed Werder, this episode is not considered to be as severe as the initial injury and he will continue to be evaluated weekly. While it's impossible to say just how long Vick will miss, plan on more than a week, given the ease with which he suffered a setback.
Then there's the question of what happens once Vick is finally deemed healthy. That question might be answered based on the play of the one who fills in for him. Foles was out in Week 8 due to a concussion sustained the week before, leaving
Matt Barkley
to fill in, but Foles returned to practice Tuesday for the first time. If Foles continues to be well through the rest of the week, he is expected to start Sunday.
Robert Griffin III, QB, Washington Redskins, (knee):
Griffin left Sunday's game late with an apparent injury to his left knee, which is the one that is not surgically repaired. While the fanbase and fantasy owners may not have liked the sight of Griffin heading to the treatment table on the sideline -- escorted by Dr. James Andrews -- the good news is that everything checked out just fine. The decision was made to hold him out for the remainder of the game, despite Griffin lobbying to return. Coach Mike Shanahan later told reporters he expects Griffin to return to practice Wednesday, and it looks as if he will make his usual Sunday start.
Julius Thomas, TE, Denver Broncos, (ankle):
It's great when players help us out with their injury updates. Like Thomas, for instance, whom fantasy owners can thank for his tweet regarding the status of his ankle. On Monday, Thomas tweeted the following message: "Just left the facility MRI showed it wasn't a high ankle sprain so I won't be down long. Be back soon #CantWait"
The Broncos have a bye this week, so Thomas will have an opportunity to rest. No guarantees just yet that he will be ready to return in Week 10, but this can certainly be viewed as positive news. Perhaps he and his quarterback can work on their ankle rehab together.
Arian Foster (hamstring) and Ben Tate (ribs), RBs, Houston Texans:
The Texans had a bye last week, so their running backs should be healthy now, right? Not so fast. Foster suffered a hamstring strain which forced an early exit in Week 7, and Tate left that game with four cracked ribs. While both undoubtedly benefited from the rest, it's not reasonable to expect that they have healed completely.
Fractures can take multiple weeks to heal, and the challenge for Tate will be pain tolerance. Foster's history of soft tissue injuries makes his injury somewhat worrisome, but he has shown himself to be fairly resilient in the past. Whether either back has healed enough to suit up Sunday is the question, and it's not like there's an overabundance of confidence in Houston. Coach Gary Kubiak made his unease about the situation clear when asked if he was concerned.
"On a scale of what? One to ...?
The highest number
, whatever that is," Kubiak said, adding, "I don't think we're going to know anything until later in the week."
According to ESPN.com's Tania Ganguli, Tate says his pain has improved, and he expects to play Sunday, while Foster expects to "work toward" playing. We will see. Judging from the fact the Texans signed three running backs to their active roster Monday, there is reason for both Foster and Tate fantasy owners to be concerned.
Quick takes
•
St. Louis Rams
running back
Zac Stacy
was sidelined late in the fourth quarter of Monday night's game with what has been labeled an ankle sprain. The Rams have to be hoping this will not keep him from playing Sunday against Tennessee.
•
Buffalo Bills
running back
C.J. Spiller
sat out Week 8. Will he also miss Week 9? It sounds like the groundwork is being laid for that possibility. Coach Doug Marrone told reporters Monday that Spiller is dealing with a high ankle sprain, and that he will be re-evaluated this week. Meanwhile, teammate
Steve Johnson
has a hip flexor strain, and is expected to be limited in practice. Johnson has had various hip and back ailments so far this season, and this latest issue starts to prompt questions about whether he can get healthy enough to play four quarters before the team's Week 12 bye.
• Keep an eye on
New York Giants
running back
Andre Brown
(fibula fracture), who says he'll be ready to go in Week 10 when the Giants come off a bye.
Brandon Jacobs
thinks his hamstring will allow him to run again in Week 10 also, so the Giants may have some decisions to make at the position.
• Detroit Lions wide receiver
Nate Burleson
(forearm fracture) says he's eyeing a Nov. 10 return.
August, 12, 2013
8/12/13
6:03
PM ET
The sheer number of fans present at the Bon Secours Washington Redskins Training Center in Richmond, Va., where the Redskins are holding their 2013 training camp, speaks to the excitement that surrounds this team. The percentage of those fans wearing Robert Griffin III jerseys and shrieking his name with excitement as he exited the practice field speaks to their adoration of -- and expectations for -- their young star quarterback.
The buzz all summer has surrounded whether Griffin will or won't be ready to start Week 1 following January surgery to reconstruct the ACL and repair the LCL in his right knee. Based on his conversation with the media on Monday, there is no question in Griffin's mind.
"There is no doubt that I'm playing Week 1," Griffin said. "That's just the way I feel about it."
[+] Enlarge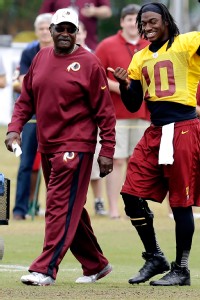 AP Photo/Steve HelberRobert Griffin III's participation has been limited in camp thus far, but the team clearly has a plan for a healthy return to game action.
Perhaps Griffin can see the light at the end of the tunnel, given that he is about to increase his participation in practice, albeit on a gradual basis. Thus far in camp, he has been limited to 7-on-7 drills, combined with individual work simulating pocket activity and the associated footwork (including dropbacks, pivots, cross-body throws and throws on the run), but he has yet to face any true pressure forcing him to react on the fly.
On Wednesday, Griffin will begin working in 11-on-11 drills, although a source tells ESPN that it will only be against the scout team. Still, that represents progress and can be considered yet another step toward returning to play. As to how this will be different from what he's done so far, Griffin said, "[It's] just live action, getting guys flying at you. I don't think it's a huge step. I just think it's time to get back out there with my teammates." He later added, "I've been ready for this. I think that's well-documented."
The formal ramping up of activity makes sense. Griffin has been able to gradually increase the intensity and speed of his work through the early part of camp and has suffered no setbacks in the form of soreness or swelling. He credited his mom and dad with having something to do with not needing a day off ("I am proud that I have good genes") and is eager to get back in the mix. "I'd just like to see the look on the guys' faces when I step in the huddle," Griffin said. "They laugh and joke about it that they haven't seen me in a while, but I think the guys are happy to have me back out there."
From a timing standpoint, the Redskins have a full practice week here before camp closes, followed by a Monday night preseason game. There will be a short week before the third preseason game the following Saturday. This week then becomes a good time to gradually increase Griffin's full team activity and for the coaches and medical staff to get a good look at how he is responding.
Although Griffin is not expected to participate in any preseason game action, it doesn't mean he won't continue to try. He'd like to get some reps in the third preseason game, but as Griffin indicated, Shanahan has told him it's a "hard no" right now. The concerns about Griffin setting foot on the field before the start of the regular season are obvious. Even if he is physically ready to perform, the risk of him suffering an injury -- any injury -- and the associated fallout, may not be worth the reward of a test run for a single series. The natural concern about not returning to competitive action is that Griffin isn't forced to truly react to an oncoming rush against an opponent whose intent it is to bring him to the ground, without regard for his recently reconstructed knee. As for how he's preparing in the absence of that pressure, Griffin said he tries to mimic it as much as he can, "making movements without thinking about them, breaking and escaping from the pocket, stopping [and] starting really fast. … You just react, and you trust that you're going to be OK."
[+] Enlarge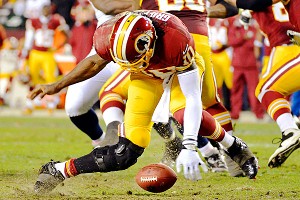 Harry E. Walker/MCTRobert Griffin III is going through the ACL recovery process for a second time, and there is reason for optimism that he'll return to his previous level of play.
Much has been made about the fact that this is Griffin's second ACL reconstruction on the same knee, as the success rates for a revision procedure are slightly lower, but there are some positives. First, his graft for this surgery was taken from the patellar tendon of the opposite knee (his first graft was from the right knee, and thus it could not be the source of the graft this time). Using the opposite knee eliminates some potential for issues with the tendon anchoring the large quad muscle on his right knee, possibly one of the reasons he has not experienced any tendinitis or stiffness.
Perhaps most importantly, Griffin carried the experience of his first rehab into this second round, removing much of the anxiety athletes typically endure when they suffer such a significant injury.
"I was more ready for it," Griffin said of this reocovery process. "I knew what parts of the rehab were going to be the most difficult. I knew where you were going to have the most pain, which is early on in the process. I know that every time you do a new exercise, it might not feel right the first time, but once you do it again, you get that confidence back."
Confidence is one area where Griffin is not lacking. It is likely to serve him well when he does return to competition, because that aspect of recovery is typically the hardest thing for an athlete to regain after an injury such as this. And yet it is such a critical element of returning to an elite level of performance.
In medicine, the standard for gauging success following rehabilitation is a return to the prior level of function which, for Griffin, means returning to the field as an NFL quarterback. He says his prior experience recovering from ACL surgery is what has prepared him for success this time.
"Just having the confidence to know I can go back out there and play at a high level like before, and even better than before," Griffin said, adding, "I did that in college, and I know I can do that in the NFL."
December, 20, 2012
12/20/12
9:02
PM ET
The clock is ticking down toward championship weekend for many fantasy football owners. The last thing anyone wants to see is a big zero next to a big-time player's name on Sunday night, dashing any hopes of taking home the fantasy trophy and, most importantly, bragging rights for the next year. It's not too much to ask for a Week 16 in which every player finishes the game as healthy as he entered it, right? OK, maybe it is. But at least it would be nice to know in advance who will be healthy enough to play.
One player making his return this week is Eagles running back
LeSean McCoy
, who has been out since Week 11 recovering from a concussion. McCoy will start Sunday, but the Eagles are expected to rotate him and
Bryce Brown
, according to The Philadelphia Inquirer.
It's not surprising that McCoy would return to play, as that is what players do once they are deemed healthy. It's worth keeping in mind that while McCoy was in the early stages of recovering from his concussion, his workouts were severely limited so as not to overstress his system -- and he only recently returned to full practice. Consequently, it would not be surprising if his game conditioning has dropped off. McCoy was subject to -- and passed -- numerous tests to demonstrate his readiness to return. How he performs after being absent for four games is the big question.
Players with the biggest question marks heading into Week 16:
Robert Griffin III, QB, Washington Redskins (knee):
Will he be under center when the Redskins play the Eagles on Sunday? On Thursday, coach Mike Shanahan told reporters, "If there is no setback, he should be ready to go."
Griffin III sat out last week's game with a sprained lateral collateral ligament (LCL) in his right knee, but as we
noted Tuesday
, Shanahan said that if doctors clear RG III to play, he will play. On Wednesday, Griffin participated in his first full practice since the injury. The fact that he was able to practice again Thursday indicates that his knee responded well. As long as nothing develops between now and Sunday, expect Griffin to be starting at quarterback for the Redskins.
[+] Enlarge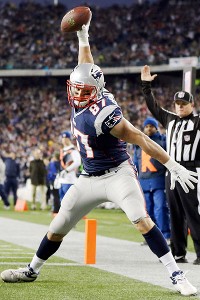 AP/Michael DwyerWill Gronk spike again this Sunday? His playing status is very much up in the air given his forearm injury.
Rob Gronkowski, TE, New England Patriots (forearm/hip):
This may be one of the toughest situations to gauge in advance, given that Gronkowski has now returned to practice, albeit limited, for nearly a week. Gronkowski fractured his left forearm in mid-November, and Monday marked the four-week period since he underwent surgery to repair it. The fact he is out of his cast and present on the practice field signals a measure of bone healing, but is it enough for the Patriots to release him into a game situation?
He could play with a protective shell on his forearm (wrapped in padding) once there is confidence that the risk of re-fracture is relatively low. Given that standard bone healing is approximately six weeks, there may be a desire to simply keep him out a while longer to minimize that risk. It would not be surprising if Gronkowski practices on a limited basis again Friday, is listed as questionable on the injury report and comes down to a game-time decision.
Ahmad Bradshaw, RB, New York Giants (knee):
After missing Week 15 because of a knee injury, Bradshaw
told me Tuesday
that his knee feels much better and he expects to play on Sunday. Of course, Bradshaw is always of the mindset that he will play and, to his credit, he has perhaps played more games with injury and pain than without. Coach Tom Coughlin said that whether Bradshaw plays will be a medical decision. Bradshaw did not practice Wednesday or Thursday, not altogether surprising given that he often misses multiple days of practice each week to rest. His Sunday playing status could come down to a game-time decision.
Roddy White, WR, Atlanta Falcons (knee):
Last week, White did not practice because of a knee injury but, true to form, he did not miss the game. Although he only had two receptions, he was not seriously limited in playing time and there were no reported postgame setbacks. This week, White did not practice Wednesday but rejoined practice on a limited basis on Thursday. The Falcons travel to Detroit to play the Lions Saturday night. After playing last week, the expectation is that White will do so again.
Quick Hits
Rams wide receiver
Danny Amendola
was able to return to action in Week 15 after missing two games (and most of a third) with what was termed a foot injury on the injury report (reported as a plantar fascia injury by the St. Louis Post-Dispatch). The best evidence that Amendola continues to improve is his removal from the Rams' injury report this week. There will be no agonizing game-time decision necessary this week -- expect Amendola to start against the Buccaneers.
Cowboys receiver
Dez Bryant
proved that he will play with a fractured left index finger. He also proved that while it may be more challenging to make certain catches, he can still be productive. However, there are still risks associated with his injury; at any moment, the particular way the football strikes his injured finger -- such as an awkward landing, helmet hit on the hand or even a bad angle on a block -- has the potential to escalate the pain to the point where Bryant becomes less able to produce.
But there are risks anytime a player steps onto the field. Given what Bryant was able to do last week, the expectation would be that he can perform similarly this week. While his Week 16 production may not be up to his maximum potential, it is probably still better than many other wide receiver options. The Cowboys certainly seem to think Bryant is up to the task, since he was targeted more last week (nine targets) than his per-game season average (8.4), turning one of those receptions into a touchdown. This week, he practiced on a limited basis both Wednesday and Thursday, and is on track to play on Sunday.
One player who does not appear he will be healthy enough to play this weekend is Lions tight end
Brandon Pettigrew
. He injured his ankle in Week 14 (a high-ankle sprain, according to the Detroit Free Press), and has not played since. He did not practice Wednesday or Thursday, and his chances of playing this weekend appear slim.
[+] Enlarge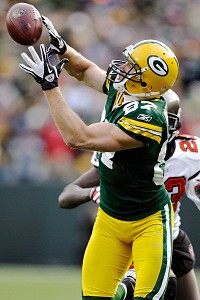 AP Photo/Morry GashNelson, still ailing from an injured hamstring, has not practiced this week and is uncertain for Sunday.
A few fantasy-worthy
Green Bay Packers
appear on this week's injury report. Wide receiver
Jordy Nelson
has been on the injury report for a few weeks as he nurses an ailing hamstring. Nelson has not formally practiced this week, and although coach Mike McCarthy did not offer a specific update on Nelson's status when speaking with reporters after practice, his continued absence speaks volumes. Fellow receiver
Randall Cobb
has been limited in practice because of a shoulder injury. It does not appear serious and the Packers may be resting him during the week so as to maximize his recovery before game day. Quarterback
Aaron Rodgers
is on the report with an ankle injury but remains a full practice participant and will play on Sunday.
Rams running back
Steven Jackson
fell ill due to a virus and did not practice Wednesday or Thursday. However, Jackson did warm up Thursday, then stayed to watch the remainder of practice, according to Jim Thomas of the St. Louis Post-Dispatch. If he's able to increase his activity a bit on Friday, that will be all the encouragement fantasy owners need to see heading into the weekend.
Eagles tight end
Brent Celek
returned to full practice this week after missing last week's game after suffering a concussion in Week 14. He is on track to play Sunday. Wide receiver
Jeremy Maclin
was limited in practice Wednesday because of a back injury but returned to full practice Thursday, a positive sign that he too will play on Sunday for the Eagles.
Ravens wide receiver
Torrey Smith
did not practice Wednesday after suffering a concussion last week. He returned to limited practice Thursday but has yet to be cleared for contact, according to the Baltimore Sun. His status for Sunday remains uncertain.
Dolphins wide receiver
Brian Hartline
, dealing with a back injury, was limited in Wednesday's practice and was a non-participant on Thursday. We never like to see downgrades as the week progresses, but late in the season it can sometimes be a precautionary move. Friday's practice session becomes very important for gauging Hartline's game-day status.
New York Jets tight end
Dustin Keller
is still not practicing because of his sprained ankle, and it appears as if he will miss his third straight game.
Steelers wide receiver
Emmanuel Sanders
was limited in practice on Wednesday with a rib injury, but upgraded to full-practice status on Thursday. Expect to see him on the field this weekend.
A pair of Broncos on many fantasy rosters appear on the injury report this week, but there doesn't seem to be huge cause for alarm. Wide receiver
Eric Decker
(ankle) and running back
Knowshon Moreno
(ribs) were both full participants Wednesday and Thursday, and seem to be in no danger of missing Sunday's game.
Of course, running back
Adrian Peterson
didn't practice Wednesday or Thursday. He seems deserving of an extra day or two of rest during the week given the output he delivers every week. Although he is listed on the injury report with an abdomen/groin injury, there does not appear to be any concern in Minnesota that he is in danger of sitting out this weekend's game.
In fact, Peterson told Tom Pellisero of ESPN1500.com that it's part of the plan to be at his best come game time. "I'm just doing the necessary things I need to do as far as resting," Peterson said. "I'm still getting my conditioning in and working out. It's all about that push to Sunday." That's exactly what his fantasy owners want to hear.
December, 18, 2012
12/18/12
5:41
PM ET
Week 15 is in the books! Whether you're heading into your championship game or your semifinals, a win this week is no doubt critical. Naturally, injuries factor into the equation as to who will make your starting roster and, naturally, there are fewer options to choose from as yet another player says goodbye to the 2012 season.
San Diego Chargers
running back
Ryan Mathews
missed the first two weeks of the season due to a broken clavicle and now he will miss the last two weeks of the season due to a broken clavicle. In the preseason he fractured his right collarbone; now it is his left. At least he knows what rehab he has in store for him. This puts an end to the season in which Mathews scored just one touchdown. Backup
Ronnie Brown
was forced to sit out Week 15 with a hamstring injury. This week coach Norv Turner says Brown has "a chance" to play, reports Michael Gehlken of the San Diego Union-Tribune.
As we head into Week 16:
[+] Enlarge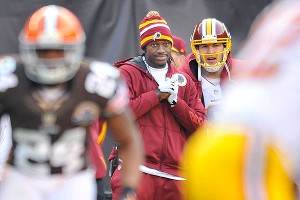 David Richard/USA TODAY SportsRobert Griffin III hopes to do more than just watch on the sidelines on Sunday.
•
Washington Redskins
quarterback
Robert Griffin
III cheered on teammate
Kirk Cousins
on Sunday as the backup led the team to victory. Griffin was held out due to the sprained LCL in his right knee amidst doctors' concern that he would be risking further injury. A return this week remains a possibility and, as The Washington Post reports, coach Mike Shanahan noted, "If the doctors give their OK, he's going to play." Griffin moved increasingly well as last week progressed, an encouraging sign given how painful the injury appeared at the time. If he can continue to make strides this week and if the swelling has resolved and doctors believe the knee is stable, look for Griffin to be pressing for a return. After all, he was doing that last week and made it clear it was not his decision to sit. Resting was a wise move by the team, which has to balance the weight of the lengthy career of a star player against any single-game benefit. Hopefully, the decision for Week 16 will come well before game time.
•
Dallas Cowboys
wide receiver
Dez Bryant
played last Sunday despite a fractured left index finger (which will ultimately require surgery to repair) and it certainly affected him at times. Bryant wore a customized splint created for him by the Cowboys' medical staff; however, his finger, too bulky to fit inside the glove, was exposed (the finger of his glove was cut out to accommodate the splint). Although Bryant performed better than might have been expected, there were some dropped passes or missed plays likely attributable to the finger. Bryant has already said he plans to play against the
New Orleans Saints
this weekend. He will continue to have the finger protected and he likely will face the same challenges from week to week. As long as it does not worsen, he should be able to perform as he did. His performance may even improve a bit as he adapts to the feeling of having the finger splinted. Of course, the unknown remains how any given hit or fall during the course of a game could affect his hand. Don't expect him to do much to jeopardize the relative health of his finger during the week. As Bryant told ESPN Dallas, "We're just going to be careful with it throughout the week and get ready for the game."
[+] Enlarge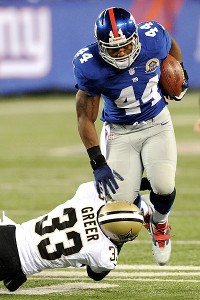 AP Photo/Bill KostrounAhmad Bradshaw was a surprise scratch in Week 15 but could be ready to go just in time for the fantasy championships.
•
New York Giants
running back
Ahmad Bradshaw
was held out of Week 15 because of a sprained knee. Despite his toughness and known willingness to play through pain, Bradshaw's knee concerned the team enough for the Giants to keep him at home as they traveled to Atlanta. The Giants are certainly ready to move on from that game, and Bradshaw is hopeful, expectant even, that he will play. Bradshaw paid a visit to the ESPN campus Tuesday and told me he has full range of motion in his knee again, a critical determinant of him being permitted to upgrade his activity. The knee is still sore (he had a bag of ice handy so that he could carry out his treatment, even while visiting) but Bradshaw says it feels significantly better than it did at the time of injury. Oh, yes, he's still battling pain in his foot, but as he indicated, the knee issue has essentially made him forget about anything with the foot. And as he pointed out, "I've played with broken feet. I know that's not going to stop me." I am under the impression Bradshaw will be returning this week, barring a setback.
• Another player who could return this week is
Philadelphia Eagles
running back
LeSean McCoy
. McCoy has missed four weeks since suffering a concussion and has been working his way back through the team's five-phase concussion recovery protocol. The Philadelphia Inquirer reports McCoy has been cleared by a neurologist to return, and head coach Andy Reid says there is "a chance" he plays. From a rehab perspective, there is no benefit to shutting him down if, in fact, he has made a complete recovery. Expect McCoy to participate in practice and, as the week progresses, there should be some insight from the team as to whether the Eagles plan on utilizing him in Sunday's game.
•
Jacksonville Jaguars
head coach Mike Mularkey continues to leave the door open for running back
Maurice Jones-Drew
(foot) to return. John Oehser of the Jaguars' official website reports that Mularkey indicated Jones-Drew's pain had improved. The plan was to work him out Tuesday to see how the foot would respond. Mularkey changed Jones-Drew's status from "very questionable" (which it has been for several weeks) to questionable. Still, it is clear the team is being cautious in returning him from a serious foot sprain. Right now, it seems unlikely Jones-Drew will make the necessary progress to play in a game, but as Mularkey noted, the Jaguars are not yet ruling him out. You probably don't want to invest your championship hopes in him.
•
St. Louis Rams
receiver
Danny Amendola
played his first game in three weeks last Sunday. He had a decent outing, considering Amendola isn't fully recovered from the plantar fascia injury he sustained in Week 11. He managed 58 yards and a touchdown along with a two-point conversion for good measure. Amendola told the St. Louis Post-Dispatch, "The foot felt pretty good for the most part." The best takeaway is that Amendola made it through the entire game and had no setbacks. The foot will not be 100 percent healthy until he has more time to rest it in the offseason, but if he can perform well enough to deliver fantasy points -- and it appears he can -- then he might just be worth inserting into your lineup.
• The
Chicago Bears
have placed running back
Michael Bush
on injured reserve. He suffered a rib injury in Week 13, managed just one carry the following week before pain forced him out, and then was sidelined completely for Week 15.
• The Tennessean reports
Tennessee Titans
wide receiver
Kendall Wright
says he suffered at least one cracked rib in Monday night's game. Wright exited the game in the fourth quarter after the injury. His status for this week is uncertain, but given the short time frame, it would not be a surprise if he is held out.
December, 13, 2012
12/13/12
9:14
PM ET
The additions to injured reserve keep piling up.
This week, the Arizona Cardinals placed quarterback
Kevin Kolb
on injured reserve. Kolb has complex rib, chest and shoulder injuries, which have sidelined him since Week 6. After giving
John Skelton
a shot at the starting job last week, the Cardinals have reverted back to
Ryan Lindley
. (We feel for you
Larry Fitzgerald
fantasy owners.)
Also, the Indianapolis Colts placed running back
Donald Brown
on injured reserve. Brown has a severe high-ankle sprain, which would have taken longer to recover from than the season permitted.
Vick Ballard
will be the starter for the remainder of the season.
Players with the biggest question marks heading into Week 15:
Robert Griffin III, QB, Washington Redskins (knee):
RG III has impressed many by participating in limited practice both Wednesday and Thursday. His presence Wednesday was a bit of a surprise after the frightening blow he took in Sunday's game, which resulted in an
LCL sprain
. More encouraging was that he returned the following day, which indicated that he did not experience any setback from Wednesday's activity. "He looked more comfortable," coach Mike Shanahan said of RG III's effort on Thursday, according to the Washington Post.
RG III has been fit with a brace to protect his knee and offer some stability. The final decision regarding his game status sounds as though it will not be made until Sunday. This gives RG III the maximum possible time to recover and keeps the Redskins' opponent (the
Cleveland Browns
) guessing, both of which benefit the Redskins. Offensive coordinator Kyle Shanahan outlined the key questions to determine whether Griffin will be under center. "I think Robert's going to be able to show us that he can move well, [but] it's more," Shanahan said. "If his knee is stable enough, can he protect himself in there and is there a risk of further injury?" Griffin is trending in the right direction in terms of his health, but come Sunday, the team could still elect to hold him out to buy him some additional recovery time. Fantasy owners should plan for a game-time decision.
Dez Bryant, WR, Dallas Cowboys (finger):
On Tuesday,
we noted
what the concerns might be for Bryant and his finger if he postpones recommended surgery. However, it appears that Bryant plans to take on that risk. He returned to limited practice Thursday, telling reporters, "Only thing y'all need to know is I'm playing," according to ESPN Dallas.
[+] Enlarge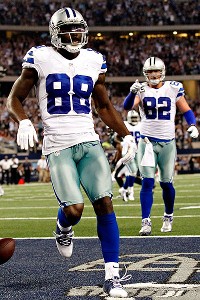 AP Photo/Tony GutierrezDespite his broken finger, Dez Bryant said he will play on Sunday.
What we all would like to know is just how well Bryant will be able to catch the ball. The two challenges will be trying to protect the injured finger and pain. When a bone is broken, vibration is perhaps the most pain-inducing sensation; a ball thrown from the quarterback with any measure of speed will certainly be painful when it hits the injured finger. Add to the mix the challenge for the medical staff to provide protection for the receiver's finger while not impeding his ability to catch the ball -- and pour on some swelling for good measure. It's difficult to function at a high level with this injury. The best sign so far was that Bryant was able to catch some passes Thursday; the next test will be to see how his finger is Friday and whether he can repeat the effort.
Ahmad Bradshaw, RB, New York Giants (knee):
When Bradshaw misses practice to rest his sore foot, it almost goes unnoticed because the expectation has become that he will play come Sunday. However, Bradshaw is contending with a new injury this week, and there seems to be a lot less confidence that it will be business as usual on game day. Bradshaw underwent an MRI and the team reports he has a sprained knee, although in the absence of any specifics, the diagnosis is essentially unhelpful as it could represent a multitude of scenarios.
The bottom line is that he has not practiced -- and may not this week. Coach Tom Coughlin referred to Bradshaw's toughness when addressing reporters Thursday after practice. As reported by ESPN New York, Coughlin offered this response to questions about Bradshaw's status: "I am not going to speculate -- because of the toughness of this young man -- on how long it would be," Coughlin said. "I am not going to rule him out of anything." Bradshaw is likely to appeal to play because he is, well, tough and competitive. However, the Giants' coaching and medical staffs may help make the decision for him. The Giants travel to Atlanta to play the Falcons, so if Bradshaw does not make the trip, the question will be answered. If he does travel, then add him to the game-time decision list.
Roddy White, WR, Atlanta Falcons (knee):
Knee. MRI. No details. Game-time decision. Sound familiar? The matchup between the Giants and the Falcons on Sunday has two stars whose injury situations are tenuous. Falcons coach Mike Smith told reporters Wednesday that White had a knee injury but he expected him back Thursday. After White did not practice Thursday, Smith called him a game-time decision, according to the Atlanta Journal Constitution. Smith did say that White felt "much better" Thursday compared to how he did Wednesday, but he also noted the team would exercise caution leading up to Sunday.
This is, after all, the time of the season when teams headed for the playoffs exercise careful judgment about returning players with even a minor ailment to action for fear it will develop into something more significant. White never misses games -- he hasn't missed one in eight years with the Falcons -- even when he's less than 100 percent healthy. However, this week it sounds as though he will have to be convincingly healthy come Sunday. For fantasy owners, it's another toss-up until Sunday morning.
Danny Amendola, WR, St. Louis Rams (foot):
Amendola has missed two games in a row (and most of a third game considering he had one catch in Week 12) because of his sore foot and heel. He has been a limited participant in practice this week, and could make a return Sunday, though it is likely to be another game-time call. Coach Jeff Fisher said Amendola needs the foot to heal sufficiently before returning, according to the St. Louis Post-Dispatch. "Danny needs to be close to 100 percent to be effective -- to be able to protect himself," Fisher said. Whether he will reach that mark by Sunday is the big question.
Quick Hits
[+] Enlarge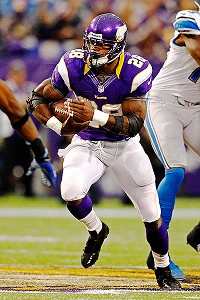 Bruce Kluckhohn/US PresswireAdrian Peterson should be good to go this weekend despite battling an abdominal injury.
Oh no, not
Adrian Peterson
on the injury report. After being limited Wednesday, Peterson did not practice Thursday because of an abdominal injury. According to Judd Zulgad of 1500ESPN.com, Minnesota Vikings coach Leslie Frazier said he expects Peterson back on Friday. It would appear that all of Peterson's fantasy owners can now exhale.
Detroit Lions tight end
Brandon Pettigrew
has missed two practices following his ankle injury in Week 14. The Lions have not hinted at his status, but they play in a late game on Sunday. It would be wise to have a backup plan.
Green Bay Packers coach Mike McCarthy described the chances of wide receiver
Jordy Nelson
suiting up on Sunday as a "long shot," which is all fantasy owners should need to hear. Nelson has not practiced this week, and with an eye on the postseason, expect the Packers to hold him out this week.
Concussions kept Jaguars running back
Rashad Jennings
and wide receiver
Cecil Shorts
out in Week 14. It looks as though Jennings will be sidelined again, as he has not yet returned to practice. Shorts has returned to limited practice this week and appears on track in his progression. Still, as the Florida Times-Union reports, Shorts has seen up close the difficulties some of his teammates have had after sustaining concussions, and he plans to take it one step at a time. "I'm definitely going to be smart about this," Shorts said. "As much as I want to play and would like to play, my health is more important." That sounds smart.
After getting a much-needed Wednesday off (along with the majority of his teammates), Chicago Bears quarterback
Jay Cutler
returned to practice Thursday on a limited basis. Expect him to play on Sunday.
Baltimore Ravens running back
Ray Rice
suffered a hip pointer on Sunday, but has been a limited participant in both Wednesday and Thursday practices. His injury did not sound serious, and his presence on the practice field supports that notion. Expect him on the field Sunday.
Seattle Seahawks wide receiver
Sidney Rice
suffered a foot injury, and ended up in a walking boot to start the week. He has not practiced, but the Seattle Times reports he was moving without the boot Thursday, which is encouraging. For what it's worth, quarterback
Russell Wilson
told the Seattle Times that he expects Rice to play. It would be a good sign to see Rice practice on Friday in order to feel better about his Sunday status.
Oakland Raiders running back
Darren McFadden
was reportedly moving well in practice early this week despite suffering a minor setback to his ankle in Week 14. He has been a full practice participant this week and is expected to play this weekend.
Don't expect to see
Carolina Panthers
wide receiver
Brandon LaFell
(turf toe) or running back
Jonathan Stewart
(ankle) this weekend as neither player has practiced this week.
December, 11, 2012
12/11/12
4:39
PM ET
Week 14 is in the books. Unfortunately for those of you still playing meaningful games this fantasy football season, your player options may have decreased yet again as more players were lost to injury.
The biggest injury news of the weekend centers on one
Robert Griffin III
, the exciting rookie quarterback for the
Washington Redskins
. He suffered a knee injury in Sunday's game while making one of his signature scrambles. The video of Griffin's leg whipping through the air looked frighteningly violent, causing many to fear he had suffered a significant injury. Fortunately, that was not the case. On Monday, Griffin underwent an MRI, which revealed his injury to be a Grade 1 lateral collateral ligament (LCL) sprain. Coach Mike Shanahan informed reporters of the injury, noting that Griffin's ACL, which he had surgically reconstructed in 2009, looked "great." Shanahan said Griffin will be evaluated "day by day," and the team is hopeful his knee will improve quickly with rehab.
As for the nature of Griffin's injury, given the mechanism of the hit, it's not surprising that he sustained an injury to the LCL, the outer-most primary stabilizing ligament of the knee. He took a hit to the body and thigh from Ravens defensive tackle
Haloti Ngata
as he was in the process of falling, with his right leg whipping forward. The blow resulted in an abrupt stop to the forward momentum of his thigh, but the lower leg continued on its trajectory, snapping to a hard stop when the soft tissue restraints that guard the movement became taut. Perhaps Griffin is most fortunate that his leg was in the air when this happened. Had he absorbed a similar blow with his foot planted, the consequences would likely have been far worse.
[+] Enlarge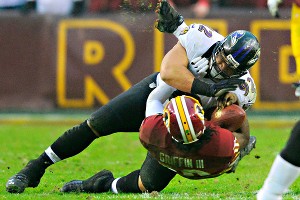 Doug Kapustin/MCT/Getty ImagesRobert Griffin III's knee wrapped around the back of Ravens DT Haloti Ngata during the hit.
The LCL can be injured when an athlete takes a blow to the inside of the knee; it also can be injured during a hyperextension or rotational injury. Griffin's knee was extending and slightly rotating at the same time he encountered the blow to his thigh. The biggest concern with these injuries is damage to any surrounding structures on the lateral and particularly the posterolateral aspect (the back outside corner) of the knee. Structures in this area that lie close to the LCL help control stability in that quadrant of the knee, an area that is subject to high biomechanical forces during normal movement. Any lingering instability can be threatening to the overall health of the knee. The best news in Griffin's case is that this sprain is of the most minor (Grade 1) variety.
An isolated minor sprain has a good chance of healing with restricted motion (via bracing) and rest to protect the ligament. Griffin also will engage in rehab to help with pain and swelling while restoring normal joint mobility. The criteria for his return will include his ability to demonstrate that he can perform at his position without significant compromise and without increasing the risk of more substantial injury. As a running quarterback, he will not be encouraged to return if he cannot run, change direction or decelerate normally. Beyond this aspect of his game being part of his DNA as a quarterback, a player who is thinking about accommodating his style of play to avoid injury suddenly becomes more of an injury risk, not to mention he's often less effective.
Shanahan says they will see how Griffin looks Wednesday but indicated that as of now, no decision has been made as to who will be the starting quarterback Sunday. It would not be surprising if Griffin is forced to sit out, given the rationale noted above. It's also worth remembering that everyone heals at different rates, and no two injuries are identical. And as the Redskins are no doubt appreciating this week, Griffin's case also serves as a reminder that no matter how nasty an injury looks at first glance on video, it may not always be indicative of how severe the injury actually is.
•
Buffalo Bills
head coach Chan Gailey announced Monday that running back
Fred Jackson
is done for the season and has been placed on IR. Jackson suffered a Grade 2 sprain of the medial collateral ligament (MCL) in his right knee Sunday. Gailey noted that the recovery timetable for Jackson's injury is likely closer to 4-5 weeks, longer than the time left in the regular season. This is the same knee he injured in Week 1 when he sustained an LCL sprain and missed two weeks -- hmm, maybe RG III should chat with Jackson about what he did to return from that injury -- and this is also the same leg in which Jackson suffered a fractured fibula which prematurely ended his 2011 campaign.
With regard to his latest injury, Jackson shared the following thoughts with ESPN's Josina Anderson: "Technically it's a tear off the bone, because you tear the ligament away from the bone. So that's why some people say it's a tear, but the ligament itself is intact. It's just pulled away from the bone a little." We're sorry to see his second season in a row ended by an injury after playing all 16 games in each of the three previous seasons. In the meantime,
C.J. Spiller
will undoubtedly get a bump in his workload.
• Tight end
Jared Cook
of the
Tennessee Titans
also has played his last game of the 2012 season. Cook left Sunday's game with a right shoulder injury. Jim Wyatt of The Tennessean later reported that Cook had torn his rotator cuff and is done for the year. Cook had a left shoulder injury early in the season, an AC sprain which had him in a sling briefly, but he did not miss a game. Unfortunately, he will now miss the rest of the season, and coach Mike Munchak indicated that Cook will be placed on IR.
• Chiefs wide receiver
Dwayne Bowe
suffered broken ribs in Sunday's game and already has been ruled out for Sunday's game, according to the Kansas City Star. He may, in fact, be done for the season. The Star suggests that it also could signal the end of his time with the Chiefs.
As we head into Week 15 ...
[+] Enlarge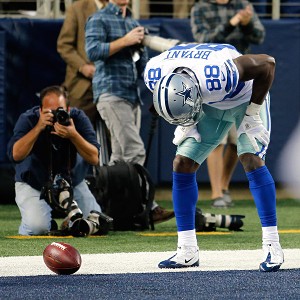 AP Photo/Sharon EllmanDez Bryant's status for Sunday is not yet known.
• Cowboys wide receiver
Dez Bryant
suffered a fractured index finger in his left hand Sunday, an injury that could end his season. According to ESPN's Ed Werder, Bryant has met with a hand specialist. The decision comes down to whether Bryant requires surgery now, or whether this is an issue he can play through, allowing him to postpone the surgery. While a broken finger might not sound like the worst injury in the world, the reality is that a resultant deformity or lack of normal motion could impact a receiver permanently. This is not insignificant, which probably is the reason there has been no official decision made as of this writing.
• Bears quarterback
Jay Cutler
was again forced to leave a game early, this time because of a neck injury. Speaking on his weekly radio show on ESPN1000 Monday, Cutler described his neck as "stiff" and said he was "getting spasms" during the game. He is currently receiving treatment and said he expects to be able to play this week, "unless something drastic happens."
•
New York Giants
running back
Ahmad Bradshaw
was in and out of Sunday's game because of a left knee injury. Coach Tom Coughlin said Bradshaw underwent an MRI and other tests Monday, but there has been no word yet as to the results. When Bradshaw injured his neck early in the season, the results of his tests were not immediately shared either. It was Bradshaw who later indicated he had an "inflamed disc" in his neck. Perhaps he will share an update on his knee later this week. In any event, don't expect Bradshaw to practice Wednesday since he usually sits out. Barring the emergence of definitive information to rule him out, Bradshaw's status could once again come down to a late-week decision.
• Concussions have forced the absence of several key players for the
Philadelphia Eagles
for a few weeks, and now they can add tight end
Brent Celek
to the list. Celek suffered a concussion during Sunday's game and will not play Thursday night. As for the health of quarterback
Michael Vick
and running back
LeSean McCoy
, it appears both are making progress. Both are engaging to a limited degree in practice, and according to Eagles head athletic trainer Rick Burkholder, Vick is now in the final phase (Phase 5) of the Eagles' concussion recovery protocol. Jeff McLane of the Philadelphia Inquirer reports neither is likely to play Thursday despite not officially being listed as "out" yet by the Eagles. Both players still need to be cleared by an independent neurologist and both need to re-introduce contact. Burkholder has implemented a mandatory 24-hour waiting period to monitor whether symptoms recur after advancing within the protocol. Given the short week, it's likely that both will miss another game, though if all progresses well, both could be available in Week 16 (although in Vick's case it will be in a backup role, as
Nick Foles
has been named the starter going forward).
• Despite re-aggravating his ankle injury in last week's game, Raiders running back
Darren McFadden
was in practice Monday and moving well, according to Steve Corkran of the Contra Costa Times. He appears on track to play this weekend.
• Coach Mike McCarthy has hope that
Green Bay Packers
receiver
Jordy Nelson
will return from his injured hamstring this week. Tyler Dunne of the Milwaukee Journal-Sentinel reports McCarthy says Nelson is improving. That may be, but we know the true test comes with full-speed running. Keep an eye on practice reports this week to gauge Nelson's progress, but right now it's too early to realistically project his return. Remember this is the recurrence of a prior hamstring injury for Nelson, so it would not be surprising if the team is cautious.
• As the Florida Times-Union reported, coach Mike Mularkey was not available for his usual Monday news conference due to illness, so there was no update on the status of running back
Maurice Jones-Drew
(foot) or wide receiver
Cecil Shorts
(concussion).
October, 12, 2012
10/12/12
10:48
AM ET
Kansas City Chiefs
quarterback
Matt Cassel
has already been ruled out of Sunday's game because of a concussion.
Brady Quinn
will get the start against the Buccaneers.
Green Bay Packers
running back
Cedric Benson
was placed on IR (designated for return) with a Lisfranc injury. It's a shame for Benson, whose opportunity arose when
James Starks
would not be able to start the season on time because of turf toe. Benson, who had been devastated when he found himself without a team as late as August, seemed to be making the most of his chance with the Packers, providing them with a viable option on the ground. Unfortunately, as is so often the case, injury cut his season short.
So does Starks attain the role originally believed to be his? Not necessarily. Starks is just getting back into the running back mix over the past two weeks and has not seen any game action. This week, the start will go to
Alex Green
. Whether he stays the starter will depend on how he and the other backs perform. According to the Milwaukee Journal-Sentinel, coach Mike McCarthy said the first carry will go to Green, noting he is ahead of Starks at this moment. "But we have three halfbacks, and we'll utilize all three of them," he said. The ever-unpopular running back by committee will be in play in Green Bay, at least for this week.
Here's who else we're keeping an eye on in Week 6:
Quarterbacks
Robert Griffin, Washington Redskins (head):
Griffin wins the "most discussed injury of the week" prize, as everyone has an opinion as to whether he could or should play Sunday. The only people who matter when it comes to making the actual decision have not yet weighed in, however, as Griffin has to progress through the remainder of the week first. He was cleared to return to light practice, which he did Wednesday and Thursday. For his part, Griffin has said he feels fine with no recurrence of symptoms.
The bottom line is if Griffin has passed all his tests, including physical measures and neurocognitive testing results, there is no arbitrary amount of time to sit him in the hopes of preventing another injury. The most critical element of ensuring safe return to play -- as far as what is currently understood about these injuries -- is establishing complete resolution of all subjective (what the athlete complains of, which requires the athlete to be honest and forthcoming) and objective (things that can be observed or measured) findings at our disposal.
There is still much to learn when it comes to concussions, but as of now, the best approach is an individual one. There is no perfect grading system, no proven recovery timetable. Some athletes will recover from an injury within days; others will take months or longer. The severity of the injury is measured in hindsight, in the time it takes to recover, not in the moments after the injury occurs -- hence one of several reasons "mild" should be eliminated when describing a concussion immediately after it happens. One thing we have learned is if an athlete returns to action before full recovery and sustains a second injury, the consequences are potentially far greater in terms of symptoms and total recovery time. As this long-term risk is better understood, everyone becomes more responsible in managing these injuries.
The cautious approach is certainly warranted, but an arbitrary one is not.
Christian Ponder, Minnesota Vikings (knee):
Ponder is dealing with inflammation in the bursa sac in his knee, according to ESPN 1500 Twin Cities. Although it is undoubtedly causing him some discomfort, he maintains it is not limiting his play. Ponder has practiced fully this week, nothing suggests he is in any danger of missing time.
Alex Smith, San Francisco 49ers (finger):
Smith has been practicing fully, making it seem as if the finger is of little concern. There appears to be little doubt he is planning on playing against the
New York Giants
. The question is whether the finger will be a factor in his performance.
Running Backs
Adrian Peterson, Minnesota Vikings (ankle):
We don't want to see Peterson listed here, not after everything he has done to get off the injury report, but we already knew he suffered a mild ankle sprain in Week 5. He (wisely) did not practice Wednesday but was out there on a limited basis Thursday.
LaRod Stephens-Howling (hip) and William Powell (head), Arizona Cardinals:
With
Beanie Wells
on IR (designated for return) with a turf toe injury and
Ryan Williams
done for the season following shoulder surgery, Stephens-Howling and Powell are next in line for duty. Stephens-Howling has been dealing with a strained hip flexor for the past few weeks, and Powell suffered a concussion. Stephens-Howling was limited in practice Wednesday but was upgraded to full participation Thursday. Powell was a full participant both days. It's not definitive how this partnership will shake out in Arizona and may be in part a function of their collective health.
Donald Brown, Indianapolis Colts (knee):
Despite not yet being listed as out this week, Brown should not be expected to play considering he underwent arthroscopic knee surgery Tuesday. According to the Indianapolis Star, Brown injured his knee during last week's contest against the Packers. Interim coach Bruce Arians said the team expects him to miss two to three weeks, but it can take a bit longer to return following even a minor scope. The key immediately after surgery is to eliminate any swelling and regain muscular strength as quickly as possible. Returning too soon can put the knee at risk for further injury, particularly if muscular balance has not been adequately restored first. In the meantime, the Colts have indicated that
Vick Ballard
is expected to start in place of Brown.
Ben Tate, Houston Texans (toe):
Tate's sprained toe still has him in limited practice mode. As of now, his status for Sunday is very questionable.
Daniel Thomas, Miami Dolphins (concussion):
This is the second time he is listed on the injury report with a concussion. Thomas has not practiced and is not expected to play. Although
Reggie Bush
appeared on the report Thursday, there is no apparent threat to his Sunday status.
Andre Brown, New York Giants, (concussion):
He hasn't practiced this week, and it doesn't appear he'll be ready to play Sunday.
Peyton Hillis (ankle) and Shaun Draughn (ankle), Kansas City Chiefs:
Stop me if you've heard this before. Hillis is not practicing this week because of his sprained ankle and should not be counted on for Sunday. The addition here is Draughn. The good news is that Draughn was listed as a limited participant Wednesday and Thursday, and he appears to be healthy enough to go this week. The better news is that
Jamaal Charles
is nowhere near the injury report.
Wide Receivers
Hakeem Nicks (foot, knee) and Ramses Barden (concussion), New York Giants:
Nicks didn't practice Wednesday but did some light work Thursday. This is the most we've seen of him in the past two weeks, so it's an encouraging sign. ESPN New York reports that after Thursday's outing Nicks said, "The defining moment will be tomorrow when I do a little bit more than individual [work] and see if I'm able to compete." Meanwhile, Barden put in full practices Wednesday and Thursday and looks to be ready to go in Week 6.
A.J. Green, Cincinnati Bengals (knee):
Although Green was limited Wednesday, his bump up to full practice Thursday suggests he is on track to play Sunday.
Percy Harvin (hamstring) and Jerome Simpson (back, foot), Minnesota Vikings:
Uh-oh. Harvin was a Thursday addition to the practice report with a hamstring ailment. While there is no reason to panic yet, this certainly warrants close attention Friday.
As for Simpson, he experienced weakness and numbness in his leg before Sunday's game and, although he was cleared to play, could not perform effectively. The culprit? His lower back, according to the Minneapolis Star Tribune, although no specifics have been offered as to what structures are involved. While the team has maintained optimism, this is not typically the type of thing that resolves quickly. Simpson did not practice Wednesday but was able to do some light work Thursday. He has a ways to go before being game ready, which coach Leslie Frazier acknowledged Thursday. According to ESPN 1500 Twin Cities, Frazier said Simpson is still experiencing weakness. Even if Simpson is able to practice Friday, a decision on his status may not come before Sunday.
Greg Jennings, Green Bay Packers (groin):
Jennings is still not fully recovered from the groin injury, and he has made it clear he is not returning until he feels 100 percent. He has not practiced this week, and while he may attempt to do so Friday, there is little indication he is ready for game action. The Packers don't play until Sunday night, so this is a situation to avoid.
Miles Austin, Dallas Cowboys (hamstring):
After the bye week, I would hope Austin's hamstring is in better shape. Despite being listed on the injury report, Austin participated in full practice Wednesday and Thursday. There is little doubt he will play.
Demaryius Thomas, Denver Broncos, (hip):
Thomas was limited Thursday because of a hip issue sustained during last week's game, according to The Denver Post. The ailment does not sound serious, and with the Broncos not playing until Monday night, this may have been a means of getting Thomas some additional rest.
Titus Young, Detroit Lions (knee):
According to the Detroit Free Press, coach Jim Schwartz said the knee soreness that has been bothering Young for several weeks is affecting his ability to produce on the field, not just physically in the moment but in the form of lack of practice reps. Young did not practice Wednesday, which raises an eyebrow because the Lions are coming off a bye week. He did return to limited practice Thursday, and the expectation is he will continue to play through the injury. Just how much he can deliver in the aerial offense remains to be seen. The hope seems to be that he will grow into the role as his knee improves. That all sounds reasonable as long as there are no setbacks, but Young is clearly not out of the woods.
Stephen Hill (hamstring) and Jeremy Kerley (illness, finger), New York Jets:
Hill was unable to play last week because of the hamstring injury, but things seem to be looking up. He turned in limited practice Wednesday and Thursday. Even coach Rex Ryan said he expects Hill to play this week. Let's see him get through a Friday workout first. Meanwhile, Kerley was limited Wednesday but returned to full practice Thursday. It appears he will be available Sunday.
Julian Edelman, New England Patriots (hand):
Edelman returned to limited practice for the first time Thursday. Wait to see what he does Friday.
Tight Ends
Rob Gronkowski (hip) and Aaron Hernandez (ankle), New England Patriots:
Both tight ends are again listed as limited participants on the injury report without much other information being offered. Gronkowski's ability to play each week suggests he will continue to do so again. Hernandez may still be on the early side of recovery. Since the Patriots travel to Seattle, perhaps a decision will become apparent early based on who makes the trip.
Jermichael Finley, Green Bay Packers (shoulder):
He hasn't practiced yet and won't until at least Friday, said coach Mike McCarthy.
Brandon Pettigrew, Detroit Lions (knee):
Pettigrew was listed as a limited participant Wednesday and Thursday, but according to The Detroit News, he was just getting some extra rest. It will be nice to see him go through a regular workout Friday, but there does not appear to be any serious injury.
Dustin Keller, New York Jets (hamstring):
Keller's hamstring has been very problematic. He has not played since sustaining the injury in the first game of the season and has already endured one setback. After not practicing last week, Keller was able to function as a limited participant Wednesday and Thursday, so there is some progress. The last time Ryan said he expected Keller to play, he aggravated the hamstring in practice. If that doesn't happen again, Keller could see his first game action in more than a month.
On a final note, don't forget to adjust lineups for teams on a bye this week -- Chicago, New Orleans, Carolina and Jacksonville. They will not appear on the NFL official injury reports.
October, 9, 2012
10/09/12
4:17
PM ET
Week 5 is in the books! Welcome back,
Rashard Mendenhall
, who played his first game since undergoing reconstructive ACL surgery in January. Add him to the list of running backs who are redefining expectations following this type of injury.
Minnesota Vikings
running back
Adrian Peterson
and
Kansas City Chiefs
running back
Jamaal Charles
have already impressed with their performances so far. Now Mendenhall has done the same with 81 yards on the ground, another 20 in receiving and a score in his first outing. Most importantly, Mendenhall's knee felt fine after the game according to
Pittsburgh Steelers
coach Mike Tomlin and the expectation is he will be back at it again Thursday.
[+] Enlarge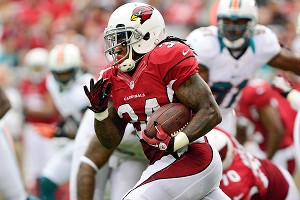 Jennifer Stewart/US PresswireRyan Williams is now the second starting Cardinals running back to suffer a major injury this year.
Three running backs who suffered injuries in Week 5 have already been ruled out this week, and at least one is done for the season.
Arizona Cardinals
running back
Ryan Williams
suffered a shoulder injury Thursday, which he initially tried to dismiss as nothing serious, but by Monday, he was ruled out for the season. According to the Cardinals' official website, Williams is undergoing surgery on his left shoulder Tuesday to repair a fractured coracoid process. The coracoid is a bony projection on the front of the scapula (shoulder blade) and is the attachment point for several ligaments along with portions of both the biceps and the pectoral muscles as well as the coracobrachialis (a muscle that elevates the arm and contributes to shoulder stability). The injury is very uncommon; even the Cardinals' team doctors told Williams they had not treated one in 10 years.
It's impossible not to feel for Williams, who suffered a torn patellar tendon last year during the preseason and rehabbed intensively to be ready for 2012. Williams seems to be taking the positive approach, telling the website, "[The injury] could be a good thing for my knee and my whole body, just so it could recover like it should be. ... I really believe in my heart truly that it is beneficial and it'll let my whole body do what it needs to do and then I'll be the Ryan Williams everybody has been expecting to see." We will look forward to hopefully seeing that Ryan Williams when the 2013 season starts.
In Green Bay, Packers running back
Cedric Benson
injured his left foot when it got twisted in a pile. Benson, who is in a protective boot, suffered a Lisfranc injury, according to ESPN's Adam Schefter. He is expected to miss at least eight weeks, perhaps the entire season if it turns out surgery is required. Benson is currently undergoing further evaluation to determine the next steps. Meanwhile,
James Starks
, who has yet to play in a game this season after being sidelined with turf toe, could get the start this week.
Moving south to Tennessee, Titans running back
Javon Ringer
went down with a gruesome-appearing knee injury, which had most assuming his season was over. According to the Tennessean, Ringer has been diagnosed with a torn MCL and is currently projected to miss four to six weeks. The timeline may change, but this is better news than a torn ACL. Ringer missed the first three weeks with an elbow infection and now has to contend with this.
There are many other teams contending with difficult injuries less than halfway through the season. Here's who we're keeping an eye on heading into Week 6.
Quarterbacks
[+] Enlarge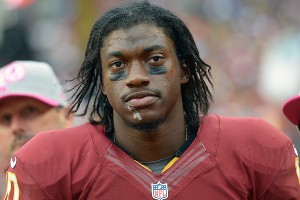 John McDonnell/The Washington Post /Getty ImagesRobert Griffin III is still a question mark heading into this week's action.
Robert Griffin III, Washington Redskins (concussion):
Although it took a while to get a definitive diagnosis, the Redskins did confirm Sunday that Griffin suffered a concussion. According to the Washington Post, Griffin could not recall what quarter it was or what the game score was shortly after the hit that forced him out of the game. Griffin was examined by a neurologist at the stadium, then returned home. On Monday, Griffin reported feeling better and those around him, including teammate and backup quarterback
Kirk Cousins
, thought Griffin "appeared to be doing well." As we all know now, however, looks can be deceiving when it comes to head injuries.
Griffin is expected to undergo further testing as the week progresses to determine whether he will be eligible to return to practice and, ultimately, return to play. In addition to neurocognitive testing, which examines how the brain is processing information, players who are symptom-free at rest must undergo graded exercise testing to see if it provokes any recurrence of symptoms. To that end, Griffin was expected to undergo testing on a treadmill Tuesday, according to the Post.
Alex Smith, San Francisco 49ers (finger):
Smith sprained the middle finger of his throwing hand late Sunday in the Niners' game against the
Buffalo Bills
. Coach Jim Harbaugh called Smith's finger a "concern," an uncharacteristic acknowledgment of the severity of an injury to one of his players. One wonders if that nugget was for the benefit of the upcoming opponent. There seems to be little doubt that Smith will play this week against the
New York Giants
in a rematch of last season's NFC Championship Game.
Running backs
Adrian Peterson, Minnesota Vikings (ankle):
Peterson suffered a mild ankle sprain, which in and of itself did not appear serious. However, it was on the same side as his reconstructed knee, which does warrant a little closer attention. Nonetheless, the early impression out of Minnesota is that this will not cause Peterson to miss time.
Andre Brown, New York Giants (concussion):
In what seems to be a rotation of running back and receiver injuries among the Giants, Brown suffered a concussion in Week 5. His status for this Sunday is in question.
Wide receivers
Alshon Jeffery, Chicago Bears (hand):
Jeffery broke a bone in his hand and is expected to miss at least a month. On the positive side, bone healing tends to follow a fairly straightforward timetable, so the early projections of four to six weeks for Jeffery appear reasonable, further bolstered by the news that Jeffery will not need surgery.
And we're keeping an eye on:
Darrius Heyward-Bey, WR, Oakland Raiders (concussion/neck):
Heyward-Bey was recently cleared for contact and was "very active in practice Monday," according to Steve Corkran of the Contra Costa Times. It looks as if Heyward-Bey could potentially return to action this week if his progress continues.
Ramses Barden (concussion) and Hakeem Nicks (foot/knee), WR, New York Giants:
ESPN New York's Ohm Youngmisuk reports Barden was cleared to return to practice this week after suffering a concussion in Week 4 against the Eagles. Meanwhile, Nicks' status remains a bit of a mystery as there has been no indication from the team of the results of his knee MRI. Swelling in Nicks' knee and lingering soreness in his surgically repaired foot have kept Nicks out of the past three games. Thus far, Nicks has only practiced on Thursdays so there may not be much of an update before then this week. The Giants maintain he is day-to-day.
Jimmy Graham, TE, New Orleans Saints (ankle):
Graham injured his ankle early in the Week 5 contest but did manage to eventually return to the game. He wore a walking boot as he left the stadium, and interim head coach Aaron Kromer confirmed to reporters Monday that Graham suffered an ankle sprain. Fortunately, the Saints have a bye this week, so Graham gets some extra recovery time.
Jermichael Finley, TE, Green Bay Packers (shoulder):
Finley left Sunday's game early with what was called a shoulder injury, but the team has not offered any further detail. Coach Mike McCarthy told reporters Monday that Finley has "a chance" to play in Week 6.
Jahvid Best, RB, Detroit Lions (concussion):
Best is expected to undergo additional testing this week to determine his readiness to be activated off the PUP list, according to ESPN's Adam Schefter. Although he is reported to be in excellent physical shape, Best will need to pass concussion-related tests to increase his activity level. Best has not played since October of last year.