Stephania Bell:

Robert Meachem
November, 1, 2012
11/01/12
10:35
AM ET
Perhaps the biggest news heading into Thursday night's game between the
San Diego Chargers
and the
Kansas City Chiefs
is who is NOT on the injury report. The usual suspects appear to be largely healthy halfway through the season. Chargers running back
Ryan Mathews
? Healthy. Tight end
Antonio Gates
? Not ailing. Chiefs running back
Peyton Hillis
? He returned to action in Week 8 after missing time with an ankle injury. The key fantasy players from these two teams are expected to play. Still, with bye weeks and injuries compromising many a roster, we thought it worth mentioning a couple of players who might be being considered for substitute action.
Eddie Royal, hamstring (D) and Robert Meachem, hamstring (Q), WRs, San Diego Chargers:
Royal injured his hamstring days prior to the Chargers' Monday night game against the
Denver Broncos
in Week 6 yet he still managed to play. With a bye week following, it seemed as though he might be able to escape missed playing time. But the hamstring has proven to be a bit more problematic, and Royal sat out Week 8 and on a short week looks doubtful for Week 9. Meachem also is dealing with a hamstring ailment this week. His injury was added to the insult of a big drop in Week 8, something he would like to undo as soon as possible. He may not get a chance this week. Meachem was limited in practice Tuesday but was downgraded to a non-participant Wednesday. He is listed as questionable and it may come down to a game-time decision.
The Chargers signed two wide receivers in the past week, both of whom could be active if Meachem and Royal are out.
Danario Alexander
came to the Chargers via the
St. Louis Rams
, who waived him in August after numerous injuries limited his ability to contribute. The last injury he was dealing with before the team let him go in August? A strained hamstring. Who knows? Maybe a change in venue will do the trick.
Seyi Ajirotutu
is familiar to the Chargers as he was signed off their practice squad in 2010. In 2011, he moved to the
Carolina Panthers
but was released prior to the start of the 2012 season. The Chargers now have a need for wide receiver depth, and Ajirotutu was available to help fill it, but depth is the key word. Ajirotutu is not likely to offer much to fantasy owners, at least not yet.
Brady Quinn, Kansas City Chiefs, head (out):
Quinn was forced out of the Week 8 game with a head injury and has not been medically cleared to return.
Matt Cassel
, who suffered a head injury of his own in Week 5, replaced Quinn last week and will get the start Thursday night.
September, 9, 2010
9/09/10
2:13
PM ET
The joy in the city of New Orleans is palpable as the NFL season gets under way tonight. As I walked the streets Wednesday, an always friendly city seemed even friendlier, almost giddy, with "Who Dats" all around as everyone gears up for opening night. The start of the NFL season has a holiday feel here as schools and businesses close early today so that everyone can enjoy the festivities. Isn't that what the start of the football season is all about?
It's true that the
New Orleans Saints
' fans are still celebrating their Super Bowl victory. But everyone has reason to be excited about the start of the NFL season, because at this point, everyone's a winner. And that includes you, the fantasy owners. No matter who you've drafted or what your leaguemates think of your roster, everyone is on even par until the first week of matchups is complete.
The key to making sure you celebrate at the end of your fantasy season as much as you do at the start is managing your team well week in and week out. Injuries have always been one of the big levelers in any fantasy football league and it will be no different this year. As any fantasy owner knows, injuries are already making their mark on the 2010 season. Here are a few to consider as we head into Thursday's season opener.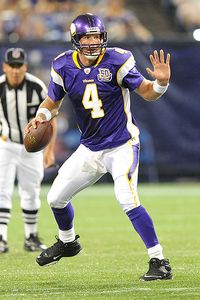 Tom Dahlin/Getty ImagesBrett Favre's consecutive games streak is still intact, but an ankle injury could give him trouble for a good part of the season.
Brett Favre, QB, Minnesota Vikings (P):
Favre's left ankle is likely to be a topic of discussion throughout the season. Unlike last year, when Favre underwent a minor procedure on his throwing shoulder, which allowed him to resume play without incident, this year's ankle procedure is not a quick fix. The surgery to remove loose bodies no doubt alleviated some of the pain and improved Favre's ankle mobility, but this was his third surgery on the ankle and there are arthritic changes that cannot be undone. That was evident when Favre indicated he had recently received an injection of a lubricant into the joint. These injections provide a soothing effect for the cartilage and can help with pain and mobility, but the underlying condition remains.
The key to keeping Favre on the field will be protection up front, minimizing the contact he absorbs and granting him enough time to make plays without being forced to scramble regularly. Favre's offensive options have taken a hit with the loss of
Sidney Rice
for multiple weeks and the extended absence of
Percy Harvin
during the preseason. Favre himself has seen only limited preseason action given his late arrival and in an effort to protect his health. It will be interesting to see in the first week how all of these factors come together and how playing an entire game impacts Favre.
Percy Harvin, WR, Minnesota Vikings:
Harvin's preseason migraine challenges got everyone's attention, including that of his teammates, but here's what should get fantasy owners' attention: Harvin is not on the injury report in advance of the Thursday night opener. Barring a late surprise, Harvin will be on the field and he is expected to see plenty of action not only as a receiver but also as a kickoff return specialist. Harvin may be a favored target for Favre in the passing game with Sidney Rice out following hip surgery. There will be lingering uncertainty for fantasy owners as to whether Harvin will be limited because of migraines down the road, but at least for Week 1 it appears to be all systems go.
Marques Colston, WR, New Orleans Saints (P):
Colston reportedly suffered a bruised kidney during the Saint's final preseason game, but the condition apparently wasn't that serious, as he was cleared to return to practice. Colston was a full participant in workouts throughout this week and has indicated that he is feeling fine heading into Thursday's game. Colston, who also underwent minor offseason knee surgery, should not have any limitations. Breathe a sigh of relief, fantasy owners.
Robert Meachem, WR, New Orleans Saints:
No, Meachem is not on the injury report, but he is someone fantasy owners may have been keeping their eye on given that he missed part of the preseason. Meachem underwent surgery on the second toe on his right foot in May to address a problem that actually began late last year. According to NewOrleans.com, despite resting his toe following the Super Bowl run, it continued to nag at Meachem during the team's offseason program, leading to the decision to undergo surgery. As a result he was on the active/physically unable to perform (PUP) list to start training camp but was activated in mid-August.
Meachem has practiced since and even played in a couple of preseason contests. However, at times he has appeared to be bothered by the toe and not quite back to his deep threat ways. Knowing that Meachem had his shoe customized to include a shank support under the insole (which helps protect a toe by limiting mobility), I thought perhaps the shank might alter how his foot feels when pushing off, which athletes sometimes complain about while adjusting to it. When I spoke with Meachem after Wednesday's practice, he indicated that the presence of the shank does not bother him, and that it feels "natural." In fact, he says he is working on getting all of the natural elements of his position to come together, which I took to mean that he is just working his way back toward receiver shape. It will be worth watching how Meachem fares in the season opener to gauge just how far he's come.
Other quick hits
• Wide receiver
Larry Fitzgerald
was back in full practice Wednesday for the
Arizona Cardinals
. He missed several weeks of the preseason after sustaining an MCL sprain but this news points to his readiness for the season opener. A bigger concern might be the fact that teammate
Beanie Wells
was not in practice Wednesday after suffering a knee injury in the final preseason game. Wells has downplayed this injury since it happened, but absence from practice days before the season opener is a concern. At this point, the expectation is that he will still play, but what he does in practice later in the week could be telling.
• One major bit of news is that
Carolina Panthers
running back
Jonathan Stewart
was not on the team's midweek injury report. That might be the most positive sign since Stewart returned to team practices following offseason Achilles surgery.
• Also off the injury report this week is
Dallas Cowboys
rookie wide receiver
Dez Bryant
. Bryant, who was sidelined through the bulk of training camp with a high ankle sprain, is eager to showcase his skills and it looks like he will have that opportunity this weekend. ... Meanwhile, quarterback
Donovan McNabb
is the expected starter on Sunday night when the
Washington Redskins
face the Dallas Cowboys. As if there were really any doubt. McNabb has been nursing a sprained ankle during the preseason but practiced fully Wednesday. While McNabb maintains that the ankle might not yet be 100 percent, this is not going to be the type of thing to get in the way of football.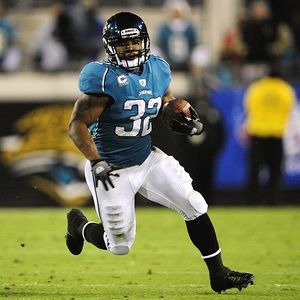 Sam Greenwood/Getty ImagesMaurice Jones-Drew is not on the injury list right now, but questions about his knee still remain.
• Perhaps the most significant fantasy player with an injury concern is
Maurice Jones-Drew
. The concern revolves primarily around the lack of information related to his supposed ailing knee. Jones-Drew was held out of practices for more than a week for "rest" while he and the
Jacksonville Jaguars
quashed reports of an alleged surgical procedure. Jones-Drew has insisted all along that he's fine and ready to play, but fantasy owners have been understandably mystified. One positive sign for fantasy owners is Jones-Drew's absence from the Jaguars' midweek injury report. It appears there is no doubt he will be in Sunday's starting lineup but whether this is something that will crop up again down the road remains to be seen.
• The
Denver Broncos
are looking forward to the return of running back
Knowshon Moreno
, who has missed most of the preseason with a hamstring injury. Moreno was a full participant in Wednesday's practice and his status for Sunday does not appear to be in doubt. The bigger question for him will be how his hamstring holds up to the test of game play.
Oakland Raiders
running back
Michael Bush
continues to impress following surgery to repair a Bennett's fracture in his thumb. Bush has participated in limited practice this week with his thumb splinted, but head coach Tom Cable says Bush is doing more and more. Cable even went so far as to tell the Oakland Tribune that there is "a real chance" that Bush could play in Week 1. Fantasy owners should not get overly excited just yet. Even if Bush plays -- and it would be surprising if he did -- his work is likely to be very limited. Nonetheless, his progress is encouraging and he will almost certainly beat out initial projections of a lengthier absence.
Be sure to check back Saturday for the late updates on key players heading into Sunday's contests. In the meantime, enjoy the season opener and celebrate the start of fantasy football leagues everywhere!