Stephania Bell:

Ronnie Brown
August, 18, 2010
8/18/10
8:47
AM ET
Ronnie Brown
just does not stop smiling.
He smiles when he talks about what he still hopes to accomplish in football. He smiles about the prospects of what this NFL season will bring. He even smiles about practice. During training camp. In hot, steamy, insufferable weather.
Some might wonder how he can maintain that ear-to-ear grin when faced with coming back from yet another season-ending injury. After all, Brown could easily have been discouraged after last year and no one would blame him. For the second time in three years, Brown needed major surgery on his right lower extremity. In Week 7 of 2007, Brown tore his right ACL. He returned for the 2008 season, even making it to the Pro Bowl, but the following season again ended prematurely. After starting the first nine games of 2009, Brown suffered a Lisfranc injury to his right foot (a midfoot injury that resulted from a player falling on the back of his foot). He underwent surgery in November to stabilize the injured region. After a gradual progression of weight-bearing and other rehabilitative activities, Brown had a procedure to remove some hardware in June. By late July, he was medically cleared for all training camp activity.
Still, Lisfranc injuries can be tricky. It is not uncommon for athletes who undergo this type of surgery to encounter ups and downs as they try to increase their activity. Returning to running, then returning to pivoting and twisting places increased demand on the midfoot, sometimes resulting in increased pain. Lingering discomfort requires forced rest and a scaling back of activity, potentially leading to a delayed return to competition. Medical clearance is just the beginning; progressing through each level of activity without incident is another matter.
Brown's performance in training camp has done much to alleviate those concerns. He has participated fully in all activities as if his foot were a non-issue. If his efforts on the practice field are any indication, Brown appears ready for the season to start tomorrow.
Jonathan Brownfield/US PresswireRonnie Brown scored two touchdowns in a game three times in 2009 before his season-ending injury.
When I visited
Miami Dolphins
practice, I saw him move fluidly both during position drills and 11-on-11. One play in particular caught my eye. Brown caught a simple screen pass and then made a sharp dodge to evade a defender (and yes, he made him miss). That move allowed him to burst forward untouched and he continued to run out the play for extra yards, even after the whistle blew. In fact, every time Brown touched the ball, he added an extra 20 or 30 yards of running after the play was dead. That combination of mobility, speed and intensity is something that was not quite there when I visited him in 2008 training camp following his ACL reconstruction.
And then there's that smile.
Maybe Brown is smiling now because he has not encountered any setbacks. In fact, Brown told me "I don't even feel like I had an injury." He acknowledges some occasional soreness but notes this is "nothing like the ACL." By comparison, this seems to have been a far easier recovery process for Brown. "I had to deal with [the ACL] pretty much throughout the season, but with this I feel like I'm already over it and I'm just ready to get going. Ready for games to start."
Brown wasted no time getting his foot wet, so to speak, seeing action for 15 plays in rainy and muddy conditions during the team's first preseason contest Saturday. Dolphins coach Tony Sparano certainly noticed the difference in how Brown is bouncing back from this injury. On Monday, Sparano told reporters he was pleased Brown could come away from that first preseason game with some confidence. "When Ronnie came off with a knee [injury], it was a much slower process ... right now we're so much further ahead in that part of the recovery." Sparano said. "I really believe Ronnie came out of the game and wasn't really thinking about it at all."
When I asked Brown about his coach's comments and how he felt about his first preseason outing after he averaged four yards per carry, his smile broadened. "It felt good," said Brown, "outside of being in the mud the whole time. There wasn't any soreness or anything that was prohibiting me from doing anything."
I asked Brown what fantasy football owners should expect from him this season. He became very animated but kept his answer simple: "A lot!" Brown added, "My goal is to improve each season. I feel like I still have a long way to go as far as yards, touchdowns, the whole overall game."
But what about all the people who suggest he's injury-prone? Brown had a response for them as well. "I don't look at it like that. I do look at it as I had a couple of unfortunate injuries. I just try to take everything in stride and look at it in a positive way. With the foot thing, I had to come back from rehab but at the same time, I didn't take as many hits as I would have playing throughout the season."
In finding the silver lining to his injury cloud, Brown makes a good point. Less contact last season means less overall physical punishment and perhaps fresher legs in 2010. Nonetheless, while Brown projects a positive attitude, he recognizes that the only way to erase the perception that he is injury-prone is to actually stay on the field. And he used that as incentive during a long rehab. As Brown shared with me, "One of the motivating factors, unfortunately, is people kind of doubt you. You feel like you have a little bit to prove. I feel like I'm one of the best running backs in the league as long as I stay healthy, but the key part of that is staying healthy and being in for each game."
Seeing Brown move as well as he did on the practice field and hearing him truly excited, upbeat and eager to engage in competition certainly indicated that he is ready for the season. I came away from camp impressed not only by his physical performance but also (and perhaps more importantly) by his mental readiness to get back into competition.
Perhaps the smile on Brown's face has to do with what lies ahead.
"I'm just looking forward to having a good season," said Brown, "hopefully the best season yet." If Brown can get through an injury-free season and put up the type of numbers that he's capable of, his coaches, teammates, fans and fantasy owners will all be smiling right along with him.
November, 19, 2009
11/19/09
6:12
PM ET
It's Week 11, and we have another Thursday night matchup on our hands.
This week's showdown between the
Carolina Panthers
and the
Miami Dolphins
will be without one marquee fantasy player who unfortunately has been lost for the season because of injury. Dolphins running back
Ronnie Brown
injured his foot in Week 10, and there were hints that it was serious (on crutches, non-weight-bearing) from the start.
On Wednesday, the Dolphins announced that Brown had suffered his second season-ending injury in just three years. (He suffered a torn ACL in 2007 but returned in 2008 to play in all 16 games.) The Miami Herald is reporting that Brown suffered a Lisfranc injury and that he has traveled to North Carolina to be evaluated by a renowned foot and ankle specialist, Dr. Robert Anderson. Depending on the outcome of that visit, Brown may be facing surgery.
In any event, he is facing a lengthy rehabilitation process but has a chance to be ready for the start of the 2010 season. Indianapolis Colts defensive end
Dwight Freeney
suffered a Lisfranc injury in Week 10 of the 2007 NFL season. Freeney underwent surgery and was able to return for the start of the 2008 season, ultimately playing in all sixteen games that year. While there is high variability with the nature and degree of these injuries, not to mention plenty of individual hurdles to cross during rehabilitation, there are reasons to be optimistic that Brown will be on the field for the Dolphins when the 2010 season kicks off.
On the Panthers' side of the ball,
Jonathan Stewart
did not practice Tuesday to rest his Achilles, as has been customary for him this season. Stewart was back in practice Wednesday and, although listed as questionable (also customary), is expected to play. Teammate
DeAngelo Williams
also missed practice this week but on Wednesday. Williams was listed as questionable heading into Week 10 and it was of particular concern last week that, after returning to limited practice Thursday, he was then unable to practice Friday.
While Stewart had the better fantasy day Sunday with two touchdowns, Williams actually saw more touches, suggesting that his knee was not a big issue. It's not a surprise that the Panthers chose to rest him after his questionable status in Week 10 followed by a short week. Barring a pregame setback, expect both Williams and Stewart to be active in Thursday night's game.
So who else should we be concerned about health-wise heading into Week 11? Here's what we know so far:
Quarterbacks
Kyle Orton, Denver Broncos:
Orton suffered a left ankle sprain and did not practice Wednesday but remains optimistic that he will be able to play. Orton told reporters that this injury is totally different from the sprain he suffered last year. For one thing, it's on the opposite leg. Orton acknowledged that he struggled when he returned after sitting out just one game with a high right ankle sprain last season and said, "Last year was so tough because it was pushing off and that was my back leg, so that was tough."
This injury has not been reported as a high ankle sprain, and it will be interesting to see, if he plays, just how much it will affect his performance. His mobility is likely to be limited, and it could be uncomfortable for him to step firmly onto his front leg to deliver a deep ball. At least
Chris Simms
has been getting some increased work with the first team this week. Orton's availability may come down to a game-time decision.
Running backs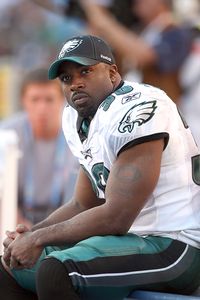 Donald Miralle/Getty ImagesA second concussion in three weeks means you won't be seeing Brian Westbrook on the field in the near future.
Brian Westbrook, Philadelphia Eagles:
Westbrook has already been ruled out for Week 11 after suffering a second concussion in three weeks.
There is some encouraging news for Westbrook, though, following his visit to Pittsburgh for a consultation. Westbrook underwent an evaluation with several specialists at the University of Pittsburgh Medical Center (UPMC) including Dr. Joseph Maroon, UPMC neurosurgeon and team neurosurgeon for the
Pittsburgh Steelers
, and Dr. Michael Collins, UPMC neuropsychologist. Both have extensive experience with concussions and are often sought out as experts in the area. They are largely responsible for the development of the IMPACT (Immediate Post-Concussion Assessment and Cognitive Testing) tool, which is used in the NFL and in many colleges and high schools.
The Eagles received an encouraging report after Westbrook's visit and published a statement from the evaluating doctors on their official Web site. Maroon and Collins stated: "We are very encouraged by Brian's progress, we believe that he has an excellent prognosis and we expect a full recovery. We developed a comprehensive physical rehab plan for Brian, and we will repeat the detailed testing in the next two to three weeks.
Dr. Mark Lovell, the director of the UPMC Sports Medicine Concussion Program, added, "We commend the Eagles athletic training and medical staff for their diligent and conservative care in this particular case as well as their historical excellence in managing these types of injuries."
Obviously the fact that Westbrook suffered two concussions in such close proximity adds an extra level of concern, and there is no doubt that the organization will err on the side of caution, as they have already demonstrated. It is important to point out, as the Pittsburgh experts did, that the Eagles' medical staff took all the appropriate measures to ensure that Westbrook had fully recovered from his prior concussion before returning to the field. In fact, after it appeared that Westbrook would return in Week 9, he was ultimately held out after his headache symptoms recurred the day before the game. There is a very real concern about the potential long-term effects of multiple concussions, and medical knowledge is still evolving in this area.
Clinton Portis, Washington Redskins:
Speaking of taking concussions seriously, Portis appears to be doing just that. He is officially out for Week 11, and
Ladell Betts
is again expected to start in his place. After sitting out Week 10, coach Jim Zorn told the Washington Post that early in the week, Portis was still experiencing "blurriness" with quick head movements. Portis will not return any sooner than his symptoms permit. As is always the case with concussions, there is no predictive timetable in place here.
Michael Turner, Atlanta Falcons:
The only definitive comment the Falcons will make with regard to Turner is that there is no timetable for his return, according to the Atlanta Journal-Constitution. Certainly it does not appear that he will be in uniform Sunday when the Falcons travel to New York. Turner has a high ankle sprain, and the consequences of returning too soon are far greater than the reward of having Turner in the lineup at less than full speed. Expectations are that
Jason Snelling
will start. There was a
Jerious Norwood
sighting in Thursday's practice, but after he missed the past four games with a hip flexor strain, it would be hard to anticipate his being back to game speed, even if he is active Sunday.
Cedric Benson, Cincinnati Bengals:
On Tuesday I outlined the details of Benson's hip injury, which, although reportedly not serious, might result in his absence in Week 11. Benson has not practiced this week, which makes it more likely that
Bernard Scott
could get the start. The Bengals maintain that this could come down to a game-time decision, so we may not know for sure until Sunday.
Reggie Bush, New Orleans Saints:
Bush has not practiced this week as a result of swelling in his knee, which he aggravated during Sunday's game. No strong hints yet that he will miss Sunday's game, but it is a situation worth monitoring.
Wide receivers
Brandon Marshall, Denver Broncos:
Marshall was absent from Wednesday's practice with a neck injury. In Week 10, his back kept him out of practice early but not out of competition Sunday. Assume that this is a similar situation and that Marshall will play this week.
Antonio Bryant, Tampa Bay Buccaneers:
Bryant's knee has improved again and he resumed full practice Thursday. Bryant has missed the past two weeks because of recurrent swelling and discomfort in his surgical knee. According to the St. Petersburg Times, coach Raheem Morris says Bryant may be a game-time decision. It will be important to see how his knee responds to its first full practice in several weeks. If he should be able to practice fully Friday, that would be an encouraging sign.
Lance Moore, New Orleans Saints:
Moore is still not practicing because of a left ankle sprain, and there are no obvious clues as to when he'll return. Plan accordingly.
Pierre Garcon, Indianapolis Colts:
Garcon did not practice Wednesday because of an ankle injury but did take the field Thursday and remains hopeful that he will be active Sunday. Meanwhile, teammate
Anthony Gonzalez
is still recovering from arthroscopic knee surgery and is not expected even to return to practice for a couple of weeks.
Be sure to check back Saturday for post-Friday NFL injury report updates on all your fantasy players heading into the weekend.
See you at the injury chats (Tuesday 11 a.m. to 12 p.m, Friday 11 a.m. to 12 p.m. and Sunday pregame (10 to 10:30 a.m.). And check out "Fantasy Football Now" on Sundays at ESPN.com and ESPN2 from 11:30 a.m. ET to kickoff for last-minute inactives, rankings and more.
November, 17, 2009
11/17/09
4:45
PM ET
The joy of having only two teams on bye this past week quickly faded when more players on the field translated to more players ultimately getting carted off the field. The
New York Giants
and the
Houston Texans
have to be thankful that they did not add to their injury reports as they watched the games from home. Concussions continue to take a toll on fantasy stars, as do ankle and foot injuries. Sprinkled in the mix are rib injuries, muscle strains and knee sprains. In what constituted perhaps my busiest week yet this fantasy football season, many a fantasy must-start quickly became a fantasy must-replace.
What happened to your key players this week and will they recover in time to perform this week? We take a look at what we know so far as we move toward Week 11.
Brian Westbrook, RB, Philadelphia Eagles:
Westbrook suffered his second concussion in three weeks and his football future is uncertain. According to the Philadelphia Inquirer, coach Andy Reid said that Westbrook was "foggy" when he came off the field Sunday after running into
San Diego Chargers
safety
Eric Weddle
. Reid has already indicated that Westbrook will not play Sunday night but the question as to when -- or if -- Westbrook plays again this season remains unanswered.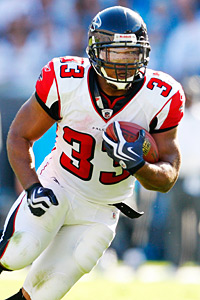 Bob Donnan/US PresswireMichael Turner had run for 111 yards on Sunday before injuring his ankle.
Michael Turner, RB, Atlanta Falcons:
Turner suffered a right high ankle sprain Sunday and was seen wearing a walking boot after the game. While the team has not provided any official information as to Turner's status for this week, high ankle sprains typically require weeks, not days, for healing before an athlete can return to play. The challenges are perhaps greatest at the running back position, given all the stress placed on the ankle. Returning too soon can jeopardize the long-term health of an athlete.
The Falcons are hopeful that
Jerious Norwood
, who has missed the past four games with a hip flexor strain, can return in Week 11. Norwood began running last week, but has yet to return to practice.
Jason Snelling
stepped in when Turner was forced out, but he too was just coming back from injury (hamstring strain) and may not have quite worked up to full speed. Fantasy owners should anticipate the absence of Turner for at least this week and perhaps longer. Practice updates should provide clues as to whether Norwood or Snelling would be more likely to step up in his place.
Ronnie Brown, RB, Miami Dolphins:
Ronnie "Wildcat" Brown was yet another running back forced out of Sunday's game because of a right ankle injury. At least that's how it appeared at the time. More recent news suggests that Brown's foot is the focal point of the injury concern, and the Florida Sun-Sentinel reports that the injury may be more serious than initially thought. Brown is still on crutches, not putting weight on his foot, also hinting at a potentially serious injury. He has already been ruled out for Thursday night's game, with
Ricky Williams
starting in Brown's place, and that may extend beyond Week 11.
Lex Hilliard
is expected to serve as Williams' backup.
Cedric Benson, RB, Cincinnati Bengals:
In Benson's case, it wasn't an ankle that knocked him out of Sunday's game; it was his hip, as the team indicated that their star running back left the game with a hip flexor strain. The Cincinnati Enquirer, however, reports that the injury is officially being called a hip abductor strain. The Bengals' official Web site also references an injury to the abductor muscle. Both the flexor and the abductor are muscles that support the hip; both, when injured, can affect a player's explosiveness and mobility. The hip flexor, which as the name implies, flexes the hip and helps drive the leg when running. It is a very deep muscle (so deep in fact that it anchors to the front of the lower vertebrae in the spine) and can be slow to recover (see Jerious Norwood above who has missed four games thus far with the injury). The abductor muscle abducts the hip, or moves the hip laterally. Its more important function, though, may be as a stabilizer of the hip and pelvis, helping with balance and stability during all movement. Weakness of the abductor can result in a noticeable limp as the pelvis loses stability.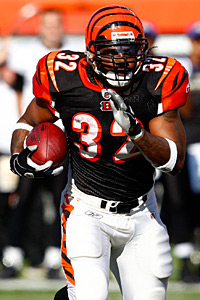 Frank Victores/US PresswireCedric Benson sat out the second half of the Steelers game with a hip injury, but if he plays Sunday, he'll have a nice matchup against the Raiders.
All muscle strains are measured by degree, and in Benson's case the indications from the team (and Benson himself) are that the injury, whichever muscle or muscles are involved, is not serious. In fact, it sounds as if this hip issue is truly an exacerbation of a pre-existing condition, one that has limited Benson in practice as recently as two weeks ago. While coach Marvin Lewis emphasized that the injury did not appear serious, he also indicated that the team would hold him out of Sunday's game against the
Oakland Raiders
if necessary, according to the Bengals' official Web site. Said Lewis, "He really doesn't feel much worse for the wear. He has an opportunity this week. We'll be real cautious with him as we approach the game. If he's not healthy, he would not go. We'll see how he is as he goes through the week. Hopefully, he can make a comeback on this."
Nonetheless, Benson is very likely to be limited in practice this week, and as the Enquirer points out, he could be a game-time decision for the Bengals. That's always a fantasy favorite. It is also worth noting that Tuesday's signing of former
Kansas City Chiefs
star
Larry Johnson
is not expected to impact the running back depth chart, at least not yet.
Julius Jones, RB, Seattle Seahawks:
Jones left the Seahawks' Sunday contest in the first quarter with what was called a chest injury initially. While
Justin Forsett
ran up a storm in his absence, Jones ended up in an Arizona hospital overnight with what the team is officially calling a bruised lung. Coach Jim Mora told reporters that Jones also was dealing with, "potentially, possibly a cracked rib." Mora added that it was "unlikely that [Jones] would be cleared to play on Sunday."
We've already seen an NFL player with a bruised lung this season. Houston Texans wide receiver
Andre Johnson
suffered his lung injury in Week 7 but was able to play the following week. Not all internal organ injuries are created equal, however. The concern of a bony injury nearby could complicate the picture for Jones and lead to extended rest. This will be a wait-and-see situation, but Jones' fantasy owners should not wait to pick up an alternate back for Week 11.
Kyle Orton, QB, Denver Broncos:
Despite Orton's early exit from Sunday's game with a left ankle injury, coach Josh McDaniels remains vague yet upbeat about the possibility that Orton returns for Week 11. While not revealing anything with regard to the specifics of Orton's injury, McDaniels told The Denver Post, "He's definitely not out for the game. We're certainly hopeful we can get him ready to go." Orton's status early in the week is clearly questionable, and much will depend on what he is able to do in practice by the end of the week. The team will be looking at his mobility and whether he can step up as he plants the leg to make longer throws. In case you were flashing back to last year, it was Orton's right ankle that was injured. Although he missed only one game then, he was clearly uncomfortable and far less mobile in his first couple of games post-injury. This very well could come down to game time.
Other quick hits: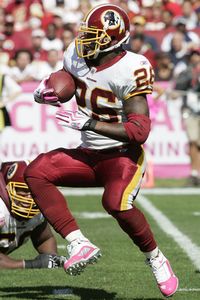 Jeff Fishbein/Icon SMIDon't be surprised to see Clinton Portis miss another game to recover from his concussion.
•
Washington Redskins
running back
Clinton Portis
sat out Week 10 due to lingering concussion symptoms. He may well be out another week. Although the team has not issued a formal status update, coach Jim Zorn told The Washington Post that Portis was still experiencing "blurriness" early in the week with quick head movements.
Ladell Betts
, who did not show any signs of being limited by a foot sprain Sunday, would get another start.
•
Green Bay Packers
wide receiver
Greg Jennings
has accumulated an assortment of nicks this season. His latest injury is being called a knee contusion (deep bruise), and he is likely to miss some practice time this week. There appears to be no serious threat to his availability for Week 11.
•
Indianapolis Colts
running back
Joseph Addai
hurt a finger in the first quarter of Sunday's game, but was able to return in the third quarter, although he had two fingers taped together. His status is not likely to be updated until later in the week, as is typical for the Colts.
Chad Simpson
left the game temporarily with a head injury but was able to return.
Donald Brown
, who missed the past two games with a shoulder injury, came out of Sunday's game for a while with a sore back. The Colts already have perhaps the lengthiest injury list in the league. They have to hope that all of these situations are minor, which, at this point, seems to be the case.
•
Carolina Panthers
wide receiver
Steve Smith
suffered bruised ribs after taking a hit in the back when he made his second end zone grab Sunday. While it is still early in the week, there is no hint from the team yet that his Week 11 status is in jeopardy.
•
Pittsburgh Steelers
safety
Troy Polamalu
injured his left knee Sunday, the same knee in which he suffered a sprained MCL earlier this season. He did not re-injure the MCL, though. Coach Mike Tomlin told reporters Tuesday that Polamalu suffered a PCL sprain and that he would be evaluated throughout the week to determine his status for Sunday.
More to come in Thursday's blog.
See you at the injury chats (Tuesday and Friday 11:00 a.m.-noon, and Sunday pregame 10-10:30 a.m.), and we'll have the latest injury updates affecting Week 11 in the Saturday morning blog!
October, 22, 2007
10/22/07
1:23
PM ET
Quick Hits
All fantasy owners must be asking the question, "When is the injury onslaught going to end?" Answer: Not in Week 7. The waiver wires will no doubt remain active as another group of key players suffered injuries that may result in missed time. Read on and weep.
Ronnie Brown, RB, Dolphins:
Brown underwent an MRI on Monday and, according to the Miami Herald, it showed enough damage to Brown's knee that he will be shut down for the season. So if he's on your fantasy team, start looking for an alternative. We will update his long-term prognosis as more information becomes available.
Byron Leftwich, QB, Falcons:
It didn't take long for the injury woes associated with Leftwich to resurface. In his first start for the Falcons, he suffered what is currently being described as a high right ankle injury, according to the Atlanta Journal-Constitution. If you were watching the game, you may have seen two clues that this was a high ankle sprain. Leftwich went down to the ground with his right foot planted while his body twisted to the left. Rotating the leg inward while the foot points outward is the most common mechanism for injuring the ligaments across the top of the ankle (tibiofibular, connecting the tibia and fibula, the two lower leg bones), which essentially defines the high ankle sprain. Additionally, Leftwich could be seen grabbing above the ankle across the front of the lower leg, suggesting the injury occurred higher up than the more common standard ankle sprain. If there's good news to be found here, it's that this is not the same ankle that gave Leftwich trouble in college and with the Jaguars. Nonetheless, high ankle sprains typically take a minimum of four to six weeks to recover from, depending on the severity. He is scheduled for an MRI on Monday.
Matt Schaub, QB, Texans:
Schaub was injured not once, but twice on Sunday. He tweaked his left ankle in the first quarter, came back in the second, only to leave again with what the Houston Chronicle is referring to as a sore right hip and back. Schaub got laid out on a helmet-to-helmet hit from Titans defensive tackle
Albert Haynesworth
and appeared to hit the ground hard, primarily on his right side. He, too, is scheduled for an MRI.
Frank Gore, RB, 49ers:
Gore sprained his right ankle Sunday but was able to return to play "on pure adrenaline" after having it taped up, according to Matt Maiocco of the Santa Rosa Press Democrat. We will monitor his status throughout the week.
Travis Henry, RB, Broncos:
Henry left Sunday night's game in the third quarter with bruised ribs. According to the Denver Post, Henry said that he "fell on it wrong." As is always the case with bruised ribs, the pain will dictate whether or not an athlete will be able to play. Denver's next game is on a Monday night, so Henry does have an extra day. Just in case, have
Selvin Young
on your roster. But you knew that already.
Marc Bulger, QB, Rams:
Last week Bulger admitted to feeling better, and coach Scott Linehan did tell the St. Louis Post-Dispatch that Bulger looked good in practice. Bulger also acknowledged that he hadn't been hit in a couple of weeks. Well, I doubt he feels better now after enduring seven sacks in Sunday's game, and he did not look especially good in his outing, to put it mildly. It is hard to know whom to credit with the Rams' poor performance, because certainly from an injury perspective, the Rams are suffering throughout their offensive roster. Bulger's performance decline across Sunday's game seemed to correlate with each successive sack, suggesting that the ribs bothered him more as the game went on. Given all the issues the Rams face, it might be best to look elsewhere for a fantasy quarterback.
That's a quick hit for Monday. Be sure to check back for updates throughout the week on these and other injuries.