Stephania Bell:

Roy E. Williams
December, 21, 2010
12/21/10
3:41
PM ET
• If
Adrian Peterson
didn't kill your fantasy playoff hopes in Week 14, he just might have sealed the deal this week. Peterson, who had been nursing ankle and knee injuries but was expected to play Monday night, was instead a late scratch after pregame warm-ups did not go well. Although the injury report specifically listed "ankle, knee," coach Leslie Frazier had noted late last week that the thigh contusion Peterson suffered when he collided with
Tarvaris Jackson
in Week 15 was what was hampering him most. As it turns out, the thigh was what ultimately kept him off the field Monday night. Frazier indicated that the game being played outdoors did not factor into the decision to rest Peterson, telling the Minneapolis Star Tribune that, based on what he saw in pregame workouts, "It wouldn't have been wise to put him out there."
• Meanwhile, quarterback
Brett Favre
made an unexpected start but left early after suffering a concussion. When speaking with reporters after the game, Favre certainly sounded like someone who has played his last game. His medical status should be updated later this week, but it appears
Joe Webb
really will start in Week 16.
• Once again,
Green Bay Packers
quarterback
Aaron Rodgers
could not deliver fantasy points for your team as he was still recovering from a concussion. Unlike Week 14, however, fantasy owners had warning this time around. The positive takeaway is that Rodgers did travel with the team to New England and was wearing a headset on the sideline, indicating he had made some progress during the week. Still, the decision for him to rest was a medical one, and Rodgers will continue to be evaluated throughout the week to determine whether he will be able to return Sunday. Although his progress thus far is encouraging, it does not ensure he will pass all tests by Sunday, so fantasy owners should continue to have a backup plan.
[+] Enlarge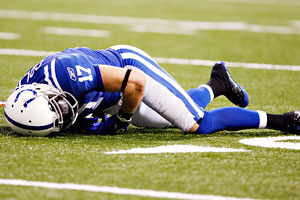 Brian Spurlock/US PresswireAustin Collie suffered yet another concussion in Week 15, putting his season in jeopardy.
•
Indianapolis Colts
wide receiver
Austin Collie
returned to action for the first time in a month and was delivering an excellent performance -- until he exited the game with yet another concussion. The sight of Collie motionless after another blow was disheartening and distressing, but this time he was able to walk off the field under his own power, escorted by the medical staff. The Colts remain cautious regarding Collie's health, as expected, yet they have not ruled out his return to play, either.
Coach Jim Caldwell emphasized to reporters Monday that any determination regarding Collie's return to practice or play is entirely up to the medical staff. After complimenting the skill of the Colts' medical personnel, Caldwell said, "Here's the thing, there is not a coach that makes any decision on anyone who has a concussion or anything of that nature. It's a medical decision."
Colts team president Bill Polian perhaps summed up the situation with Collie best, saying, "At this point we're certainly going to err, and we did last time when he missed a month, but we're certainly going to err so far on the side of caution you won't be able to see the other side. So we'll see how it goes. But it's too early in the week to make any kind of a judgment." Polian added that the team will want to see how Collie responds in the next 48 hours. Although the team will refrain from making a hasty announcement, fantasy owners should prepare for the likelihood that Collie will not be available in Week 16 against the
Oakland Raiders
.
•
Houston Texans
running back and fantasy star
Arian Foster
left this week's game early, as well, but the nature of his injury was unclear. Foster had been listed on last week's injury report with a hip ailment that cropped up during Thursday practice. He was designated probable heading into the game, however, suggesting that the injury was not serious and was no major threat to his status. Immediately after the game, coach Gary Kubiak sounded as if he thought Foster's ankle was the problem. Foster later told the Houston Chronicle that he had a "muscle spasm in [my] glute." In other words, a spasm in his, ahem, rear end. The good news is that the overall picture is good for Foster heading into Week 16, but fantasy owners should monitor how he fares in practice throughout the week.
[+] Enlarge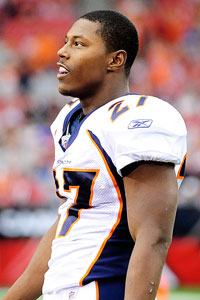 Mark J. Rebilas/US PresswireKnowshon Moreno dealt with hamstring injuries earlier in the season, but it was a rib injury that limited him against the Raiders.
•
Denver Broncos
running back
Knowshon Moreno
has been fairly healthy since overcoming his early-season hamstring injuries. In Sunday's game against the Raiders, however, Moreno took a shot to the ribs in the first quarter, forcing him out of the game. Bruised ribs can be very difficult for a running back to play through, and Moreno's status is uncertain heading into this week's contest against the Texans. Moreno is not the only Bronco with a rib injury; quarterback Kyle Orton's ribs are to blame, in part, for his not starting in Week 15. According to The Denver Post, coach Eric Studesville will start
Tim Tebow
this weekend over Orton. Studesville said the decision came as a result of Orton's injury and Tebow's decent performance Sunday in Oakland.
•
San Diego Chargers
tight end
Antonio Gates
continues to be held out of practice, and we likely will not learn his status until game time approaches. There were rumblings this past week that Gates might not return for the rest of the regular season because of limitations with his still healing foot. Meanwhile, his teammate
Malcom Floyd
, who did not play in Week 15 after a setback with his injured hamstring, could return Sunday when the Chargers travel to Cincinnati. Floyd did not practice Monday, but coach Norv Turner told The San Diego Union-Tribune, "I think we've made progress." The team will not make any projections as far as Floyd's availability until at least Wednesday.
• The Chargers will not have to account for
Cincinnati Bengals
wide receiver
Terrell Owens
this week. Owens, who was already dealing with a knee issue heading into Week 15, aggravated the condition (reportedly a meniscus tear) and is done for the year after being placed on injured reserve.
• The
Detroit Lions
aren't naming a starting quarterback just yet, but it very well could be the return of
Shaun Hill
. Hill has missed time with a broken right index finger but returned to light practice last week.
Drew Stanton
, who had been filling in for Hill, separated his left (non-throwing) shoulder, according to the Detroit Free Press. Impressively, he was able to finish the game after taking a painkilling injection at halftime, but he might be sidelined this week for Hill. The Lions might not announce their decision until Sunday.
• It looks as if the
Pittsburgh Steelers
could have tight end
Heath Miller
back in the lineup Thursday night. According to the Pittsburgh Tribune Review, coach Mike Tomlin said, "We anticipate Heath being fine." Miller has missed the past two games while recovering from a concussion.
• The Fort Worth Star-Telegram reports that
Dallas Cowboys
running back
Marion Barber
and wide receiver
Roy E. Williams
were present for the team's walk-through practice. Barber has missed several weeks with a calf strain, and Williams sat out Week 15 with a groin injury. Meanwhile, quarterback
Tony Romo
finally was placed on injured reserve. Stay tuned.
We will continue to update these injuries and others as the week progresses. Check back for the latest injury updates affecting Week 16 on Thursday and Saturday!
October, 22, 2009
10/22/09
2:10
PM ET
Lots of teams are getting some rest this week, and they have to be looking forward to it. The
Detroit Lions
have ailing quarterbacks and receivers, the
Seattle Seahawks
have hurt offensive and defensive linemen, and the
Tennessee Titans
... well, they just need a break.
This week six teams are on bye -- the Lions, Seahawks, Titans,
Denver Broncos
,
Jacksonville Jaguars
and
Baltimore Ravens
-- so fantasy owners need to hustle to fill those empty roster spots.
Here are some status updates as we look ahead to Week 7.
Quarterbacks
Trent Edwards, Buffalo Bills:
I know that not many fantasy owners were looking at Edwards as a bye-week replacement anyway, given the season he's had so far. But just in case you were contemplating it, don't. Edwards suffered a concussion in Week 6 and was not at practice Wednesday. This is his second concussion in just more than a year and he will be monitored for his recovery in terms of both symptoms and cognition (brain processing). It sounds as if the Bills are preparing
Ryan Fitzpatrick
for a likely Sunday start against the
Carolina Panthers
.
Running backs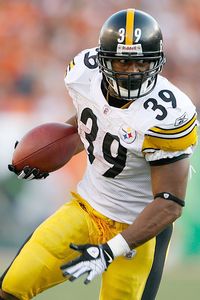 Andy Lyons/Getty ImagesWillie Parker's toe is getting better, but now he's lost his starting job.
Rashard Mendenhall and Willie Parker, Pittsburgh Steelers:
This week, coach Mike Tomlin indicated that Mendenhall has passed Parker on the running back depth chart. Parker has been dealing with a case of turf toe, and although he sported some supportive new shoes when he played last week, he has not done enough to maintain the starting position. As far as his toe goes, Parker did not appear to emerge from Sunday's contest any worse for wear, and he is back in practice to start the week. Meanwhile, newly anointed starter Mendenhall sustained a knee bruise in Sunday's game that relegated him to limited work Wednesday. The good news for Mendenhall fantasy owners is that this is not expected to keep him out of this week's matchup.
Marion Barber and Felix Jones, Dallas Cowboys:
Barber has no doubt benefited from the bye week to further the healing of his strained quadriceps muscle. He did not, however, benefit from the hit he took against the
Kansas City Chiefs
in Week 6. Barber thought he had just jammed his left thumb, but upon further review, it turns out he suffered a fracture. He has been outfitted with a cast, according to the Cowboys' official Web site. However, the injury has not affected his ability to practice, nor will it affect his availability for Sunday. Barber carries the ball predominantly with his right hand, so it should not affect his ball control on the run. It may be more challenging to catch a pass out of the backfield, however, so that option may be diminished.
Jones has been on the mend from a PCL (posterior cruciate ligament) sprain and until this week has not practiced. He was back in limited work Monday and in full practice Wednesday, wearing a knee brace for support. According to the Cowboys' official Web site, Jones credited the team's athletic training staff with helping him get back to practice and reported only soreness after his return. PCL injuries can often be challenging to recover from, but the difficulty varies depending on the degree of damage to the ligament. The athlete is often left with some residual instability, which often shows up for a running back during sharp deceleration or change in direction. The brace provides additional support behind the knee to help control motion of the lower leg (tibia) relative to the thigh (femur). Jones has indicated that he likely will wear the brace if he plays Sunday (which he currently expects to do). It will be important to see how Jones' knee holds up after a full week of practice to gauge just how much action he's likely to see. After all, team owner Jerry Jones already announced on his weekly radio show that
Tashard Choice
is "going to get a big part of the load."
The good news for Dallas is bad news for fantasy owners. They have three backs who are likely to see playing time, but the division of labor is unclear at this point. At this point it seems to be shaping up as predominantly Barber and Choice with a sprinkling of Jones. Stay tuned for Saturday's update.
Wide receivers
Roy E. Williams, Dallas Cowboys:
Williams has been back in practice this week after missing Week 5 (and resting during the bye week) because of bruised ribs. Williams also reportedly suffered cartilage damage in the area, which can be slow to heal. The good news is that it appears that Williams is responding well to practice and plans to play Sunday. The unknown factor is how he will feel absorbing contact, especially if he takes a shot to the previously injured area.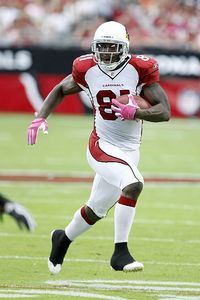 Rick Scuteri/US PresswireAnquan Boldin has already called himself a gametime decision for Sunday, not a great sign.
Anquan Boldin, Arizona Cardinals:
Boldin is already referring to himself as a game-time decision, which is not great news for fantasy owners. Boldin, who suffered an ankle sprain in Week 6, did not practice Wednesday and told the Arizona Republic that his status is "up in the air." Boldin has been limited by soft-tissue injuries in the past, and teammate
Steve Breaston
has shown that he is capable of stepping up. Arizona does not play until Sunday night, so barring any major turnaround by Friday, fantasy owners should make plans to have a substitute for Boldin.
Percy Harvin, Minnesota Vikings:
Harvin was limited in practice Wednesday as a result of his sore shoulder, which he aggravated during Sunday's game. Last week Harvin was limited throughout the week, played, but then suffered a setback which clearly caused him a great deal of pain. His availability for this week is unclear.
Jerricho Cotchery, New York Jets:
Cotchery's strained hamstring kept him out of Week 6 action and may keep him sidelined again. On Wednesday, Cotchery did not participate in practice (only individual drills) and was non-committal about his potential availability for Sunday. If he is not running full speed by the end of the week, fantasy owners should be concerned.
Donnie Avery, St. Louis Rams:
Avery has a bruised hip that kept him out of Wednesday practice. According to the Belleville News-Democrat, the hip tightened up on him, so the team limited him to conditioning work on the side. The hope is that he will be able to return to practice late in the week and be available for Sunday. At this point, his status is day-to-day.
Be sure to check back on Saturday for post-Friday NFL injury-report updates on all your fantasy players heading into the weekend.
See you at the injury chats (Tuesday 11 a.m.-noon, Friday 11 a.m.-noon and Sunday pregame 10:00-10:30 a.m.). And check out "Fantasy Football Now" on Sundays at ESPN.com from 11:30 a.m. EST to kickoff for last-minute inactives, rankings and more!
October, 20, 2009
10/20/09
2:27
PM ET
This past weekend was tough for linemen. Several teams suffered big losses up front on defense, perhaps most notably those in Cincinnati and New York. The
Cincinnati Bengals
lost defensive end
Antwan Odom
to a ruptured right Achilles tendon. Odom had had some problems with the Achilles during the preseason, and it appears those symptoms were a precursor to the tendon's ultimate failure. He had surgery Monday to repair the Achilles and faces a long rehabilitation process but should be ready for next season. The
New York Jets
' vaunted defense may have gone down several notches when its star defensive tackle,
Kris Jenkins
, went down with a left ACL tear. Jenkins also faces surgery and a lengthy rehab, but he, too, should be ready for next season. Jenkins has been through this process before with his right knee, so he knows exactly what to expect.
But what are fantasy owners to expect from their injured players? Here's what we're looking at so far after Week 6: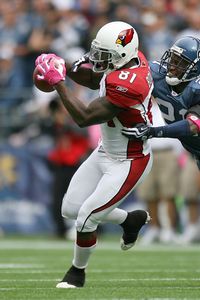 Otto Greule Jr/Getty ImagesAnquan Boldin was held to just 54 yards receiving on Sunday, partly due to his ankle injury.
Anquan Boldin, WR, Arizona Cardinals:
Boldin suffered a right ankle sprain Sunday that forced him out of the game early. The Cardinals' official Web site reports that Boldin left the game early only to help his chances of being available for Week 7, not because he couldn't continue, according to coach Ken Whisenhunt.
That's an interesting slant, especially when it's unclear whether Boldin will indeed be ready to play Sunday. In any case, Boldin had X-rays taken of the ankle, which showed no fracture, so it will come down to just how well he can perform throughout the week. Boldin certainly has dealt with his share of soft tissue injuries. At least so far, this latest ailment does not appear particularly serious.
Percy Harvin, WR, Minnesota Vikings:
Harvin already was dealing with a sore shoulder heading into Week 6, and let's just say it's not feeling any better. Harvin, who suffered a shoulder injury in Week 5, did not practice Wednesday but was able to increase his activity Thursday and Friday. His questionable designation heading into Sunday's contest reflected the fact that he was not yet fully recovered.
The Minneapolis Star Tribune reports Harvin then suffered a setback during a fourth-quarter kickoff return on Sunday. Although Vikings coach Brad Childress later told reporters that X-rays revealed "nothing extra in there," the sight of Harvin sporting a sling on his left arm after the game was not a positive. The Vikings have not offered any specifics as to the nature of Harvin's injury, but there is some early concern about his potential availability for this week's matchup against Pittsburgh.
Donnie Avery, WR, St. Louis Rams:
Injuries have not been kind to Avery. He suffered a stress fracture in his foot in August, causing him to miss a couple of weeks of preseason action. Avery was able to recover more quickly than expected and managed to play in the Rams' season opener. A series of minor ailments (bruised ribs, hamstring strain) nagged at him, although nothing kept him off the field on Sundays. In Week 5, Avery was at his best for the season and looked to have put the injuries behind him. Then came Week 6.
Avery left Sunday's game with a left hip injury and had to be concerned based on past experience. Last season, Avery had a stress fracture in the same hip that forced him to miss most of training camp. The good news is that an MRI on Avery's hip reportedly turned out normal, and he is dealing with a bruise. According to the St. Louis Post-Dispatch, Rams coach Steve Spagnuolo is calling Avery's status day-to-day and adds that Avery is eager to get back out on the practice field. We will see what he's able to do as the week goes on.
Sammy Morris, RB, New England Patriots:
There has not been much in the way of specifics out of New England about Morris' health. We do know he left Sunday's snowy contest in the first quarter with a leg injury. The Boston Globe reports that Patriots coach Bill Belichick says the team will do "like we normally do, and assess his availability for practice and ultimately at the end of the week for the following game." That translates into a daily practice situation, meaning fantasy owners likely will not have anything definitive until late in the week.
Trent Edwards, QB, Buffalo Bills:
Edwards suffered his second concussion in two years on Sunday and was forced out of the game against the Jets in the second quarter. According to the Bills' official Web site, coach Dick Jauron did not offer a prognosis on Edwards, but based on what we know about concussions, that is a virtually impossible task. Concussion recovery is assessed on a daily basis, and until Edwards improves enough to return to physical activity, the team cannot even begin to consider his availability for Week 7. Fantasy owners should make alternate plans.
Other quick hits:
Minnesota Vikings running back
Adrian Peterson
feels good after tweaking his ankle. Coach Brad Childress told the Minneapolis Star Tribune that Peterson is dealing with "overall body soreness," so it doesn't appear that anyone in the Vikings' organization is terribly concerned.
New York Giants
wide receiver
Mario Manningham
hurt his back during Sunday's game, and that led to
Hakeem Nicks
seeing more playing time. Manningham told the Newark Star-Ledger that the injury is not serious.
Tennessee Titans
running back
LenDale White
was carted off with a knee injury but was seen leaving the facility without crutches, according to the Nashville Tennessean.
Dallas Cowboys
running back
Felix Jones
and wide receiver
Roy E. Williams
were back in practice Monday after sitting out during the team's bye week. Both expect to play this week, but it is worth keeping an eye on them in practice to see just how much they can do.
See you at the injury chats (Tuesday 11 a.m.-noon, Friday 11 a.m.-noon and Sunday pregame 10-10:30 a.m.), and we'll have the latest injury updates affecting Week 7 in the Saturday morning blog.
October, 8, 2009
10/08/09
11:09
AM ET
It's time for fantasy owners to make midweek moves to boost their fantasy rosters. Injury concerns naturally factor into those decisions as we try to gauge who is going to miss time and just how long that absence will be. This week there are four teams on bye:
Chicago Bears
,
Green Bay Packers
,
New Orleans Saints
and
San Diego Chargers
, so be sure to secure your replacements. Here are some status updates as we look ahead to Week 5.
Quarterbacks
Eli Manning, New York Giants:
On Tuesday, I detailed plantar fasciitis, the
condition afflicting Manning
. On Wednesday, Manning sat out practice and coach Tom Coughlin indicated Manning would be considered day-to-day. For his part, Manning appears intent on playing and Coughlin has said that his star quarterback could play even if he's unable to practice during the week. The bottom line at this point is that this is shaping up to be a potential game-time decision, one which will depend on whether Manning can maintain his normal throwing mechanics despite the pain.
Steve Dykes/US PresswireMatt Hasselbeck wants to play this week, but will injuries elsewhere hurt his chances to get a start?
Matt Hasselbeck, Seattle Seahawks:
Hasselbeck sat out Weeks 3 and 4 while recovering from a broken rib and was still having pain with deep breathing last week. Coach Jim Mora told reporters his quarterback is "without question doing everything possible to get out on the football field." Offensive coordinator Greg Knapp remarked that Hasselbeck's throwing motion looked fine but that he was not quite in football shape. However, he shared practice time with
Seneca Wallace
on Wednesday, according to The Seattle Times. Hasselbeck indicated that he wanted to come back, but would go with what was in the best interest of the team. A main concern for the Seahawks will be providing him enough protection up front should he be able to play Sunday. Despite the team's recent struggles, the goal is clearly to avoid any setbacks and to have him available for the long haul. On the other hand, the Seahawks have been plagued with offensive line injuries, which may also factor into the decision as to whether he gets the start in Week 5.
Donovan McNabb, Philadelphia Eagles:
McNabb will start Sunday. Coach Andy Reid said it himself Wednesday and made it clear that McNabb is resuming control at the helm in Week 5. McNabb is reportedly feeling much better, but knows he is not yet 100 percent recovered. He acknowledged on the Eagles' official Web site that things like laughing and coughing still cause discomfort, but he does not expect to be restricted at all playing football. McNabb will no doubt be wearing some extra protection over his ribs this weekend, but now that he's back in practice, fantasy owners can expect to have him back in their lineups as well.
Matthew Stafford, Detroit Lions:
Stafford reportedly suffered a patellar subluxation in Week 4 (although the Lions are staying mum on the topic), and on Tuesday I
outlined the nature of such an injury
. He did not practice Wednesday, which is not especially surprising given the nature of the injury. Although coach Jim Schwartz is not speculating as to whether Stafford is going to be available for Sunday's contest against the
Pittsburgh Steelers
, if the rookie misses another day, it would be hard to imagine him playing. From the physical perspective, Stafford would need to have enough resolution of pain and swelling to allow his quadriceps muscle to function normally. He needs to be able to play the position without apprehension that his patella (kneecap) will go out on him again, so quadriceps strength plays a large role. Although Stafford could (and most likely will) eventually play with some sort of support around the kneecap, it seems unlikely that he would be turned loose against the Steelers' defense if he is not fully mobile. If Stafford is on your fantasy team, it is probably best to secure another option at this point.
Marc Bulger, St. Louis Rams:
Kyle Boller
filled in for Bulger last week as Bulger nursed a bruised throwing shoulder. Bulger did perform some throwing in pregame warm-ups, however, and continued with light throwing Monday. On Wednesday, Bulger continued to progress with his throws, but ESPN's NFC West blogger
Mike Sando reports
that it is almost certain the Rams will hold Bulger out another week. With his shoulder still on the mend, some issues with the offensive line and a tough
Minnesota Vikings
pass rush, the decision might be to simply allow him another week of healing and avoiding hits.
Running Backs
Felix Jones and Marion Barber, Dallas Cowboys:
Barber was a full participant in Wednesday's practice and Felix Jones was absent. While nothing definitive has been said regarding Jones' status, at the time of his injury (PCL sprain), there were rumblings that he would miss a couple of weeks and fantasy owners should plan on his not being available. Meanwhile, Barber, whose quad tightened up in the second half of last week's game, should fare better this week. If he continues to practice fully throughout the week, he can be expected to start Sunday against the
Kansas City Chiefs
. By the end of the week, we should have a better idea as to how much work we can expect from Barber in the game.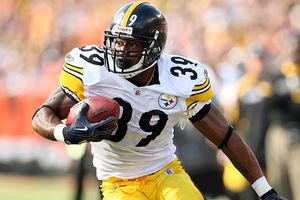 Rich Gabrielson/Icon SMIWillie Parker hoped he'd play last week but didn't. Now, he's far less optimistic that he'll play this week.
Willie Parker, Pittsburgh Steelers:
Parker sat out Week 4 with a case of turf toe sustained during the Week 3 contest in Cincinnati. Although Parker appeared to be holding out hope during the week that he would play, as the Sunday deadline approached and he was still unable to run, it became apparent that he would need to rest the painful toe. As is often the case with turf toe, this is not a problem with a quick fix. Parker seems to be resigned to that and is not nearly as optimistic heading into Week 5. After not practicing Wednesday, Parker told reporters that although he wants to go out and compete, he is not where he needs to be right now to perform. Given
Rashard Mendenhall
's solid performance in Week 4 and knowing the Steelers are headed to the turf of Detroit's Ford Field, it is sounding as if Mendenhall will again take the place of Parker in Week 5.
Brian Westbrook, Philadelphia Eagles:
Westbrook will join his teammate Donovan McNabb back in the lineup in Week 5. Westbrook missed Week 3 as he recovered from a sprain to the right ankle he had surgically addressed in June. It appeared that Westbrook's intended return would follow the bye week, and so far things are going according to plan. Coach Andy Reid has already indicated on the Eagles' official Web site that he expects to rotate Westbrook with
LeSean McCoy
. We have been saying for some time now that this was the likely evolution at the running back position so that the Eagles could make use of Westbrook's talents while not overloading his joints. Barring a setback late in the week, Westbrook should at least be in line for a portion of the action Sunday, but how much time he sees is unknown.
Frank Gore, San Francisco 49ers:
Regular readers won't be surprised to learn that Frank Gore has been ruled out for this Sunday's contest with his ankle injuries, according to Matt Maiocco of the Santa Rosa Press Democrat. Gore was initially projected to miss a few weeks and was not expected to return until after the 49ers' bye week (which is in Week 6) at the earliest.
Correll Buckhalter, Denver Broncos:
Buckhalter suffered a sprained left ankle in Week 4 and it looks as if the door has been opened for rookie
Knowshon Moreno
to get his first career start. Buckhalter missed practice Wednesday and reports suggest that the Broncos may be without his services when they face the
New England Patriots
in Week 5. Moreno appeared to be progressing toward a starting role for the Broncos as his workload has expanded over the first few weeks of the season. Buckhalter's injury may have just moved the timetable along. Moreno's fantasy owners have to be excited about the prospects here.
Clinton Portis, Washington Redskins:
The Washington Times reports that Portis will be ready to face the Panthers in Week 5 despite aggravating an ankle injury. Earlier this year coach Jim Zorn indicated that Portis was dealing with bone spurs in both ankles and had been trying to play through pain. Just last week, Portis remarked how much better his ankles were feeling with his current treatment regimen. Despite that optimism, this situation is likely to be ongoing throughout the season. Nonetheless, Portis was not on Wednesday's injury report, which is a good sign heading into the weekend.
Fred Taylor, New England Patriots:
Taylor did not practice Wednesday and was listed on the practice (injury) report as "ankle." Given the Patriots' notorious secrecy when it comes to injuries, there are no indications as to whether this is a serious injury that could result in missed time or whether they are resting Taylor's ankle in advance of this week's contest. Stay tuned for practice reports as the week progresses.
Wide Receivers
Roy E. Williams, Dallas Cowboys:
Williams says he expects to play in Week 5 despite injured rib cartilage, according to The Dallas Morning News. That said, Williams did not practice Wednesday. His status could evolve heading up to game time, so stay tuned for updates.
Calvin Johnson, Detroit Lions:
Johnson rested his bruised thigh Wednesday and did not practice. Although the Lions have not indicated whether or not they expect Johnson to be available, his status will remain day to day until proven otherwise.
Wes Welker, New England Patriots:
Welker was finally able to get back on the field in Week 4 after being limited with a mysterious knee ailment that had kept him out since Week 2. Welker had a modest fantasy performance Sunday but showed that he was able to run at full speed and make some plays. Welker was held to a limited practice Wednesday, suggesting that the Patriots are still being cautious when it comes to his knee. However, if he continues to practice daily it's likely he will see the field again this week.
Antonio Bryant, Tampa Bay Buccaneers:
Bryant was able to get in the end zone Sunday and appeared to be more Antonio Bryant-like in Week 4. He has been working his way back from post-surgical knee soreness that appeared after his Week 1 debut. Although Bryant was limited in practice Wednesday, this may well be a precautionary measure to ensure his availability for Sunday.
Be sure to check back on Saturday for post-Friday NFL injury report updates on all your fantasy players heading into the weekend.
See you at the injury chats (Tuesday 11:00 a.m.-noon, Friday 11 a.m.-noon and Sunday pregame 10:00-10:30 a.m.). And check out Fantasy Football Now on Sundays at ESPN.com from 11:30 a.m. to kickoff for last-minute inactives, rankings and more!
October, 6, 2009
10/06/09
3:20
PM ET
Week 4 gave us our first bye week, allowing some injured players to get additional rest. Looking to return this week are
Philadelphia Eagles
quarterback
Donovan McNabb
(rib) and running back
Brian Westbrook
(ankle).
Arizona Cardinals
quarterback
Kurt Warner
has been nursing a sore shoulder since suffering a stinger early in the season. He was practicing with the team during the bye week, but the additional rest (read: lack of hits from the opponent) also should have helped his shoulder.
Atlanta Falcons
running back
Jerious Norwood
, recovering from his second concussion in the past few months (the first concussion actually happened during the preseason), was medically cleared and returned to practice last Wednesday. As for the
Carolina Panthers
, well, the whole team had a chance to put the start of the season behind it and look ahead. Running back
Jonathan Stewart
was able to rest his troublesome Achilles and there is hope that the Panthers' running game improves overall as the season goes forward.
Naturally, there are new names to add to the list from the teams who did suit up in Week 4. Here's what we have so far ...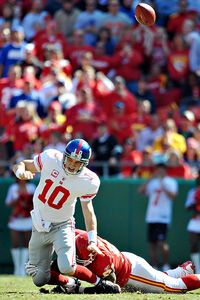 John Rieger/US PresswireEli Manning got sacked here, but wasn't actually touched when he suffered his heel injury on Sunday.
Eli Manning, QB, New York Giants:
It was a scary moment when Manning went to his knees shortly after releasing a pass in the direction of wide receiver
Steve Smith
. Upon closer look at the video replay, Manning was coming off a play fake to the left, then spun back around and set himself to throw, placing his right leg behind him in a lunge position. In that pre-weight transfer position, Manning's right leg was extended with the heel off the ground and the ball of the foot firmly planted, a position which places a strong stretch on the arch. Manning clearly felt a jolt of pain at that instant as he instinctively pulled his right foot up off the ground and hopped forward. He managed to release the ball, albeit a bit awkwardly (and Manning admits the ball was slightly underthrown to Smith as a result), then almost immediately went to his knees. Manning came up limping and exited the game shortly afterward.
The Giants are indicating that Manning has a plantar fascia injury and as is often the case, he has soreness and swelling in the heel and arch area of his right foot. His official status is day-to-day. In an interview with ESPN 1050 in New York, Manning said that Giants team physician Dr. Russell Warren has told him, "There is no time frame; it's just how fast you can heal and see how you feel these next couple of days." According to The Newark Star-Ledger, Manning had been suffering from plantar fasciitis (inflammation of the plantar fascia) but then suffered a subsequent injury to the same region on Sunday.
The plantar fascia is a thick fibrous tissue on the undersurface of the foot that provides stability through the foot during propulsion, or when the body transfers weight forward. It runs from the heel to the base of the toes and is placed under tension when the toes are extended (as happens during walking when the heel lifts off the ground). This tension in the plantar fascia essentially directs force through the arch that then stabilizes the midfoot. This stability is critical in order for the foot to function effectively as a rigid lever for pushing off. When the plantar fascia is injured or inflamed, tension on it can result in significant heel pain, often described by athletes as stepping on broken glass. In more severe cases, the pain can spread into the arch and progressively toward the base of the toes. The pain is usually the worst in the morning when the individual takes the first few steps of the day, or during long standing. Naturally as the symptoms worsen, they tend to be brought on more easily and linger longer.
There is no magic cure for plantar fasciitis; typically resting, icing and stretching make up a significant portion of the rehab program. Occasionally taping or shoe inserts will be used to decrease the stress through the arch. In Manning's case, this is not likely to be a condition that disappears anytime soon and may, in fact, linger to some degree until the season is over and he can truly rest for an extended period. In the meantime, as is the case with so many injuries, it becomes a matter of managing symptoms in an effort to allow him to function effectively. It would not be surprising to see his practice time get cut back in an effort to allow him to play on Sundays. After this latest setback, it is unclear whether Manning will be able to go this week, but he has certainly demonstrated a willingness to play through pain before. The question will be whether the pain is so severe that it impairs his ability to plant and throw effectively. Fantasy owners should know that this may well come down to a game-time decision.
Matthew Stafford, QB, Detroit Lions:
Multiple reports indicate that Stafford suffered a patellar subluxation during Sunday's game but the team is not confirming this diagnosis. During a patellar subluxation, the patella (kneecap) slips briefly out of the groove in the femur (thighbone) where it normally rests, but pops quickly back into place. The primary factor in determining how quickly an athlete can return from such an episode is how much tissue damage is associated with the injury.
When the kneecap slips, there is often associated tearing of the soft tissue in the area, which results in some potential bleeding, swelling and pain. The less damage to the soft tissue, the more quickly the athlete can recover and return to play. As the kneecap gets knocked out of the groove, there is also the potential for cartilage damage on the undersurface of the patella as it bumps against the edge of the groove on the femur. Those cases are more complicated and if problems persist, may require surgery to address the cartilage damage. When an athlete has a history of multiple subluxation episodes, it may be reflective of general instability around the kneecap, which can result from a variety of factors. Repeat episodes are problematic in that they may signal the potential for increased frequency of subluxations, but they may also be associated with less damage per episode to the surrounding tissue.
As of now, the Detroit Free Press is reporting that the Lions are indicating that Stafford is day-to-day and he has not been ruled out for Sunday's game. His ability to function, particularly his mobility out of the pocket, will be assessed as the week goes on to help determine his status.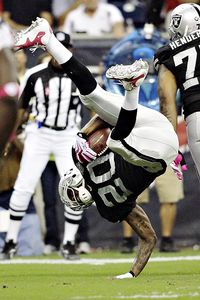 Brett Davis/US PresswireFor the second straight season, Darren McFadden is going to miss a few games with an injury.
Darren McFadden, RB, Oakland Raiders:
McFadden suffered a torn meniscus in his right knee and is expected to undergo surgery Tuesday. The Raiders said he'll return in two to four weeks. It's worth noting that rarely does an athlete return following this surgery in two weeks. The timetable to reduce post-surgical pain and swelling as well as regain adequate strength to play typically falls closer to four weeks, presuming no setbacks along the way. Running backs put exceptional stress on their knees with their frequent deceleration and directional moves so fantasy owners should plan on four weeks, maybe even a little longer, for McFadden to return to form.
Roy E. Williams, WR, Dallas Cowboys:
Williams took a big hit to the ribs on Sunday and apparently it left him with some cartilage damage. The Cowboys indicate that Williams bruised three ribs and injured cartilage in the area. Cartilage injuries in the rib area can be as painful as broken ribs and sometimes take longer to heal. The Fort Worth Star-Telegram is reporting that Williams' status is currently listed as questionable. I would not be surprised if Williams is unable to go this week.
Other quick hits:
• Also in Detroit, wide receiver
Calvin Johnson
(quadriceps strain) and running back
Kevin Smith
(shoulder) are day-to-day.
•
Denver Broncos
running back
Correll Buckhalter
injured his ankle and was on crutches after Sunday's game. His status for this week is not yet known, reports The Denver Post.
•
Seattle Seahawks
quarterback
Matt Hasselbeck
hopes to return to practice Wednesday after missing the past two weeks with a broken rib.
• Dallas Cowboys running back
Marion Barber
was back in action this week, but played sparingly in the second half after his strained quad tightened up on him. He is trying to balance playing and healing. Seven more days without a setback should have him in better shape leading up to Week 5.
See you at the injury chats (Tuesday 11:00 a.m.-noon, Friday 11 a.m.-noon and Sunday pregame 10-10:30 a.m.) and we'll have the latest injury updates affecting Week 5 in the Saturday morning blog!