Stephania Bell:

Roy Williams
September, 15, 2011
9/15/11
5:35
PM ET
Quarterbacks
Sam Bradford, St. Louis Rams:
On Tuesday, we outlined
Bradford's injury concerns
following the hit to his index finger in Week 1. On Wednesday, the Rams got some good news (one might say deservedly so, after all of the blows they were dealt on Sunday). Bradford returned to practice sooner than expected and looked better than expected. He was making numerous throws in practice Wednesday, prompting wide receiver
Mike Sims-Walker
to say, "I would've never thought he had a hand problem today, if I'd never seen the game Sunday," according to the St. Louis Post-Dispatch. The Post-Dispatch notes that Bradford has been wearing a glove connected to an electrical stimulation unit to help with swelling reduction. Apparently, something has been helping. Bradford said his hand felt, "10 times better than it did on Sunday" and plans to play Monday night. Naturally one of the keys, beyond the finger feeling better, is how effectively he can deliver the ball. Based on what his teammates are saying, that question appears to have been answered. Barring a setback, Bradford's quick progress suggests he will be under center Monday night.
Running backs
[+] Enlarge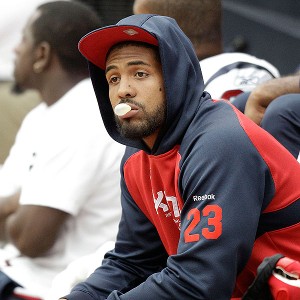 AP Photo/Eric GayArian Foster hopes not to be sitting on the bench again this week after missing the season opener with a hamstring injury.
Arian Foster and Derrick Ward, Houston Texans:
After sitting out Week 1, Foster returned to practice Wednesday and, according to coach Gary Kubiak, took the normal reps "for a starter" in the workout. Officially listed as a limited participant on the NFL injury report, Foster said that while he felt "pretty fluid" during the workout, he was still taking it day-by-day. The Texans were eager to see how Foster's hamstring responded to getting back into practice mode. It must have been no worse for the wear, considering he did it all again Thursday. HoustonTexans.com writer Nick Scurfield posted via Twitter that Kubiak described Foster as "much better" today and indicates if the trend continues, Foster will play Sunday. Meanwhile, Ward, who started in place of Foster in Week 1 but left early with an ankle injury, did not practice Wednesday or Thursday. He appears unlikely to practice Friday either but an official decision as to his status may not come until the weekend.
Steven Jackson, St. Louis Rams:
Jackson, who exited Week 1 early with a right quadriceps strain, did not practice Wednesday but instead spent time receiving treatment on his thigh. Although he has not yet been ruled out for Monday night's contest, he was deemed unlikely to play early in the week by coach Steve Spagnuolo. Spagnuolo told the St. Louis Post-Dispatch that he trusts Jackson with regard to his injuries noting, "He knows better than anybody how his body reacts." Given that Jackson has a bit of a history with soft tissue injuries but also works to keep himself at peak fitness, that trust in knowing when he can or can't push it is deserved. Jackson quickly removed himself from the game last week suggesting he was concerned about doing further damage and a Week 2 appearance seems unlikely. He has not practiced this week and it appears he won't.
Wide receivers
Hakeem Nicks, New York Giants:
On Tuesday, we noted that Nicks was
dealing with postgame swelling in his knee
, but an MRI showed no major trauma. Nicks suffered a bone bruise but pointed out that he was injured in the first quarter yet remained in the game, which confirmed to him the injury was not particularly serious. Often, though, the swelling will come later, as it did for Nicks, leading to the follow-up testing. On Wednesday, Nicks did not practice, as expected, but told reporters that the swelling was beginning to subside and he thought he would be able to play Monday night. On Thursday, Nicks, who remained out of practice, told ESPN New York that the decision to play Monday will ultimately be his call. He indicated the swelling had gone down and it was just a matter of pain, which he described as "not too bad." He plans to go through some individual drills Friday and will evaluate how his knee responds. Nicks has proven his toughness before, so discomfort is not likely to keep him down. If the knee swells again, however, it makes it difficult to contract the muscles around the joint, making him not only potentially ineffective as a receiver but also at risk for further injury. If he does not play,
Domenik Hixon
(returning from 2010 ACL surgery) will likely start opposite
Mario Manningham
, so fantasy owners may want to get him as Monday night insurance.
More notes
• The
Denver Broncos
have two major offensive fantasy players on the injury radar. Both running back
Knowshon Moreno
(hamstring) and wide receiver
Brandon Lloyd
(groin) suffered injuries Monday night, both have undergone MRIs (the results of which have not been made public) and neither has practiced since. It is not looking optimistic for either player at this point, especially coming off a shortened week.
[+] Enlarge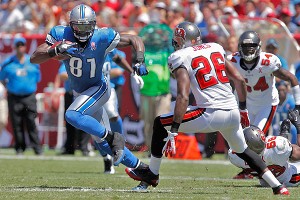 AP Photo/Margaret BowlesCalvin Johnson has a very good matchup this week, as long as he's healthy enough to play.
•
Detroit Lions
wide receiver
Calvin Johnson
, who sprained his left ankle in Week 1, told the Detroit Free Press on Wednesday, "Get the swelling out and I'll be ready." His non-participation in practice is likely aimed at doing exactly that, with the goal of having him available Sunday. Johnson has often been restricted or even held out of practice during past seasons in an effort to rest him for game days, so this is not unusual. Every time Johnson gets up in the air to make big plays, fantasy owners are simultaneously thrilled by the awesome catches and dreading the hard landings for fear of an injury. Somehow he manages to play through the majority of them and it appears he will again this week, barring an unexpected development.
• We can always count on
Dallas Cowboys
owner Jerry Jones to update us on the status of his top players. On Wednesday, Jones told the Dallas Morning News that he expects wide receiver
Dez Bryant
(thigh contusion) to play Sunday, suggesting the rest will help him to get ready. Anyone watching the Sunday night game in Week 1 could see that Bryant was hampered. Given his extensive injury history, it would be helpful to see him doing something in practice before the Cowboys face the
San Francisco 49ers
on Sunday. Friday will be important to gauge just how recovered Bryant appears.
• The
New Orleans Saints
know they will be without wide receiver
Marques Colston
for at least a month following surgery to repair a broken clavicle. But what about teammate
Lance Moore
, who suffered a groin injury in the preseason that sidelined him for the season opener against the
Green Bay Packers
? The extra time may have been just what the doctor ordered as Moore returned to limited workouts Wednesday. The last time Moore attempted practice he was out for several days -- and the first game -- as a result. This time he followed up Wednesday's practice with another (limited) practice Thursday. Not yet a lock to play Sunday, but certainly encouraging.
•
Cincinnati Bengals
quarterback
Andy Dalton
was able to make throws with his bruised right forearm Thursday and coach Marvin Lewis tells the Cincinnati Enquirer he expects Dalton to start Sunday. Dalton was having trouble gripping the ball and was using his left hand in Wednesday's practice. According to the Enquirer, Dalton handled short and medium throws Thursday and will test longer throws Friday. If the swelling has diminished to the point where he can grip and throw effectively, there is no reason for Dalton to be held out of Sunday's contest.
[+] Enlarge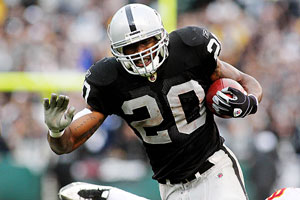 Cary Edmondson/US PresswireDarren McFadden was dealing with a shoulder injury and missed Wednesday's practice but still seems on track to start Sunday.
•
Oakland Raiders
running back
Darren McFadden
was kept to a limited practice Wednesday because of a sore shoulder, much to the alarm of fantasy owners everywhere. McFadden certainly absorbed his share of contact Monday night and, given his injury history, there was legitimate concern. According to the San Francisco Chronicle, McFadden was back Thursday, however, and is a "full go" for Sunday.
•
Chicago Bears
running back
Marion Barber
(calf) returned to limited practice Wednesday but then didn't practice Thursday. Not a good sign. Wide receiver
Roy Williams
(groin) hasn't practiced at all. More ominous sign. Looks like both could be on the sidelines in Week 2.
• Bad news:
Seattle Seahawks
wide receiver
Sidney Rice
, despite returning to a limited practice Wednesday, is being called a "long shot" by coach Pete Carroll to play this week. During an appearance on ESPN 710 in Seattle, Carroll spoke about Rice's talent, which they have yet to really see unfold in a game because of his absence. Rice is dealing with a shoulder injury he sustained during training camp.
• Good news:
San Diego Chargers
running back
Mike Tolbert
is not on the injury report.
See you at the
injury chat Friday at 11 a.m.
and we'll have the latest injury updates affecting Week 2 in the Saturday morning blog!
December, 7, 2007
12/07/07
6:59
PM ET
Thursday night football has not been kind to the starting quarterback. In Week 13, Packers quarterback
Brett Favre
was forced out of the game with a bruised forearm that affected his ulnar nerve. Thursday,
Rex Grossman
of the
Chicago Bears
and
Jason Campbell
of the
Washington Redskins
both went down with injury, both as a result of taking a hit to their plant leg as they delivered the ball. For more on these injuries as well as a look ahead to who will be affected by injuries, please, read on.
Out
Matt Schaub, QB, Texans:
Still recovering from a dislocated left shoulder, Schaub does not have a timetable for his return.
D.J. Hackett, WR, Seahawks:
Hackett is out again due to re-injury of his ankle, but the team expects he could return within a week or two. We'll update his status later.
Roy Williams, WR, Lions:
Williams injured his knee and will not return for your fantasy team this season.
Larry Johnson, RB, Chiefs:
Still out, yet the team still expresses hope. There is no information to suggest one way or the other whether Johnson will return this season, but as a fantasy owner, you just can't count on it.
Anthony Thomas, RB, Bills:
A torn popliteus muscle (small muscle behind the knee) will keep Thomas out the remainder of the season. Marshawn Lynch and Fred Jackson will take it from here.
Ahman Green, RB, Texans:
The Texans announced today that they are placing Green on injured reserve because of lingering problems with his knee. They tried to hold out hope, but to no avail. Green's football future may be in question.
Here's what we know so far about other players with injury concerns heading into Sunday.
Running Backs
Marshawn Lynch, Bills:
Lynch practiced all week on a limited basis, progressively improving as he returns from a high ankle sprain. The Bills will undoubtedly ease him back into the game, meaning he is likely to lose some action to
Fred Jackson
, but is expected to play. There is always a bit of a risk when an athlete returns from a high ankle sprain, but this is a good matchup for Lynch against the Dolphins.
LenDale White, Titans:
Despite some residual swelling and stiffness in his middle finger, White (probable) is expected to play Sunday. He should be able to go the distance, but may struggle some with ballhandling.
Brandon Jacobs, Giants:
Jacobs is expected to play, according to a report in Newsday, and there is no
Derrick Ward
to share carries with anymore. There is
Reuben Droughns
, however, and he will likely absorb some of Jacobs' work. Jacobs is returning from a hamstring strain, always a bit risky for the first game back, but he has been working out well and sounds ready to go.
Reggie Bush, Saints:
ESPN's Chris Mortensen reported Friday that Bush has a torn posterior cruciate ligament (PCL), which was confirmed by the Saints, although they have not indicated the degree of injury. Bush is getting a second opinion from Dr. James Andrews, but it appears doubtful that he will play Monday. Coach Sean Payton told the New Orleans Times-Picayune that he is still hopeful that Bush can play Monday given that he practiced some this week, but this really does not appear likely. All you have to do is look at how long it took
Travis Henry
and
Andre Johnson
to return from a PCL injury to appreciate the time frame Bush is dealing with, if it is a nonsurgical injury. The injury apparently occurred Nov. 4, and this may go a long way toward explaining why Bush really hasn't seemed like himself over the past month. There is some question as to whether Bush may now miss the remainder of the season. Stay tuned for updates regarding his status. In the meantime, find a replacement for your fantasy roster.
Quarterbacks
Jason Campbell, Redskins:
Campbell took a hit on his plant leg which forced it inward as he fell to the ground. This is often a mechanism for a medial collateral ligament (MCL) injury, but it appeared that Campbell took the hit just slightly lower on his leg, forcing it to rotate inward as his leg collapsed, more of a mechanism for a patellar (kneecap) dislocation. If you saw the game, perhaps you saw Campbell grab the outside of his leg with his hand. Had he torn his MCL, you would expect him to grab the inner knee, where it would be most painful. Campbell grabbed his outer knee because he was trying to put a hand around his kneecap, which he had just dislocated. The response of the medical staff also suggested a patellar dislocation. Campbell was immediately placed in a knee immobilizer, the best position to allow the kneecap to resume its proper alignment, and the least stressful for it. The bottom line for Campbell is that his season has essentially ended, as the tissue that was stretched on the outside of the knee during the dislocation has to heal. After immobilizing the knee for a few weeks, which allows the tissue to heal while preventing a repeat episode, Campbell will have to gradually regain his range of motion and strength. Coach Joe Gibbs said in his postgame news conference that it was fortunate that no ligaments were involved, which is true because the injury he did suffer is nonsurgical. Consequently his overall healing time should be reduced. The Redskins could conceivably have Campbell available the final week of the season or if they venture into the playoffs, but from a fantasy perspective, he is done.
Rex Grossman, Bears:
Poor Rex. He didn't make it through even a full quarter before the injury bug bit him. Grossman also suffered a blow to the outside of his leg that forced his knee inward, the mechanism described above that typically affects the MCL. And so it is. The Chicago Sun-Times is reporting that Grossman sprained his MCL and given the recovery time for this type of injury, it is fair to assume that we will not see Grossman again this season.
Brett Favre, Packers:
He's had a week now to let the forearm rest and has resumed practice. As of the end of the week, Favre was handling the majority of the reps with the first team and throwing quite a bit without limitation according to the Packers' official Web site. You can expect to see him Sunday and expect the streak to stay alive.
Brodie Croyle, Chiefs:
Croyle missed Week 13 with a deep back bruise, but the time off seems to have helped. Croyle was able to practice fully all week, is listed as probable and is expected to start Sunday. This news is as good for
Dwayne Bowe
fantasy owners as it is for Croyle fans.
Jeff Garcia, Buccaneers:
Garcia's status will be a game-time decision as coach Jon Gruden wants to see how Garcia's back feels once the team gets to Houston, according to a report in the Tampa Tribune. Garcia, who sat out Week 13 with a back injury, was able to gradually increase his activity tolerance over the past two weeks, but is not yet 100 percent. Garcia has looked good in practice, although he was given Friday off to rest, and the expectation is that he will play Sunday. He may be a little stiff, but if his offensive line is able to protect him so that he can avoid significant contact, he should be able to play well.
Donovan McNabb, Eagles:
McNabb (probable) is primed to make his return Sunday from a jammed thumb and sprained ankle that caused him to sit out two games. McNabb has been practicing and although his mobility may yet be limited somewhat by the ankle, he should be able to be effective. McNabb wanted to play this past Sunday but was held out by coach Andy Reid, who wanted him to be closer to 100 percent before returning to a game situation. Given Reid's criteria, I expect McNabb will be able to perform heading into Sunday's contest.
Marc Bulger, Rams:
Bulger is listed as questionable on the Friday injury report after suffering a setback during the week. Bulger, recovering from a concussion, had been cleared to practice Tuesday. But as the St. Louis Post-Dispatch reports, Bulger did not feel well after practice Thursday, causing the Rams to downgrade him. This is why athletes are gradually returned to activity after concussions; there is always the possibility that symptoms can return with increased intensity of exercise, which indicates the brain has not fully recovered. Coach Scott Linehan wisely says he will not return Bulger if he is not fully healthy, and he will use the next 12 to 24 hours to make that decision. Plan on another quarterback.
Wide Receivers/Tight Ends
Marvin Harrison, Colts:
Could it be? Could Harrison actually make a return Sunday? Harrison practiced some on Wednesday and was seen walking without a limp afterward, a good sign. He was held out of practice Thursday as a precaution. According to the Indianapolis Star, coach Tony Dungy has indicated that the Colts are being more cautious than if they were in a must-win situation to get into the playoffs. Harrison is clearly not 100 percent and the Colts do not want to risk losing him for the time when it really counts. There is a chance, albeit a slight one, that Harrison plays Sunday, but even if he steps on the field it will be on a limited basis. There is no fantasy value here.
Anquan Boldin and Larry Fitzgerald, Cardinals:
Boldin dislocated a toe Sunday and has been unable to practice all week. According to the Arizona Republic, the medical staff has been trying to find a supportive insert for his shoe that would allow him to run without pain, but so far that has not happened. There is still a chance that he could be outfitted with something before Sunday, but Boldin has said that he does not like to play without having practiced at least once during the week. Add to that the fact that his hip is still bothering him and it is unlikely he sees the field this week. Teammate Fitzgerald has been contending with a groin injury, but has been increasing his activity, and was running routes late in the week. Also listed as questionable, Fitzgerald is more likely to see playing time, but may not yet be fully recovered. The concern with the groin injury is lateral cutting and speed, so Fitzgerald may not be up to the monster performances that he has put up of late, but there is a reasonable chance that he is active and efficient on Sunday.
Brandon Stokley and Javon Walker, Broncos:
Stokley, who was reported to have injured his knee this past Sunday, had not practiced during the week and appeared unlikely to play. Friday, however, Stokley was able to put together a full practice and, although listed as questionable, he is expected to start, according to the Denver Post. Teammate Walker has been hampered by his knee and has not had a strong outing since returning, which is a bit surprising as he had looked good in practice. The expectation is that Walker will play, but he is not yet fully healthy and remains a risky start.
Santonio Holmes, Steelers:
Holmes is off the injury report, a good sign that his high ankle sprain has healed enough to allow him to play. Expect to see Holmes in action Sunday, but he is returning after a relatively short time frame. We have seen the high ankle sprain injury regress after a player returns (D.J. Hackett,
Michael Pittman
) and until Holmes has fully tested it, temper expectations for his return.
Laveranues Coles, Jets:
Coles remains a game-time decision as he recovers from his high ankle sprain. Coles is tough and can be expected to play through pain, as he has done many times before. With Cotchery out, the Jets need Coles even more, so expect him to be on the field. He is not likely to be 100 percent, but unless he suffers a serious setback during the game, don't expect that to limit his performance.
Don't see your player here? Be sure to check back Saturday when we check late Week 14 updates and add a few defensive players.
December, 5, 2007
12/05/07
9:44
AM ET
Well, it finally happened. My injury-laden fantasy team in our GMC Pro Grade League finally succumbed in a loss that pushed me out of playoff contention. But not without a fight! Despite the multiple injuries over the season, which forced me to nearly completely renew my roster, I lost by a hair (six points) to Matthew Berry, the Talented Mr. Roto, he of the high-scoring
Tom Brady
,
Wes Welker
,
T.J. Houshmandzadeh
and
Justin Fargas
crew. In fact, had
Brett Favre
, whom I just recently acquired via trade because of the recent injuries to
Donovan McNabb
, not left Thursday's game with an injury, I am confident that I would have won. I guess my point is two-fold: 1) Berry can mock my undying loyalty to my 49ers, but he cannot gloat in his barely eked-out victory, and 2) I believe that I have demonstrated, by virtue of my injury-laden team, that I understand and sympathize with fantasy owners everywhere whose teams have been decimated by those unpredictable injuries that can make all the difference between agony and ecstasy.
So for those of you fortunate enough to have made the playoffs, and for those of you just trying to spoil the playoff dreams of others, here are some of the injuries fantasy owners should be aware of early this week. Keep in mind that the Thursday matchup will feature Chicago at Washington.
Running Backs
Adrian Peterson, Vikings:
Well, it seems the questions about Peterson's readiness to return have been answered. He looked remarkably solid in his first outing since tearing his lateral collateral ligament, brace and all. The Vikings somewhat limited Peterson's activity as planned -- he had 15 carries and did not appear in the fourth quarter -- but he is so dangerous whenever he touches the ball that his numbers made it seem as if he played the entire game. According to the Minneapolis Star-Tribune, Peterson felt as good as he has all year after Sunday's outing, so we can expect to see him and
Chester Taylor
utilized in tandem the rest of the season.
Marshawn Lynch, Bills:
Coach Dick Jauron still is being cautious about Lynch's status for Sunday, saying Lynch has made a lot of progress but he doesn't want to "overstep it right now." Jauron's comments on the Bills' Web site are the most positive since Lynch's injury about four weeks ago, but they are necessarily guarded, given the nature of the injury (high ankle sprain). Lynch will be evaluated on a day-to-day basis as he practices throughout the week, and we should have a better idea of his status late in the week.
Brandon Jacobs and Derrick Ward, Giants:
The Giants have made it official. Ward has been placed on injured reserve after suffering a broken fibula in Sunday's contest. So will Jacobs make it back this week? It appears that way if you listen to coach Tom Coughlin. Coughlin told the New York Daily News that all along, the plan has been for Jacobs to return this week, and he is not being rushed back because of Ward's injury. That sounds reasonable. Now, let's hope Jacobs can not only make it back, but also stay to finish out the year healthy.
Selvin Young and Travis Henry, Broncos:
Young appeared to be the healthier back headed into Sunday's game and, in fact, was the starter. But he managed to sustain yet another injury, this one to his arm, according to the Denver Post, and his status is uncertain for this week. Meanwhile, Henry received word from the NFL that he won his suspension appeal, so now his game availability depends only on his health. Henry was able to get back in the lineup last week, so if Young cannot go, Henry likely will start. There always are more running backs to be found in Denver, though, so starting does not necessarily translate into more fantasy points. It is worth watching the practice reports throughout the week to see how the running back lineup is shaping up.
Larry Johnson, Chiefs:
Johnson already has been ruled out for Week 14, but the Chiefs continue to be guarded in their statements regarding Johnson's status for the season. In comments made on the Chiefs' Web site, coach Herm Edwards reinforced the idea that no decision has been made, saying only that Johnson is "getting better" and the team will continue to evaluate him. He did say that if the star back were to return too soon and re-injure his foot, it could result in Johnson requiring surgery, which always is the potential scenario for a mid-foot injury. It is not totally clear what is going on with Johnson and the Chiefs. Johnson being ruled out so early in the week suggests he is a long way from being able to return. Yet the Chiefs continue, at least outwardly, to indicate there is hope he will return this season. Perhaps there is some motivational incentive; the potential of getting back on the field might help Johnson maintain the intensity of his rehabilitation. And he might yet return, but it remains just a possibility, not one worth taking up a spot on your fantasy roster.
LenDale White, Titans:
According to the Tennessean, White (dislocated middle finger) is expected to play Sunday against the Chargers. On Monday, we mentioned fumble concerns as a possibility, especially if the finger remains sore and swollen. Given
Chris Brown
's effectiveness Sunday after White exited the game, there could be concern Brown will steal some action from White this week, especially if White shows any signs of struggling with the finger.
Quarterbacks
Jeff Garcia, Tampa Bay:
According to the St. Petersburg Times, Garcia said his back is feeling better by the day and he expects to return to practice Wednesday. Despite some residual soreness, Garcia plans to play Sunday against the Texans while his mobility and flexibility continue to improve. It still is wise to check back at the end of the week, but at this point, it sounds as if he is preparing to make his return.
Donovan McNabb, Eagles:
Philly.com has reported that McNabb is expected to return this week from the thumb and ankle injuries that have caused him to miss two straight games. Coach Andy Reid said McNabb can grip the football well now but might wear a brace on his hand to protect the thumb. The bigger concern is his mobility with the ankle, but Reid said McNabb moved around better in practice last week. Nonetheless, he held McNabb out of Sunday's contest because he did not feel he was ready to go from a health standpoint, and the extra rest no doubt has helped the quarterback. Barring a setback in practice this week, expect McNabb to get the green light Sunday.
Marc Bulger, Rams:
According to a report by ESPN's Len Pasquarelli, Bulger underwent another battery of tests Tuesday as a follow-up to his concussion a week ago and was cleared to return to practice Wednesday. The Rams are optimistic that Bulger will be available Sunday, but it should be noted that he will be monitored throughout the week to ensure his symptoms do not return as his practice activity increases. Bulger's replacement,
Gus Frerotte
, suffered a shoulder injury Sunday that might keep him out for at least one game. According to the St. Louis Post-Dispatch, Frerotte has a sprained shoulder and a partial tear of the labrum, the ring of cartilage that helps reinforce the shoulder joint. Frerotte injured the shoulder in the third quarter of Sunday's contest but was able to return to finish the game; however, the shoulder was much more sore the next day, prompting the additional tests. If neither Bulger or Frerotte is able to go, it could be
Brock Berlin
. Fantasy owners, keep your fingers crossed that practice agrees with Bulger.
Brodie Croyle, Chiefs:
Croyle sat out last week's contest with a sore bruised back but could make his return Sunday if, as coach Herm Edwards said on the Chiefs' Web site, he's "mobile enough to get out of the way." Edwards also said that although the Chiefs would like to see Croyle back in the lineup, the team will not risk putting him in there if he is not fully recovered. Croyle is expected to return to practice Wednesday, and his progress, particularly his mobility, will be evaluated throughout the week.
Alex D. Smith, 49ers:
Smith has sat out the 49ers' past two games because of lingering pain in his shoulder (a Grade III, or complete, separation) and his forearm (tendinitis, which developed after he injured the shoulder, possibly while trying to rehabilitate the arm). Smith might yet face shoulder surgery, but before that decision is made, Smith will try to throw this week, according to ESPN's Len Pasquarelli. Smith will see how the arm feels while throwing and then will consult with the medical staff to evaluate his status. Either way, he is not a factor for the remainder of the fantasy season (not that he was much of a factor beforehand). His progress will be relevant for next year, so we will monitor him with that in mind.
Wide Receivers/Tight Ends
Roy Williams, Lions:
Williams sprained his posterior cruciate ligament Sunday and, according to a report in the Detroit News, is expected to miss the last four games of the season. ESPN's John Clayton is reporting that the Lions do not plan to put Williams on season-ending injured reserve in the hope that he can heal quickly, but it is a slim hope. This is an injury similar to the one that kept Broncos running back Travis Henry out four weeks and Texans receiver
Andre Johnson
out eight weeks. Coach Rod Marinelli said the ligament is not torn, usually a reference to the ligament not being
completely
torn, since any sprain reflects some degree of injury to the tissue, even if microscopic. The timeframe will depend on how long it takes any swelling and pain to subside, and the amount of tissue healing that needs to take place. Williams then would need to regain his strength and mobility, as well as the confidence that his knee is stable enough to support him running, cutting and jumping. That is a lot to ask in less than four weeks. Nonetheless, if the injury is minor, there is a chance he could return, but it is a small one. If Williams is on your fantasy roster, you need to find a replacement that you can count on for the duration of the season.
Santonio Holmes, Steelers:
Holmes, who missed the past three games with a high ankle sprain, could return in Week 14, according to a report in the Pittsburgh Post-Gazette. Coach Mike Tomlin said "it depends on how [he] perform[s] in practice." Even mild high-ankle sprains often require about four weeks before a player can return, so Holmes is just now coming up on that mark. Practice will resume Wednesday, meaning we won't have a real indicator as to whether Holmes is likely to play until late in the week. Stay tuned.
Don't see your player here? Be sure to check back later in the week when we check further Week 14 updates. We also will quickly touch on any Thursday game injuries at that time.