Stephania Bell:

Ryan Church
June, 30, 2008
6/30/08
11:07
AM ET
It's official. I don't need surgery. After having my knee swell up like a balloon, and losing about 80 percent of my range of motion, it looked as if I was headed under the knife to repair a torn meniscus. But lo and behold, as is often the case in medicine, things were not quite as they seemed. An MRI revealed a partial tear of the popliteus tendon (a small but critical muscle on the back side of the knee that helps control rotation of the tibia and provides posterior lateral stability), a painful and unusual but nonsurgical condition. My lateral and my medial meniscus as well as my ACL are intact. Whew! Looks like my downtime is limited to avoiding running for a few weeks and being cautious with my knee. I have to be a good patient and wrap my leg, ice it and take my anti-inflammatories while I gradually work on regaining my strength and stability.
The good news? I will be able to make the All-Star festivities this year. Most importantly, I am reminded of the value of the outstanding health care professionals who spend countless years training just to "help people." I am reminded that the injuries that we regular folks suffer are often exactly the same as those that the athletes endure, which is perhaps why we identify so readily with them. And yes, I am reminded of how relieved all patients are when the news is less grim than originally thought. Now you want to know the status of the guys you really care about? Please, read on.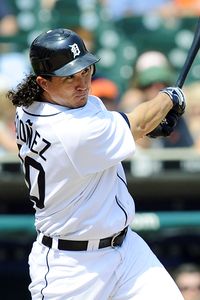 Icon SMIMagglio Ordonez was leading the Tigers with 50 RBIs at the time of his injury.
Magglio Ordonez, OF, Detroit Tigers:
Ordonez strained an abdominal oblique muscle on his right side in the third inning of Saturday night's contest against the Rockies. Originally the team reported Ordonez's ailment as spasms on his right side, but the severity of the injury quickly became apparent when Ordonez was placed on the disabled list Sunday. The Detroit Free Press reported that Ordonez had difficulty moving when he woke up Sunday. When asked how he felt, Ordonez said it all with three simple words: "Not so good." The plan is for Ordonez to stay behind and rehabilitate while the team embarks on a seven-day road trip. The hope is that the 15-day DL will be enough to allow Ordonez to recover fully.
The oblique strain has been working its way through the Tigers' clubhouse like a virus, with
Gary Sheffield
and
Brandon Inge
out recently with similar injuries. Sheffield, who was recently reactivated, has been playing some of his best baseball this season since his return. On the flip side, Inge, who injured himself in early June, has been in and out of the lineup since, but never really healed. This week the Tigers decided to make the move to place him on the disabled list. Perhaps Inge's struggles in getting past pain while swinging the bat helped speed up the decision to rest Ordonez, whose power at the plate is far more valuable. The Tigers cannot afford to have him at less than full strength for weeks only to ultimately place him on the DL. His rehab activities by the second week should give a better clue as to how he is progressing.
Dan Uggla, 2B, Florida Marlins:
Uggla sat out Sunday's game after spraining his left ankle Saturday. In the fourth inning Uggla was headed for second, trying to stretch a single into a double, but pulled up to go back to first and injured his ankle in the process. As Uggla limped along the baseline, he was tagged out and left the game. X-rays taken after the game were negative. Uggla later relayed that the dirt was wet, and when he stopped to turn back to first his plant foot just kept going forward and he couldn't catch himself in time. The Marlins' official Web site reported that Uggla was wearing a soft cast and sporting crutches after the game. For his part, Uggla says he didn't hear a pop and called this a mild sprain. He says he has injured this ankle before (at age 20) and described that episode as much worse.
The good news is that Uggla was able to put some weight on the ankle Sunday and managed to limp into the clubhouse on his own. He is officially listed as day-to-day but manager Fredi Gonzalez says the team will likely "stay away from him for a couple of days." The hope then is that he will be able to play during the upcoming road trip starting Thursday against the Rockies.
Hideki Matsui, DH, New York Yankees:
Inflammation in the left knee continues to give Matsui trouble. He has now had the knee drained twice and has been placed on the 15-day DL effective Friday. If the problem doesn't subside, Matsui could be looking at a scope. According to The Associated Press, the Yankees insist that surgery is a last resort, but the fact is that it remains a possibility. The persistent inflammation is a sign that something is indeed irritating the joint. Abnormalities within the joint (such as cartilage damage or meniscus injury) can create irritation that results in the joint increasing fluid production. The fluid then blocks normal range of joint motion and can inhibit muscular contraction, both of which will render an athlete ineffective. And that doesn't even account for any pain that occurs as a result.
It would not be a surprise to see Matsui go under the knife, given his age (34) and history of intermittent problems with both knees. After all, Matsui had arthroscopic surgery on his right knee in the offseason and that seems to be holding up well. If the rest he gets in the next week or so does not result in significant improvement, do not be surprised if Matsui extends his time off so that he can undergo surgery.
Michael Cuddyer, OF, Twins:
What's good for the goose is good for the gander, or so they say. Cuddyer, who suffered with an injury to his right (throwing) index finger earlier this year, now has an injury to his left index finger that is again forcing him onto the disabled list. In April, Cuddyer dislocated his right index finger and missed 20 days. This latest injury has been more gradual in nature. According to the Minneapolis Star-Tribune, Cuddyer has had pain in the left index finger for a couple of weeks, progressing to the point where he can hardly swing a bat. By Saturday, the pain was causing Cuddyer to lose his grip on the bat and he was even having pain at rest. The team is calling it a tendon strain and although they have not specified which tendon is involved, one would suspect a flexor tendon, on the palm side of the hand, because it is utilized when gripping, both while swinging the bat and fielding with the glove. The finger was clearly no better on Sunday since the team made the move to place Cuddyer on the DL. Depending on the degree of inflammation, Cuddyer may even need a little extra time beyond the two weeks. With the All-Star break approaching, consider him out until after that point, perhaps the following week.
Shaun Marcum, P, Toronto Blue Jays:
When we last talked about Marcum he was on his way to visit with Dr. James Andrews and the worst was feared. Alas, it was not all doom and gloom for Marcum. Andrews confirmed the team's initial diagnosis of an elbow strain and cleared Marcum to initiate a throwing program Saturday, according to the Blue Jays' official Web site. Keep in mind, however, that the emphasis in a return to throwing program is gradual progression, and the Jays are wisely planning to be cautious with Marcum. Although eligible to return Friday, the Jays figure his absence will extend to after the All-Star break. With smart management, and a little luck, Marcum will fare well in the second half of the season.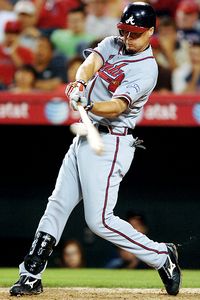 Icon SMIDespite the nagging quad injury, Chipper Jones is still hitting close to .400.
Chipper Jones, 3B, Atlanta Braves:
It seems Chipper Jones is a regular in the injury blog, but until now, despite the fact that he has had an injury for much of the season, Jones has not
yet
made a trip to the DL. Note the emphasis on "yet." The times may be a-changin' as Jones' quadriceps injury, despite his valiant efforts, may need the benefit of extended rest to really turn the corner. According to the Braves' official Web site, Jones can't run at greater than 50 percent effort because of pain. Although his bat has been hot, even as a pinch hitter he is at risk of further injury if he sprints. The last thing the Braves want is to lose him for the remainder of the season with a significant quadriceps tear. So far, Jones has managed to maintain a balance, contributing offensively and defensively on a regular basis while resting his leg a day or two at a time as needed. But the injury has progressively worsened each time Jones has aggravated it this year. For that reason, I believe Jones will ultimately end up on the disabled list and his quad will get some well-deserved rest, all of which should allow him to continue his amazing run in the second half of the season.
And in the good news department ...
Ryan Church, OF, New York Mets:
Church was activated from the disabled list Sunday and went 2-for-4, picking up right where he left off. Church had not played since June 6 due to lingering effects of his second concussion this year. He was originally injured in a spring training collision with
Marlon Anderson
. Church suffered his second concussion in late May in Atlanta when he collided with Braves shortstop
Yunel Escobar
's knee while trying to break up a double play. Although he managed to pinch hit just two days later, Church did not start for 10 more days. His poor performance was explained by lingering symptoms that persisted after the second concussion. According to an ESPN report, Church was still experiencing dizziness, light sensitivity and discomfort on team flights and the decision was made to place Church on the DL. It appears to have been the right decision because Church looks like a new man. Now if only he can avoid another collision this season, he should be in good shape.
Eric Gagne, P, Milwaukee Brewers:
Gagne was activated from the disabled list after missing time with rotator cuff tendinitis, but that doesn't mean he'll automatically be the closer.
Salomon Torres
has performed well in Gagne's absence and should continue in the role, leaving the set-up assignment for Gagne. The Brewers have to be happy, though, that they have options here. At least they have a chance to see if Gagne can regain his effectiveness before giving him the ball with the game on the line.
June, 11, 2008
6/11/08
5:35
PM ET
The Braves deserve a free pass. They have just had their unfair share of injuries. Add the Padres to that group as well. And while you're at it, throw in the Angels. The Mariners had been pretty lucky, until today when
J.J. Putz
left in the ninth inning with soreness in his right elbow after throwing just 10 pitches. This does not sound encouraging. More on his situation should be known later this week, but for the other folks suffering setbacks, please, continue on.
[+] Enlarge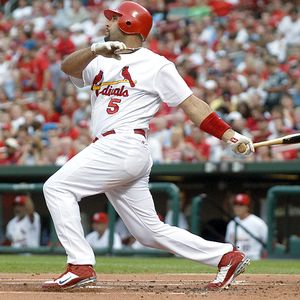 Jeff Curry/US PresswirePujols will miss at least three weeks with a calf injury.
Albert Pujols, 1B, St. Louis Cardinals:
Surprise, surprise! It's not his elbow that's sending Pujols to the DL. It's his calf. Pujols first strained the left calf muscle on June 3, then sat out Wednesday's game and most of Thursday's doubleheader, coming in only to pinch hit. The calf never really seemed to be 100 percent, though as Pujols was still sore heading into Friday night's contest. Then, in the bottom of the seventh Tuesday night, Pujols only made it a few steps out of the batter's box when he fell to the ground, clearly in pain, as the calf made it clear that it was not going to cooperate. Pujols appeared to have difficulty bearing any weight on the leg as his teammates helped escort him from the field. There doesn't seem to be much doubt about where he's headed since manager Tony LaRussa told the St. Louis Post-Dispatch, "I don't think there's a way he's going to avoid the disabled list." Pujols will be examined by the Cardinals' team physician Wednesday and the team will no doubt make it official after that. Given that this is an exacerbation of a milder strain from a week ago, and Pujols strained the same calf fairly seriously in September of 2007, it would be wise for him to shut it down completely to allow the muscle more recovery time. Though we haven't heard much about Pujols' elbow bothering him (and we know he has at least a partially torn ulnar collateral ligament), and he certainly hasn't suffered at the plate so far as a result, the forced rest can only help prolong the life of his elbow too. The Cardinals had indicated prior to the start of the season that they planned to rest Pujols more to help maintain his overall health and not abuse his body, but that really hasn't been the case. Pujols has sat out only two games this season, so the Cardinals may have been lucky that he hasn't broken down sooner. This trip may be just what the doctor ordered.
Tom Glavine, P, Atlanta Braves:
It was just about two months ago when we were remarking how Glavine was being forced to the DL by a hamstring injury for the first time in his career. Now he's making a repeat visit, but for another, perhaps more worrisome, injury. Glavine left Tuesday's game against the Cubs in the fourth inning with what is being called a strained left elbow. The Atlanta Journal-Constitution is reporting that Glavine will undergo an MRI on his elbow later this week. Apparently Glavine has been dealing with soreness in his elbow since May, unbeknownst to anyone outside of the organization. Glavine said that originally the stiffness would occur just between starts, and then gradually the elbow began to stiffen as the games would wear on. Glavine added "the last two games it's been pretty much every pitch I've thrown. It's not getting any better." This is not exactly what the Braves want to hear. They have lost
John Smoltz
from their starting rotation as well as Hampton (though you could argue that he was never really there). Soriano is day-to-day and remains a concern because of lingering elbow symptoms. Now add Glavine who will, at the very least, miss two weeks, but likely more as he will have to gradually resume a throwing program if and when his symptoms settle down. More will be known as to whether there is an obvious structural issue in Glavine's elbow after Thursday, but until then, the Braves will simply be keeping their fingers crossed that they are not about to lose their third starting pitcher this year.
[+] Enlarge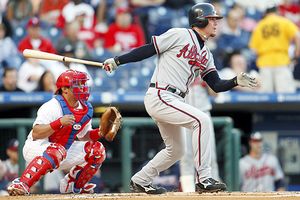 Howard Smith/US PresswireThe oft-injured Chipper has another nagging ailment.
Chipper Jones, 3B, Atlanta Braves:
The injury was not new, but keeping Jones out of the lineup for more than a day was. Jones, who reportedly has a small tear in his right quadriceps muscle, sat out Sunday and Tuesday, with the exception of a single pinch-hit appearance Tuesday. Jones acknowledged that the quad is still sore, but was able to take some swings during batting practice and field some grounders, according to the Braves' official Web site. Originally slated to be out until Thursday or Friday, Jones says he hopes to return to the lineup Wednesday but admits he couldn't run the bases. It still seems like a risky play to have Jones in the lineup when he is so clearly not at full strength. Of course, when a batter is hitting .420, there is a delicate balance to maintain so he doesn't lose the zone that someone like Jones is in. But consider that Jones originally injured his quad April 9 on a cool night in Colorado. Then, on April 20, Jones was forced to leave the game in Atlanta after aggravating the injury. Now it's June, and that same quadriceps muscle acted up just steps out of the batter's box Saturday night. According to the Braves' official Web site, their medical staff considered using a needle to extract blood from around the muscle. But Jones opted for a less invasive pressure wrap instead -- and who could blame him? Nonetheless, the presence of blood indicates that the injury was more than just microtrauma. The risk is that this injury gets still worse instead of better, potentially sidelining Jones for a extended period of time. The Braves could opt to utilize Jones as a DH initially in upcoming interleague play, which would spare Jones the sudden movements associated with playing defense. It does not, however, prevent him from having to run from home to first, which is exactly how he aggravated the injury this past week.
Ryan Church, OF, New York Mets:
Church had a nasty collision with
Yunel Escobar
on May 20 and has not felt like his former self since. Church, who managed to return for four starts since sustaining the concussion injury, is still having symptoms. Intermittent dizziness, fatigue and a sensitivity to light are continuing to bother Church who has now had two concussions this year, the first of which occurred March 1 during a spring exhibition game. According to the Mets' official Web site, Church most recently experienced a pulsating feeling which he described as "a heartbeat in my head." These are not the type of symptoms an athlete should continue to play through and Church is wisely being held out for a fixed period of time via the disabled list. The challenge with concussions is that there is no specific time frame for all the symptoms to resolve, and in fact, concussion severity can only be determined after the fact. Church told Newsday that he will not change his style of play when he does return, other than with the next ground ball, he "might be sliding halfway."
Jake Westbrook, P, Cleveland Indians:
We knew it wasn't sounding good, but the worst fears have been confirmed. Westbrook will undergo reconstructive surgery on his elbow and is done for 2008 and certainly a portion of 2009. Keep him in mind for a midseason pickup next year.
Rafael Furcal, Los Angeles Dodgers:
The Los Angeles Daily News is reporting that we will not be seeing Rafael Furcal for at least three more weeks. A follow-up visit with doctors resulted in the announcement that it will be at least two weeks before he could play in a game. Then there comes the rehab assignment. Then, well, we're almost to the All-Star Break, so you get the idea. What looked initially like a simple trip to the DL has grown ever longer, yet the pattern is not inconsistent with how back pain behaves for all of us. Keep in mind that this schedule is by no means definite.
And in the good news department...
Jake Peavy, P, San Diego Padres:
Peavy is scheduled to return to the mound Thursday after missing roughly three weeks with elbow inflammation. With
Chris Young
's time off being extended, this is good news for the Padres and Peavy has not reported any pain since the last week of May. Now let's hope it lasts...