Stephania Bell:

Ryan Doumit
June, 1, 2011
6/01/11
4:00
PM ET
First things first. The ankle injury suffered by
Pittsburgh Pirates
catcher
Ryan Doumit
is definitely going to keep him out for at least a month. On Tuesday, we noted that Doumit was the latest to suffer an injury as the result of a collision at home plate and it was originally diagnosed as an ankle sprain. On Wednesday, the Pittsburgh Post-Gazette is reporting that Doumit suffered a non-displaced ankle fracture, hence the immediate extension of his timetable. Expect at least four weeks for enough bone healing to allow a return to baseball activities, plus additional time to return to catching duties.
Kyle McClellan, P, St. Louis Cardinals:
An already thin pitching corps looks as if it is about to take another hit. The St. Louis Post-Dispatch is reporting that McClellan is likely headed for the DL after being removed from Monday's start with a left hip flexor strain. According to the Post-Dispatch, McClellan indicated that a couple of awkward landings in the first inning resulted in the injury. He's got swelling in the area, and manager Tony LaRussa has said McClellan is going to miss, at the very least, his next scheduled start on Saturday. The hip flexor on a pitcher's lead leg is critical in helping control stability of the trunk over the pelvis during delivery. Swelling in the area will prevent the muscle from firing optimally, so it is not just a matter of pushing through pain, it is equally a matter of being able to perform. The Cardinals have not yet made the roster move but look for it to be in the works.
Quick hits
• The Cardinals may also be losing slugger
Matt Holliday
to the disabled list for the first time this season, although this is second significant ailment. The St. Louis Post-Dispatch reports Holliday will undergo an MRI on Wednesday to further evaluate his strained left quadriceps that continues to limit him. It might seem strange that a muscle strain could sideline someone longer than an appendectomy, but in reality the muscle recovery is far less predictable.
•
Chicago Cubs
pitcher
Matt Garza
is not expected to return from the DL on Friday, the first day he's eligible. Although he is reporting improvement in his elbow (bone contusion), he has yet to throw from a mound. According to ESPN Chicago, that should change Wednesday when Garza is expected to throw a bullpen. If that goes well, he will throw another later this week. Throwing off a mound increases the vigor of the pitch, which will further test how Garza's elbow is feeling.
May, 31, 2011
5/31/11
5:58
PM ET
It doesn't take much in the way of a medical background to recognize the seriousness of what's ailing
Florida Marlins
shortstop
Hanley Ramirez
. Just look at his own description of the extreme pain he's experiencing and how it's affecting him, as told to the Palm Beach Post.
[+] Enlarge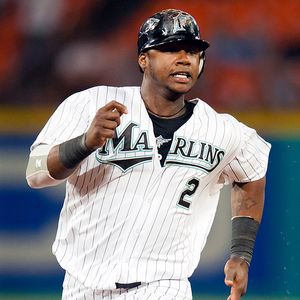 Steve Mitchell/US PresswireHanley Ramirez has struggled this year, hitting just .210 with four homers and six steals.
"I feel it doing anything. I can't even put my shoes on. To get up from bed I have to take 10, 15 seconds. I have to do everything slow,' Ramirez said. "That's the worst pain I've ever had in my life, in my career."
Ramirez was removed from Sunday's game after experiencing increased back stiffness, but the bigger concern now is the pain radiating into his leg. As Ramirez told the Post, "I'm getting tingles in my leg. That's not a good sign." Right you are, Hanley.
Ramirez is exhibiting classic symptoms of nerve root irritation in his lumbar spine, commonly called a pinched nerve. The progression of his symptoms is also classic. He acknowledges the presence of stiffness in his back for several weeks, which then worsened during Sunday's game. Shortly afterward, the pain began migrating in the form of "tingles" into his upper left leg. Tingling is a hallmark nerve symptom as anyone who has bumped his or her "funny bone" (and thus tweaked his or her ulnar nerve, sending tingling into the hand) can attest. The location of the tingling indicates which nerve is affected. The most common presentation associated with the low back is pain radiating into the back of the thigh and downward which represents the pathway of the sciatic nerve. Pain and tingling, which spread into the leg after starting in just the area of the spine, indicates a relative worsening of the condition.
The condition can be associated with a disc bulge, bony changes (such as spurs) resulting in narrowing of the opening where the nerve root exits the spine, or even simply inflammation in the area. The challenge is that once the symptoms present themselves in this manner, they are typically slow to resolve. Every movement becomes painful, few positions are tolerable (much less comfortable), and the individual has to move very slowly to avoid flaring the symptoms even further. Everyone out there who has experienced sciatica or other radiating nerve pain -- and there are a lot of you as this condition is extremely common -- can relate to Ramirez's agony. If the condition further worsens, the tingling can change to numbness and the muscles in the affected area of the leg can develop weakness. The goal is to try to prevent that next step from happening.
Unfortunately, there's no magic rapid cure. The time it takes for the symptoms to disappear is highly variable. Anti-inflammatories, controlled movement, manual therapy and rest are typically the best defense. Sometimes an epidural injection (a steroid injection into the spine near the nerve root) is indicated and can help calm the inflammation.
Philadelphia Phillies
pitcher
Roy Oswalt
has dealt with a disc bulge and associated leg pain off and on for several years, including an episode earlier this year that sent him to the disabled list. Ramirez may not want to go on the DL for the first time in his career, but it would be no surprise if he ends up there given the severity of his current symptoms.
While fantasy owners wait to learn whether Ramirez will end up on the DL, several other key players were already transferred there in recent days.
[+] Enlarge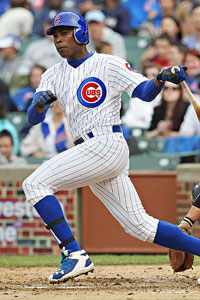 Jonathan Daniel/Getty ImagesAlfonso Soriano lands on the DL tied for second in the National League with 12 homers.
•
Chicago Cubs
outfielder
Alfonso Soriano
pulled up limping in the first inning of Monday's game while trying to run out a ground ball, and immediately his hand went to his left quadriceps (front of his thigh). His sudden, halting steps as soon as he felt the injury made it clear he would be done not only for the day but likely a couple of weeks. Soriano was placed on the DL soon after. Everyone familiar with Soriano knows he has a significant history of muscular strains, including injuries to his hamstring, quadriceps and calf. Perhaps most notable was the time Soriano strained his right quadriceps in August 2007. An MRI at that time revealed an actual defect in the muscle, and it took him the better part of a year to recover. According to the Chicago Tribune, Soriano's MRI this time around did not demonstrate tearing of the muscle, and the Cubs hope this will be a far quicker healing process. Still, when an athlete has a history of soft tissue injuries and has reached the age of 35, there has to be some concern as to how quickly (and effectively) he will return.
• Several pitchers found their way onto the DL this weekend.
Minnesota Twins
reliever
Joe Nathan
is experiencing some soreness in his surgically-repaired elbow and the team prudently opted to place him on the DL. The team is calling it a flexor strain (strain of the muscles on the undersurface of the forearm that anchor near the surgical site) and speed bumps like this in the course of recovery are not uncommon. There's a reason that the timetable standardly issued following Tommy John surgery is given as a range from 12 to 16 months (sometimes longer) because it allows for setbacks such as this. Nathan told reporters that he expects to be out anywhere from 10 days to a month and in the interest of his long-term health, there is no reason to rush, nor is there reason for huge concern.
• Nathan's teammate,
Francisco Liriano
, was also placed on the DL this weekend because of soreness in his left (throwing) shoulder. Liriano first experienced soreness during spring training and it became an issue again last week. According to the Minneapolis Star-Tribune, an MRI revealed inflammation, but Liriano did not respond well to a session of catch on Monday, hence the move to the DL. The move is retroactive to May 23, suggesting Liriano could return after missing just one more start, but given that this is his second episode in three months (leading to a second MRI), there's reason to be concerned as to whether he will be truly healthy once he returns.
• The
Houston Astros
placed
Wandy Rodriguez
on the DL over the weekend due to fluid in his left (throwing) elbow. According to MLB.com, Rodriguez underwent an MRI, which revealed the fluid, after being scratched for Saturday's start due to discomfort. Fluid within a joint is a result of irritation within that joint, not an injury in and of itself. There has been no indication as to what the team suspects might be causing the problem, although officials do not appear overly concerned. In fact, general manager Ed Wade told MLB.com that the only pitch bothering Rodriguez during his last side session was the breaking ball. However, pitchers over the age of 30 with swelling in their throwing elbow should still raise a caution flag. Time will tell how Rodriguez responds to the rest.
• Finally, collisions at the plate are likely to remain a hot topic for the remainder of this season. After
San Francisco Giants
catcher
Buster Posey
suffered a season-ending injury while blocking the plate Wednesday,
Pittsburgh Pirates
catcher
Ryan Doumit
found himself on the DL performing the same task. Fortunately, Doumit's injury is less severe. The Pittsburgh Tribune-Review reported the injury as an ankle sprain (no fracture), but Doumit is in a protective boot and on crutches for the time being. Ankle injuries are clearly problematic for catchers given their routine squat position, so it will not be surprising if it takes more than 15 days for Doumit to return.