Stephania Bell:

Ryan Fitzpatrick
December, 30, 2010
12/30/10
5:27
PM ET
It's the last week of the NFL regular season and for many fantasy players, this is the grand finale. Week 17 always presents unique challenges as many NFL teams with secure playoff bids opt to rest key players, leaving fantasy owners scrambling to set their final rosters. This year there are some NFL teams whose playoff hopes are still barely alive or who could (or should) be playing for pride, but injuries may still force their starters to rest. And in what could be the worst scenario for fantasy owners, some teams are considering starting their main players to keep them in the rhythm of game preparation and competition, but how much playing time they get is anyone's guess.
Philadelphia Eagles
have, rather unsurprisingly, ruled out quarterback
Michael Vick
. His thigh contusion had him limping throughout Tuesday night's game and there is no reason to further risk his health.
Kevin Kolb
is expected to get the start after working with the first team Thursday.
The Florida Times-Union reports
Jacksonville Jaguars
quarterback
David Garrard
has undergone surgery to repair a torn ligament in the middle finger of his right (throwing) hand and faces a two-month recovery.
Trent Edwards
is poised to start in his absence. ... The
Cincinnati Bengals
announced via Twitter that wide receiver
Chad Ochocinco
will not make the trip to Baltimore because of his ankle. And, as a reminder,
San Diego Chargers
tight end
Antonio Gates
should not be on anyone's fantasy roster (if you were hoping for a miracle) as the team has placed him on injured reserve. At least savvy fantasy owners can get a jump on picking up unclaimed backups or other more appealing free-agent alternates for these players.
While the Week 17 fates have already been decided for some, there are many others still on the fence. Here's who else you might be concerned about heading into Sunday's games:
Quarterbacks
Mark Sanchez, New York Jets:
Initially, it sounded as if Sanchez would be out for Week 17, but then coach Rex Ryan seemed to hint at his starting quarterback playing. Now it just sounds like a situation to avoid altogether. Sanchez's shoulder was sore heading into Week 16 and while it does not appear to be impacting him severely, the Jets might be concerned about him suffering a setback, which would be undesirable heading into the playoffs. That said, the New York Post reported Tuesday that Ryan was considering starting Sanchez "because he's hot right now." Ryan added, "We can't afford for him to take a dip. We need him to stay at this level." The Jets are trying to balance protecting Sanchez with keeping him in a rhythm, all of which points to a scenario where Sanchez starts but doesn't finish. The problem is there is no way of telling just how much playing time Sanchez will see. This is a situation for fantasy owners to avoid.
Matt Hasselbeck, Seattle Seahawks:
On Tuesday, we outlined the
injury concern for Hasselbeck
and the team's plans to proceed as if
Charlie Whitehurst
will be under center. Hasselbeck clearly wants to play in Sunday night's game, and although he was not able to practice Wednesday or Thursday, he is rehabbing diligently with Sunday's goal in mind. As Danny O'Neil of the Seattle Times reports, coach Pete Carroll thinks it's unlikely Hasselbeck will play but acknowledges the door is still open. "I'm totally convinced that he's waging a battle that's against the odds," said Carroll. "He's going to make a miracle comeback if he can." This could come down to a game-time decision.
Jon Kitna, Dallas Cowboys:
According to the Fort Worth Star-Telegram, Kitna, who is dealing with a left abdominal oblique injury, says that all movement feels "like you have a knife in your side." As he sat out practice Wednesday, Kitna still held out hope for a Sunday return, but the pain he is experiencing certainly casts doubt on whether he will be able to throw the ball effectively. If Kitna does not play,
Stephen McGee
will get his first career start.
Brett Favre, Minnesota Vikings:
Most fantasy owners would not rely on Favre to help them win their championship Sunday even if he does suit up. But they might consider
Joe Webb
, thus making Favre's injury status relevant. Favre has yet to pass required post-concussion tests, making it unlikely he'll play Sunday. Even beyond passing those tests, Favre would need to return to a graded exercise progression to be sure his symptoms did not recur with physical exertion. The window for Favre to be able to play is closing simply because of the narrow time factor. The Minneapolis Star-Tribune reports that Favre could repeat the tests Thursday or Friday and coach Leslie Frazier has not ruled him out for Sunday's game. Stay tuned, folks. By now everyone should know things can come down to the wire in Minnesota.
Ryan Fitzpatrick, Buffalo Bills:
The Bills quarterback has missed two days of practice because of his knee and it's starting to raise concern about his availability for Sunday. Fitzpatrick has been sore for quite some time but the back-to-back missed practices are more troublesome.
Brian Brohm
has been practicing with the first team in his absence. Friday should be telling in forecasting who will start for the Bills.
Running Backs
Maurice Jones-Drew, Jacksonville Jaguars:
Jones-Drew did not play in Week 16 because of persistent swelling in his knee, and it looks as if he may be sidelined again Sunday. Jones-Drew did not practice Wednesday or Thursday.
Rashad Jennings
would start in his place against the
Houston Texans
.
Peyton Hillis, Cleveland Browns:
Hillis did not practice Wednesday or Thursday, allowing his sore ribs some rest after taking a shot in the back Sunday. It sounds as if the Browns plan to have Hillis available to play against the
Pittsburgh Steelers
and their best chance for that is to rest him during the week.
Darren McFadden, Oakland Raiders:
Listed on the official NFL injury report with a "toe" ailment, McFadden's status for Sunday is unclear. He did not practice Wednesday and the Oakland Tribune listed "ankle" next to his name as the reason. (On Tuesday, we noted there were
conflicting reports
about the nature of McFadden's injury.) The Tribune notes that McFadden participated in the morning walkthrough Thursday, suggesting he would practice, but his activity level remains to be seen. According to Vittorio Tafur of the San Francisco Chronicle, coach Tom Cable says McFadden could be a game-time decision.
Knowshon Moreno, Denver Broncos:
Moreno managed to see some playing time in Week 16 but left the game early after aggravating his rib injury. Moreno did not practice Wednesday but was expected to practice Thursday in an effort to gear up for Week 17. After
Correll Buckhalter
's Week 16 effort, however, Sunday could turn into a time-share situation, especially if Moreno is less than 100 percent.
Chris Ivory and Reggie Bush, New Orleans Saints:
Ivory has been on the road to recovery from a hamstring injury for the past two weeks but has not been quite ready to play. Week 17 could be different as Ivory returned to full practice Thursday. Bush was listed on this week's injury report with a "chest" injury (SC joint per NFL Network) but practiced fully Thursday and does not appear in danger of missing Sunday's game.
Wide Receivers
Andre Johnson, Houston Texans:
Coach Gary Kubiak announced early in the week that Johnson would not practice (he has not) and that Johnson would indicate whether he is able to play (he has not ... yet). Fantasy owners will likely be waiting until the bitter end to find out whether Johnson can indeed play against the Jaguars. As of now, there is no real hint which way the cards will fall, but Johnson is a competitor who will not give up simply because the Texans are out of the playoff race. Expect him to play if he feels he can contribute, but have a backup plan in place.
Hakeem Nicks, New York Giants:
He has a broken toe, putting his Sunday status into question. The Newark Star-Ledger reports Nicks broke the big toe in his left foot in Sunday's game. When asked by reporters Wednesday if Nicks could play this weekend, coach Tom Coughlin's response was blunt and discouraging: "I doubt it." Fantasy owners who have benefited from Nicks' contributions week in and week out should attempt to find a replacement in a hurry.
Marques Colston, New Orleans Saints:
In what likely comes as a surprise to many, Jeff Duncan of the New Orleans Times-Picayune reports Colston underwent an arthroscopic surgical procedure on his knee Tuesday, according to coach Sean Payton. Duncan says the Saints are listing Colston as questionable, but fantasy owners should plan on him being absent for Sunday's game, just five days after surgery.
DeSean Jackson, Philadelphia Eagles:
Jackson did not practice Thursday because of his sore foot and it is looking as if he may not play this weekend. This could be another blow to those who might have been counting on some big points from this big playmaker. While the Eagles have not yet ruled Jackson out, fantasy owners would be wise to plan for a substitution.
Sidney Rice, Minnesota Vikings:
It's not a setback with the hip but a concussion he suffered in Tuesday night's game that has Rice on the injury report. He did not practice Thursday and with the short week has less recovery time than normal. Rice has not yet been ruled out for Week 17 but fantasy owners should prepare for that possibility.
Calvin Johnson, Detroit Lions:
Although Johnson has not practiced this week because of a sprained ankle, he is still holding out hope he can play Sunday. Johnson told the Detroit Free Press he is "just taking it day by day," undergoing treatment and trying to ready himself for the game against the Vikings. On Tuesday, we noted that Lions coach Jim Schwartz had said Johnson could miss practice and still play. It would be nice to see Johnson on the field by Friday, however, as reassurance.
Malcom Floyd, San Diego Chargers:
It looked to be all but certain that Floyd would miss Week 17 with his still ailing hamstring injury, now his second of the season. But Floyd showed up in practice Wednesday, albeit on a limited basis, enough to suggest he could be available for the Chargers' finale. Wait to see if Floyd can get through an entire week of practice without a setback before getting comfortable with him in your lineup.
Tight Ends
Todd Heap, Baltimore Ravens:
He returned to full practice Wednesday and Thursday, just in time to encourage fantasy owners for Week 17. It looks as if Heap is on track to play Sunday barring a setback.
Aaron Hernandez, New England Patriots:
Hernandez has been a limited participant in practice this week because of a hip injury. After missing Week 16, fantasy owners should be advised that despite returning to practice, Hernandez could still be held out of the game.
Jeremy Shockey, New Orleans Saints:
Shockey missed practice Thursday because of a groin injury.
Jimmy Graham
has clearly developed a rapport with quarterback
Drew Brees
and may be the better fantasy start, even if Shockey plays.
Have a Happy New Year and we'll have the latest injury updates affecting Week 17 in the Saturday morning blog!
December, 22, 2009
12/22/09
4:50
PM ET
How many of you started
Jerome Harrison
in Week 15? Come on now, tell the truth. I'll bet a whole lot more folks started
Calvin Johnson
,
Pierre Garcon
,
Michael Turner
or even newcomer
Arian Foster
, based on good, logical reasoning about past performance and future expectations. Sadly, Johnson and company combined for a whopping total of three points. That's right: an average of less than one point per player.
All four had injuries that affected their performance. Johnson has a balky knee; Garcon left his game early with a bruised hand; Turner reinjured his ailing ankle on his first carry; and Foster, well, he suffered from that virus circulating among Houston running backs known as fumble-itis. Meanwhile, Harrison -- all by his lonesome -- scored more than 15 times the number of points that group put together. I guess you could say Harrison is at least healthy.
If your fantasy playoff battle took place against a Harrison owner (who didn't happen to have him on the bench), then you are no doubt suffering from post-playoff depression. Fortunately, it's curable, but it tends to last about eight months, which is when the next fantasy football season begins. As for those of you who were able to make it into the next round of playoffs, you are left wondering who Week 16's Jerome Harrison will be. I can't tell you that, but I can tell you whom we're looking at in the world of injuries this holiday week ...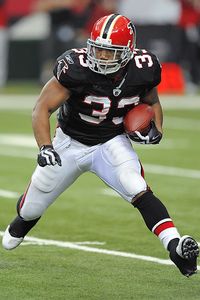 Dale Zanine/US PresswireMichael Turner's ankle has derailed many a fantasy team during the playoffs.
Michael Turner, RB, Atlanta Falcons:
Turner has been pressing to get back on the field since injuring his right ankle, not once, not twice, but three times. Turner exited the game after just one carry Sunday after a hit to that ankle, and his status for Week 16 is again in question. According to the Atlanta Journal-Constitution, coach
Mike Smith
reiterates that Turner will not automatically be shut down. Said Smith: "[Turner] is a quick healer. ... We're hoping he'll respond and come back." There are certainly reasons to be concerned about repetitive injury to a joint as it is trying to heal, particularly when it comes to long-term health. In fantasy, if you've already been burned here, you know to stay away. Let Turner prove he can get through a full game while you get your fantasy points elsewhere.
Reggie Bush, RB, New Orleans Saints:
Bush sustained a hamstring injury in the Saints' first loss of the season, but from the sound of things, this is a minor incident. Bush said he felt it grab right away, but he also characterized the injury as "very minor." In fact, despite a fairly significant injury history, Bush says he has never pulled a hamstring before, something that works in his favor toward progressing quickly. Fantasy owners can also feel good about coach Sean Payton's philosophy when it comes to resting players from the stretch run: He isn't planning on it. Payton told reporters Monday that the team is focused on each game, "right now," which means everyone needs to participate. Watch Bush in practice this week, but expect him to be available Sunday.
DeAngelo Williams, RB, Carolina Panthers:
Williams suffered a left ankle sprain in the first quarter of Sunday's game but there has been little word out of Carolina as to the severity of the injury. Williams sat out Week 13 because of an ankle injury but returned in Week 14 and rushed for more than 80 yards. Williams practiced this past week without incident and seemed to be in good shape heading into the game against Minnesota. The Panthers have been able to lean on
Jonathan Stewart
when Williams has been hobbled. They may have to do so again if Williams struggles with the ankle this week.
Other quick hits:
•
Detroit Lions
quarterback
Matthew Stafford
may not return in Week 16. His left shoulder AC separation is still causing him some discomfort, and it sounds as if the Lions will not return him to the field until he has healed sufficiently. Coach Jim Schwartz told reporters Monday that Stafford's shoulder was "definitely still a concern." The question, then, is who will replace him. Schwartz has not decided whether it will be
Daunte Culpepper
or
Drew Stanton
.
• Staying in Detroit, wide receiver Calvin Johnson is clearly less effective when Matthew Stafford is not throwing to him and when his knees are giving him trouble. That combination was in effect Sunday, when Johnson failed to be a big fantasy factor. He is not likely to be 100 percent healthy this week, and we don't yet know who will be throwing to him. This will be a situation to watch.
•
Philadelphia Eagles
running back
Brian Westbrook
may be active in Week 16, but fantasy owners should not get too excited. Coach Andy Reid has indicated that Westbrook will have "limited reps," according to the Philadelphia Inquirer. This makes perfect sense, as he will need to ease back into game shape. If Westbrook does make an appearance, he likely won't have fantasy value in Week 16, but he might be worth grabbing for a possible Week 17 play.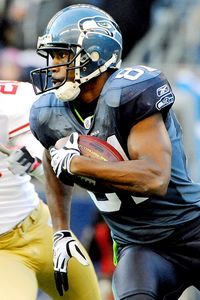 Kirby Lee/US PresswireNate Burleson missed Week 15 with an ankle injury, and given the Seahawks' other woes, he might miss the rest of the season with not much time left.
•
Seattle Seahawks
wide receiver
Nate Burleson
is already doubtful for Week 16, according to coach Jim Mora. Burleson sat out Week 15 with a high ankle sprain, and there was concern from the outset that he could be forced out for the rest of the season. While that has not happened yet, it certainly does not sound as though fantasy owners want to count on him for their playoffs. Best to look elsewhere.
Meanwhile, teammate
Julius Jones
suffered a rib injury Sunday (again), which could mean more carries for
Justin Forsett
in Week 16.
•
New York Giants
receiver
Hakeem Nicks
strained a hamstring in Monday night's contest but was quick to downplay the injury. According to the Newark Star-Ledger, Nicks said the hamstring had been tight for two weeks, adding that this strain was nowhere near as serious as the injury he suffered during training camp. Nicks did not return after the injury Monday night, but the Giants were already dominating the game. Expect Nicks to be available in Week 16, barring a setback.
•
Indianapolis Colts
receiver Pierre Garcon killed many a fantasy playoff dream when he left Thursday night's game early with a bruised hand. Although the injury did not appear serious, Garcon did not return for precautionary reasons, according to the Indianapolis Star. Coach Jim Caldwell hinted when he spoke to reporters Monday that starters might see limited playing time in Week 16, so fantasy owners will need to think twice about using Garcon this week.
• The
Buffalo Bills
lost not one but two quarterbacks this week to ankle injuries.
Trent Edwards
has been placed on injured reserve with a high ankle sprain.
Ryan Fitzpatrick
is also expected out this week as a result of his right ankle injury. Fantasy owners should not put their hopes in the hands of
Brian Brohm
, who is expected to get the start in Week 16.
•
Oakland Raiders
tight end
Zach Miller
missed Week 15 following his second concussion of the season. Miller hopes to play in Week 16.
See you at the injury chats (Tuesday 11 a.m.-noon and Sunday pregame 10-10:30 a.m. this week), and we'll have the latest injury updates affecting Week 16 in the Saturday morning blog.