Stephania Bell:

Ryan Howard
July, 15, 2013
7/15/13
5:03
PM ET
In honor of the 2013 MLB All-Star Game and accompanying festivities at Citi Field in New York City this week, it's time once again to compile a roster of All-Injured All-Stars. Members of this roster are selected from:
a. Players who were chosen for this year's All-Star game but could not participate due to injury
OR
b. Past All-Stars who might have had the potential to earn another trip in 2013 were it not for the injuries that beset them this year.
Just as was the case in 2012, this year's list offered multiple options at nearly every position in both the American and National Leagues. In other words, there is no denying the impact of injuries on the game. Not everyone who could possibly qualify is listed. Some are making a repeat appearance after making this list last season (a dubious distinction denoted with an asterisk). The selections here, just as with the actual All-Star roster, are debatable. But as the manager of the injury roster, the selections are at my discretion.
And now, I hereby present the 2013 All-Injured All-Stars.
National League
1B: *Ryan Howard, Philadelphia Phillies: Howard made the 2012 All-Injury roster as he was recovering from an Achilles tendon repair, a recovery slowed by setbacks in the spring. This year, the three-time All Star started the season on time but was placed on the DL on July 6 with a meniscus tear. Howard underwent surgery and is projected to be out for six to eight weeks (the Phillies hope to have him back and playing with the club in that time frame), a reasonable projection if all goes well with the rehab process. Still, the Achilles rupture and the meniscus injury have both been on Howard's left side, which raises the level of concern about how that leg will treat the 33-year-old going forward.
2B: Aaron Hill, Arizona Diamondbacks: Although Hill has technically returned from the DL, there is little doubt that his injury derailed the All-Star second baseman's season after a solid start. That too, the injury is not completely out of the picture. Hill sustained a nonunion fracture in his hand after being hit by a pitch. Ultimately, he was given clearance to try to play through it if the pain didn't limit him. He has been able to do so, although the team is taking precautions to have him avoid overusing it. The risk remains that it could be aggravated during the course of the season and force him out of the lineup again.
SS: Rafael Furcal, St. Louis Cardinals: Last year at this time, Furcal was making an appearance in the All-Star game; this year he has not made an appearance in a major league game. After spraining his ulnar collateral ligament, Furcal tried to go the conservative route, but during spring training this year, his elbow failed him. After undergoing Tommy John surgery and spending the rest of this year rehabbing the elbow, Furcal hopes to return next season.
3B: Aramis Ramirez, Milwaukee Brewers: Ramirez has been plagued by a problematic left knee since the spring. The Brewers have attempted to manage the problem by giving him intermittent days off. The challenge with the knee sprain, sustained back in March, is that if there is any residual instability (which there appears to be, based on how his knee has behaved), it can easily become aggravated by an awkward movement that causes the knee to give way, such as a diving defensive play, a quick directional change or a slide while running the bases. Despite his attempt to play regularly through the injury, the All-Star third baseman has been limited at times by the knee and recently aggravated it to the point of requiring a second DL stint. In fact, teammate Ryan Braun was brought off the DL a few days sooner than expected when it became clear Ramirez would be heading back. The symptoms from this latest episode will likely settle fairly soon, and Ramirez should be able to then increase his activity and return to the lineup. But what the two trips to the DL along with the controlled management of his playing time tell us is that we can expect the uncertainty around Ramirez and his knee to continue throughout the season.
C: Yadier Molina, St. Louis Cardinals: We're cheating a little bit by placing Molina here since it appears he will play in the All-Star game, despite the threat of injury. Molina's knee began to bother him about a month ago, suddenly worsening last week and making it difficult for him to run. An MRI revealed no structural damage and after a few days rest, Molina returned to the lineup this weekend, seemingly without issue. It's hard to imagine that an injury that has plagued him for the better part of a month would suddenly have disappeared, especially for a catcher whose job demands take a toll on the knees. It's terrific that the National League's leading vote-getter will be there for the fans. Let's hope it doesn't mean he won't be there for them later this season.
OF: *Carl Crawford and *Matt Kemp, Los Angeles Dodgers; Justin Upton, Atlanta Braves: Crawford seemed to bounce back this season after spending most of 2012 on the DL, first for lingering wrist pain and weakness following offseason surgery, then for a torn ulnar collateral ligament that ultimately required season-ending Tommy John surgery. The injury bug appeared to be in the rearview mirror in 2013. Unfortunately, that changed in June when Crawford suffered a hamstring injury that sidelined him for several weeks. Just a week removed from the DL stint for his hamstring, Crawford was out of the lineup with back stiffness. Although an MRI turned up "nothing really significant," according to manager Don Mattingly, Crawford has yet to return. At 31, it's more difficult for Crawford to bounce back from these nagging types of injuries, making it more of a worry that the hamstring or the back -- or both -- could be problematic for Crawford for the remainder of the season.
Kemp's performance in 2013 wouldn't have earned him a spot on the All-Star team this year, even if he were healthy, but his talent has made him a regular in years past. Last year, a hamstring injury that flared up as soon as he returned from his initial DL stint caused him to miss more time than he ever had in his major league career. Now he is set to challenge that statistic this season with consecutive DL appearances for different injuries (a hamstring strain on the opposite side of last year's injury followed by AC joint inflammation in his post-operative shoulder). The injuries only compounded the rough start Kemp was experiencing following his offseason labral repair. It always seemed likely that Kemp would improve in the second half of this year as he rediscovered his power swing. Now the hope is that he can simply be healthy enough to have the opportunity to do so. As of now, the end of the month appears to be the target for Kemp's return, and the Dodgers are hoping to see the pre-2013 version of their star outfielder.
The entire Braves outfield is hurting right now, but it is Upton who has the most All-Star appearances of the three, hence his name at this position. Upton strained his calf muscle, but by all accounts, it sounds minor and he could return within the week.
SP: *Roy Halladay, Philadelphia Phillies; *Chris Carpenter, St. Louis Cardinals: Is it a coincidence that these two are repeat honorees? Probably not, especially given that their situations last year portended greater concern for their health heading into this season.
In 2012, Halladay was sidelined with a strained lat, an injury he was able to return from in just under two months. This year, when his performance suffered in an eerily similar manner to last year, Halladay was quicker to acknowledge there was perhaps an underlying physical problem. Indeed, Halladay was dealing with damage to his rotator cuff which required surgery to repair. After undergoing surgery, Halladay has embarked on an intensive rehab program. He has made it clear that he hopes to return this year, although it is not likely to be before September.
Carpenter underwent thoracic outlet surgery in 2012 to alleviate nerve compression that was causing weakness and pain in his throwing shoulder and arm. Surprisingly, he recovered well enough to rejoin his team for the postseason, but he did not pitch like his usual self. After taking some time to re-evaluate whether he even wanted to return to baseball, Carpenter dedicated himself to a focused rehab process … again. Despite several setbacks along the way, he is nearing the point where he could contribute to the Cardinals' stable, as a starter. Carpenter is set to begin a rehab assignment Monday, according to the St. Louis Post-Dispatch, which could pave the way for a late-season return.
RP: J.J. Putz, Arizona Diamondbacks: Technically, Putz has returned to his major league team after missing extensive time due to injury. An exception was made to include him in the list because he isn't truly back yet, as evidenced by some of his lingering struggles. A sprain of his ulnar collateral ligament in his throwing arm had the former All-Star sidelined for virtually all of May and June. Shortly after returning, Putz blew a save, leaving us to wonder whether he had really fully recovered or whether he was just rusty. For now, he is operating in a support relief role, but the big question is whether he can pitch on a regular basis without any recurring elbow pain.
Honorable Mention: Freddie Freeman, 1B, Atlanta Braves (thumb); Ryan Braun, OF, Milwaukee Brewers (thumb); Jason Heyward, OF, Atlanta Braves (hamstring)
American League:
1B: *Kevin Youkilis, New York Yankees: Youkilis wasn't going to make this year's All-Star team, but he's certainly made enough of them in the past to warrant making this All-Star roster. Hip and back problems have limited Youkilis intermittently for years, and this time, his back would not let him get comfortable. He ultimately had to go the route of back surgery in June and is expected to be out for approximately three months. It's worth noting that the recovery timetable following this procedure is very fluid, so any setback could throw off that schedule. Despite his age (34), Youkilis is taking a chapter out of teammate Derek Jeter's book and expects to come back, although it remains to be seen whether he's able to do so this year.
2B: Omar Infante, Detroit Tigers: After getting taken out by a hard slide in a game in early July, Infante's injury was initially called a contusion. It was later announced that he had sprained his ankle, and Infante was placed on the DL but was expected back immediately following the All-Star break. Now it appears the ankle is recovering a little more slowly than expected, and manager Jim Leyland cautions that Infante may require a little more time. While this doesn't have the sounds of a particularly serious injury, Infante still needs to move well enough to make defensive plays in addition to running the bases. A few extra days now will translate to a smaller likelihood of lingering problems in the second half.
SS: Derek Jeter, New York Yankees: No matter how hard he tried to return to the lineup to start the season, it just wasn't meant to be for Jeter. After undergoing surgery to stabilize his fractured ankle last fall, Jeter appeared on track with his progression until pain during spring training interrupted his running program. Imaging studies revealed a second small crack, and Jeter's program was put on hold to allow the bone to heal. As the bone healed to the point where he could resume running, Jeter progressed rapidly through his rehab progression. In fact, he progressed so well that the team opted to have him return prior to the All-Star break. He lasted less than one complete game.
During his first game back, Jeter's 39-year-old quadriceps muscle tightened up on him, and he was forced out for the day. The Yankees are hopeful that this represents only a minor setback for the veteran given that it is a Grade 1 (mild) strain. After some rest and a few days to recover, it's possible he could be ready to go after the break, although the Yankees may ease him back with alternating days off and DH usage.
3B: Alex Rodriguez, New York Yankees: It's not surprising that the multiple-time All-Star is on the DL at this point. When he underwent January surgery to repair the labrum in his hip, Rodriguez was expected to be out until after the All-Star break. Still, it was uncertain whether his rehab would proceed smoothly and allow him to be on track for a July return. Minus the distractions associated with both the Biogenesis scandal and his recent rehab status updates on Twitter, Rodriguez has experienced a fairly smooth recovery. The last physical hurdle he needs to cross before rejoining the Yankees is a complete rehab assignment, and he is well on his way. On Monday, he graduated to Double-A Trenton as part of his progression towards major league competition. According to the New York Post, Rodriguez says his legs "feel good" and the plan, as he understands it, is to rejoin the team July 22. Although he hasn't shown much at the plate thus far -- after being out of baseball for the bulk of the last nine months -- the rust is not surprising. While his physical condition is improving, there may be other hurdles -- other than of his hip -- which prevent him from contributing for the remainder of this season.
C: Francisco Cervelli, New York Yankees: Admittedly, Cervelli is a reach here as he has never been an All-Star. But with no one else really competing for a slot, he gets the nod as the starting catcher. Cervelli has been on the DL since late April after suffering a fracture in his right hand, which required surgery. (Incidentally, the Yankees seem to be leading the league in hit-by-pitches resulting in fractures among starters.) After finally recovering enough to take batting practice, Cervelli was just shut down again due to a stress reaction in his right elbow. It now looks like he will be sidelined until August, and it's hard to imagine him being effective immediately after being limited from baseball activity for so long.
OF: Melky Cabrera, Toronto Blue Jays; Curtis Granderson, New York Yankees; Shane Victorino, Boston Red Sox Oh, what a difference a year makes. At this time in 2012, Cabrera was the All-Star Game MVP, and his performance helped secure home-field advantage for his team at the time, the San Francisco Giants, in their World Series appearance. It was a World Series that Cabrera would end up not participating in, due to the fallout from his suspension for testing positive for PEDs. Cabrera then switched leagues in the offseason when he signed with the Blue Jays. This year, he finds himself on the DL with what is being called left knee tendinitis. The good news is that he has begun a rehab assignment and should be able to rejoin his team shortly after the All-Star break, barring a setback. After going from the highest high to the lowest low last year, then following it with injury this year (which, so far, appears to be minor), Cabrera has to be ready to turn the page in the second half.
Granderson can't catch a break this year. Or, maybe he can actually do it a little too well. After starting the season on the DL with a wrist fracture sustained when he was hit by a pitch during spring training, Granderson made his season debut in May. It was short-lived, however, as Granderson lasted just days before sustaining another fracture, also the result of being hit by a pitch. This time, he sustained a break to a bone in his hand that required surgical stabilization. For a while, Granderson struggled to grip the bat, and his progress back to baseball activities was slow as a result. As of now, he has begun taking swings but still needs to return to batting practice before a rehab assignment is even in the picture. Granderson still appears to be a few weeks from rejoining the team, and even then, some apprehension about exactly what he can deliver at the plate -- at least initially -- is justified.
Victorino has been in and out of the Red Sox lineup for much of the season with some variant of low back, hip or hamstring pain, which all seem interrelated, per manager John Farrell. The problem with this complex injury is that, as it moves around, it becomes more difficult to treat and slower to resolve. It's just as well Victorino isn't part of the All-Star festivities as his body can certainly use the rest. Given that Victorino has already missed a month's worth of games this season combined with the fact that this problem has not gone away, there is definitely reason to be worried about how his body will hold up for the second half.
SP: Yu Darvish, Texas Rangers; Clay Buchholz, Boston Red Sox: Darvish would have been a fan favorite in this year's All-Star Game, and matchups between him and some of the NL's heavy hitters would have been eagerly anticipated. Unfortunately, those matchups won't be happening because of Darvish's recent placement on the DL with an upper back strain. He has struggled with giving up runs in recent outings, and the team is describing his ailment as fatigue in his upper trapezius. It's not your typical diagnosis, and it suggests he is experiencing associated neck or upper back stiffness. The question is how long the injury has been bothering Darvish and whether his performance of late can be attributed, at least in part, to his health. While the Rangers sound confident that he will return when eligible on July 22, consider that Red Sox ace Clay Buchholz is reportedly dealing with a similar problem and has been out for over a month. It may not be quite as benign as the team is making it out to be. We won't really know much until Darvish tries to resume throwing.
Speaking of Buchholz, he started off the season in spectacular fashion, but that came to a crashing halt after an odd injury sidelined him in late May. Buchholz claimed an awkward sleeping position resulted in soreness in his AC joint. Within a week, the problem evolved into a neck issue that was not initially considered serious, but Buchholz has yet to return. In fact, he has yet to make a rehab start; that has been delayed until after the All-Star break. The expectation is that Buchholz will be ready to return by late July, but his recovery process has not been smooth. Until he is able to return to competition and string together consecutive starts, there remains some concern.
RP: Jesse Crain, Chicago White Sox: Oh, the injustice. Crain was named to his first All-Star game only to be sidelined with an injury to his throwing shoulder. Crain was placed on the DL in early July after experiencing tightness in his right shoulder while warming up. The soreness continues to linger when Crain attempts to throw, but it's unclear just how serious the team thinks this particular episode is. Crain does have a history with his shoulder, having undergone surgery several years ago to address rotator cuff and labral damage. It's never encouraging to hear about problems resurfacing in a thrower's shoulder, but it's too soon to establish whether this is a minor incident that will resolve itself with rest or the beginning of a decline.
Honorable Mention: Justin Verlander, SP, Detroit Tigers (quad); Mark Teixeira, 1B, New York Yankees (wrist); Jake Peavy, SP, Chicago White Sox (rib)
July, 8, 2013
7/08/13
6:24
PM ET
Every Monday, in this space, we'll provide updates on a variety of players to help you make your weekly lineup decisions. We'll specifically try to hit the players who are day-to-day, have just gone on the DL or are ready to return, so that you can better decide whether you can count on them or not.
All projected return timelines should be considered fluid.
Hitters
[+] Enlarge

Brad Penner/USA TODAY Sports Ryan Howard lands on the DL while hitting .266 with 11 homers and 43 RBIs.
Ryan Howard, 1B, Philadelphia Phillies (placed on DL July 6): Howard's move to the DL couldn't have come as a complete surprise. He had been in and out of the starting lineup recently with soreness in the knee, but now he will be out for an extended period. Speaking to reporters Monday, Phillies general manager Ruben Amaro Jr. stated Howard has a meniscus tear and will undergo surgery to address the issue. The Phillies are hopeful they can have Howard back in the lineup within six to eight weeks, not an unreasonable expectation if the operation and subsequent rehab process go smoothly. Although Howard had been dealing with soreness since May, he told the Philadelphia Inquirer the pain and stiffness had recently increased to the point where he could not play through it. This procedure should allow Howard to move forward from the injury and return to play this season. But it is yet another injury to the left leg, which has been responsible for most of Howard's DL time during his professional career, including his Achilles rupture in 2011.
Aramis Ramirez, 3B, Milwaukee Brewers (placed on DL July 8): Day-to-day could really describe the entire season for Ramirez, given that his left knee has not been 100 percent healthy since he initially injured it this spring. On Saturday, Ramirez made a diving catch after which he came up limping, exiting the game shortly thereafter. On Monday, he was placed on the disabled list as Ryan Braun was activated.
The bigger question is whether Ramirez can really be expected to be at full health at any point this season. Based on how the knee has responded so far and with the potential for aggravation any time he slides or dives, the answer would appear to be no. In the absence of being healthy though, can he be effective? The Brewers have to hope the answer to that question is yes, but it may be on only an intermittent basis.
Ryan Braun, OF, Milwaukee Brewers (activated from DL July 8): Braun's thumb injury has been discussed multiple times in this space and the uncertainty of how it will behave across the rest of the season remains. However, he made enough progress in terms of gripping and swinging the bat that he was activated Monday in time for the evening matchup against the Cincinnati Reds. He swaps roster spots with teammate Aramis Ramirez. While he's back in action, Braun would still benefit from a few days off during the All-Star break. This might offer fantasy owners a good glimpse of whether the layoff has helped Braun's symptoms to the point where he can be productive at the plate.
Carlos Gonzalez, Colorado Rockies (day-to-day): If it's not one thing, it's another. Literally. Gonzalez left the game early after straining his upper back Thursday; now it's a finger which caused him to exit early on Sunday. Gonzalez reportedly took an awkward swing and injured the middle finger on his right hand. According to Troy Renck of the Denver Post, X-rays were negative and Gonzalez remains day-to-day with a sprain. It will all come down to whether he can effectively grip and control the bat. Literally.
Yadier Molina, C, St. Louis Cardinals (day-to-day): Molina and the Cardinals were relieved to learn that his right knee does not have any structural damage, according to the MRI he underwent this weekend. Molina's knee had been sore for a month but he told reporters he was sent for further tests after it hurt him to run Friday. "Everything came back negative and that's a relief," Molina said Sunday. He hopes to be back Tuesday after the Cardinals' off day Monday. It's hard to imagine a couple days will make this disappear, particularly if it has been bothering him for a month. After all, it's not as if his position isn't stressful on his knees without adding in the demands of running the bases. With former catcher Mike Matheny at the helm, it's a safe bet the Cardinals will be mindful of Molina's workload this week if his knee continues to nag at him.
Matt Kemp, OF, Los Angeles Dodgers (day-to-day): The good news is the Dodgers expect Kemp back in the lineup soon, possibly as early as Monday. The bad news is that he's making an appearance in this blog. Again. And his left shoulder is the culprit. Again. The good news is that this time the injury is not in the glenohumeral joint, the location of his offseason labral surgery and where the arm bone or humerus interfaces with the socket. This pain was located in the AC (acromioclavicular) joint, where the collarbone and the shoulder blade meet at the point of the shoulder. Kemp received an injection to help alleviate the pain, but the key to his return will be whether he has any (as in even a hint of) discomfort in that shoulder when he attempts to swing. After all of his struggles to regain his form and along with it his power following surgery, he is going to be closely monitored to ensure he's not compensating and altering his swing. Again. In any case, it looks as if he escaped a serious issue and should return in short order; now the Dodgers have to hope this is a one-time incident and not another problem that will resurface as the season progresses.
(After this was initially posted, the Dodgers placed Kemp on the disabled list again.)
Neil Walker, 2B, Pittsburgh Pirates (day-to-day): Walker left Saturday's game with soreness in his right side and is expected to undergo an MRI this week (although he did not have one on Monday). There are hints of an oblique ailment, but the imaging test should help confirm the location and the severity of the injury. While Walker did not seem to think his injury was serious initially, it's often not until the athlete tests the area later with activity that the limitations become apparent. He is not in Monday's lineup and will likely be out several days at the very least.
Shane Victorino, OF, Boston Red Sox (day-to-day): Victorino's back has been giving him fits throughout the season, but he left Saturday's game early because of tightness in his left hamstring. It's unclear whether the two are related, but manager John Farrell seemed to think so. Victorino did not play Sunday and it is not immediately clear how much time the Red Sox anticipate he will miss. Given his history not only with his back and his hip this year, but with a prior DL stint in May specifically attributed to his left hamstring, caution is warranted.
Lance Berkman, DH, Texas Rangers (placed on DL July 7): The Rangers placed Berkman on the DL not because of his ever-troublesome knees, but because of a low back or hip ailment. The knees are still likely to blame, though. According to ESPNDallas.com, Berkman tweaked his right knee on an awkward step a week ago, missed a few games, then developed this issue while running to first. Rangers manager Ron Washington seems a bit surprised that the knees are an issue. "When we signed him, we thought everything was going to be fine with the knees," Washington said. Really? This is a 37-year-old player with chronic knee issues which, while he's managed to undergo various procedures and return to play, are not the same joints as when he was in his 20s. These potential flares have to be expected. And then there's always the possibility that the pain travels up the chain toward the hip and back, as appears to have been the case this time. Berkman will return and may even do quite well, but the risk is not going away.
Yasmani Grandal, C, San Diego Padres (placed on 60-day DL July 7): Catchers and plays at the plate are always risky and the Padres are the latest to experience the effects. After he injured both his ACL and MCL in a collision at home plate Saturday, the prospects of Grandal returning this year seem grim. The Padres' immediate placement of Grandal on the 60-day DL further outlines the severity of the injury. After the game, Grandal was on crutches and Padres manager Bud Black indicated the outlook was not good. An MRI is scheduled for Monday after which more information should be forthcoming. If he has a complete ACL tear, which requires reconstructive surgery, then Grandal's season will indeed be over.
Jedd Gyorko, 2B, San Diego Padres (placed on DL June 10): Last week in this space we discussed Gyorko's setback during a rehab game, which delayed his return to the team. Although he indicated the setback was minor, it seemed only logical the team would require another rehab outing before allowing him to play in major league games. That appears to be the plan, although a definitive timetable has not been offered. Manager Bud Black told reporters Gyorko could renew a rehab assignment toward the middle of this week. Given the way things have unfolded, no matter how strong Gyorko feels, it would not come as a surprise if he is held out of a return to the majors until after the All-Star break.
[+] Enlarge

Chris Humphreys/USA TODAY Sports Troy Tulowitzki's injury likely will also keep him out of next week's All-Star Game.
Troy Tulowitzki, SS, Colorado Rockies (placed on DL June 13): Last week we said Tulowitzki could get clearance to advance his activities and he has done precisely that. On Thursday he took batting practice for the first time since fracturing his rib. It obviously did not set him back since he returned for more on Friday. The swings are a good test of how aggressive he can be while still healing from the injury as long as he is giving it full effort, something that's often hard to simulate in practice. As Tulowitzki told the Denver Post, "I have to have my game swing. I can't baby it." Even though his injury was to the rib itself, the muscles which attach to the ribs (such as intercostals and obliques) contract violently with rotation. If the bone were still sensitive, he would no doubt feel the discomfort and be limited in terms of how vigorously he could swing. Only he knows whether he is truly testing it full bore.
According to the Post, Tulowitzki is expected to wear protective padding over the injured rib area on his right side when he returns, something that could help protect him in the event of direct contact. Contact was how Tulowitzki originally sustained the injury when he met the ground hard while making a diving defensive play. Even if bone is showing evidence of good healing, it continues to remodel itself for some time beyond the projected four to six weeks following a break. Another direct insult to the area could result in a setback in the form of reinjury, hence the layer of padding for extra insurance. Padding would not minimize the force of the muscular contraction which happens underneath it, however, meaning Tulowitzki needs to be able to throw (especially hard, cross-body throws) and swing without hesitation or discomfort -- including checking a full-throttle swing -- in order to prove he is ready to return.
He's not quite there and he knows it. Tulowitzki told the Post on Sunday he is not completely symptom-free with his hard swings and knows he needs to be tested in a variety of game situations before returning to the lineup. A rehab assignment is slated to begin Monday and the next step will be completely dependent upon how the assignment goes. It's important to remember he has not yet reached the four-week mark since suffering the injury; a return after the All-Star break would put him at five weeks out, a seemingly safer target. Tulowitzki has made it clear he will not play in the All-Star Game (to which he has been selected as a starter) if he does not play for his team first. It may come down to the weekend before we have the answer.
Pitchers
Dan Haren, SP, Washington Nationals (returning to action July 8): Haren is returning from the shoulder ailment that sent him to the DL in late June. It was only ever described as shoulder stiffness and Haren never seemed too concerned. If anything, he and the Nationals were more focused on his overall struggles and the hope is that the break may have helped him in this department. Haren threw bullpens and navigated a simulated game without incident but never went on -- nor did he or the team feel the need for -- a rehab assignment. He gets the start Monday night at Citizens Bank Park against the Phillies.
Wei-Yin Chen, SP, Baltimore Orioles (placed on DL May 13 , expected to return this week): Oblique injuries are becoming relatively commonplace amongst pitchers and while they can still vary in terms of severity, the standard return of just over a month remains fairly consistent. And, just as important, when pitchers recover fully from an oblique injury prior to returning to the mound, there seems to be a low rate of injury recurrence. That bodes well for Chen and the Orioles as he is set to return this week after being out since mid-May.
Alex Cobb, SP, Tampa Bay Rays (placed on DL June 15): It was terrifying when it happened, a line drive to the head which resulted in a concussion and sent Cobb to the hospital. Fortunately, he has made impressive strides since that time, including a return to a throwing progression. Initially following the injury there was no discussion about baseball but that quickly changed as Cobb progressed. As of early July he was playing catch and increasing his cardiovascular workouts. Last Friday he threw his first bullpen since the injury and he repeated the effort Monday, increasing the number of pitches. According to the Tampa Tribune, Cobb hopes to return to the Rays' rotation late July or early August. No matter where your team allegiances lie, everyone has to feel good about Cobb's recovery.
July, 10, 2012
7/10/12
6:28
PM ET
In honor of the festivities taking place in Kansas City today around the 2012 MLB All-Star Game, it seemed appropriate to compile a roster of All-Injured All-Stars. The qualifiers for this roster were selected from:
• Players who were chosen for this year's All-Star game but could not participate due to injury
OR
• Past All-Stars who might have had the potential to earn another trip in 2012 were it not for the injuries that beset them this year.
The sad fact is that this was a relatively easy list to compile. Outside of one or two spots that required a stretch to meet the inclusion criteria, it was not difficult to find candidates for each position in both the American and National Leagues. Does that make this year any better or worse than previous years? I'm not sure, but it does remind us how much injuries can impact the game. Not everyone who could possibly qualify is listed. Naturally, as with the actual All-Star roster, there will be debate. But like the managers in the All-Star get to select their lineups, these are my picks, undoubtedly influenced by the number of times their names make an appearance in questions fielded during chats, podcasts, blog entries and Twitter posts.
May I present to you the 2012 All-Injured All-Stars?
National League
Howard
1B: Ryan Howard, Philadelphia Phillies:
Howard finally made his 2012 debut just before the All-Star break after he ruptured his Achilles tendon in his last at-bat of last year's playoffs. Complications following an infection slowed his recovery. The Phillies are hoping for offensive contributions from Howard -- and he has delivered a couple of hits -- but since his return, the team has yet to earn a victory. Howard is still not a daily player as he is easing back into the lineup, and even he acknowledges his leg is not likely to return to 100 percent until next year.
Utley
2B: Chase Utley, Philadelphia Phillies:
Like his fellow infielder on this roster, Utley started the season on the DL and only recently returned to action. Working through chronic patellofemoral pain (pain under the kneecap), Utley underwent an intensive, focused rehabilitation program to be able to get back to baseball. It was slow and deliberate, but how long he will be able to hold up once he is playing on a regular basis is unknown. The Phillies like what they see so far; a couple of home runs, a few RBIs and, most importantly, no setbacks. If only that can last.
Tulowitzki
SS: Troy Tulowitzki, Colorado Rockies:
Tulowitzki was bothered intermittently by groin pain this season, but a setback during a rehab assignment led to eventual surgery to debride scar tissue from around a nerve. Tulowitzki was projected to be out approximately 6-8 weeks following the procedure, which translates to an August return. Until he resumes baseball activities, it will be difficult to assess how close he is to seeing any game action.
Zimmerman
3B: Ryan Zimmerman, Washington Nationals:
Zimmerman has certainly been playing like an All-Star ever since receiving his latest cortisone injection in his right shoulder. The big question on everyone's mind is whether it will last. Zimmerman initially had trouble with the shoulder in April, which ultimately landed him on the DL. Even after the time off, Zimmerman continued to have discomfort and it showed at the plate. In June, there was discussion about a cortisone shot or even another DL stint. The shot seems to have done the trick, though, and hopefully when post-All-Star play resumes, Zimmerman's shoulder will still be feeling good.
Lucroy
C: Jonathan Lucroy, Milwaukee Brewers:
Admittedly, this is a bit of a reach, but Lucroy was batting .345 when he went out with a broken hand in May and there was abundant chatter about his potential selection to the 2012 All-Star roster. Exhibit A from the Milwaukee Journal-Sentinel in May: "He has five homers and 29 RBIs in addition to his gaudy batting average, putting him in the conversation for an All-Star Game appearance." Who knows what might have been? Instead, Lucroy is working his way back toward a return. He has been throwing and running, and was recently cleared to start swinging a bat, putting him on pace to return in late July.
Kemp
Stanton
Werth
OF: Jayson Werth, Washington Nationals; Giancarlo Stanton, Miami Marlins; Matt Kemp, Los Angeles Dodgers:
Werth qualifies for the most dramatic injury after he broke his left wrist when his glove caught in the grass as he was attempting to make a sliding catch. To complicate matters, this was the same wrist on which Werth had undergone a prior surgical procedure in 2006. The initial timetable for Werth was projected at three months, but the good news is that he is expected to start swinging a bat sometime after the All-Star break. Let's see how his wrist tolerates those swings before thinking about upping his return date.
Stanton was a late scratch from both the All-Star Game and the Home Run Derby when he was removed from Saturday's game with soreness in his right knee. After undergoing surgery Sunday morning to remove loose bodies, it will be a few weeks before he is ready to return.
Kemp has missed more time this year than he has at any point thus far in his career because of a finicky hamstring strain. Known for his ability to play virtually every day over the past few years, Kemp was reluctantly forced onto the DL in the hope of preventing a more serious injury. He then had to return to the DL when the hamstring acted up in only his second game back. Kemp's timetable has been slower this time around and he was deliberately kept on a lengthier rehab assignment to force more situational running. Everything seems to be pointing to his return to the lineup this Friday when the Dodgers are back in action.
Carpenter
Halladay
SP: Roy Halladay, Philadelphia Phillies; Chris Carpenter, Cardinals:
The Phillies tie the Nationals with the most members on this NL roster, but the Phillies win in terms of the importance of the players lost to their team (no hard feelings, injured Nationals). To go along with starting infielders Utley and Howard, the Phillies lost one of their most durable and consistent starters in Halladay, who was forced onto the DL with a strained lat. Despite his denials, it seemed as though the injury was affecting him, even if in a subtle manner, since the spring and ultimately the discomfort caught up to him. Halladay has been sidelined since late May but has been steadily progressing in his throwing program. He is expected to make a rehab start Thursday, and the Philadelphia Inquirer reports that if all goes well, he could then rejoin the Phillies for a Tuesday start against the Dodgers.
Carpenter has been either very good or very injured. This year, unfortunately, it was the latter and he was plagued by weakness in his throwing shoulder since the spring. Tests confirmed thoracic outlet syndrome (which he has actually been dealing with for several years but has progressed to the point where he can no longer pitch) and Carpenter is scheduled for surgery later this month. The rehab is long and there are no guarantees, but Carpenter hopes to be able to pitch again next season.
Wilson
RP: Brian Wilson, San Francisco Giants:
What a difference a year makes. Last year, Wilson was participating in the All-Star Game. This year he is recovering from Tommy John surgery No. 2. Wilson struggled late last season and even had his elbow examined after it was causing him discomfort. The hope was that the offseason rest had helped sufficiently, but it didn't take long to find out that was not the case. Just two weeks into the season, Wilson was done and headed for Dr. James Andrews' office. Whether he will be available to pitch at the start of next season remains uncertain.
American League
Youkilis
1B: Kevin Youkilis, Chicago White Sox:
Whether it was his back injury that landed him on the DL this spring or his general malaise while in the murky
Boston Red Sox
situation, Youkilis was not performing up to par. The three-time All Star -- who also spent the offseason recovering from surgery to address a core muscle injury -- was not going to be making this year's Midseason Classic. It's worth noting, though, that his performance thus far with his new club has certainly been reminiscent of the Youkilis of old.
Pedroia
2B: Dustin Pedroia, Boston Red Sox:
A partial tear of a thumb muscle is likely to blame, at least in part, for Pedroia's struggles at the plate in June. Pedroia was not voted into the 2012 All-Star Game, which may be just as well, because he suffered yet another thumb injury just last week. A diving play resulted in an injury to the volar plate of Pedroia's thumb, the fibrocartilaginous tissue deep in the joint that helps block hyperextension. He is expected to miss several weeks.
SS: None:
There were no real candidates for this position based on the inclusion criteria. Something tells me this should make AL shortstops a bit nervous about the second half of the season.
Longoria
3B: Evan Longoria, Tampa Bay Rays:
Longoria partially tore his left hamstring at the end of April, and his return at this point is anything but certain. In June, he appeared on course, but a rehab outing was cut short when Longoria again felt discomfort in the hamstring. Since that time, there have been wavering suggestions as to when Longoria might resume baseball activities, something which has yet to occur. According to the Tampa Bay Times, manager Joe Maddon said he has no idea when Longoria can return. He then offered perhaps the most precise summation of the challenge of dealing with a partially torn hamstring: "It's a tough injury to overcome and a tough injury to battle back from."
Martinez
C: Victor Martinez, Detroit Tigers:
The former All-Star underwent surgery in January to repair both the lateral and medial menisci along with a microfracture procedure. His progress has been understandably slow in order to protect the delicate spots on the knee where the microfracture was performed. Based on a recent MRI and clinical evaluation to assess his progress, the Tigers have indicated the soonest (note: soonest) Martinez would return is middle to late September.
Sizemore
Ellsbury
Crawford
OF: Carl Crawford and Jacoby Ellsbury, Boston Red Sox; Grady Sizemore, Cleveland Indians:
Just imagine what this outfield could look like when healthy. It's actually difficult to do, as these three players have dealt with extended absences over the past few seasons.
To be fair, Crawford's absence in 2011 was a virtual one; he was healthy but merely a shadow of himself. Then in the offseason, he injured his left wrist and had to undergo surgery to debride a fibrocartilage tear in the joint. A slow recovery was followed by a setback, and just when he seemed on the verge of beginning a rehab assignment, he had elbow pain. It turned out to be a partial tear of his ulnar collateral ligament. No surgery was immediately required (there is some discussion about Crawford having surgery eventually) and he recently embarked on a rehab assignment. That assignment was interrupted by a mild groin strain, and again Crawford's return date has been pushed back. The Red Sox are hoping they will have him in the second half of July.
Ellsbury was hurt early in the season on a collision, which resulted in a shoulder subluxation. He too has started a rehab assignment, and while there is no firm commitment to a date, it sounds as if he could rejoin his team by the weekend.
As for the three time All-Star Sizemore, his healthy days seem to be far fewer than his unhealthy ones in recent years. This year, he is recovering from back surgery, and there is always some question about the true health of his knees. He has actually started a running program and a rehab assignment could be in the not too distant future. No one is counting on a specific date but the Indians would love to see him back on the field at some point in the second half.
Haren
Sabathia
SP: C.C. Sabathia, New York Yankees; Dan Haren, Los Angeles Angels:
Sabathia did not want to go on the DL for his mild left groin strain, but the Yankees did not want him to be hurt in September. And so he went. After all, better to rest a minor groin issue now than have compensations turn into a shoulder or elbow injury later. The good news is that he is doing well and is expected to return shortly after the All-Star break.
Haren has never even been on the DL until now. Considering he's pitched in the majors for 10 years, there should be a special All-Star category for that alone. Haren did admit that the stiff back that sent him to the DL has been bothering him since the spring, and he felt his performance was hindering the team. The Angels are hoping for a brief stay.
Rivera
RP: Mariano Rivera, New York Yankees:
Rivera, a medical marvel when it comes to pitching and baseball, suffered the unlikeliest of injuries when he tore his ACL while shagging fly balls during pregame batting practice. The 42-year-old closer quickly made it known that this would not be his exit from baseball. While no one has ruled him out from a late-season return, even Yankees general manager Brian Cashman has said he does not expect him back in 2012. No matter what the return date, the fact that he is making such good progress is encouraging.
July, 3, 2012
7/03/12
2:43
PM ET
A handful of top players could be back in action right after the All-Star break. Let's take a look at some players lingering on your DL who could be back in your lineup sooner rather than later.
• Now that
Lance Berkman
is back with the
St. Louis Cardinals
, the hope is that he'll be back on the playing field in the not-too-distant future. Berkman is recovering from meniscus surgery (remember when the worry was that he might have retorn his ACL?) and was originally projected to return in 8-10 weeks.
He recently told the St. Louis Post-Dispatch that his knee was "over the surgery," suggesting he merely needed to get in baseball shape. Getting the conditioning back is truly part of getting past the surgery, but to be fair, Berkman has undergone multiple procedures on his knees over the years and has a pretty good idea of what it takes. He sounds optimistic about a return shortly after the All-Star break. It may turn out to be a little slower going for his knee once he gets back into action, but it certainly appears the Cardinals will have him available in mid-July.
[+] Enlarge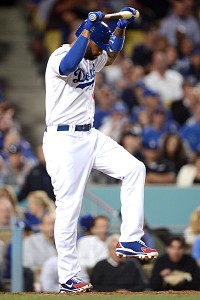 Harry How/Getty ImagesMatt Kemp will compete in the Home Run Derby before returning to big league play.
•
Matt Kemp
has been giving glimpses into just how good his hamstring is feeling -- running on the field to celebrate with his teammates, or just plain running during speed work -- but now the real test begins.
Kemp, who will not participate in the All-Star Game despite being voted in by the fans, has been cleared to begin a rehab assignment Tuesday. According to the Los Angeles Times, Kemp will travel to Kansas City to participate in the Home Run Derby. If all goes well in rehab games, he could return to major league play on July 13, when the Dodgers begin a home series against the
San Diego Padres
. One thing is certain: the Dodgers will have Kemp participate in more rehab games this time around. When Kemp suffered his initial hamstring injury, he passed every test with flying colors and played in two rehab games without incident. His first major league game after that initial injury also went without incident. In his second game, however, Kemp experienced the dreaded tightening in the back of his left thigh; his frustration was apparent as he broke a bat over his leg before exiting the dugout.
Even Kemp acknowledged at the time of reinjury that he would likely be headed back to the DL (he was) and that it would perhaps take longer to get healthy (it has). An MRI showed another strain higher up in the hamstring and swelling in the previously injured area, according to Dodgers head athletic trainer and physical therapist Sue Falsone. Despite passing all field tests, nothing reproduces the unanticipated demands on the hamstring quite like playing in a game. Situational running, whether trying to leg out a ground ball or making a defensive play, is impossible to reproduce in drills or practice. The hope is that with a few extra days of game play, Kemp will have an opportunity to increasingly challenge his hamstring, preferably without a setback. This would then help increase Kemp's confidence in his leg, something that can become problematic once there is a second injury. Athletes can become reluctant to press or challenge their leg for fear of suffering yet another setback.
• Meanwhile one of Kemp's teammates, second baseman
Mark Ellis
, could also be on the verge of return. Ellis underwent an emergency fasciotomy in the middle of May to release pressure and swelling inside the left leg after taking a blow just below the knee. After a fasciotomy, the initial priority is allowing the wound to heal, then increasing range of motion, particularly through the ankle. A gradual return to activity is permitted as the healing allows. Ellis has been on a rehab assignment and is expected to play seven innings in his final rehab game Tuesday, alongside Kemp, according to the Dodgers' website. Ellis could then be activated and join the Dodgers on Thursday.
• Baby steps are still steps.
Boston Red Sox
outfielders
Carl Crawford
and
Jacoby Ellsbury
seemed to be in a state of suspended animation for the last two months when it came to the question of when they might return. The only real news was that they were progressing through rehab. Now however, they are making significant strides toward returning.
Crawford, who started the season on the DL following wrist surgery, then sustained a partial tear of the ulnar collateral ligament in his throwing elbow, has been on a rehab assignment in Florida. He appeared in five games, initially as DH, then progressing to the field, a key test for his elbow. So far, so good. Apparently the medical staff feels the same way Crawford does, moving his rehab assignment to Double-A Portland, according to ESPNBoston.
Ellsbury may not be too far behind. Out since April after suffering a shoulder subluxation, he began his rehab assignment in Florida on Saturday. Ellsbury also began his stint serving as the DH, but has now progressed to seeing some outfield play. Given that his injury is to his glove side, playing defense is an important measure of his recovery. There's no guarantee that all situations can be accounted for during a rehab assignment, but the idea is to account for as many of those possibilities and see how the shoulder responds. One good sign is that his bat seems to be responding; Ellsbury hit a home run Monday. He remains in Florida for now.
Given the time clock of 20 days for position players on a rehab assignment, both Ellsbury and Crawford should be able to join their team shortly after the All-Star break, barring any late setbacks.
[+] Enlarge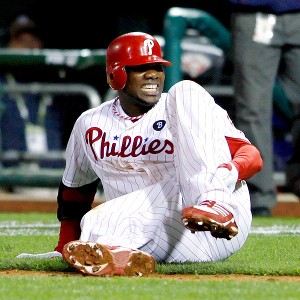 AP Photo/Alex BrandonRyan Howard hasn't played since injuring his Achilles on the final play of the Phillies' season last fall.
• The
Philadelphia Phillies
'
Ryan Howard
initiated a rehab assignment in Florida on Thursday, meaning the rehab "clock" has begun ticking. So far, he has been alternating between a DH role and first base. According to The Philadelphia Inquirer, Howard is expected to see an increase in innings in the field Tuesday. The healing of Howard's surgically repaired Achilles is not so much the issue at this point. Instead, it is getting back the feel of playing baseball while not focusing on his leg. Even Howard acknowledges that his leg will not likely be at full strength this year. Most who have undergone this procedure say it takes a full year before the leg really feels back to normal. Still, if he can contribute, even at less than full power, the Phillies will welcome his presence. But how much he'll be able to deliver out of the gate is uncertain.
•
Drew Storen
's timetable has remained fairly consistent since he came out of surgery to remove bone chips from his right elbow. His progress has been steady and he has not experienced any pain in the elbow. Storen's challenge has been taking it one day at a time and not overdoing it during his recovery. His bullpen sessions have gone well; next up is a short rehab assignment. According to The Washington Post, Storen expects to return to the
Washington Nationals
for the first game following the All-Star break. Given his smooth progression thus far, and the increased extension Storen has in his elbow post-surgery, there is reason to be optimistic about how the second half of the season will shape up for him.
Players whose timetables are unknown
Evan Longoria:
The
Tampa Bay Rays
third baseman has been out since April with a partial tear in his hamstring. After making it to a rehab assignment in June, Longoria experienced discomfort in the thigh in only his second outing, causing him to exit the game before the injury worsened. Understandably, it has been a cautious road back. Longoria has only just been cleared to resume baseball activities. Depending how he tolerates resuming hitting, ensuing running and field drills will determine when he will make his next attempt at a rehab assignment. Longoria still looks to be several weeks from a return.
Chris Carpenter:
Despite taking some positive steps in his return to throwing, the
St. Louis Cardinals
' ace continued to experience episodes of weakness in his throwing shoulder. That led to consultation with a vascular surgeon in Dallas, and a diagnosis of thoracic outlet syndrome, a condition not uncommon in pitchers, in which nerves and/or arteries between the neck and shoulder can be compromised, resulting in symptoms into the arm.
In Carpenter's case, there is no immediate surgery planned, suggesting the source of the symptoms is more neurogenic (nerve-related) than vascular (circulatory). "If I can pitch, that's what I'm going to do," Carpenter told the St. Louis Post-Dispatch. "If I can't, then we come up with another plan." The outcome is still tenuous at best and will continue to be a day-to-day assessment based on how Carpenter feels. Surgery may still be an option, just not one Carpenter is intending to pursue right now.
Update (5:38 p.m.):
Carpenter is now scheduled to
undergo surgery
later this month, and will miss the rest of the season. According to Cardinals general manager John Mozeliak, recovery time is three to six months, so the team hopes to have him ready for spring training next year.
June, 8, 2012
6/08/12
12:09
PM ET
June, 7, 2012
6/07/12
1:25
PM ET
May, 31, 2012
5/31/12
11:17
AM ET
April, 30, 2012
4/30/12
5:15
PM ET
Both
Philadelphia Phillies
first baseman
Ryan Howard
and second baseman
Chase Utley
are on the move, a sign that there is some forward progress in their rehabilitation efforts.
[+] Enlarge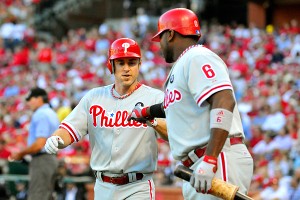 Jeff Curry/US PresswireThere still is no definite timetable for Chase Utley or Ryan Howard to return to action.
Howard, who ruptured his Achilles tendon in the team's final playoff loss to the
St. Louis Cardinals
, has been hampered by a superficial wound infection, which stalled his progress. Following a minor surgical procedure in late February to clean out the infection, Howard was returned to a walking boot for additional time and restrictions were placed on his physical activity. Wound specialists were consulted to help ensure that healing continued as expected. Recently, Howard was given the green light to move forward with his activity and he is heading to Clearwater, Fla., to try to do just that. The plan is to gradually increase baseball activities and continue to build strength in the leg. The Phillies are naturally staying away from any timetable for Howard to rejoin the team.
Utley began this season much as he did the last one, on the DL due to discomfort in his knees associated with patellar chondromalacia, a softening of the cartilage under the kneecap. He has been working with a physical therapist in Arizona and mostly staying out of range of the media. When the Phillies traveled to Arizona last week, Utley joined his teammates for some batting practice and even spoke with reporters. According to the Philadelphia Inquirer, Utley said he is feeling good and is stronger than at this time last year. "Last year, I went with the mindset of getting everything loose and not trying to make my legs tight," Utley said. "Right now, we're trying to gain strength and continue to keep my legs loose."
Phillies general manager Ruben Amaro Jr. told the Wilmington News Journal that Utley is expected to rejoin the team within the next week, but only to perform pregame workouts and continue his rehab with head athletic trainer Scott Sheridan, nothing more. Once Utley is ready, he will then head to Florida and work his way back toward more rigorous baseball activity including eventual game play. It would appear he is still quite a ways off from game action and he remains without a formal timetable. Each advancement is predicated on Utley remaining relatively symptom-free from one phase to the next, something no one can predict. Still, the Phillies are encouraged that Utley will soon be one step further along in his recovery path.
The bottom line is that there is no more definitive return date for either Howard or Utley than there was a month ago. There are still multiple hurdles for each player to overcome and with those come the possibility of setbacks, but there is also something now that brightens the picture for both: progress. Real, tangible progress.
Nationals now down two closers
[+] Enlarge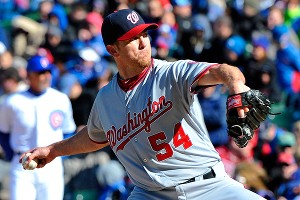 Rob Grabowski/US PresswireBrad Lidge was just 2-for-4 in save chances sharing the closer's role with Henry Rodriguez.
The
Washington Nationals
lost
Drew Storen
to an elbow issue before the season even started (he then underwent surgery in April to remove a bone fragment and he continues his rehab efforts). Now
Brad Lidge
has joined Storen on the DL. Lidge, who had been dealing with vertigo not so long ago, now has an abdominal strain. According to The Washington Post, Lidge actually began feeling discomfort in the lower abdominal region earlier this season, but the pain recently took a turn for the worse. Lidge was headed to Philadelphia to consult with the surgeon who operated on teammate
Ryan Zimmerman
last year for a similar injury. That surgeon is Dr. William Meyers, widely regarded as the leading expert on injuries of this nature, commonly referred to as "sports hernias." In fact, Meyers is encouraging a shift away from that term to the term "athletic pubalgia," which as he notes, "is harder to pronounce but probably more accurate in its description," in that it describes pain in the pubic region (groin, lower abdomen) typically experienced during athletic activities. These symptoms can be attributed to a variety of causes, including but not limited to muscular tears, so the detailed workup Lidge will undergo in Philadelphia will help clarify the nature of the problem.
There has been no word on the results of Lidge's visit as of yet, so it is too soon to speculate whether surgery will, in fact, be in order. Even if surgery is recommended, the length of time to return to baseball will depend to some degree on what structures are involved. In the meantime, closer duties have now shifted to
Henry Rodriguez
full-time (after he had shared the role with Lidge). The Nationals have to be hoping from a health perspective that the third guy's the charm.
For more analysis of injuries to
Carl Crawford
,
Michael Pineda
and Ryan Zimmerman, check out
this video update
from last Friday.
August, 12, 2010
8/12/10
6:22
PM ET
It's a sad day for the
Atlanta Braves
and their fans. Veteran third baseman
Chipper Jones
has suffered a torn ACL and is done for the season. It has to make you wonder whether he will even return to baseball when he was already sounding like someone on the brink of retirement.
Of course, it's always disheartening to see a player go down with a season-ending injury. But it's especially sad when that player is a team leader, nearing the end of his career. Jones has always been known as a tough athlete who will play through pain and he once told me that as long as he felt he wasn't hurting his team by being on the field, he would continue to play through injuries.
Not this time. A torn ACL is something you can't just mentally push through. Instead, Jones will need that mental fortitude to get him through the lengthy rehab he will face following surgery. And fantasy owners, sigh, will need to find a replacement at third base.
Who else needs replacing these days? We discuss ...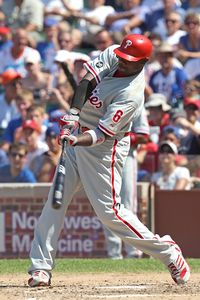 Jonathan Daniel/Getty ImagesFantasy owners could use Ryan Howard's bat in the lineup sooner rather than later.
Ryan Howard, 1B, Philadelphia Phillies:
Many of you regular readers know I have been questioning the risk-versus-reward value of the head-first slide given all the thumb and finger injuries that have occurred this year as a result. Howard's injury proves that even tagging a bag with your foot comes with its own dangers.
The power-hitting first baseman suffered a left ankle sprain Aug. 1 when he made an awkward stride into second base. Howard was trying to get back to second base, lunged with his left leg and his foot appeared to catch the edge of the bag. The ankle then buckled laterally (outwardly) as his momentum carried his body weight forward. The fact that his foot was relatively fixed against the bag probably made this injury worse. Initially, the Phillies seemed optimistic that it would just require a few days of rest, but shortly thereafter Howard was placed on the disabled list and his time away will in all likelihood exceed 15 days.
Even a moderate sprain can sideline a player for several weeks and this is an injury that routinely gets underrated in terms of recovery time. First, the swelling and pain have to subside to the extent that the athlete can bear weight through the ankle and regain normal range of motion. As of Monday, Howard was off crutches (a good sign), but the Philadelphia Inquirer reported that he was still walking with a noticeable limp. If you can't walk, you certainly can't run, so Howard remains a ways away from full activity.
The defensive demands of Howard's position are less stressful on an ankle than, for example, those of a shortstop, but he, nonetheless, needs to be able to move freely. He also needs to be able to run the bases without hesitation. Above all, the Phillies certainly don't want to send him back to competition only to lose him again to reinjury during what could be a critical phase.
Howard got his first taste of baseball activities on Thursday, as he took grounders and did some work in the indoor batting cages, according to the Philadelphia Inquirer. However, fantasy owners should expect Howard to be away for at least another week (and more likely two) beyond his eligible return date of Aug. 17.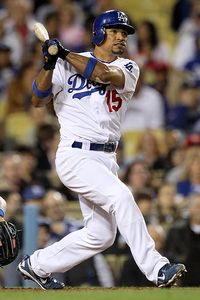 Stephen Dunn/Getty ImagesRafael Furcal is still second on the Player Rater among shortstops despite two separate DL trips this season.
Rafael Furcal, SS, Los Angeles Dodgers:
Just when it looked like we might not be writing about Furcal, as he was expected to rejoin the lineup Tuesday, pregame back stiffness instead sent him to the DL. The first important takeaway for fantasy owners is that this does not appear to be a serious episode and the Dodgers are hopeful that with the backdating of the DL date, Furcal could return within a week.
The second takeaway for fantasy owners, however, is to keep in mind that back problems tend to be recurrent and there's no telling when symptoms can crop up. Remember when Furcal had significant issues with his back in 2008, including pain radiating into his leg, which led to microdiscectomy surgery and a subsequent three-month absence? While this current problem does not appear to be
directly
related to his prior back problem (no leg pain, more generalized stiffness in his back than debilitating pain and, according to Dodgers director of medical services Stan Conte, no visible structural issues on MRI), it's not uncommon for anyone who has had prior back problems, including those who have undergone successful surgery, to experience another round of back pain.
It's worth noting that the demands of Furcal's position likely factor into the equation as well. He is an everyday player who, as leadoff hitter, is regularly on base (read: more running, more stealing) and therefore subjects his body to more strain than someone who doesn't carry the same load. While Furcal is known for being very diligent with maintaining his fitness program, it's not to say that the wear and tear he places on his body can be permanently kept at bay. Let's not forget he also dealt with a left hamstring injury earlier this year that sidelined him for the better part of a month (and hamstring issues often go hand-in-hand with back problems).
In essence, Furcal seems to be dealing with a minor episode of what could be, for him, a potentially recurring situation. In the short term, fantasy owners should be encouraged that this is not a major setback and Furcal is likely to return soon. In the long term, however, fantasy owners should bear in mind that such occurrences may be more likely to happen given Furcal's history. Not a reason to panic, but a reason to prepare.
Manny Ramirez, OF, Los Angeles Dodgers:
When is Manny not being Manny? When he's not in your fantasy lineup, of course. And this year he seems to have been away more than he's been present, due to the variety of muscular injuries he's sustained across the season. Ramirez seems to have aged before our eyes this year and there are certainly plenty of reasons to speculate as to why that's the case, including the fact that he is, after all, 38 years old.
That said, he can deliver some power when he's in the lineup, so fantasy owners want to know when they can get that power back. If the Dodgers have their way, that time could come within the next couple of weeks.
Ramirez is currently working out in Arizona, gradually increasing the amount of load on his injured calf through various activities and conditioning. But he has not yet run at full speed. In order for him to begin a rehab assignment, Ramirez has to demonstrate that running is no longer an issue, which means full sprints with power, without pain. Hopefully, that test will come within the next week or so. If he passes it, Ramirez will then be able to progress to rehab games. As unpredictable as Ramirez is, his injury is even more so but at least there are some targets on the horizon.
Russell Martin, C, Los Angeles Dodgers:
I feel like, more than in any other year, this year has made me say, "Wow,
there's
an injury you never see." First it was
Joel Zumaya
's elbow fracture that happened during a pitch. Then it was
Jake Peavy
's detached latissimus tendon. Now it's Russell Martin's subluxed hip and subsequent fracture.
For those of you still hoping Martin can return this season, let me help you put that to rest: He will not. But some questions remain as to exactly what lies ahead for him in terms of whether surgery will be required and how long it will take him to recover.
First, it's worth noting that the injury itself was truly remarkable in how it occurred. Martin was running home from third and at the plate he stumbles across
San Diego Padres
catcher
Nick Hundley
's outstretched leg. This causes him to flex forward as he continues to run and results in a few awkward strides. There is one particular step in which Martin lands on a completely straight outstretched leg. He is bent so far forward at the waist that his hip is the highest thing in the air. At the same time he twists to the right to look back at the plate, which further locks his hip. All the force of impact at Martin's heel travels right up the leg to reach its final destination of the hip joint. Bam! His hip fractures at that instant.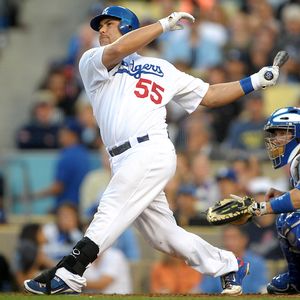 Kirby Lee/Image of Sport/US PresswireRussell Martin finishes his season hitting just .248 with five homers and six steals.
The posterior aspect, or back end, of Martin's hip joint sustained such force at that particular moment that the socket portion of the hip (acetabulum) cracked, causing a slight tear in the labrum (a cartilage ring that lines the joint) at the same time. While Martin was fortunate that his hip did not dislocate (come completely out of joint), Conte theorizes that the hip slipped in the joint just enough to cause the damage. As Conte told me, "The structures in the hip did their job, keeping it in the joint. But they paid the price."
The good news is that the fracture was non-displaced, meaning the bony structure remains in good alignment with minimal separation. Weighing all of the pros and cons of surgery to pin the fracture versus letting it heal naturally on its own, which was done in consultation with three of the top hip specialists in the country (Dr. Marc Philippon in Colorado, Dr. Bryan Kelly in New York and Dr. Thomas Byrd in Tennessee), the Dodgers have elected to allow the fracture to heal on its own. Given the non-displaced nature of the fracture, as well as its size and location, suggest that it can heal well. For the next few weeks, Martin will be on crutches, and he is only permitted to put a small amount of weight through his leg while the bone tries to repair itself. He will be re-evaluated in a month. If for any reason the bone is not doing its job, surgery then becomes an option.
As unusual as this injury is, and as disappointing as it must be to end the season this way, Martin has much for which he can be thankful. Had his hip actually dislocated, there could have been far more damage to the joint itself as well as to the structures around it. One of the biggest concerns with a major hip injury is damage to the blood supply in the joint. If that occurs, the next step is generally hip replacement (Bo Jackson underwent hip replacement after dislocating his hip). All indications at this point are that Martin did not suffer this type of damage to the valuable hip arteries. Assuming the fracture heals well (and there is good reason to expect that it will), Martin will have avoided surgery and can then get down to the business of rehabbing.
There is every reason to hope that Martin will be ready to start the season in 2011. But this injury is so unusual that when trying to find a comparison, as Conte puts it, "We're in no-man's land." Further complicating matters is the fact that Martin is a catcher and the crouch position he must sustain places significant load on the posterior part of the hip joint, the specific area that was injured. On a positive note, there is plenty of time between now and spring training for healing to take place and for Martin to regain his flexibility and strength. Assuming there are no setbacks, he could be charting a course for the next guy unlucky enough to suffer a similar injury.
And dare we say it ...
• Phillies outfielder
Shane Victorino
has been activated from the DL and is expected to return to the starting lineup on Friday. Victorino suffered an abdominal strain in his left side in late July, which thankfully did not end up as severe as it could have been. Within a week, he was swinging the bat and doing some long toss. By the second week he was playing in rehab games, testing the injury with multiple at-bats, slides and hard running. If the abdominal injury were still bothering Victorino, it would have certainly made itself known under that type of stress. Fantasy owners can feel confident putting him back in their lineups this weekend.
• Victorino's teammate,
Chase Utley
, got some good news this week. Utley was cleared to start taking swings with the bat after a visit with his surgeon, a good sign that things are healing as expected. However, Utley's goal to beat his projected timeline may not be reasonable. Associated Press reports indicate that while the team is encouraged by the positive news on Utley, assistant general manager Scott Proefrock says the team is sticking to its original timetable for his return. Utley, who had surgery to repair a torn ligament in his right thumb, has many hurdles to cross before he can return to full competition, which we
outlined back in June
. Fantasy owners should continue to eye the first week of September as an approximate return date.