Stephania Bell:

Sam Bradford
December, 23, 2011
12/23/11
8:24
PM ET
With the majority of NFL matchups taking place on Saturday, there is one fewer day for teams, coaches and, most importantly, fantasy owners to prepare! Never fear, championship contenders. We won't let something as small as a schedule change get in the way of bringing you all the latest information. With the NFL injury reports hot off the presses, here are the players whose status may have you concerned heading into this week's games.
Good luck in Week 16, everyone! May your players stay healthy and win for you.
Quarterbacks
Ben Roethlisberger, QB, Pittsburgh Steelers, ankle (Q):
The Steelers have been preparing
Charlie Batch
all week to face the
St. Louis Rams
, with Roethlisberger active only in an emergency scenario. This is not a huge surprise, as Roethlisberger is coming off a short week following the Monday night game in which he was clearly limited. With the playoffs forthcoming, the extended rest can only help. It's too soon to say whether the Steelers plan to have him active or not in the final week of the regular season.
Michael Vick, Philadelphia Eagles, ribs, (P):
Vick will probably be on this list through the end of the regular season as his rib injury continues to heal. There's no question, however, that Vick will be the quarterback for the Eagles against the
Dallas Cowboys
.
Josh Freeman, Tampa Bay Buccaneers, right shoulder, (P):
Freeman is now at the point where he can play despite the shoulder soreness. He practiced fully this week and will start against the
Carolina Panthers
.
Kevin Kolb, Arizona Cardinals, head, (Q):
Kolb suffered a concussion in Week 14 and has still only returned to limited practice. It's expected that
John Skelton
will start again.
Sam Bradford, St. Louis Rams, ankle, (D):
Bradford has been struggling with his ankle, saying it feels as if it's "going backwards." Not good. Neither is a doubtful tag. With backup
A.J. Feeley
already ruled out, it appears recently signed
Kellen Clemens
will get the start.
Running Backs
Chris Johnson, Tennessee Titans, ankle, (Q):
Johnson sprained his ankle Sunday and has been gradually increasing his activity throughout the week in an effort to return. While Johnson escaped major structural injury, the ankle has still been sore and could affect his overall performance, particularly with lateral movement and cutting. Johnson returned to limited practice Thursday and Friday and is expected to play, but likely will not be at top form.
Ahmad Bradshaw, New York Giants, foot, (P):
Bradshaw is following the same pattern of limited work during the week and playing on Sunday. Expect him to play again this week.
Felix Jones, Dallas Cowboys, hamstring, (Q):
Jones hasn't done much ... and that's the worry. Although he has been doing some running on the side, he has not fully tested the hamstring. While the Cowboys hold out hope he'll be available, it's
Sammy Morris
who has taken all the first-team reps in practice. As another signal the Cowboys want insurance, they promoted running back
Chauncey Washington
from the practice squad, according to ESPNDallas.com. To complicate matters, this is a late game and the decision will not likely be announced until inactives are due. Even if Jones plays, there has to be some concern about what exactly one can expect in live game conditions.
Michael Bush, Oakland Raiders, shoulder, (Q):
Bush has been on the injury report but it seems only logical he would be. After all, there are many other Raiders there to keep him company but, most importantly, he has been the workhorse of the backfield, enduring a physical toll. After he has been limited in practice each day, the questionable tag does raise some eyebrows. The signals out of Oakland all week have been that the Raiders expect to have Bush play, but it will be important to check pregame inactives.
Willis McGahee, Denver Broncos, hamstring, (P):
McGahee has been bothered intermittently by the hamstring since hyperextending his knee but the probable tag tells us the Broncos plan to have him on the field. McGahee practiced in full every day, which should also help put fantasy owners' collective minds at ease.
Kevin Smith, Detroit Lions, ankle, (P):
Smith's status is an upgrade over last week, indicating the team is feeling far more confident about his ankle. Smith's activity this week was a positive sign, as he was able to practice in full each day. While there's no way to be certain he can get through the game unscathed, this is certainly a better situation than last week.
Roy Helu, Washington Redskins, toe/knee, (Q):
Helu downplayed his injuries, but according to The Washington Post, he felt much better after practice Thursday than he did earlier in the week. Despite the questionable tag, it appears Helu will play.
Maurice Jones-Drew, Jacksonville Jaguars, ankle, (P):
His ankle got tangled up during the Week 15 game, but Jones-Drew, one of the most durable and productive running backs this season, was never really in danger of missing the game. He was given fewer reps in practice but participated on a limited basis every day. Jones-Drew is expected to start against Tennessee.
Beanie Wells, Arizona Cardinals, knee, (Q):
After he was listed as probable the past couple of weeks, it's a little concerning that Wells has been downgraded this week to questionable. He did practice daily, but on a limited basis; however, that has been the pattern for some time as the team has been attempting to manage his knee condition. The Arizona Republic reports that Wells is expected to play Saturday, despite the questionable tag.
James Starks, knee/ankle and Brandon Saine, concussion, Green Bay Packers, (P):
Starks sat out last week's game to give his ankle some additional rest. It only made sense after Starks struggled for several weeks in a row. This week has gone much better for Starks, who was able to participate fully in practice each day. Saine missed Week 15 with a concussion but returned to limited practice Wednesday, then full practice Thursday and Friday. Both backs are expected to be available along with
Ryan Grant
. Unfortunately for fantasy owners, there is likely to be a shared workload in place.
Shonn Greene, New York Jets, rib/shoulder, (P):
Greene has been on the injury report for a few weeks now and his latest injury (torn tendon in finger) isn't even listed. The probable tag indicates the Jets expect him to play.
Marion Barber, Chicago Bears, calf, (D):
Barber is listed as doubtful, meaning there is little doubt that
Kahlil Bell
will be carrying the load for the Bears on Saturday.
Mark Ingram, New Orleans Saints, toe, no designation yet:
Ingram is still not practicing, and with the game on Monday night, fantasy owners should avoid him in their lineups.
Wide Receivers
A.J. Green, Cincinnati Bengals, shoulder, (P):
Knowing that Green comes into this game fresh off a Grade 3 shoulder separation, the probable tag is very encouraging. Green has maintained all along that he would be able to play this weekend, and now it appears all but certain that he will. He was catching passes as early as Tuesday, practiced on a limited basis Wednesday and Thursday, and returned to a full practice Friday. If Green lands hard on the recently injured shoulder, it certainly won't feel terrific and he may be challenged to reach directly overhead, but he managed to finish the game last week after suffering the injury. It's hard to imagine it being much worse Saturday.
Steve Johnson, Buffalo Bills, groin, (P):
Last Sunday Johnson appeared to aggravate the groin injury that has plagued him throughout the season and was removed from the game as a result. Johnson said he could have re-entered the game and expressed little doubt that he would be back in Week 16. He practiced on a limited basis daily and appears on track to play as usual. It's worth noting that Johnson has performed well this season despite the presence of injury.
Laurent Robinson, Dallas Cowboys, shoulder (Q):
Robinson was listed this way last week but we all know he played. Expect him to do the same again after practicing daily.
Jeremy Maclin, Philadelphia Eagles, hamstring/shoulder (P):
Maclin looked better last week than he did the week before and the probable tag tells us the Eagles are confident he'll be out there again. Maclin practiced fully each day and looks to be overcoming the injury.
Mario Manningham, New York Giants, knee, (D):
Manningham has managed to play through his knee issue for the last two weeks but it appears he will miss this one. Swelling in the knee has returned, and he did not practice at all this week. Fantasy owners should make other plans.
Nate Washington, Tennessee Titans, ankle, (P):
Washington has already shown he can play through the ankle injury, even coming in at far more questionable status. After practicing in full daily, Washington appears good to go against Jacksonville.
Brandon Marshall, Miami Dolphins, knee, (P):
Marshall apparently had been dealing with some knee soreness but nothing so serious that he might have to miss this matchup against the
New England Patriots
. Marshall didn't practice Wednesday but returned to light work Thursday and full practice Friday. Expect him to play.
Vincent Jackson, San Diego Chargers, groin, (Q):
Jackson did not practice at all this week because of the groin issue, making his Saturday status far less certain. Jackson has played through injuries before, but this time may be different. It seemed like a foregone conclusion earlier in the week that Jackson would go, but Kevin Acee of the San Diego Union-Tribune reported that Jackson's groin has not responded as hoped to treatment during the week. Late game alert.
Wes Welker, knee and Deion Branch, groin, New England Patriots, (Q):
Once again the Patriots have roughly half their roster at questionable after limited practice all week. Welker has been at this status for several weeks and has played without incident. Branch, however, missed last week and there is legitimate question as to whether he is ready to return. Branch says he's improving, but the team will make the final decision, just before game time.
Santonio Holmes, New York Jets, hip, (P):
Holmes was an addition to the Thursday injury report after being limited in practice, but coach Rex Ryan said the Jets expected him to be ready by Saturday. The probable tag supports that, and fantasy owners can put him in their lineups.
Denarius Moore, Oakland Raiders, foot, (P):
Moore was able to make it back last week but didn't do too much. Another week of practice (full practices daily) should have him on track for more action.
OUT
This space is intended for a list of key fantasy players, not including those who have been moved to injured reserve status, who are officially listed as "out" for the upcoming game.
Anquan Boldin, WR, Baltimore Ravens, knee:
Boldin underwent knee surgery this week and will miss the remainder of the regular season.
Greg Jennings, WR, Green Bay Packers, knee:
Jennings suffered a sprained MCL in Week 14 and is likely out for the remainder of the regular season.
Matt Forte, RB, Chicago Bears, knee:
Forte suffered a Grade 2 MCL sprain, and the Bears still hope he will be able to return before the regular season is complete, but it is far from certain.
Jay Cutler, QB, Chicago Bears, thumb:
The Bears' starting quarterback remains out alongside their starting running back. Cutler is recovering from surgery to repair his broken right thumb.
Darren McFadden, RB, Oakland Raiders, foot:
McFadden is still removed from practice but the team still holds out hope he can return at some point. It won't be this week.
Jacoby Ford, WR, Oakland Raiders, foot:
Ford has still not been able to practice this week as he recovers from a foot injury.
Jake Ballard, TE, New York Giants, knee:
Ballard injured his PCL and, as expected, will miss this week.
Anthony Fasano, TE, Miami Dolphins, head:
Fasano was diagnosed with a concussion Thursday, at which point it appeared obvious he would sit out this week. The team made it official Friday.
Be sure to check out Fantasy Football Now on Saturday this week, on ESPN2 at 11:30 a.m. ET and Fantasy Surround on ESPN.com starting at 10 a.m. ET on Saturday for last-minute inactives, rankings, injury impact and more!
November, 1, 2011
11/01/11
5:57
PM ET
In the realm of injuries, this was no Week 7, thankfully. That doesn't mean fantasy rosters escaped unscathed. Oh no, not a chance of that happening.
[+] Enlarge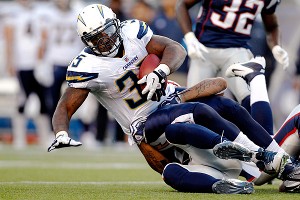 AP Photo/Charles KrupaMike Tolbert missed Monday night's game but he might be the only healthy Chargers running back for next week.
• The
San Diego Chargers
' running backs are in the injury mix again.
Ryan Mathews
injured his groin late in Monday night's game and did not return.
Mike Tolbert
was dressed and running on the field before the game, trying to convince coaches he should play. He didn't. And then there was
Curtis Brinkley
, who stepped in when Mathews stepped out. He delivered a touchdown, some carries, some catches, then suffered a concussion. His status is now murky as well. With all this happening Monday night, who knows how things will shape up by Sunday? Kevin Acee of the San Diego Union-Tribune expects Tolbert to be ready to go. The other two backs have fresh injuries, so it's likely a decision won't come until later.
• The
Cleveland Browns
' running back situation is also a bit messy.
Peyton Hillis
did not play Sunday despite making the trip to San Francisco. Given his midweek setback with his hamstring last week, there is no counting on him for Week 9, no matter how badly the team needs him.
Montario Hardesty
will not play for a while, now that he has suffered a moderate strain (Grade 2) of his right medial gastrocnemius (calf) muscle, according to the Cleveland Plain-Dealer. Hardesty definitely will miss time but the extent is unknown. These injuries often take time to recover from, and certainly as a running back, push-off requires use of the calf muscle, so there's no getting around it. Plan on him being down a month. How many of you had
Chris Ogbonnaya
on your roster? I'm not going to lie. As a Hillis owner, I did. I was rewarded with 10 points. The question then is, will Ogbonnaya repeat? Perhaps not, but he might be worth a look if you're hurting. The Browns are glad they took a chance on him since he was handling the load Sunday when Hardesty went down. Also, Mary Kay Cabot of the Plain-Dealer reported via Twitter on Tuesday that the Browns added running back
Thomas Clayton
to their roster. Clayton was active for the Browns for two games last season.
•
New York Giants
wide receiver
Hakeem Nicks
has a hamstring strain. The Giants are calling him day-to-day, and there appears to be no sense of panic at the moment. According to the Star-Ledger, Nicks is expecting to play this weekend against the
New England Patriots
. Teammate
Ahmad Bradshaw
was in and out of Sunday's game, getting X-rays on his right foot. The fact that he returned to the game after getting his foot retaped is a positive sign, and Bradshaw told the New York Daily News, "I knew it was fine. Just being precautious about it." That sounds like a good thing.
•
Fred Davis
has a Grade 1 ankle sprain, according to coach Mike Shanahan. Given that this is the most minor version of an ankle sprain, it does not look like it will keep Davis off the field Sunday, but naturally we'll wait to see how much he does in practice. At least Davis is not part of a tricky shared backfield. Speaking of which, the
Washington Redskins
have added
Tashard Choice
to their running back roster, but he will miss Week 9 with a hamstring injury.
[+] Enlarge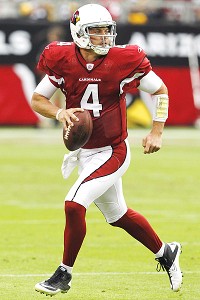 AP Photo/Ross D. FranklinKevin Kolb's first season in Arizona has been up and down, and now he's got a toe injury.
•
Arizona Cardinals
quarterback
Kevin Kolb
has an injured right toe, which might make it difficult for him to play in Week 9. Kolb acknowledged to reporters that the injury to his plant foot made it difficult to throw passes with the same velocity. On Monday, Kolb was in a walking boot, saying he had "no idea" what his status for Sunday would be.
There also are those who were sidelined in Week 8 whose status is of interest for Week 9.
•
St. Louis Rams
quarterback
Sam Bradford
is now out of his walking boot and "walking freely," according to Tony Softli of 101ESPN in St. Louis. Removal of the boot and walking with a normal gait are good measures of progress, as the injured area is stressed with every full weight-bearing step. If there was pain or any instability, Bradford would not be able to walk without a limp. Now let's see whether Bradford can get back to practice and make throws by the end of the week.
• We thought the
Houston Texans
might have wide receiver
Andre Johnson
back in the mix Sunday, but he did not feel ready. There is no way the Texans are going to press him into service if he is still experiencing any abnormal sensation in the hamstring. Last week we noted Johnson reported "tugging" in the leg. If he's feeling that while running at less than full speed, there is no way he can accelerate to top speed. Coach Gary Kubiak said Monday that the Texans hope Johnson will be ready for Week 9 but noted Johnson's symptoms were limiting factors this past week.
•
Atlanta Falcons
wide receiver
Julio Jones
seemed to benefit from the bye week. Jones was back in practice Monday and appears on track to play in Week 9, barring a setback.
• We haven't heard much from the
Tampa Bay Buccaneers
regarding
LeGarrette Blount
, but what we're hearing now is encouraging. Coach Raheem Morris told New Orleans reporters that Blount would return for this week's game. It will be nice to see Blount in practice, and see how he's moving following his knee sprain and whether he's wearing a protective brace, but with
Earnest Graham
done for the season, the Bucs surely could use him.
•
Oakland Raiders
running back
Darren McFadden
went into the bye week with a midfoot sprain, but the team seemed optimistic he'd return in Week 9. Well, it's preparation time for Week 9, and McFadden was not in practice Monday. It doesn't mean he won't be on the field by midweek, but until we see him running, there's reason to maintain some fantasy insurance.
We will continue to update these injuries and others as the week progresses.
October, 27, 2011
10/27/11
4:54
PM ET
As the injury world turns: In today's episode, a running back (Peyton Hillis) who showed promise early in the week for playing in Week 8 has a more discouraging outlook Thursday, a receiver (Andre Johnson) who in two days went from "definitely a possibility" to play Sunday to a maybe then back to a definite possibility, and a running back (Beanie Wells) who declared himself fully healthy just two weeks ago is not practicing at all now. These stories and more as the injury world turns.
Quarterbacks
Matthew Stafford, Detroit Lions:
Stafford (ankle) did light stretching and exercise Wednesday in what constituted a limited practice effort. On Thursday, he took it up a notch by working with the first-team offense. Dave Birkett of the Detroit Free Press reported via Twitter that coach Jim Schwartz acknowledged that Stafford had increased his activity. "He is improved today over yesterday, and I think that he's on a pretty good track right now," Schwartz said. Signs are certainly pointing in the direction that Stafford could play Sunday.
Sam Bradford, St. Louis Rams:
Last week, we outlined the concern for Bradford's mobility to protect himself as a factor in whether he could play. That concern remains as Bradford, who was still in a walking boot early this week, has yet to practice. The St. Louis Post-Dispatch reports the Rams are not even certain that Bradford will try to test the injured leg in practice. The left high-ankle sprain he suffered in Week 6 is looking likelier to cause Bradford to miss another game.
[+] Enlarge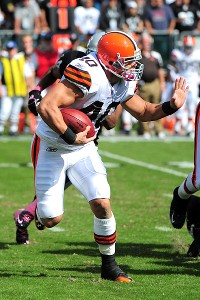 Kyle Terada/US PresswireIt seems pretty tough to trust Peyton Hillis on your fantasy team this week.
Running Backs
Peyton Hillis, Cleveland Browns:
Hillis returned to a limited practice Wednesday because of his injured left hamstring. Browns head coach Pat Shurmur gave a vote of confidence, saying Hillis would return as the feature back when ready (and sounded hopeful for Sunday). As is often the case when a player is recovering from injury, the day after can be very telling in terms of how far along the healing truly is. Lingering soreness suggests the muscle may have been overworked, and in the interest of avoiding a more serious setback, the response to that soreness is typically rest. Mary Kay Cabot of the Cleveland Plain-Dealer reported via Twitter on Thursday that Hillis would not practice Thursday because of soreness in the hamstring after Wednesday's workout. Even if Hillis returns to limited work Friday, his status for Sunday is iffy at best because the team will want to see how he responds the following day. And if Hillis is deemed ready to play, the leg will undergo a more strenuous test during the game. Any sign of strain would temper his workload, and given this latest development, the Browns might proactively alter his workload, should he play. It's a very cloudy picture right now for fantasy owners. The best bet is to have insurance for Hillis, which may come in handy, even if he suits up.
Wide Receivers
Andre Johnson, Houston Texans:
Johnson returned to limited practice Wednesday, an expected step in his recovery from a procedure on his torn hamstring tendon and an encouraging sign he would return in Week 8. Coach Gary Kubiak seemed pleased with what he saw from Johnson, telling the Houston Chronicle, "He looked good running to me." Then there was Johnson's take. Johnson told the Chronicle he still feels "tugging and stuff" on his leg when he runs. Johnson added that if he feels Sunday the way he did Wednesday, he probably won't play. Kubiak supported that notion,.understanding that ultimately how Johnson feels will drive the decision as to his status.
The Texans already have experience with one of their star players, running back
Arian Foster
, suffering a setback with a hamstring injury this season and they don't want to see it happen again. The worry in Johnson's case is not so much with the precise location of the procedure (near the tendon attachment at the knee) but in the muscle itself, which could suffer injury if he has not returned it to full strength before resuming play. As Kubiak pointed out, it's a long season and "we need to make sure we do the right thing here." On Thursday, the Texans showed renewed optimism, however, after Johnson was again able to practice. According to the Houston Texans' Twitter page, Kubiak said of Johnson, "He was better today. He told us that he felt better ... He had his normal day of practice ... We took another step forward." So fantasy owners, it appears Johnson will be a game-time decision Sunday. The progress is encouraging, but Johnson could sit one more week if he has any doubts.
Quick Hits
[+] Enlarge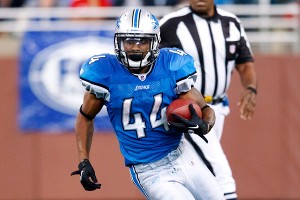 AP Photo/Rick OsentoskiJahvid Best does have a history of concussions in his playing career going back to college.
• Lions running back
Jahvid Best
is still not practicing after the concussion he sustained in Week 6. The Detroit Free Press cites a source close to Best as saying he is not expected to play in Week 8. The Lions have a bye in Week 9, so it's possible that Best has two more weeks away from football.
•
San Diego Chargers
tight end
Antonio Gates
had a normal practice Wednesday, the first time he has done so since the week following the season opener. Wide receiver
Vincent Jackson
(hamstring) was also a participant Wednesday, as was running back
Ryan Mathews
. Running back
Mike Tolbert
rested his sore hamstring Wednesday, and
Malcom Floyd
sat out because of his hip. The Chargers have a Monday night game this week, so there will be no official report until after Thursday's practice.
•
Arizona Cardinals
running back
Beanie Wells
did not practice Wednesday, not a huge surprise considering he's dealing with significant swelling in his knee. Despite Wells' routine projections of optimism that he will play (and think of how many times he hasn't), the bottom line is that an athlete can't run (which presumably is what running backs are charged with doing) when there is swelling present. Beyond the direct impact to the joint, swelling in the area will inhibit muscle performance, making a player even more susceptible to injury. At this point, there is little reason to expect Wells to dress for Sunday.
• The
Minnesota Vikings
need
Adrian Peterson
. The fantasy world needs Adrian Peterson. Everyone can now breathe a little easier because Peterson returned to practice Thursday after sitting out Wednesday. Peterson limped off the field late in Sunday's game after suffering what appeared to be an ankle injury. He downplayed the injury after the game, and the day of rest could only help. It looks as if he'll be available as usual Sunday. Teammate
Percy Harvin
also returned to practice Thursday after sitting out Wednesday to rest his sore ribs, an injury he aggravated last week despite wearing protective gear. That serves as a reminder of how hard it is to minimize the pain of a rib injury, and Harvin's recent struggles underscore the point. Even an active Harvin has to be considered questionable to produce.
[+] Enlarge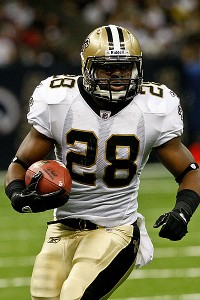 Derick E. Hingle/US PresswireIf Mark Ingram does sit out this week with a heel injury, the Saints are still more than covered at running back.
•
New Orleans Saints
running back
Mark Ingram
has not practiced this week after suffering a bruised heel Sunday. Bruising on the bottom of the heel seems like an obvious limitation to running, and heel bruises can be slow to wane. The New Orleans Times-Picayune hints at Ingram's missing Week 8, although the Saints have yet to rule him out. The Saints did activate
Chris Ivory
from the physically unable to perform list, giving themselves another option in the event of Ingram's absence. With Ivory just returning to football, it's expected the Saints will ease him back into game situations, meaning
Pierre Thomas
and
Darren Sproles
would handle the bulk of the workload Sunday.
• The
New York Giants
hope to have running back
Brandon Jacobs
back in the lineup Sunday. Jacobs missed two games with an MCL sprain, and persistent knee swelling has kept him off the practice field. He put in some work Monday and official limited practices Wednesday and Thursday. Barring a sudden recurrence of swelling, expect Jacobs to play Sunday.
• When
Indianapolis Colts
running back
Joseph Addai
exited Sunday night's game early with a hamstring injury, it was reasonable to believe he had aggravated the injury that caused him to miss the previous week. Not so, says coach Jim Caldwell. According to the Indianapolis Star, Caldwell says this is not the same injury that caused Addai to be questionable heading into Sunday night's game, but the new injury may leave him with the same designation for this week. Addai did not practice Wednesday, and Caldwell says he is awaiting word from the medical staff as to whether Addai will be able to return. Still seems to be a risky fantasy situation.
See you at the
injury chat Friday at 11 a.m.
, and we'll have the latest injury updates affecting Week 8 in the Saturday morning blog.
October, 25, 2011
10/25/11
5:34
PM ET
Anyone who plays fantasy football knows the trauma inflicted across rosters in the mess that was Week 7. There are, oh, a gazillion injury situations in play, so without further ado:
Washington Redskins
running back
Tim Hightower
was just getting past his shoulder injury, but it was his leg that failed him this time. Hightower suffered a torn ACL in a classic non-contact, deceleration manner, so we won't see him until next season.
It's hard to know whether we'll see
Earnest Graham
again after the
Tampa Bay Buccaneers
' veteran back, filling in for the injured
LeGarrette Blount
, suffered a torn Achilles tendon. With surgery and a lengthy recovery ahead of him, Graham may be challenged to return. In the meantime the Bucs, who have said nothing about Blount's specific injury or his progress (other than terming it a sprained knee), may be turning to some outside help to shore up their backfield. However, the Bucs do have a bye this week, but it is too soon to know whether Blount, who has yet to practice, will be ready by Week 9.
Tight end
Chris Cooley
never really got it going this season as a result of his ongoing knee ailment. He then fractured his index finger, requiring surgery and a lengthy recovery. He will now have plenty of time to recover from both as the Redskins have placed him on injured reserve.
Fred Davis
has proven to be quite capable in his place so far this year.
Quick Hits
They're all going to be quick hits this week gang given the number of injury items. As details emerge throughout the week, we will expound on them.
Detroit Lions
quarterback
Matthew Stafford
staying healthy through the first half of the season (officially through this Sunday; the Lions then have a bye in Week 9), don't rush to cash in just yet. Although Stafford was seen limping off the field late in Sunday's game against the
Atlanta Falcons
game after a defender fell on his right ankle, head coach Jim Schwartz is simply calling him "day-to-day," leaving open the possibility he is available this week. Schwartz did not go into details regarding the results of Stafford's imaging tests. My interpretation: nothing catastrophic, but some variant of a soft tissue injury. The key, as always, will be whether he can effectively plant and throw and move to protect himself.
• There were a pair of hand injuries suffered Sunday that require surgery. Redskins wide receiver
Santana Moss
underwent surgery Monday to insert pins in his broken left hand. He is projected to miss five to seven weeks. That timetable could be updated in about a month as the bone healing is evaluated.
Denver Broncos
running back
Willis McGahee
fractured his fourth metacarpal (the long bone in the hand that runs from the base of the fourth finger to the wrist) and is scheduled for surgery to repair it on Tuesday. While McGahee acknowledged he would miss Week 8, he expressed confidence he could return by Week 9. That sounds optimistic. Consider Redskins running back
Ryan Torain
, who underwent surgery for his metacarpal fracture in August but took three and a half weeks to return to practice, and four weeks before he played in a game. While all injuries are unique, it would not be surprising if McGahee's absence extends beyond the two weeks he projects. Even when he returns, he may require protective wear on the hand. OK,
Knowshon Moreno
, it's time to step up.
•
Green Bay Packers
wide receiver
Greg Jennings
also suffered a hand injury Sunday, but the results were not so dire. Jennings suffered a bruised right hand, one that caused him to temporarily experience numbness, according to the Milwaukee Journal-Sentinel. He had enough function in the hand to return to the game and later X-rays revealed no fracture. The Packers have a bye in Week 8, and it sounds like they expect Jennings for their Week 9 matchup with the
San Diego Chargers
.
•
Oakland Raiders
running back
Darren McFadden
had only two carries Sunday before exiting with what coach Hue Jackson told reporters Monday is a midfoot sprain. McFadden was on crutches Monday to offload the foot, but the team seems to not be overly concerned. They have the luxury of a bye week to allow McFadden to rest the foot and plan to re-evaluate him Monday. The midfoot is key for transferring load from the back of the foot to the front during weightbearing and any injury there makes it difficult to walk, much less run, normally. A minor sprain can respond well to unloading (this is where the crutches come into play) along with therapeutic modalities to help ease any pain and inflammation. Keep in mind that McFadden did return to the sidelines, but given his history of toe and ankle injuries, the Raiders were more conservative in guarding him against further injury. Wise move. Hopefully he is able to return in Week 9.
Arizona Cardinals
oft-injured running back
Beanie Wells
suffered a knee injury in Sunday's game that has left him with significant swelling but no particular diagnosis, at least not one the team is revealing. According to Kent Somers of the Arizona Republic, Wells denied a bone bruise and head coach Ken Whisenhunt did not elaborate on the nature of the injury, only saying there was no major structural damage. There are plenty of means by which a joint can become irritated and the response to that irritation is swelling. This is the same knee Wells had surgery on last year for a torn meniscus. The bottom line is that there is no plan for surgery (since there is no "structure" to address) at this time but there is also no running on a swollen knee. The goal is to address the swelling first, then try to bring the athlete back toward full activity and hope the swelling does not return. How long will it take? No one knows for sure. So stay tuned and keep an eye on when Wells is able to return to practice. Start by preparing for a backup in Week 8.
• New Orleans had all their running backs healthy when they came into Week 7 (not counting
Chris Ivory
, on the Physically Unable to Perform list since the start of the season). But
Mark Ingram
left Sunday's game with a limp, suffering what the team has called a bruised heel. No further word from the Saints on what they expect, and there is no indication as to whether the bruise is on the back of his heel, near the Achilles attachment, or on the undersurface of the heel, making it hard to prognosticate. If Ingram is limited,
Pierre Thomas
could be setting up for a nice matchup against the
St. Louis Rams
. Meanwhile, Ivory could be nearing a return to practice but that has not yet been made official.
• Atlanta Falcons quarterback
Matt Ryan
had a nasty looking ankle roll in Sunday's game. The awkward spill appeared to stress both his ankle and his knee, but after exiting for a brief period, Ryan was able to return and finish out the game. Ryan is no doubt pleased to have a bye week to allow the soreness to subside but is expected to start in Week 9. Teammate
Julio Jones
has missed two games with a strained hamstring, but if all goes well he could be back in Week 9.
•
Minnesota Vikings
wide receiver
Percy Harvin
has been battling sore ribs since the preseason. Again he had issues with the ribs, which forced him to exit the game in the third quarter. Harvin is going to be further evaluated, but consider the Vikings had already agreed to scale back his playing time when his condition worsened. It's entirely possible he misses some time.
• Even the durable
Hines Ward
of the
Pittsburgh Steelers
is on the injury report this week after sustaining an ankle sprain Sunday. Ward often gets a day off from practice during the week (veteran, history of knee issues in the past) so it may be difficult to get a feel for his playing status until Friday.
• The San Diego running backs have to be thankful for one extra day before returning to competition.
Ryan Mathews
injured his thumb during the game against the
New York Jets
but was able to return to play.
Mike Tolbert
was seen grabbing his hamstring late in the game and was indeed listed on the postgame injury report, according to the San Diego Union-Tribune, but neither player's injuries seemed to be a major cause for concern.
Raise your hand if you were one of the fantasy owners whose Sunday was ruined when
Marshawn Lynch
, declared active, was suddenly not playing because of back spasms that flared up during his pregame warmup. To make matters worse, it appears Lynch has been dealing with the issue for a while. According to the
Seattle Seahawks
' official website, coach Pete Carroll said Lynch's back is "not a new issue" but has been managed effectively to this point. As for Lynch's status this week Carroll said, "We'll have to be careful with him through the week and make sure that we do the right things. He is determined to play for sure in his mind, but we're really not going to know until we get to the end of the week." Or maybe not until Sunday after your rosters lock. Have a backup at the ready so you can pull the trigger if there's any shadow of a doubt heading into gametime.
And then there were a number of players who never took the field in Week 7 but whose status is of interest for Week 8:
Sam Bradford
is still in a walking boot and is no lock to play in Week 8. The team plans to reassess his status Wednesday.
•
Cleveland Browns
running back
Peyton Hillis
was not able to play Sunday because of his strained hamstring, but he did get some running in Monday, according to the Akron Beacon Journal. There have been enough hamstring injuries around the league that everyone should know this is only one of many steps before returning to play. If Hillis is able to get back to full practice this week, then he should play Sunday.
• The
Houston Texans
could have wide receiver
Andre Johnson
back in the lineup Sunday if all goes well. Coach Gary Kubiak added clarity to the situation calling the return of Johnson "definitely a possibility" when speaking to reporters Monday. Johnson, who underwent a procedure on his torn hamstring tendon in early October, has been running but has not yet returned to practice. If he is able to do so early this week, it would bode well for his chances.
• The
San Francisco 49ers
could have wide receiver
Braylon Edwards
in the mix this Sunday. Edwards has been out recovering from meniscus surgery on his right knee. Head coach
Jim Harbaugh
said he expected Edwards to return to practice Tuesday.
• The
New York Giants
could get running back
Brandon Jacobs
alongside
Ahmad Bradshaw
this week. Jacobs, sporting a brace for protection, was able to practice Monday, indicating the swelling in his knee had subsided to the point he could participate. Now the challenge will be to see if the swelling remains down before he can be cleared to play.
We will continue to update these injuries and others as the week progresses.
October, 20, 2011
10/20/11
3:24
PM ET
Never a dull moment in the world of injuries. Whose health could impact your fantasy roster this week?
Quarterbacks
[+] Enlarge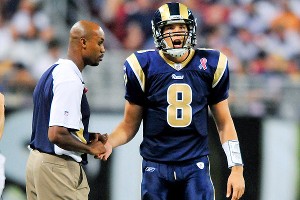 Jeff Curry/Getty ImagesSam Bradford may not be able to take advantage of newly acquired wideout Brandon Lloyd this week.
Sam Bradford, St. Louis Rams:
Coach Steve Spagnuolo told reporters Bradford suffered a high ankle sprain Sunday, and Bradford has been
wearing a protective boot
on that left leg since. Wednesday, ESPN's Chris Mortensen reported that Bradford will not test his ankle until Friday. According to ESPN.com, Bradford is expected to start Sunday, despite the injury, "because although mobility would be compromised, the plant leg is not affected." While it's true that the injured ankle is on Bradford's front leg, as he noted, "Obviously, I have to be able to drop back. I have to be able to have some mobility where I'm not just standing back there." Mobility is important for Bradford to function effectively and protect himself. Quarterbacks are more at risk in the pocket, and if Bradford were to get tackled with his left foot planted, it could easily aggravate the injury, turning what appears to be a mild high ankle sprain into something more serious. No doubt all these factors will be taken into consideration when the team evaluates what Bradford can do Friday and before a final determination about his status for Sunday is made. Don't consider him a lock just yet.
Running Backs
Peyton Hillis, Cleveland Browns:
Hillis was still not practicing Wednesday because of his injured left hamstring. Mary Kay Cabot of the Cleveland Plain-Dealer reported via Twitter that Hillis would do pool running Thursday (this allows him to practice running gait in water resistance with less impact) and noted the Browns are calling him day-to-day. It will be interesting to see if Hillis can practice at all Friday, which would certainly hint more at his availability Sunday. At the very least, it's reasonable to expect Hillis will not be at full strength by the time the weekend rolls around, suggesting that even if he is active, he's likely to share the workload with
Montario Hardesty
.
Jahvid Best, Detroit Lions:
The Lions haven't said much about Best's condition since he suffered a concussion last Sunday, but their roster moves may be saying a little more. ESPN.com reported
James Davis
was signed to the practice squad, while
Keiland Williams
and
Maurice Morris
split reps in practice. The Lions had acquired
Ronnie Brown
from the Eagles for
Jerome Harrison
, but that trade was voided Wednesday after Harrison failed his physical (ESPN's Adam Schefter reported that
Harrison has a brain tumor
). The Lions have been challenged by injury at the running back position since rookie
Mikel Leshoure
went down in the preseason with a ruptured Achilles tendon. Best has now suffered his third concussion in two years; the first caused him to miss the last four games of his final season at Cal and the second occurred during this preseason. There is much that remains unknown when it comes to concussions, but it is no secret that returning to play before the brain has completely recovered places the athlete at greater risk for subsequent and potentially more severe injury. While there's no way of knowing when Best will return, it appears highly unlikely he will be on the field in Week 7.
Wide Receivers
Julio Jones, Atlanta Falcons:
Jones was not in practice Wednesday, but according to the Atlanta Journal-Constitution, coach
Mike Smith
has not yet ruled him out for Sunday. Smith acknowledged that Jones would likely try to push himself to return but will leave the decision-making to the medical staff. The Falcons do have a bye in Week 8, and while that alone would not drive the decision to sit Jones, it certainly could help sway in the direction of rest if there is any question as to his health. There should be clearer indications by Friday as to whether Jones will indeed miss another week.
Tight Ends
[+] Enlarge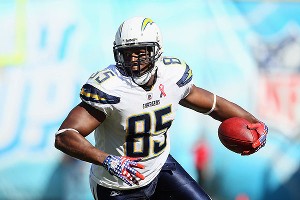 Jeff Gross/Getty ImagesAntonio Gates hasn't had a catch since Week 1 against the Vikings.
Antonio Gates, San Diego Chargers:
For a couple of weeks, we have heard rumblings that Gates was targeting a Week 7 return, and the signs are still pointing in that direction. Gates practiced Monday and participated in an official limited workout Wednesday. The hope is that he will continue to increase his activity and be available Sunday. Gates has stayed away from guaranteeing that he'll play Sunday, understanding first-hand that his condition has the ability to flare up at any time. Even if he does return, there is no way of knowing how he will respond to his first game action in more than a month. Gates has expressed hope that once he returns he could stay "active," but he has also learned from experience that this will be an ongoing management issue. For fantasy owners, it appears Gates will be in line to suit up Sunday, but you will want to check Sunday morning to be sure.
More news:
• The bye week looks to have helped a lot of other Chargers dealing with injuries. Wide receiver
Vincent Jackson
, who had a hamstring injury heading into Week 5, did not return to practice Wednesday but is expected to return Thursday and play Sunday. Jackson has been playing through abdominal and hamstring injuries and has been largely productive. The hope is there will be no setbacks and Jackson's health will continue to improve. On the running back front,
Mike Tolbert
and
Ryan Mathews
were back in practice Wednesday. Tolbert (concussion) and Mathews (calf) are expected to play Sunday.
•
LeGarrette Blount
may have traveled across the pond to London with his
Tampa Bay Buccaneers
teammates, but he is not practicing with them. The Bucs still have not said much about Blount and his injured knee (reported to be an MCL sprain) but his action, or lack thereof, says plenty about his not being ready to return. Indications are that
Earnest Graham
will again start in Blount's place.
•
Houston Texans
wide receiver
Andre Johnson
is making progress with his activity but is not yet back in practice. The Houston Chronicle reports coach Gary Kubiak has not ruled Johnson out for Sunday's game but he acknowledges Johnson still has a ways to go to return to action. According to Kubiak, Johnson is "right on schedule," running routes and catching some passes. Earlier in the week, Johnson noted there was still some weakness in the leg, which is perfectly reasonable, considering it has been exactly two weeks since his surgical procedure to address the torn hamstring tendon. Johnson's comment that he had been told at the time of the procedure it could take "six weeks at most" to recover set off alarm bells, but it's important to look at Johnson's entire statement. He also noted that he felt like he would be ready sooner and that he was making progress. The key for Johnson, beyond the immediate healing of the area following surgery, is returning to normal strength so as not to risk a subsequent injury in another part of the hamstring. Based on his current activity, it's looking like a Week 8 return is possible, which would be consistent with early projections following his procedure.
[+] Enlarge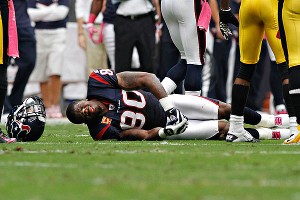 Brett Davis/US PresswireAndre Johnson is making progress from his hamstring injury but it's tough to rely on him in your lineup this week.
• Johnson's teammate, quarterback
Matt Schaub
, is a bit beat up but is still expected to play. Schaub has a sore chest, hip and knee and has been held to limited practice to allow his body some recovery. He is still expected to start this week at Tennessee but will need to try to avoid incurring additional physical abuse.
•
Pittsburgh Steelers
receiver
Mike Wallace
is another star receiver dealing with a strained hamstring. Wallace's injury was referred to as minor from the start, but his absence from Wednesday's practice had many wondering whether he could make it back for Sunday. There seems to be little concern that Wallace will be able to play, but fantasy owners should keep an eye on his practice participation over the next two days.
•
Miami Dolphins
running back
Daniel Thomas
seemed to emerge just fine from Monday night's game. Wednesday, Thomas was kept to a limited practice, understandable given the recent injury and the late game. Thomas told the South Florida Sun-Sentinel that he thinks he could handle a bigger workload, and he may have to. Teammate
Reggie Bush
did not practice Wednesday, not because of the neck injury that caused him to exit the Monday night game early but because of a groin injury suffered in Week 2, according to the Palm Beach Post. Wide receiver
Brandon Marshall
also sat out Wednesday practice with a sore quad. Bush and Marshall practiced Thursday, however, so another effort on Friday should secure their status for Sunday.
•
Carolina Panthers
tight end
Greg Olsen
did not practice Wednesday because of a turf toe ailment, although by all accounts it looks to be a mild case. Coach Ron Rivera told the Gaston Gazette the team wanted to let it "calm down a little bit" but that he expected Olsen to return Thursday. If Olsen practices without issue the next two days, it should not affect him Sunday.
•
Indianapolis Colts
running back
Joseph Addai
strained his right hamstring in Week 5 and has not yet returned to practice. Addai is not expected to play Sunday night against the
New Orleans Saints
.
•
Seattle Seahawks
quarterback
Tarvaris Jackson
has been doing perhaps better than expected since suffering a pectoral strain in Week 5, but that doesn't mean he'll be under center on Sunday.
Charlie Whitehurst
has been taking the first team reps thus far, and coach Pete Carroll told the Seattle Post-Intelligencer that the team was preparing for Whitehurst to start. Jackson's activity does indicate, however, that his return may not be far off.
See you at the injury chat Friday at 11 a.m., and we'll have the latest injury updates affecting Week 7 in the Saturday morning blog!
October, 18, 2011
10/18/11
5:01
PM ET
Fantasy rosters are already challenged with bye week rotations and mounting injuries around the league. That didn't stop the injury toll from rising in Week 6, with some players sustaining their second major injuries of the season, and we're only one-third of the way through.
[+] Enlarge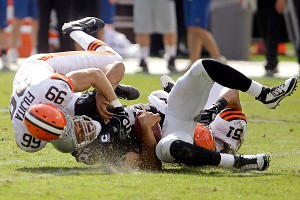 AP Photo/Ben MargotJason Campbell was hoping to return in six weeks from his broken collarbone, but the trade for Carson Palmer probably seals his fate for this year.
The biggest news is the fractured collarbone suffered by
Oakland Raiders
quarterback
Jason Campbell
. While Campbell's injury is significant, perhaps more so is the deal to acquire
Carson Palmer
from the
Cincinnati Bengals
. Campbell underwent surgery Monday to repair the fracture and was hoping for a possible return in six weeks. Such a timeline would presume full healing and a full return to normal throwing, a lofty ambition and certainly far from guaranteed. By acquiring Palmer, it appears the Raiders are indeed moving forward with the goal of "trying to win now." At least that was coach Hue Jackson's response to the question of whether Campbell would be placed on injured reserve, according to Vittorio Tafur of the San Francisco Chronicle. If Palmer helps the Raiders continue to move forward without missing a beat, Campbell will have all the time he needs to recover.
Week 6 also marked a first with two coaches suffering major injuries during a game (there's a reason players recovering from injury are not immediately cleared to be on the sidelines).
New Orleans Saints
head coach Sean Payton was in the path of his own tight end,
Jimmy Graham
, as Graham was being tackled, and Payton took a shot to his left knee. The injury, a tibial plateau fracture with concurrent soft tissue damage, required surgery, and Payton will be non-weight-bearing for nearly two months. He'll be undergoing his own lengthy rehab well beyond the regular season. Across the field during the same game in which Payton was injured,
Tampa Bay Buccaneers
assistant coach Jimmy Lake ruptured his patellar tendon while jumping up to celebrate an interception made by one of his defensive backs. Not a quick rehab on that front, either. Neither will be on the sidelines in the immediate future.
Quick Hits
[+] Enlarge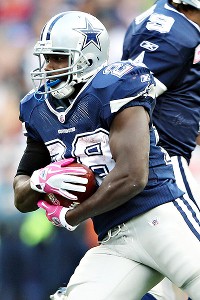 Elsa/Getty ImagesFelix Jones, already dealing with a shoulder injury, sprained his ankle against the Patriots on Sunday.
• The
Dallas Cowboys
finally had all their top offensive playmakers on the field for the first time since Week 1, but it lasted less than half a game. Running back
Felix Jones
, who was already nursing a sore shoulder after dislocating it in Week 2, suffered a left high ankle sprain and is expected to be sidelined for several weeks. The Dallas Morning News cites a source as saying Jones is expected to miss between two to four weeks. The reality with high ankle sprains is that the timetable is highly variable, depending in part upon the degree of the injury as well as the demands of the position.
The most serious high ankle sprains with complete ligament tears typically require surgery and are season-ending. The most mild, with no significant ligament damage and no measure of instability, can resolve within a couple of weeks. A key issue is whether there is enough ligamentous injury to cause a widening of the space between the two lower leg bones where they form the roof of the ankle joint. Gapping in that region can lead to chronic instability and arthritic changes. In essence, the area has to be allowed proper healing to allow for normal function of the ankle joint and to prevent long-term issues. The primary stress to that area is full weight bearing (every time the athlete takes a step). Cutting toward the inside can add further strain, but the biggest risk of aggravation comes from another player landing on the foot while the athlete is trying to rotate toward the inside (which is how Jones was injured in the first place). Running backs who have tried to return too quickly have struggled and often suffer setbacks (see the
Atlanta Falcons
'
Michael Turner
in 2009). It is impossible to state with certainty how long Jones will be sidelined, but fantasy owners should be prepared for a window that extends into November.
•
St. Louis Rams
quarterback
Sam Bradford
also is nursing an injured ankle. Coach Steve Spagnuolo referred to Bradford's injury as a high ankle sprain when speaking to reporters Monday. Bradford is in a walking boot, and his status is in question for Week 7. While he does not have the same mobility demands as a Felix Jones, he still needs to step into his throws to be effective. Spagnuolo perhaps best summed up how the injury could affect Bradford: "In my experience with the high ankle sprains, you just never know how long they're going to take. Fortunately, it's not the plant foot, so that helps a little bit. But my limited knowledge about throwing the football quarterback-wise is, it is from the bottom up. So you still need your legs and ankles to throw the ball effectively." Truth. The quarterback also needs them to protect himself from sustaining further injury. Don't be surprised if Bradford is out.
[+] Enlarge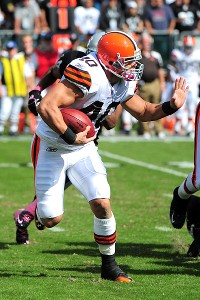 Kyle Terada/US PresswireIs Peyton Hillis the latest player to suffer the Madden Curse?
•
Cleveland Browns
running back
Peyton Hillis
is the latest fantasy starter to suffer a hamstring injury. Or so it seems. According to the Cleveland Plain-Dealer, Hillis exited early Sunday after he strained his hamstring by overextending his leg on the Browns' second drive of the game. Hillis ultimately came out in the second quarter and remained out for much of the game (no injury announcement was made by the team until the third quarter, adding to the confusion about his absence), yet tried to return in the fourth quarter to try to help his struggling team. A bit puzzling to be sure, but according to Hillis, he felt like he had to do something. He quickly realized he couldn't play. Hillis told the Plain-Dealer, "Yeah, it probably wasn't the smartest thing to do," hoping he had not made the injury worse. So far there is no indication as to what the Browns expect from Hillis this Sunday, but the good news is that the injury is not severe enough for the team to rule him out at this stage. We'll see whether he can get any practice time in this week, but fantasy owners should prepare for his potential absence.
•
Detroit Lions
running back
Jahvid Best
suffered his second concussion of the year Sunday (his first came during the preseason). Coach Jim Schwartz said Best's symptoms did not appear until after the game, not an entirely unusual occurrence. While the Lions have not ruled out Best for Week 7, he will have to go through the same routine (resolution of symptoms, return to baseline of neurocognitive testing, return to exercise without a return of symptoms, clearance by an independent neurological consultant to return to play) before he can take the field. We could see more of
Maurice Morris
or potentially
Ronnie Brown
, whom the Lions acquired Tuesday for
Jerome Harrison
.
• The
San Diego Chargers
had
Mike Tolbert
(concussion),
Ryan Mathews
(calf) and
Antonio Gates
(foot) back in practice Monday, but no one is declaring game status just yet.
Vincent Jackson
was not in practice early in the week but hopes to return by Wednesday, according to Kevin Acee of the San Diego Union-Tribune.
We will continue to update these injuries and others as the week progresses.
September, 18, 2011
9/18/11
1:09
AM ET
After a stellar performance in Week 1, San Diego Chargers running back
Mike Tolbert
gave everyone a scare when he exited the game in the fourth quarter with what appeared to be a knee injury. Tolbert was medically cleared to return to practice by the start of the week, however, and never even showed up on the team's injury report. In other words, he put in a normal week of practice and is ready to face the
New England Patriots
.
Also off the injury report:
Matt Cassel
(QB,
Kansas City Chiefs
),
Steve Breaston
(WR, Chiefs),
Austin Collie
(WR,
Indianapolis Colts
) and
Visanthe Shiancoe
(TE,
Minnesota Vikings
)
Good luck in Week 2, everyone! May your players stay healthy and win for you.
Quarterbacks
Sam Bradford, St. Louis Rams, index finger, (P):
The Rams play in the Monday night game, so it is nice to know there is every indication that he will play. On Thursday,
we noted the team's optimism after Bradford returned to practice and how he was going about treating his finger
. The concern after this injury, naturally, is how well Bradford can grip and deliver the ball, but those concerns were put to rest early in the week with the accuracy Bradford showed in practice. After doing limited work Wednesday and Thursday, Bradford put in a full practice Friday, enhancing his chances of leading his team in New York on Monday night.
Andy Dalton, Cincinnati Bengals, right wrist, (P):
Dalton's bruised right forearm made it difficult for him to effectively use his wrist and hand to grip the ball early in the week, but as the inflammation has improved, so has his function. Dalton was able to do some work with the right hand Thursday (after using only his left on Wednesday) and on Friday was able to put in a full practice. He showed the team what he needed to for them to list him as probable. Plan on Dalton starting Sunday.
Jason Campbell, Oakland Raiders, foot, (P):
Despite being added to the injury report this week with a foot ailment, Campbell put in a full practice daily. He is expected to start in Buffalo.
Running backs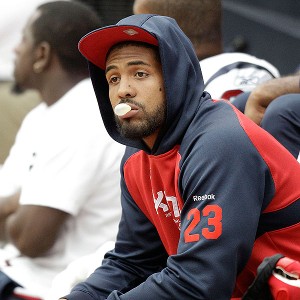 AP Photo/Eric GayAfter missing Week 1, Arian Foster is looking good to play on Sunday against the Dolphins.
Arian Foster, Houston Texans, hamstring, (Q):
Still the most intensely observed fantasy player in Week 2, Foster appears on track to play this week after sitting out the season opener. This really doesn't come as a shock after tracking Foster's progress throughout the past two weeks. Although he didn't practice last week, he did increase the intensity of his running workouts daily. This week, Foster returned to practice, and though he was listed as limited each day, head coach Gary Kubiak noted as early as Wednesday that Foster was taking the normal reps of a starter. By Friday, Kubiak sounded confident in Foster's recovery. With teammate
Derrick Ward
already ruled out (ankle, shoulder), it appears Foster is in line to start, with
Ben Tate
available to come off the bench. It is worth noting that Kubiak indicated Foster would likely not take his usual number of snaps, but these are the types of things that often change during the game. If Foster shows any signs of discomfort or suffers a setback, Tate could come in early. But if Foster shows that the hamstring issue appears to be a thing of the past and he's running well, he could see the bulk of the action. Despite the desire of fantasy owners to make it so, it is impossible to be certain an athlete is fully recovered from a muscle strain until he is able to prove it on the field. Game situations are more demanding and are simply not duplicated in practice. So everyone hopes for the best, knowing the week of rest undoubtedly benefited Foster in his recovery process. The Texans have shown they are interested in his availability for the long haul by not pressing him into service in Week 1. No doubt Foster is eager to prove to everyone -- even himself -- that the worst of this injury is behind him.
Steven Jackson, St. Louis Rams, quadriceps, (Q):
Like teammate Sam Bradford, Jackson plays Monday night, only his status is less certain. While Jackson maintained late in the week that there was still an "outside chance" he could suit up Monday, that chance appears to be very small indeed. Jackson left the Week 1 contest shortly after delivering a touchdown on a 47-yard play and hasn't practiced since. As noted Thursday,
the team has confidence in Jackson's ability to recognize how his body is responding
, but the signs are not encouraging. Even Jackson, while trying to keep the door open for a Monday night appearance, acknowledged to reporters that it's still early in the season and they want to be smart. The uncertainty, combined with a Monday night game, makes Jackson a risky play.
Cadillac Williams
would get the start in his place.
Knowshon Moreno, Denver Broncos, hamstring, (Q):
Moreno again appears on an injury report because of a hamstring ailment. Moreno has missed time in the past because of hamstring problems and it had to be a concern for fantasy owners coming into the season. This week, it's a particular concern because Moreno has not practiced at all. To complicate the fantasy scenario, this is a late game Sunday. Coming off a Monday night game (translation: less recovery time) with no practice whatsoever, it appears unlikely Moreno will be on the field to face the Cincinnati Bengals.
Darren McFadden, Oakland Raiders, shoulder, (P):
After taking his share of hits Monday night, McFadden was limited Wednesday and Thursday with a sore shoulder but returned to a full practice Friday, much to the relief of fantasy owners everywhere. The buzz in Oakland, along with the probable tag, indicates he is ready to play Sunday.
Daniel Thomas, Miami Dolphins, hamstring, (P):
Thomas injured his hamstring Sept. 7 in practice and was held out of the season opener as a result. Thomas returned to full practice this week, and as his probable designation would suggest, is expected to play. Between coming off the injury and a less than stellar preseason, Thomas is not likely to get the majority of carries. Teammate
Reggie Bush
is expected to start Sunday, but it's worth keeping an eye on Thomas, whose role could expand going forward.
Wide receivers
Santonio Holmes, New York Jets, knee/quadriceps, (Q):
Holmes suffered a knee injury in last week's contest against the
Dallas Cowboys
, but it did not appear particularly serious given that Holmes practiced fully Wednesday. On Thursday, however, Holmes injured his quadriceps (front of the thigh muscle) during practice and told reporters he did it while running. It's unclear whether the two injuries were on the same side, but since the quadriceps crosses the knee joint, the injuries could certainly compound one another. Coach Rex Ryan's concern about Holmes' status was evident and even Holmes, after expressing confidence about playing Thursday, told "The Michael Kay Show" on Friday that the decision would be up to the doctors. In other words, this likely comes down to pregame warm-ups and evaluation, but it also suggests Holmes is not likely to be at full strength by game time. Murky.
Plaxico Burress, New York Jets, ankle, (P):
Burress played last week, practiced fully every day this week and is expected to play this week as well.
Calvin Johnson, Detroit Lions, ankle, (Q):
Despite being listed as questionable, there is every expectation Johnson will play. Swelling in an ankle he sprained in Week 1 kept him off the practice field Wednesday and Thursday, but he did return to limited practice Friday. All along, Johnson did not seem overly concerned about his status and he has certainly rested during the week in past seasons in order to recover for Sunday. While it may not be a full recovery for his ankle, it's likely enough to allow him to be a big-play guy for
Matthew Stafford
to target.
Hakeem Nicks, New York Giants, knee, (Q):
Just what fantasy owners love. A Monday night game-time decision for a star player who has indicated he plans on playing but may not be up to full speed. That essentially summarizes the Nicks situation. Swelling in his knee kept him out of practice Wednesday and Thursday and he did only limited individual work Friday. While the New York Daily News reported Friday that Nicks indicated he would be "out there Monday" and that the pain and swelling were gone, head coach Tom Coughlin reiterated it would be a medical decision. The fact that Nicks got in a couple of days of limited work is a positive, but there's no telling how his knee will be feeling come Monday. The bottom line is if the swelling has returned to a degree where it compromises his ability to move effectively, he will be held out. On the other hand, an additional day of rest this week allows for more recovery. Given how Nicks has responded in the past and his late-week progress, the scale tips in his favor to play, but this is why they're called "dreaded" game-time decisions.
Dez Bryant, Dallas Cowboys, thigh, (Q):
Bryant is not only questionable, he's very questionable. After looking clearly impaired in the second half of last Sunday's game, Bryant did not practice all week because of a deep thigh bruise. Although team owner Jerry Jones sounded confident Thursday about Bryant's chances of playing, he retreated a bit from his remarks on Friday. While the Cowboys have indicated they would give Bryant up until game time, it's not just a question of desire on the part of Bryant. A deep bruise indicates bleeding within the muscle, which can render the tissue stiff and painful. The athlete will not be at full strength, will lack flexibility and, depending how limited he is, could be at risk for further injury. It would not be a surprise if Bryant sits; if he does not, it's hard to picture him performing at full capacity.
Miles Austin, Dallas Cowboys, knee, (P):
Last week, he was probable. He played. He scored. This week, he's probable as well. He plays again and perhaps gets more attention given teammate Bryant's status.
Brandon Lloyd, Denver Broncos, groin, (P):
Despite telling reporters he was not injured in the Monday night game, Lloyd appeared on the injury report and did not practice Wednesday or Thursday. He did make an appearance Friday, increasing his chances of making an appearance Sunday. That said, he will undoubtedly warm up before the game before a decision is made. It's hard to feel confident about a receiver with a groin injury coming off a short week and practicing only once, and on a limited basis at that.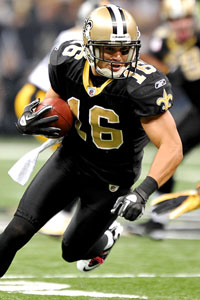 Patrick Green/Icon SMILance Moore could make his season debut Sunday against the Bears, but how effective will he be?
Lance Moore, New Orleans Saints, groin, (Q):
Another receiver, another groin injury. In Moore's case, however, the injury was several weeks ago, he rested the first week of the season and he has been able to practice all week, albeit on a limited basis. With teammate
Marques Colston
out with a broken clavicle, Moore has an opportunity to be the beneficiary. It appears he might begin that campaign this week. The New Orleans Times-Picayune reported that, as early as Thursday, head coach Sean Payton expressed optimism Moore would play this week. That said, even if he does play, it's hard to project how much action he will see. Everyone knows by now that quarterback
Drew Brees
has a multitude of receiving weapons and Moore is coming off a multiweek injury to an easily aggravated body part. And he is, after all, questionable, so be sure to check pregame inactive reports.
Michael Crabtree, San Francisco 49ers, foot, (Q):
Crabtree will likely be a game-time decision and last week's scenario had to be a bit unnerving for fantasy owners. Crabtree, who dealt with a foot injury that required surgery in the offseason, left the game early because of pain. According to the Sacramento Bee, Crabtree later said he would likely have to play through pain all season and would just "remove himself from the game" when it becomes unbearable. Not exactly what fantasy owners want to hear.
Darrius Heyward-Bey, Oakland Raiders, knee, (Q):
Heyward-Bey's status becomes more important this week with teammates
Louis Murphy
and
Jacoby Ford
already ruled out due to injury. Heyward-Bey has a knee issue that limited him on Thursday (he did not finish practice after sustaining the injury) and he did not practice on Friday. The Raiders under Hue Jackson are being very mum on injuries, but there is definitely some concern about Heyward-Bey's late-week injury, perhaps even more so because the team is already thin at receiver this week. If he plays, it's not likely his well-documented speed will be up to par.
Tight ends
Chris Cooley, Washington Redskins, knee, (Q):
Cooley, not surprisingly, struggled in Week 1. He did increase his practice activity this week, however, fully participating daily. It seems likely that if he could play last week, he will again this week, but how effective he can be is still questionable. Keep in mind this is an issue Cooley said he expected to have to manage throughout the season, so until we see him perform better, it's hard to have confidence.
Marcedes Lewis, Jacksonville Jaguars, calf, (D):
Lewis did not practice at all Wednesday or Thursday and was limited Friday. The doubtful tag tells you all you need to know. He is highly unlikely to play in Week 2.
Out
This space is intended for a list of key fantasy players, not including those who have been moved to injured reserve status, who are officially listed as "out" for the upcoming game.
Peyton Manning, QB, Indianapolis Colts, neck:
Get used to this one. Manning will be out for several months after undergoing a cervical (neck) fusion.
Sidney Rice, WR, Seattle Seahawks, shoulder:
The Seahawks spared everyone another Sunday lineup decision by announcing in advance that Rice is out for Week 2. He did do some practicing this week, though, so keep an eye on him for next Sunday.
Be sure to check out Fantasy Football Now, Sundays on ESPN2 at 11:30 a.m. ET, and don't forget our game-day chat and the online version of Fantasy Football Now on ESPN.com starts at 10 a.m. ET for last-minute inactives, rankings, injury impact and more!
September, 15, 2011
9/15/11
5:35
PM ET
Quarterbacks
Sam Bradford, St. Louis Rams:
On Tuesday, we outlined
Bradford's injury concerns
following the hit to his index finger in Week 1. On Wednesday, the Rams got some good news (one might say deservedly so, after all of the blows they were dealt on Sunday). Bradford returned to practice sooner than expected and looked better than expected. He was making numerous throws in practice Wednesday, prompting wide receiver
Mike Sims-Walker
to say, "I would've never thought he had a hand problem today, if I'd never seen the game Sunday," according to the St. Louis Post-Dispatch. The Post-Dispatch notes that Bradford has been wearing a glove connected to an electrical stimulation unit to help with swelling reduction. Apparently, something has been helping. Bradford said his hand felt, "10 times better than it did on Sunday" and plans to play Monday night. Naturally one of the keys, beyond the finger feeling better, is how effectively he can deliver the ball. Based on what his teammates are saying, that question appears to have been answered. Barring a setback, Bradford's quick progress suggests he will be under center Monday night.
Running backs
[+] Enlarge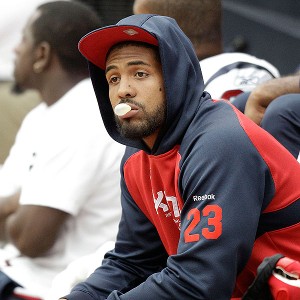 AP Photo/Eric GayArian Foster hopes not to be sitting on the bench again this week after missing the season opener with a hamstring injury.
Arian Foster and Derrick Ward, Houston Texans:
After sitting out Week 1, Foster returned to practice Wednesday and, according to coach Gary Kubiak, took the normal reps "for a starter" in the workout. Officially listed as a limited participant on the NFL injury report, Foster said that while he felt "pretty fluid" during the workout, he was still taking it day-by-day. The Texans were eager to see how Foster's hamstring responded to getting back into practice mode. It must have been no worse for the wear, considering he did it all again Thursday. HoustonTexans.com writer Nick Scurfield posted via Twitter that Kubiak described Foster as "much better" today and indicates if the trend continues, Foster will play Sunday. Meanwhile, Ward, who started in place of Foster in Week 1 but left early with an ankle injury, did not practice Wednesday or Thursday. He appears unlikely to practice Friday either but an official decision as to his status may not come until the weekend.
Steven Jackson, St. Louis Rams:
Jackson, who exited Week 1 early with a right quadriceps strain, did not practice Wednesday but instead spent time receiving treatment on his thigh. Although he has not yet been ruled out for Monday night's contest, he was deemed unlikely to play early in the week by coach Steve Spagnuolo. Spagnuolo told the St. Louis Post-Dispatch that he trusts Jackson with regard to his injuries noting, "He knows better than anybody how his body reacts." Given that Jackson has a bit of a history with soft tissue injuries but also works to keep himself at peak fitness, that trust in knowing when he can or can't push it is deserved. Jackson quickly removed himself from the game last week suggesting he was concerned about doing further damage and a Week 2 appearance seems unlikely. He has not practiced this week and it appears he won't.
Wide receivers
Hakeem Nicks, New York Giants:
On Tuesday, we noted that Nicks was
dealing with postgame swelling in his knee
, but an MRI showed no major trauma. Nicks suffered a bone bruise but pointed out that he was injured in the first quarter yet remained in the game, which confirmed to him the injury was not particularly serious. Often, though, the swelling will come later, as it did for Nicks, leading to the follow-up testing. On Wednesday, Nicks did not practice, as expected, but told reporters that the swelling was beginning to subside and he thought he would be able to play Monday night. On Thursday, Nicks, who remained out of practice, told ESPN New York that the decision to play Monday will ultimately be his call. He indicated the swelling had gone down and it was just a matter of pain, which he described as "not too bad." He plans to go through some individual drills Friday and will evaluate how his knee responds. Nicks has proven his toughness before, so discomfort is not likely to keep him down. If the knee swells again, however, it makes it difficult to contract the muscles around the joint, making him not only potentially ineffective as a receiver but also at risk for further injury. If he does not play,
Domenik Hixon
(returning from 2010 ACL surgery) will likely start opposite
Mario Manningham
, so fantasy owners may want to get him as Monday night insurance.
More notes
• The
Denver Broncos
have two major offensive fantasy players on the injury radar. Both running back
Knowshon Moreno
(hamstring) and wide receiver
Brandon Lloyd
(groin) suffered injuries Monday night, both have undergone MRIs (the results of which have not been made public) and neither has practiced since. It is not looking optimistic for either player at this point, especially coming off a shortened week.
[+] Enlarge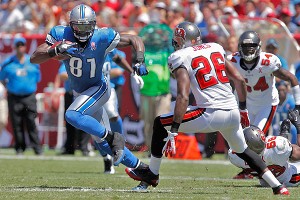 AP Photo/Margaret BowlesCalvin Johnson has a very good matchup this week, as long as he's healthy enough to play.
•
Detroit Lions
wide receiver
Calvin Johnson
, who sprained his left ankle in Week 1, told the Detroit Free Press on Wednesday, "Get the swelling out and I'll be ready." His non-participation in practice is likely aimed at doing exactly that, with the goal of having him available Sunday. Johnson has often been restricted or even held out of practice during past seasons in an effort to rest him for game days, so this is not unusual. Every time Johnson gets up in the air to make big plays, fantasy owners are simultaneously thrilled by the awesome catches and dreading the hard landings for fear of an injury. Somehow he manages to play through the majority of them and it appears he will again this week, barring an unexpected development.
• We can always count on
Dallas Cowboys
owner Jerry Jones to update us on the status of his top players. On Wednesday, Jones told the Dallas Morning News that he expects wide receiver
Dez Bryant
(thigh contusion) to play Sunday, suggesting the rest will help him to get ready. Anyone watching the Sunday night game in Week 1 could see that Bryant was hampered. Given his extensive injury history, it would be helpful to see him doing something in practice before the Cowboys face the
San Francisco 49ers
on Sunday. Friday will be important to gauge just how recovered Bryant appears.
• The
New Orleans Saints
know they will be without wide receiver
Marques Colston
for at least a month following surgery to repair a broken clavicle. But what about teammate
Lance Moore
, who suffered a groin injury in the preseason that sidelined him for the season opener against the
Green Bay Packers
? The extra time may have been just what the doctor ordered as Moore returned to limited workouts Wednesday. The last time Moore attempted practice he was out for several days -- and the first game -- as a result. This time he followed up Wednesday's practice with another (limited) practice Thursday. Not yet a lock to play Sunday, but certainly encouraging.
•
Cincinnati Bengals
quarterback
Andy Dalton
was able to make throws with his bruised right forearm Thursday and coach Marvin Lewis tells the Cincinnati Enquirer he expects Dalton to start Sunday. Dalton was having trouble gripping the ball and was using his left hand in Wednesday's practice. According to the Enquirer, Dalton handled short and medium throws Thursday and will test longer throws Friday. If the swelling has diminished to the point where he can grip and throw effectively, there is no reason for Dalton to be held out of Sunday's contest.
[+] Enlarge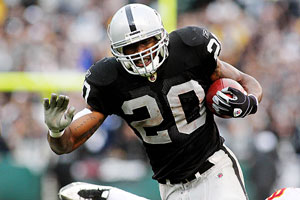 Cary Edmondson/US PresswireDarren McFadden was dealing with a shoulder injury and missed Wednesday's practice but still seems on track to start Sunday.
•
Oakland Raiders
running back
Darren McFadden
was kept to a limited practice Wednesday because of a sore shoulder, much to the alarm of fantasy owners everywhere. McFadden certainly absorbed his share of contact Monday night and, given his injury history, there was legitimate concern. According to the San Francisco Chronicle, McFadden was back Thursday, however, and is a "full go" for Sunday.
•
Chicago Bears
running back
Marion Barber
(calf) returned to limited practice Wednesday but then didn't practice Thursday. Not a good sign. Wide receiver
Roy Williams
(groin) hasn't practiced at all. More ominous sign. Looks like both could be on the sidelines in Week 2.
• Bad news:
Seattle Seahawks
wide receiver
Sidney Rice
, despite returning to a limited practice Wednesday, is being called a "long shot" by coach Pete Carroll to play this week. During an appearance on ESPN 710 in Seattle, Carroll spoke about Rice's talent, which they have yet to really see unfold in a game because of his absence. Rice is dealing with a shoulder injury he sustained during training camp.
• Good news:
San Diego Chargers
running back
Mike Tolbert
is not on the injury report.
See you at the
injury chat Friday at 11 a.m.
and we'll have the latest injury updates affecting Week 2 in the Saturday morning blog!
September, 13, 2011
9/13/11
3:50
PM ET
Here we are, at last, with Week 1 of a new NFL season behind us. There were amazing individual performances (here's looking at you,
Tom Brady
) and outstanding team performances (the
Houston Texans
delivered). And yes, there were injuries. Some teams (ahem, the
St. Louis Rams
) seemed to amass more than their fair share. Now comes the time when fantasy owners start scouting the waiver wire or considering trades to fill the roster gaps created by injury. Every Tuesday we will have a blog entry in which we'll share with you the latest updates involving notable fantasy-relevant players and how their status is shaping up early in the week. The emphasis is on the word "early," since no official NFL injury reports are due until Wednesday, and much can happen between now and the next slate of games.
To revisit some of the oft-asked questions surrounding injuries and fantasy football, I revive an excerpt from a piece I posted a couple of years ago.
Following is a compilation of injury guidelines to help fantasy owners navigate the maze of injury-related information that emerges each week. Although injury information may emerge in bits and pieces, swathed in insinuation and innuendo, there are some hints fantasy owners can use to help them stay on course when assessing injury impact on their fantasy teams.
1. No two injuries are identical.
• Injuries often can be graded according to severity. Even then, subtle differences often dictate different healing times.
• Players heal at different rates, so just because one guy recovers from an ankle sprain in two weeks doesn't mean the next guy will recover at the same rate, even when the injury involves the same structures.
2. Player position must be considered when evaluating the impact of an injury.
• Any given injury will affect different position players differently depending on the demands of that position. A classic example is the MCL sprain, which can be more debilitating for a running back, who has to cut frequently, than for a quarterback. It often translates to different amounts of time missed.
3. A player's overall injury history is worth considering, especially if it is a repeat injury.
• A player who has been healthy for years and has his first injury often will return faster than a player who has sustained multiple injuries. This is especially the case when it comes to repetitive muscle strains in the same region. In other words, a guy who is on his fourth right-side hamstring strain should not be expected to heal as quickly or as fully as the guy with his first episode. There are of course exceptions to this (which always should be listed as the first rule of medicine).
4. The severity of an injury cannot always be determined by how it looks on the field.
• Appearances can be deceiving. Just because a guy gets up and walks off the field doesn't mean he's not injured. Sometimes the full nature of the injury is not appreciated until a day or two later. The reverse is also true. An injury can appear devastating because it is initially very painful but then turns out to be not so bad.
5. Beware of the following overused phrases:
• He's "100 percent healthy." No one is 100 percent healthy once the season starts. Usually it means that an athlete has been fully cleared and returned to play, but it doesn't mean there are no underlying long-term changes (such as cartilage damage for instance) that won't crop up again.
• It was a "mild concussion." A concussion is a brain injury. Brain injuries are always serious, so we should acknowledge them as such. We can't determine the true severity until we see how long it took for an athlete to fully recover. Period.
• That guy is "injury-prone." There is bad luck, and then there is bad tissue. Although there is never likely to be consensus on what constitutes injury-prone, it seems that if a player misses time with more than one injury in his career, he gets the label. Football is a contact sport. Injuries happen, and most often they are due to a series of random events. The average career playing time is just a few years for a reason. The term is unfairly overused, and in fantasy, people may be steering clear of a player who is highly valuable but labeled. That player could be a great waiver-wire pickup.
And now, on to the key Week 1 injuries:
[+] Enlarge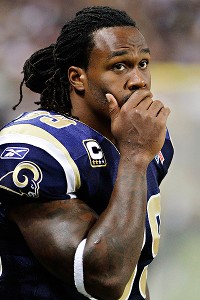 AP Photo/Seth PerlmanSteven Jackson did score a touchdown in Week 1 before going down with a quad injury.
Steven Jackson, RB, St. Louis Rams:
Fantasy owners were no doubt excited to see Jackson scramble for a 47-yard touchdown play right out of the gate. As I watched the play, however, Jackson's last few strides looked suddenly labored, as though something was holding him back. Turns out, a strained right quadriceps was the culprit. Jackson remained in the game for one more carry but then was done for the day. Rams coach Steve Spagnuolo has not offered any specifics as to the degree of Jackson's thigh injury but has called him week-to-week and indicated he is likely to miss the Rams' Monday night contest in Week 2. Unfortunately, Jackson is no stranger to soft-tissue injuries, as he has missed time with quad, hamstring and groin injuries in the past. Although there is no way to predict at this moment just how much time he could miss, fantasy owners should plan on his absence for Monday and potentially a couple of weeks beyond.
Cadillac Williams
came into the game when Jackson left with the injury and finished with 140 total yards of offense.
Sam Bradford, QB, St. Louis Rams:
Bradford hurt his index finger in the fourth quarter Sunday, and the report of numbness had many worried. A fracture was ruled out when Bradford had his finger X-rayed. The team is referring to his injury as a bruised finger, and he expects to play Monday. The key will be for any swelling to subside and any nerve irritation to quiet down so that Bradford can grip the ball as needed to be effective. Naturally, how he progresses during the week is worth watching, but this could have been far worse.
Danny Amendola, WR, St. Louis Rams:
The Rams are really being forced to follow the mantra of "next guy up," as they watched so many starters get injured Sunday. Amendola had perhaps the most visually disturbing injury of the day when he landed awkwardly and dislocated his left elbow. Although some said his season would end almost immediately, it's worth noting that the spectrum of damage resulting from an elbow dislocation has a wide range. As the St. Louis Post-Dispatch noted, Amendola did not suffer a fracture (which can happen during the process of the dislocation), and head athletic trainer Reggie Scott did not believe Amendola would require surgery (suggesting there was not major ligamentous disruption, either). Nonetheless, this is a painful injury (look at the
still photo of the injury
if you're not sure), and there is bound to be a fair amount of swelling around the joint. The elbow will need to be protected in a splint for comfort, and treatment will focus on controlling inflammation while the soft tissues heal. Then there's the matter of getting range of motion back in the elbow and normal strength in the arm. It likely will be several weeks before Amendola could be ready to play, but the team is issuing no timetable. The positive news is that it does appear he will be able to avoid IR.
Hakeem Nicks, WR, New York Giants:
Nicks did not speak of a knee injury after Sunday's game, but his coach, Tom Coughlin, did on Monday. According to ESPN New York, Coughlin did not elaborate on the injury, explaining it was being checked out, but he did indicate Nicks had swelling in his knee. Citing a source, ESPN New York indicated the MRI on Hicks was negative, but the swelling alone may be enough to limit him. If his knee is significantly swollen, the muscles around the knee will be limited in their capacity to contract, so he cannot be at full strength. It would not be a surprise if Nicks is out for a good portion of this week's practice, as the team will not play until Monday night. I sense a tough fantasy decision approaching for Week 2 when it comes to Nicks' status.
Marques Colston, WR, New Orleans Saints:
Colston suffered a broken collarbone in Thursday night's game and will be out at least a month. Clavicle fractures can be highly variable depending on the location and size of the break. Saints coach Sean Payton has indicated he will not update player status until he needs to on Wednesday. Plan on Colston being out at least four weeks but perhaps longer.
Quick hits
• The
San Diego Chargers
did not emerge from Sunday's contest unscathed in the injury department. Kicker
Nate Kaeding
was lost for the season to a torn ACL on the first play of the game as he tried to make a tackle during a kickoff return. The team is currently trying out kickers, but Kaeding will be tough to replace. Meanwhile, the Chargers got better news on running back
Mike Tolbert
, who appeared to injure his right knee late in the game after delivering one rushing and two receiving touchdowns. As reported by the San Diego Union-Tribune, Tolbert was cleared by doctors Monday to return to practice and is expected to play in Week 2. Fantasy owners can exhale.
[+] Enlarge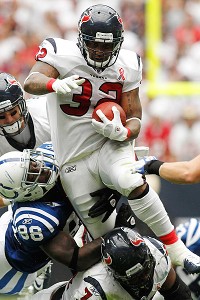 Brett Davis/US PresswireDerrick Ward started in place of the injured Arian Foster and scored a TD before getting hurt himself.
• Another team with several players of interest to fantasy owners is the Houston Texans. Running back
Arian Foster
and his much-discussed hamstring sat out Week 1, a wise move given that the team proved it could manage without him. Foster had increased his running workouts throughout the past week but had not formally practiced with the team. He reportedly worked out hard again on Monday, but it remains to be seen whether he will return to practice. His progress last week was encouraging, but so was the performance of his teammates in Sunday's game, so the team can afford to be patient.
Those teammates include
Derrick Ward
, who started in place of Foster on Sunday. Ward was faring well but exited early with a right ankle sprain, opening the fantasy door for
Ben Tate
. Ward said his removal from the game was precautionary, and coach Gary Kubiak seemed to downplay the injury as well, calling Ward "day-to-day." Wide receiver
Kevin Walter
has a bruised collarbone (not broken, as was widely reported Sunday) and according to the Houston Chronicle, Walter has not been officially ruled out of anything yet. Kubiak said of Walter's injury, "It's being treated as a bad bruise. He's probably going to miss a few days, and we'll see where he is [Wednesday] and at the end of the week." It would come as no surprise if Walter missed at least this week. A severe bruise can make it difficult to raise the arm overhead, and landing on the area can easily aggravate it.
• On Monday night, the
Denver Broncos
added a couple of fantasy players to the injury mix in running back
Knowshon Moreno
and wide receiver
Brandon Lloyd
. The Denver Post reports that MRIs are scheduled for both Lloyd (groin) and Moreno (hamstring), and it's worth mentioning that both have a history of these injuries in their past. Although neither seemed to be in extreme pain, all fantasy owners know how these minor-appearing things sometimes can turn into bigger ones.
We will continue to update these injuries and others as the week progresses.
See you at the injury chats (Tuesday, 3 p.m., and Friday, 11 a.m.), and we'll have further updates with blog entries on Thursday and Saturday (and as news warrants).