Stephania Bell:

San Francisco 49ers
November, 26, 2014
11/26/14
9:43
PM ET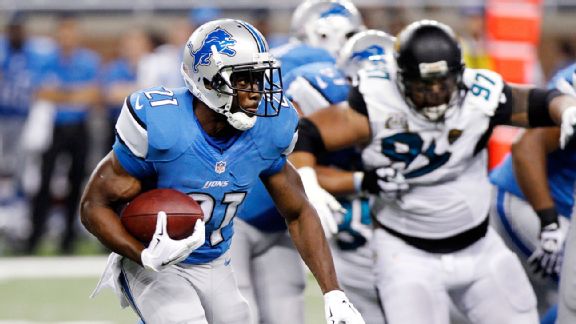 AP Photo/Duane BurlesonReggie Bush has struggled with an ankle injury most of the season.
Happy Thanksgiving! There are three games on the docket spread throughout the day and evening: The
Chicago Bears
visit the
Detroit Lions
to kick things off. The
Dallas Cowboys
play host to the
Philadelphia Eagles
to follow. The final game of the evening belongs to the NFC West as the
Seattle Seahawks
visit the
San Francisco 49ers
. For many fantasy owners on the bubble, this is the week that can make or break a playoff opportunity. Injuries are always a concern, as is remembering to set your lineup in advance of the three Thursday games this week. Here are the injury outlooks for key fantasy players heading into the Thanksgiving Day matchups.
Chicago Bears-Detroit Lions
Brandon Marshall, Chicago Bears, WR, ankle (P): Marshall has been dealing with an ankle injury for several weeks now and it hasn't kept him from playing. The Bears might have their share of challenges, but being without Marshall won't be one of them this week. After participating in limited practices earlier this week, he comes in listed as probable and will play.
Reggie Bush, Detroit Lions, RB, ankle, (Q): The only real consistency when it comes to talking about Bush's ankle is that it has caused him to appear on the injury report since Week 5. Although he returned to play in two games since suffering the original injury, he has struggled in those outings, especially late.
A desire to return to play at an improved level might be the reason his absence has been more protracted since he last aggravated the ankle in Week 10. After limited practice sessions throughout the week, the expectation is that Bush will return to the field, but until he can get through an entire game without a setback, he remains a risky play.
Calvin Johnson, Detroit Lions, WR, ankle, (P): Johnson also had an ankle injury that hampered his performance in the early stages of the season until he gave it the necessary recovery time. He returned with a bang in Week 10, and while his numbers haven't been consistent since then, there are more factors in play than just his health. Listed at probable, Johnson is expected to play.
Philadelphia Eagles-Dallas Cowboys
Jordan Matthews, Philadelphia Eagles, WR, knee, (P): Matthews was on the injury report last week with the knee issue and played through it, remaining productive in terms of receptions and yardage despite not seeing the end zone for the first time in a month. After practicing fully each day in this short week, Matthews, at probable, is expected to play.
Tony Romo, Dallas Cowboys, QB, back, (P): It's almost hard to remember the images of the stiff and sore Romo after he suffered two transverse process fractures in his back, which was just over a month ago. Since that time he has played some very solid football, made that much more impressive knowing his bones were still healing. In fact, the fractures still are in the process of healing, but the pain diminishes with each passing week. If Romo could be effective just two weeks after the injury, he should theoretically only improve in that regard. And he has, performing at a top level in the two outings since his return from injury. He maintains his usual routine of taking one day off to rest, then returns to practice. Listed as probable, Romo is fully expected to play.
Terrance Williams, Dallas Cowboys, WR, finger, (P): Williams has been one of Romo's key targets, making some amazing receptions that call to mind the talents of his teammate, Dez Bryant. The question this week is whether Williams' ability to make those types of catches will be hindered at all by the broken fingertip he suffered last week. The good news is that the small fracture of his left index finger was not an injury that required surgery, and he was able to practice both Tuesday (limited) and Wednesday (full). Don't expect Williams to let the finger be an excuse of any type, even if it's uncomfortable. He will be on the field Thursday.
Seattle Seahawks-San Francisco 49ers
Marshawn Lynch, Seattle Seahawks, RB, back, (P): Lynch's back has had him on the injury report intermittently throughout the season. Last week, he was listed as questionable after a flare-up in the previous week's game but still managed to play. There is little doubt that Lynch will take the field in this critical divisional matchup. The larger question is whether the back will be a factor as he faces a tough run defense in San Francisco. Not that Lynch will be vocal about it; he'll show up for work as he always does, and, if history repeats itself, he'll have success against the Niners.

Frank Gore, San Francisco 49ers, RB, knee, (P): Gore has had some struggles, including uncharacteristic fumbles in back-to-back weeks, but he is not one to miss time. He appears on the injury report again this week with a knee ailment, but he was a full participant in Tuesday and Wednesday practices after being limited Monday. At probable, he is fully expected to play.
Brandon Lloyd, San Francisco 49ers, WR, quadriceps, (P): Lloyd has played through the injury once and should do so again this week. More limiting for fantasy owners, however, are the few targets he sees. Expect him to play, but don't count on significant productivity.
September, 29, 2014
9/29/14
3:14
PM ET
Stephania Bell discusses her expectations for
Vernon Davis
' recovery from a back injury.
November, 19, 2013
11/19/13
1:55
PM ET
Stephania Bell joins Eric Karabell to discuss
Michael Crabtree
's pending return and fantasy outlook.
October, 15, 2013
10/15/13
3:22
PM ET
Eric Karabell and Stephania Bell discuss when
Michael Crabtree
could return this season and what his fantasy value is.
September, 26, 2013
9/26/13
1:23
PM ET
It's an NFC West matchup Thursday night between the
San Francisco 49ers
and
St. Louis Rams
. Three weeks into the season, both teams stand at 1-2 (as do the
Arizona Cardinals
) while the
Seattle Seahawks
are perfect atop the division (3-0).
Injuries certainly can play a part in how this matchup will unfold, not to mention how fantasy owners will view their rosters heading into Week 4.
Here's a look at where key fantasy players for the 49ers and Rams stand in terms of injuries.
San Francisco 49ers
Frank Gore, RB, knee (probable):
Gore has some soreness in his knee, which isn't unusual. It wouldn't have been a surprise if the team had lightened his workload early in the week -- especially on a short week --but Gore turned in full practices, according to the team's injury practice report. He is going to play and is not expected to be limited.
Vernon Davis, TE, hamstring (questionable):
Like last week, Davis again will be a game-time decision, but the general consensus is that he has a
better chance to play this week
, as ESPN.com's Bill Williamson notes. After injuring his left hamstring in San Francisco's brutal loss in Seattle, Davis -- who attempted only light running the week before -- was held out of the Week 3 contest. Not only is the risk of re-injury high with any hamstring strain, but it seemed particularly wise to keep Davis on the sideline, given that the 49ers were set to play the Rams just four days later.
So far this week, Davis has participated in practice on a limited basis, but it's unclear just how much he has pushed the hamstring in those efforts. Regardless, no practice can simulate a game, so it won't be known until he plays -- and gets through a game without a setback -- whether he has indeed recovered. As usual, Davis will go through pregame warm-ups to test the hamstring and ultimately determine his game status.
Kyle Williams, WR, rib/knee (questionable):
Williams practiced on a limited basis this week due to rib and knee injuries. The 49ers are generally vague about injuries, making it difficult to assess whether he is truly in jeopardy of missing the game or getting proactive rest. The rumblings are that Williams is likely to play, but there could be another wrinkle at the receiver position. Earlier in the week, the San Francisco Chronicle reported that coach Jim Harbaugh hinted at the possible debut of
Jon Baldwin
, acquired in August from the Chiefs in a trade for
A.J. Jenkins
.
Defensive players:
The 49ers will be without the pass-rushing skills of
Aldon Smith
, who is on indefinite leave while seeking treatment for substance abuse. Their defense could be further compromised by the potential absence of linebacker
Patrick Willis
, who suffered a groin injury in the second half of Sunday's game against the Colts. Willis did not practice this week, and while the team lists him as questionable, there is a decent chance he will not be able to play.
St. Louis Rams
Daryl Richardson, RB, foot (probable):
Richardson's foot has had him on the injury report since Week 2, and last week it kept him out of virtually the entire game (he exited in the first quarter). However, Richardson put in full practices Tuesday and Wednesday, and made it clear that he expects to play Thursday. Given his "probable" tag, Richardson's game status does not appear to be in doubt.
The question then becomes what the workload split will be like among Richardson and the Rams' other backs, most notably
Isaiah Pead
. Last week, Pead saw more work when Richardson exited the game, but a healthier Richardson
doesn't necessarily clarify the RB picture
, as ESPN.com's Nick Wagoner notes. "We're a running back committee right now," Pead said. "Daryl is the starter, but whoever gets in there has to answer the call." The St. Louis Post-Dispatch notes he "had more spring to his step" this week in practice. Expect Richardson to be on the field as the starter Thursday night.
Chris Givens, WR, knee (probable):
The knee issue Givens is dealing with kept him off the practice field Monday but is reported to be not serious. Givens returned to full practice Tuesday (typically the heaviest day before a Thursday game) and did the same Wednesday. With his "probable" tag, he is expected to play.
Defensive players:
St. Louis will be without defensive end
William Hayes
, who injured his knee in last week's contest (a sprained MCL, according to a Fox Sports report) and has been ruled out of Thursday night's game.
October, 18, 2012
10/18/12
2:49
PM ET
It's an NFC West matchup tonight as the
Seattle Seahawks
travel south to visit the
San Francisco 49ers
. Here is the status of key fantasy players on the injury report for tonight's game, and they're all members of the home team.
Mario Manningham, WR, San Francisco 49ers, shoulder (Q):
Manningham saw a season-high number of targets in last week's outing against his former team, but it came at a price. He suffered a shoulder injury, the specifics of which have not been disclosed, which was enough to keep him a limited participant in practice all week. For what it's worth, Manningham did play the entire game Sunday and it sounds as if he will be available. Best to check the pregame inactives in advance.
Brandon Jacobs, RB San Francisco 49ers, knee (Q):
This seems to have been Jacobs' status for multiple weeks, and he made his frustration with not playing known recently. That led to a conversation with coach
Jim Harbaugh
, and Jacobs appears to have backed down somewhat since, acknowledging the importance of the bigger picture. This week, Jacobs has been a full participant in practice and, as Matt Maiocco of CSNBayArea noted, Jacobs is likely to be available "if coaches decide to use him." In other words, his knee seems to have recovered to the point that it is no longer an issue. His playing status is.
Alex Smith, San Francisco 49ers, right finger (P):
The injury was present last week and Smith played through it, so there's no doubt that he will play again, especially after practicing in full daily. Some wondered whether the finger factored into last Sunday's performance when Smith, not known for committing turnovers, threw three interceptions. Of all the fingers to injure, the third is one of the "best" in the sense that it is not nearly as critical to ball control as the thumb, index or pinkie finger, as noted by
ESPN's
Tim Hasselbeck
. Credit the
New York Giants
defense with creating difficulties for Smith, who also lost tackle
Joe Staley
in the third quarter to a concussion. Staley (questionable) is uncertain for tonight after going through limited practice Tuesday and Wednesday.
Also, the 49ers' all-pro kicking squad is on the injury report this week. Place-kicker
David Akers
has been battling illness this week and did not practice Tuesday. He did return Wednesday to a full practice and is listed as probable. He is expected to play. Punter
Andy Lee
has a hand injury, but luckily that shouldn't impact his role. He practiced fully every day and is also, at probable, expected to play.