Stephania Bell:

Santonio Holmes
October, 10, 2013
10/10/13
4:51
PM ET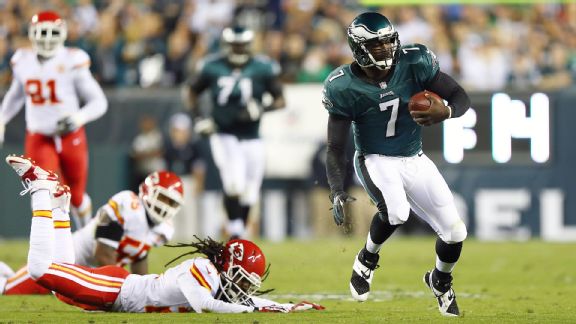 Elsa/Getty ImagesIn order to be most effective, Michael Vick needs his hamstrings to be healthy.
The notoriously vague nature of hamstring injuries is frustrating for fantasy football owners, as it's difficult to project when players can return and be productive members of the lineup; furthermore, even after returning, re-injury is fairly common. Several players around the league are affected by hamstring problems heading into Week 6. Here's what we're hearing about their status as of Thursday.
Michael Vick, QB, Philadelphia Eagles:
Vick strained his left hamstring in Sunday's game on a run play, and
as I noted Tuesday
, it's difficult to project a return timeline without any indication of severity. However, it must not be
terribly
severe, since Vick was listed as a limited participant in practice both Wednesday and Thursday. In comments on Thursday, Vick said he is improving daily, according to ESPN.com's Phil Sheridan, adding, "It's feeling 10 times better than it did yesterday."
Vick also hinted at being ready to go in Week 7, even if he is sidelined this weekend, something that has yet to be officially determined. While Vick does have a few more days of recovery before the game, he also seems to understand the importance of erring on the side of caution to avoid exacerbating the injury and missing more time. It's looking like
Nick Foles
will get the start Sunday, but perhaps the bigger takeaway is that as of now, Vick does not appear as if he will be sidelined for long.
Miles Austin, WR, Dallas Cowboys:
Austin has now missed two consecutive games because of a hamstring strain suffered in Week 3. The biggest health worry for Austin coming into the fall was that he would suffer another hamstring injury after dealing with them each of the last two seasons. That is precisely what happened, despite his -- and the team's -- best efforts to take preventative measures in the offseason, although reports suggest this injury is not particularly severe. Still, the third such injury in three years is part of the rationale for a cautious treatment plan. Austin returned to full practice Wednesday, and practiced again Thursday, which is an encouraging sign. The Cowboys play Sunday night, and it's unclear whether Austin will have done enough to be game-ready.
Darren McFadden and Rashad Jennings, RBs, Oakland Raiders:
Jennings replaced McFadden as the starting running back Sunday night, while McFadden was sidelined with a hamstring injury suffered the week before. By halftime, Jennings had joined McFadden on the sideline, hampered by a hamstring injury of his own. Both backs took part in limited practice Wednesday, and both were back at it again Thursday, which bodes well for their availability against the Chiefs on Sunday. Since Oakland is traveling to Kansas City, fantasy owners will benefit from an early (1 p.m. ET) kickoff to help with making decisions.
Santonio Holmes, WR, New York Jets:
Holmes missed the Jets' Monday night contest due to a hamstring injury suffered in Week 4. He has not yet returned to practice, and appears likely to sit out again this week.
October, 1, 2013
10/01/13
3:43
PM ET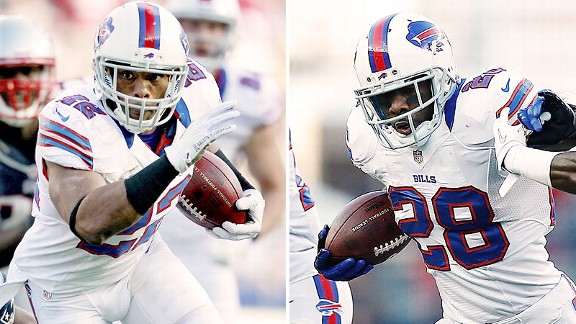 AP Photo, Getty ImagesBoth Fred Jackson and C.J. Spiller are dealing with injuries heading in the Bills' Thursday night game.
Here's a look at some key injuries in the fantasy football world that we'll be following ahead of Week 5 of the NFL season.
C.J. Spiller (ankle) and Fred Jackson (knee), RBs, Buffalo Bills:
Spiller came into the Week 4 contest fresh off a quad injury but practiced daily leading up to the game, hinting at a swift recovery. By the second half of Sunday's game, however, Spiller had another ailment. With the Bills' next contest slated for Thursday, just four days later, Spiller is now dealing with an ankle injury and sat out practice Monday.
Spiller has indicated that he hopes to play in Week 5, not an unreasonable possibility given that he returned to Sunday's game after the injury. However, the short turnaround doesn't allow much recovery time, and even Spiller said he'd like to get to 80-85 percent to be well enough to play. It begs the question as to just how much fantasy owners can expect from what will certainly be a less-than-fully-healthy Spiller, if he takes the field. "The last two games I haven't even completed a half," Spiller noted, according to the Bills' official website.
As for Jackson, he sustained a sprain of the medial collateral ligament (MCL) in his right knee. This is not a first for Jackson, who suffered a Grade 2 MCL sprain in the same knee last December and ended up missing the Bills' final three games. "I sprained my MCL again, but it's not as significant [as in the past]," Jackson said. He did practice on a limited basis Monday and expects to be ready to go by Thursday night. Both running backs will enter Thursday's game at less than 100 percent and on short rest, not an ideal scenario.
Darren McFadden (hamstring) and Marcel Reece (knee), RBs, Oakland Raiders:
Another team, another tandem of running backs impacted by injury. McFadden injured his hamstring in the first half of Sunday's game and the sight of him in street clothes in the second half made it clear he would not return. Reece injured his knee in the same game, but a subsequent MRI indicated his is a non-surgical situation. Coach Dennis Allen has not given any hints as to whether he expects either or both backs to be available this week, saying it's "too early to speculate." That won't stop fantasy owners from speculating about the possible scenarios they'll have to contend with if both RBs sit out, which includes the prospect of
Rashad Jennings
taking the lead.
Alfred Morris, RB, Washington Redskins (ribs):
Morris gingerly exited the field Sunday and looked to be in a fair amount of discomfort on the sideline. The injury was reported as a rib contusion and Morris did not return. X-rays were reportedly negative but even the absence of a fracture does not necessarily diminish the pain associated with a bruising shot to the ribs. Morris admitted to being "
a little tender
," and perhaps the greatest point in his favor is that the Redskins have a bye in Week 5. Given his level of discomfort, he very well could have been forced to sit this week out. Expect little in the way of updates on Morris over the next seven days, as the primary focus for him is likely to be rest. Look for news once pregame practices and injury reports resume for the Redskins in advance of Week 6.
Santonio Holmes, WR, New York Jets (hamstring):
Holmes has been a little slow to get started this season in his return from Lisfranc surgery, and it's going to get even slower. Holmes injured his hamstring in Sunday's game and it looks as if it's going to sideline him for an extended period. ESPN.com's Rich Cimini reports the Jets will sign veteran wide receiver
David Nelson
in anticipation of Holmes
missing extended time
.
September, 12, 2013
9/12/13
1:52
PM ET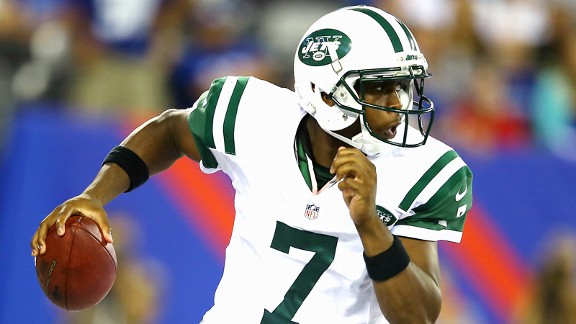 Al Bello/Getty ImagesDespite an ankle injury, Geno Smith is expected to start Thursday against the Patriots.
Thursday night's matchup between the
New York Jets
and
New England Patriots
has no shortage of storylines, including several injury question marks that will have major implications for both the game and fantasy.
Of particular note are injuries to several of the Jets' key offensive weapons. Here's an updated look at New York's offensive players from an injury perspective heading into Thursday's game:
Quarterbacks
Geno Smith, ankle (P):
It's widely known that
Mark Sanchez
won't be playing for quite a while as he sits out with a shoulder injury -- which may have him
going under the knife
in the near future. The Jets plan on having Smith under center, and his presence on the injury report does nothing to threaten his status.
However, it does remind us that Smith suffered an ankle injury in the preseason, an injury that is not completely behind him. Smith injured his ankle in the team's first preseason game and struggled in practice the following week. He sat out the team's second preseason game but was able to return shortly thereafter and ultimately start in the Jets' regular-season opener.
In the Jets' Week 1 victory, Smith moved well and managed to amass 47 rushing yards. However, his presence on the injury report tells us the ankle is not yet fully healthy. It should be noted that he practiced in full every day this week. While the ankle is not expected to limit him, it could be a factor if he were to aggravate it Thursday night.
Wide receivers
Santonio Holmes, foot (P):
Holmes was surprisingly active for Week 1. I say "surprisingly" after a preseason during which, no matter how much progress the Jets said Holmes was making following foot surgery, he never seemed to express confidence.
Holmes suffered a more severe form of a Lisfranc injury, and it is not surprising that his comfort with higher-level activities is slow to return. Running at full speed, decelerating quickly, cutting sharply and pivoting all put high demand on the foot -- and it can take time to return to form. In Week 1, Holmes was on the field for a hefty 44 snaps but was targeted just three times, netting one reception for 13 yards. He was listed as a limited participant in practice this week, but the probable designation indicates the team expects to have him available Thursday night.
What is unclear is how much Holmes will play just four days after his first outing following surgery and how significant his contributions will be in Week 2. In the meantime, teammate and fellow WR
Jeremy Kerley
is out for Thursday's game with a concussion.
Running backs
Chris Ivory, thumb (P):
Ivory was a full participant in practice throughout the week and is expected to play Thursday night.
Bilal Powell, shoulder (P):
Powell was also a full participant throughout the week, and he too will be available Thursday.
Tight ends
Kellen Winslow, knee (P):
Winslow did not participate in practice on Monday or Wednesday, and on Tuesday, he took part on a limited basis (note that Tuesday is considered the most significant practice day in prep for a Thursday night game). It's also worth keeping in mind that Winslow has an extensive history of multiple knee surgeries and, as a result, taking days off are well warranted -- especially during a short week. The probable tag tells us that the Jets plan on him playing.
October, 2, 2012
10/02/12
5:04
PM ET
Week 4 is in the books! There weren't as many new additions of key fantasy players to the injury report this week as last but nonetheless, the accumulation of names continues. Several players who sustained injuries early in the season were on the field this week and while some managed to survive the week relatively unscathed, others were less fortunate. Here's an early look heading into Week 5.
Wide Receivers
[+] Enlarge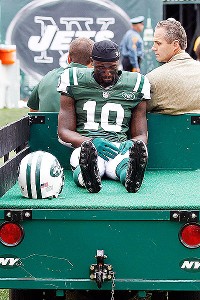 William Perlman/The Star-Ledger/US PresswireThis was not the sight Santonio Holmes owners, or Jets fans, wanted to see.
Santonio Holmes, New York Jets (foot):
Holmes went down in a heap late in Sunday's game and it wasn't immediately apparent which body part he had injured. When the New York Daily News reported Holmes later emerged from the stadium in a golf cart, wearing a walking boot, it became clear that the problem was with his left lower leg. X-rays of his left foot were reported to be negative, but the results of an MRI taken Monday morning were not made public. Even if the MRI confirms no fracture, the most vulnerable structures in the foot are the many ligaments that connect all the bones to one another. Football fans have become savvy to the term "Lisfranc" as representing a serious foot injury and are understandably concerned that this is what Holmes may be facing. While there is certainly a chance that this is the case, it's worth noting that there are multiple injury possibilities when it comes to the foot. There are even multiple variations of Lisfranc-type injuries. If it was easy to definitively diagnose and treat, there wouldn't be a need for the opinion of a specialist.
ESPN New York reported Holmes' MRI was being "shipped to different places," according to coach Rex Ryan. At least one of those reported to be consulting on Holmes' case is Dr. Robert Anderson in Charlotte, N.C., a noted foot and ankle surgeon and team physician for the
Carolina Panthers
. (Anderson has treated many NFL athletes and has performed surgery on
Houston Texans
quarterback
Matt Schaub
,
New York Giants
wide receiver
Hakeem Nicks
and
Baltimore Ravens
linebacker
Terrell Suggs
, to name a few.) There is still no word as to the specifics of the injury and while the Jets have only said Holmes is out "indefinitely," there is clearly concern that this will be a multiple-week or even, depending on the degree of damage, a potentially season-threatening injury.
Greg Jennings, Green Bay Packers (groin):
Jennings has been dealing with a groin injury since Week 1 and it has already cost him one complete game and part of another. Is it time to sit out and let the groin fully heal? That appears to be under consideration after Jennings aggravated the injury Sunday in the second quarter and did not return. According to the Green Bay Press-Gazette, after Jennings' setback coach Mike McCarthy said, "I would think we are back where we were a couple weeks ago." McCarthy acknowledged the possibility of keeping Jennings out to allow him more time to get past the injury, saying it is "definitely an option." Injuries to groin muscles are problematic for receivers and running backs because of the role those muscles play in core stability. It's not solely lateral movement that is impacted. Plain, old straight-ahead power running is impaired as well and if Jennings can't run normally, his presence on the field isn't necessarily beneficial. It looks as if he's likely to miss Week 5, but there will be more clarity late in the week.
Quarterbacks
Jake Locker, Tennessee Titans (shoulder):
Locker appeared in the Tuesday column after Week 1 when he injured his left (non-throwing) shoulder while attempting to make a tackle after throwing an interception. Locker showed rapid improvement and was back on the field in Week 2 after practicing every day that week. On Sunday, Locker again injured his left shoulder, this time on a sack in the first quarter. He looked to be in significant pain and was tended to on the field by the medical staff. Locker did not return to the game but reappeared later on the sideline with his left arm in a sling. The injury appears to be more serious this time and there already are expectations that Locker will miss this week at the very least.
According to news reports, Locker underwent an MRI on Monday that revealed no major structural damage. Coach
Mike Munchak
described both the injury and the imaging test as very similar to the first time. "The MRI was very similar," Munchak said. "It popped out, and they popped it back in. He's real sore right now, so they're just waiting a couple of days to get a full examination." In other words, they are letting some of the pain and inflammation settle down in order to be able to better evaluate Locker's shoulder before offering further prognostication.
[+] Enlarge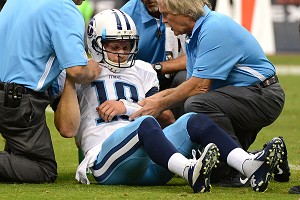 George Bridges/Getty ImagesThis is the second time this season Jake Locker has been knocked out of a game early.
Locker likely will remain in a sling for a brief period to support the shoulder and will gradually begin the process of restoring range of motion and strengthening. Although his pain improved rapidly last time, it may not be as quick to do so again. A primary concern with repeat dislocations is that even in the absence of significant soft tissue damage on MRI, some of the structures responsible for supporting the shoulder are compromised, making it progressively easier to re-injure. In addition to further stretching and tearing of ligaments and joint capsule, there can be damage to the bone (humerus) itself, which can be traumatized as it moves out of position.
The shoulder is a joint that allows extreme mobility in many directions (as compared, for instance, to the hip). This is what permits us the range to both throw overhead and reach behind our backs. If that mobility becomes even greater through injury, it is virtually impossible for the muscles around the shoulder to compensate adequately to keep it in place. Add in pain and inflammation and the shoulder muscles become less efficient as well. In cases of repeat dislocations in high-level athletes, surgery is often warranted to stabilize the shoulder.
Locker can always have a chat with one of his AFC South counterparts about what it's like to not only deal with this injury as a quarterback but what the recovery is like post-surgery, should that become part of the equation. Texans quarterback Matt Schaub suffered a left shoulder dislocation in 2007. He too injured his shoulder twice in the same year; the second incident was in Week 12 and Schaub did not return for the remainder of the season. He underwent surgery in the offseason to stabilize the shoulder and was ready to go by the start of the 2008 season.
Running Backs
Ben Tate, Houston Texans (toe):
The Houston Chronicle reported Monday that Tate missed the Texans' walkthrough because of a sore toe. He was undergoing X-rays, according to head coach Gary Kubiak, who indicated they would know more Thursday.
And we're keeping an eye on
Fred Jackson (knee), and C.J. Spiller (shoulder), RB, Buffalo Bills:
Both backs managed to suit up in Week 4 and neither seems to have suffered a setback. Both are expected to practice again this week, although it remains to be seen how much. As of now, it appears both are in line to play in Week 5.
Ahmad Bradshaw, RB, New York Giants (neck):
Bradshaw missed Week 3 after being diagnosed with a bulging disc in his neck. By the middle of last week, Bradshaw was guaranteeing his return and he did indeed get back on the field. More important, Bradshaw said afterward that his neck felt fine. He looks to be in good shape heading into Week 5.
Matt Forte, RB, Chicago Bears (ankle):
Forte returned to action Monday night but gave everyone a scare when he left the game after appearing to aggravate his ankle on the first play. He exited briefly but returned for a total of 13 carries on the night. Another week should help continue to move his recovery forward.
[+] Enlarge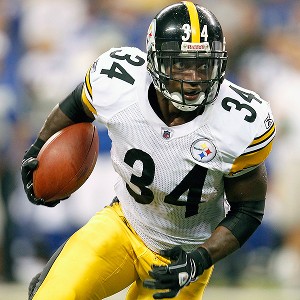 Sam Riche/MCT via Getty ImagesRashard Mendenhall should make his return this week, but how much he's used is a bigger question.
Pierre Garcon, WR, Washington Redskins (foot):
Garcon had not played since Week 1 after suffering an unspecified foot injury in that game but he returned to action Sunday. The Redskins had indicated before the game that Garcon would be limited if he did participate, and he was. He's not fully recovered from the injury, nor did we expect him to be, but he is also reportedly no worse.
Hakeem Nicks, WR, New York Giants (knee/foot):
Nicks' swollen knee was the reason for the late downgrade last week, or at least it was the knee in combination with his recovering foot. Nicks has only been practicing once a week in an effort to protect his foot, and that day is usually Thursday. In other words, there may not be any real clues as to whether Nicks has turned a corner with his injuries until then.
Rashard Mendenhall, RB, Pittsburgh Steelers (knee):
Mendenhall, coming off of ACL reconstruction, has been steadily working his way back into increased practice activity this fall. He ramped up the contact in advance of Week 3 but with the Week 4 bye, the Steelers gave him a little more time to progress. He is expected to make his season debut this Sunday and the Steelers could use him. That said, he is not likely to get a full workload out of the gate, but if he performs well, we could see his usage increase as we have with
Jamaal Charles
and
Adrian Peterson
.
December, 23, 2011
12/23/11
8:24
PM ET
With the majority of NFL matchups taking place on Saturday, there is one fewer day for teams, coaches and, most importantly, fantasy owners to prepare! Never fear, championship contenders. We won't let something as small as a schedule change get in the way of bringing you all the latest information. With the NFL injury reports hot off the presses, here are the players whose status may have you concerned heading into this week's games.
Good luck in Week 16, everyone! May your players stay healthy and win for you.
Quarterbacks
Ben Roethlisberger, QB, Pittsburgh Steelers, ankle (Q):
The Steelers have been preparing
Charlie Batch
all week to face the
St. Louis Rams
, with Roethlisberger active only in an emergency scenario. This is not a huge surprise, as Roethlisberger is coming off a short week following the Monday night game in which he was clearly limited. With the playoffs forthcoming, the extended rest can only help. It's too soon to say whether the Steelers plan to have him active or not in the final week of the regular season.
Michael Vick, Philadelphia Eagles, ribs, (P):
Vick will probably be on this list through the end of the regular season as his rib injury continues to heal. There's no question, however, that Vick will be the quarterback for the Eagles against the
Dallas Cowboys
.
Josh Freeman, Tampa Bay Buccaneers, right shoulder, (P):
Freeman is now at the point where he can play despite the shoulder soreness. He practiced fully this week and will start against the
Carolina Panthers
.
Kevin Kolb, Arizona Cardinals, head, (Q):
Kolb suffered a concussion in Week 14 and has still only returned to limited practice. It's expected that
John Skelton
will start again.
Sam Bradford, St. Louis Rams, ankle, (D):
Bradford has been struggling with his ankle, saying it feels as if it's "going backwards." Not good. Neither is a doubtful tag. With backup
A.J. Feeley
already ruled out, it appears recently signed
Kellen Clemens
will get the start.
Running Backs
Chris Johnson, Tennessee Titans, ankle, (Q):
Johnson sprained his ankle Sunday and has been gradually increasing his activity throughout the week in an effort to return. While Johnson escaped major structural injury, the ankle has still been sore and could affect his overall performance, particularly with lateral movement and cutting. Johnson returned to limited practice Thursday and Friday and is expected to play, but likely will not be at top form.
Ahmad Bradshaw, New York Giants, foot, (P):
Bradshaw is following the same pattern of limited work during the week and playing on Sunday. Expect him to play again this week.
Felix Jones, Dallas Cowboys, hamstring, (Q):
Jones hasn't done much ... and that's the worry. Although he has been doing some running on the side, he has not fully tested the hamstring. While the Cowboys hold out hope he'll be available, it's
Sammy Morris
who has taken all the first-team reps in practice. As another signal the Cowboys want insurance, they promoted running back
Chauncey Washington
from the practice squad, according to ESPNDallas.com. To complicate matters, this is a late game and the decision will not likely be announced until inactives are due. Even if Jones plays, there has to be some concern about what exactly one can expect in live game conditions.
Michael Bush, Oakland Raiders, shoulder, (Q):
Bush has been on the injury report but it seems only logical he would be. After all, there are many other Raiders there to keep him company but, most importantly, he has been the workhorse of the backfield, enduring a physical toll. After he has been limited in practice each day, the questionable tag does raise some eyebrows. The signals out of Oakland all week have been that the Raiders expect to have Bush play, but it will be important to check pregame inactives.
Willis McGahee, Denver Broncos, hamstring, (P):
McGahee has been bothered intermittently by the hamstring since hyperextending his knee but the probable tag tells us the Broncos plan to have him on the field. McGahee practiced in full every day, which should also help put fantasy owners' collective minds at ease.
Kevin Smith, Detroit Lions, ankle, (P):
Smith's status is an upgrade over last week, indicating the team is feeling far more confident about his ankle. Smith's activity this week was a positive sign, as he was able to practice in full each day. While there's no way to be certain he can get through the game unscathed, this is certainly a better situation than last week.
Roy Helu, Washington Redskins, toe/knee, (Q):
Helu downplayed his injuries, but according to The Washington Post, he felt much better after practice Thursday than he did earlier in the week. Despite the questionable tag, it appears Helu will play.
Maurice Jones-Drew, Jacksonville Jaguars, ankle, (P):
His ankle got tangled up during the Week 15 game, but Jones-Drew, one of the most durable and productive running backs this season, was never really in danger of missing the game. He was given fewer reps in practice but participated on a limited basis every day. Jones-Drew is expected to start against Tennessee.
Beanie Wells, Arizona Cardinals, knee, (Q):
After he was listed as probable the past couple of weeks, it's a little concerning that Wells has been downgraded this week to questionable. He did practice daily, but on a limited basis; however, that has been the pattern for some time as the team has been attempting to manage his knee condition. The Arizona Republic reports that Wells is expected to play Saturday, despite the questionable tag.
James Starks, knee/ankle and Brandon Saine, concussion, Green Bay Packers, (P):
Starks sat out last week's game to give his ankle some additional rest. It only made sense after Starks struggled for several weeks in a row. This week has gone much better for Starks, who was able to participate fully in practice each day. Saine missed Week 15 with a concussion but returned to limited practice Wednesday, then full practice Thursday and Friday. Both backs are expected to be available along with
Ryan Grant
. Unfortunately for fantasy owners, there is likely to be a shared workload in place.
Shonn Greene, New York Jets, rib/shoulder, (P):
Greene has been on the injury report for a few weeks now and his latest injury (torn tendon in finger) isn't even listed. The probable tag indicates the Jets expect him to play.
Marion Barber, Chicago Bears, calf, (D):
Barber is listed as doubtful, meaning there is little doubt that
Kahlil Bell
will be carrying the load for the Bears on Saturday.
Mark Ingram, New Orleans Saints, toe, no designation yet:
Ingram is still not practicing, and with the game on Monday night, fantasy owners should avoid him in their lineups.
Wide Receivers
A.J. Green, Cincinnati Bengals, shoulder, (P):
Knowing that Green comes into this game fresh off a Grade 3 shoulder separation, the probable tag is very encouraging. Green has maintained all along that he would be able to play this weekend, and now it appears all but certain that he will. He was catching passes as early as Tuesday, practiced on a limited basis Wednesday and Thursday, and returned to a full practice Friday. If Green lands hard on the recently injured shoulder, it certainly won't feel terrific and he may be challenged to reach directly overhead, but he managed to finish the game last week after suffering the injury. It's hard to imagine it being much worse Saturday.
Steve Johnson, Buffalo Bills, groin, (P):
Last Sunday Johnson appeared to aggravate the groin injury that has plagued him throughout the season and was removed from the game as a result. Johnson said he could have re-entered the game and expressed little doubt that he would be back in Week 16. He practiced on a limited basis daily and appears on track to play as usual. It's worth noting that Johnson has performed well this season despite the presence of injury.
Laurent Robinson, Dallas Cowboys, shoulder (Q):
Robinson was listed this way last week but we all know he played. Expect him to do the same again after practicing daily.
Jeremy Maclin, Philadelphia Eagles, hamstring/shoulder (P):
Maclin looked better last week than he did the week before and the probable tag tells us the Eagles are confident he'll be out there again. Maclin practiced fully each day and looks to be overcoming the injury.
Mario Manningham, New York Giants, knee, (D):
Manningham has managed to play through his knee issue for the last two weeks but it appears he will miss this one. Swelling in the knee has returned, and he did not practice at all this week. Fantasy owners should make other plans.
Nate Washington, Tennessee Titans, ankle, (P):
Washington has already shown he can play through the ankle injury, even coming in at far more questionable status. After practicing in full daily, Washington appears good to go against Jacksonville.
Brandon Marshall, Miami Dolphins, knee, (P):
Marshall apparently had been dealing with some knee soreness but nothing so serious that he might have to miss this matchup against the
New England Patriots
. Marshall didn't practice Wednesday but returned to light work Thursday and full practice Friday. Expect him to play.
Vincent Jackson, San Diego Chargers, groin, (Q):
Jackson did not practice at all this week because of the groin issue, making his Saturday status far less certain. Jackson has played through injuries before, but this time may be different. It seemed like a foregone conclusion earlier in the week that Jackson would go, but Kevin Acee of the San Diego Union-Tribune reported that Jackson's groin has not responded as hoped to treatment during the week. Late game alert.
Wes Welker, knee and Deion Branch, groin, New England Patriots, (Q):
Once again the Patriots have roughly half their roster at questionable after limited practice all week. Welker has been at this status for several weeks and has played without incident. Branch, however, missed last week and there is legitimate question as to whether he is ready to return. Branch says he's improving, but the team will make the final decision, just before game time.
Santonio Holmes, New York Jets, hip, (P):
Holmes was an addition to the Thursday injury report after being limited in practice, but coach Rex Ryan said the Jets expected him to be ready by Saturday. The probable tag supports that, and fantasy owners can put him in their lineups.
Denarius Moore, Oakland Raiders, foot, (P):
Moore was able to make it back last week but didn't do too much. Another week of practice (full practices daily) should have him on track for more action.
OUT
This space is intended for a list of key fantasy players, not including those who have been moved to injured reserve status, who are officially listed as "out" for the upcoming game.
Anquan Boldin, WR, Baltimore Ravens, knee:
Boldin underwent knee surgery this week and will miss the remainder of the regular season.
Greg Jennings, WR, Green Bay Packers, knee:
Jennings suffered a sprained MCL in Week 14 and is likely out for the remainder of the regular season.
Matt Forte, RB, Chicago Bears, knee:
Forte suffered a Grade 2 MCL sprain, and the Bears still hope he will be able to return before the regular season is complete, but it is far from certain.
Jay Cutler, QB, Chicago Bears, thumb:
The Bears' starting quarterback remains out alongside their starting running back. Cutler is recovering from surgery to repair his broken right thumb.
Darren McFadden, RB, Oakland Raiders, foot:
McFadden is still removed from practice but the team still holds out hope he can return at some point. It won't be this week.
Jacoby Ford, WR, Oakland Raiders, foot:
Ford has still not been able to practice this week as he recovers from a foot injury.
Jake Ballard, TE, New York Giants, knee:
Ballard injured his PCL and, as expected, will miss this week.
Anthony Fasano, TE, Miami Dolphins, head:
Fasano was diagnosed with a concussion Thursday, at which point it appeared obvious he would sit out this week. The team made it official Friday.
Be sure to check out Fantasy Football Now on Saturday this week, on ESPN2 at 11:30 a.m. ET and Fantasy Surround on ESPN.com starting at 10 a.m. ET on Saturday for last-minute inactives, rankings, injury impact and more!
September, 18, 2011
9/18/11
1:09
AM ET
After a stellar performance in Week 1, San Diego Chargers running back
Mike Tolbert
gave everyone a scare when he exited the game in the fourth quarter with what appeared to be a knee injury. Tolbert was medically cleared to return to practice by the start of the week, however, and never even showed up on the team's injury report. In other words, he put in a normal week of practice and is ready to face the
New England Patriots
.
Also off the injury report:
Matt Cassel
(QB,
Kansas City Chiefs
),
Steve Breaston
(WR, Chiefs),
Austin Collie
(WR,
Indianapolis Colts
) and
Visanthe Shiancoe
(TE,
Minnesota Vikings
)
Good luck in Week 2, everyone! May your players stay healthy and win for you.
Quarterbacks
Sam Bradford, St. Louis Rams, index finger, (P):
The Rams play in the Monday night game, so it is nice to know there is every indication that he will play. On Thursday,
we noted the team's optimism after Bradford returned to practice and how he was going about treating his finger
. The concern after this injury, naturally, is how well Bradford can grip and deliver the ball, but those concerns were put to rest early in the week with the accuracy Bradford showed in practice. After doing limited work Wednesday and Thursday, Bradford put in a full practice Friday, enhancing his chances of leading his team in New York on Monday night.
Andy Dalton, Cincinnati Bengals, right wrist, (P):
Dalton's bruised right forearm made it difficult for him to effectively use his wrist and hand to grip the ball early in the week, but as the inflammation has improved, so has his function. Dalton was able to do some work with the right hand Thursday (after using only his left on Wednesday) and on Friday was able to put in a full practice. He showed the team what he needed to for them to list him as probable. Plan on Dalton starting Sunday.
Jason Campbell, Oakland Raiders, foot, (P):
Despite being added to the injury report this week with a foot ailment, Campbell put in a full practice daily. He is expected to start in Buffalo.
Running backs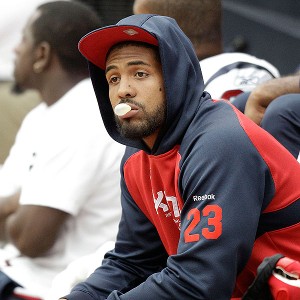 AP Photo/Eric GayAfter missing Week 1, Arian Foster is looking good to play on Sunday against the Dolphins.
Arian Foster, Houston Texans, hamstring, (Q):
Still the most intensely observed fantasy player in Week 2, Foster appears on track to play this week after sitting out the season opener. This really doesn't come as a shock after tracking Foster's progress throughout the past two weeks. Although he didn't practice last week, he did increase the intensity of his running workouts daily. This week, Foster returned to practice, and though he was listed as limited each day, head coach Gary Kubiak noted as early as Wednesday that Foster was taking the normal reps of a starter. By Friday, Kubiak sounded confident in Foster's recovery. With teammate
Derrick Ward
already ruled out (ankle, shoulder), it appears Foster is in line to start, with
Ben Tate
available to come off the bench. It is worth noting that Kubiak indicated Foster would likely not take his usual number of snaps, but these are the types of things that often change during the game. If Foster shows any signs of discomfort or suffers a setback, Tate could come in early. But if Foster shows that the hamstring issue appears to be a thing of the past and he's running well, he could see the bulk of the action. Despite the desire of fantasy owners to make it so, it is impossible to be certain an athlete is fully recovered from a muscle strain until he is able to prove it on the field. Game situations are more demanding and are simply not duplicated in practice. So everyone hopes for the best, knowing the week of rest undoubtedly benefited Foster in his recovery process. The Texans have shown they are interested in his availability for the long haul by not pressing him into service in Week 1. No doubt Foster is eager to prove to everyone -- even himself -- that the worst of this injury is behind him.
Steven Jackson, St. Louis Rams, quadriceps, (Q):
Like teammate Sam Bradford, Jackson plays Monday night, only his status is less certain. While Jackson maintained late in the week that there was still an "outside chance" he could suit up Monday, that chance appears to be very small indeed. Jackson left the Week 1 contest shortly after delivering a touchdown on a 47-yard play and hasn't practiced since. As noted Thursday,
the team has confidence in Jackson's ability to recognize how his body is responding
, but the signs are not encouraging. Even Jackson, while trying to keep the door open for a Monday night appearance, acknowledged to reporters that it's still early in the season and they want to be smart. The uncertainty, combined with a Monday night game, makes Jackson a risky play.
Cadillac Williams
would get the start in his place.
Knowshon Moreno, Denver Broncos, hamstring, (Q):
Moreno again appears on an injury report because of a hamstring ailment. Moreno has missed time in the past because of hamstring problems and it had to be a concern for fantasy owners coming into the season. This week, it's a particular concern because Moreno has not practiced at all. To complicate the fantasy scenario, this is a late game Sunday. Coming off a Monday night game (translation: less recovery time) with no practice whatsoever, it appears unlikely Moreno will be on the field to face the Cincinnati Bengals.
Darren McFadden, Oakland Raiders, shoulder, (P):
After taking his share of hits Monday night, McFadden was limited Wednesday and Thursday with a sore shoulder but returned to a full practice Friday, much to the relief of fantasy owners everywhere. The buzz in Oakland, along with the probable tag, indicates he is ready to play Sunday.
Daniel Thomas, Miami Dolphins, hamstring, (P):
Thomas injured his hamstring Sept. 7 in practice and was held out of the season opener as a result. Thomas returned to full practice this week, and as his probable designation would suggest, is expected to play. Between coming off the injury and a less than stellar preseason, Thomas is not likely to get the majority of carries. Teammate
Reggie Bush
is expected to start Sunday, but it's worth keeping an eye on Thomas, whose role could expand going forward.
Wide receivers
Santonio Holmes, New York Jets, knee/quadriceps, (Q):
Holmes suffered a knee injury in last week's contest against the
Dallas Cowboys
, but it did not appear particularly serious given that Holmes practiced fully Wednesday. On Thursday, however, Holmes injured his quadriceps (front of the thigh muscle) during practice and told reporters he did it while running. It's unclear whether the two injuries were on the same side, but since the quadriceps crosses the knee joint, the injuries could certainly compound one another. Coach Rex Ryan's concern about Holmes' status was evident and even Holmes, after expressing confidence about playing Thursday, told "The Michael Kay Show" on Friday that the decision would be up to the doctors. In other words, this likely comes down to pregame warm-ups and evaluation, but it also suggests Holmes is not likely to be at full strength by game time. Murky.
Plaxico Burress, New York Jets, ankle, (P):
Burress played last week, practiced fully every day this week and is expected to play this week as well.
Calvin Johnson, Detroit Lions, ankle, (Q):
Despite being listed as questionable, there is every expectation Johnson will play. Swelling in an ankle he sprained in Week 1 kept him off the practice field Wednesday and Thursday, but he did return to limited practice Friday. All along, Johnson did not seem overly concerned about his status and he has certainly rested during the week in past seasons in order to recover for Sunday. While it may not be a full recovery for his ankle, it's likely enough to allow him to be a big-play guy for
Matthew Stafford
to target.
Hakeem Nicks, New York Giants, knee, (Q):
Just what fantasy owners love. A Monday night game-time decision for a star player who has indicated he plans on playing but may not be up to full speed. That essentially summarizes the Nicks situation. Swelling in his knee kept him out of practice Wednesday and Thursday and he did only limited individual work Friday. While the New York Daily News reported Friday that Nicks indicated he would be "out there Monday" and that the pain and swelling were gone, head coach Tom Coughlin reiterated it would be a medical decision. The fact that Nicks got in a couple of days of limited work is a positive, but there's no telling how his knee will be feeling come Monday. The bottom line is if the swelling has returned to a degree where it compromises his ability to move effectively, he will be held out. On the other hand, an additional day of rest this week allows for more recovery. Given how Nicks has responded in the past and his late-week progress, the scale tips in his favor to play, but this is why they're called "dreaded" game-time decisions.
Dez Bryant, Dallas Cowboys, thigh, (Q):
Bryant is not only questionable, he's very questionable. After looking clearly impaired in the second half of last Sunday's game, Bryant did not practice all week because of a deep thigh bruise. Although team owner Jerry Jones sounded confident Thursday about Bryant's chances of playing, he retreated a bit from his remarks on Friday. While the Cowboys have indicated they would give Bryant up until game time, it's not just a question of desire on the part of Bryant. A deep bruise indicates bleeding within the muscle, which can render the tissue stiff and painful. The athlete will not be at full strength, will lack flexibility and, depending how limited he is, could be at risk for further injury. It would not be a surprise if Bryant sits; if he does not, it's hard to picture him performing at full capacity.
Miles Austin, Dallas Cowboys, knee, (P):
Last week, he was probable. He played. He scored. This week, he's probable as well. He plays again and perhaps gets more attention given teammate Bryant's status.
Brandon Lloyd, Denver Broncos, groin, (P):
Despite telling reporters he was not injured in the Monday night game, Lloyd appeared on the injury report and did not practice Wednesday or Thursday. He did make an appearance Friday, increasing his chances of making an appearance Sunday. That said, he will undoubtedly warm up before the game before a decision is made. It's hard to feel confident about a receiver with a groin injury coming off a short week and practicing only once, and on a limited basis at that.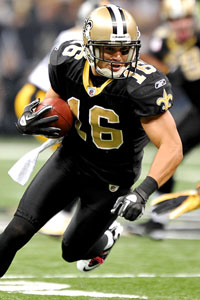 Patrick Green/Icon SMILance Moore could make his season debut Sunday against the Bears, but how effective will he be?
Lance Moore, New Orleans Saints, groin, (Q):
Another receiver, another groin injury. In Moore's case, however, the injury was several weeks ago, he rested the first week of the season and he has been able to practice all week, albeit on a limited basis. With teammate
Marques Colston
out with a broken clavicle, Moore has an opportunity to be the beneficiary. It appears he might begin that campaign this week. The New Orleans Times-Picayune reported that, as early as Thursday, head coach Sean Payton expressed optimism Moore would play this week. That said, even if he does play, it's hard to project how much action he will see. Everyone knows by now that quarterback
Drew Brees
has a multitude of receiving weapons and Moore is coming off a multiweek injury to an easily aggravated body part. And he is, after all, questionable, so be sure to check pregame inactive reports.
Michael Crabtree, San Francisco 49ers, foot, (Q):
Crabtree will likely be a game-time decision and last week's scenario had to be a bit unnerving for fantasy owners. Crabtree, who dealt with a foot injury that required surgery in the offseason, left the game early because of pain. According to the Sacramento Bee, Crabtree later said he would likely have to play through pain all season and would just "remove himself from the game" when it becomes unbearable. Not exactly what fantasy owners want to hear.
Darrius Heyward-Bey, Oakland Raiders, knee, (Q):
Heyward-Bey's status becomes more important this week with teammates
Louis Murphy
and
Jacoby Ford
already ruled out due to injury. Heyward-Bey has a knee issue that limited him on Thursday (he did not finish practice after sustaining the injury) and he did not practice on Friday. The Raiders under Hue Jackson are being very mum on injuries, but there is definitely some concern about Heyward-Bey's late-week injury, perhaps even more so because the team is already thin at receiver this week. If he plays, it's not likely his well-documented speed will be up to par.
Tight ends
Chris Cooley, Washington Redskins, knee, (Q):
Cooley, not surprisingly, struggled in Week 1. He did increase his practice activity this week, however, fully participating daily. It seems likely that if he could play last week, he will again this week, but how effective he can be is still questionable. Keep in mind this is an issue Cooley said he expected to have to manage throughout the season, so until we see him perform better, it's hard to have confidence.
Marcedes Lewis, Jacksonville Jaguars, calf, (D):
Lewis did not practice at all Wednesday or Thursday and was limited Friday. The doubtful tag tells you all you need to know. He is highly unlikely to play in Week 2.
Out
This space is intended for a list of key fantasy players, not including those who have been moved to injured reserve status, who are officially listed as "out" for the upcoming game.
Peyton Manning, QB, Indianapolis Colts, neck:
Get used to this one. Manning will be out for several months after undergoing a cervical (neck) fusion.
Sidney Rice, WR, Seattle Seahawks, shoulder:
The Seahawks spared everyone another Sunday lineup decision by announcing in advance that Rice is out for Week 2. He did do some practicing this week, though, so keep an eye on him for next Sunday.
Be sure to check out Fantasy Football Now, Sundays on ESPN2 at 11:30 a.m. ET, and don't forget our game-day chat and the online version of Fantasy Football Now on ESPN.com starts at 10 a.m. ET for last-minute inactives, rankings, injury impact and more!
December, 23, 2010
12/23/10
6:34
PM ET
This week's Thursday night matchup has the
Pittsburgh Steelers
hosting the
Carolina Panthers
in the most anticipated matchup of the season (hint: sarcasm intended). There's not even a lot to get excited about from a fantasy perspective. Thankfully, most of the relevant fantasy players are not on the injury report this week, with the exception of one or two notables.
For the Panthers, running back
Mike Goodson
may have helped you a few weeks back but he has not been a fantasy factor recently. Nonetheless, for those who might have raised their eyebrows when they saw his name on the injury report, Goodson did not practice Tuesday because of illness, not injury. He returned to full practice Wednesday and listed at probable, is expected to play. Still,
Jonathan Stewart
remains the primary running back for the Panthers as he has been since
DeAngelo Williams
was placed on injured reserve.
On the Steelers' roster, defensive leader
Troy Polamalu
has already been ruled out for Thursday night. This does not come as a huge surprise as there were hints when Polamalu missed Week 15 that he could miss additional time. The All-Pro safety is listed on the report with an ankle injury, but the Pittsburgh Tribune-Review reports Polamalu is dealing with a strained right Achilles, an injury he originally sustained in mid-November. Polamalu continued to play with the injury, but it worsened after the Week 14 game against the
Cincinnati Bengals
when quarterback
Carson Palmer
fell on the back of his leg. The Tribune-Review cited sources saying Polamalu could miss the remainder of the regular season. Officially, he has been ruled out for only this week but fantasy owners should keep an eye on his practice activity early next week for further clues.
Meanwhile Steelers tight end
Heath Miller
, who has missed the past two weeks following a concussion, is off the injury report and is expected to play, barring any late setback.
Here's who else you might be concerned about heading into Week 16:
[+] Enlarge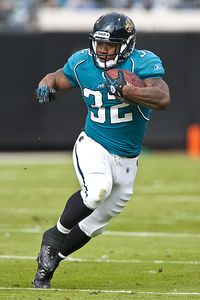 Michael DeHoog/Sports Imagery/Getty ImagesMaurice Jones-Drew's streak of six straight games with at least 100 yards rushing was snapped last week.
• Alarms are sounding in Jacksonville after
Maurice Jones-Drew
sat out Wednesday and Thursday's practices because of his sore knee. The Florida Times-Union asked coach Jaguars head coach Jack del Rio if there was any chance Jones-Drew might not play Sunday and his answer was not definitive. "I hope not," del Rio said. "We're just, the way I look at it, we're always optimistic. ... We get the information to go through the week, get the feedback from the player, from the trainer, from the doctors and all that, then make a determination." Even Jones-Drew acknowledged he did not "look too good" in last Sunday's contest. It's worth remembering that there was some question about a knee issue for Jones-Drew as far back as the preseason. Jones-Drew missed some preseason practice and game time and has quieted concerns, especially recently, with his strong output. With a significant drop in performance in Week 15, however, coupled with the news that his knee is bothering him, there is reason for fantasy owners to keep an eye on Jones-Drew's Friday activity and reason to pick up
Rashad Jennings
, just in case. Meanwhile, teammate
Mike Sims-Walker
also missed practice Wednesday and Thursday to rest his ailing ankle. According to the Jaguars' official Twitter account, the status of both players will be announced Friday.
•
Minnesota Vikings
running back
Adrian Peterson
was a surprise scratch Monday night and has not shown much improvement since. Peterson had something to say about his status Tuesday
on Twitter
writing, "I'm rehabbing. Fully expect to go on Sunday." It's worth noting that Peterson was optimistic in advance of Monday night's game as well, and fantasy owners saw how that turned out. Peterson did not practice Wednesday, and according to Tom Pelissero of 1500 ESPN Twin Cities, Vikings coach Leslie Frazier described his situation this way: "Very, very sore, lots of pain and makes it difficult to turn, twist and do the things Adrian Peterson does." Not the most encouraging words to start the week. Insurance is the best strategy here and if
Toby Gerhart
is available, he won't be for long. Although Peterson returned to limited practice, Pelissero noted that he seemed to be favoring his injured thigh. Both Frazier and Peterson indicate he is much improved over last week but also acknowledge he has a ways to go. This may come down to another game-time decision.
•
Houston Texans
running back
Arian Foster
gave fantasy owners a scare when he left last week's contest early with what he described as a muscle spasm in his "glute." Foster was a full participant in Wednesday's practice, though, and appears on track to start Sunday. Head coach Gary Kubiak, while reassuring in his assessment of Foster's status, sounded the alarm bells when he referred to wide receiver
Andre Johnson
as a game-time decision. According to the Texans' official website, Kubiak followed up by saying, "We'll do our normal deal this week and see where he is at." Johnson has had little to no practice most weeks since injuring his ankle, which typically has allowed him to play Sunday. So far he has missed Wednesday and Thursday. We'll see if Johnson tests the ankle at all Friday.
•
Green Bay Packers
quarterback
Aaron Rodgers
will be back running the offense this week, assuming all goes well between now and Sunday. Rodgers missed Week 15 after suffering his second concussion of the season but was back in full practice Wednesday. The Milwaukee Journal-Sentinel said Rodgers "threw the ball with authority" in the portion of practice open to the media. Rodgers will be wearing a different helmet going forward, but it should be noted that no helmet is concussion-proof. In fact, some helmets have demonstrated better resistance to impact (and controlled studies on helmets have only studied linear or straight-line impact, not rotational, which is often how players are concussed) but the brain is injured when it moves within the skull, something no helmet can control. Still, Rodgers has passed all necessary tests to resume physical activity and barring any return of symptoms, is expected to start against the
New York Giants
this weekend.
[+] Enlarge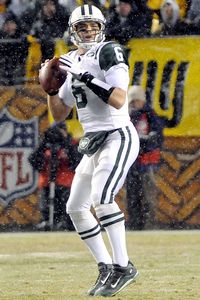 AP Photo/Tom E. PuskarMark Sanchez cracked double-digit fantasy points for the first time in four weeks on Sunday.
• The
New York Jets
announced Wednesday that quarterback
Mark Sanchez
suffered a "slight cartilage tear" in his throwing shoulder, something that was revealed on MRI. The New York Daily News reported that Sanchez injured his arm landing awkwardly in the first quarter of last Sunday's game, yet he was able to finish. Soreness in his shoulder led to this week's MRI, but no one seemed particularly concerned about Sanchez's potential availability for Sunday's game. Until Thursday that is, when coach Rex Ryan suggested Sanchez would be a game-time decision. USA Today reported that Sanchez was limited again in Thursday's practice. His throws lacked velocity and he could not have played if the game were today. The issue is not so much whether the injury will worsen, but rather effectiveness. If Sanchez cannot start it will be
Mark Brunell
at the helm.
• Jets wide receiver
Santonio Holmes
is also less than 100 percent healthy with a turf toe issue that kept him out of practice Wednesday. Holmes returned to limited practice Thursday, suggesting the injury is not of the most serious variety, but it still remains to be seen whether he can be fully effective pushing off and running routes.
•
Cleveland Browns
running back
Peyton Hillis
was not in practice Wednesday, getting a day of rest, according to the Browns. The Cleveland Plain-Dealer reported Hillis was seen limping in the locker room Wednesday, suggesting the body part noted on the report (knee) might be more injured than tired. Hillis seemed to dismiss the concern, telling the Plain-Dealer, "I feel great. ... It is a long season. It's tough on your body, but I think my body's holding up well." He returned to some form of practice Thursday, easing many a fantasy owner's concern. While he's not necessarily out of the woods, this is definitely an encouraging sign. Hillis will need his strength to face the
Baltimore Ravens
, who no doubt would like to erase the memory of his stellar performance against them earlier this season.
•
Denver Broncos
quarterback
Kyle Orton
knows he will be on the sideline this weekend as
Tim Tebow
continues to start. But what about running back
Knowshon Moreno
, who left last week's game early with a rib injury and was not on the practice field Wednesday. Bruised ribs are painful and even breathing hard when running can be excruciating. Moreno did return to limited practice Thursday. If he is able to do the same or more Friday, it would hint at him being available for Sunday.
•
Dallas Cowboys
running back
Marion Barber
was a full practice participant Wednesday, lending more support to the idea that he could be back on the playing field Sunday. Barber has been out since injuring his calf on Thanksgiving Day. Teammate
Felix Jones
has a shin contusion, which also kept him out of practice Wednesday. There seems to be less concern about Jones' availability; the challenge for fantasy owners will be trying to predict how the touches are distributed if all three backs (Barber, Jones and
Tashard Choice
) are active. Meanwhile, teammate wide receiver
Roy E. Williams
was in limited practice Wednesday, a week after suffering a groin injury which kept him out of the Week 15 game. Fantasy owners should wait to see how Williams fares as the week progresses.
• Baltimore Ravens tight end
Todd Heap
has been sidelined with a hamstring injury the past two weeks but returned to limited practice Wednesday. He is by no means a lock to play, but this is a good first step.
• New York Giants wide receiver
Mario Manningham
was questionable last week because of a hip flexor strain but delivered a solid performance (despite his team's stunning loss). Manningham appeared on this week's injury report because of his heel. He went from limited work Wednesday to full practice Thursday, however, hinting that he will be fine come Sunday.
[+] Enlarge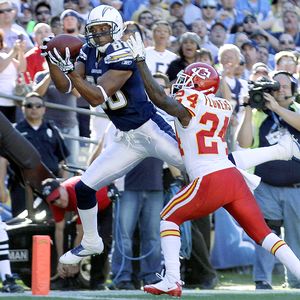 AP Photo/Gregory BullMalcom Floyd was a bit of a surprise scratch last week, but the extra days off may get him back in the lineup this week.
• The
San Diego Chargers
are trying to dry out from all the recent rainfall and trying to determine who will be available to play the Cincinnati Bengals. Running back
Ryan Mathews
missed Wednesday's practice due to illness but was back on Thursday. Tight end
Antonio Gates
has not practiced and is not expected to appear again in the regular season. Fantasy owners who have not yet made the move to replace him on the roster can do so with confidence now. And the biggest question heading into this week is the status of wide receiver
Malcom Floyd
, who has been beset by another hamstring injury that kept him out of last week's game. The North County Times reports that Floyd sustained an injury to the opposite hamstring in practice Dec. 14. Floyd summed it up by saying, "It isn't as bad as the other one, but it is a disappointment that I'm dealing with another injury just after getting healthy again." Floyd has yet to practice this week and his status is certainly murky heading into Sunday's contest.
• After sitting out last week's contest and undergoing a platelet-rich-plasma (PRP) injection,
New Orleans Saints
running back
Chris Ivory
thinks he is about 90-95 percent recovered, according to the New Orleans Times-Picayune. Ivory told the Times-Picayune he could still not run at top speed Thursday but hopes to be able to play Monday night. Given the fickle nature of recovering hamstring injuries and the late game, this may be a fantasy situation to avoid.
• And finally, the
Indianapolis Colts
continue to watch players end their seasons prematurely. Wide receiver
Austin Collie
has been placed on injured reserve following his Week 15 concussion. Despite losing a receiver, they may be gaining a running back.
Joseph Addai
was a full participant in Wednesday practice and according to Associated Press reports, if the game were Thursday he could play. Let's make sure he's not getting ahead of himself and that he feels as good or better at the end of a full week of practice. It sounds as if Addai could return, but how much work he would see versus recent starter
Donald Brown
is unknown.
Have a Merry Christmas and we'll have the latest injury updates affecting Week 16 in the Saturday morning blog!
December, 7, 2007
12/07/07
6:59
PM ET
Thursday night football has not been kind to the starting quarterback. In Week 13, Packers quarterback
Brett Favre
was forced out of the game with a bruised forearm that affected his ulnar nerve. Thursday,
Rex Grossman
of the
Chicago Bears
and
Jason Campbell
of the
Washington Redskins
both went down with injury, both as a result of taking a hit to their plant leg as they delivered the ball. For more on these injuries as well as a look ahead to who will be affected by injuries, please, read on.
Out
Matt Schaub, QB, Texans:
Still recovering from a dislocated left shoulder, Schaub does not have a timetable for his return.
D.J. Hackett, WR, Seahawks:
Hackett is out again due to re-injury of his ankle, but the team expects he could return within a week or two. We'll update his status later.
Roy Williams, WR, Lions:
Williams injured his knee and will not return for your fantasy team this season.
Larry Johnson, RB, Chiefs:
Still out, yet the team still expresses hope. There is no information to suggest one way or the other whether Johnson will return this season, but as a fantasy owner, you just can't count on it.
Anthony Thomas, RB, Bills:
A torn popliteus muscle (small muscle behind the knee) will keep Thomas out the remainder of the season. Marshawn Lynch and Fred Jackson will take it from here.
Ahman Green, RB, Texans:
The Texans announced today that they are placing Green on injured reserve because of lingering problems with his knee. They tried to hold out hope, but to no avail. Green's football future may be in question.
Here's what we know so far about other players with injury concerns heading into Sunday.
Running Backs
Marshawn Lynch, Bills:
Lynch practiced all week on a limited basis, progressively improving as he returns from a high ankle sprain. The Bills will undoubtedly ease him back into the game, meaning he is likely to lose some action to
Fred Jackson
, but is expected to play. There is always a bit of a risk when an athlete returns from a high ankle sprain, but this is a good matchup for Lynch against the Dolphins.
LenDale White, Titans:
Despite some residual swelling and stiffness in his middle finger, White (probable) is expected to play Sunday. He should be able to go the distance, but may struggle some with ballhandling.
Brandon Jacobs, Giants:
Jacobs is expected to play, according to a report in Newsday, and there is no
Derrick Ward
to share carries with anymore. There is
Reuben Droughns
, however, and he will likely absorb some of Jacobs' work. Jacobs is returning from a hamstring strain, always a bit risky for the first game back, but he has been working out well and sounds ready to go.
Reggie Bush, Saints:
ESPN's Chris Mortensen reported Friday that Bush has a torn posterior cruciate ligament (PCL), which was confirmed by the Saints, although they have not indicated the degree of injury. Bush is getting a second opinion from Dr. James Andrews, but it appears doubtful that he will play Monday. Coach Sean Payton told the New Orleans Times-Picayune that he is still hopeful that Bush can play Monday given that he practiced some this week, but this really does not appear likely. All you have to do is look at how long it took
Travis Henry
and
Andre Johnson
to return from a PCL injury to appreciate the time frame Bush is dealing with, if it is a nonsurgical injury. The injury apparently occurred Nov. 4, and this may go a long way toward explaining why Bush really hasn't seemed like himself over the past month. There is some question as to whether Bush may now miss the remainder of the season. Stay tuned for updates regarding his status. In the meantime, find a replacement for your fantasy roster.
Quarterbacks
Jason Campbell, Redskins:
Campbell took a hit on his plant leg which forced it inward as he fell to the ground. This is often a mechanism for a medial collateral ligament (MCL) injury, but it appeared that Campbell took the hit just slightly lower on his leg, forcing it to rotate inward as his leg collapsed, more of a mechanism for a patellar (kneecap) dislocation. If you saw the game, perhaps you saw Campbell grab the outside of his leg with his hand. Had he torn his MCL, you would expect him to grab the inner knee, where it would be most painful. Campbell grabbed his outer knee because he was trying to put a hand around his kneecap, which he had just dislocated. The response of the medical staff also suggested a patellar dislocation. Campbell was immediately placed in a knee immobilizer, the best position to allow the kneecap to resume its proper alignment, and the least stressful for it. The bottom line for Campbell is that his season has essentially ended, as the tissue that was stretched on the outside of the knee during the dislocation has to heal. After immobilizing the knee for a few weeks, which allows the tissue to heal while preventing a repeat episode, Campbell will have to gradually regain his range of motion and strength. Coach Joe Gibbs said in his postgame news conference that it was fortunate that no ligaments were involved, which is true because the injury he did suffer is nonsurgical. Consequently his overall healing time should be reduced. The Redskins could conceivably have Campbell available the final week of the season or if they venture into the playoffs, but from a fantasy perspective, he is done.
Rex Grossman, Bears:
Poor Rex. He didn't make it through even a full quarter before the injury bug bit him. Grossman also suffered a blow to the outside of his leg that forced his knee inward, the mechanism described above that typically affects the MCL. And so it is. The Chicago Sun-Times is reporting that Grossman sprained his MCL and given the recovery time for this type of injury, it is fair to assume that we will not see Grossman again this season.
Brett Favre, Packers:
He's had a week now to let the forearm rest and has resumed practice. As of the end of the week, Favre was handling the majority of the reps with the first team and throwing quite a bit without limitation according to the Packers' official Web site. You can expect to see him Sunday and expect the streak to stay alive.
Brodie Croyle, Chiefs:
Croyle missed Week 13 with a deep back bruise, but the time off seems to have helped. Croyle was able to practice fully all week, is listed as probable and is expected to start Sunday. This news is as good for
Dwayne Bowe
fantasy owners as it is for Croyle fans.
Jeff Garcia, Buccaneers:
Garcia's status will be a game-time decision as coach Jon Gruden wants to see how Garcia's back feels once the team gets to Houston, according to a report in the Tampa Tribune. Garcia, who sat out Week 13 with a back injury, was able to gradually increase his activity tolerance over the past two weeks, but is not yet 100 percent. Garcia has looked good in practice, although he was given Friday off to rest, and the expectation is that he will play Sunday. He may be a little stiff, but if his offensive line is able to protect him so that he can avoid significant contact, he should be able to play well.
Donovan McNabb, Eagles:
McNabb (probable) is primed to make his return Sunday from a jammed thumb and sprained ankle that caused him to sit out two games. McNabb has been practicing and although his mobility may yet be limited somewhat by the ankle, he should be able to be effective. McNabb wanted to play this past Sunday but was held out by coach Andy Reid, who wanted him to be closer to 100 percent before returning to a game situation. Given Reid's criteria, I expect McNabb will be able to perform heading into Sunday's contest.
Marc Bulger, Rams:
Bulger is listed as questionable on the Friday injury report after suffering a setback during the week. Bulger, recovering from a concussion, had been cleared to practice Tuesday. But as the St. Louis Post-Dispatch reports, Bulger did not feel well after practice Thursday, causing the Rams to downgrade him. This is why athletes are gradually returned to activity after concussions; there is always the possibility that symptoms can return with increased intensity of exercise, which indicates the brain has not fully recovered. Coach Scott Linehan wisely says he will not return Bulger if he is not fully healthy, and he will use the next 12 to 24 hours to make that decision. Plan on another quarterback.
Wide Receivers/Tight Ends
Marvin Harrison, Colts:
Could it be? Could Harrison actually make a return Sunday? Harrison practiced some on Wednesday and was seen walking without a limp afterward, a good sign. He was held out of practice Thursday as a precaution. According to the Indianapolis Star, coach Tony Dungy has indicated that the Colts are being more cautious than if they were in a must-win situation to get into the playoffs. Harrison is clearly not 100 percent and the Colts do not want to risk losing him for the time when it really counts. There is a chance, albeit a slight one, that Harrison plays Sunday, but even if he steps on the field it will be on a limited basis. There is no fantasy value here.
Anquan Boldin and Larry Fitzgerald, Cardinals:
Boldin dislocated a toe Sunday and has been unable to practice all week. According to the Arizona Republic, the medical staff has been trying to find a supportive insert for his shoe that would allow him to run without pain, but so far that has not happened. There is still a chance that he could be outfitted with something before Sunday, but Boldin has said that he does not like to play without having practiced at least once during the week. Add to that the fact that his hip is still bothering him and it is unlikely he sees the field this week. Teammate Fitzgerald has been contending with a groin injury, but has been increasing his activity, and was running routes late in the week. Also listed as questionable, Fitzgerald is more likely to see playing time, but may not yet be fully recovered. The concern with the groin injury is lateral cutting and speed, so Fitzgerald may not be up to the monster performances that he has put up of late, but there is a reasonable chance that he is active and efficient on Sunday.
Brandon Stokley and Javon Walker, Broncos:
Stokley, who was reported to have injured his knee this past Sunday, had not practiced during the week and appeared unlikely to play. Friday, however, Stokley was able to put together a full practice and, although listed as questionable, he is expected to start, according to the Denver Post. Teammate Walker has been hampered by his knee and has not had a strong outing since returning, which is a bit surprising as he had looked good in practice. The expectation is that Walker will play, but he is not yet fully healthy and remains a risky start.
Santonio Holmes, Steelers:
Holmes is off the injury report, a good sign that his high ankle sprain has healed enough to allow him to play. Expect to see Holmes in action Sunday, but he is returning after a relatively short time frame. We have seen the high ankle sprain injury regress after a player returns (D.J. Hackett,
Michael Pittman
) and until Holmes has fully tested it, temper expectations for his return.
Laveranues Coles, Jets:
Coles remains a game-time decision as he recovers from his high ankle sprain. Coles is tough and can be expected to play through pain, as he has done many times before. With Cotchery out, the Jets need Coles even more, so expect him to be on the field. He is not likely to be 100 percent, but unless he suffers a serious setback during the game, don't expect that to limit his performance.
Don't see your player here? Be sure to check back Saturday when we check late Week 14 updates and add a few defensive players.
December, 5, 2007
12/05/07
9:44
AM ET
Well, it finally happened. My injury-laden fantasy team in our GMC Pro Grade League finally succumbed in a loss that pushed me out of playoff contention. But not without a fight! Despite the multiple injuries over the season, which forced me to nearly completely renew my roster, I lost by a hair (six points) to Matthew Berry, the Talented Mr. Roto, he of the high-scoring
Tom Brady
,
Wes Welker
,
T.J. Houshmandzadeh
and
Justin Fargas
crew. In fact, had
Brett Favre
, whom I just recently acquired via trade because of the recent injuries to
Donovan McNabb
, not left Thursday's game with an injury, I am confident that I would have won. I guess my point is two-fold: 1) Berry can mock my undying loyalty to my 49ers, but he cannot gloat in his barely eked-out victory, and 2) I believe that I have demonstrated, by virtue of my injury-laden team, that I understand and sympathize with fantasy owners everywhere whose teams have been decimated by those unpredictable injuries that can make all the difference between agony and ecstasy.
So for those of you fortunate enough to have made the playoffs, and for those of you just trying to spoil the playoff dreams of others, here are some of the injuries fantasy owners should be aware of early this week. Keep in mind that the Thursday matchup will feature Chicago at Washington.
Running Backs
Adrian Peterson, Vikings:
Well, it seems the questions about Peterson's readiness to return have been answered. He looked remarkably solid in his first outing since tearing his lateral collateral ligament, brace and all. The Vikings somewhat limited Peterson's activity as planned -- he had 15 carries and did not appear in the fourth quarter -- but he is so dangerous whenever he touches the ball that his numbers made it seem as if he played the entire game. According to the Minneapolis Star-Tribune, Peterson felt as good as he has all year after Sunday's outing, so we can expect to see him and
Chester Taylor
utilized in tandem the rest of the season.
Marshawn Lynch, Bills:
Coach Dick Jauron still is being cautious about Lynch's status for Sunday, saying Lynch has made a lot of progress but he doesn't want to "overstep it right now." Jauron's comments on the Bills' Web site are the most positive since Lynch's injury about four weeks ago, but they are necessarily guarded, given the nature of the injury (high ankle sprain). Lynch will be evaluated on a day-to-day basis as he practices throughout the week, and we should have a better idea of his status late in the week.
Brandon Jacobs and Derrick Ward, Giants:
The Giants have made it official. Ward has been placed on injured reserve after suffering a broken fibula in Sunday's contest. So will Jacobs make it back this week? It appears that way if you listen to coach Tom Coughlin. Coughlin told the New York Daily News that all along, the plan has been for Jacobs to return this week, and he is not being rushed back because of Ward's injury. That sounds reasonable. Now, let's hope Jacobs can not only make it back, but also stay to finish out the year healthy.
Selvin Young and Travis Henry, Broncos:
Young appeared to be the healthier back headed into Sunday's game and, in fact, was the starter. But he managed to sustain yet another injury, this one to his arm, according to the Denver Post, and his status is uncertain for this week. Meanwhile, Henry received word from the NFL that he won his suspension appeal, so now his game availability depends only on his health. Henry was able to get back in the lineup last week, so if Young cannot go, Henry likely will start. There always are more running backs to be found in Denver, though, so starting does not necessarily translate into more fantasy points. It is worth watching the practice reports throughout the week to see how the running back lineup is shaping up.
Larry Johnson, Chiefs:
Johnson already has been ruled out for Week 14, but the Chiefs continue to be guarded in their statements regarding Johnson's status for the season. In comments made on the Chiefs' Web site, coach Herm Edwards reinforced the idea that no decision has been made, saying only that Johnson is "getting better" and the team will continue to evaluate him. He did say that if the star back were to return too soon and re-injure his foot, it could result in Johnson requiring surgery, which always is the potential scenario for a mid-foot injury. It is not totally clear what is going on with Johnson and the Chiefs. Johnson being ruled out so early in the week suggests he is a long way from being able to return. Yet the Chiefs continue, at least outwardly, to indicate there is hope he will return this season. Perhaps there is some motivational incentive; the potential of getting back on the field might help Johnson maintain the intensity of his rehabilitation. And he might yet return, but it remains just a possibility, not one worth taking up a spot on your fantasy roster.
LenDale White, Titans:
According to the Tennessean, White (dislocated middle finger) is expected to play Sunday against the Chargers. On Monday, we mentioned fumble concerns as a possibility, especially if the finger remains sore and swollen. Given
Chris Brown
's effectiveness Sunday after White exited the game, there could be concern Brown will steal some action from White this week, especially if White shows any signs of struggling with the finger.
Quarterbacks
Jeff Garcia, Tampa Bay:
According to the St. Petersburg Times, Garcia said his back is feeling better by the day and he expects to return to practice Wednesday. Despite some residual soreness, Garcia plans to play Sunday against the Texans while his mobility and flexibility continue to improve. It still is wise to check back at the end of the week, but at this point, it sounds as if he is preparing to make his return.
Donovan McNabb, Eagles:
Philly.com has reported that McNabb is expected to return this week from the thumb and ankle injuries that have caused him to miss two straight games. Coach Andy Reid said McNabb can grip the football well now but might wear a brace on his hand to protect the thumb. The bigger concern is his mobility with the ankle, but Reid said McNabb moved around better in practice last week. Nonetheless, he held McNabb out of Sunday's contest because he did not feel he was ready to go from a health standpoint, and the extra rest no doubt has helped the quarterback. Barring a setback in practice this week, expect McNabb to get the green light Sunday.
Marc Bulger, Rams:
According to a report by ESPN's Len Pasquarelli, Bulger underwent another battery of tests Tuesday as a follow-up to his concussion a week ago and was cleared to return to practice Wednesday. The Rams are optimistic that Bulger will be available Sunday, but it should be noted that he will be monitored throughout the week to ensure his symptoms do not return as his practice activity increases. Bulger's replacement,
Gus Frerotte
, suffered a shoulder injury Sunday that might keep him out for at least one game. According to the St. Louis Post-Dispatch, Frerotte has a sprained shoulder and a partial tear of the labrum, the ring of cartilage that helps reinforce the shoulder joint. Frerotte injured the shoulder in the third quarter of Sunday's contest but was able to return to finish the game; however, the shoulder was much more sore the next day, prompting the additional tests. If neither Bulger or Frerotte is able to go, it could be
Brock Berlin
. Fantasy owners, keep your fingers crossed that practice agrees with Bulger.
Brodie Croyle, Chiefs:
Croyle sat out last week's contest with a sore bruised back but could make his return Sunday if, as coach Herm Edwards said on the Chiefs' Web site, he's "mobile enough to get out of the way." Edwards also said that although the Chiefs would like to see Croyle back in the lineup, the team will not risk putting him in there if he is not fully recovered. Croyle is expected to return to practice Wednesday, and his progress, particularly his mobility, will be evaluated throughout the week.
Alex D. Smith, 49ers:
Smith has sat out the 49ers' past two games because of lingering pain in his shoulder (a Grade III, or complete, separation) and his forearm (tendinitis, which developed after he injured the shoulder, possibly while trying to rehabilitate the arm). Smith might yet face shoulder surgery, but before that decision is made, Smith will try to throw this week, according to ESPN's Len Pasquarelli. Smith will see how the arm feels while throwing and then will consult with the medical staff to evaluate his status. Either way, he is not a factor for the remainder of the fantasy season (not that he was much of a factor beforehand). His progress will be relevant for next year, so we will monitor him with that in mind.
Wide Receivers/Tight Ends
Roy Williams, Lions:
Williams sprained his posterior cruciate ligament Sunday and, according to a report in the Detroit News, is expected to miss the last four games of the season. ESPN's John Clayton is reporting that the Lions do not plan to put Williams on season-ending injured reserve in the hope that he can heal quickly, but it is a slim hope. This is an injury similar to the one that kept Broncos running back Travis Henry out four weeks and Texans receiver
Andre Johnson
out eight weeks. Coach Rod Marinelli said the ligament is not torn, usually a reference to the ligament not being
completely
torn, since any sprain reflects some degree of injury to the tissue, even if microscopic. The timeframe will depend on how long it takes any swelling and pain to subside, and the amount of tissue healing that needs to take place. Williams then would need to regain his strength and mobility, as well as the confidence that his knee is stable enough to support him running, cutting and jumping. That is a lot to ask in less than four weeks. Nonetheless, if the injury is minor, there is a chance he could return, but it is a small one. If Williams is on your fantasy roster, you need to find a replacement that you can count on for the duration of the season.
Santonio Holmes, Steelers:
Holmes, who missed the past three games with a high ankle sprain, could return in Week 14, according to a report in the Pittsburgh Post-Gazette. Coach Mike Tomlin said "it depends on how [he] perform[s] in practice." Even mild high-ankle sprains often require about four weeks before a player can return, so Holmes is just now coming up on that mark. Practice will resume Wednesday, meaning we won't have a real indicator as to whether Holmes is likely to play until late in the week. Stay tuned.
Don't see your player here? Be sure to check back later in the week when we check further Week 14 updates. We also will quickly touch on any Thursday game injuries at that time.
November, 23, 2007
11/23/07
5:20
PM ET
OUT:
The following players have been listed as officially out for Week 12 Sunday games.
Steve McNair, QB, Ravens:
McNair's left shoulder still is listed as the official reason for him sitting out.
Demetrius Williams, WR, Ravens:
An ankle injury will keep Williams out of the lineup this week.
Larry Johnson, RB, Chiefs:
We
detailed
what we know about his injury on Wednesday. You can expect to see him on this list for a while longer.
Ahman Green, RB, Texans:
As expected, Green did not practice this week and is not expected to play, according to the Houston Chronicle.
Ron Dayne
likely will get the start again for the Texans.
Marshawn Lynch, RB, Bills:
Lynch has not practiced all week and has been ruled out for this Sunday's game. To make matters worse, the Bills' Web site reports that Lynch has a high ankle sprain. Originally reported as an ankle sprain, Lynch's injury immediately becomes more serious because of the location. High ankle sprains, as we have reported many times, generally are more difficult to recover from and can be easily aggravated if a player returns too soon (see
Michael Pittman
). We will check back in on Lynch next week. Until he begins to test the ankle in practice, it will be difficult to project his timetable.
Anthony Thomas
will get the start in Lynch's place.
Brandon Jacobs, RB, Giants:
Jacobs is out with a hamstring injury (more information below).
Travis Henry, RB, Broncos:
Henry continues to struggle with his left knee (PCL sprain) and did not practice all week. Keep an eye on him as he could return in Week 13, contingent on his knee healing enough and him winning his appeal.
Here's what we know so far about other players with injury concerns heading into Sunday.
Running Backs
Selvin Young, Broncos:
Young, who injured his knee in Monday night's game (no specifics given by the team), did not practice until Friday, when he did limited work. According to the Broncos' Web site, Young will test his leg before the game (late start Sunday) to see if he will be able to play.
Andre Hall
will get the start if Young cannot go Sunday.
Adrian Peterson, Vikings:
Peterson (torn LCL) has taken part in very limited practice this week, according to the Minneapolis Star-Tribune, wearing a knee brace all the while. Although he has not been officially ruled out, do not expect him to play this weekend, despite the upgrade to questionable. It sounds as if the Vikings are suggesting he could return very soon, but again, I believe he really needs to show he can do everything in practice before the Vikings risk putting him back on the field (see Wednesday blog).
Brandon Jacobs and Derrick Ward, Giants:
Jacobs missed practice all week with a sore hamstring and is out for Sunday. According to a report in Newsday, Jacobs and coach Tom Coughlin gave the impression earlier in the week that Jacobs would miss Sunday's game. The major concern, as it always is with a hamstring injury, is that it could get worse and end up costing Jacobs more missed time overall. With other capable backs in the wings, the Giants are smart to play it cautious. But then there's Ward, who also is currently hampered by lingering injuries. Ward has been dealing with an ankle sprain, which reportedly is much improved, and a groin strain, which he sounds less confident about. Ward's comment -- "You never know. It might regress, it might progress" -- does not exactly evoke optimism. Ward has been a limited participant in practice, and his status may well come down to a game-time decision.
Reuben Droughns
looks to get the start Sunday, and the Giants' Web site quotes Coughlin as saying that
Ahmad Bradshaw
is the No. 2.
Reggie Bush, Saints:
Bush was limited in practice all week with a shin bruise, but coach Sean Payton is hopeful that Bush can play Sunday, according to a report in the New Orleans Times-Picayune. He will be a game-time decision.
Shaun Alexander, Seahawks:
Insert last week's report here. Alexander has not practiced, and if he does not practice, he does not play, according to coach Mike Holmgren. The Tacoma News Tribune reported that Alexander also is trying to get rid of the cast. Apparently that is not going to happen, but the medical staff is trying to find a way to make the cast smaller. Once again, expect
Maurice Morris
to start in Alexander's place.
Michael Pittman and Earnest Graham, Buccaneers:
Pittman, who worked so hard to get back to the playing field, re-injured his still-healing high ankle sprain, perhaps seriously, and is out indefinitely. There has been some speculation that Pittman could be put on injured reserve, but that does not appear to have been decided yet. According to a report in the St. Petersburg Times, Pittman's swelling is severe, but the athletic training staff expects him to make a return in a few weeks. Meanwhile, Graham still is nursing a sore ankle and has been limited in practice this week, but he is expected to play.
Jesse Chatman, Dolphins:
The Dolphins most certainly don't need this. Chatman has an ankle problem that limited him in practice the whole week. The Orlando Sun-Sentinel reported Chatman still is limping, which does not help his chances to play Monday night. Granted, there are a few days before the game, but if Chatman is limping now, he will not be at his best come Monday. Could this signal the return of
Ricky Williams
? It more likely signals some increased action for
Patrick Cobbs
at this point, but stay tuned to this scenario, because if Chatman's ankle problem lingers, there might be a new starting running back in Miami right around the time of fantasy playoffs.
Quarterbacks
Donovan McNabb, Eagles:
McNabb has two problems that kept him out of practice all week: a sprained ankle and a jammed thumb. Coach Andy Reid told the Associated Press that McNabb "has gotten a little better each day." Neither of these injuries appears particularly serious, but they could be just bad enough to either keep McNabb from starting Sunday night, which appears more likely, or keep him from performing effectively if he does play. Either way, with the game being on Sunday night, and the opponent being the Patriots, this probably is one for fantasy owners to avoid.
Receivers/Tight Ends
Santonio Holmes, Steelers:
Holmes is recovering from a high ankle sprain and remains doubtful for Monday's game.
T.J. Houshmandzadeh, Bengals:
Houshmandzadeh participated in full practice Friday after resting earlier in the week with a bruised back. He is listed as probable and is expected to play. Houshmandzadeh still is feeling soreness in his back and told the Bengals' Web site that if he can't tolerate the pain, he won't play. Given that comment, be sure to check his status before game time, but with the probable designation, it does appear he will be active.
Javon Walker, Broncos:
Walker had good practice sessions this week and is looking like he will return Sunday. Walker has made nice, steady progress, and although he is reported to have had some swelling after Thursday's practice, he expects to play, according to the Broncos' Web site. His status is questionable, so be sure to check Sunday's inactive reports before the game.
Reggie Williams, Jaguars:
Williams is a late addition to the injury reports with a back problem. He is listed as questionable after being limited in practice Friday. If you have him on your roster, be sure to check before game time.
Todd Heap, Ravens:
Hopefully you have found a fantasy replacement for Todd Heap by now. He is listed as doubtful again this week because of the lingering problems with his hamstring. Despite his efforts to return, the hamstring has not cooperated, and there is no telling when his leg will be healthy enough to allow him to come back.
Don't see your player here? Be sure to check back this weekend when we have the latest practice reports before the games, as well as a few IDP additions.
November, 21, 2007
11/21/07
8:25
AM ET
Things are really starting to shake up. Real football now takes place on Thursdays, in addition to Sundays and Mondays. Fantasy football playoff qualifiers are being determined and every week means potential elimination for some unlucky owners. In other news, the sun continues to rise and set every day and the Patriots are still winning.
With regards to the injuries, here's what we know so far heading into Week 12.
Due to the upcoming Thanksgiving Day games, the layout is a bit different this week. Key players involved in Thursday's games are listed first, followed by the Sunday/Monday crowd.
Thanksgiving Day
Green Bay at DetroitRyan Grant, RB, Packers
Grant reportedly has a mild ankle sprain (likely Grade I, which means minimal structural damage). He is being held out of practice early in the week to rest the ankle with the expectation that he will play this Thursday.
Kevin Jones, RB, Lions:
Jones is dealing with some soreness in his surgically repaired foot, and the thought was that he would be limited somewhat in his activity Sunday, in anticipation of a short week. According to coach Rod Marinelli, Jones emerged from Sunday's game "fine" and is expected to play Thursday.
Calvin Johnson, WR, Lions:
Johnson will also play, although the Lions acknowledge that his action has been somewhat limited due to his still ailing back. Marinelli told The Detroit News that Johnson's back is one factor in determining how much he is utilized but indicated that the Lions' offensive schemes, which sometimes call for Johnson to play a decoy role, are another. If Johnson were 100 percent, he would be more involved, according to quarterback
Jon Kitna
. Johnson made a nice leaping catch in the end zone Sunday, and I was watching in particular to see how he looked getting up after landing on his back. He stood up without hesitation, which was a good sign. At times he appears a bit less acrobatic in some of his catches, still lifting his sizeable 6-foot-5 frame over defenders, but perhaps without quite the same separation we saw early in the season, suggesting that his power is a bit limited because of the lingering soreness and stiffness. As time goes on, those things will continue to improve, barring any setback, and Johnson will likely find himself becoming a more frequent target.
New York (Jets) at Dallas:Laveranues Coles, WR, Jets:
The Newark Star-Ledger reports that the Jets' star receiver sustained a high left ankle sprain Sunday and is unlikely to play on Thanksgiving Day. The Star-Ledger cites an unnamed source who spoke with Coles after the game. The Jets are not very revealing when it comes to injuries so we may not get confirmation from the team that it is, in fact, a high ankle sprain. Assuming that is the case, however, we know that these tend to be a bit slower to resolve than a typical lateral ankle sprain. One thing to point out is that Coles did attempt to return to the game last week after the initial injury, meaning it did not appear severe when tested on the sideline, which should translate to a quicker return time. Coles is tough; he missed his first start in more than three years just three weeks ago when he was sidelined with a concussion. If the injury is mild, he could return in Week 13, but until the Jets initiate Week 13 practice, we probably won't hear anything more. He is a good candidate to keep on your fantasy roster because he very well could return within another week or two.
Patrick Crayton, Cowboys:
Crayton sprained his ankle during the first quarter of Sunday's game, according to the Fort Worth Star-Telegram. Crayton managed to finish the game, indicating that the injury could not have been too severe. It was bad enough to keep Crayton out of practice Tuesday and to cause Wade Phillips to say that Crayton might miss Thursday's game. He is expected to be a game-time decision so be sure to check the inactives Thursday.
Colts at FalconsMarvin Harrison, WR, Colts:
His still-inflamed knee is expected to cause him to miss the Thanksgiving Day game, and he won't have
Aaron Moorehead
to back him up. Moorehead was placed on injured reserve by the Colts after experiencing a flare-up of a chronic back problem last week. According to coach Tony Dungy,
Anthony Gonzalez
, who has been out with a hand injury, will likely be back in the lineup. Harrison is being projected to perhaps return in Week 13, but whenever the timing is dependent on the resolution of swelling, especially swelling that has been lingering for nearly six weeks, understand that the reliability of the projection is questionable.
Byron Leftwich, QB, Falcons:
Leftwich returned to play Sunday after being out following ankle surgery. His ankle seemed solid yet his performance was anything but, and
Joey Harrington
replaced him in the third quarter. Apparently, Leftwich also suffered a tailbone injury during the game and has not been able to practice. Harrington will get the start over Leftwich on Thanksgiving Day.
Sunday/Monday
Running BacksLarry Johnson, Chiefs:
ProFootballTalk.com reports that Johnson traveled to Charlotte, North Carolina to meet with Dr. Robert Anderson, the same physician who performed Kevin Jones' surgery, for an evaluation of his foot. The report states that Johnson has a Lisfranc injury and that the main question was whether Johnson would require surgery to repair the condition. The Chiefs have not issued any formal statement as to the exact nature of Johnson's condition, other than that he is dealing with a midfoot sprain. Last Thursday, the Kansas City Star reported that Johnson said he expected to return this season. Johnson described all of the rehabilitation he has been doing, and without disclosing any specifics about the injury itself, remarked that the swelling had been severe initially but pointed out that he was now walking without a boot. On Monday the Kansas City Star quoted Chiefs president Carl Peterson as saying "If a patient doesn't want medical information out there, then (the doctor) is obligated, as we are, under the rules of HIPAA, of not going into detail." This statement clearly suggests that it is Johnson himself who is requesting that the organization keep the details surrounding his injury confidential, as he has the right to do. Peterson went on to say that the Chiefs would only report what was required by the NFL and that they would continue to evaluate Johnson on a week-to-week basis.
So what are the takeaways from this?
We don't really know the severity of the injury. There has been speculation that Johnson has a fracture in his foot. That has neither been confirmed nor denied publicly by Johnson or the Chiefs. There are a few clues, however, as to how bad this midfoot injury might be. If it were definitely season-ending, the Chiefs would likely have acted by now to move Johnson to injured reserve, so as to open up another spot on the active roster. The Chiefs indicate that Johnson will be evaluated week-to-week, meaning they anticipate progress from week-to-week. Johnson has been seen walking about in a sock, out of the ankle boot, within two weeks of the injury. More severe injuries require a longer period of immobilization (4-6 weeks minimum), with the most severe cases resulting in surgery fairly soon after injury.


Lisfranc injuries are not all created equal. There is a Lisfranc joint complex in the midsection of the foot (the name actually refers to the region of the foot as well as any injury associated with that region). Injuries to this area can be very serious (fracture/dislocation), especially if not properly diagnosed and managed early on, which is why teams become very nervous when they hear this name associated with an injury to one of their athletes. That being said, the injury can be less severe (sprain), requiring less immobilization time and no surgical intervention, which appears to be the case with Johnson. The injuries to the Lions' Kevin Jones, and most recently to the Colts' Dwight Freeney, are of the serious variety, requiring major surgery followed by lengthy rehab. (In Friday's blog we will examine the serious Lisfranc injury in more detail, specifically related to Dwight Freeney and Kevin Jones.)


Keeping Johnson on your fantasy roster is a gamble. You now know why we do not know the specifics related to his time frame at this point. Assuming that the injury is, at best, only a sprain, with no fracture present, it would still likely be two-to-three weeks before Johnson could return, not likely in time to help out your fantasy team much. If you have already made the playoffs and can afford to keep him as an extra on your roster in the event that he returns, then do so. But if you need running-back help in the next few weeks, you should seek that help elsewhere.


Priest Holmes, Chiefs:
Keeping it right here in the Chiefs' family, Holmes, who had stepped up his role in Johnson's absence, was shaken up during the second half of Sunday's game. There have since been reports that Holmes re-injured his neck, which coach Herm Edwards confirmed to ESPN's John Clayton, although he gave no detail as to the severity of the injury. Holmes reportedly has been visiting with medical specialists and conferring with family members and is scheduled for a Wednesday press conference. There has been speculation that he will announce his retirement, but the Chiefs have not confirmed that. Holmes originally suffered a concussion and a bruised spinal cord back in October, 2005. There was doubt at that time that Holmes would ever play football again, but after rehabbing extensively and working his way back towards football shape, Holmes made a comeback, albeit a brief one, in October of this year. While his efforts were admirable in terms of both his physical conditioning and mental resolve, there was always some concern about the potential consequences of another head or neck injury. It looks as if we may be seeing the end of a fabulous career. With teammate Larry Johnson out indefinitely, it looks as if rookie
Kolby Smith
may be
forced into starting duties.



Ahman Green, Texans: Green continues to struggle with ongoing inflammation in his knee and there is no timetable for his return. Despite the efforts of coach Gary Kubiak to limit Green's practice during the week in order to save him for the weekend, Green's knee has prevented him from taking the field for the last few weeks. As ESPN's John Clayton reported, the Texans at this point are considering shutting Green down for the remainder of the season. If he is on your fantasy team, you should be searching for a replacement.

Selvin Young, Broncos: Young left Monday night's game with a "knee issue" according to the Denver Post. He did manage to return briefly, however, and the team says he is "fine." Practice reports this week will tell us if that really is the case.

Adrian Peterson, Vikings: According to the Minneapolis Star-Tribune, Peterson (torn LCL) continues with his rehab progress, running on an underwater treadmill for the first time this week, which allows him to condition his cardiovascular system and get his running form back while minimizing joint, and therefore ligament, stresses. Coach Brad Childress has indicated that he does not expect Peterson to return to play this week (which would mark only two weeks since the injury) and the Vikings continue to approach this as a day-to-day situation. Childress did add that Peterson would wear a brace when he returns. Knee braces, although by no means a guarantee against further injury, are more effective at providing medial/lateral stability (more reinforcement for the medial collateral (MCL) and lateral collateral (LCL) ligaments) than rotational stability (ACL). It still remains to be seen what Peterson's true timetable is because he has yet to run on land, which will begin with straight in-line running. He then will have to progress through various drills and ultimately will need to demonstrate control in directional running and cutting (typically late in the progression), not to mention make it through complete practices, before he sees the field. Do not count on his return for another two-to-three weeks, and bear in mind that this is a sliding time scale depending on Peterson's response to each level of activity.

Brandon Jacobs, Giants: We're still not hearing much about the extent of Jacobs' hamstring injury. Jacobs said initially that he did not think it was serious, yet he hopped off the field grabbing his leg. That looked like more than a minor tweak. The New York Post states that coach Tom Coughlin, when asked how Jacobs was doing after undergoing some tests, merely stated "He's sore." If you look at the effect hamstring injuries have had on key fantasy players already this season (
Rudi Johnson
,
Todd Heap
), you know to hope for the best but expect the worst. Despite his protestations regarding the seriousness of the injury, expect Jacobs to be out of your lineup for two-to-four weeks, meaning, you may not have him back this fantasy season.
Derrick Ward
may be moved to action, but keep in mind that he has been out with ankle and groin injuries for several weeks and would be a risky fantasy start.
Reuben Droughns
and
Ahmad Bradshaw
are the next two Giants on the running-back depth chart, though the team signed veteran Patrick Pass this week.
QuarterbacksVince Young, Titans:
Young suffered a quad contusion (bruise) on Monday night, on the same quad that he strained earlier in the season. In the Tennessean, coach Jeff Fisher said he expects Young to play this Sunday, even if he does not practice the entire week. When Young strained the muscle, he actually tore muscle fibers which had to repair themselves in order for the injury to heal. A contusion is a deep bruise to the muscle, and the main goal in the next few days is for the bruising and local swelling to dissipate, at which point the muscle function should vastly improve. Consequently this injury should not take as long to resolve.
Alex D. Smith, 49ers:
Smith will not be returning any time soon. ESPN's Len Pasquarelli reports that Smith visited Dr. James Andrews for a consultation and was told that the shoulder may be in worse shape than at the time of the initial injury. Smith will continue with his rehab efforts (keep in mind that his forearm continues to be a problem as well) for two weeks and will then be re-evaluated. It sounds as if he is ultimately headed for surgery; the question is whether it will be during the season or afterward. To compound Smith's physical problems, he and coach Mike Nolan have exchanged some very public barbs recently, perhaps underlining the general frustration present in San Francisco. There is not a lot to suggest that Smith will be rushing back any time soon, if at all, this season.
Wide Receivers/Tight EndsSantonio Holmes, Steelers:
The Pittsburgh Post-Gazette says it's a mild high ankle sprain that is affecting Holmes, and he is already listed as doubtful for next Monday night's game against the Dolphins. Even if the sprain is minor, the location (high) makes it a more serious injury. Expect him to miss two-to-four weeks, give or take.
Javon Walker, Broncos:
Walker is optimistic, according to the Rocky Mountain News, that he will resume full practice this week and be ready to start Sunday at Chicago. Walker is recovering from an arthroscopic knee surgery on his previously ACL-reconstructed knee and has been progressing nicely. Prior to the surgery, Walker had been dealing with persistent swelling on the back side of his knee. Walker now says that it was a "cyst" in his knee that was causing the problem. Walker is most likely referring to what is called a Baker's cyst, which is a pouch of synovial fluid (the fluid found normally within the knee joint) that collects and forms a cyst-like structure as an extension of the joint capsule, typically on the back side of the knee. The cyst generally forms in response to some irritation within the knee joint itself. Remove the source of the irritation, which ranges from torn meniscus to cartilage flaps or fraying, and the cyst then typically resolves. If that is indeed the scenario, then Walker should be in much better shape for having had the procedure, and should return strong and without fear of further injury.
Don't see your player here? Be sure to check back after Friday practice reports when we check further Week 12 updates. We will also quickly touch on any Thursday game injuries at that time.