Stephania Bell:

Scott Baker
April, 18, 2012
4/18/12
4:19
PM ET
Arizona Diamondbacks
center fielder
Chris Young
took a flying leap while making a big play Tuesday, and his right shoulder crashed into the outfield wall. He made the catch but the wall made a mark, at least a 15-day mark, as Young was placed on the DL Wednesday. Clearly in discomfort as he lay on the ground for several moments following the impact, Young was able to eventually get up on his own. As he walked off the field, he raised his left hand up toward his right collarbone and shoulder, as if he were cautiously checking to make sure all was still intact. According to the Arizona Republic, Young later indicated that he was specifically concerned about his collarbone after the crash, but X-rays showed no fractures. Even in the absence of a break, the possibility of a variety of soft tissue injuries exist after such a collision and, as is sometimes the case, more detailed imaging can reveal more subtle bone injury. Young, who did not return to the game following the injury, is scheduled for an MRI on Wednesday to further evaluate the area. "I can't lift it right now," Young said, adding, "We'll see. ... All we can do tonight is ice it, do a little [electric-stimulation] machine on it and hope it feels better in the morning." Inability to lift the arm overhead is not uncommon acutely in the presence of pain and swelling, even when the injury itself is relatively minor. For now the team is calling Young's injury a shoulder contusion, or deep bruise, which the Diamondbacks hope is the extent of it. Stay tuned for details.
[+] Enlarge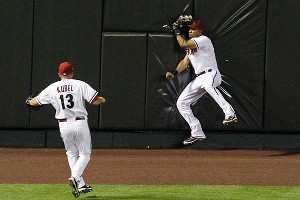 AP Photo/Ross D. Franklin Chris Young is on the DL after getting hurt making this catch on Tuesday.
Young isn't the only outfielder ailing right now. Teammate
Justin Upton
has a left thumb injury suffered in the first week of the season (those darned headfirst slides!) that has continued to nag at him ever since. Upton consulted Tuesday with Dr. Don Sheridan, a hand specialist (incidentally, Sheridan is the surgeon who operated on
Boston Red Sox
outfielder Carl Crawford's wrist), who confirmed the initial diagnosis of a bone bruise and drained the thumb of fluid, according to the Republic. While the team is still hoping Upton can avoid a trip to the DL, it does remain a possibility. Upton has essentially played through the injury but will likely rest a couple of days after having it drained (he did not play Tuesday and is not in the starting lineup Wednesday). The thumb is critical for bat grip and control and although Upton has managed to stay in the lineup thus far, we have seen how lingering thumb injuries can sap a hitter's power (the
Atlanta Braves
'
Jason Heyward
in 2010 comes to mind, also injured his thumb on a headfirst slide, played through for a while, then went on DL). The Diamondbacks will likely see how Upton responds over the next several days before making a decision.
No "immediate" surgery for Ellsbury
According to ESPNBoston.com, Boston Red Sox manager Bobby Valentine indicated that
Jacoby Ellsbury
will not require immediate surgery
on his injured right shoulder, a decision arrived at following consultation with Dr. Lewis Yocum. Yocum reviewed Ellsbury's MRI results after which "there was a consensus of opinion on both the damage and how to proceed," Valentine said. Now the focus is on rehabilitation for Ellsbury, working towards gradually restoring range of motion and strength before ultimately returning to baseball activities. As noted here on Monday, there will be
challenges for Ellsbury to overcome
both offensively and defensively in his recovery from this injury.
The key word here may be "immediate." While avoiding surgery, especially in the shoulder, is always preferable if not absolutely necessary, there are sometimes situations where surgery becomes an option down the road. Since we do not have any details as to what soft tissue damage was specifically present, it is impossible to know what exactly Ellsbury is dealing with other than pain, swelling and weakness which would accompany any subluxation. What can be assumed is that no one saw anything on imaging so severe that it would require immediate surgical attention. We have seen players successfully play through various soft tissue injuries, then undergo surgery once the season ends. (Successful in this context means showing up to play on a regular basis. It may or may not mean performing at the level typical of that athlete.) We have also seen players rehabilitate fully from similar injuries and return to play at a high level with no follow-up procedure required. The translation then is that there is hope for a positive outcome in Ellsbury's case but until we see him back and performing as he was pre-injury, nothing is certain. The Red Sox have not issued a timetable but given the injury, expect Ellsbury to be out for at least a month.
Baker ends up with Tommy John surgery
Many were surprised to learn that
Minnesota Twins
pitcher
Scott Baker
, who went into surgery anticipating a repair of his flexor tendon, emerged with a new ulnar collateral ligament (UCL). In other words, Baker underwent Tommy John surgery. The hardest part undoubtedly for Baker was learning when he woke up how long his rehab just became. On the other hand, he has to feel somewhat validated for the struggles he has been having with his elbow for some time. It's also worth noting that this scenario is not unheard of in the world of sports medicine. The UCL is a complex structure with multiple bands, and even a partial defect can render an athlete incapable of throwing. The athlete's elbow can still appear stable on clinical exam and imaging may be imperfect. To further complicate the issue, pitchers often have tissue changes visible on MRI which are the normal consequence of repeated throwing, hence the need to put the patient's history, clinical exam and imaging together to come up with the most likely diagnosis. And even then, as is evidenced by Baker's situation, there is no better way than actually visualizing the anatomy during surgery to be certain. Unfortunately, surgery is an extreme way to diagnose and comes with its own set of risks and potential complications, which is why it is generally viewed as a last resort. While the rehab Baker now faces is going to be lengthier than what he envisioned before he went under the knife, at least he can rest assured that structurally, there are no more questions.
July, 6, 2011
7/06/11
5:06
PM ET
It's that time of the week when your mailbag and Twitter questions drive the blog. Thanks once again for your thoughts and insights. Many of you have questions about
St. Louis Cardinals
first baseman
Albert Pujols
and his quick-to-heal forearm fracture. This is a great reminder that not all injuries are created equal, that time frames for return to play should always be looked at as guidelines and that everyone heals at different rates.
[+] Enlarge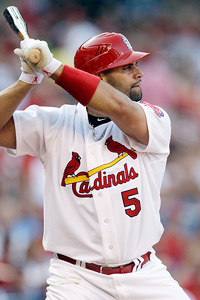 AP Photo/Jeff RobersonAlbert Pujols needed just the minimum 15 days on the disabled list.
Pujols suffered a fracture of his left distal radius (the tip of the forearm bone on the thumb side, just above the small carpal bones of the wrist). While it involved the wrist area, it was not an injury specifically within the joint, making it a much less complex problem. It was reported as a hairline crack, small and difficult to see initially on imaging. The bone was not completely broken in two (or more) pieces and it was nondisplaced, meaning everything remained in good alignment. These elements contributed to the potential for the bone to efficiently repair itself.
There were many reports that Pujols had a significant decrease in pain and demonstrated excellent grip strength the day after the injury. While his forearm and wrist were splinted to allow the bone to heal, he quickly resumed a weight lifting workout program and really never lost much in terms of overall strength and fitness. Signals of early healing in the bone and his lack of discomfort allowed the team to progress him fairly quickly to swinging a bat. When that did not reproduce any symptoms, he then began to swing against increasing contact. The fact he was able to move fairly quickly through a progression while the bone was healing meant that he lost very little when it came to the mechanics of baseball; the feel of gripping the bat, the timing of his swings, even the return to fielding ground balls. Hence the team felt no need to send him on a rehab assignment but instead chose to return him to the games as soon as healing had progressed to the satisfaction of the team physician.
A different fracture -- of slightly different dimensions or in a slightly different location -- on a different person might well have required at least four weeks in a splint before returning to activity. The time frame initially issued was reasonable; Pujols, in addition to being a great athlete who is in excellent shape, happened to have everything proceed exceptionally well. Remember, this is the same athlete who had an injury to his ulnar collateral ligament, which many believed would require Tommy John surgery. Although he has undergone two lesser elbow procedures -- to address spurs and to transpose (move) the ulnar nerve -- Pujols has continued to play effectively without reconstructing his elbow.
Short of falling with his full weight on to his outstretched glove hand (or reproducing the exact injury of a runner colliding with his glove), the risk of reinjury is low, just as the risk of having the injury happen in the first place was low. Pujols was sporting a supportive wrap Tuesday and will continue to do so for some time. The medical staff will be looking for feedback from Pujols as to how he feels after his first start Wednesday, whether he is sore the next day and whether any adjustments will need to be made. Whether he can hit with full power remains to be seen, but so far in the practice swings he has taken, there is nothing to suggest he will be compromised. The downtime, which normally compounds the degree to which players struggle at the plate when returning from hand, wrist and forearm injuries, was so brief that it is not likely to be a factor for Pujols. As I noted when the injury happened -- and perhaps even more evident now -- for Pujols and the Cardinals, this injury could have been far worse.
Thanks to Twitter users @ieeewok, @MOanimalcracker, @todd13, @breeleighjo, @loqiel, @JoshX1993 for all the Pujols questions.
Moving on to other players of interest. If you don't see your question answered here, it could appear on the 06010 Fantasy Focus podcast, so stay tuned.
From the mailbag
Wayne Jensen. Lincoln, Neb.:
How soon will Ryan Braun play? How bad is his injury?
Braun is dealing with a reported mild left calf strain, but after being out of the lineup four consecutive days, the
Milwaukee Brewers
decided to send him for further workup. Braun was scheduled to undergo an MRI on Wednesday as part of the evaluation. We know calf injuries can take longer to resolve than the athlete expects (Exhibit A:
Derek Jeter
), but trying to put a timetable on them can be difficult. Right now, there is no good answer to your questions and Braun's status has been a day-to-day evaluation so far. He's been selected for the All-Star Game, but if he's not back playing for his team this weekend, playing Tuesday could be in jeopardy as well. So far, there's been no overt discussion of a DL stint, but the outcome of Wednesday's visits could influence that.
From Twitter
@vtbasser:
Left lat strain for Jon Lester. Help a Red Sox fan out, what does it mean?!
@swk473:
Lester, how long are we talking?
[+] Enlarge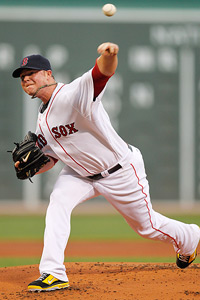 AP Photo/Steven SenneJon Lester could miss a few as two starts thanks in part to the All-Star break.
Lester underwent further evaluation Wednesday, including an MRI, for the latissimus dorsi strain that forced him to leave a no-hitter after four innings, and the
Boston Red Sox
have placed him on the 15-day DL. Although manager Terry Francona has not commented on the specifics of the test results, any time there is an injury to a muscle that contributes significantly to a pitcher's throwing action there is reason to be concerned. But as with any injury, the impact really rests in appreciating the severity. Consequently there isn't a ton to offer in terms of specifics just yet when it comes to how long we should anticipate Lester's absence to be. A mild strain might allow him to return within a couple of weeks. More severe "lat" strains can cost pitchers a month or more. Gordon Edes, who covers the Red Sox for ESPN Boston, nicely laid out the
range of DL days
for several pitchers who have recently sustained this injury and why it is problematic. The fact that Lester came out of a game in which he was pitching so well hints at him recognizing this was not something to push. Glass-half-full reaction: He recognized it early before it had a chance to become something that will linger. Glass-half-empty reaction: If a guy comes out of a no-hit bid, he probably is feeling more than just a little soreness. We will see how Lester progresses over the next two weeks, but fantasy owners should be prepared in the event that this extends beyond two missed starts.
@LA_Frankie:
Scott Baker, tender elbow. Please discuss how bad it might be, or if they were just playing it safe.
Baker was another pitcher who left his Tuesday start early because of discomfort, but his was in his throwing (right) elbow, more concerning given that this elbow gave him trouble last year. According to 1500 ESPN Twin Cities, Baker was scheduled to undergo an MRI on Wednesday but the team was referring to the injury as a mild elbow strain. Baker said after the game that he contemplated saying nothing to the medical staff and attempting to pitch through it, but then acknowledged, "... it just was a little more discomfort then I would have liked to continue to pitch with." He described the discomfort as feeling "more muscular than anything" and emphasized that he was trying to be proactive. "At this point in the season I'm just trying to be smart about it," Baker said. Given the collective injuries the
Minnesota Twins
have suffered, and Baker's own history of tendinitis near his elbow, it goes without saying that he made the correct decision.
The Twins may be playing it safe, but who could blame them? Most elbow injuries are a result of collective overuse. While some wear and tear is expected as a natural consequence of pitching, one thing we know from biomechanical studies done at the American Sports Medicine Institute in Birmingham, Ala., is that when pitchers alter their mechanics (which can result from fatigue or injury), the forces across the shoulder and elbow can change dramatically, resulting in far greater consequences. People are learning that it is often better for pitchers to back off and rest -- even when an issue appears minor -- than to try to force through it and risk something catastrophic.