Stephania Bell:

Seattle Seahawks
November, 19, 2013
11/19/13
1:48
PM ET
Stephania Bell joins Eric Karabell to discuss
Percy Harvin
's return and expectations for the rest of the season.
October, 17, 2013
10/17/13
11:02
AM ET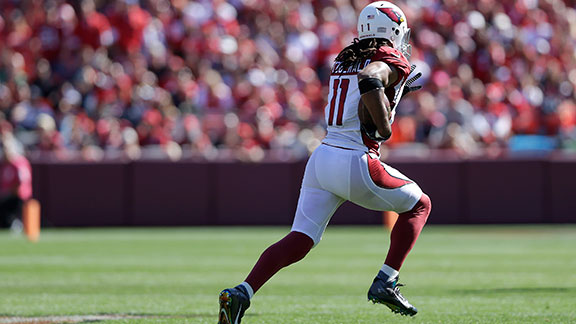 AP Photo/Marcio Jose SanchezLarry Fitzgerald will play Thursday night, but how productive will he be?
For the second time this season, it's an NFC West showdown on "Thursday Night Football," with the
Seattle Seahawks
paying a Week 7 visit to the
Arizona Cardinals
. There are a number of players on each team's injury report for this contest, including three who have significance to us in the fantasy football world.
Seattle Seahawks
Marshawn Lynch, RB, hip (probable):
Lynch popped up on last week's injury report with a hip issue. The worrisome part was that Lynch missed Friday's practice, then came into the Week 6 game listed as questionable. Coach Pete Carroll appeared to dismiss it, saying, "We did treat Marshawn for a little hip thing this week, but he's fine."
The last time a Seahawks player had "a little hip thing," it was newly acquired wide receiver
Percy Harvin
in June OTAs, and we know how that ended up. Carroll's report of Lynch being "fine" was on point, however, given that Lynch not only played last week but racked up as many receiving yards as rushing yards and netted two touchdowns, much to the delight of fantasy owners.
With this week's game coming only four days later, it's no surprise he saw some rest early in the week, including an off day Tuesday. He comes into this game as probable, however, not questionable like last week, leaving no doubt he will be taking the field in this divisional matchup.
Zach Miller, TE, hamstring, (probable):
The Seahawks have been without their starting tight end the past two games as he has been nursing a hamstring injury. This week, Miller makes his return to the playing field after putting in back-to-back full practices Tuesday and Wednesday.
Although there are never any guarantees that an athlete is completely past a hamstring injury before he returns to competition, the fact that Miller was close to being cleared for last week's game -- Carroll had called him a game-time decision in advance of Week 6 -- is encouraging. The bigger question might be whether Miller will see meaningful targets the way he did in Week 3, when he scored two touchdowns. At least fantasy owners can have confidence in the expectation that he will indeed be active for this game.
Arizona Cardinals
Larry Fitzgerald, WR, hamstring, (probable):
Fitzgerald is going to play, just as he has since originally injuring his left hamstring in Week 2. The question fantasy owners have is what to expect from him on the field, a question made a little more challenging considering the matchup with Seattle's outstanding secondary.
Fitzgerald seemed to have made improvements in his recovery until last week, when he suffered a second injury. Up until game time, there was much rumbling not only about whether Fitzgerald, listed as questionable, would be able to play, but also whether he would serve as much more than a decoy. The assumption was that he would not be able to stride fully, which would make it difficult to gain separation. Fitzgerald ended up starting that game, and, when it was over, he had proved he was more than a decoy. On one play in particular, a 75-yard touchdown reception, Fitzgerald looked to be running just fine.
But that's not the entire story. Fitzgerald is dealing with a right hamstring injury to go along with his previously injured left side. After Sunday's game, he was in enough discomfort that he was having trouble bending down in the locker room, according to The Arizona Republic. Still, Fitzgerald was listed as a limited practice participant Monday and Tuesday, followed by an upgrade to full participation Wednesday.
It's worth noting that these practices are significantly scaled back on a short week, with walk-throughs and light drills largely constituting the bulk of the activity. Light work is perhaps the best thing for Fitzgerald, as rest might be his best friend while he tries to manage these bilateral hamstring issues. It's hard to know what to expect as far as productivity from Fitzgerald on Thursday night, given that he is not truly 100 percent healthy and faces a tough matchup. But everyone knows what to expect from him as far as effort, and he has made it clear he plans to play.
October, 15, 2013
10/15/13
3:28
PM ET
Stephania Bell joins Eric Karabell to discuss when
Percy Harvin
will return this season and what his fantasy value is.
October, 18, 2012
10/18/12
2:49
PM ET
It's an NFC West matchup tonight as the
Seattle Seahawks
travel south to visit the
San Francisco 49ers
. Here is the status of key fantasy players on the injury report for tonight's game, and they're all members of the home team.
Mario Manningham, WR, San Francisco 49ers, shoulder (Q):
Manningham saw a season-high number of targets in last week's outing against his former team, but it came at a price. He suffered a shoulder injury, the specifics of which have not been disclosed, which was enough to keep him a limited participant in practice all week. For what it's worth, Manningham did play the entire game Sunday and it sounds as if he will be available. Best to check the pregame inactives in advance.
Brandon Jacobs, RB San Francisco 49ers, knee (Q):
This seems to have been Jacobs' status for multiple weeks, and he made his frustration with not playing known recently. That led to a conversation with coach
Jim Harbaugh
, and Jacobs appears to have backed down somewhat since, acknowledging the importance of the bigger picture. This week, Jacobs has been a full participant in practice and, as Matt Maiocco of CSNBayArea noted, Jacobs is likely to be available "if coaches decide to use him." In other words, his knee seems to have recovered to the point that it is no longer an issue. His playing status is.
Alex Smith, San Francisco 49ers, right finger (P):
The injury was present last week and Smith played through it, so there's no doubt that he will play again, especially after practicing in full daily. Some wondered whether the finger factored into last Sunday's performance when Smith, not known for committing turnovers, threw three interceptions. Of all the fingers to injure, the third is one of the "best" in the sense that it is not nearly as critical to ball control as the thumb, index or pinkie finger, as noted by
ESPN's
Tim Hasselbeck
. Credit the
New York Giants
defense with creating difficulties for Smith, who also lost tackle
Joe Staley
in the third quarter to a concussion. Staley (questionable) is uncertain for tonight after going through limited practice Tuesday and Wednesday.
Also, the 49ers' all-pro kicking squad is on the injury report this week. Place-kicker
David Akers
has been battling illness this week and did not practice Tuesday. He did return Wednesday to a full practice and is listed as probable. He is expected to play. Punter
Andy Lee
has a hand injury, but luckily that shouldn't impact his role. He practiced fully every day and is also, at probable, expected to play.