Stephania Bell:

Shin-Soo Choo
August, 5, 2011
8/05/11
4:45
PM ET
It's Friday. Time to get to the business of enjoying the weekend. With that in mind, we get right to some highlights of who we're keeping an eye on in the world of injuries.
[+] Enlarge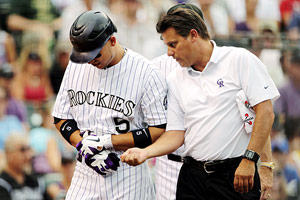 Doug Pensinger/Getty ImagesCarlos Gonzalez has been plagued by wrist injuries since last year.
•
Carlos Gonzalez
could return to the
Colorado Rockies
' lineup Sunday if his remaining rehab games go well. Gonzalez has been on the DL with inflammation in his wrist, an issue that has been ongoing since he collided with an outfield wall in early July. Even when Gonzalez struggled with discomfort in his wrist earlier this summer, he was still able to hit the ball out of the park. The concern for Gonzalez going forward is not so much whether he'll be able to produce when he returns (he went 2-for-4 in his first rehab outing), but whether he'll be able to play the remainder of the season without incident. An awkward landing on a defensive play or a hard bat swing will test him; until Gonzalez proves those are not issues for him, fantasy owners have reason to be a little anxious.
• The
Philadelphia Phillies
are also getting a player back this weekend as
Roy Oswalt
returns to the mound. As noted in Monday's blog entry, Oswalt's chronic back condition has not disappeared, but the hope is that the
symptoms will remain at bay
for the duration of the season.
•
Cleveland Indians
outfielder
Shin-Soo Choo
is making gains in his rehab efforts. Choo, coming off surgery to repair a broken thumb, added to his activities by taking live batting practice. As important as being able to connect the bat with the ball was Choo's report of no soreness afterward. He appears to be on track to return within the next few weeks, assuming his progression continues. What remains to be seen is how effectively (and how consistently) he will hit against live pitching. Once he participates in rehab games there will be better clues.
•
New York Yankees
third baseman
Alex Rodriguez
is at the team's complex in Tampa, Fla., now resuming baseball activities. Rodriguez has made steady progress in his recovery from meniscus surgery but now the real tests begin. According to the New York Post, Rodriguez has yet to take batting practice having only hit off a tee and fielded ground balls.
• This Sunday might mark one of the most well-attended games for the Class A Hagerstown Suns this season, when
Stephen Strasburg
makes an appearance. He is expected to throw only an inning or two, so get there early! At 11 months post-surgery, Strasburg is on the pace for recovery from Tommy John surgery. The rehab assignment starts the 30-day countdown but it is worth noting that the clock can be stopped anytime if the medical staff finds it necessary. If things proceed without limitation, it remains a possibility that Strasburg could deliver a handful of major league innings for the
Washington Nationals
in September.
• Proof that the clock on a rehab assignment can stop anytime came in the form of
New York Mets
pitcher
Johan Santana
, who will not throw for at least a week. Santana threw three scoreless innings in his minor league debut but persistent discomfort sent him back to the surgeon for a re-evaluation. Santana was reported to have "fatigue" in the shoulder and will not throw to allow his shoulder to rest but will maintain a fitness program. Once the medical staff feels he is strong enough, he can resume throwing. There is no formal timetable in place at this time.
•
Milwaukee Brewers
second baseman
Rickie Weeks
(severe ankle sprain) is out of a walking boot but manager Ron Roenicke says he is "still a long ways away," according to the Brewers' website. With the minor league season ending Sept. 5, the team acknowledges that it could make it difficult for the timing of a potential rehab assignment. "Once he's ready to go, if we don't have any places to send him, it's going to make it a lot more difficult for us," Roenicke said. Hmmm.
July, 1, 2011
7/01/11
3:41
PM ET
June, 28, 2011
6/28/11
5:22
PM ET
Another player returns from the disabled list on Tuesday! According to the
Atlanta Braves
' website,
Tommy Hanson
is expected to start Tuesday's game against the
Seattle Mariners
at Safeco Field. Hanson went on the DL with tendinitis in his throwing shoulder but has commented on how good his arm has been feeling the past few days. It appears the rest has helped; now the key will be to see how he feels over the next few major league outings. The
St. Louis Cardinals
are also getting a key player back Tuesday night. Third baseman
David Freese
, out nearly two months following surgery to repair a broken bone in his left hand after being hit by a pitch, was activated Monday and is expected in the lineup against the
Baltimore Orioles
on Tuesday. Freese has had enough successful at-bats during his minor league rehab outings to convince everyone he is ready to return. Given how well he was hitting the ball at the time of his injury, if he can return quickly to that type of productivity, everyone (Freese, Cardinals, Freese's fantasy owners) wins.
Quick hits
[+] Enlarge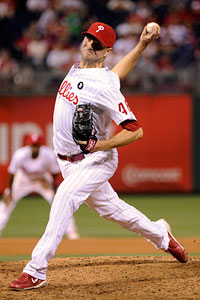 Howard Smith/US PresswireRyan Madson proved last season that he can be one of baseball's most dominant closers.
• The
Philadelphia Phillies
have placed
Ryan Madson
on the DL with a bruised right hand, their third closer to be sidelined this season. The team started the year without
Brad Lidge
because of a rotator cuff injury, and his return date is still in question.
Jose Contreras
is currently on the DL with a flexor tendon strain in his forearm and is expected out for over a month. Madson was originally injured May 20, when he was hit by a ground ball during a game against the
Texas Rangers
. He has had intermittent pain since that time but has been able to pitch through it -- and pitch effectively -- until recently. Madson has not pitched since June 18 and his DL stint will be retroactive to that date. After receiving a cortisone injection Friday, the hope is that inflammation in Madson's hand will settle and this will not be a long-term issue. In the meantime, it appears
Antonio Bastardo
will fill the closer role.
• There is some encouraging news about
New York Yankees
shortstop
Derek Jeter
, who has begun baserunning drills at the team's spring training facility in Florida. According to reports, Jeter ran from home to first four times, first to second three times and first to third once. This is a significant step, as baserunning presents one of the biggest challenges when returning from a calf strain. Still, running bases in drill format is not quite the same test as running in a game situation in which reaction, hesitation and directional changes exist. This is why Jeter will not be returning from the DL when eligible Wednesday but instead will continue to increase the vigor of his activity. The team is smartly refraining from setting a timetable and is watching Jeter's response to each incremental challenge.
•
Cleveland Indians
outfielder
Shin-Soo Choo
underwent surgery on his broken left thumb Tuesday. Choo, out since last Friday after being hit by a pitch from the
San Francisco Giants
'
Jonathan Sanchez
, is expected to be out for two to three months. Keep in mind that it could be well over a month for good bone healing; then there is the matter of getting the hand strong enough to swing the bat. Fantasy owners would be wise to make roster moves as it is entirely possible Choo could miss the remainder of the season.
• The latest injury catastrophe for the
Minnesota Twins
happened Friday, night when outfielder
Delmon Young
ran into the outfield wall. The wall apparently won that battle, and Young, unable to put weight through the lower leg, was carted off on a stretcher. The team has since referred to the injury as a right ankle sprain but is still awaiting the results of an MRI taken Monday. Looking back at the replay video, Young's foot is visibly forced into an awkward position upon impact against the base of the outfield wall. His toes appear to be bent backward (towards him) as his ankle is forcibly flexed toward him. His foot locks into position while his right knee is bent and the momentum of his body weight continues to move forward until the wall stops him and he falls. It is one of those plays that doesn't look like much in real time but when it is played in slow motion and viewed frame by frame, it's easy to see how it could have been a very painful and potentially damaging injury. Young is already on the DL and it's worth noting that severe sprains, depending on the precise structures involved, can be slow to recover. Despite being a youthful 25 years old, Young has already been on the DL once this year with an oblique injury and struggled with a left turf toe issue during spring training.
[+] Enlarge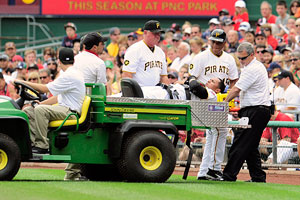 Jeanine Leech/Icon SMIJose Tabata had to be carted off the field after suffering his injury on Sunday.
• Young wasn't the only player to leave the field on a stretcher over the weekend. The
Pittsburgh Pirates
' speedy outfielder,
Jose Tabata
, strained his left quadriceps muscle Sunday while running out a bunt single. He has now been placed on the DL and you can bet the Pirates will be careful with him. Not only is Tabata known for his speed, making him dependent on power from his quads, the Pirates have already experienced delays and setbacks from a quadriceps injury with third baseman
Pedro Alvarez
. Alvarez, originally injured in early May, tried to continue to play only to aggravate the injury to force a DL stint later in the month. He suffered further setbacks during his rehab time and is just now starting to appear in minor league games. While they are not the same style of player nor are any two injuries identical in terms of severity or how they heal, the Alvarez situation certainly serves as a reminder that it is often easier to go backward than forward.
• It appears Texas Rangers shortstop
Elvis Andrus
will not be making a trip to the DL for his sprained left wrist, an injury he sustained Friday when sliding into second base. The Fort Worth Star-Telegram reported early X-rays on Andrus' wrist were negative but when he actually returns to the lineup remains in question. While his return could come as early as Tuesday night, fantasy owners should consider Andrus day-to-day until proven otherwise.
July, 21, 2010
7/21/10
4:35
PM ET
Hey, look who's coming back! Isn't it nice to have an injury update lead with guys
returning
to your fantasy roster instead of the ones you'll need to replace?
That isn't to say it's all sunshine and roses this week.
Manny Ramirez
owners have to be a bit frustrated as he heads to the disabled list for the third time this season because of a right lower extremity injury (this time it's his calf). And
Justin Morneau
owners have every reason to be concerned; he's on the DL indefinitely while he deals with the aftereffects of a concussion (and not his first concussion).
That's enough of that. Didn't I say we were leading off with positive news? Here are updates on four key fantasy options all set to return: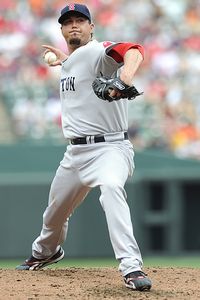 Mark Goldman/Icon SMIJosh Beckett had struggled before going on the DL, sporting a 7.29 ERA.
Josh Beckett, SP, Boston Red Sox:
Beckett has not been available to fantasy owners since May because of a back strain, but that is about to change, as he will return Friday to face the
Seattle Mariners
on the road.
Fantasy owners may be wondering what to expect from Beckett after an extended absence. While no one knows for sure, there are some promising signs from an injury perspective. The primary positive sign is that Beckett has not complained of pain or discomfort in his back since mid-June. The timetable represents his steady progression from catch to long toss to bullpen sessions and finally rehab outings. The fact that for more than a month he seems to be past the point of symptoms and more focused on building endurance and fine tuning his pitches is encouraging.
While back problems are always at risk for recurrence, the longer an athlete goes without an episode, the more confidence one can have in his return. Although Beckett told the Boston Globe that he doesn't feel "sharp every pitch" as he still works on location, the downtime has allowed him to focus on mechanics in a way that may ultimately prove beneficial.
The Red Sox likely will limit the number of throws in his early outings as he continues to build endurance through competitive play, but fantasy owners have reason to be optimistic that a rejuvenated Beckett could provide a second-half spark.
Shin-Soo Choo, OF, Cleveland Indians:
When Choo sprained his right thumb in early July, the best news that he and fantasy owners got was that
he would not need surgery
(unlike the
Philadelphia Phillies
'
Chase Utley
, who is just out of his post-surgical cast.) Translation: Choo's healing time would be quicker. But by how much?
It was estimated that he could miss several weeks, depending on how quickly the ligament tissue repaired itself. Apparently, it has done quite well, because it appears Choo will be able to rejoin his team Friday after a brief rehab assignment, according to MLB.com. Choo had already been swinging a bat and doing outfield drills, both good indicators that the thumb is not presenting much of an issue for him. The injury was to Choo's glove hand, so throwing the ball was never a concern. As is often the case with thumb injuries, though, his ability to control the bat could be. His quick progression to a brief rehab assignment suggests that he is doing quite well and this is just a pre-major league action tuneup.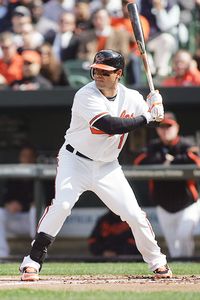 Brian Schneider/US PresswireBrian Roberts has been limited to just four games this season because of back problems.
Brian Roberts, 2B, Baltimore Orioles:
Wow! Two weeks in a row with positive news for Roberts in this column!
Last week we celebrated Roberts going
3-for-3 in a rookie league game
after being out since April with back pain. Roberts continues on his positive path and has now moved to Double-A ball. It appears, if all continues well, that he could rejoin his team next week, making his own recent target of August 1 a reality.
Fantasy owners are right to remain cautious when it comes to Roberts. He has already proven that there is a likelihood of recurrence when it comes to low back problems, although his ability to increase his activity of late is certainly encouraging. Given that fact, it is also likely that the Orioles will limit his appearances and ease him back into play gradually.
Troy Tulowitzki, SS, Colorado Rockies:
When Tulowitzki suffered a left wrist fracture in mid-June, we
outlined all of the factors
that could affect how long he would be out of action. In early July, the Rockies' website reported that Tulowitzki received a good report from the doctor and that his wrist was healing "as well as expected." When Tulowitzki revealed that he had already picked up a bat and begun swinging it by early July, it was a clue that he was indeed on a good pace to return on the early side of projections.
As Tulowitzki heads to a rehab assignment Wednesday, the possibility exists that he could return to the majors next week, potentially edging out a six-week absence if all goes well. The key will be how well Tulowitzki does at the plate. The injury is to his non-throwing hand, so fielding should not present a challenge. At the plate, however, not only does he need to demonstrate a return of power with his grip, Tulowitzki has to show that the impact of the ball against the bat does not cause discomfort -- vibration is one of the sensations that bone is most sensitive to. There's also the matter of getting over any lingering apprehension since the wrist that absorbed the blow from the pitch is the one closest to the mound when Tulowitzki, a right-hander, stands at the plate.
Fantasy owners may have caught a break in Tulowitzki's case, no pun intended, but they should recognize that even if he's able to return, it may take a little extra time for him to regain his form.
And finally ...
The
Milwaukee Brewers
get
Yovani Gallardo
back in their rotation Thursday for a road start against the Pittsburgh Pirates. Gallardo, who suffered a left oblique strain before the All-Star break, was lucky to have only a minor strain. On average, an oblique injury will sideline a pitcher for six weeks. That said, the Brewers have already indicated that they plan to give Gallardo extra rest whenever there is an opportunity in an effort to protect his health going forward. Fantasy owners will want to keep an eye on the Brewers' schedule for that reason.
July, 7, 2010
7/07/10
3:22
PM ET
This week brought more thumb-wringing for fantasy owners, and not just because of the headfirst slides that sent two potential NL All-Stars --
Jason Heyward
and
Chase Utley
-- to the DL recently. The head-first dive (in an attempt to catch a fly ball) made by
Cleveland Indians
outfielder
Shin-Soo Choo
stung quite a few teams as well.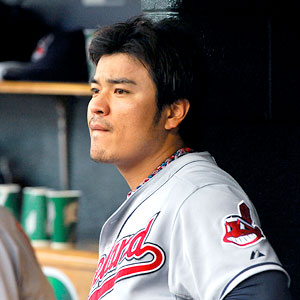 Steven King/Icon SMIShin-Soo Choo is going to be watching baseball, not playing it, over the next few weeks.
The good news: It appears Choo will not need surgery on his injured thumb. The bad news: He has a sprain, and the Indians could be without him for several weeks. Any sprain of the thumb requires a period of immobilization to allow the involved ligament(s) to heal. The no-surgery decision suggests that the bone was intact and that there was little to no instability, but in order to prevent the injury from worsening, it must be rested adequately. Choo owners can breathe a sigh of relief but still should prepare to be without him for a while.
It seems as if the run-up to the All-Star Gamehas been filled with as much injury news as at any other point this season, and the timing of the three-day break in the midst of DL assignments makes interpreting these injuries a bit more difficult. Teams benefit from the three-day break since the days do count toward the 15-day minimum of a disabled list stint. In other words, a player is able to sit out three days but not miss any games during that time. Without that break, the DL might be less attractive, especially if a team could return a player after 10-12 days for an important series.
Put a different way, if there is any question right now as to the severity of an injury and whether there would be a risk in returning the player too soon, the team is likely to move that player to the DL and benefit from a roster replacement. Additionally, if that player is an All-Star candidate, the move to the DL immediately removes him as an option (which also removes the temptation for him to participate in the event and risk a setback) and allows another player the opportunity to take part.
Take these two examples:
Manny Ramirez
suffered what the team referred to as a minor hamstring strain last week. By the time he had an MRI two days later, he was showing signs of improvement. While the MRI confirmed the injury, the real question became whether to place Ramirez on the DL or not. If he improved enough within the week, he could be useful in the important pre-All-Star series between Manny's Dodgers and the Cubs. But if he aggravated the hamstring by returning too soon, the Dodgers could be dealing with a longer-term problem. The Dodgers ultimately decided to place him on the DL, and while Ramirez will miss the Cubs series, if he indeed returns when eligible, he won't miss any games beyond that.
Meanwhile, Brewers ace
Yovani Gallardo
hit the DL this week because of an oblique strain, giving the All-Star Gameyet another injured player. While it already appeared Gallardo would not be able to pitch next week, the official transfer to the DL confirmed it. The Brewers have indicated that Gallardo's strain is minor, but if that is the case, they surely do not want to risk exacerbation by having him throw in the All-Star Game, even if he's feeling better. Opposite-side oblique strains in pitchers (which is the case with Gallardo, a righty with a left oblique injury) average four to six weeks, depending on the degree of injury. If the Brewers believe he can return in a somewhat shorter time frame, then caution is definitely warranted, which explains the DL move.
In addition to the injury scenarios involving these key players, there have been a string of setbacks for a few players who were seemingly on the road to recovery. In turn, there has also been some encouraging news. Let's get to the injury updates:
Erik Bedard, SP, Seattle Mariners (60-day DL, 3/26):
It was just too good to be true. All signs pointed to Bedard returning on July 6 from his long absence following shoulder surgery, and right up until the witching hour it appeared he would. But Bedard was scratched from that start because of inflammation in his throwing (left) shoulder. Manager Don Wakamatsu told the Seattle Post-Intelligencer that Bedard is scheduled to throw a bullpen this weekend, and even went on to suggest that if the bullpen goes well, Bedard could potentially be penciled in for a start right after the All-Star break.
Hmm. Color me skeptical. I still
maintain my concern about Bedard
, and it'll take more than a few bullpen sessions and probably even more than one or two healthy starts for me to believe in him again.
Brad Penny, SP, St. Louis Cardinals (15-day DL, 5/22):
Penny has been on the DL so long that fantasy owners might not remember that he ended up there because of a batting episode. Penny hit a grand slam back in May and felt the consequences in the form of a strained latissimus muscle in his upper back. At the time, the diagnosis was positive -- many thought it was an injury to his rotator cuff -- and the early projection was him missing just a few weeks. Obviously that was optimistic. In fact, when it became clear in mid-June that Penny's absence would be protracted, Cardinals general manager John Mozeliak told the St. Louis Post-Dispatch, "The injury was probably underestimated."
But Penny appeared to be making progress recently, and he threw off a mound Monday. As I've often said, though, throwing from a mound is a distinct progression that results in a ramped-up delivery. It is a key testing phase, as setbacks are likely to happen around this transition. And this seems to be what happened with Penny, who could not complete the outing because of soreness in his throwing shoulder. The St. Louis Post-Dispatch reports that partway through the session, Penny complained of stiffness in his triceps, near the location of his original injury. Penny is scheduled for additional evaluation Wednesday, including an MRI, but the team remains hopeful that this is not a significant setback. Given that Penny had just begun throwing from a mound, fantasy owners should presume at least a few weeks (rest, return to throw, throw from mound, rehab starts) before he returns.
Etc.
Meanwhile, yet another member of the Red Sox left a game (Tuesday) because of an extremity injury.
Kevin Youkilis
left Tuesday's game in the fourth inning because of a right ankle injury, but before anyone gets too upset, please note that Youkilis has already hinted that he could play Wednesday. According to Associated Press reports, Youkilis' ankle acted up in a bizarre fashion. Youkilis described it as feeling "like I had a cramp in my ankle." Assuming this turns out to be nothing significant, Youkilis might still make the All-Star roster. If so, he'd be one of the few Red Sox candidates healthy enough to play. For instance, teammate and starting pitcher
Clay Buchholz
was not so fortunate; even though his left hamstring strain is considered minor, he could not avoid the DL, and his placement on the list forfeited his spot on the All-Star roster.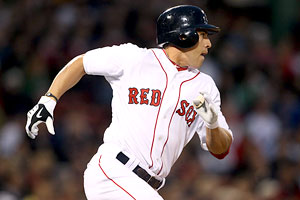 Elsa/Getty ImagesJacoby Ellsbury (ribs) is finally making progress.
On the good-news front, Red Sox outfielder
Jacoby Ellsbury
might be back with his team this weekend. Last we heard, Ellsbury was still recuperating in Arizona while working out at Athletes' Performance. The Boston Globe is reporting Wednesday that Ellsbury could rejoin the team in Toronto if he is ready to resume baseball activities. Fantasy owners need to bear in mind that this would not mean he is ready to return to play, just that he is making progress. A return to actual major league play is still likely weeks away.
Braves outfielder Jason Heyward just might pop up in Anaheim after all. According to the Braves' official website, Heyward's thumb has responded well to the forced rest it received while splinted, and if he continues to progress well, he might take batting practice Friday. Naturally, the primary goal is for Heyward to be ready for competition after the All-Star break, but if he is able to swing freely without pain, it's possible that in addition to making the trip to Anaheim, he might actually participate in Tuesday's game.
The
Cincinnati Reds
will have pitcher
Edinson Volquez
back in the rotation soon; it just won't be on July 7, as was originally projected. Volquez, who is coming off Tommy John surgery, had been throwing well in rehab outings, but in his latest appearance he exhibited one of the classic hallmarks of a pitcher returning from this procedure: lack of command. It's no secret that pitchers coming back from Tommy John surgeries often have ups and downs in their first few months back, most markedly in the area of control. According to the Cincinnati Enquirer, that almost assuredly means another rehab outing, which translates to a delayed return. Volquez is not far off and this is certainly not alarming news, but it does serve as a reminder to fantasy owners that this is what you can expect in the near future.