Stephania Bell:

St. Louis Cardinals
March, 11, 2013
Mar 11
4:59
PM ET
Derek Jeter
has now played a couple of games at DH and is beginning to get his baseball legs back. During pregame warm-ups, he looked more at ease trotting around the bases (although he was just trotting) and fielding ground balls. The next step will be Wednesday, when Jeter is expected to
reprise his role as shortstop
. Jeter has still not put the pedal to the floor when running the bases, but that's to be expected.
Despite receiving confirmation from his surgeon that the bone in his ankle had completely healed and he was clear to return to all activities, Jeter still has to adjust to those activities. It's worth pointing out that after the extended period of inactivity -- which includes two months of being off the foot after surgery followed by another two months of being protected -- the ankle develops considerable weakness. In other words, the bone may be back to normal, but everything around it is continuing to strengthen. After the basics of rehab are complete, the only thing left to train is high-level sports activity, and the only way to train is to participate in the activity itself.
So Jeter is back to baseball, but it will be some time before he is really
back
. Noted foot and ankle surgeon Dr. Robert Anderson, who performed Jeter's surgery, says that beyond the typical six-month recovery (return to activity) for this type of injury, it often takes athletes another 12 weeks to get comfortable performing all their high-level skills. In Jeter's case, this includes rounding the bases sharply and quickly as well as reacting defensively to field balls and to turn and make sharp throws. He is clearly using these early spring games as a means of getting comfortable again with his ankle, which is an integral part of the normal rehab process. Jeter has made it clear that his goal is to be ready for Opening Day, but even if he is playing shortstop then, he may still be a couple of months away from looking like his former self.
Furcal set for surgery
St. Louis Cardinals
shortstop
Rafael Furcal
was headed to visit Dr. James Andrews when I visited their spring training. Now Furcal is scheduled to have surgery this week to reconstruct his ulnar collateral ligament, with Andrews expected to perform the surgery. The rehab time for a position player is shorter than for a pitcher (approximately six to nine months) and Furcal should be ready to go by this time next year, although where he will be remains a question (Furcal is a free agent after this season). The most recent comparable example of a shortstop returning following this procedure is the
Cincinnati Reds
'
Zack Cozart
, who injured his elbow acutely via a hyperextension mechanism in 2011 and ultimately required surgery. He returned in 2012 and had no issues with the elbow.
March, 4, 2013
Mar 4
8:56
PM ET
JUPITER, Fla. -
St. Louis Cardinals
shortstop
Rafael Furcal
came into the spring as an injury question mark after his 2012 season ended early due to a sprained ulnar collateral ligament in his right (throwing) elbow. Furcal undertook a rehab course this offseason, but his first true test came when he had to make aggressive throws in spring training. His elbow failed that test.
Last week, Furcal began to have pain in his elbow every time he threw and, as a result, is no longer throwing. The Cardinals have shut him down while he undergoes further medical evaluation. He had another MRI Friday and was examined by team physician Dr. George Paletta on Monday. Even before any official word came as to the result of Monday's consultation with Paletta, the long faces around the facility while I was there seemed to say it all. The Cardinals have indicated Furcal will obtain a second opinion from Dr. James Andrews on Wednesday. The next step, it seems, will be dependent on whether or not surgery is recommended for Furcal. The natural follow-up question then is: At 35 years old, on the second year of a two-year deal and with a storied injury history (which includes back surgery, hamstring strains and thumb surgery), would Furcal really be prepared to undergo another lengthy post-surgical recovery to return to play? That answer should come soon.
What a difference a year makes
[+] Enlarge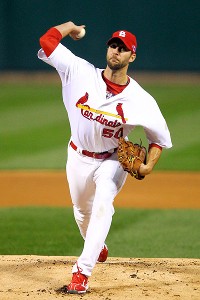 Dilip Vishwanat/USA TODAY SportsAdam Wainwright posted a 4.56 ERA before the All-Star break in 2012 and a 3.28 ERA after it.
Pitcher
Adam Wainwright
says his elbow definitely feels better one year further removed from Tommy John surgery. "No question," Wainwright said. "It feels more normal." In the medical world, the consensus is that the "new" ligament, which is truly a converted tendon, has further strengthened as a result of adapting to the stresses placed on it from the first year of post-surgical pitching. But the expectation is that pitchers will return to (or near to) their prior level of performance once they take the mound competitively following surgery.
Wainwright provided some insight as to how it really feels to get back on the mound for the first few months after a long layoff and a surgical reconstruction. He said his elbow experienced "a freak-out session" when he first began throwing again. "After taking a tendon from my hamstring and putting it up in my forearm, my body was wondering what was going on."
And there was pain. "I felt pain in my elbow during the early part of the season," Wainwright said. He knew his elbow had been repaired, and he wasn't worried about injury. He just knew he wasn't quite himself yet. The results bore that out. It wasn't until the second half of the season that Wainwright really showed signs of returning to form.
That doesn't mean he has let up on his rehab work heading into this season. "A lot of guys come back from Tommy John surgery and then have problems in their shoulder," Wainwright noted. He has kept up with an exercise regimen designed to help protect his throwing shoulder. He gives all the credit to the Cardinals' rehab staff for keeping him on task. "The [athletic] training staff has gotten more and more savvy in helping rehab these injuries, so the 'prehab' has become important."
The Cardinals are counting on the sum total of Wainwright's rehab and "prehab" to lead him to a strong season in 2013. With
Chris Carpenter
not a part of the pitching equation for the foreseeable future and no
Kyle Lohse
, the team is likely to lean on Wainwright. Fortunately for the Cardinals, it sounds as though this year he's ready for the challenge from the get-go.
The skipper is ailing, too
It's a rough injury day for the team when it starts with the manager getting an epidural injection. But that's exactly what Cardinals manager
Mike Matheny
was doing early this morning in an effort to get some relief from his relentless back and leg pain. Matheny has a herniated disk in his back and associated nerve compression, which is affecting his leg. The ailment did not prevent him from showing up to work on time, though. As anyone who has had an epidural injection knows, this is impressive and further reflects his stoicism. When I spoke with him, he preferred standing to help keep the pain at bay. He did indicate he felt the shot had given him some relief and seemed encouraged that there was some progress.
While Matheny may be willing to put up with pain, he is not willing to stay silent on the topic of collisions at home plate. In recent days, Matheny has spoken publicly of his desire to see MLB ban collisions at the plate entirely, not only because of the risk to the catcher but also to the baserunner. Matheny, who sustained multiple concussions during his career (which he associates primarily with such collisions), was forced into retirement because of the effects of post-concussion syndrome. After going through his own extensive recovery, learning more about concussions and watching how other sports are more formally addressing the problem, he decided there was at least one thing baseball could do to eliminate a source of such injuries: Take out the intentional impact.
"In football and hockey, they don't really have an option to go away from contact. We're in a different position."
Matheny sees the problems with concussions in youth sports and believes baseball has a responsibility to set an example. "A concussion is not just a concussion. It's a trauma to the brain."
As far as the responses he's hearing from around the league with regard to his proposal, Matheny seemed to search for the appropriate-for-prime-time word. "I'm getting a lot of ... [pause] ... feedback," Matheny said. He adds that he understands the traditionalists, but his own experiences and observations, along with a better understanding of the long-term effects of concussions, have led him to take this stand. Matheny hopes his personal experience will help prevent other young players from suffering similar consequences.
March, 6, 2012
3/06/12
3:23
PM ET
JUPITER, Fla. -- There was quite a buzz surrounding the
Miami Marlins
on Monday leading up to their first Grapefruit League game of 2012. Excitement is in the air because so much has changed for the team since last season ended. There are the new big-name additions (speedy shortstop
Jose Reyes
, veteran hurler
Mark Buehrle
, closer
Heath Bell
), a new manager (Ozzie Guillen), the new ballpark (the Marlins will play there Tuesday night for the first time); heck, even the team name and logo are new.
But the most chatter at Roger Dean Stadium centered around the 6-foot-7 anchor of the Marlins' pitching staff, a player whose season ended prematurely in 2011 after just nine starts. On Monday,
Josh Johnson
had his first competitive outing since May, and while it's important not to read too much into two innings of a spring game, there were some encouraging signs.
[+] Enlarge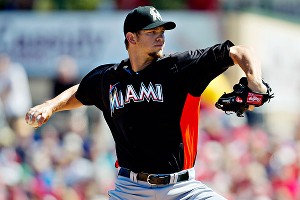 Joe Rimkus Jr./Miami Herald/MCTJosh Johnson was consistently hitting 93 mph in his first spring start of 2012.
Johnson threw 41 pitches Monday, 25 of them for strikes. His first inning went three up, three down, with two strikeouts. The velocity on Johnson's fastball hovered around 93 mph, and while that's likely not the top speed he can deliver, he did consistently hit that number on the radar gun. Johnson ran into trouble in the second inning, allowing a single, a double and a walk before Guillen removed him. The Marlins manager stuck to the plan to remove him at about 40 pitches. Still, Johnson doesn't appear to have lost much deliverywise, and most important, he walked off the mound healthy.
Johnson's words following the game provided further insight into how this spring is different from last, when he was also returning from a season that ended prematurely due to injury. He noted that his arm felt "really good." He threw all his pitches -- primarily fastballs, along with a mix of curveballs, sliders and changeups -- and didn't seem particularly fatigued. He also pointed out that he felt "a hundred times stronger than last year," in the process giving a shout-out to his physical therapist in Las Vegas, Tim Soder, who worked with him extensively in the offseason to prepare his body for pitching. Soder incorporated a variety of exercises Johnson hadn't done before, with a heavy emphasis on manual resistive work. "He was with me every step of the way," Johnson said.
In my
preseason injury roundup
, I referenced Johnson's change in his offseason regimen as one of the positive factors in his outlook for 2012. The type of exercises Johnson described are very specific in targeting the strength, endurance and neuromuscular coordination a pitcher's body demands, things he was not doing previously. While Johnson acknowledged he is still working his way back, he certainly has the perspective of someone who has faced big injury hurdles and overcome them, which he did following his 2007 Tommy John surgery.
However, this time it's a nonspecific shoulder injury, and Johnson's complete return to form is no sure thing. He will have to make it past the All-Star break healthy before anyone can really begin to exhale. Nonetheless, there is clear optimism within the organization about Johnson's readiness to return. Most important, Johnson sounds like a more confident, better-prepared pitcher heading into this season, as compared with last year. And he is indeed the projected starter for Opening Day at Marlins Park, where he will again face the same
St. Louis Cardinals
team he pitched against Monday.
Other notes from Monday ...
• Third baseman
Hanley Ramirez
looks to be in phenomenal shape heading into the season. In fact, he surprised some of the team's coaching staff by how fit he appeared to be when he showed up at camp. Ramirez, who is still getting a feel for his new position (third base), seemed upbeat and relaxed when discussing his health. After missing extensive time last year because of a disk injury in his lower back and later a shoulder injury that ultimately required surgery, Ramirez says he has been working hard to recover. He said his shoulder has the range necessary to swing the bat freely, and while he doesn't feel any discomfort in his back or leg, and says he hasn't for months, he continues to do his exercises "for the little muscles" that support his spine.
• Reyes was not in the lineup Monday but was expected to play in a split-squad game against the
Detroit Tigers
on Tuesday. Reyes appeared loose and upbeat during batting practice and drills.
• Outfielder
Logan Morrison
, who is coming off arthroscopic knee surgery, was also inactive Monday. He also was expected to play Tuesday, but with the other half of the squad (against the University of Miami). This exhibition game will be the first time the Marlins play in their new stadium.
• For the Cardinals,
Allen Craig
is still recovering from knee surgery, as I noted in my
preseason injury roundup
, and has not yet been cleared to resume baseball activities.
• Pitcher
Adam Wainwright
,
on the mend following Tommy John surgery
, is expected to see his first game action Friday in Fort Myers when the Cardinals visit the
Boston Red Sox
. This will be Wainwright's first start since September 2010.
June, 1, 2011
6/01/11
4:00
PM ET
First things first. The ankle injury suffered by
Pittsburgh Pirates
catcher
Ryan Doumit
is definitely going to keep him out for at least a month. On Tuesday, we noted that Doumit was the latest to suffer an injury as the result of a collision at home plate and it was originally diagnosed as an ankle sprain. On Wednesday, the Pittsburgh Post-Gazette is reporting that Doumit suffered a non-displaced ankle fracture, hence the immediate extension of his timetable. Expect at least four weeks for enough bone healing to allow a return to baseball activities, plus additional time to return to catching duties.
Kyle McClellan, P, St. Louis Cardinals:
An already thin pitching corps looks as if it is about to take another hit. The St. Louis Post-Dispatch is reporting that McClellan is likely headed for the DL after being removed from Monday's start with a left hip flexor strain. According to the Post-Dispatch, McClellan indicated that a couple of awkward landings in the first inning resulted in the injury. He's got swelling in the area, and manager Tony LaRussa has said McClellan is going to miss, at the very least, his next scheduled start on Saturday. The hip flexor on a pitcher's lead leg is critical in helping control stability of the trunk over the pelvis during delivery. Swelling in the area will prevent the muscle from firing optimally, so it is not just a matter of pushing through pain, it is equally a matter of being able to perform. The Cardinals have not yet made the roster move but look for it to be in the works.
Quick hits
• The Cardinals may also be losing slugger
Matt Holliday
to the disabled list for the first time this season, although this is second significant ailment. The St. Louis Post-Dispatch reports Holliday will undergo an MRI on Wednesday to further evaluate his strained left quadriceps that continues to limit him. It might seem strange that a muscle strain could sideline someone longer than an appendectomy, but in reality the muscle recovery is far less predictable.
•
Chicago Cubs
pitcher
Matt Garza
is not expected to return from the DL on Friday, the first day he's eligible. Although he is reporting improvement in his elbow (bone contusion), he has yet to throw from a mound. According to ESPN Chicago, that should change Wednesday when Garza is expected to throw a bullpen. If that goes well, he will throw another later this week. Throwing off a mound increases the vigor of the pitch, which will further test how Garza's elbow is feeling.
February, 24, 2011
2/24/11
12:56
PM ET
Last spring it was the
Minnesota Twins'
Joe Nathan
whose season ended before it even got started. This year it's
St. Louis Cardinals
ace
Adam Wainwright
.
Wainwright, like Nathan before him, has a torn ulnar collateral ligament in his throwing elbow and is
expected to undergo reconstructive surgery
, commonly referred to as Tommy John surgery, followed by a lengthy rehabilitation.
[+] Enlarge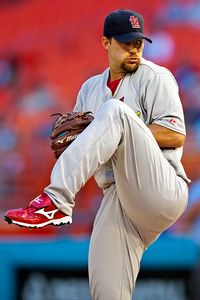 Steve Mitchell/US PresswireAdam Wainwright finished eighth overall in the 2010 Player Rater.
While the Cardinals -- and Wainwright -- are no doubt devastated by this news, no one can say they were entirely surprised. Wainwright's stellar 2010 season ended in unceremonious fashion when he was shut down in September because of inflammation in his right elbow. He had a history of injuries to the elbow dating to 1998, including a partial tear of the same ligament in 2004, which caused him to miss significant time in the Cardinals' minor league system that year. Nonetheless, preseason examinations had Wainwright confident that his elbow was a non-issue coming into spring training.
To be fair, from an athlete's perspective, that is precisely how Wainwright should have approached this season. The truth is it's not uncommon for pitchers with a history of elbow or shoulder injuries, even with known tissue damage, to still be able to pitch and pitch successfully for years afterward. In Wainwright's case, there were no overt signs of instability; he even told the St. Louis Post-Dispatch that his ligament was "healthy and strong." No athlete can or should enter a season afraid of what could happen, especially since these injuries can strike anytime -- young or old, injury history or not. Just ask 22-year-old
Stephen Strasburg
, who tore his UCL last year as a rookie.
Still, we're reminded just how strenuous the act of pitching is on the human body when a dramatic breakdown, such as a UCL tear, occurs. The expectation in baseball now has become not
whether
a pitcher will ultimately succumb to a major injury to his throwing arm, but
when
it will happen. And once there is an injury "event" in a thrower's history, the concern going forward only increases. Cardinals general manager John Mozeliak might have said it best Wednesday when he reflected on how well -- and how long -- Wainwright has pitched since first injuring his elbow in 2004, telling the St. Louis Post-Dispatch, "I guess at some point, it's just a matter of time."
There are, however, a few silver linings in this dark cloud.
First of all, this will be the first time in years that Wainwright will have an extended break from throwing. Most pitchers have thrown extensively since their youth, and this forced rest allows the athlete's entire body to "regroup" and retrain during the recovery period. The opportunity to rehab the throwing shoulder while working on leg strength and core muscle strength, and the chance to make any necessary mechanical adjustments, might ultimately extend a starting pitchers' career.
Second, the timing of Wainwright's injury is such that he could be pitching next season. The average recovery time for pitchers following Tommy John surgery is approximately 12-15 months, although many throwers will say it takes an additional six months to really "feel" like they're back. Wainwright should be encouraged by the prospect of returning to the mound next season.
Finally, Wainwright can take comfort in the knowledge that the success rate for returning to play following this type of injury is fairly high. At an annual baseball medicine conference this year, Dr. Lyle Cain (a partner with Dr. James Andrews at the American Sports Medicine Institute in Birmingham, Ala.) presented recent data showing a return rate of 73 percent of professional baseball pitchers to their prior level of performance following this procedure. As the procedure has become more commonplace, the knowledge as to how to best rehab an athlete has improved as well.
Wainwright need look no further for inspiration than teammate
Chris Carpenter
, who has traveled the same long and lonely comeback road following UCL reconstruction. After all, Carpenter is proof of not only returning to pitch following Tommy John surgery, but returning to pitch successfully. Wainwright will now look to do the same.