Stephania Bell:

St. Louis Rams
September, 26, 2013
9/26/13
1:23
PM ET
It's an NFC West matchup Thursday night between the
San Francisco 49ers
and
St. Louis Rams
. Three weeks into the season, both teams stand at 1-2 (as do the
Arizona Cardinals
) while the
Seattle Seahawks
are perfect atop the division (3-0).
Injuries certainly can play a part in how this matchup will unfold, not to mention how fantasy owners will view their rosters heading into Week 4.
Here's a look at where key fantasy players for the 49ers and Rams stand in terms of injuries.
San Francisco 49ers
Frank Gore, RB, knee (probable):
Gore has some soreness in his knee, which isn't unusual. It wouldn't have been a surprise if the team had lightened his workload early in the week -- especially on a short week --but Gore turned in full practices, according to the team's injury practice report. He is going to play and is not expected to be limited.
Vernon Davis, TE, hamstring (questionable):
Like last week, Davis again will be a game-time decision, but the general consensus is that he has a
better chance to play this week
, as ESPN.com's Bill Williamson notes. After injuring his left hamstring in San Francisco's brutal loss in Seattle, Davis -- who attempted only light running the week before -- was held out of the Week 3 contest. Not only is the risk of re-injury high with any hamstring strain, but it seemed particularly wise to keep Davis on the sideline, given that the 49ers were set to play the Rams just four days later.
So far this week, Davis has participated in practice on a limited basis, but it's unclear just how much he has pushed the hamstring in those efforts. Regardless, no practice can simulate a game, so it won't be known until he plays -- and gets through a game without a setback -- whether he has indeed recovered. As usual, Davis will go through pregame warm-ups to test the hamstring and ultimately determine his game status.
Kyle Williams, WR, rib/knee (questionable):
Williams practiced on a limited basis this week due to rib and knee injuries. The 49ers are generally vague about injuries, making it difficult to assess whether he is truly in jeopardy of missing the game or getting proactive rest. The rumblings are that Williams is likely to play, but there could be another wrinkle at the receiver position. Earlier in the week, the San Francisco Chronicle reported that coach Jim Harbaugh hinted at the possible debut of
Jon Baldwin
, acquired in August from the Chiefs in a trade for
A.J. Jenkins
.
Defensive players:
The 49ers will be without the pass-rushing skills of
Aldon Smith
, who is on indefinite leave while seeking treatment for substance abuse. Their defense could be further compromised by the potential absence of linebacker
Patrick Willis
, who suffered a groin injury in the second half of Sunday's game against the Colts. Willis did not practice this week, and while the team lists him as questionable, there is a decent chance he will not be able to play.
St. Louis Rams
Daryl Richardson, RB, foot (probable):
Richardson's foot has had him on the injury report since Week 2, and last week it kept him out of virtually the entire game (he exited in the first quarter). However, Richardson put in full practices Tuesday and Wednesday, and made it clear that he expects to play Thursday. Given his "probable" tag, Richardson's game status does not appear to be in doubt.
The question then becomes what the workload split will be like among Richardson and the Rams' other backs, most notably
Isaiah Pead
. Last week, Pead saw more work when Richardson exited the game, but a healthier Richardson
doesn't necessarily clarify the RB picture
, as ESPN.com's Nick Wagoner notes. "We're a running back committee right now," Pead said. "Daryl is the starter, but whoever gets in there has to answer the call." The St. Louis Post-Dispatch notes he "had more spring to his step" this week in practice. Expect Richardson to be on the field as the starter Thursday night.
Chris Givens, WR, knee (probable):
The knee issue Givens is dealing with kept him off the practice field Monday but is reported to be not serious. Givens returned to full practice Tuesday (typically the heaviest day before a Thursday game) and did the same Wednesday. With his "probable" tag, he is expected to play.
Defensive players:
St. Louis will be without defensive end
William Hayes
, who injured his knee in last week's contest (a sprained MCL, according to a Fox Sports report) and has been ruled out of Thursday night's game.
October, 4, 2012
10/04/12
11:15
AM ET
This week's Thursday night game features the
Arizona Cardinals
visiting the
St. Louis Rams
. The Cardinals remain without running back
Beanie Wells
who was placed on injured reserve (designated for return) because of turf toe and is out until at least Nov. 25.
Ryan Williams
is expected to start, as he did in Week 4.
The Cardinals' defense has been impressive early this season, but they are dealing with a number of injuries, including to two key players. Defensive end
Darnell Dockett
did not play last Sunday because of a right hamstring strain suffered late in Week 3 against the Eagles. He is listed as questionable for Thursday after being limited in practice early in the week, but there is hope that the extra days of rest will allow him to play. Safety
Adrian Wilson
is listed as probable and is expected to play, despite the presence of two injuries. Wilson missed Week 3 because of a sore ankle and groin but returned with a strong outing last Sunday. Wilson is certainly tough, having played all of last season with a biceps tear, and it appears he'll be out there again Thursday.
Steven Jackson, RB, St. Louis Rams (groin, Q):
Although Jackson is listed as questionable, it appears he is on track to play. Jackson, who has been playing through a groin injury, had a better outing in Week 4 than he did the previous week, where he appeared to be laboring. After Week 3, Jackson acknowledged the groin was limiting him -- he totaled fewer than 30 yards rushing -- but reported no setbacks. Last week, Jackson carried the ball for 55 yards, his second-best rushing total this season. He looked to be moving better, despite facing a tough
Seattle Seahawks
run defense. Still, Jackson has yet to score a touchdown in 2012.
Maybe that will change Thursday, but first Jackson has to take the field. Despite the short week, Jackson did put in a limited practice Tuesday, the most significant work day in advance of a Thursday night game. The expectation is that he will play, barring a setback.
Danny Amendola, WR St. Louis Rams (ankle P):
Amendola was added to the Rams' injury report this week because of his ankle, but there is no indication this is anything major. Amendola practiced in full both Tuesday and Wednesday and is expected to play.
John Skelton, Arizona Cardinals (ankle, Q):
Skelton continues to work his way back from an ankle sprain suffered in the season opener. He put in a full practice Tuesday, the first time he has done so since the injury. He is listed as questionable, but
Kevin Kolb
will remain the starter for now. However, it looks as if Skelton could be available soon, should that become necessary.
August, 23, 2010
8/23/10
2:35
PM ET
Steven Jackson
is a physical presence to behold on the football field. The key, however, is keeping him on the field.
Jackson has endured injuries across the past three seasons, mostly of the soft tissue variety. He's had a groin strain here, a quadriceps strain there. Each injury has forced him to miss a few weeks of playing time, also known as an eternity in fantasy football. In 2009, Jackson suffered through the pain associated with a herniated disc in his low back. He missed only one game, but the effects of the injury were manifest in several others. After the symptoms did not resolve with rest and rehabilitation, Jackson underwent back surgery in mid-April.
Specifically, Jackson underwent a procedure called microdiscectomy, which involves removing the offending disc fragment while minimally disturbing all the other protective tissues (muscles, ligaments, bone) in the area. The goal is to relieve pressure from the nerve root that is causing pain and potentially weakness into the leg. Typical recovery and return to full activity is approximately six to eight weeks, but Jackson's particular line of work is anything but typical. Jackson had to restore his physical strength to the point where he could power through the hole, burst down the field and absorb physical contact (including getting pushed, pulled and twisted) of the NFL variety.
Jackson has indeed been taking more than his fair share of contact over the past few years. He has endured the types of blows a bruising back is expected to face when pounding the ball for a 100-plus-yard average per game. But he also has been the victim of a less-than-stellar offensive line that has been injury plagued in its own right. Without a complementary back to shoulder the load in St. Louis, Jackson has been responsible for the bulk of the work, often in the absence of solid blocking support, and the physical toll has been undeniable.
So, following something as serious as back surgery, what did Jackson do to physically prepare himself for the upcoming season? He started by adjusting his workout regimen. Jackson said, "During the month of July, I kind of ratcheted up the weight training portion of it. I was lifting twice a day, morning and evening. Then I would do my conditioning in between the two weights exercises." He explained how the difference in training has affected his muscle development. Said Jackson, "Years previous, I would run twice and lift once. So that [the new regimen] allowed me to put on a little more muscle." Jackson added that he also has adjusted his diet to include "more healthy protein." According to Jackson, cutting back on carbs has allowed him to "build the muscle up that I think I need for the season."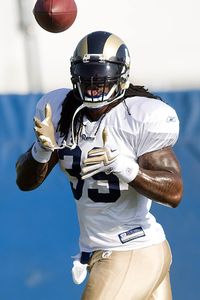 Jeff Curry/US PresswireSteven Jackson has increased his upper-body muscle mass in order to better withstand the rigors of another season.
For those who are wondering what visible effects these adjustments might be having on Jackson, there is one thing I can attest to after seeing him at the Rams' training camp: The man is in amazing shape. Jackson always has been a physical presence as a running back, standing 6-foot-2 and weighing more than 240 pounds. In particular, he's been very strong in his lower half, making him better able to use his hips and legs to drive through would-be tacklers and drag them along for extra yards. The difference now is in his upper body mass. While Jackson has always maintained excellent physical conditioning, he now appears equally intimidating up top as he has through his legs. The increased strength through his arms and torso is evident and is just as likely to help him dish out punishment as absorb it.
It's certainly one thing to come into camp in great shape and feeling good, but how does Jackson stay healthy? The first step is not to do too much too soon. To that end, Jackson's activity in camp was limited early. As he progressively showed he could handle increased physical contact, it was allowed, but even that was controlled. According to Jackson, the entire structure of camp has changed to ensure that players are fresh to start the regular season. Jackson noted that last year the team "felt like we were sluggish and tired, beat up still from training camp." And this year? "I can really see that [Rams' coach Steve Spagnuolo] made a concerted effort to make sure we still play physical football," Jackson said, "but he's made sure that we still are going to be able to go out and compete at a fast tempo."
Jackson saw his first competitive action this past Saturday but was limited to four carries. Those four carries produced 20 yards of offense, proving the significance of his presence on the field. Jackson seemed pleased with his first effort. According to the St. Louis Post-Dispatch, Jackson described what it felt like to get back into competition. "It felt good to get out there with the first unit, the starting offensive line and have us start to work on the chemistry and the tempo of the game," Jackson said. "It felt really good just to get my feet wet and get banged [around] a little bit."
Jackson is not entirely out of the woods. There is always the possibility of a recurrence of disc problems following surgery. It can just as easily come during or after some benign activity, such as a long car or plane ride, as it can during or after physical activity. Jackson's best counterattack is to maintain excellent physical conditioning and avoid unnecessary strain. He is certainly doing his part to keep himself healthy and hopes the Rams' offensive line will be able to contribute in that department.
Maintaining a healthy front five is important both in terms of creating holes for Jackson to run through as well as limiting the physical abuse he takes from one play to the next. The final ingredient in keeping Jackson healthy, however, might be the one thing that is totally out of his control. Jackson spoke about how important it was for the Rams to have their offensive line working as a complete unit. "Now the thing is not to only get us on the field together, but to get us to work together and stay healthy through the duration of a season," Jackson said. "I don't know how long it's been since we've had a starting O-line to start a season and complete it. I would think that's the biggest goal for us, and make sure that our five guys up front stay healthy and play together the whole season."
Fantasy owners might not always be focused in on the members of the offensive line, but their role in keeping Steven Jackson healthy and on the field just might make them household names this fall.