Stephania Bell:

Steve Johnson
October, 29, 2013
10/29/13
4:11
PM ET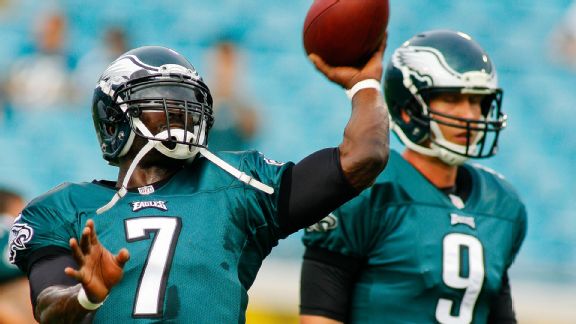 Phil Sears/USA TODAY SportsMichael Vick (No. 7) and Nick Foles are both recovering from injuries.
It's a quick-hit Tuesday.
Fortunately, this week was a little less dire than last in terms of the volume of serious injuries. There were still some of the season-ending variety, however, and more than enough scares for a Halloween week. The
Miami Dolphins
lost wide receiver
Brandon Gibson
to a torn patellar tendon, the
Tampa Bay Buccaneers
moved wide receiver
Mike Williams
to injured reserve after his hamstring injury worsened, and injury-plagued
Detroit Lions
wide receiver
Ryan Broyles
-- who has spent the last two years recovering from torn ACLs in each knee -- tore his Achilles tendon and once again is lost for the season. Some injuries really don't seem fair.
In the meantime, the majority of players are dealing with injury concerns of a lesser nature, but these maladies are still serious enough to threaten playing time. Here are some quick takes on who may be out, and who may be returning soon.
Michael Vick (hamstring) and Nick Foles (concussion), QBs, Philadelphia Eagles:
Vick returned to action after missing the Eagles' last two games, but made a quick exit when he re-injured his hamstring. Vick said he felt a "pop," and coach Chip Kelly has already said he is not expecting to have Vick in Week 9. Given that three weeks after the initial injury it only took Vick three series to suffer a setback, this is hardly looking like a fast track to recovery. According to ESPN's Ed Werder, this episode is not considered to be as severe as the initial injury and he will continue to be evaluated weekly. While it's impossible to say just how long Vick will miss, plan on more than a week, given the ease with which he suffered a setback.
Then there's the question of what happens once Vick is finally deemed healthy. That question might be answered based on the play of the one who fills in for him. Foles was out in Week 8 due to a concussion sustained the week before, leaving
Matt Barkley
to fill in, but Foles returned to practice Tuesday for the first time. If Foles continues to be well through the rest of the week, he is expected to start Sunday.
Robert Griffin III, QB, Washington Redskins, (knee):
Griffin left Sunday's game late with an apparent injury to his left knee, which is the one that is not surgically repaired. While the fanbase and fantasy owners may not have liked the sight of Griffin heading to the treatment table on the sideline -- escorted by Dr. James Andrews -- the good news is that everything checked out just fine. The decision was made to hold him out for the remainder of the game, despite Griffin lobbying to return. Coach Mike Shanahan later told reporters he expects Griffin to return to practice Wednesday, and it looks as if he will make his usual Sunday start.
Julius Thomas, TE, Denver Broncos, (ankle):
It's great when players help us out with their injury updates. Like Thomas, for instance, whom fantasy owners can thank for his tweet regarding the status of his ankle. On Monday, Thomas tweeted the following message: "Just left the facility MRI showed it wasn't a high ankle sprain so I won't be down long. Be back soon #CantWait"
The Broncos have a bye this week, so Thomas will have an opportunity to rest. No guarantees just yet that he will be ready to return in Week 10, but this can certainly be viewed as positive news. Perhaps he and his quarterback can work on their ankle rehab together.
Arian Foster (hamstring) and Ben Tate (ribs), RBs, Houston Texans:
The Texans had a bye last week, so their running backs should be healthy now, right? Not so fast. Foster suffered a hamstring strain which forced an early exit in Week 7, and Tate left that game with four cracked ribs. While both undoubtedly benefited from the rest, it's not reasonable to expect that they have healed completely.
Fractures can take multiple weeks to heal, and the challenge for Tate will be pain tolerance. Foster's history of soft tissue injuries makes his injury somewhat worrisome, but he has shown himself to be fairly resilient in the past. Whether either back has healed enough to suit up Sunday is the question, and it's not like there's an overabundance of confidence in Houston. Coach Gary Kubiak made his unease about the situation clear when asked if he was concerned.
"On a scale of what? One to ...?
The highest number
, whatever that is," Kubiak said, adding, "I don't think we're going to know anything until later in the week."
According to ESPN.com's Tania Ganguli, Tate says his pain has improved, and he expects to play Sunday, while Foster expects to "work toward" playing. We will see. Judging from the fact the Texans signed three running backs to their active roster Monday, there is reason for both Foster and Tate fantasy owners to be concerned.
Quick takes
•
St. Louis Rams
running back
Zac Stacy
was sidelined late in the fourth quarter of Monday night's game with what has been labeled an ankle sprain. The Rams have to be hoping this will not keep him from playing Sunday against Tennessee.
•
Buffalo Bills
running back
C.J. Spiller
sat out Week 8. Will he also miss Week 9? It sounds like the groundwork is being laid for that possibility. Coach Doug Marrone told reporters Monday that Spiller is dealing with a high ankle sprain, and that he will be re-evaluated this week. Meanwhile, teammate
Steve Johnson
has a hip flexor strain, and is expected to be limited in practice. Johnson has had various hip and back ailments so far this season, and this latest issue starts to prompt questions about whether he can get healthy enough to play four quarters before the team's Week 12 bye.
• Keep an eye on
New York Giants
running back
Andre Brown
(fibula fracture), who says he'll be ready to go in Week 10 when the Giants come off a bye.
Brandon Jacobs
thinks his hamstring will allow him to run again in Week 10 also, so the Giants may have some decisions to make at the position.
• Detroit Lions wide receiver
Nate Burleson
(forearm fracture) says he's eyeing a Nov. 10 return.
October, 3, 2013
10/03/13
12:01
PM ET
The
Buffalo Bills
travel to Cleveland to play the Browns in this week's Thursday night matchup. The biggest injury question heading into this game has to do with who will be running the football for the Bills. As it turns out, that question may not be answered until just before kickoff.
Running backs
C.J. Spiller, ankle (questionable), and Fred Jackson, knee (probable):
Both backs took hits that left a mark last Sunday; Spiller sprained his left ankle and Jackson sprained his medial collateral ligament (MCL).
Jackson, familiar with the nature of an MCL sprain after suffering a similar injury last season, indicated his ailment this time around was far less serious and that he fully expected to play Thursday night. He seemed to back that up by participating in practice this week, albeit on a limited basis and sporting a brace. While knee braces do not come with a guarantee of preventing injury, they can be particularly helpful with medial ligament sprains. Reinforcements along the inner aspect of the brace can help provide good resistance against medial (valgus) stress, which would bow the knee inward, stressing the MCL. Jackson, listed as "probable," is expected to play. There don't appear to be any major concerns about him being limited.
Spiller, however, might be a different story. He came into last Sunday's game with a quad injury, but after practicing in full every day, did not appear to be limited ... until the ankle injury. After spraining his ankle, Spiller carried the ball just two more times and expressed uncertainty as recently as Tuesday about his status for Thursday night. "If I can go, I'll go," Spiller said. "If I can't, I can't." According to ESPN.com's Mike Rodak, Spiller was still walking with a "heavy limp" after Tuesday's practice, where he was at least able to do some jogging.
Jogging or not, it's clear his ankle will not be at full health just four days after suffering the injury. Even if Spiller -- who practiced on a limited basis on Wednesday -- is active, he seems to be in line for less work than usual, particularly if he cannot run effectively. The biggest hint that the Bills are concerned came in the form of adding another running back, practice squad player Ronnie Wingo, to the travel list. Rodak, citing a league source, said Wingo will travel with the team, but the Bills have not yet decided whether to activate him. The Bills also have
Tashard Choice
, who stepped in last Sunday when both Spiller and Jackson were ailing and could be in line for more action on Thursday. Spiller's status may come down to pregame warm-up tests to see how his ankle tolerates planting and cutting.
Wide receivers
Steve Johnson, hamstring (probable):
Johnson's presence on the injury report because of his hamstring is nothing new, and he is expected to play Thursday night. Given the short week -- not to mention the tricky nature of hamstring injuries -- Johnson was held to limited practices throughout the week.
To put it mildly, Johnson did not have his best outing last Sunday (one reception for a 1-yard loss on six targets), perhaps due in part to not physically being at his best. He dealt with a hamstring injury in the preseason as well, pulling up while running a route just days into training camp. A sore hamstring can be a receiver's nemesis, making it difficult to get an edge on separation or limiting vertical range. This week, Johnson goes go toe-to-toe with Browns cornerback
Joe Haden
, which doesn't make things any easier.
November, 6, 2012
11/06/12
5:50
PM ET
Week 9 is in the books! This feels like that time of year when the grueling toll of the season begins to make itself widely felt. A number of players left last week's games with new injuries, aggravations of prior injuries or some variation of a new injury superimposed on a not fully recovered injury. While a couple of those with new ailments look as if they might not miss any time (
Kansas City Chiefs
RB
Jamaal Charles
and
Dallas Cowboys
QB
Tony Romo
), others seem likely to miss a week if not more (
Pittsburgh Steelers
WR
Antonio Brown
,
Minnesota Vikings
WR
Percy Harvin
, and
Oakland Raiders
RBs
Darren McFadden
and
Mike Goodson
).
In the meantime, many of the key running backs who have suffered foot injuries in recent weeks (
DeMarco Murray
Maurice Jones-Drew
,
Cedric Benson
) continue their rehabilitation efforts but with no specific return date on the horizon. None of these backs is expected for this week (Benson and Jones-Drew are definitely out, and ESPN's Ed Werder reported Tuesday that the Dallas Cowboys do not expect to have Murray this Sunday).
There are still plenty of folks we're keeping an eye on as we head into Week 10.
[+] Enlarge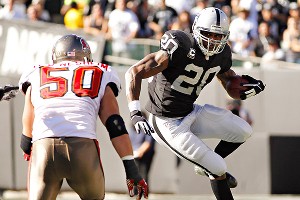 Cary Edmondson/US PresswireOnce again, Darren McFadden has gone down with an injury that could keep him out multiple weeks.
Darren McFadden and Mike Goodson, RBs, Oakland Raiders (high ankle sprains):
Both running backs left Sunday's game with similar injuries. McFadden was tackled during a run. On video, he appeared to rotate his foot outward relative to his lower leg, the hallmark mechanism for a high ankle sprain. Although there has been no word as to the severity of the injury, it may be to his benefit that his foot was not squarely planted in the ground when it happened. Still, with the known history of lower-extremity injuries McFadden has dealt with in his career, any additional incident raises concern. His teammate Goodson was also forced out of the game with a similar injury in the third quarter. (Goodson had been dealing with a turf toe injury throughout the week heading into Sunday's game.)
As of now, it would appear that
Marcel Reece
and
Taiwan Jones
will be responsible for the workload in the near future, but how much time McFadden and Goodson could miss -- if any -- is anyone's guess. The severity of their injuries will be as important as the injuries' location to determine how long they'll be out. As of yet, the Raiders have not revealed anything. Steve Corkran of the Contra Costa Times reports that McFadden has not yet been ruled out for Week 10. Of course, many a fantasy owner remembers when he was not ruled out in advance of multiple games last season, and thus might be suspicious. At this point, there's not enough information to suggest this injury is on the same order of severity as last year's, but it would make sense to plan on a backup nevertheless.
Percy Harvin, WR, Minnesota Vikings (ankle):
Harvin went into Week 9 with hamstring concerns -- and he appeared to be laboring during the game -- but he exited with a new, more significant injury. Harvin sprained his left ankle "in three different places," according to the Minneapolis Star-Tribune, and is experiencing swelling and pain. Harvin was on crutches Monday to protect him from bearing weight on the injured limb, and while he wouldn't declare himself out for this week's game, he admitted his chances of playing are slim. The report that he sprained the ankle in three different places suggests that he has multiple injured ligaments, which explains the substantial pain and swelling, but also hints at greater instability. No specific grading of the injury was offered, but Harvin's appearance and description indicate this is more than a mild injury. Even though the MRI showed no fracture, the extent of soft tissue damage and associated instability can still project a multiweek absence. The Vikings do have a bye upcoming in Week 11 and it would be a big surprise if Harvin plays beforehand.
Jamaal Charles, RB, Kansas City Chiefs (neck):
Charles was forced out of last Thursday night's game with what the Chiefs called a neck injury. Charles did tell the Kansas City Star he was tested for a possible concussion, so it will be worth monitoring how he responds to practice during the week. The Chiefs don't play until Monday night, which is good in that it gives Charles the benefit of an extra day, but it also means no official injury report is due from the team until Thursday. As of now, it does look favorable for Charles to suit up in Week 10.
Tony Romo, QB, Dallas Cowboys (back):
Romo injured his back late in the Sunday night game and there were multiple reports of him walking "gingerly" afterward. On Monday, head coach Jason Garrett told reporters Romo was feeling much better. On Tuesday, ESPN's Ed Werder reported the Cowboys expect Romo to play in Week 10.
Donald Brown, RB, Indianapolis Colts (knee):
Brown was downgraded Saturday after experiencing swelling in his surgically repaired knee. He recovered to the point of being activated for Sunday's game, but the pain and swelling recurred, forcing Brown to the sideline early. With only four days until the Colts' next game, it would not be a surprise if he is out. There is also a chance he could rest for four days and still be active (though he did not practice Tuesday, also considered the "big" practice day for Thursday night games), but the bulk of the workload would still likely shift to
Vick Ballard
.
Antonio Brown, WR, Pittsburgh Steelers (ankle):
Brown was the first to say he had suffered a high ankle sprain, and his assessment was later confirmed by coach Mike Tomlin, who called it "mild." Nonetheless, Brown is doubtful for Monday night's game against the Chiefs and was kind enough to share that tidbit early (Tomlin also said running back
Jonathan Dwyer
should return Monday) so that fantasy owners could make the proper adjustments. Well, perhaps that wasn't his reasoning, but it's still nice to get an early jump on fill-ins. In Pittsburgh, they know all about filling in at the running back position and now will get a taste of it at wide receiver. More
Emmanuel Sanders
, perhaps. As for how long the Steelers will be without Brown, that is not yet clear, but given that even Brown initially thought he might be able to play this week, it sounds like they anticipate a short absence.
Jordy Nelson, WR, Green Bay Packers (hamstring/ankle):
Nelson missed Week 8 because of a hamstring strain but was deemed healthy enough to go in Week 9 after testing the leg in a Friday workout. He never had a chance to make an impact as he went down with an ankle injury in the first quarter of Sunday's game while trying to make a catch. The Packers fortunately have a bye this week and coach Mike McCarthy sounds confident Nelson will be ready by Week 11.
[+] Enlarge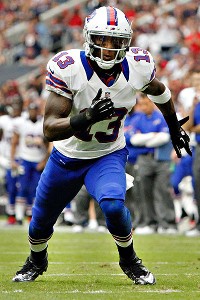 Brett Davis/US PresswireA thigh injury slowed down Steve Johnson in an already tough matchup against the Texans.
Steve Johnson, WR, Buffalo Bills (thigh):
Johnson suffered a bruised thigh early in Sunday's game and tried to play through it but struggled. For those who might wonder why something as seemingly benign as a bruise should limit a high-level athlete, it's important to remember that a bruise involves bleeding. If there is bleeding into a contained area of soft tissue, like the thigh, it makes the tissue very tight and the athlete is unable to fully extend (lengthen) the involved muscle or fully contract it. And it hurts. The result is a shorter stride length, sometimes an apparent dragging of the leg, a loss of burst and power, and early fatigue. Johnson essentially said as much after the game, telling the Bills' official website, "I couldn't run down the passes or elevate when I needed to. It just wasn't working so I had to come out." The good news is that this should respond well to treatment and hopefully resolve quickly. Bills head coach Chan Gailey said he expects to have Johnson on the field in Week 10, even if he is not able to practice early in the week.
Calvin Johnson, WR, Detroit Lions (knee):
Johnson played despite not practicing all week with a sore knee and racked up his third-highest yardage total of the season. Given the team's success at managing his knee during the week and still garnering a favorable Sunday outcome, expect the pattern to continue. There has been no word as to what's ailing him but Johnson confirmed that it's likely to bother him throughout the season, telling MLive.com, "It's something that I expect to linger."
Danny Amendola, WR, St. Louis Rams (shoulder):
Amendola teased fantasy owners when he traveled to London with the team two weeks ago and was seen catching some balls in practice. Only three weeks removed from his sternoclavicular joint injury, however, he seemed an extremely long shot to play. Now his chances are looking up. With another two weeks under his belt, Amendola is confident he will be on the field to face the
San Francisco 49ers
on Sunday.
During last week's practice, Amendola told the St. Louis Post-Dispatch his range of motion and strength were back to normal. The other aspect that is harder to measure is the healing of the tissue around the joint itself. The hope is that it will be strong enough to withstand another hard fall on the shoulder or direct contact from a hard hit without displacing again. Sitting at the junction of the collarbone (clavicle) and the sternum (chest), it's not an area that lends itself to effective bracing or taping. While there are ways to offer some additional protection, the goal is to have it be healed to the point where the risk is low to negligible. Unfortunately, there is only so much that visual and manual testing can do and at some point the athlete has to test it by playing in a game. It looks as if that test could come this weekend and, if Amendola is able to pass it, things should be looking up for him for the remainder of the season.
Aaron Hernandez, TE, New England Patriots (ankle):
Hernandez, who did not travel with the team to London, is coming off of two weeks' rest after the bye. On Tuesday he was absent from practice, as he was attending the birth of his child, but there should be updates later in the week.
September, 6, 2012
9/06/12
5:02
PM ET
Well, the first game of the 2012 NFL regular season is behind us. Given the altered schedule this week, today we'll look at some key players whose status could be in flux in advance of Sunday's games. There are
many
more players to discuss, and Saturday will mark the return of the sizable pregame injury blog. Saturday's entry will include injury breakdown by position and official designations on the teams' final injury reports.
In the meantime, here are a few players to keep an eye on:
• Vikings running back
Adrian Peterson
(knee) has made his readiness and his eagerness to return well-known, and on Thursday, Vikings offensive coordinator
Bill Musgrave
told reporters he has "not too much doubt" that Peterson will play. According to Dan Wiederer of the Minneapolis Star-Tribune, the Vikings will determine Peterson's playing status either Friday night or Saturday morning.
Musgrave also indicated to ESPN 1500 Twin Cities that there are a limited number of plays in mind for Peterson. We have maintained all along that the Vikings would likely ease him back into a regular workload, and it appears they plan to do just that. Peterson could be limited to just a few series.
[+] Enlarge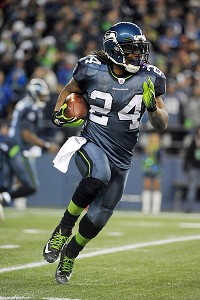 Kirby Lee/Image of Sport-US PresswireMarshawn Lynch is ranked 12th among RBs for Week 1.
• Seahawks running back
Marshawn Lynch
is no lock to play this weekend after being sidelined for the past two weeks because of back spasms. With regard to Lynch's status, Seattle coach Pete Carroll told reporters Thursday he "really won't know until the end of the week unless something changes." This is not Lynch's first episode of back spasms, either. He has dealt with something similar on an occasional basis over the past four years; the challenge is not knowing when a flare-up will occur or how long it will last. The Seahawks are making preparations in the event that Lynch cannot play Sunday against Arizona (translation:
Robert Turbin
would start), but this may come down to a game-time decision.
• Browns first-round pick
Trent Richardson
is likely to take the field Sunday, although it's unclear how much playing time he will see. Richardson, recovering from his second knee surgery this year, told the Cleveland Plain-Dealer that "... in my mind, I'm ready. I can't wait to see what the results are going to be on Sunday." The Browns have been cautious with their rookie running back in his return to practice and are likely to limit his touches Sunday as well.
•
New Orleans Saints
wide receiver
Marques Colston
was out of practice Wednesday because of a sore foot. He returned to limited practice Thursday and appears to be on track to play Sunday.
• Panthers running back
Jonathan Stewart
has yet to practice since injuring his ankle during the preseason, but don't write him out of the Week 1 game plan just yet. Earlier this week, coach Ron Rivera said he was "encouraged" by Stewart's progress, and indicated the veteran back would travel with the team to Tampa. It's worth noting that despite dealing with foot and ankle issues in the past, Stewart has played in all 16 games three out of the four seasons he has been in the NFL.
• Bills wide receiver
Stevie Johnson
is still having intermittent soreness in the groin area following offseason surgery. It is not uncommon for athletes to experience this, particularly as they ramp up activity. On several occasions during training camp, the team opted to rest Johnson when the soreness cropped up, and the Bills did so again Wednesday, restricting him to "limited" practice. Johnson recently described himself as "90-something percent" recovered according to the Bills' official website, adding, "I only say 90 because no one is really 100 percent unless you haven't been playing at all, but I'm good." Last year Johnson played -- and was productive -- while injured, so it doesn't appear as of now that this is a big threat to his status.
See you at my
injury chat Friday at 11 a.m. ET
, and I'll have the latest Week 1 injury updates in my Saturday morning blog.
December, 23, 2011
12/23/11
8:24
PM ET
With the majority of NFL matchups taking place on Saturday, there is one fewer day for teams, coaches and, most importantly, fantasy owners to prepare! Never fear, championship contenders. We won't let something as small as a schedule change get in the way of bringing you all the latest information. With the NFL injury reports hot off the presses, here are the players whose status may have you concerned heading into this week's games.
Good luck in Week 16, everyone! May your players stay healthy and win for you.
Quarterbacks
Ben Roethlisberger, QB, Pittsburgh Steelers, ankle (Q):
The Steelers have been preparing
Charlie Batch
all week to face the
St. Louis Rams
, with Roethlisberger active only in an emergency scenario. This is not a huge surprise, as Roethlisberger is coming off a short week following the Monday night game in which he was clearly limited. With the playoffs forthcoming, the extended rest can only help. It's too soon to say whether the Steelers plan to have him active or not in the final week of the regular season.
Michael Vick, Philadelphia Eagles, ribs, (P):
Vick will probably be on this list through the end of the regular season as his rib injury continues to heal. There's no question, however, that Vick will be the quarterback for the Eagles against the
Dallas Cowboys
.
Josh Freeman, Tampa Bay Buccaneers, right shoulder, (P):
Freeman is now at the point where he can play despite the shoulder soreness. He practiced fully this week and will start against the
Carolina Panthers
.
Kevin Kolb, Arizona Cardinals, head, (Q):
Kolb suffered a concussion in Week 14 and has still only returned to limited practice. It's expected that
John Skelton
will start again.
Sam Bradford, St. Louis Rams, ankle, (D):
Bradford has been struggling with his ankle, saying it feels as if it's "going backwards." Not good. Neither is a doubtful tag. With backup
A.J. Feeley
already ruled out, it appears recently signed
Kellen Clemens
will get the start.
Running Backs
Chris Johnson, Tennessee Titans, ankle, (Q):
Johnson sprained his ankle Sunday and has been gradually increasing his activity throughout the week in an effort to return. While Johnson escaped major structural injury, the ankle has still been sore and could affect his overall performance, particularly with lateral movement and cutting. Johnson returned to limited practice Thursday and Friday and is expected to play, but likely will not be at top form.
Ahmad Bradshaw, New York Giants, foot, (P):
Bradshaw is following the same pattern of limited work during the week and playing on Sunday. Expect him to play again this week.
Felix Jones, Dallas Cowboys, hamstring, (Q):
Jones hasn't done much ... and that's the worry. Although he has been doing some running on the side, he has not fully tested the hamstring. While the Cowboys hold out hope he'll be available, it's
Sammy Morris
who has taken all the first-team reps in practice. As another signal the Cowboys want insurance, they promoted running back
Chauncey Washington
from the practice squad, according to ESPNDallas.com. To complicate matters, this is a late game and the decision will not likely be announced until inactives are due. Even if Jones plays, there has to be some concern about what exactly one can expect in live game conditions.
Michael Bush, Oakland Raiders, shoulder, (Q):
Bush has been on the injury report but it seems only logical he would be. After all, there are many other Raiders there to keep him company but, most importantly, he has been the workhorse of the backfield, enduring a physical toll. After he has been limited in practice each day, the questionable tag does raise some eyebrows. The signals out of Oakland all week have been that the Raiders expect to have Bush play, but it will be important to check pregame inactives.
Willis McGahee, Denver Broncos, hamstring, (P):
McGahee has been bothered intermittently by the hamstring since hyperextending his knee but the probable tag tells us the Broncos plan to have him on the field. McGahee practiced in full every day, which should also help put fantasy owners' collective minds at ease.
Kevin Smith, Detroit Lions, ankle, (P):
Smith's status is an upgrade over last week, indicating the team is feeling far more confident about his ankle. Smith's activity this week was a positive sign, as he was able to practice in full each day. While there's no way to be certain he can get through the game unscathed, this is certainly a better situation than last week.
Roy Helu, Washington Redskins, toe/knee, (Q):
Helu downplayed his injuries, but according to The Washington Post, he felt much better after practice Thursday than he did earlier in the week. Despite the questionable tag, it appears Helu will play.
Maurice Jones-Drew, Jacksonville Jaguars, ankle, (P):
His ankle got tangled up during the Week 15 game, but Jones-Drew, one of the most durable and productive running backs this season, was never really in danger of missing the game. He was given fewer reps in practice but participated on a limited basis every day. Jones-Drew is expected to start against Tennessee.
Beanie Wells, Arizona Cardinals, knee, (Q):
After he was listed as probable the past couple of weeks, it's a little concerning that Wells has been downgraded this week to questionable. He did practice daily, but on a limited basis; however, that has been the pattern for some time as the team has been attempting to manage his knee condition. The Arizona Republic reports that Wells is expected to play Saturday, despite the questionable tag.
James Starks, knee/ankle and Brandon Saine, concussion, Green Bay Packers, (P):
Starks sat out last week's game to give his ankle some additional rest. It only made sense after Starks struggled for several weeks in a row. This week has gone much better for Starks, who was able to participate fully in practice each day. Saine missed Week 15 with a concussion but returned to limited practice Wednesday, then full practice Thursday and Friday. Both backs are expected to be available along with
Ryan Grant
. Unfortunately for fantasy owners, there is likely to be a shared workload in place.
Shonn Greene, New York Jets, rib/shoulder, (P):
Greene has been on the injury report for a few weeks now and his latest injury (torn tendon in finger) isn't even listed. The probable tag indicates the Jets expect him to play.
Marion Barber, Chicago Bears, calf, (D):
Barber is listed as doubtful, meaning there is little doubt that
Kahlil Bell
will be carrying the load for the Bears on Saturday.
Mark Ingram, New Orleans Saints, toe, no designation yet:
Ingram is still not practicing, and with the game on Monday night, fantasy owners should avoid him in their lineups.
Wide Receivers
A.J. Green, Cincinnati Bengals, shoulder, (P):
Knowing that Green comes into this game fresh off a Grade 3 shoulder separation, the probable tag is very encouraging. Green has maintained all along that he would be able to play this weekend, and now it appears all but certain that he will. He was catching passes as early as Tuesday, practiced on a limited basis Wednesday and Thursday, and returned to a full practice Friday. If Green lands hard on the recently injured shoulder, it certainly won't feel terrific and he may be challenged to reach directly overhead, but he managed to finish the game last week after suffering the injury. It's hard to imagine it being much worse Saturday.
Steve Johnson, Buffalo Bills, groin, (P):
Last Sunday Johnson appeared to aggravate the groin injury that has plagued him throughout the season and was removed from the game as a result. Johnson said he could have re-entered the game and expressed little doubt that he would be back in Week 16. He practiced on a limited basis daily and appears on track to play as usual. It's worth noting that Johnson has performed well this season despite the presence of injury.
Laurent Robinson, Dallas Cowboys, shoulder (Q):
Robinson was listed this way last week but we all know he played. Expect him to do the same again after practicing daily.
Jeremy Maclin, Philadelphia Eagles, hamstring/shoulder (P):
Maclin looked better last week than he did the week before and the probable tag tells us the Eagles are confident he'll be out there again. Maclin practiced fully each day and looks to be overcoming the injury.
Mario Manningham, New York Giants, knee, (D):
Manningham has managed to play through his knee issue for the last two weeks but it appears he will miss this one. Swelling in the knee has returned, and he did not practice at all this week. Fantasy owners should make other plans.
Nate Washington, Tennessee Titans, ankle, (P):
Washington has already shown he can play through the ankle injury, even coming in at far more questionable status. After practicing in full daily, Washington appears good to go against Jacksonville.
Brandon Marshall, Miami Dolphins, knee, (P):
Marshall apparently had been dealing with some knee soreness but nothing so serious that he might have to miss this matchup against the
New England Patriots
. Marshall didn't practice Wednesday but returned to light work Thursday and full practice Friday. Expect him to play.
Vincent Jackson, San Diego Chargers, groin, (Q):
Jackson did not practice at all this week because of the groin issue, making his Saturday status far less certain. Jackson has played through injuries before, but this time may be different. It seemed like a foregone conclusion earlier in the week that Jackson would go, but Kevin Acee of the San Diego Union-Tribune reported that Jackson's groin has not responded as hoped to treatment during the week. Late game alert.
Wes Welker, knee and Deion Branch, groin, New England Patriots, (Q):
Once again the Patriots have roughly half their roster at questionable after limited practice all week. Welker has been at this status for several weeks and has played without incident. Branch, however, missed last week and there is legitimate question as to whether he is ready to return. Branch says he's improving, but the team will make the final decision, just before game time.
Santonio Holmes, New York Jets, hip, (P):
Holmes was an addition to the Thursday injury report after being limited in practice, but coach Rex Ryan said the Jets expected him to be ready by Saturday. The probable tag supports that, and fantasy owners can put him in their lineups.
Denarius Moore, Oakland Raiders, foot, (P):
Moore was able to make it back last week but didn't do too much. Another week of practice (full practices daily) should have him on track for more action.
OUT
This space is intended for a list of key fantasy players, not including those who have been moved to injured reserve status, who are officially listed as "out" for the upcoming game.
Anquan Boldin, WR, Baltimore Ravens, knee:
Boldin underwent knee surgery this week and will miss the remainder of the regular season.
Greg Jennings, WR, Green Bay Packers, knee:
Jennings suffered a sprained MCL in Week 14 and is likely out for the remainder of the regular season.
Matt Forte, RB, Chicago Bears, knee:
Forte suffered a Grade 2 MCL sprain, and the Bears still hope he will be able to return before the regular season is complete, but it is far from certain.
Jay Cutler, QB, Chicago Bears, thumb:
The Bears' starting quarterback remains out alongside their starting running back. Cutler is recovering from surgery to repair his broken right thumb.
Darren McFadden, RB, Oakland Raiders, foot:
McFadden is still removed from practice but the team still holds out hope he can return at some point. It won't be this week.
Jacoby Ford, WR, Oakland Raiders, foot:
Ford has still not been able to practice this week as he recovers from a foot injury.
Jake Ballard, TE, New York Giants, knee:
Ballard injured his PCL and, as expected, will miss this week.
Anthony Fasano, TE, Miami Dolphins, head:
Fasano was diagnosed with a concussion Thursday, at which point it appeared obvious he would sit out this week. The team made it official Friday.
Be sure to check out Fantasy Football Now on Saturday this week, on ESPN2 at 11:30 a.m. ET and Fantasy Surround on ESPN.com starting at 10 a.m. ET on Saturday for last-minute inactives, rankings, injury impact and more!
December, 20, 2011
12/20/11
5:02
PM ET
Week 15 is in the books, and if you're still alive in your fantasy league, then it is a happy holiday season indeed. Everything right side up was upside down Sunday as there was an abundance of upsets around the NFL. Who should you be concerned about heading into Week 16?
Quick hits:
• For Thursday night's game, the
Houston Texans
will once again be without the services of wide receiver
Andre Johnson
. This does not come as a huge surprise, but coach Gary Kubiak maintains Johnson is very close to a return. The Texans have sustained so many significant injuries this season, it's understandable that they would be reluctant to be anything but conservative in managing their star offensive weapon in advance of the playoffs. Still, between Johnson stating he would like to see some regular-season game action and Kubiak talking about Johnson's near readiness to return, it appears there is a solid chance he is back in Week 17. That is, if you're still playing.
• Also in Houston, tight end
Owen Daniels
will be a game-time decision Thursday night, according to Kubiak. Daniels took a helmet to the knee in Sunday's game and was still experiencing soreness that kept him out of practice Tuesday.
•
Dallas Cowboys
running back
Felix Jones
was held out of Tuesday practice with a tight hamstring. Naturally that raises some concern, given the recent loss of
DeMarco Murray
to injury. According to Bryan Broaddus of ESPNDallas, head coach Jason Garrett says he expects to have Jones back in practice Wednesday. It sounds like it was a proactive measure to rest him for a day in the hope it doesn't turn into something more.
[+] Enlarge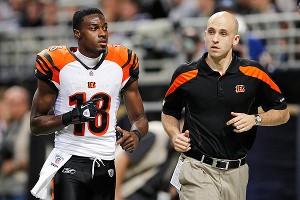 Joe Robbins/Getty ImagesAJ Green left last Sunday's game with a shoulder injury but later returned.
•
Cincinnati Bengals
wide receiver
A.J. Green
suffered a third-degree shoulder separation in Sunday's contest, but came back and finished the game! It certainly couldn't have felt good, and Green was wearing a sling to support his arm afterward, but the impressive rookie has already said he will be back this week. Green suffered a similar injury to his opposite shoulder in college and since the Cincinnati Enquirer reports it is a Grade 3 (complete) tear of the acromioclavicular ligaments that connect the clavicle (collarbone) and the acromion (tip of the shoulder blade), it doesn't present a huge risk. Unlike throwers who often choose to have these injuries surgically repaired (
Detroit Lions
quarterback
Matthew Stafford
comes to mind), non-throwers can often function just fine without surgery. One of the primary issues will be discomfort and whether Green can elevate his arm enough to be effective. As if to answer that question, Green told reporters on a conference call that he was catching passes Tuesday, although he did not formally practice. It's worth watching to see if there are any signs of change during the week, but right now Green appears to be on track.
•
Tennessee Titans
running back
Chris Johnson
sprained an ankle late in Sunday's game, but no one in Tennessee seems to be particularly concerned about his status. In fact, head coach
Mike Munchak
was clear about Johnson's availability according to the Tennessean. "He'll be questionable this week, but we saw him [Monday] and we don't think there's any reason he'll be out for the game," Munchak said. Fantasy owners would like him to not only play this week, but also play better.
• There was some question as to just how much
Willis McGahee
's hamstring was bothering him Sunday and whether that played a role in him spending a lot of time on the sideline. McGahee returned to limited practice Tuesday, making it look as if he will be ready to go on Saturday.
•
Buffalo Bills
receiver Stevie Johnson aggravated the groin injury that has nagged at him for a good portion of the season. Johnson did not practice Tuesday, but the Buffalo News reports he is expected to play in Week 16. Johnson has played fairly effectively despite the injury throughout the season, so it comes as little surprise he plans to press forward.
October, 6, 2011
10/06/11
5:47
PM ET
The season has ended for two more players:
Miami Dolphins
quarterback
Chad Henne
will undergo surgery to repair a separated left (nonthrowing) shoulder suffered in Week 4, and
St. Louis Rams
wide receiver
Danny Amendola
will need surgery to repair a torn left triceps. Amendola has been out since the season opener after dislocating his elbow. As if the injuries alone weren't bad enough, ESPN sports business contributor Andrew Brandt points out that both players were in the final year of their respective contracts. Entering free agency with the uncertainty of coming off season-ending surgeries is less than desirable. At least Henne can point to
Matthew Stafford
as someone who had a similar surgery on his
throwing
shoulder, and we all (especially appreciative fantasy owners) know how well his recovery has turned out.
With that we turn to those players who could affect your fantasy roster this week.
[+] Enlarge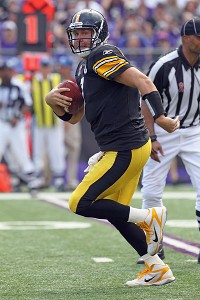 Mitch Stringer/US PresswireBen Roethlisberger expects to play Sunday, but don't expect him to be terribly mobile.
Ben Roethlisberger, QB, Pittsburgh Steelers:
Roethlisberger was wearing a protective boot at Wednesday's practice and is limiting stress on it early in the week. After he got back to practice Thursday, the expectation is that Roethlisberger will play Sunday. The team already is making preparations for that possibility, not unlike those taken last season to protect his then-ailing right foot. Roethlisberger indicates he will wear a modified shoe, one that is a size larger than normal with a metal reinforcement to limit bending in the injured region of his foot. While the shoe is intended to protect his foot, by design, it also limits mobility in the forefoot. Since it is the left foot that is affected, the one Roethlisberger steps into as he throws (i.e., not his plant foot), the injury is not likely to significantly affect his delivery. Unless pain prevents Roethlisberger from transferring his weight properly and forces him to throw from his back foot, passing should not be a huge issue.
Thursday practice undoubtedly went a long way in proving he could make necessary throws. General mobility, particularly movements such as pivoting to the right, which requires pushing off the left foot, will be more challenging. That said, Roethlisberger repeatedly has demonstrated that he can play through pain and perform effectively even when his mobility is compromised. Of concern has to be the fact that he already has been sacked 14 times this season. Naturally, the more protection Roethlisberger can secure Sunday when the Steelers face the
Tennessee Titans
, the less the chances of aggravating the injury in-game, so the offensive line is officially on notice.
Arian Foster, Ben Tate and Derrick Ward, RB, Houston Texans:
Foster had a strong Week 4, rushing for 155 yards on 30 carries, and, most importantly, he emerged from the game no worse for the wear. Foster's health is critical this week with the team's primary receiver,
Andre Johnson
, having suffered a significant injury and the team's depth at running back compromised somewhat by injury this week as well. Tate suffered a groin injury in Week 4 and left the game early. While the team says he is making progress, he has not practiced yet this week. Ward has been out since Week 1 because of a high ankle sprain. He received an injection last week, and although he has not yet practiced, he has done some light running and cutting, according to the Houston Chronicle. Ward hopes to return to practice Friday, at which point the Sunday game plan for running backs should start to take shape. The one thing that appears certain is that Foster is expected start and carry a heavy workload against the
Oakland Raiders
.
Rashard Mendenhall, RB, Pittsburgh Steelers:
Mendenhall strained his hamstring in Week 4 and was unable to practice Wednesday or Thursday. While Mendenhall still could make an appearance Friday, practice sessions are preparing
Isaac Redman
to be the starter. Redman showed some nice running ability when he stepped in for Mendenhall in Week 4, perhaps making the decision easier to allow Mendenhall's hamstring adequate recovery time. Fantasy owners in need of a running back for Week 5 should try to snap up Redman if he's still available.
Quick Hits
• Houston Texans wide receiver Andre Johnson will be
out for an extended period
, as we indicated Tuesday. While the Texans have acknowledged that Johnson underwent some type of procedure on his hamstring, the details have been notably absent. There have been multiple reports of a projected three-week timetable. However, coach Gary Kubiak, speaking to reporters after Wednesday practice, indicated the team would not put a timeline on Johnson's return, saying, "The doctor feels good about it. Andre feels good about it." There you have it. Everyone's feeling good.
Everyone, that is, except fantasy owners wondering what to do with Johnson. The short-term approach is wait and see. Johnson showed remarkable resiliency last season in mostly playing through an ankle injury that likely would have sidelined others longer, and clearly the Texans expect to have him back this season. Although Johnson is likely to miss several weeks, if his hamstring is indeed improving, his activity level should increase within the next week. Only once he starts pushing it will we get a sense of whether things are going according to plan. For now, it seems a little early to jump ship. Meanwhile,
Jacoby Jones
becomes the Texans' No. 1 wide receiver option.
[+] Enlarge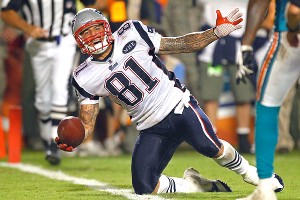 Mike Ehrmann/Getty ImagesAaron Hernandez has missed the past two games with injury but had TDs in his first two games of the season.
•
New England Patriots
tight end
Aaron Hernandez
might be the most asked about player in my chats, emails and Twitter. I wonder whether he knows just how popular he is. He hasn't appeared in this space since last week because once a player is ruled out of a game, there's nothing to report until he returns to practice ... or goes backward. So today, some good news. Hernandez was not only at practice Thursday, albeit on a limited basis, but it was a full pads workout. That is a pretty strong signal that he is at least testing the knee (and his sprained MCL) with a more rigorous workout to see how it responds. This is at least encouraging for the prospects of having Hernandez available Sunday; it will be even more so if he follows it up with another practice Friday. Caution is warranted, however. It might still be early for return to competition, but if Hernandez holds up well this week, it certainly suggests his return could be near.
•
New York Giants
running back
Brandon Jacobs
did not practice Wednesday or Thursday because of a swollen knee. According to the New York Daily News, Jacobs wanted to return to practice Thursday but was held out an extra day "to be safe." The concern is still only minor, unless Jacobs is "safely" held out again Friday.
•
Green Bay Packers
running back
Ryan Grant
returned to full practice this week after receiving medical clearance. Grant missed Week 4 with a bruised kidney but was actually feeling well early in the week. Consider it a week to get fresh legs. Grant should be a full go Sunday night in Atlanta.
•
Denver Broncos
running back
Knowshon Moreno
is participating fully in practice. After just two carries for 4 yards last week, the hope is he will increase his activity this week. Daily practice with no setbacks could go a long way in making that happen.
•
Buffalo Bills
wide receiver
Steve Johnson
does not appear on the injury report this week. The groin injury he aggravated earlier this season seems to be doing better. Teammate
C.J. Spiller
did not practice Wednesday due to a sore knee but was back to full practice Thursday.
•
San Diego Chargers
tight end
Antonio Gates
is again looking like he'll be out Sunday, as he has not practiced in order to rest his sore foot. Teammate
Vincent Jackson
has a hamstring strain to accompany the abdominal strain he's been nursing for a few weeks. Jackson is likely to have a week much like last week in which he spends most of it resting. The team hopes he will be able to go Sunday -- and he certainly has delivered despite being at less than full capacity -- but the dual injury combination might affect just how much playing time he'll see.
• And
San Francisco 49ers
running back
Frank Gore
tells reporters his ankle is feeling much better this week than last. It's amazing what a big late-game performance and a 3-1 record can do for one's spirits. So far Gore has been limited in practice, but if he played last week, it's a safe bet he'll be out there again Sunday when the 49ers host the
Tampa Bay Buccaneers
.
See you at the
injury chat Friday at 11 a.m. ET
, and we'll have the latest injury updates affecting Week 5 in the Saturday morning blog.
September, 29, 2011
9/29/11
5:36
PM ET
Quarterbacks
Michael Vick, Philadelphia Eagles:
Last week, a concussion put Vick's status in question. This week it's a hand contusion, but Vick isn't leaving much room for doubt about his availability, as he told reporters Wednesday that there's a "100 percent chance" he'll be starting Sunday. Vick put in a full practice Wednesday showing that the swelling in his non-throwing hand is not enough to limit his ability to handle the ball in all situations. After two weeks of early departures due to injury, the only question this week is can Vick last four quarters? Vick took that on as well, saying "they'll have to cart me off the field" for him to exit the game, according to the Philadelphia Inquirer. Without a doubt he'll be a target, just as he always is. The only way to prove that he can stay on the field will be to actually do it. We'll see what happens come Sunday.
Running Backs
[+] Enlarge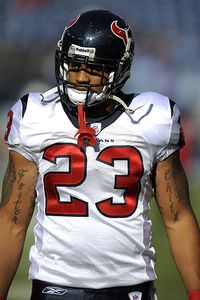 AP Photo/Joe HowellArian Foster appears ready to be the Texans' primary running back once again.
Arian Foster, Ben Tate and Derrick Ward, Houston Texans:
There has been a bit of a running back carousel in place thus far in Houston, born as much out of necessity, thanks to injuries. That carousel turns again this week as it appears Foster, who rested in Week 3, will not only play but will, in all likelihood, start. Foster actually practiced last week and by his account, could have played. The Texans opted for another week of rest, not wanting to press their luck after Foster had already suffered one setback with his hamstring before the season started, and then tightened up halfway in Week 2. With Ward out since Week 1 with a high ankle sprain, Ben Tate has proven to be an able backup, but a backup he remains. Foster participated fully in Wednesday's practice and afterward, according to the Texans' website, he said of his hamstring, "I have no issues with it anymore." Let's hope not. Of course the only way to know for sure that the issue is behind him is to watch Foster play in multiple games without a setback, something fantasy owners everywhere are eagerly awaiting.
Steven Jackson and Cadillac Williams, St. Louis Rams:
Jackson was back in Wednesday practice for the first time since injuring his quadriceps. It was a limited practice but quarterback
Sam Bradford
seemed pretty excited about it. Bradford told the St. Louis Post-Dispatch, "Anytime he's out here [for] Wednesday practicing, especially the way he looked today -- he looked great, he looked fast, he looked like himself -- that's definitely going to be big for us." So the Rams have some inspiration and fantasy owners have hope that there will be more action for Jackson in Week 4. Although Jackson was active in Week 3, he only had four carries, a plan specifically designed by the coaching staff to get Jackson on the field but control his activity. As for Jackson's backup Williams, he too was limited in practice as he recovers from a hamstring ailment. Williams was on the injury report before last week's game yet still carried the bulk of the running workload, so he should again be available. If all goes according to plan, Williams will actually function as the backup this week.
Wide Receivers
[+] Enlarge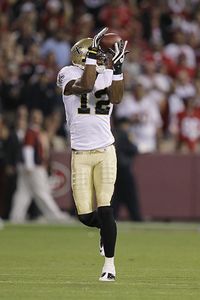 AP Photo/Marcio Jose SanchezMarques Colston could be back in action much sooner than expected.
Marques Colston, New Orleans Saints:
Colston has been out since the season opener with a clavicle fracture and underwent surgery to have a small plate implanted. However, his recovery has been swift. The Saints originally projected him to miss four weeks but there were rumblings Wednesday that Colston would actually return to play in Week 4. Not so fast. While Colston did return to practice Wednesday, it was only in a limited capacity. And the report he would play Sunday came from an Associated Press report following a conference call between Saints head coach Sean Payton and the Jacksonville media. The exact words from Payton, according to a transcript released by the
Jacksonville Jaguars
, were, "Yeah, he was listed as limited, but he's cleared. He'll be up this week." It's not exactly Payton definitively stating Colston takes the field Sunday. According to James Varney of the New Orleans Times-Picayune, Payton rarely offers that type of detailed injury information, especially early in the week. But Varney also notes that the words "up this week" typically refer to a player being on the 46-man active roster with the expectation that he will, indeed, play. So what are fantasy owners to make of it? It's probably still too early to say for sure but the signs are encouraging that Colston is close. The main issue is whether the healing in Colston's collarbone is sufficient for there to be low concern about the risk of reinjury should he land hard on that shoulder again. Typically it takes four to six weeks for bone to heal, although evidence of substantial healing can appear sooner, depending on the individual. Fantasy owners would be wise to keep an eye on injury reports through the remainder of the week and see how things are shaping up as Sunday draws closer.
Quick Hits
•
Arizona Cardinals
running back
Beanie Wells
sat out last week with a hamstring strain and was limited in practice Wednesday. Although Wells seems confident he'll take the field this Sunday, head coach Ken Whisenhunt seems cautious. According to the Cardinals' official website, Whisenhunt expressed the common fear surrounding any hamstring injury. "It's one of those things where you are worried that when he opens it up it may pull and you can feel that little twinge," he said. The Cardinals will see how Wells tolerates the week of practice before making a final decision.
•
San Francisco 49ers
running back
Frank Gore
has been a limited participant in the team's practices thus far. It still sounds as though head coach
Jim Harbaugh
is leaning toward Gore playing Sunday, but how the carries would be divided between him and
Kendall Hunter
is up in the air.
[+] Enlarge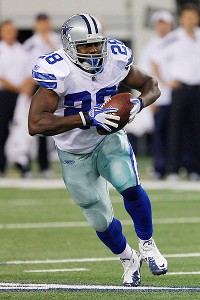 AP Photo/Tim SharpFelix Jones has battled shoulder issues the past two weeks.
•
Dallas Cowboys
running back
Felix Jones
practiced fully just two days after aggravating his shoulder Monday night. He appears to be on track to play this week. Teammate
Dez Bryant
's status might be of more concern. Bryant played intermittently Monday night after sitting out in Week 2 with a deep thigh bruise. Clearly he has not fully recovered from the injury as he remained limited in practice Wednesday then did not appear at practice Thursday. With
Miles Austin
expected out again because of his strained hamstring, the Cowboys would like to have Bryant on the field. This could be another gametime decision.
• Philadelphia Eagles wide receiver
Jeremy Maclin
is recovering from a hamstring strain and sounds as though he expects to play Sunday. He did not practice Wednesday but did return to the field Thursday for some work. The story with hamstrings is familiar: See how the athlete responds as the week progresses. Even then, it may come down to the pregame warmup to determine just how Maclin is faring.
•
Denver Broncos
wide receiver
Brandon Lloyd
is no longer on the injury report this week but teammate
Knowshon Moreno
is. Moreno did practice fully Wednesday, something he has not done since injuring his hamstring, but needs to get through the rest of the week to inspire any confidence. Moreno was active but did not play a single snap last Sunday. It appears teammate
Willis McGahee
is still expected to garner the bulk of the work, at least until Moreno shows he is healthy enough to challenge him.
•
Buffalo Bills
wide receiver
Steve Johnson
did not practice Wednesday but is expected to play again in Week 4. After limping out of the Week 2 game, Johnson appeared strong through the entire contest in Week 3. It remains an injury that could flare up but as long as he's performing, Johnson will not be limited.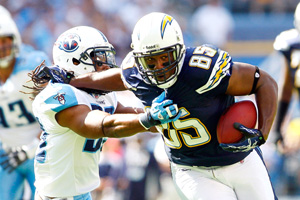 Jody Gomez/US PresswireAntonio Gates has scored just seven fantasy points all season.
•
San Diego Chargers
tight end
Antonio Gates
looks like he'll miss Sunday's game. On Tuesday we referenced the challenges Gates is facing with his
chronic foot pain
. At this point Gates appears resigned to missing some time, it's just unclear how much.
• It's looking as though
Green Bay Packers
running back
Ryan Grant
will not receive medical clearance to play after suffering a bruised kidney in Week 3. Grant has not practiced yet this week.
James Starks
would start in his place.
•
Seattle Seahawks
wide receiver
Sidney Rice
made an impact in Week 3 after sitting out the first two weeks of the season with a torn labrum. He reportedly emerged no worse for the wear and is expected to play on in Week 4.
•
New England Patriots
tight end
Aaron Hernandez
is still recovering from his sprained left MCL. He sat out Week 3 and although he sounded optimistic about potentially returning in Week 4, it's far from a sure thing. Hernandez was not in practice Wednesday or Thursday and until we see him out there in some measure, it's hard to believe he'll be ready Sunday.
See you at the injury chat Friday at 11 a.m. and we'll have the latest injury updates affecting Week 4 in the Saturday morning blog!
September, 22, 2011
9/22/11
7:28
PM ET
Quarterbacks
[+] Enlarge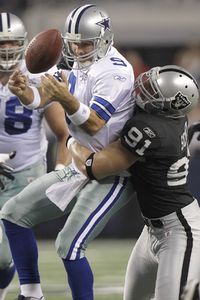 AP Photo/LM OteroA special vest could help Tony Romo absorb hits to his rib cage and allow him to play Monday night.
Tony Romo, Dallas Cowboys:
On Tuesday we outlined Romo's injury and what we learned from the Cowboys'
official statement
. ESPN's Ed Werder reported Wednesday that Romo is being
outfitted for a special protective vest
in the event he suits up Monday night. A similar vest was created for
Michael Vick
after he suffered a rib cartilage injury last season, something Vick credited with allowing him to play despite continuing to absorb hits. Romo is certainly taking the steps toward being protected Monday night, but will he play? Most importantly, the lung will need to show evidence of healing. Romo, who is not practicing so far this week, underwent a CT scan Thursday to evaluate the status of his injury. Those results are not known at the time of this writing, but if the lung has healed, the decision to play largely comes down to pain tolerance. Romo has shown his ability to press through pain but he also needs to show he can perform effectively and move well enough to protect himself. There should be better clues as to his status in the next few days.
Michael Vick, Philadelphia Eagles:
Like Romo, Vick is being evaluated on a daily basis to determine his readiness to return to action. He appeared to take another step forward as he returned to practice Thursday after going through morning walkthroughs and mild exertional and balance tests Wednesday. After suffering a concussion, all players must meet the guidelines outlined by the NFL before they can return to play. Those guidelines include: the absence of symptoms both at rest and with exertion, a normal neurological exam, normal neurocognitive tests (these are the ImPACT tests which measure how the brain processes information; results must return to baseline pre-concussion values) and clearance to return from both the team physician and an independent neurological consultant. While Vick certainly appears to be making progress, the key is that there are no setbacks with each gradient of increasing activity. If Vick is able to take part in consecutive practices this week and suffers no setbacks going forward, it paves the way for a Sunday start.
Running Backs
Arian Foster and Derrick Ward, Houston Texans:
The Texans are lucky to have so much depth at running back; fantasy owners everywhere wish they could say the same. After complaining of tightness in his hamstring Sunday, Foster did not play in the second half of the game. While the symptoms of "tightness" do not sound severe, it does raise a caution flag when it comes to Foster's overall recovery, as in he's not quite there yet. With
Ben Tate
ably handling the duties, it looks as though he will get the start Sunday with Foster, at best, contributing only slightly. Ward, who sat out Week 2 with a high ankle sprain, did not practice Wednesday or Thursday and is not expected to play.
Steven Jackson and Cadillac Williams, St. Louis Rams:
The news on Jackson is not as encouraging as one would have hoped it would be by this point. When Jackson, who strained his right quadriceps muscle in Week 1, took to the field to test his leg before Monday night's game, it seemed as though his return was not far off. This week however Jackson's first practice did not come until Thursday and he was still limited. The St. Louis Post-Dispatch reports Jackson could be headed for another game-time decision. Williams, who started in place of Jackson on Monday night, strained a hamstring Monday and has not practiced this week.
Knowshon Moreno, Denver Broncos:
Moreno and hamstring injuries seem to go hand in hand. After not playing in Week 2, Moreno returned to limited practice this week. That said, it's hard to imagine he's 100 percent past the injury by Sunday. The Broncos have to be concerned about a setback with him and may opt to limit his carries, even if he does play Sunday.
Wide Receivers
Dez Bryant, Dallas Cowboys
Bryant sat out Week 2 with a thigh bruise and now that teammate
Miles Austin
is potentially out for a few weeks because of his hamstring, the Cowboys would like to have Bryant back in the mix. Bryant still was not practicing Thursday making his Monday status much less certain. The team is hopeful that an extra day before game time will help his cause; his returning to practice Friday would help ours.
Quick Hits
Uh-oh. Late-week practice injury alert:
Arizona Cardinals
running back
Beanie Wells
now has a hamstring injury to add to the list of ailments that have touched him in his young career. According to Kent Somers of the Arizona Republic via Twitter, Wells suffered the injury in Thursday's practice. While it's not known just how severe the injury is, we never like to see these things crop up late in the week.
Denver Broncos wide receiver
Brandon Lloyd
(groin) was back at full practice Thursday after doing limited work Wednesday. Lloyd sat out Week 2 but the team could really use him now that teammate
Eddie Royal
, also with a groin injury, is expected to miss time. If Lloyd practices again Friday it will be a good sign he's heading for a Sunday start.
In Detroit, wide receiver
Calvin Johnson
, who sprained his left ankle in Week 1 but delivered on the field again in Week 2, is expected to play in Week 3. Johnson is following last year's routine of doing less in practice and more on Sunday. It seems to be working for him.
New Orleans Saints' wide receiver
Lance Moore
made his season debut in Week 2 coming off a groin injury that cost him much of the preseason. Although his targets were limited, Moore emerged from the game no worse for the wear. After putting in a full practice Wednesday, Moore did not appear on Thursday's injury report. With teammate
Marques Colston
down for another couple of weeks with a fractured collarbone, Moore's health could provide the Saints and fantasy owners a boost in Week 3.
Buffalo Bills wide receiver Stevie Johnson clearly looked to be struggling with his nagging groin injury late in the Week 2 contest. He did not practice Wednesday but did return to a full workload Thursday. The question is how much this injury will affect him during play. It certainly appears as though he will suit up but he will not be fully recovered. The Bills have to hope that he does not take a turn for the worse.
It's a little difficult to know how concerned to be about the
San Diego Chargers
. Tight end
Antonio Gates
did not do much in Week 2 but whether that was due to good defensive coverage or lack of mobility -- or a little of both -- is up for debate. Gates sat out Wednesday's practice, which is likely to be a season-long theme -- but is expected to play in Week 3. Running back
Mike Tolbert
did not practice Wednesday or Thursday and is listed on the injury report with a calf ailment. If he's not out there Friday it's officially time to get nervous. Wide receiver
Malcom Floyd
is not practicing because of a groin injury and is quite possibly out Sunday.
The
Oakland Raiders
still list running back
Darren McFadden
as a limited participant in practice this week because of his shoulder but he is expected to play this weekend. In the wide receiver department, neither
Jacoby Ford
(hamstring) nor
Louis Murphy
(groin) is practicing. Murphy is expected out and Ford is not looking like he'll be ready. Then there's
Darrius Heyward-Bey
, who missed Week 2 after injuring his knee in practice last week. A return to full practice Thursday was encouraging. If he does it again Friday it improves the outlook for Sunday.
Seattle Seahawks
wide receiver
Sidney Rice
has been absent so far this season after suffering a shoulder injury (labral tear) during preseason drills. Perhaps the best news on the receiver so far is that he took part in full practice Wednesday but he will need to do so throughout the week to have a shot at playing in Week 3. Given the injury, there's no expectation that it will heal. The question becomes whether Rice can function effectively and consistently.
New England Patriots
tight end
Aaron Hernandez
sprained his MCL and is all but certain to miss this week and next. Whether he will require more time away from the game is up in the air.
See you at the
injury chat Friday at 11 a.m.
and we'll have the latest injury updates affecting Week 3 in the Saturday morning blog.