Stephania Bell:

Tim Hightower
October, 25, 2011
10/25/11
5:34
PM ET
Anyone who plays fantasy football knows the trauma inflicted across rosters in the mess that was Week 7. There are, oh, a gazillion injury situations in play, so without further ado:
Washington Redskins
running back
Tim Hightower
was just getting past his shoulder injury, but it was his leg that failed him this time. Hightower suffered a torn ACL in a classic non-contact, deceleration manner, so we won't see him until next season.
It's hard to know whether we'll see
Earnest Graham
again after the
Tampa Bay Buccaneers
' veteran back, filling in for the injured
LeGarrette Blount
, suffered a torn Achilles tendon. With surgery and a lengthy recovery ahead of him, Graham may be challenged to return. In the meantime the Bucs, who have said nothing about Blount's specific injury or his progress (other than terming it a sprained knee), may be turning to some outside help to shore up their backfield. However, the Bucs do have a bye this week, but it is too soon to know whether Blount, who has yet to practice, will be ready by Week 9.
Tight end
Chris Cooley
never really got it going this season as a result of his ongoing knee ailment. He then fractured his index finger, requiring surgery and a lengthy recovery. He will now have plenty of time to recover from both as the Redskins have placed him on injured reserve.
Fred Davis
has proven to be quite capable in his place so far this year.
Quick Hits
They're all going to be quick hits this week gang given the number of injury items. As details emerge throughout the week, we will expound on them.
Detroit Lions
quarterback
Matthew Stafford
staying healthy through the first half of the season (officially through this Sunday; the Lions then have a bye in Week 9), don't rush to cash in just yet. Although Stafford was seen limping off the field late in Sunday's game against the
Atlanta Falcons
game after a defender fell on his right ankle, head coach Jim Schwartz is simply calling him "day-to-day," leaving open the possibility he is available this week. Schwartz did not go into details regarding the results of Stafford's imaging tests. My interpretation: nothing catastrophic, but some variant of a soft tissue injury. The key, as always, will be whether he can effectively plant and throw and move to protect himself.
• There were a pair of hand injuries suffered Sunday that require surgery. Redskins wide receiver
Santana Moss
underwent surgery Monday to insert pins in his broken left hand. He is projected to miss five to seven weeks. That timetable could be updated in about a month as the bone healing is evaluated.
Denver Broncos
running back
Willis McGahee
fractured his fourth metacarpal (the long bone in the hand that runs from the base of the fourth finger to the wrist) and is scheduled for surgery to repair it on Tuesday. While McGahee acknowledged he would miss Week 8, he expressed confidence he could return by Week 9. That sounds optimistic. Consider Redskins running back
Ryan Torain
, who underwent surgery for his metacarpal fracture in August but took three and a half weeks to return to practice, and four weeks before he played in a game. While all injuries are unique, it would not be surprising if McGahee's absence extends beyond the two weeks he projects. Even when he returns, he may require protective wear on the hand. OK,
Knowshon Moreno
, it's time to step up.
•
Green Bay Packers
wide receiver
Greg Jennings
also suffered a hand injury Sunday, but the results were not so dire. Jennings suffered a bruised right hand, one that caused him to temporarily experience numbness, according to the Milwaukee Journal-Sentinel. He had enough function in the hand to return to the game and later X-rays revealed no fracture. The Packers have a bye in Week 8, and it sounds like they expect Jennings for their Week 9 matchup with the
San Diego Chargers
.
•
Oakland Raiders
running back
Darren McFadden
had only two carries Sunday before exiting with what coach Hue Jackson told reporters Monday is a midfoot sprain. McFadden was on crutches Monday to offload the foot, but the team seems to not be overly concerned. They have the luxury of a bye week to allow McFadden to rest the foot and plan to re-evaluate him Monday. The midfoot is key for transferring load from the back of the foot to the front during weightbearing and any injury there makes it difficult to walk, much less run, normally. A minor sprain can respond well to unloading (this is where the crutches come into play) along with therapeutic modalities to help ease any pain and inflammation. Keep in mind that McFadden did return to the sidelines, but given his history of toe and ankle injuries, the Raiders were more conservative in guarding him against further injury. Wise move. Hopefully he is able to return in Week 9.
Arizona Cardinals
oft-injured running back
Beanie Wells
suffered a knee injury in Sunday's game that has left him with significant swelling but no particular diagnosis, at least not one the team is revealing. According to Kent Somers of the Arizona Republic, Wells denied a bone bruise and head coach Ken Whisenhunt did not elaborate on the nature of the injury, only saying there was no major structural damage. There are plenty of means by which a joint can become irritated and the response to that irritation is swelling. This is the same knee Wells had surgery on last year for a torn meniscus. The bottom line is that there is no plan for surgery (since there is no "structure" to address) at this time but there is also no running on a swollen knee. The goal is to address the swelling first, then try to bring the athlete back toward full activity and hope the swelling does not return. How long will it take? No one knows for sure. So stay tuned and keep an eye on when Wells is able to return to practice. Start by preparing for a backup in Week 8.
• New Orleans had all their running backs healthy when they came into Week 7 (not counting
Chris Ivory
, on the Physically Unable to Perform list since the start of the season). But
Mark Ingram
left Sunday's game with a limp, suffering what the team has called a bruised heel. No further word from the Saints on what they expect, and there is no indication as to whether the bruise is on the back of his heel, near the Achilles attachment, or on the undersurface of the heel, making it hard to prognosticate. If Ingram is limited,
Pierre Thomas
could be setting up for a nice matchup against the
St. Louis Rams
. Meanwhile, Ivory could be nearing a return to practice but that has not yet been made official.
• Atlanta Falcons quarterback
Matt Ryan
had a nasty looking ankle roll in Sunday's game. The awkward spill appeared to stress both his ankle and his knee, but after exiting for a brief period, Ryan was able to return and finish out the game. Ryan is no doubt pleased to have a bye week to allow the soreness to subside but is expected to start in Week 9. Teammate
Julio Jones
has missed two games with a strained hamstring, but if all goes well he could be back in Week 9.
•
Minnesota Vikings
wide receiver
Percy Harvin
has been battling sore ribs since the preseason. Again he had issues with the ribs, which forced him to exit the game in the third quarter. Harvin is going to be further evaluated, but consider the Vikings had already agreed to scale back his playing time when his condition worsened. It's entirely possible he misses some time.
• Even the durable
Hines Ward
of the
Pittsburgh Steelers
is on the injury report this week after sustaining an ankle sprain Sunday. Ward often gets a day off from practice during the week (veteran, history of knee issues in the past) so it may be difficult to get a feel for his playing status until Friday.
• The San Diego running backs have to be thankful for one extra day before returning to competition.
Ryan Mathews
injured his thumb during the game against the
New York Jets
but was able to return to play.
Mike Tolbert
was seen grabbing his hamstring late in the game and was indeed listed on the postgame injury report, according to the San Diego Union-Tribune, but neither player's injuries seemed to be a major cause for concern.
Raise your hand if you were one of the fantasy owners whose Sunday was ruined when
Marshawn Lynch
, declared active, was suddenly not playing because of back spasms that flared up during his pregame warmup. To make matters worse, it appears Lynch has been dealing with the issue for a while. According to the
Seattle Seahawks
' official website, coach Pete Carroll said Lynch's back is "not a new issue" but has been managed effectively to this point. As for Lynch's status this week Carroll said, "We'll have to be careful with him through the week and make sure that we do the right things. He is determined to play for sure in his mind, but we're really not going to know until we get to the end of the week." Or maybe not until Sunday after your rosters lock. Have a backup at the ready so you can pull the trigger if there's any shadow of a doubt heading into gametime.
And then there were a number of players who never took the field in Week 7 but whose status is of interest for Week 8:
Sam Bradford
is still in a walking boot and is no lock to play in Week 8. The team plans to reassess his status Wednesday.
•
Cleveland Browns
running back
Peyton Hillis
was not able to play Sunday because of his strained hamstring, but he did get some running in Monday, according to the Akron Beacon Journal. There have been enough hamstring injuries around the league that everyone should know this is only one of many steps before returning to play. If Hillis is able to get back to full practice this week, then he should play Sunday.
• The
Houston Texans
could have wide receiver
Andre Johnson
back in the lineup Sunday if all goes well. Coach Gary Kubiak added clarity to the situation calling the return of Johnson "definitely a possibility" when speaking to reporters Monday. Johnson, who underwent a procedure on his torn hamstring tendon in early October, has been running but has not yet returned to practice. If he is able to do so early this week, it would bode well for his chances.
• The
San Francisco 49ers
could have wide receiver
Braylon Edwards
in the mix this Sunday. Edwards has been out recovering from meniscus surgery on his right knee. Head coach
Jim Harbaugh
said he expected Edwards to return to practice Tuesday.
• The
New York Giants
could get running back
Brandon Jacobs
alongside
Ahmad Bradshaw
this week. Jacobs, sporting a brace for protection, was able to practice Monday, indicating the swelling in his knee had subsided to the point he could participate. Now the challenge will be to see if the swelling remains down before he can be cleared to play.
We will continue to update these injuries and others as the week progresses.
October, 13, 2011
10/13/11
5:16
PM ET
Let's start with what we know: There are six teams on bye this week. The
San Diego Chargers
,
Seattle Seahawks
,
Arizona Cardinals
,
Kansas City Chiefs
,
Tennessee Titans
and
Denver Broncos
are all off this week, good news for all of their currently injured players.
Of the teams playing in Week 6, at least one has given fantasy owners a heads-up regarding player status.
Atlanta Falcons
head coach
Mike Smith
announced Wednesday that wide receiver
Julio Jones
will not play Sunday because of his injured hamstring. According to the Atlanta Journal-Constitution, the team hopes to have Jones back in Week 7. In the meantime, No. 3 receiver
Harry Douglas
will start opposite
Roddy White
. Douglas, who missed all of 2009 with a torn ACL, showed some brilliant flashes in the preseason and could see a target boost this week. Meanwhile, White, who has struggled off and on with a bruised thigh and some dropped balls (although he still leads the team in number of receptions and found the end zone in Week 5), continued with a limited practice schedule Wednesday but returned to full practice Thursday. White is expected to start Sunday as usual.
With that, we turn to other injured players who could impact your fantasy roster in Week 6.
[+] Enlarge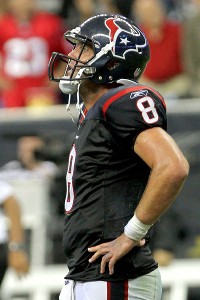 Thomas B. Shea/Getty ImagesMatt Schaub missed Wednesday's practice with a shoulder injury but looks good to go for Sunday.
Matt Schaub, QB, Houston Texans:
Schaub took a big hit near his knee from
Oakland Raiders
defensive end
Richard Seymour
and appeared to be moving gingerly late in the game. Apparently, Schaub is also dealing with a sore shoulder, according to coach Gary Kubiak, and missed Wednesday's practice. However, Schaub returned to practice Thursday and it sounds as if he's in no danger of missing Sunday's game.
LeGarrette Blount, RB, Tampa Bay Buccaneers:
As noted in
Tuesday's blog entry
, Blount took a helmet to his left knee in the Week 5 game against the
San Francisco 49ers
. He has not practiced yet this week and it appears he is unlikely to suit up in Week 6. Buccaneers quarterback
Josh Freeman
is certainly providing hints that the team plans to lean on veteran
Earnest Graham
, saying "... now this week he's going to get the majority of the reps, the majority of the carries." And Rick Stroud of the St. Petersburg Times reported Thursday that Blount's injury could cause him to miss 1-2 games. He cited sources that say Blount is doubtful for Week 6 and questionable for Week 7.
Joseph Addai, RB, Indianapolis Colts:
Add Addai to the long list of hamstring-injury sufferers. Addai left the Week 5 game in the second quarter with an injury to his right hamstring and underwent an MRI on Monday, although the results have not been shared. Addai did not practice Wednesday and the sense is he will not play Sunday against the
Cincinnati Bengals
. After Friday we should get a better idea as to whether it will be
Donald Brown
or
Delone Carter
starting in his place.
Daniel Thomas, RB, Miami Dolphins:
Sometimes the bye week comes at just the right time and that appears to have been the case for Thomas. An additional week of rest for a hamstring injury that has bothered him since the preseason allowed Thomas to return to practice all week. With the Dolphins not playing until Monday night, his chances of being on the field are encouraging.
Quick Hits
• Speaking of the bye week coming at the right time, it certainly appears to be the case for the collective offensive weaponry of the
Dallas Cowboys
.
Tony Romo
got a week to rest his broken rib and further the healing process. Running back
Felix Jones
was able to give his shoulder a week without contact. Wide receivers
Miles Austin
(hamstring) and
Dez Bryant
(thigh) were allowed to rest their wheels. All have been full participants in practice this week and all are expected to start Sunday. The Cowboys must have forgotten what it's like to have this many offensive threats on the field at once (not to mention a healthy
Jason Witten
, who does not appear on the injury report). While it remains to be seen whether all of them can make it through a game and still be healthy, they are putting their best lineup on the field to face the
New England Patriots
.
[+] Enlarge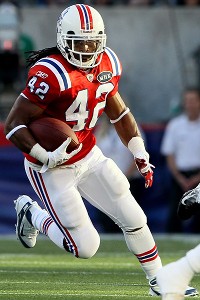 Elsa/Getty ImagesBenJarvus Green-Ellis burned the Jets for 136 yards and two TDs last week but his status for this week is up in the air.
• Will the Patriots have all of their offensive weapons against the Cowboys, though? Maybe not. After a great performance Sunday, running back
BenJarvus Green-Ellis
is now on the injury report because of a toe ailment. After being limited Wednesday, he didn't participate at all Thursday, which is definitely a concern. If he does not improve Friday, it could mean more work for
Stevan Ridley
this weekend. Meanwhile, teammate
Danny Woodhead
returned to limited practice this week after missing Week 5 with an ankle sprain.
Tight end
Aaron Hernandez
continues to sport a brace on his left knee designed to limit excess medial-lateral motion at the joint but is practicing. Hernandez played in Week 5 and at times appeared uncomfortable, but pressed through it and played for the majority of the game, even looking more comfortable as the game wore on. Hernandez is expected to play again Sunday.
•
New York Giants
running back
Brandon Jacobs
is still not back in practice after a "mild" MCL sprain kept him out of Week 5. Jacobs said he was ready to run last Thursday but apparently his knee doesn't quite agree. Given his history of knee injuries and his style of running, there is good reason to be very cautious before he's ready to get back to the grind of running against contact. Friday's practice will speak volumes, but it's looking as if Jacobs could miss another week.
•
Pittsburgh Steelers
running back
Rashard Mendenhall
is off the injury report after serving as the "emergency" back in Week 5 due to a hamstring strain. Mendenhall has been a full participant in practice and is expected to play Sunday. Less clear is how the workload will end up being shared between Mendenhall and
Isaac Redman
.
• Houston Texans wide receiver
Andre Johnson
is still recovering from a procedure on his injured hamstring and is not expected to play this week. Running back
Arian Foster
remains on the injury report, now listed as limited because of his quadriceps, but is still expected to be the starter and the feature back.
Ben Tate
has an Achilles injury listed along with the groin but was still a limited participant in practice.
Derrick Ward
was also limited with his high ankle sprain. As it stands, Tate appears to be second in line to Foster.
•
Washington Redskins
running back
Tim Hightower
and tight end
Chris Cooley
both continue to be limited in practice even after the bye week. Hightower had what coach Mike Shanahan referred to as a "sore" shoulder, while Cooley has been dealing with knee issues since undergoing offseason surgery. The Fredericksburg Freelance-Star reports Hightower actually injured his shoulder in the season opener but didn't disclose the injury and continued to play through it. Hightower insists he'll be ready to play this week. Meanwhile, John Keim of the Washington Examiner reports Cooley had fluid drained from his knee this week. It was Cooley who said before the season started that he expected to have to manage knee pain all season long. That appears to be playing itself out and his productivity has been limited as a result.
See you at the injury chat Friday at 11 a.m. and we'll have the latest injury updates affecting Week 6 in the Saturday morning blog!
October, 4, 2011
10/04/11
5:09
PM ET
Week 4 continued to provide thrills, drama and, naturally, injuries. Where, oh where, to begin?
[+] Enlarge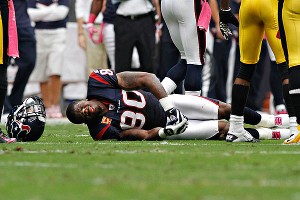 Brett Davis/US PresswireAndre Johnson is likely out this week, and probably for a few more games.
How about starting with one of the few wide receivers who rated a first-round draft pick in most fantasy leagues?
Houston Texans
wide receiver
Andre Johnson
was running Sunday, and then all of a sudden, he wasn't. He went from vertical to face-down in a split-second, untouched.
While many thought he had suffered a knee ligament injury, in actuality, it didn't really have the look of a
Wes Welker
-like ACL/MCL injury, in which the athlete plants and changes direction, and the knee wobbles and fails. This had the look of failure, as in the sudden failure of a major muscle/tendon unit that just stops a runner midstride. The Texans are reporting that Johnson suffered a hamstring strain and that he is seeking additional opinions. Nothing more specific has been offered up yet.
Johnson could be seen grabbing the lower part of his hamstring, just above the knee, at the time of his injury, which would suggest that the injury was near the tendinous attachment. Those injuries are often slow to heal because of poorer blood supply to the tendon. As of now, it certainly appears the team will be without Johnson for an extended time; fantasy owners should plan on a replacement (although you can't really "replace" Johnson) who can fill in for multiple weeks.
And now on to the rest of the injury happenings in Week 4.
• The
Pittsburgh Steelers
will have an expanded injury report this week. Quarterback
Ben Roethlisberger
continues to take a lot of hits and this week it took a toll. Roethlisberger suffered a sprained left foot (Monday tests revealed no fracture). Although it will undoubtedly limit his mobility, he is expected to play Sunday, according to head coach Mike Tomlin. ... Running back
Rashard Mendenhall
's status is up in the air after he strained a hamstring in Sunday's game. ESPN's Bob Holtzman reports Mendenhall is not likely to do much in practice this week, meaning this could translate to a gametime decision.
Isaac Redman
is looking like a guy who should be picked up. ... The Steelers also lost linebacker
James Harrison
for an extended period with a facial fracture. He is expected to undergo surgery this week.
•
Miami Dolphins
quarterback
Chad Henne
left the Week 4 contest early with an injury to his left (non-throwing) shoulder. Henne downplayed the injury initially and despite sporting a sling after the game, he said that he expected to play through it. According to Jeff Darlington of NFL.com, the Dolphins are concerned about a separated shoulder, which could threaten Henne's season. Darlington adds that the team is seeking a second opinion, but if Henne were to be done, this could be the beginning of the
Matt Moore
era.
[+] Enlarge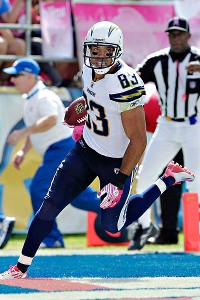 AP Photo/Gregory BullVincent Jackson scored a TD last week but then was sidelined again in the second with a leg injury.
•
San Diego Chargers
wide receiver
Vincent Jackson
was able to play through an abdominal strain and deliver some of the best visual highlights of the week with his acrobatic catches. It certainly looked as if it wasn't holding him back. But then Jackson exited the game in the second quarter, raising the suspicion he had indeed aggravated the injury. Jackson returned in the second half but on a very limited basis. Later the San Diego Union-Tribune reported the Chargers indicated Jackson had suffered a "leg strain" as the result of compensating for the abdominal issue. Vague and somewhat bizarre. It's not clear what exactly is going on with Jackson just yet, but it does appear the Chargers plan to follow the same plan for him -- very little practice with the hopes of suiting up Sunday -- heading into Week 5.
•
Seattle Seahawks
wide receiver
Mike Williams
suffered a concussion in Week 4 and, as is the case with all NFL players, will have to pass a battery of tests and receive medical clearance before he can return.
•
New England Patriots
running back
Danny Woodhead
left the game early with a left ankle injury, although there's no indication yet as to whether he'll miss any playing time.
•
Washington Redskins
running back
Tim Hightower
played second fiddle to
Ryan Torain
this week, and after the game, head coach Mike Shanahan hinted at a shoulder injury for Hightower, according to the Washington Post. Hmmm. It's hard to know what to expect from the running back committee in Washington, but naturally we will be looking to see who ends up on the injury reports.
•
Oakland Raiders
running back
Darren McFadden
continues to impress. Teammate
Michael Bush
, talented in his own right but often injured, suffered an ankle injury late in Sunday's game. His status for this week is uncertain.
• Best wishes to
Indianapolis Colts
defensive lineman
Eric Foster
, who dislocated his right ankle Monday night. Anyone who saw the injury won't soon forget it. He has already undergone surgery and will remain in the hospital for several days before beginning his lengthy rehab process.
We will continue to update these injuries and others as the week progresses.