Stephania Bell:

Tim Wakefield
August, 19, 2009
8/19/09
3:02
PM ET
It's a scary week in the land of fantasy baseball when you drop three places in your league's standings with less than a month to go until the playoffs. It's a terrifying week in the world of real baseball when three players get dropped by high-speed balls connecting with their heads.
The topic of batting-helmet protection was front and center last week when a
New York Times article
discussed the potential introduction of a new, reportedly safer helmet. The new helmets, designed with the goal of increasing protection for the player's head and its very important contents (yes, the brain), were largely rejected by players in an informal sample survey because of their "look." Many players found them unsightly, and Mets outfielder
Jeff Francoeur
was quoted as saying, "I am absolutely not wearing that ... We're going to look like a bunch of clowns out there."
Interestingly, Mets third baseman
David Wright
spoke in favor of the new helmets, saying, "If it provides more protection, then I'm all for it. I'm not worried about style or looking good out there. I'm worried about keeping my melon protected."
In a twist of irony, Wright was one of the three players to suffer a baseball to the head this past week. The image of Wright lying motionless on the ground was disturbing, emphasizing the point of just how serious these injuries can be. Also injured was Dodgers pitcher
Hiroki Kuroda
, who was without the benefit of any head protection as he took a comebacker to the forehead while on the mound. The third player hit, Rangers second baseman
Ian Kinsler
, was fortunate to escape a concussive injury when he was hit in the head by a pitch in the eighth inning of his first game back from the DL for a hamstring strain. While Kinsler was able to stay in the game, Kuroda and Wright are still recovering. It will be interesting to see if any players rethink their position on a safer helmet now.
Meanwhile, fantasy players might be wondering when, or even if, these athletes will be able to return. With that in mind, we take a closer look at their injuries and other updates around the league.
[+] Enlarge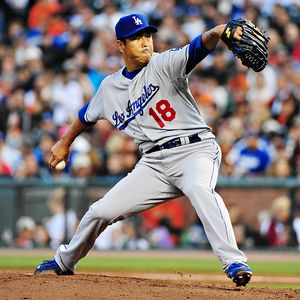 Kyle Terada/US PresswireKuroda had an impressive 1.15 WHIP period to getting hurt.
Hiroki Kuroda, P, Dodgers:
Rest assured that the Dodgers will take no chances when it comes to Kuroda's return from a concussion, which might translate into a DL stint. Kuroda - whose hit in the head might have posed the biggest scare since he was without a helmet at the time of impact -- had what trainer Stan Conte described to me as "pure, unadulterated luck." Conte added that the impact of a line drive at that speed could have been life-threatening, and not only was Kuroda lucky to come away with only the relatively minor symptoms he has (a headache, some nausea), but that he didn't even suffer a cut where the ball hit him. Given how easily the face and head can be lacerated, this is very unusual.
Nonetheless, all precautions will be taken before returning Kuroda to the mound, including the elimination of all symptoms at rest, followed by elimination of all symptoms with physical exertion and normalization of neurocognitive tests (which measure brain function). Although the Dodgers are optimistic that Kuroda will be able to play again this season, a 15-day absence would not come as a surprise.
David Wright, 3B, Mets:
It's unfortunate that Wright felt "embarrassment" over his delegation to the DL in the wake of a frightening concussion. Athletes go to the DL for a multitude of reasons, and while some might debate the merit of any given athlete's injury warranting extended rest, it seems reasonable to think that a brain injury would qualify as unarguably serious. After all, concussions are brain injuries by definition, and there is no room for trying to "tough it out" when dealing with the brain. Wright's desire to be there every day is admirable, as is his work ethic, even in the face of his team's disastrous season. That aside, his protection not only of his athletic future but of his overall well-being could depend on how he proceeds.
The good news is that Wright seems to be feeling remarkably well, considering how he looked at the time of injury. But subjective reports can be misleading, and Wright no doubt will undergo neurocognitive tests that will help assess his readiness to return. One of the challenges with concussions is that seriousness cannot be determined at the time of injury, and symptoms do not necessarily correlate with loss of consciousness. In fact, loss of consciousness is not required in order to sustain a concussion. Just ask Hiroki Kuroda. Although statements suggesting Wright's season could be over might have been premature, there is really no way to determine how long he will be out. This is a day-to-day evaluation, and Wright, along with fantasy owners, will need to be patient.
Chad Billingsley, P, Dodgers:
Tuesday night was a test ... and it's safe to say Billingsley passed it. In an amazingly quick return after a Grade 2 hamstring strain, he delivered a solid performance, allowing only three hits while securing a win for the Dodgers. It certainly looks as if there are no lingering worries about the hamstring.
On the mend...
&#8226 It certainly appears as if
Roy Oswalt
's back is still bothering him. He has not been himself in his past two outings, both of which came after a flare-up of a bulging disc in his back. While Oswalt says he's feeling pretty good, that does not necessarily translate to full strength. It would be surprising if his symptoms completely disappeared this quickly after an episode that was severe enough to warrant a cortisone shot. Whether he continues to progress -- both in terms of how he feels and his performance -- or whether he just guts it out for the rest of the season remains to be seen.
&#8226 Peavy update! ... White Sox pitcher
Jake Peavy
is one step closer to making a start for his new team. He made his first rehab start last week and delivered three scoreless innings. Not bad for a guy who has not been on the mound since June. He told the Chicago Tribune that while his ankle is "certainly not 100 percent ... it's getting there." He said he still lacked leg strength, which is understandable after coming off a six-week immobilization of his ankle to allow his tendon to heal. Peavy will use his additional rehab starts to build his endurance before appearing in a major league start. Right now he still appears on track for a late August or early September return.
&#8226 Red Sox pitcher
Daisuke Matsuzaka
is gradually working his way back toward a major league return. He is expected to make a minor league rehab start soon after a couple of successful bullpen outings. As the Providence Journal reports, manager Terry Francona is particularly encouraged by the fact that Matsuzaka was able to continue to increase his intensity. Although no specific timetable is in place, if Dice-K continues along this path without a setback he could be eligible to rejoin the team sometime in September. The unknown will be whether his arm endurance will suffice to minimize the Red Sox's dependence on the bullpen.
&#8226 Meanwhile, Matsuzaka's teammate
Tim Wakefield
is hopeful about returning to the mound, but the jury is still out as far as the medical staff is concerned. He has been limited by weakness in his leg resulting from a bulging disc affecting his sciatic nerve. Although he says he thinks he can go, as The Boston Globe reports, the Red Sox have to evaluate the potential risk of his condition worsening and how that could affect not only this season but also his future. Wakefield has been throwing and participating in running workouts, but is still limping, a sign that his calf muscle strength is still compromised. Originally scheduled for a rehab start in Pawtucket on Friday, he might have to put that on hold depending on the outcome of his conversation with team doctors.
&#8226 Braves pitcher
Tim Hudson
continues his progression back from Tommy John surgery, which was slowed a bit recently due to a hamstring strain. He has recovered enough to move to rehab starts, and his improvement has been steady. He is already throwing in the low 90s as he works out the kinks of adjusting to his reconstructed elbow. Hudson's services could be available to the team in September.
[+] Enlarge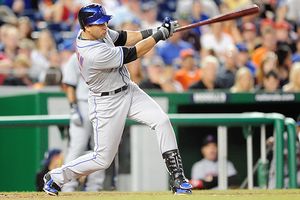 G Fiume/Getty ImagesOh Carlos. If only recovery was determined by the spirit of the player.
&#8226 Mets outfielder
Carlos Beltran
has been running increased distances this week and might soon attempt to run from first to third, according to the New York Daily News. Beltran spent last weekend shagging fly balls and performing drills in the outfield and told The Star-Ledger his knee did not bother him. He added that he is "working harder than when [he] was playing every day." While that might be true, and while his intent to return is admirable, there is still some question as to how much he should really push the knee. Remember, it was Beltran who wanted to increase his workout activity despite precautions from team physicians who were concerned about the lack of evidence of healing on imaging. Beltran, who was diagnosed with a bone bruise in his right knee, is scheduled to have another MRI at the end of the month. According to The Star-Ledger, he says if he feels good, he wants to play, regardless of what the tests show. While it's certainly true that how a player feels factors into the decision of when and how to progress him, the condition of his knee is not to be taken lightly. The tests of base running and rapid acceleration and deceleration will likely stress his knee to a greater degree than anything he has done so far. How he reacts to the next level of activity might be the key in determining whether or not he is able to return this season.
&#8226 Beltran's teammate, shortstop
Jose Reyes
, continues to receive therapy treatments to address the scar tissue in the region of his ailing hamstring. The Mets have been very quiet on this front lately. In this case, the saying "no news is good news" does not apply. Although the team has not made any definitive statement with regard to his status, it's hard to imagine him returning this season.
&#8226 As if the Mets needed any more disappointments or setbacks, first baseman
Carlos Delgado
, recovering from May hip surgery at age 37, now has a strained right oblique. Although it's not altogether uncommon for an athlete to suffer a muscle strain while working his way back from surgery, the reality of this latest ailment is that it makes his return this season look all the less likely. And to think just a few weeks ago he looked like the
most
likely to return of the Mets trio.
July, 22, 2009
7/22/09
2:59
PM ET
The All-Star break provided a welcome reprieve, a little rest and recuperation for everyone (including yours truly). Even those in their fantasy league basement can still hold out hope for a playoff appearance.
Naturally, there are fewer injuries to report this week after a little time off, right? Wrong! Apparently the disabled list is trying to make up for lost time, adding (or threatening to add) players left and right since play resumed after the All-Star break. League GMs, not to mention fantasy owners, are suffering headaches galore as they try to boost their positions during the second half of the season.
Which injuries should have us really concerned, and which ones can allow us to breathe a little sigh of relief that they weren't more serious? We start on the West Coast.
Manny Ramirez, OF, Dodgers:
Just as he began to get his groove on after a 50-game suspension, Ramirez gave everyone a scare on Tuesday when he was hit on his left hand by a
Homer Bailey
94 mph fastball. Fortunately, X-rays taken shortly after the injury revealed no fracture to his fifth metacarpal, the bone on the outside of the hand that connects the wrist to the fifth finger, where Ramirez absorbed the brunt of the impact. Given that a fracture could have resulted in another extended absence, the Dodgers have to be breathing a sigh of relief.
Ramirez had some soft tissue swelling, which is to be expected, and as a result, he will sit out Wednesday's game. The Dodgers caught another lucky break in that they'll have a day off Thursday, so Ramirez will have an extra day of rest for the hand without sitting out of the lineup. Assuming the swelling subsides reasonably quickly, look for him to make a return Friday when Los Angeles hosts Florida.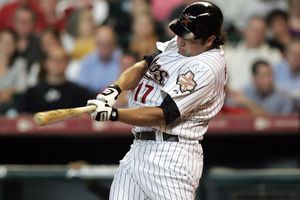 Brett Davis/US PresswireThe Astros may wish to be careful with Lance Berkman's calf injury, which he suffered last week.
Lance Berkman, 1B, Astros:
According to the Houston Chronicle, an MRI confirmed that Berkman has a Grade 2 strain of his left calf. Berkman already has missed several starts since he first injured the leg this past Thursday and plans to miss a few more. At this point, Berkman and the team are suggesting that he will be out of the starting lineup for only a few games, but that sounds optimistic.
Grade 2 (moderate) muscle strains represent a wide range of tissue damage, and it's possible that Berkman's particular injury is on the lighter side of that range. Nonetheless, it is very easy for these injuries to worsen, particularly if a player tries to push off the leg while the tissue is still compromised. The Mets'
Jose Reyes
tried to come back too quickly from a similar injury and had a setback before later injuring his hamstring. Berkman might not be associated with the explosive speed of a Reyes, but he relies on the calf muscle for both offensive and defensive performance nonetheless.
The Astros may elect to use him in a pinch-hitting role before bringing him back to the field, but even then, he will need to be able to round the bases without fear of reinjury. General manager Ed Wade seems to be well aware of this, telling the Chronicle, "... if the choice is take a couple more days and let him get back to 100 percent, then that would be the appropriate thing to do." Fantasy owners should plan to have a replacement for another week to be on the safe side, but keep an eye on Astros' daily lineups as well.
Tim Wakefield, P, Red Sox:
Back problems are no small issue for a pitcher; just ask
Randy Johnson
. Wakefield, who at age 42 is in Johnson's peer group, was placed on the DL with what the team is calling a lower back strain. The diagnosis suggests that this is a minor incident, and Wakefield seems to agree, telling WEEI.com that he expects to miss only two to three starts.
Wakefield apparently developed back spasms while throwing a side session Saturday, and the pain lingered enough to warrant a trip to the DL. Back spasms, although incredibly painful, are not especially serious in and of themselves. However, the underlying cause of the spasms can be the key to just how disabling the injury will be. Overexertion of muscles resulting in an acute strain (which can be related to something as simple as fatigue or inadequate warm-up, for instance) is a minor issue. A degenerative problem such as a disc injury or a problem with one of the small spinal (facet) joints, something one might see in an athlete in his 40s, can begin to manifest itself initially by a muscular spasm in the area.
Wakefield's time to recover and completeness of his recovery (i.e., no setbacks) will offer more insight as to whether this is something to be concerned about long term. In the meantime, it is worth nothing that spine injuries, even minor ones, can be unpredictable and easily exacerbated. In other words, securing some insurance would not be a bad idea.
Nelson Cruz, OF, Rangers:
Cruz was scratched from Sunday's lineup because of soreness in the ring finger on his right hand resulting from Saturday night's dive into first base. The injury later proved to be a small fracture. Although the ailment itself is not considered particularly serious, the consequences to Cruz's swing of the bat could be. Cruz has not played since Sunday, although he did take some swings before Tuesday's game and could return to action Wednesday.
A word of caution is warranted here. According to the Rangers' official Web site, Cruz said as recently as Monday that he could not grip a bat well because of swelling in the finger. Cruz's teammate
Michael Young
faced a similar injury last year, also the result of a headfirst dive into first, and struggled at the plate for the remainder of the season. Young acknowledged that the pain that radiates through the fracture site when the ball and bat make contact can cause an athlete to change his mechanics as a means of compensating. Cruz's toughness definitely will be tested. Fantasy owners may want to see how Cruz fares when he returns before committing to him in their lineup.
On the mend
• Cubs pitcher
Ryan Dempster
is making some progress in his activity as his broken right toe heals. Dempster threw 60 pitches in a bullpen session before Monday's game and reported no ill effects or undue soreness afterward. He followed that up with a solid simulated game outing Wednesday, when he again threw 60 pitches without incident. Dempster, who has been out since July 7, is scheduled to have a repeat X-ray of the toe Thursday, according to the Chicago Tribune. If the bone is healing well, he could return to the rotation as soon as Sunday. The key here is that pitching coach Larry Rothschild says Dempster is not favoring the toe and is able to bring his body weight over his push leg with no trouble at all. Assuming the X-ray shows satisfactory progress, there is no reason to think Dempster can't jump (OK, maybe not jump, since that's how he landed on this list in the first place) right back into the mix.
• Yankees pitcher
Chien-Ming Wang
is going the wrong way on this list. On the Mend implies that guys are getting better, not worse, but Wang suffered a setback in his strained (right) throwing shoulder, hence the decline in his status. There is no timetable for his return, and quite frankly, he may just want to scrap this season and start fresh next year. After struggling at the outset, a problem later determined to be associated with hip weakness left over from last season's foot injury, Wang appeared to be righting the ship somewhat, only to develop shoulder bursitis and a muscular strain. It's quite possible that in the earlier part of the season, Wang struggled to compensate for his lower extremity weakness, thus leading to the beginnings of the shoulder issue. No matter what the origin, this situation does not appear likely to resolve itself any time soon.
• Across town in New York, is it possible that some good news is on the horizon for the Mets? It sure looks that way, as pitcher
John Maine
emerged feeling good from a three-inning simulated game in Florida, according to the New York Daily News. Maine, who has been on the DL since mid-June with what was called a "pinched nerve" in his shoulder, has been slowly working his way back to the mound ... again. Maine already had fought his way back after offseason shoulder surgery last year, only to be faced with problems two months into 2009. A few cortisone shots and many rehab exercises later, Maine appears to be on track for a return sometime in August, assuming he can make his rehab starts without incident.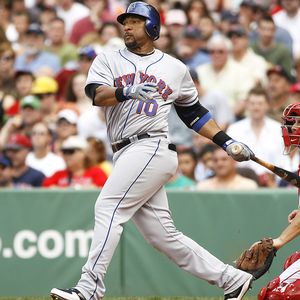 Stew Milne/US PresswireGary Sheffield, who has bailed out the injury-riddled Mets this season, is just the latest guy to get hurt.
• The Mets could use some good news, considering that they may be faced with the possibility of yet another DL addition. This time, it's
Gary Sheffield
, who is nursing a right hamstring issue, originally referred to as a "cramp." The persistent presence of the issue certainly suggests something more than a cramp, and the team has indicated that Sheffield may be placed on the DL if he does not show significant improvement by Friday.
At 40 years old, these things tend to be a little slower to recover, so don't be surprised if the team takes the cautious approach. This comes on the heels of pitcher
Fernando Nieve
's addition to the Mets' ever-growing DL with a right quadriceps injury sustained during an awkward landing on first base. Nieve's MRI showed a muscle tear, which translates to an absence of more than a month. Meanwhile, shortstop Jose Reyes did run the bases in a simulated game in Florida, but as Newsday reports, manager Jerry Manuel acknowledged that it was not even at half speed. Just a reminder as to how problematic these muscle strains can be.
• Twins pitcher
Kevin Slowey
, on the DL since early July with a strained wrist, had a good bullpen session Monday after suffering a setback just before the All-Star break. The latest outing was encouraging and suggests that he could be nearing a rehab assignment this weekend. If there are no further setbacks, it appears that Slowey could be on track to return in August.
• It might be worth keeping an eye on Blue Jays pitcher
Shaun Marcum
as he makes his way back from Tommy John surgery on his right (throwing) elbow. Marcum has been pitching in rehab games, and although he is still working on returning to form, he has been able to deliver some strikeouts. Perhaps most importantly, he reports that the arm feels good and has had no major setbacks. The Jays hope to have him back in the rotation in August, and he is widely available in ESPN.com fantasy leagues. Although it often takes a pitcher until his second year postsurgery to return his full command, it does not preclude him from having good outings before then.
And finally ...
For those willing to take a chance on someone, why not try the Dodgers'
Jason Schmidt
? Although one decent outing does not a successful return make, consider that many thought Schmidt might never pitch again. After two consecutive shoulder surgeries to address a torn labrum, and then to resect the acromioclavicular joint, Schmidt's two-year path back to the majors has been marred by disappointment and setbacks. He and the Dodgers had to be encouraged by the fact that he was able to last five innings in his comeback performance Monday. Schmidt's velocity is not what it was -- and it may never be again -- but the key will be whether he can reinvent himself as more of a finesse pitcher to add years to his career. The jury is still out, but he's widely available in ESPN.com leagues and may be worth picking up, as he certainly has a firepower offense behind him that may help secure him some wins -- assuming, of course, that he stays healthy.