Stephania Bell:

Tom Glavine
April, 14, 2009
4/14/09
5:58
PM ET
By
Stephania Bell, ESPN.com
| ESPN.com
My, oh my, what a week it has been. Emotions have run the gamut this week in baseball.
The tragic loss of young
Nick Adenhart
in Los Angeles had everyone reflecting on the importance of living the dream and doing what you love. The triumphant return of
Chris Carpenter
to the mound for the Cardinals proved that you can come back after almost a two-year hiatus with hard work, dedication and belief that you still have it.
The sad news of Harry Kalas' passing reminds us that there are numerous folks behind the scenes whose contributions help to define the sport. Many of those folks are never seen (or heard) by the public, especially when it comes to those responsible for the medical well-being of the athletes. When it comes to keeping an athlete on the field, there are numerous doctors, athletic trainers, physical therapists and others who play a huge role but remain largely out of public view.
And on that note, here are the players I'm looking at this week in the world of injuries: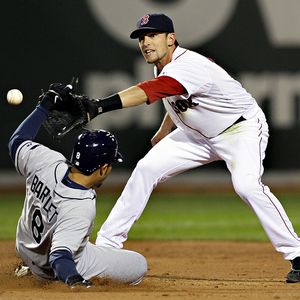 AP Photo/Elise AmendolaJed Lowrie's owners should brace for an "extended absence" from their young shortstop.
Jed Lowrie, SS, Red Sox:
It was no secret that Lowrie was struggling at the plate; we could see he was a mere 1-for-18 with eight strikeouts this season. The secret apparently was that Lowrie's wrist was bothering him all along, according to The Boston Globe. When Lowrie finally made it known to the medical staff that his left wrist was giving him trouble, the Red Sox quickly placed him on the disabled list. The Globe reports that this is the same wrist that gave Lowrie trouble last year, and an MRI at the end of the season revealed a small nondisplaced fracture (meaning the bony parts are in alignment, not fragmented). Symptoms in the same area, however, are never a good sign, as it could suggest that the fracture has not fully healed.
In fact, comments Lowrie made about his wrist in February seem somewhat foreboding in retrospect. In a report by The Providence Journal, Lowrie explained the decision to rest his wrist for a month in the offseason. "We decided not to do surgery just because there wasn't enough time. I probably wouldn't have been ready for spring training if I [had] had the surgery."
Lowrie went on to explain to the Journal exactly how the injury affected him at the plate. "From the left side, and I'm not one to make excuses, it really hindered my ability to swing with any sort of power. My wrist was just not strong enough to keep the barrel above the ball."
Lowrie has been returned to Boston for further testing, and a true timetable will become more apparent once the results are known. The concern here is that after an offseason of rest, Lowrie is experiencing similar pain, and there can be no doubt that it is affecting him at the plate. If several months of rest did not alleviate the problem, it's unlikely 15 days will do so, either. The question becomes what structure or structures actually are causing the symptoms, and what is the appropriate course of treatment? A non-union fracture might require surgery, but inflammation of soft tissues could be addressed with rest, bracing and anti-inflammatories. Until the condition is further explained, this remains speculative, but fans should prepare for the prospect of an extended absence from Lowrie.
Of course, the Red Sox are further incapacitated at shortstop because
Julio Lugo
remains on the DL as he recovers from meniscal surgery. Lugo underwent surgery on his right knee during spring training and is progressing well, but he's still likely another couple of weeks from rejoining his team.
Mark Teixeira, 1B, Yankees:
Speaking of sore wrists, Teixeira has been dealing with soreness in his left wrist for several days now. Fortunately for the Yankees, Teixeira's ailment does not appear to be serious, and the hope is that rest will allow it to calm down. He has been diagnosed with tendinitis in his left wrist, apparently aggravated by batting right-handed. Teixeira suspected he initially strained his wrist when diving for a ball last week, but the inflammation then appeared to be limiting his swing.
In an effort to prevent it from worsening, the Yankees rested him for a few games, but he is expected to rejoin the lineup Tuesday. A recent MRI confirmed the absence of any major structural injury, and Teixeira told MLB.com that the stronger anti-inflammatories he has been taking recently have him feeling much better. Assuming he makes a successful return this week, this does not appear to have the makings of a significant injury.
Ichiro Suzuki, OF, Mariners:
Ichiro has been recovering nicely from the bleeding ulcer that sent him to the DL to start the season. Last week, we said there was reason to believe Suzuki would return as soon as he was eligible to be activated off the DL, and it appears this will indeed be the case. He indicated he will be in the lineup when his team takes the field Wednesday, and the team no doubt will be happy to have him back.
Ichiro did not appear to have missed a beat when he made his first extended spring training start, going 7-for-10 in his first outing and appearing none the worse for wear afterward.
The good news for Ichiro and for fantasy owners is that this ulcer should not present a recurring problem. Ichiro's rapid response to treatment -- coupled with the fact that these conditions can be medically managed very effectively -- suggests a low likelihood that this will interfere with the remainder of his season.
Jesse Litsch, SP, Blue Jays:
I don't like the way this looks. It began with a poor start a week ago and some forearm soreness. Then there was a second poor outing Monday, and by the fourth inning, it was clear something was wrong. Litsch signaled as much, and after a visit with the Jays' athletic trainer, he left the game holding his right arm against his body. The Toronto Star reports that the team is temporarily calling this an elbow strain, and Litsch will undergo an MRI.
This is a recipe for bad news. First of all, he followed a decent spring with two poor starts. And in addition to decreased velocity and trouble with control, Litsch also had discomfort, making this appear more serious. The pain was bad enough to force him to exit early, and the instinctive supporting of his arm by his side is not an encouraging sign. Clearly, the test results will help determine the next steps for Litsch, but brace for a likely shutdown from throwing to rest the arm.
Dewayne Wise, OF, White Sox:
Even his manager, Ozzie Guillen, gave him credit for saving the game Monday. If you saw Wise's amazing play in the outfield, you probably also saw him cringing in pain afterward. As Wise extended his arm to steal a hit from
Ramon Santiago
, potentially saving three runs, he rolled awkwardly onto his right shoulder, separating it. An acromioclavicular (AC) joint separation, as this is called, is a sprain of the ligaments that stabilize the clavicle, or collarbone, with the acromion, the bony tip of the shoulder blade. That AC junction forms the outermost point of the shoulder, and injury to the ligaments there makes it painful to move the arm, particularly across the body or overhead.
Wise has been placed on the DL with what the Chicago Tribune is reporting as a Grade III (complete) separation, and according to the White Sox's Web site, Wise is expected to miss anywhere from six to eight weeks while the ligaments heal. He will initially be placed in a sling to support the painful shoulder and will then work on regaining his range of motion and strength. The most challenging element will be regaining the strength to make a long throw from the outfield. This is not typically an injury that requires surgery, although it can come to that for some "overhead" athletes, particularly if they continue to experience weakness or discomfort as they return to throwing.
Although the team certainly expects to have Wise return to the lineup this season, his rehab process bears watching to see how he progresses once he is allowed to resume throwing.
Brian Moehler, SP, Astros:
He certainly didn't have a great start to the season, yielding seven runs on eight hits in his first outing. And the news only gets worse from there, as it appears Moehler has an injury to contend with, as well. After Moehler left Monday's game early in another forgettable start, the team indicated that he will undergo an MRI on his right knee, which apparently has been bothering him since spring training.
The injury has been described thus far as a sprain on the Astros' official Web site, although there has been no indication of a specific initial injury. Moehler did indicate, though, that the knee had been bothering him "off and on" for a few weeks. Moehler is a right-handed pitcher, so this injury is affecting his push-off leg. If there is any instability, it certainly would affect the power of his delivery. With an ERA of 27.00 in two starts, it certainly seems as though something isn't right, and this could very well be the explanation.
Until the test results are in, it's unclear what his potential timetable to return will be. As of now, the Astros have not even indicated whether Moehler will make his next start.
Milton Bradley, OF, Cubs:
Bradley is expected to miss several days because of a groin strain, and the Cubs have to hope it won't be longer than that. Bradley is no stranger to soft-tissue injuries, having experienced his share of muscle strains, not to mention a torn ACL and partially torn patellar tendon, over the past few seasons. And, of course, he is not getting any younger.
Although the groin strain is considered mild, this is one of those injuries that can rapidly turn into something more serious if a player pushes it too soon. It's possible that this could turn into a trip to the DL if Bradley's symptoms show signs of lingering. That's worth keeping in mind if he's on your fantasy roster.
On the mend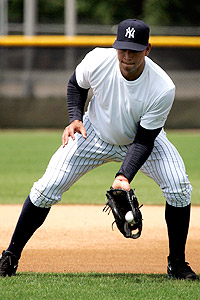 AP Photo/Reinhold MatayAlex Rodriguez is rehabbing hard, and now we can witness it.
There has been an
Alex Rodriguez
sighting in Tampa. Now that he is removed from the protective enclave of Vail, Colo., where he spent his first few weeks rehabilitating his surgical hip, we can see Rodriguez doing some of his workout drills. And he reportedly looks good. He appears physically fit and happy, both of which are important components of a successful return. But before we get too excited, it's important to remember that he is still doing limited baseball activity.
The New York Times reports that, so far, Rodriguez has taken swings off a tee and from light toss, fielded some routine ground balls and done some light running. The real point of interest will be when he is ready to return to game playing. Rodriguez says he feels the next seven to 10 days are very important as he enters the next phase of his rehab. Manager
Joe Girardi
has been careful to say that he maintains the expectation of a mid-May return for Rodriguez and that he does not want to push unnecessarily. So far, the steps A-Rod is taking suggest he could meet the target, but his biggest tests on the hip -- power hitting, hard running, diving and sliding -- have yet to take place. It's still a lot to accomplish in a short time. We will be watching closely ... especially now that he's in Tampa and we can actually do so.
Just last week, I placed the Angels'
Kelvim Escobar
in the "good news" department. Since then, the team has talked about shutting down his throwing for a few days. I'm not throwing in the towel here just yet. Remember, Escobar was well ahead of schedule in his rehab after labral surgery. His soreness is in the front of the shoulder (less worrisome), and his activity has simply been scaled back to ensure that this does not turn into something more serious. Escobar still could return in May, and even that would still place him ahead of his original timetable.
Meanwhile, Braves pitcher
Tom Glavine
is paying a visit to the one and only Dr. James Andrews this week. Glavine, who is coming off surgeries on his elbow and his shoulder, experienced discomfort in his shoulder this past weekend that forced an early exit from a minor league rehab start. Glavine is not speculating about his future, saying only that he's "remaining optimistic that [he] just popped some scar tissue," according to the Braves' Web site. At 43, it's a lot to hope for, but it would be nice for Glavine to end his career on his terms. This is not exactly confidence-inspiring, but I would not call him finished just yet.
And finally, Royals outfielder
Jose Guillen
was placed on the 15-day DL Friday because of a partially torn hip flexor. The concern with this 32-year-old's injury is whether it will turn into multiple DL stints or whether Guillen can really return as expected. There are a couple of reasons to be optimistic. First, according to general manager Dayton Moore, "Jose wanted to play through it, but this is the right thing to do for him and the team." If Guillen thought he could play through it, it could not have been too awful. Second, Moore indicated that the team was operating from a position of being proactive when he said that the team did not want to risk losing Guillen for months or, even worse, to surgery should the outfielder continue to play in cold weather early in the season, and perhaps worsen the injury. In other words, they'll take a more conservative approach and lose a few days now instead of weeks or months in the meat of the season. By the sound of it, the team is viewing this episode as minor.
June, 11, 2008
6/11/08
5:35
PM ET
The Braves deserve a free pass. They have just had their unfair share of injuries. Add the Padres to that group as well. And while you're at it, throw in the Angels. The Mariners had been pretty lucky, until today when
J.J. Putz
left in the ninth inning with soreness in his right elbow after throwing just 10 pitches. This does not sound encouraging. More on his situation should be known later this week, but for the other folks suffering setbacks, please, continue on.
[+] Enlarge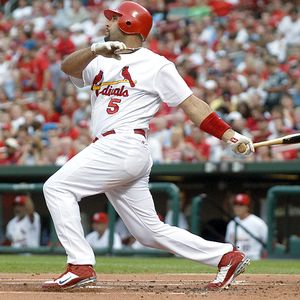 Jeff Curry/US PresswirePujols will miss at least three weeks with a calf injury.
Albert Pujols, 1B, St. Louis Cardinals:
Surprise, surprise! It's not his elbow that's sending Pujols to the DL. It's his calf. Pujols first strained the left calf muscle on June 3, then sat out Wednesday's game and most of Thursday's doubleheader, coming in only to pinch hit. The calf never really seemed to be 100 percent, though as Pujols was still sore heading into Friday night's contest. Then, in the bottom of the seventh Tuesday night, Pujols only made it a few steps out of the batter's box when he fell to the ground, clearly in pain, as the calf made it clear that it was not going to cooperate. Pujols appeared to have difficulty bearing any weight on the leg as his teammates helped escort him from the field. There doesn't seem to be much doubt about where he's headed since manager Tony LaRussa told the St. Louis Post-Dispatch, "I don't think there's a way he's going to avoid the disabled list." Pujols will be examined by the Cardinals' team physician Wednesday and the team will no doubt make it official after that. Given that this is an exacerbation of a milder strain from a week ago, and Pujols strained the same calf fairly seriously in September of 2007, it would be wise for him to shut it down completely to allow the muscle more recovery time. Though we haven't heard much about Pujols' elbow bothering him (and we know he has at least a partially torn ulnar collateral ligament), and he certainly hasn't suffered at the plate so far as a result, the forced rest can only help prolong the life of his elbow too. The Cardinals had indicated prior to the start of the season that they planned to rest Pujols more to help maintain his overall health and not abuse his body, but that really hasn't been the case. Pujols has sat out only two games this season, so the Cardinals may have been lucky that he hasn't broken down sooner. This trip may be just what the doctor ordered.
Tom Glavine, P, Atlanta Braves:
It was just about two months ago when we were remarking how Glavine was being forced to the DL by a hamstring injury for the first time in his career. Now he's making a repeat visit, but for another, perhaps more worrisome, injury. Glavine left Tuesday's game against the Cubs in the fourth inning with what is being called a strained left elbow. The Atlanta Journal-Constitution is reporting that Glavine will undergo an MRI on his elbow later this week. Apparently Glavine has been dealing with soreness in his elbow since May, unbeknownst to anyone outside of the organization. Glavine said that originally the stiffness would occur just between starts, and then gradually the elbow began to stiffen as the games would wear on. Glavine added "the last two games it's been pretty much every pitch I've thrown. It's not getting any better." This is not exactly what the Braves want to hear. They have lost
John Smoltz
from their starting rotation as well as Hampton (though you could argue that he was never really there). Soriano is day-to-day and remains a concern because of lingering elbow symptoms. Now add Glavine who will, at the very least, miss two weeks, but likely more as he will have to gradually resume a throwing program if and when his symptoms settle down. More will be known as to whether there is an obvious structural issue in Glavine's elbow after Thursday, but until then, the Braves will simply be keeping their fingers crossed that they are not about to lose their third starting pitcher this year.
[+] Enlarge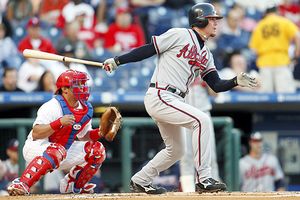 Howard Smith/US PresswireThe oft-injured Chipper has another nagging ailment.
Chipper Jones, 3B, Atlanta Braves:
The injury was not new, but keeping Jones out of the lineup for more than a day was. Jones, who reportedly has a small tear in his right quadriceps muscle, sat out Sunday and Tuesday, with the exception of a single pinch-hit appearance Tuesday. Jones acknowledged that the quad is still sore, but was able to take some swings during batting practice and field some grounders, according to the Braves' official Web site. Originally slated to be out until Thursday or Friday, Jones says he hopes to return to the lineup Wednesday but admits he couldn't run the bases. It still seems like a risky play to have Jones in the lineup when he is so clearly not at full strength. Of course, when a batter is hitting .420, there is a delicate balance to maintain so he doesn't lose the zone that someone like Jones is in. But consider that Jones originally injured his quad April 9 on a cool night in Colorado. Then, on April 20, Jones was forced to leave the game in Atlanta after aggravating the injury. Now it's June, and that same quadriceps muscle acted up just steps out of the batter's box Saturday night. According to the Braves' official Web site, their medical staff considered using a needle to extract blood from around the muscle. But Jones opted for a less invasive pressure wrap instead -- and who could blame him? Nonetheless, the presence of blood indicates that the injury was more than just microtrauma. The risk is that this injury gets still worse instead of better, potentially sidelining Jones for a extended period of time. The Braves could opt to utilize Jones as a DH initially in upcoming interleague play, which would spare Jones the sudden movements associated with playing defense. It does not, however, prevent him from having to run from home to first, which is exactly how he aggravated the injury this past week.
Ryan Church, OF, New York Mets:
Church had a nasty collision with
Yunel Escobar
on May 20 and has not felt like his former self since. Church, who managed to return for four starts since sustaining the concussion injury, is still having symptoms. Intermittent dizziness, fatigue and a sensitivity to light are continuing to bother Church who has now had two concussions this year, the first of which occurred March 1 during a spring exhibition game. According to the Mets' official Web site, Church most recently experienced a pulsating feeling which he described as "a heartbeat in my head." These are not the type of symptoms an athlete should continue to play through and Church is wisely being held out for a fixed period of time via the disabled list. The challenge with concussions is that there is no specific time frame for all the symptoms to resolve, and in fact, concussion severity can only be determined after the fact. Church told Newsday that he will not change his style of play when he does return, other than with the next ground ball, he "might be sliding halfway."
Jake Westbrook, P, Cleveland Indians:
We knew it wasn't sounding good, but the worst fears have been confirmed. Westbrook will undergo reconstructive surgery on his elbow and is done for 2008 and certainly a portion of 2009. Keep him in mind for a midseason pickup next year.
Rafael Furcal, Los Angeles Dodgers:
The Los Angeles Daily News is reporting that we will not be seeing Rafael Furcal for at least three more weeks. A follow-up visit with doctors resulted in the announcement that it will be at least two weeks before he could play in a game. Then there comes the rehab assignment. Then, well, we're almost to the All-Star Break, so you get the idea. What looked initially like a simple trip to the DL has grown ever longer, yet the pattern is not inconsistent with how back pain behaves for all of us. Keep in mind that this schedule is by no means definite.
And in the good news department...
Jake Peavy, P, San Diego Padres:
Peavy is scheduled to return to the mound Thursday after missing roughly three weeks with elbow inflammation. With
Chris Young
's time off being extended, this is good news for the Padres and Peavy has not reported any pain since the last week of May. Now let's hope it lasts...
April, 19, 2008
4/19/08
1:56
PM ET
By
Stephania Bell, ESPN.com
| ESPN.com
First-timers and familiar faces head to the disabled list this week as the injuries continue to rack up in baseball, especially in the pitching department. Not that everything is gloom and doom, though; there are a few folks who are recovering from their injury stint who have return dates on the horizon. What's new in the world of injuries? Let's take a look.
[+] Enlarge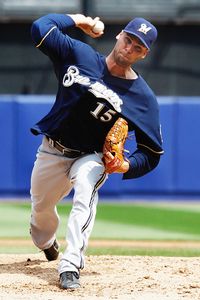 Nick Laham/Getty ImagesSheets and injury go together, unfortunately, like peanut butter and jelly.
Ben Sheets, SP, Milwaukee Brewers:
The all too familiar combination of the name "Sheets" and the word "injury" is back in print. Sheets, who is off to a fabulous start for the Brewers this season with three victories, left Friday night's game in the sixth inning with what is being called "tightness" in his pitching arm. ESPN reports that Sheets felt tightness in his right triceps and even after the game, while all wrapped up in ice, Sheets acknowledged that he was "really sore." He referred to his discomfort as a "kind of crampiness in there." In fact, Sheets began feeling soreness in the triceps Monday, the day after his victory over the Mets. The soreness never really dissipated over the week and the Brewers, comfortably ahead in the sixth inning on Friday, decided to pull Sheets and avoid risking further injury. Sheets' concern over this latest setback may be explained by the fact that his current symptoms are located near where his pain was when he tore his latissimus dorsi muscle in 2005, according to a report in the Milwaukee Journal-Sentinel. That problem lingered into the following season, so naturally Sheets is gun-shy about anything that feels remotely similar. In addition to the latissimus injury, over the past two years Sheets has dealt with a groin strain and a significant finger injury, all of which have amounted to a good stretch of missed time. It is unclear at this point how much time, if any, Sheets will miss with this latest ailment, but the team will continue to evaluate him over the next few days. Fantasy owners who drafted Sheets had to know there was an associated injury risk, and although it is not yet panic time, be sure to secure a backup.
Peter Moylan, RP, Atlanta Braves:
The Braves have to be wondering where the black rain cloud came from that seems to be hovering over their pitching staff. After
Rafael Soriano
went on the disabled list with tendinitis in his throwing arm, the team turned to Moylan for relief. That turned out to be short-lived, because pain in Moylan's elbow after pitching April 11 led to testing which revealed damage to his ulnar collateral ligament (the Tommy John elbow ligament) associated with a bone spur. Moylan paid a visit to Dr. James Andrews, who confirmed the team's findings and suggested Moylan attempt a two-week rehabilitation period to see if he could calm the symptoms and pitch again this season. Although Moylan has said the arm has felt a bit better over the past week, the team is not overly optimistic, and it's likely Moylan is ultimately facing reconstructive surgery on his throwing elbow. For his part, Soriano has thrown from flat ground without any ill effects this past week, and should begin throwing from a mound this week as part of his rehab progression. He is eligible to come off the DL on April 22, and he is confident he will be ready to go, but keep in mind, every step in the progression is more stress on the throwing arm. Until we see the evidence that Soriano can handle the increased workload, it appears
Manny Acosta
will most likely serve as the primary closer.
Carlos Pena, 1B, Tampa Bay Rays:
Pena complained of right hamstring tightness Thursday when the Rays faced the Twins, and was removed after the fourth inning as a result. The good news is that Pena did not feel any pain at the end of the game, according to a report in the Tampa Tribune. There was no audible "pop," or anything else that would suggest a serious injury here. As Pena said, he may just have exceeded his "speed limit" and his leg gave him a warning. The Rays have to be somewhat relieved since Pena has jumped out to such a strong home run start. He was held out of Friday's game, largely as a precautionary measure, but he may return to DH this weekend, according to an Associated Press report. The team is wise to give him a few extra days of avoiding hard running so this does not evolve from a minor episode of tightness to a major muscle injury. In the big scheme of things, fantasy owners should not be too concerned about this, because it appears to be just a minor setback.
In brief
Tom Glavine, SP, Atlanta Braves:
All good things must come to an end. And so it is with Glavine's amazing 22-year run of avoiding the disabled list. The Braves placed Glavine on the DL Friday, retroactive to Monday, with a strained right hamstring. Although Glavine, who injured his leg Sunday, was expected to be able to pitch against the Dodgers Saturday, ESPN reports that the Braves' team physician apparently felt Glavine's body was not quite ready for competition. In the interest of keeping this from becoming a more serious injury, Glavine will rest and continue to rehabilitate the leg until at least May 1, when he is eligible to be activated. The Braves have certainly had their share of pitching woes early in the season, but as Glavine says, maybe "we're getting it all out of our system."
Jose Reyes, SS, New York Mets:
Reyes was back in the lineup Tuesday after missing several games with a strained hamstring but showed no ill effects, going 4-for-5 against the Nationals. Unfortunately he may have something new to contend with as he hit his head against Phillies' second baseman
Chase Utley
's knee during a headfirst slide Friday night. Although Reyes was tended to for several minutes after the slide, he remained in the game and finished it out. While that would suggest that the injury was not serious, it is worth watching to see if the Mets hold Reyes out at all through the remainder of the series.
[+] Enlarge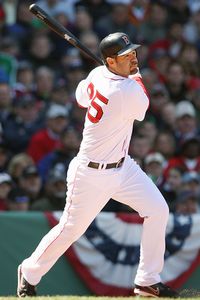 Elsa/Getty ImagesIf he continues his progress, Lowell could be hitchiking in no time.
Mike Lowell, 3B, Boston Red Sox:
The Boston Globe is reporting that the swelling in Lowell's sprained thumb has decreased significantly to the point where he may be able to start swinging a bat soon. There are still a number of rehab steps for Lowell to take, of course. He will begin by hitting from a tee, then progress in batting, then begin fielding exercises, with the ultimate progression to situational exercises, such as diving for balls. Manager Terry Francona told the Globe he did not expect Lowell to be ready to return when he is eligible to come off the DL (Friday), but that is not a big surprise given Lowell's initial timetable was a range from two to four weeks. Nonetheless, the improvement in the swelling is significant because that can be the biggest barrier to progressing activity after this type of injury.
Your questions
Since I have had so many outstanding questions in my Friday chats, and we never have enough time to answer them all, I decided to incorporate some of your questions into my blog each week. Many people are wondering about the long-term ramifications of
Pedro Martinez
's hamstring injury, including this writer:
JimBob (Wash DC):
Hi Stephania, My question relates to Pedro Martinez. ... How serious is his injury, is it a universal injury or is it related to his age, is it going to be a reoccurring injury and/or indicative of other injuries to come, and how do you value him (upon his return) with reference to other pitchers (e.g., is he at the level of Peavy, Billingsly, or
Randy Johnson
)? Thanks!
Stephania:
You are asking a great question, because it reflects all of the different variables you have to consider when evaluating Pedro's situation. Yes, hamstring injuries are universal in the sense that they affect everyone. We have seen pitchers, who rely on the hamstring for trunk and body control during ball delivery and follow through, suffer a strain here. We also have seen hitters suffer hamstring strains, generally during baserunning, because they use the muscle for speed and power. The degree of injury can vary widely, ranging from tightness (which suggests a minor strain or microtearing) to an audible pop, which suggests a more significant injury. The location of the injury can vary as well, from the tendinous region (where the muscle anchors to the bone) which can be near the top, near the pelvis, or near the bottom portion, near the knee to the muscular portion, which is usually felt in the middle of the thigh. Age is relevant in the sense that it can take longer for these injuries to heal in an older athlete, although that is not exclusively the case. The degree of injury and the athlete's level of fitness and flexibility all play a role. In Pedro's situation, perhaps the most concerning thing is the fact that he is dealing with a shoulder that has come off of an extensive rotator cuff repair. He simply cannot throw as hard as he used to, and he relies on his core strength and his legs to help him deliver the ball effectively and offload the arm. If his leg is not at full strength, it potentially compromises his arm. In my estimation, this is why he will not return until the team is convinced his leg is at full strength, and why we heard earlier this week that his return could be delayed until June. I think his value drops as a result of these factors, and even prior to this injury, we did not really expect him to go deep into games, which may mean less "wins" for your fantasy team. I think he is highly motivated to return, which is a positive for him, and he already came back from a shoulder surgery from which few recover. But the physical limitations are what they are, and as a result you need to temper your expectations for his performance, whenever he makes it back.
Thanks for all the great questions and I will keep posting them here on a weekly basis. Best of luck this week and may all your fantasy players stay healthy!!!
April, 15, 2008
4/15/08
1:58
PM ET
By
Stephania Bell, ESPN.com
| ESPN.com
Is it just me or did anyone else notice that
David Ortiz
suddenly got a hit once his jersey was extricated from the bowels of the new Yankee Stadium? I have been keeping a close eye on him, not only because I have him on two of my fantasy teams, but also because some have been wondering whether his offseason knee surgery is to blame for his slow start. All along, I have maintained that based on Ortiz's comments and his performance in the spring, his knee is not to blame. Now that Ortiz has a hit, just hours after his buried jersey was removed, and one day after he
sat out
the final game of the series between the Yankees and the Red Sox, it appears that Ortiz has taken steps to right his ship. Coincidence? Hmmm. I'm not so sure.
On that note, we move on to the actual injuries of the week.
[+] Enlarge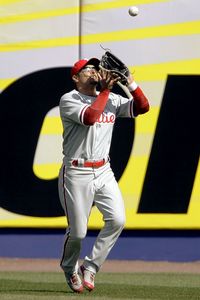 Rich Kane/US PresswireShane Victorino is one guy you definitely want to have good and healthy wheels.
Shane Victorino, CF, Philadelphia Phillies:
Victorino was removed from Saturday's game with a strained right calf muscle, injured during the fifth inning when he ran home from third to score on a wild pitch. Victorino was immediately placed on the disabled list, raising the level of concern over his injury. The Phillies did not waste any time because Victorino actually missed about one month after the All-Star break with a similar strain last year. The team reported Monday, according to the Philadelphia Inquirer, that an MRI revealed the strain to be in a different area of Victorino's calf than last year, giving them some hope that he could make an earlier return. Despite the fact that the injury is in a different location, it is troublesome that he has had another strain in the same muscle, especially so early in the season. The calf muscle is necessary for explosive push-off, especially during acceleration, something an outfielder has to do constantly to get a jump on a fly ball. It is also necessary for baserunning, particularly in steal (sprint) situations, as evidenced by the way Victorino most recently injured his calf. On the positive side, addressing this latest setback seriously by resting Victorino may be just the thing that keeps it from being a lingering problem this season. Look for him to return to action as soon as the disabled list stint is up, but keep in mind that this could crop up again in the future.
Tom Glavine, SP, Atlanta Braves:
At 42 years young, with no prior experience on the disabled list, Glavine is a marvel. On Sunday, however, Glavine had the shortest outing of his 22-year career when he felt his hamstring on his landing leg "grab," according to the Atlanta Journal-Constitution. Glavine later said that he knew right away it didn't feel right. All pitchers rely on the hamstring in their landing leg to help stabilize their trunk during deceleration and follow-through, so Glavine will need to be pain-free before he returns to the mound. For his part, Glavine expects to play catch today and maybe throw a bullpen session Wednesday. If all goes well, he may make his next start (scheduled Friday), or delay it by only a day. Glavine made it clear to the Atlanta Journal-Constitution however that he will not push to start simply to maintain his streak of avoiding the disabled list. He may be stubborn, but you don't succeed in this league as long as he has without being smart. He will do what is best for the long-term interest of both him and the team. Of note, the Braves'
Mike Hampton
, currently on the disabled list with a pectoral strain that kept him from making his first major start since 2005, may throw a bullpen session this week. The Braves would love to get him back into the rotation soon.
[+] Enlarge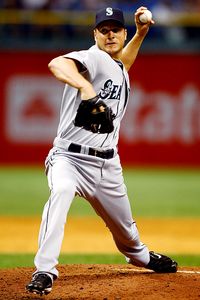 J. Meric/Getty ImagesMore hip problems have sidelined Bedard.
Erik Bedard, SP, Seattle Mariners:
Bedard continues to be bothered by what the Mariners are calling "inflammation" in his left hip, according to the Seattle Times. Bedard was scratched from a scheduled start two Sundays ago, then managed to pitch two days later, but had a somewhat shaky outing and threw 107 pitches. Bedard was again scratched this past Sunday as a result of his hip acting up. As a left-handed pitcher, not only must Bedard put full weight through his left hip during the windup, he must also rotate his body on his hip as he moves through his delivery. Any soreness or irritation in the joint will prevent him from throwing with his normal mechanics and would likely render him far less effective. The concern here has to be defining what the source of this hip inflammation truly is. There have been conflicting reports out of Seattle. According to the Seattle Post-Intelligencer, the team says that Bedard initially aggravated the hip during some pregame workouts, but according to the
Seattle Mariners
' official Web site, Bedard said that he woke up with pain in his hip Saturday. Clearly it stuck around until Sunday, preventing his start. Additionally, Bedard reported having some similar pain in 2001, but indicated that the pain then was far worse than it is this time around.
Bedard is not scheduled to head to the disabled list, at least not yet, but he did not play catch Monday as originally planned. There is a chance that he will do so Tuesday, but any return to light throwing will determine the subsequent timetable. We will keep an eye on this situation.
In brief
Jose Reyes, SS, New York Mets:
Reyes sat out several games at the end of the week with a strained left hamstring. These hamstring strains seem to be making their way around the league, but they are of particular concern when they affect the players who make their living based on speed. Reyes has said he expects to play Tuesday so this does not appear to be a serious strain. Let's hope there are no setbacks.
Dontrelle Willis, SP, Detroit Tigers:
Willis hyperextended his right (landing) knee Friday when he slipped on a wet mound. Frankly, he was lucky to walk off the mound. The way Willis' weight came down hard over a hyperextended knee could have resulted in a major ligament injury, but luckily, that was not the case. Hyperextension stresses the posterior structures of the knee in that it places an unnatural stretch on them and there can be some pain and inflammation as a result, even in the absence of major structural damage. Willis was placed on the 15-day disabled list to allow the knee some rest, but the rest may be beneficial for Willis in more ways than one. Clearly he has been struggling with his delivery, as he was Friday night before the injury, and the downtime may help him to reset and come back stronger.
Jorge Posada, C, New York Yankees:
Posada is still recovering from a strained shoulder, something Posada referred to himself as "dead arm," and although he has been available as a designated hitter, he is still not able to make the throws necessary to resume his position. If you watched the game Sunday night, Posada had to move behind the plate when backup catcher
Jose Molina
strained his hamstring. He was instructed not to try to throw out runners for fear of aggravating his recovering arm, and the Red Sox caught on. There is still no official date for his return so plan on another week of him in the DH role.
Adrian Beltre, 3B; Mike Morse, RF; J.J. Putz, RP, Seattle Mariners:
Beltre developed a sore hamstring after baserunning Saturday. He was able to return Monday, indicating that this is not a serious injury, but nonetheless, it is worth being aware of as this is the type of thing that can easily recur. Morse injured his left shoulder while diving for a ball in the outfield (actually, when landing from the dive) and is now on the disabled list. It is being called a shoulder dislocation but Morse's quote in the Tacoma News-Tribune ("It popped out and popped back in.") makes it sound more like a subluxation, where the shoulder slips slightly out of joint, but does not remain out. The important distinction is that a subluxation episode often results in less trauma to the soft tissues around the joint, making a return after a 15-day disabled list stint more reasonable. Putz is still on the disabled list with costochondritis, but he did throw for six minutes before Sunday's game. It looks as if he is on track to return in late April.
Matt Garza, SP, Tampa Bay Rays:
Garza, currently out with radial nerve inflammation which affects the muscles in his forearm and in turn affects his grip, has been able to play catch for a couple of days now. The next step could be a side session, followed by a rehab start. The St. Petersburg Times reports that the Rays are now optimistic that Garza could return on the early end of his projected timetable, meaning in approximately two weeks. With ace
Scott Kazmir
looking at a late-April or early-May return from elbow inflammation that cropped up during spring training, the Rays have to be feeling sunny about the outlook for their starting rotation.
Placido Polanco, 2B; Carlos Guillen, 1B, Detroit Tigers:
Polanco sat out Sunday's game because of back stiffness. This was the second time this season that he has missed a game because of his back. It sounds as if it is a minor issue -- minor that is, unless he misses much more time. Polanco owners should keep an eye on this. Guillen strained his right hamstring in the ninth inning of Friday's game and did not play Saturday as a result, saying that the hamstring felt "tight and sore." Guillen was able to return Monday night, however, and drove in some runs. So far this looks to be a minor incident, but keep doing your stretching, Carlos.
Nomar Garciaparra and Andy LaRoche, 3B, Los Angeles Dodgers:
Garciaparra, who was hit by a pitch during spring training that resulted in a small fracture, has been out of commission since mid-March as a result. Garciaparra has been playing some Triple-A ball, and according to manager Joe Torre on the Dodgers' official Web site, he could return as early as the end of this week. The most important thing for the Dodgers is that he return healthy since they do not exactly have backups in place if he reinjures himself. LaRoche, injured in the same game as Garciaparra with a torn ulnar collateral ligament in his thumb, underwent surgery and has been gradually rehabbing the hand ever since. LaRoche actually made some throws across the infield this week and the Dodgers' official Web site reports that LaRoche felt "better than expected." It is normal for him to still be experiencing some soreness in the thumb, but LaRoche is hopeful that he will be able to begin some minor league play this weekend. His original timetable had him missing approximately eight weeks, which would mean a return date near the end of the first week in May. So far, his progress is consistent with that timeline, assuming he does not have any setbacks as he increases the use of his thumb.
That's it for today's update. There are plenty of players we're keeping our eye on for a targeted return in the not too distant future. For more on those players, and of course, for any new developments, check back throughout the week as we will update them right here. And be sure to stop by my chat on Friday mornings at 11 a.m. ET as we talk about all things injury. Never a shortage of topics there! Good luck with your fantasy week, and may all your players stay healthy.