Stephania Bell:

Tommy Hanson
August, 22, 2011
8/22/11
2:39
PM ET
• It was nice to see
Philadelphia Phillies
righty
Roy Oswalt
have such a successful outing this weekend. Remember in June when Roy Oswalt expressed so much frustration with his ongoing back troubles that he thought his career might be over? That moment seemed like a distant memory Sunday when Oswalt looked like, well, vintage Oswalt tossing eight shutout innings and fanning nine in the process. Oswalt showing he indeed has quite a bit left in the tank.
• Another pitcher who is making strides is
Atlanta Braves
ace
Tommy Hanson
, currently on the DL with inflammation in his throwing shoulder. Hanson was able to play catch Saturday and is scheduled for a light bullpen Monday. The return to throwing off the mound is always a big test as it increases the stress on a pitcher's arm. If the session goes well, the Atlanta Journal-Constitution reports Hanson could make a rehab start Saturday. The key for Hanson, who currently stands at 130 innings pitched this season, will be taking it slowly to guard against setbacks.
[+] Enlarge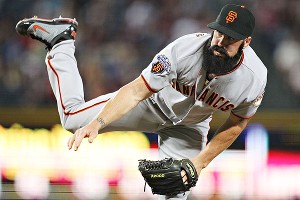 Daniel Shirey/US PresswireBrian Wilson has 35 saves this season, but his WHIP is a subpar 1.49.
• Meanwhile,
San Francisco Giants
closer
Brian Wilson
was placed on the 15-day DL with elbow inflammation. Wilson paid a visit to Dr. Andrews last week (the Giants were in Atlanta to play the Braves and Andrews was close by in Alabama) and was reassured that structurally the elbow was sound. Initially, it sounded as if Wilson would only miss a few days but the move to the DL should not have anyone panicking just yet. First, when Andrews has serious concern about a player's elbow health, he often recommends extended rest and rehab of at least four weeks (like the
Oakland Athletics
'
Brett Anderson
, who did just that but ultimately needed Tommy John surgery). Second, the DL remains a roster management tool and this case allows the Giants to shore up their bullpen. On Sunday, John Shea of the San Francisco Chronicle reported via Twitter that manager Bruce Bochy indicated Wilson could return at the end of the 15 days. Better to get some more rest now and not force Wilson into what could become a more serious issue.
• The
Chicago White Sox
's
Carlos Quentin
has a sprained left A-C (acromioclavicular) joint, the result of a diving catch Saturday against the
Texas Rangers
. The A-C joint, at the tip of the shoulder, is where the collarbone (clavicle) meets the acromion, or point of the shoulderblade, and is bound together by ligaments. When those ligaments are injured, it is termed a sprain. When the sprain is severe enough to cause major ligament disruption, the bones can move apart from one another or "separate," hence the term separated shoulder, which is often used to describe more significant A-C injuries. An interesting note on Quentin. X-rays were reportedly negative of his shoulder, yet the MRI revealed the sprain. This would suggest that the damage is not severe. If the ligament damage was severe enough to result in true separation, the deformity would be visible on X-ray, even though the ligaments themselves are not. The MRI, however, can visualize soft tissue as well as inflammation in the area, confirming the diagnosis of an A-C sprain.
Even a minor A-C injury can be painful, making it difficult to lift the arm. Even though the injury is to Quentin's non-throwing shoulder, the biggest challenge will be using his arm when swinging the bat. Quentin acknowledged as much when he told the Daily Herald, "as a hitter I think your front shoulder is more important." The key early is to control pain and inflammation so that Quentin can regain the necessary range of motion to use his arm properly. Maintaining strength around the shoulder to the best degree possible while the injury winds its course will also be a focus.
•
St. Louis Cardinals
veteran shortstop
Rafael Furcal
must seriously wonder who or what is out to get him now. After breaking his left thumb in early April on a headfirst slide and then straining an oblique in June (resulting in another month away from the game), Furcal suffered a freak injury while on the road with his new team, the St. Louis Cardinals, this weekend. It wasn't even an injury sustained during the course of
playing
baseball. According to the St. Louis Post-Dispatch, Furcal suffered a "severe thumb sprain" when he stumbled as a wooden step leading to the batting cages at Wrigley Field broke. In an effort to brace his fall, Furcal's thumb was twisted resulting in the injury. The bad news? This injury is to his right (throwing) hand. The good news? Well, it's not the same thumb he broke this spring. And maybe, if things really do happen in threes, his 2011 injury woes are now over. As to when he'll be able to return, there's no immediate answer as much will depend on how soon the pain and swelling subside and when Furcal can regain his grip.
[+] Enlarge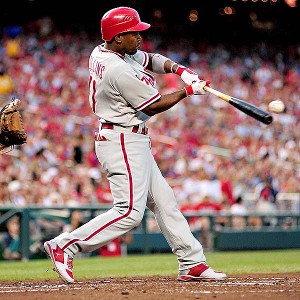 Evan Habeeb/US PresswireJimmy Rollins is fourth among shortstops on the Player Rater this season.
• Philadelphia Phillies shortstop
Jimmy Rollins
' calf has stayed healthy this season but he was forced to leave Sunday's game early with a groin injury. Manager Charlie Manuel indicated he did not know when or how Rollins sustained the injury, according to the Philadelphia Inquirer. However, Rollins underwent an MRI on Monday and tweeted afterward that he had a grade 2 strain and would be headed to the disabled list. As a shortstop, Rollins relies on quick lateral movement more than most, so a significant groin injury could be problematic.
• Teammate
Placido Polanco
is saying he expects to be activated from the DL on Monday. Polanco has been out most recently with a sports hernia and told the Philadelphia Inquirer he feels stronger after the rest. It will be interesting to see how Polanco fares once he returns to baseball. Many athletes try to play through this injury -- some are even successful for a while -- but often ultimately find themselves resorting to surgery. Exhibit A:
Mike Cameron
who fought valiantly through an early season injury last year while with the
Boston Red Sox
but increasingly struggled to run until the injury forced him out. Exhibit B:
Washington Nationals
third baseman
Ryan Zimmerman
, who tried to play after suffering the initial injury during spring training but was forced to undergo surgery when it worsened. It's understandable that Polanco wants to try to play through it, given the timetable for recovery almost matches what's left of the regular season. But it will be challenging, especially in light of his recent issues with a bulging disc in his lower back.
• There was some excitement within the
New York Mets
organization Saturday after
Jose Reyes
did some running in the home park. Manager Terry Collins told the New York Post that Reyes looked "terrific." After his successful outing, Reyes spent Sunday running soft turns, "hugging the outfield grass" according to ESPN New York's Adam Rubin, in preparation for turning corners. The next big test is expected to come Monday when Reyes will increase the output while running the bases. If all goes well, a rehab assignment could be in short order and according to Rubin, Collins says Reyes will head to Double-A or Triple-A for that assignment. Bear in mind that Reyes' latest DL stint came just two weeks after he returned from the prior one (for the same injury) and no one wants history to repeat itself again. While it's impossible to guarantee a successful return, it seems likely the Mets will want to have Reyes repeatedly test the leg at a fairly high level before he rejoins the team.
• Speaking of hamstrings and setbacks, Texas Rangers third baseman
Adrian Beltre
knows a thing or two about such matters. Beltre injured his left hamstring in July, suffering a Grade 1 strain which was expected to sideline him for two to three weeks. He was nearing a return right around the three week mark. Then he tried to run the bases (there's a reason it's one of the final tests). It went well the first time, but in his second effort Beltre felt the familiar grab in his hamstring and was sent back to square one. Now, it's time for him to test the hamstring again. According to the Fort Worth Star-Telegram, Beltre is expected to run the bases Monday if cleared by the Rangers' team physician. There has to be a little anxiety around this activity not only for him but for the team as well, given the previous result. Expect a gradual progression to continue even if this activity is successful.
• And finally, the jury is still out on
Florida Marlins
shortstop
Hanley Ramirez
, on the DL with a left shoulder sprain. Ramirez has been able to work out (throwing, running) but has not been swinging the bat. The injury is to his lead shoulder (see Carlos Quentin above), the same shoulder he previously had operated on following the 2007 season to address a torn labrum. It remains to be seen whether he will be able to overcome this latest injury to return to the Marlins this season.
June, 28, 2011
6/28/11
5:22
PM ET
Another player returns from the disabled list on Tuesday! According to the
Atlanta Braves
' website,
Tommy Hanson
is expected to start Tuesday's game against the
Seattle Mariners
at Safeco Field. Hanson went on the DL with tendinitis in his throwing shoulder but has commented on how good his arm has been feeling the past few days. It appears the rest has helped; now the key will be to see how he feels over the next few major league outings. The
St. Louis Cardinals
are also getting a key player back Tuesday night. Third baseman
David Freese
, out nearly two months following surgery to repair a broken bone in his left hand after being hit by a pitch, was activated Monday and is expected in the lineup against the
Baltimore Orioles
on Tuesday. Freese has had enough successful at-bats during his minor league rehab outings to convince everyone he is ready to return. Given how well he was hitting the ball at the time of his injury, if he can return quickly to that type of productivity, everyone (Freese, Cardinals, Freese's fantasy owners) wins.
Quick hits
[+] Enlarge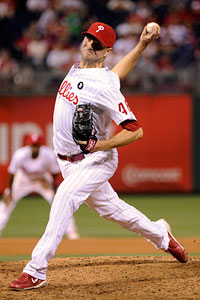 Howard Smith/US PresswireRyan Madson proved last season that he can be one of baseball's most dominant closers.
• The
Philadelphia Phillies
have placed
Ryan Madson
on the DL with a bruised right hand, their third closer to be sidelined this season. The team started the year without
Brad Lidge
because of a rotator cuff injury, and his return date is still in question.
Jose Contreras
is currently on the DL with a flexor tendon strain in his forearm and is expected out for over a month. Madson was originally injured May 20, when he was hit by a ground ball during a game against the
Texas Rangers
. He has had intermittent pain since that time but has been able to pitch through it -- and pitch effectively -- until recently. Madson has not pitched since June 18 and his DL stint will be retroactive to that date. After receiving a cortisone injection Friday, the hope is that inflammation in Madson's hand will settle and this will not be a long-term issue. In the meantime, it appears
Antonio Bastardo
will fill the closer role.
• There is some encouraging news about
New York Yankees
shortstop
Derek Jeter
, who has begun baserunning drills at the team's spring training facility in Florida. According to reports, Jeter ran from home to first four times, first to second three times and first to third once. This is a significant step, as baserunning presents one of the biggest challenges when returning from a calf strain. Still, running bases in drill format is not quite the same test as running in a game situation in which reaction, hesitation and directional changes exist. This is why Jeter will not be returning from the DL when eligible Wednesday but instead will continue to increase the vigor of his activity. The team is smartly refraining from setting a timetable and is watching Jeter's response to each incremental challenge.
•
Cleveland Indians
outfielder
Shin-Soo Choo
underwent surgery on his broken left thumb Tuesday. Choo, out since last Friday after being hit by a pitch from the
San Francisco Giants
'
Jonathan Sanchez
, is expected to be out for two to three months. Keep in mind that it could be well over a month for good bone healing; then there is the matter of getting the hand strong enough to swing the bat. Fantasy owners would be wise to make roster moves as it is entirely possible Choo could miss the remainder of the season.
• The latest injury catastrophe for the
Minnesota Twins
happened Friday, night when outfielder
Delmon Young
ran into the outfield wall. The wall apparently won that battle, and Young, unable to put weight through the lower leg, was carted off on a stretcher. The team has since referred to the injury as a right ankle sprain but is still awaiting the results of an MRI taken Monday. Looking back at the replay video, Young's foot is visibly forced into an awkward position upon impact against the base of the outfield wall. His toes appear to be bent backward (towards him) as his ankle is forcibly flexed toward him. His foot locks into position while his right knee is bent and the momentum of his body weight continues to move forward until the wall stops him and he falls. It is one of those plays that doesn't look like much in real time but when it is played in slow motion and viewed frame by frame, it's easy to see how it could have been a very painful and potentially damaging injury. Young is already on the DL and it's worth noting that severe sprains, depending on the precise structures involved, can be slow to recover. Despite being a youthful 25 years old, Young has already been on the DL once this year with an oblique injury and struggled with a left turf toe issue during spring training.
[+] Enlarge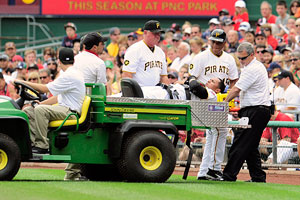 Jeanine Leech/Icon SMIJose Tabata had to be carted off the field after suffering his injury on Sunday.
• Young wasn't the only player to leave the field on a stretcher over the weekend. The
Pittsburgh Pirates
' speedy outfielder,
Jose Tabata
, strained his left quadriceps muscle Sunday while running out a bunt single. He has now been placed on the DL and you can bet the Pirates will be careful with him. Not only is Tabata known for his speed, making him dependent on power from his quads, the Pirates have already experienced delays and setbacks from a quadriceps injury with third baseman
Pedro Alvarez
. Alvarez, originally injured in early May, tried to continue to play only to aggravate the injury to force a DL stint later in the month. He suffered further setbacks during his rehab time and is just now starting to appear in minor league games. While they are not the same style of player nor are any two injuries identical in terms of severity or how they heal, the Alvarez situation certainly serves as a reminder that it is often easier to go backward than forward.
• It appears Texas Rangers shortstop
Elvis Andrus
will not be making a trip to the DL for his sprained left wrist, an injury he sustained Friday when sliding into second base. The Fort Worth Star-Telegram reported early X-rays on Andrus' wrist were negative but when he actually returns to the lineup remains in question. While his return could come as early as Tuesday night, fantasy owners should consider Andrus day-to-day until proven otherwise.
June, 23, 2011
6/23/11
12:36
PM ET
June, 21, 2011
6/21/11
1:50
PM ET
With the
St. Louis Cardinals
' loss of
Albert Pujols
drawing top billing in the injury news Monday, some other injury-related news may have floated under the radar. That is, of course, unless the players connected to those injuries are on your fantasy roster.
[+] Enlarge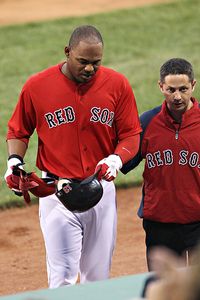 Jim Rogash/Getty ImagesCarl Crawford is one of eight Red Sox currently on the disabled list.
Carl Crawford, OF, Boston Red Sox:
Crawford made an early exit from Friday's game with a strained left hamstring, as he pulled up while running to third on an infield single in the first inning. Despite the news that Crawford's injury was a Grade 1 (minor) strain, the team took no chances and placed him on the 15-day DL the next day. Given that he has to run the bases and run in the outfield, the risk of aggravating the injury if he rushes back is high. Crawford is on the disabled list for only the second time in his career; the first absence was in 2008 for a hand injury. The team is hopeful that Crawford will only require the minimum stay.
Shaun Marcum, P, Milwaukee Brewers:
Marcum left last Friday's game early with what was later termed a left hip flexor strain. As for why he left after just one inning, Marcum said, "I didn't want to take a chance of hurting it worse or actually doing something where I'm missing more time." An MRI taken over the weekend reportedly revealed no significant injury and Marcum threw again Monday. According to the Brewers' website, Marcum threw what pitching coach Rick Kranitz referred to as a "great" bullpen and if he continues to feel good Tuesday, Marcum should make his next scheduled start on Wednesday.
Marcum is the second right-handed pitcher in recent weeks to have a hip flexor strain in his lead leg. St. Louis Cardinals pitcher
Kyle McClellan
recently came off the 15-day DL following a similar injury. According to the Cardinals' website, McClellan believes his particular style of throwing, being "very aggressive on that hip," contributed to the strain he placed on the joint. He spent his recovery time working on making adjustments in that delivery to try and offload the hip. His first outing following his return wasn't fantastic but there were no reports of his hip giving him trouble.
David Freese, 3B, St. Louis Cardinals:
Freese suffered a broken bone in his left hand when he was hit by a pitch in early May but has been steadily making good progress in his recovery. He underwent surgery after the injury to stabilize the fracture and has been quietly, successfully carrying out his rehab efforts. Tuesday marks a big step forward, however, as Freese is expected to begin a rehab assignment with Triple-A Memphis. According to the St. Louis Post-Dispatch, Freese indicated he could rejoin the Cardinals by late June if all goes well. Freese was originally projected to be absent potentially as long as three months, so a sooner return would be welcomed by him and his teammates. Just last year, however, Freese had the misfortune of suffering a second injury while already out on the disabled list, so he knows better than anyone to take it one day at a time. Still, the Cardinals could use some good news right about now, and Freese's near return just might be it.
[+] Enlarge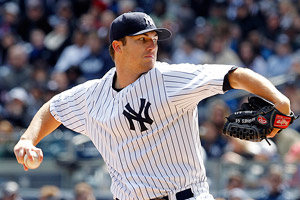 William Perlman/TheStar-Ledger/US PresswirePhil Hughes has a 13.94 ERA in three starts this season.
Phil Hughes, P, New York Yankees:
After a difficult spring when his velocity seemed to have vanished, Hughes appears to have found it again, or so it seems. Hughes underwent a battery of tests to determine whether there was any medical condition responsible for the
drop in his velocity
, but they yielded no significant findings. And so he simply restarted his season.
The do-over seems to be going much better. Hughes has looked good in bullpen sessions but this week marked a new test. Hughes had his first rehab outing Sunday, delivering 4⅓ innings for Class A Staten Island. The most encouraging news from that day was Hughes' ability to maintain the velocity on his pitches, staying in the low to mid-90s throughout. According to the New York Daily News, manager Joe Girardi was encouraged. "His velocity was good, the velocity on his cutter was good," Girardi said. "It just seems that his arm strength is back." Hughes is due for another couple of rehab starts, at least, but appears as if he could be making his way back to the rotation relatively soon, perhaps in early July. It's difficult to know what to expect long term, especially since Hughes' condition was so puzzling even to those around him. Right now, everyone is just enjoying the fact his ship seems to be righted.
Quick hits
• Other Red Sox in the injury news: Staff ace
Josh Beckett
was scratched from his Tuesday start as he deals with what manager Terry Francona referred to as "intestinal turmoil." It's surprising Francona doesn't have a similar condition dealing with all the ailments his team has faced recently. Just this past week, pitcher
Clay Buchholz
(back) joined Crawford on the DL, as did
Jed Lowrie
, who is now headed west for a consultation with Dr. Lewis Yocum. Lowrie has been trying to play through a sore left shoulder (injured in a collision with Crawford in late May) but last week described a sensation of the shoulder slipping in the joint.
•
Atlanta Braves
pitcher
Tommy Hanson
is reportedly feeling better. Hanson was placed on the DL with inflammation in his throwing (right) shoulder. An MRI showed no significant injury, but the Braves opted to rest him proactively. The Atlanta Journal-Constitution reports the team hopes to have him back when eligible on June 28. Meanwhile teammate
Brandon Beachy
will start Wednesday in place of the injured Hanson. Beachy has been out for more than a month with an oblique strain but said he felt no discomfort after going five innings in a rehab start last week. Once recovered, the re-injury rate for obliques is generally low. If Beachy can deliver a couple of strong outings without incident, this will appear to be behind him.
•
Ubaldo Jimenez
had a cramp in his right calf Saturday, which ultimately forced him out of the game in the sixth inning. Afterward, Jimenez told the Denver Post that he was "a little bit sore" but did not sound overly concerned.
• The
New York Mets
'
David Wright
(stress fracture, back) and
Ike Davis
(bone bruise, ankle) are both scheduled to be evaluated later this week. Newsday reports Wright played catch Sunday and fielded grounders on his knees. He is sounding optimistic that his healing has progressed enough to earn him clearance to resume baseball activities. Meanwhile Davis is expected to undergo a follow-up evaluation on Wednesday. The hope is that his ankle will have recovered enough for him to tolerate a running progression. Before Davis was placed back in the walking boot, his attempts at running were limited by severe pain.
June, 17, 2011
6/17/11
3:16
PM ET
Joe Mauer
does not have Lyme disease.
That was one of the questions the
Minnesota Twins
catcher answered Thursday when he addressed the media. There have been numerous questions about the
nature of Mauer's extended illness
and his recovery since he went on the disabled list in April. According to the Minnesota Star-Tribune, the decision to talk to the media was made in order to prevent Mauer's Friday return from becoming a distraction for the team. While Mauer wouldn't go so far as to say he's 100 percent healthy, he did say he was feeling "great" and that he's prepared to catch back-to-back games. Certainly the Twins are hopeful that his return will last. Time will tell.
[+] Enlarge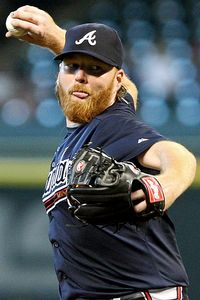 Troy Taormina/US PresswireTommy Hanson said his shoulder has been an issue for a few starts, but in June, he's 3-0 with a 1.42 ERA with 24 K's in 19 innings.
The
Atlanta Braves
have a couple new injury concerns. Pitcher
Tommy Hanson
was scratched from his Friday start with what the team is calling tendinitis in his throwing (right) shoulder. The team later placed him on the 15-day DL. The Atlanta Journal-Constitution reports the shoulder has been bothering him for a couple starts. Not that anyone would have noticed, especially given that he had struck out 14 in his last outing.
Meanwhile, third baseman
Chipper Jones
left Thursday night's game with a right adductor (groin) strain. According to the Braves official website, he received an injection immediately afterward. Jones has been dealing with groin issues intermittently since late May and at 39, these soft tissue injuries just don't heal quite as quickly. For now he is considered day-to-day.
The
Boston Red Sox
also had a couple of early exits Thursday night. Pitcher
Clay Buchholz
left the game after five innings with tightness in his lower back. According to ESPN Boston, Buchholz described it as "a nagging back that's been the same since last year." Buchholz acknowledged that by the fifth inning he could tell he was compensating in his delivery for the discomfort in his back. Knowing that this can lead to other injuries, such as the shoulder or elbow variety, is one reason the team wants to address this. Buchholz is expected to be evaluated back in Boston.
Meanwhile, his teammate
Jed Lowrie
continues to experience problems with his left shoulder nearly three weeks after originally injuring it in a collision with
Carl Crawford
. Lowrie told reporters Thursday of the sensation he experienced while striking out, "It felt like it slipped out. It wasn't out, but it felt like it came out and went back in." His description fits that of a classic subluxation, where the shoulder feels like it moves out of place but does not dislocate. It can be painful not only when it happens, but afterward, as the muscles around the joint can go into protective spasm. Lowrie, who left Thursday's game in the first inning, was then placed on the DL on Friday. While an earlier MRI turned up nothing significant, the DL stint does give Lowrie not only the time to let the symptoms subside, but to work on the necessary strengthening to protect his shoulder going forward.