Stephania Bell:

Troy Polamalu
November, 17, 2009
11/17/09
4:45
PM ET
The joy of having only two teams on bye this past week quickly faded when more players on the field translated to more players ultimately getting carted off the field. The
New York Giants
and the
Houston Texans
have to be thankful that they did not add to their injury reports as they watched the games from home. Concussions continue to take a toll on fantasy stars, as do ankle and foot injuries. Sprinkled in the mix are rib injuries, muscle strains and knee sprains. In what constituted perhaps my busiest week yet this fantasy football season, many a fantasy must-start quickly became a fantasy must-replace.
What happened to your key players this week and will they recover in time to perform this week? We take a look at what we know so far as we move toward Week 11.
Brian Westbrook, RB, Philadelphia Eagles:
Westbrook suffered his second concussion in three weeks and his football future is uncertain. According to the Philadelphia Inquirer, coach Andy Reid said that Westbrook was "foggy" when he came off the field Sunday after running into
San Diego Chargers
safety
Eric Weddle
. Reid has already indicated that Westbrook will not play Sunday night but the question as to when -- or if -- Westbrook plays again this season remains unanswered.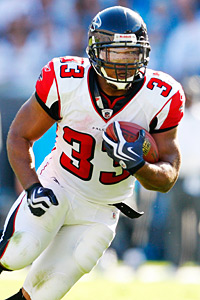 Bob Donnan/US PresswireMichael Turner had run for 111 yards on Sunday before injuring his ankle.
Michael Turner, RB, Atlanta Falcons:
Turner suffered a right high ankle sprain Sunday and was seen wearing a walking boot after the game. While the team has not provided any official information as to Turner's status for this week, high ankle sprains typically require weeks, not days, for healing before an athlete can return to play. The challenges are perhaps greatest at the running back position, given all the stress placed on the ankle. Returning too soon can jeopardize the long-term health of an athlete.
The Falcons are hopeful that
Jerious Norwood
, who has missed the past four games with a hip flexor strain, can return in Week 11. Norwood began running last week, but has yet to return to practice.
Jason Snelling
stepped in when Turner was forced out, but he too was just coming back from injury (hamstring strain) and may not have quite worked up to full speed. Fantasy owners should anticipate the absence of Turner for at least this week and perhaps longer. Practice updates should provide clues as to whether Norwood or Snelling would be more likely to step up in his place.
Ronnie Brown, RB, Miami Dolphins:
Ronnie "Wildcat" Brown was yet another running back forced out of Sunday's game because of a right ankle injury. At least that's how it appeared at the time. More recent news suggests that Brown's foot is the focal point of the injury concern, and the Florida Sun-Sentinel reports that the injury may be more serious than initially thought. Brown is still on crutches, not putting weight on his foot, also hinting at a potentially serious injury. He has already been ruled out for Thursday night's game, with
Ricky Williams
starting in Brown's place, and that may extend beyond Week 11.
Lex Hilliard
is expected to serve as Williams' backup.
Cedric Benson, RB, Cincinnati Bengals:
In Benson's case, it wasn't an ankle that knocked him out of Sunday's game; it was his hip, as the team indicated that their star running back left the game with a hip flexor strain. The Cincinnati Enquirer, however, reports that the injury is officially being called a hip abductor strain. The Bengals' official Web site also references an injury to the abductor muscle. Both the flexor and the abductor are muscles that support the hip; both, when injured, can affect a player's explosiveness and mobility. The hip flexor, which as the name implies, flexes the hip and helps drive the leg when running. It is a very deep muscle (so deep in fact that it anchors to the front of the lower vertebrae in the spine) and can be slow to recover (see Jerious Norwood above who has missed four games thus far with the injury). The abductor muscle abducts the hip, or moves the hip laterally. Its more important function, though, may be as a stabilizer of the hip and pelvis, helping with balance and stability during all movement. Weakness of the abductor can result in a noticeable limp as the pelvis loses stability.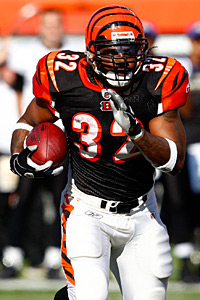 Frank Victores/US PresswireCedric Benson sat out the second half of the Steelers game with a hip injury, but if he plays Sunday, he'll have a nice matchup against the Raiders.
All muscle strains are measured by degree, and in Benson's case the indications from the team (and Benson himself) are that the injury, whichever muscle or muscles are involved, is not serious. In fact, it sounds as if this hip issue is truly an exacerbation of a pre-existing condition, one that has limited Benson in practice as recently as two weeks ago. While coach Marvin Lewis emphasized that the injury did not appear serious, he also indicated that the team would hold him out of Sunday's game against the
Oakland Raiders
if necessary, according to the Bengals' official Web site. Said Lewis, "He really doesn't feel much worse for the wear. He has an opportunity this week. We'll be real cautious with him as we approach the game. If he's not healthy, he would not go. We'll see how he is as he goes through the week. Hopefully, he can make a comeback on this."
Nonetheless, Benson is very likely to be limited in practice this week, and as the Enquirer points out, he could be a game-time decision for the Bengals. That's always a fantasy favorite. It is also worth noting that Tuesday's signing of former
Kansas City Chiefs
star
Larry Johnson
is not expected to impact the running back depth chart, at least not yet.
Julius Jones, RB, Seattle Seahawks:
Jones left the Seahawks' Sunday contest in the first quarter with what was called a chest injury initially. While
Justin Forsett
ran up a storm in his absence, Jones ended up in an Arizona hospital overnight with what the team is officially calling a bruised lung. Coach Jim Mora told reporters that Jones also was dealing with, "potentially, possibly a cracked rib." Mora added that it was "unlikely that [Jones] would be cleared to play on Sunday."
We've already seen an NFL player with a bruised lung this season. Houston Texans wide receiver
Andre Johnson
suffered his lung injury in Week 7 but was able to play the following week. Not all internal organ injuries are created equal, however. The concern of a bony injury nearby could complicate the picture for Jones and lead to extended rest. This will be a wait-and-see situation, but Jones' fantasy owners should not wait to pick up an alternate back for Week 11.
Kyle Orton, QB, Denver Broncos:
Despite Orton's early exit from Sunday's game with a left ankle injury, coach Josh McDaniels remains vague yet upbeat about the possibility that Orton returns for Week 11. While not revealing anything with regard to the specifics of Orton's injury, McDaniels told The Denver Post, "He's definitely not out for the game. We're certainly hopeful we can get him ready to go." Orton's status early in the week is clearly questionable, and much will depend on what he is able to do in practice by the end of the week. The team will be looking at his mobility and whether he can step up as he plants the leg to make longer throws. In case you were flashing back to last year, it was Orton's right ankle that was injured. Although he missed only one game then, he was clearly uncomfortable and far less mobile in his first couple of games post-injury. This very well could come down to game time.
Other quick hits: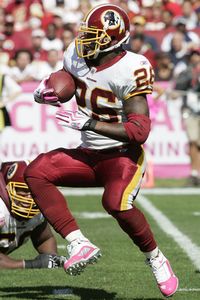 Jeff Fishbein/Icon SMIDon't be surprised to see Clinton Portis miss another game to recover from his concussion.
•
Washington Redskins
running back
Clinton Portis
sat out Week 10 due to lingering concussion symptoms. He may well be out another week. Although the team has not issued a formal status update, coach Jim Zorn told The Washington Post that Portis was still experiencing "blurriness" early in the week with quick head movements.
Ladell Betts
, who did not show any signs of being limited by a foot sprain Sunday, would get another start.
•
Green Bay Packers
wide receiver
Greg Jennings
has accumulated an assortment of nicks this season. His latest injury is being called a knee contusion (deep bruise), and he is likely to miss some practice time this week. There appears to be no serious threat to his availability for Week 11.
•
Indianapolis Colts
running back
Joseph Addai
hurt a finger in the first quarter of Sunday's game, but was able to return in the third quarter, although he had two fingers taped together. His status is not likely to be updated until later in the week, as is typical for the Colts.
Chad Simpson
left the game temporarily with a head injury but was able to return.
Donald Brown
, who missed the past two games with a shoulder injury, came out of Sunday's game for a while with a sore back. The Colts already have perhaps the lengthiest injury list in the league. They have to hope that all of these situations are minor, which, at this point, seems to be the case.
•
Carolina Panthers
wide receiver
Steve Smith
suffered bruised ribs after taking a hit in the back when he made his second end zone grab Sunday. While it is still early in the week, there is no hint from the team yet that his Week 11 status is in jeopardy.
•
Pittsburgh Steelers
safety
Troy Polamalu
injured his left knee Sunday, the same knee in which he suffered a sprained MCL earlier this season. He did not re-injure the MCL, though. Coach Mike Tomlin told reporters Tuesday that Polamalu suffered a PCL sprain and that he would be evaluated throughout the week to determine his status for Sunday.
More to come in Thursday's blog.
See you at the injury chats (Tuesday and Friday 11:00 a.m.-noon, and Sunday pregame 10-10:30 a.m.), and we'll have the latest injury updates affecting Week 11 in the Saturday morning blog!
October, 1, 2009
10/01/09
4:29
PM ET
It's time for fantasy owners to make those midweek trades to boost their fantasy rosters. Injury concerns naturally factor into those decisions, as we try to gauge who is going to miss time and just how long that absence will be. Here are some status updates as we look ahead to Week 4.
Running backsFelix Jones and Marion Barber, Dallas Cowboys
: Jones officially suffered a sprained posterior cruciate ligament and, according to The Dallas Morning News, will sit out this week and might be out until Week 7. The Cowboys have a bye in Week 6, so this timetable would result in Jones' missing two games.
The reality is that it probably is too soon to predict just how much time Jones will miss. PCL sprains are tricky, and although we have not been given an indication as to the severity of the sprain, any PCL injury typically leaves the athlete with some measure of residual instability. In addition to overcoming the initial discomfort and any associated swelling, the athlete then has to develop compensatory strength to counter that instability, which is not as easy as it might sound. There is no doubt that football players are already strong and running backs are exceptionally strong in their legs. It goes beyond pure strength, however, and becomes a timing issue. In other words, the muscles now have to better anticipate sudden stops and starts and directional movements in an effort to minimize shearing at the knee joint.
Reggie Bush
suffered this injury two years ago, and although he returned to play, he was not able to perform in the same way. After he aggravated the injury, his season ultimately ended early. No two injuries are identical, so there is no guarantee Jones will suffer the same fate, but the fact that Jones has suffered two other major injuries (hamstring, toe) on the same side (left) in the past year is of concern. It is important to recognize that this is a challenging injury and the timetable for Jones might need to be extended.
Meanwhile, the Cowboys' No. 1 back still is working to make his way back into the lineup after suffering a strained quadriceps in Week 2. Barber was held out of Week 3 against his wishes but in favor of his long-term health. The Morning News reports Barber did practice Wednesday and was able to do more than last week, leading coach Wade Phillips to be optimistic about his chances for Sunday. Barber will have to continue to increase his activity in practice throughout the week and show that he does not feel worse the next day in order to play. Team owner Jerry Jones told ESPNDallas.com on Thursday that Barber should play Sunday. Jones acknowledged, however, that how Barber performs in full practice with pads ultimately will be the deciding factor. Given that Barber will be just approaching full speed even if he does play this week, fantasy owners should expect
Tashard Choice
to continue to play a big role in Sunday's contest.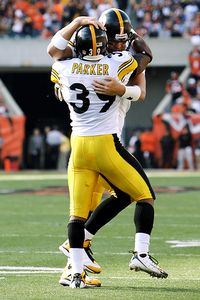 Rich Gabrielson/Icon SMIAfter struggling in weeks 1 and 2, Willie Parker looked sharp against the Bengals but suffered a new injury.
Willie Parker, Pittsburgh Steelers
: A hamstring strain in the preseason resulted in a slow start for Parker, but when he finally was able to open it up in Week 3, he developed a new ailment, turf toe. Fantasy owners have seen what turf toe can do to even the best running backs (read: LaDainian Tomlinson, 2008). There is quite a degree of variability in terms of severity, however, so is not a given that this will be problematic for Parker all season.
In terms of his status for Week 4, Parker has indicated he believes he will play. Parker did not practice early in the week, which is part of the usual course of treatment for this condition. If Parker is not able to practice by Friday, however, his chances of playing Sunday will be far less certain. Teammate
Rashard Mendenhall
, who was benched last week by coach Mike Tomlin, is eager to prove himself. He might get plenty of opportunity to do just that. It would not be surprising for the Steelers to shift the workload in his direction, given the issue with Parker's toe. Parker's fantasy owners should make alternate plans.
LaDainian Tomlinson, San Diego Chargers
: Tomlinson missed weeks 2 and 3 because of a sprained ankle. He made it clear he would not return until he could perform at 100 percent, so his full participation in Wednesday's practice could be taken as an encouraging sign. The San Diego Union-Tribune is reporting that Tomlinson says he feels pretty good, adding, "I want to play in this game." After suffering through several injuries in the past two years, even Tomlinson knows his status will depend on how his ankle responds to the increased stress of practice during the week.
If Tomlinson is ready to play, he will. Yes, the Chargers have a bye in Week 5, but that does not mean they will automatically sit him. If Tomlinson can contribute at a high level without significant concern of reinjury, expect him to suit up. There is the possibility, though, that the Chargers will opt to make his status a game-time decision, and with the game coming Sunday night, that is not a great situation for fantasy owners. Friday's injury report should provide a better clue as to which way the team is leaning.
Clinton Portis, Washington Redskins
: Despite bone spurs in both ankles that limited his practice last week, Portis did manage to play Sunday but left the game early with a calf injury. All indications are that this latest setback is minor, and although Portis did not practice Wednesday, he reminded The Washington Post that he knows how to play without practicing. Portis also told the Post that although his ankle pain bothered him in the first two weeks of the season, the "new program" he's been on is great, adding, "Right now, my ankles don't have any pain." Good news for Portis owners, as he expects to play this week.
Mike Bell, New Orleans Saints
: Bell did not practice Wednesday, and his status for Sunday appears to be in doubt. After all, we saw how challenging it was for Thomas to get back. We also saw how the wait for Thomas paid off. He racked up 126 yards and two scores in his first appearance following a similar injury. If Bell manages to practice late in the week, there might still be a chance for him to play. But if he is limited, the Saints will not take any chances and will allow him to rest for two more weeks (the Saints have a bye in Week 5) before returning to action.
QuarterbacksMatt Hasselbeck, Seattle Seahawks
: Hasselbeck suffered a broken rib in the Seahawks' Week 2 loss to the
San Francisco 49ers
and sat out Week 3. Hasselbeck is still having pain when taking a deep breath, meaning he can't run, as in away from the opponent. The Seahawks' Web site reports coach Jim Mora already has indicated he does not expect Hasselbeck to play in Week 4. Even though Mora previously has said Hasselbeck does not need to practice fully in order to play Sunday, he does need to be able to perform some basics to ensure he's not at risk by playing. Once Hasselbeck is able to do some running, it will provide a clue that he could be returning soon.
Wide receiversWes Welker, New England Patriots
: Welker has sat on the sidelines for the past two weeks with a "knee" ailment (according to the official injury report) that no one is discussing. We know Welker suffered an injury in the preseason but was able to play -- and play well -- in the season opener. Clearly, he suffered a setback, because he has not been able to do much of anything in the past two weeks. Welker did do some limited work Wednesday, but his status for Sunday is iffy at this point. Welker relies on speed, so there is likely some impairment that is affecting his ability to go full out. Fantasy owners might be disappointed that he has not been available, but the good news is that given that he already has suffered a setback, he is not likely to return to action before he can effectively contribute. Stay tuned for practice updates before Sunday.
Individual defensive playersDwight Freeney, DE, Indianapolis Colts
: Freeney suffered a strained quadriceps muscle, and although he's on the other side of the ball, his injury is not unlike the one Cowboys running back Marion Barber is dealing with. Freeney has not ruled himself out for Week 4, although reports suggest he will miss two to three weeks. Like Barber, Freeney needs the strength of his quadriceps not only to be explosive in the rush, but also to dig in and counter the block of an offensive lineman. His optimism is admirable, but fantasy owners should proactively make alternate plans for this week.
Troy Polamalu, S, Pittsburgh Steelers
: Polamalu has been sidelined since the season opener with a sprained medial collateral ligament. The Steelers' defense clearly has missed him, as have his fantasy owners. Polamalu took a big step this week by adding running back into his workouts and told the Pittsburgh Tribune-Review that he "felt well" and would like to play this week if he's able. Polamalu still has some significant tests to pass to prove he is ready to go, and it might well be another week, but fantasy owners should be aware that his return does not appear to be far off.
Be sure to check back Saturday for post-Friday NFL injury report updates on all your fantasy players heading into the weekend.
See you on the injury chats (Tuesday and Friday 11 a.m.-noon ET, and Sunday 10-10:30 a.m. ET). And check out "Fantasy Football Now" on Sundays on ESPN.com from 11:30 a.m. ET to kickoff for last-minute inactives, rankings and more!
September, 15, 2009
9/15/09
1:56
PM ET
With the first week of real games in the NFL season comes a whole new set of injuries to discuss. After all, this is football we're talking about here. The question for fantasy owners is how much shuffling needs to be done before Week 2. Here's what we know so far:
Donovan McNabb, QB, Philadelphia Eagles:
McNabb suffered a broken rib when he was fallen on in the end zone during the Eagles' rout of the
Carolina Panthers
, and McNabb's status for this week is now in doubt.
McNabb was clearly in pain as soon as he was hit, but it was not immediately apparent where the injury was. ESPN's Sal Paolantonio reported that coach Andy Reid said in a postgame news conference that the injury was to a rib in McNabb's lower left side. The location is significant because while any rib injury is painful, the lower ribs also serve as the attachment point for the large abdominal oblique muscles. It is no secret how challenging an oblique injury is to a thrower because of that muscle group's involvement in trunk rotation and throwing. As the left-sided obliques contract, they pull at their attachment site on the ribs. When one of those ribs is broken, each time the muscle contracts it places a movement force on the injured area, causing pain, which can potentially interfere with the healing process.
The primary issue for return to play following this type of injury is pain. While McNabb has proved over time that he is certainly tough when it comes to dealing with injuries, the fact is that the pain might simply override his ability to function. If he cannot be effective throwing the ball, and if playing simply exacerbates or prolongs his pain, then the Eagles might consider resting McNabb this week in hopes that he'll be more effective thereafter.
The primary treatment at this point will be rest. There are various rib belts that can help limit movement, which will in turn help with pain relief. When McNabb does return to play, he can wear padding to help protect the area and might be given a local injection for pain. Once the rib heals, it should not present any long-term concerns, but in the short term, fantasy owners should make alternate plans.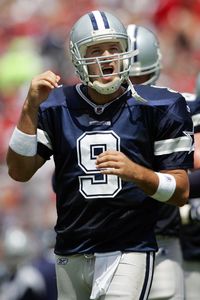 Cliff Welch/Icon SMI Tony Romo suffered an ankle injury Sunday versus the Bucs but was able to play through it.
Tony Romo, QB, Dallas Cowboys:
When Tony Romo was seen favoring his right ankle following Sunday's game, it was cause for concern with fantasy owners. The good news is that, according to The Dallas Morning News, an MRI did not show any major structural damage, and Romo is expected to play this week.
The injury is being termed a sprain, and it sounds as if it is a mild one. Romo, who was injured in the third quarter, was able to finish out the game, which is always a good sign when it comes to assessing the seriousness of an injury. It would not be surprising if he does a little less running this week in favor of alternate cardio work, and we can expect his ankle to be heavily taped for support. But it sounds as if Romo escaped a major injury and should be ready to go Sunday night.
Anthony Gonzalez, WR, Indianapolis Colts:
In what might turn out to be the Week 1 injury with the most long-term fantasy impact, Gonzalez crumpled to the ground with a noncontact knee injury in the first quarter of Sunday's game against the
Jacksonville Jaguars
. According to The Indianapolis Star, team president Bill Polian said Monday that Gonzalez sprained ligaments (note the plural) in his knee. While Polian did not offer a timetable for a return, he did say "we know that it isn't year-ending." Although the Star reports that sources close to Gonzalez say he could miss up to six weeks, it sounds as if this timetable is very open-ended, and likely will be updated based on Gonzalez's progress.
Many fantasy owners drafted Gonzalez in hopes that he would replace
Marvin Harrison
as the starting wide receiver, and run away with it. Now it sounds as if the Colts might seek another receiver to sign, depending on how much time they believe Gonzalez will miss. Without any additional details about the specific ligaments that were injured or the severity of the injury, it is impossible to speculate as to what constitutes a reasonable time frame. There is no question, however, about the need for Gonzalez fantasy owners to find a replacement that will suffice for at least a month.
Other quick hits: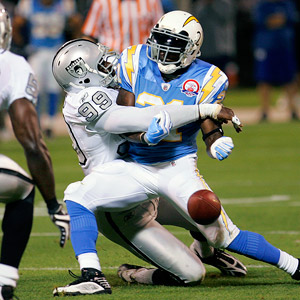 AP Photo/Paul SakumaLaDainian Tomlinson took some pretty big hits Monday night against the Raiders.
&#8226 According to The San Diego Union-Tribune, the reason
San Diego Chargers
running back
LaDainian Tomlinson
was in and out during the second half was because of a sprained ankle. Although he was seen limping after the game, the good news is that he did continue to play, albeit on a limited basis. It does not appear that this will affect his status for next week; in fact, it might just add to the chip on his shoulder regarding theories that he's on the decline. Nothing helps healing like motivation.
&#8226
Pittsburgh Steelers
' All-Pro, all-over-the-field safety
Troy Polamalu
sprained his left medial collateral ligament (MCL) last Thursday night. For more details on the injury,
click here
. The good news is that Polamalu will not require surgery; the not-so-good news is that the Steelers' defense will be without him anywhere from three to six weeks.
&#8226 Speaking of defensive losses, the
Chicago Bears
lost star linebacker
Brian Urlacher
for the season because of a dislocated right wrist. Urlacher underwent surgery to repair the injury and will now spend the rest of the season wondering what might have been. The Bears' defense also is dealing with the tenuous health of other players, including cornerback
Charles Tillman
, who missed the entire preseason while recovering from back surgery. Tillman was active Sunday but might take awhile to get to full strength. The Bears' defense also lost linebacker
Pisa Tinoisamoa
Sunday night when he sprained the posterior cruciate ligament (PCL) in his right knee. Depending on the severity of the injury, it could cause him to miss time, although his status is currently being termed day-to-day.
&#8226 The
New York Giants
suffered a couple of losses on offense Sunday, including wide receiver
Hakeem Nicks
, a first-round draft pick this spring. Nicks left the game with a sprained left foot, but the Giants can at least be thankful he didn't suffer the dreaded Lisfranc injury, which can require season-ending surgery to the midfoot if it's severe. According to the Newark Star-Ledger, he did not suffer that specific injury, and it sounds as if the initial projection of two to three weeks is reasonable. Meanwhile, Giants running back
Danny Ware
also left the game with an elbow injury. The always-unsightly elbow dislocation is likely to keep Ware away for a few weeks as well.
&#8226 In the good news department, Houston Texans coach Gary Kubiak has already indicated that wide receiver
Kevin Walter
, who sat out Week 1 because of a hamstring strain, will play this week.
Note: Stephania will update these injuries and others as the week progresses, including a Saturday update. Also, catch her injury chats Tuesdays and Fridays from 11 a.m. to noon ET, as well as Sundays from 10 a.m. to 10:30 a.m. ET.