Stephania Bell:

Tsuyoshi Nishioka
June, 14, 2011
6/14/11
6:06
PM ET
Did something happen in New York last night? In case you were under a rock,
New York Yankees
shortstop
Derek Jeter
, just six hits shy of his crusade toward 3,000, left the game in the fifth inning with a right calf strain. Jeter underwent an MRI, and it was later described as a Grade 1 (minor) calf strain. While minor, it was enough for the team to put him on the disabled list for the first time since 2003, when he suffered a dislocated shoulder.
[+] Enlarge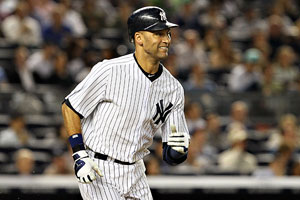 Jim McIsaac/Getty ImagesDerek Jeter goes on the disabled list six hits short of the 3,000-hit plateau.
The biggest challenge with a calf injury is running. It gets particularly tricky a few days after a minor injury, when an athlete starts to feel better walking around, fielding and hitting. But the big test is explosive running. A shortstop such as Jeter may test it when making a big defensive play, but generally the signature move is driving out of the batter's box on the way to first, which, not surprisingly, was how Jeter suffered the injury in the first place. The muscle contracts hard to advance the weight of the body when pushing off to run, particularly during the first few steps of sprinting. The concern, naturally, is having a minor injury become something bigger.
Last year, Jeter's teammate,
Alex Rodriguez
, was forced onto the DL with a minor calf strain when he tried to return to play just days after the initial injury and the leg did not cooperate. He came off the DL when eligible and played the remainder of the season without incident.
• But let's turn to celebrating the return of
Washington Nationals
third baseman
Ryan Zimmerman
. Zimmerman has been out since early May after undergoing surgery to repair a torn abdominal muscle, an injury that had been bothering him intermittently since spring training. The Nationals have to be thrilled to be getting him back. He has been hitting the ball well while on his rehab assignment; the most lingering issue for him was getting to where he could throw the ball hard without discomfort. The Nationals wisely had no desire to rush him back, knowing that the success rate following this procedure is very high if allowed to fully recover before returning to sport. Fantasy owners have to be excited as well, as his bat should quickly pay offensive dividends.
• Tuesday will also see the return of
Florida Marlins
shortstop
Hanley Ramirez
. The Miami Herald reports Ramirez was activated from the DL after Monday's game, trading places with outfielder
Scott Cousins
, who heads to the DL with a low back strain. In the NL West,
San Francisco Giants
third baseman
Pablo Sandoval
is expected to rejoin the lineup Tuesday as his team takes on the
Arizona Diamondbacks
. On Monday, we outlined the
outlook for both players
, including the notion that Sandoval is likely to see some time at first base.
• The
Minnesota Twins
have been riding an injury carousel all season long, and the news has largely been gloomy. Their fortunes might (emphasis on the word "might") be changing a bit. It appears
Tsuyoshi Nishioka
could return as soon as Wednesday. According to the Minneapolis Star Tribune, he told that to the Japanese media following him at Triple-A Rochester. Nishioka has been gradually working his way back to baseball since breaking his left fibula in early April. The biggest challenge in coming back from this injury is ensuring Nishioka can play the game all out, without hesitation. So far in rehab games, he has spent significant time at shortstop, and manager Ron Gardenhire indicated that would be his everyday position going forward.
• The Twins also have an eye on catcher
Joe Mauer
's return. It appears he could be back as soon as Thursday or Friday, according to the Star Tribune. Mauer has been out since mid-April with what was categorized as generalized weakness, and the team has not provided much in the way of detail or timetable since. His increase in innings played recently in rehab outings has hinted at his near return, but the Twins are still not committing to a firm date.
• Then there's Twins first baseman
Justin Morneau
. After battling lingering post-concussion symptoms since the season-ending injury last July, Morneau was able to recover and return for Opening Day. Unfortunately, he has been challenged with other injuries since. A pinched nerve in his neck, which is causing him neck pain and is affecting his left shoulder, is making playing difficult, yet he is hanging in there.
Recently his left wrist has become problematic, repeatedly swelling, according to Morneau, "whenever I use it." As the Star Tribune reports, a recent MRI showed no significant structural damage, and the plan is to keep Morneau's day-to-day status. While Morneau avoids the DL for the time being, he is certainly struggling to stay active. It's hard to imagine he gets to a point of feeling "great" anytime soon, as these types of ailments respond best to extended rest. Time will tell if he can bounce back enough to contribute on a regular basis or whether the team opts to have him take that extended rest.
April, 12, 2011
4/12/11
4:26
PM ET
• If you took the under on
Josh Hamilton
making it through the first 12 days of the season without injury, unfortunately for the
Texas Rangers
, you can count yourself a winner. According to the Rangers' website, Hamilton exited Tuesday's game after just one at-bat with what the team is calling a strained shoulder. In the course of running the bases, Hamilton slid headfirst twice, first on his RBI triple, then again as he attempted to score. Hamilton was called out at home and did not return in the second inning. Whether this is just a one- or two-day affair or something more significant remains to be seen. Stay tuned.
[+] Enlarge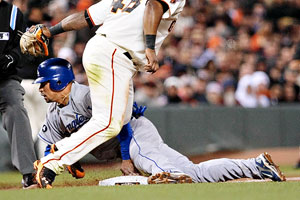 Kelley L Cox/Icon SMIRafael Furcal, who was already dealing with wrist issues, broke his thumb on this slide on Monday.
• Speaking of the danger of headfirst slides (something we discussed last year in the wake of all the thumb injuries, such as
Chase Utley
and
Jason Heyward
),
Los Angeles Dodgers
shortstop
Rafael Furcal
was brutally reminded of it when he broke his thumb Monday night sliding into third. Furcal is likely to be out at least six weeks, never mind regaining his form at the plate. It almost seems unfair. After the significant back and hamstring injuries Furcal has overcome in his career, to suffer yet another major injury this early in the new season seems cruel. The Los Angeles Times reports that Furcal was considering retirement after this latest blow. More than likely, that was the frustration speaking. After Furcal visits with a hand specialist, we will no doubt get a clearer picture of his plans. No matter what Furcal ultimately decides, the Dodgers will miss him immediately and fantasy owners will need to replace him for at least a month, perhaps two.
• We're seeing injuries from top to bottom, and while upper extremity injuries will kill power at the plate, bad wheels will definitely kill speed. Just ask
Toronto Blue Jays
outfielder
Rajai Davis
, who is a new member of the April DL fraternity. Davis rolled his right ankle in the Blue Jays' home opener, the typical mechanism for an ankle sprain. On Sunday, Davis aggravated the still ginger ankle, and thus it became clear he would need more down time. Now he officially has at least two weeks for rest and rehab, and hopefully the injury will not linger beyond that time.
• Ankle issues certainly have been problematic for a couple of players this spring.
Magglio Ordonez
, who underwent season-ending surgery for a broken right ankle in July, has dealt with intermittent soreness (not uncommon after surgery) this spring. On Monday, however, Ordonez left the game early with what was called tightness in his Achilles tendon. The Detroit Free Press reported Tuesday, however, that an MRI revealed "fluid buildup in the bursa behind his right ankle." As Tigers athletic trainer Kevin Rand told the Free Press, "It's just the stresses that he's going through as he's putting greater stress playing here in the regular season." Rand called Ordonez's situation day-to-day, and the team is not setting a specific timeline for his return. While the uncertainty might be frustrating for fantasy owners, it is neither unusual nor is it unrealistic. Following surgery, ankles are often prone to increased swelling, particularly with initial increases in activity. As the body acclimates, those responses tend to subside. At 37 years old, Ordonez might need a little extra time.
• Meanwhile,
Los Angeles Angels
first baseman
Kendrys Morales
has not progressed as swiftly as hoped from left ankle surgery last summer. Morales has struggled with running, and when he tried to press this spring, he developed new pain in the ball of his foot. After successful running efforts on the treadmill, Morales is again scheduled to test the ankle by running on the field, according to the Los Angeles Times. Ground running leads to base running, and once Morales can handle that, the Angels can start thinking about his return. The progression might yet take a couple of weeks and would necessitate some rehab games to test Morales in all dimensions. He is not likely to be ready for competition until sometime in May.
• Oh boy. The news is not good for
Oakland Athletics
pitcher
Rich Harden
. The San Francisco Chronicle reports Harden has been shut down from throwing, pre-empting what was expected to be a soon-to-come rehab assignment. Although Harden is no stranger to injury, in 2008 and 2009 he showed himself to be fairly durable. In 2010, injuries again became an issue while Harden was with the Texas Rangers, and now 2011 has not started well for him. In fact, it hasn't started at all. Don't hold your breath; this could be a lengthy wait. Meanwhile,
Andrew Bailey
-- the guy the Athletics ideally would have in the closing role -- threw 20 pitches off a mound Monday, according to the A's website. Bailey, who has been out since the start of the season with a forearm strain, is slated to throw another bullpen this week on his way to a rehab assignment. If all goes well, he could return at the end of the month.
•
Mat Latos
got his first start of the year Monday night. The most important postgame note came from Latos, who told the San Diego Union-Tribune, "Everything felt fine. My arm felt fine." Hooray. Now let's hope it holds up across a long season.
•
Zack Greinke
is scheduled to throw live batting practice Tuesday. If that goes well, he'll throw another. According to MLB.com, then would come a rehab assignment. It's still looking like the first week of May is the most likely return date, perhaps a touch sooner if Greinke shows he's ready.
•
Ubaldo Jimenez
's cracked cuticle has healed. He is expected to make an appearance in an extended spring training game Wednesday. Jimenez is eligible to return to the
Colorado Rockies
on April 17.
• The fractured fibula
Minnesota Twins
second baseman
Tsuyoshi Nishioka
suffered Thursday in a takeout slide will not require surgery. There is still a lengthy recovery period; there will be several weeks of bone healing followed by reconditioning to return to the sport. While he won't need a cast, his weight bearing will be limited early. The rate at which he can progress will depend on his comfort level and the healing of the fracture. Expect Nishioka to miss at least a month and probably closer to six weeks before he can return to game play.
•
Adam Dunn
almost made the timetable he projected for himself after his appendectomy. Dunn, who had surgery Wednesday, is back in the lineup Tuesday, making it exactly one week since he last played. As a designated hitter, Dunn does not have to resume the rigorous duties of tracking down balls in the outfield and can catch some rest when the
Chicago White Sox
are in the field, but he still has to swing the bat, sprint and potentially slide without incident.
St. Louis Cardinals
outfielder
Matt Holliday
was back to full duty in nine days, so Dunn's return within a week isn't a complete shock. Nonetheless, it's a testament to relative health and good shape, along with the advances of modern medicine, that these two have been able to return so quickly. Fantasy owners everywhere are grateful.
April, 8, 2011
4/08/11
3:07
PM ET
I posed a question right here in this blog Wednesday, a challenge if you will, to see if we could get through a day of baseball without any additions to the disabled list. It seems like the answer was no, thanks in part to a dramatic injury in the Bronx.
[+] Enlarge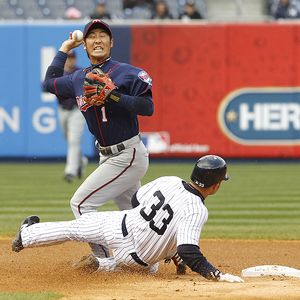 William Perlman/THE STAR-LEDGER/US PresswireTsuyoshi Nishioka is likely to miss a month after taking the brunt of this Nick Swisher takeout slide.
On Thursday,
Minnesota Twins
new second baseman
Tsuyoshi Nishioka
was literally taken out on a takeout slide by
New York Yankees
outfielder
Nick Swisher
. Nishioka, new to the more physical version of baserunning played in the states, absorbed the impact of Swisher's slide with his left leg, resulting in a fractured fibula (the skinny bone on the outer aspect of the lower leg which runs from just below the knee to the ankle).
Nishioka has been placed on the DL and is expected to miss at least a month, but more should be known after his visit with Dr. John Steubs, team physician for the Twins. There are several variables that can influence the plan of care and the recovery time from this type of injury, including the location of the fracture (high on the fibula near the knee or low near the ankle), whether the fracture is displaced or not (whether the bony ends have moved apart or remain in alignment) and whether surgery is required (more likely with a significantly displaced fracture).
The Minneapolis Star-Tribune reports Nishioka's fracture to be high on the fibula, just below the knee, an important distinction in that he may not require ankle immobilization. One of the compounding issues for a low fibula fracture is the ankle joint; when immobilized for a period of time to allow the bone to heal, the ankle then becomes stiff. Regaining ankle range of motion can be a lengthy process, making returning to running and agility maneuvers more difficult. The best-case scenario for Nishioka would be a non-displaced proximal (high) fibula fracture that could heal with rest. He would be able to resume ankle range of motion and weight-bearing activities sooner. In the meantime he could participate in cardiovascular conditioning and upper-body workouts. His timetable should become clearer after his medical evaluation Friday.
• The other big injury news Thursday was the official diagnosis of a concussion for
Toronto Blue Jays
shortstop
Yunel Escobar
. Why so big? Because Escobar is the first player to suffer a concussion since the implementation of Major League Baseball's
new concussion policy
.
[+] Enlarge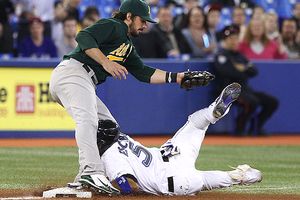 Tom Szczerbowski/US PresswireYunel Escobar suffered a concussion on this slide into third base on Wednesday.
The injury occurred when Escobar's head met the knee of
Oakland Athletics
third baseman
Andy LaRoche
as Escobar slid into third on a triple Wednesday. The mechanism of injury was eerily similar to the one that sidelined Twins first baseman
Justin Morneau
for months with post-concussion symptoms. According to the National Post, Escobar was examined on the field by Jays' athletic trainer Hap Hudson and was cleared to remain in the game. But in the next inning, Escobar developed dizziness (it is not uncommon for symptoms to emerge over time following a concussion) and the decision was made to remove him from the game.
Escobar underwent subsequent tests, including hospital-administered CT scans of the head and neck and neurological evaluation. The imaging tests were negative (they usually are with isolated concussion) and the early news on Escobar is encouraging. According to general manager Alex Anthopoulos, Escobar felt "great" Thursday morning, adding, "If you asked him he'd tell you that he could play today." Of course, Escobar did not play Thursday but he did show enough improvement for the Blue Jays to elect not to make use of the new optional seven-day disabled list stint for concussed players. As per the new protocols, however, Escobar will require clearance not only from the Blue Jays but also from Major Leagues Baseball's medical director, Dr. Gary Green, before he can return. The Blue Jays hope to have Escobar back next week, but as is the case following any concussion Escobar will be evaluated daily.
• The Blue Jays have some more encouraging news regarding
Octavio Dotel
. The veteran relief pitcher, who started his season on the DL with a hamstring strain that cropped up in early March, is now ready to return. Dotel is probably most likely to be used in a setup role for
Jon Rauch
. Closer
Frank Francisco
, on the DL with a right pectoral muscle strain, was cleared to begin a rehab assignment Monday. According to the Blue Jays' website, Francisco likely will need a minimum of three rehab outings before he can rejoin the team. As with any muscle strain, the key will be to see how Francisco responds to a progressively increasing workload. Finally, starter
Brandon Morrow
(forearm strain) made his rehab debut Thursday, allowing five runs in three innings. His performance may have been less than ideal, but the more important element will be how his forearm held up. If all continues well, Morrow is expected to make another rehab start and could rejoin the team within the next two weeks.
• The
Chicago White Sox
have to be feeling encouraged when it comes to
Jake Peavy
's progress following his latissimus dorsi tendon repair. Peavy, who had a very minor speed bump in his rehab road when he developed some rotator cuff tendinitis in March, is now on track to start throwing in minor league games. The Chicago Sun-Times reports Peavy is expected to throw 75 pitches Friday for Class AA Birmingham. Assuming there are no issues, he will be on a structured progression to increase his pitch count and arm strength over the next few weeks. While no one wants to commit to a formal timetable, there is reason to believe Peavy could rejoin the White Sox by the end of April.
• The White Sox could see
Adam Dunn
this weekend if Dunn has his way. Dunn is still having pain, though, and he will most certainly not be permitted to suit up if there are any concerns about his healing. Given that Dunn is an athlete and not a physician, his goals, while admirable, will not drive the decision. It would not be surprising if Dunn was out until next week, but fantasy owners with daily lineups may want to check before games.
• Meanwhile, Dunn's counterpart in abdominal surgery,
St. Louis Cardinals
outfielder
Matt Holliday
, could make an appearance this weekend in a pinch-hitting role, although according to Fox Sports Midwest on Twitter, manager Tony La Russa says the chances of that are "slim." Stay tuned. MLB.com says Holliday is expected to undergo a full workout and batting practice Friday, after which a decision on the next step will be made.
That's the buzz for Friday. Here's to a happy and healthy weekend, everyone! Something tells me, though, we'll still have plenty to discuss as next week rolls around.