Stephania Bell:

Vernon Wells
May, 21, 2012
5/21/12
6:26
PM ET
It seemed as if
St. Louis Cardinals
first baseman
Lance Berkman
was about to be added to the growing list of baseball players whose seasons have been cut short by ACL tears. Not so fast ... maybe. Cardinals general manager John Mozeliak announced Monday that the results of Berkman's MRI revealed a torn meniscus, not an ACL tear as originally feared. In an interesting follow-up, Jenifer Langosch, who covers the Cardinals for MLB.com,
tweeted the following
: "While no evidence of ACL tear came on MRI, it hasn't been ruled out. 'I'm not as optimistic' as team, Berkman said." In other words, it sounds as if the picture is not totally clear. He is expected to get a second opinion this week. At the very least, a meniscal injury would require surgery and subsequent rehabilitation that could sideline Berkman for the better part of two months.
[+] Enlarge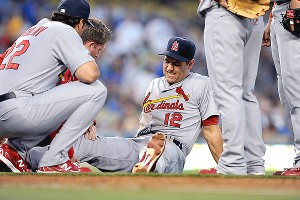 AP Photo/ Josh Thompson/Cal Sport MediaIt remains to be seen how much time Lance Berkman will miss with his current knee injury.
Berkman is no stranger to knee troubles, including ACL tears. This latest injury is to Berkman's right knee, the same knee in which he suffered an ACL tear back in 2004. Berkman has a history of issues with the cartilage in both knees, and the increased wear and tear that comes with being a veteran ballplayer doesn't help matters. Consider that even after last year's contribution to a World Series championship team, Berkman is on a one-year deal with the Cardinals this year, perhaps reflecting the inherent injury risk he represents. After more than three weeks on the DL earlier this season with a calf strain, Berkman had played in only six games since returning before suffering this setback with his knee.
The complexity of the injury could make a big difference in terms of Berkman's future. According to the St. Louis Post-Dispatch, even Berkman seemed to question what the future would hold if the injury turned out to be serious. "If I've re-torn my ACL or something like that, I'd certainly get it fixed but you don't know how psychologically you're going to come back from something like that," Berkman said. "I'm not talking from the standpoint of being scared of hurting it again. I'm talking about doing everything it takes to come back and play again at an elite level." We have seen an aging baseball star return from a second ACL procedure (
Atlanta Braves
third baseman
Chipper Jones
did so in 2011) but it is not an easy task, particularly if there is no guaranteed job at the finish line. Until the evaluation process is complete, the next steps for Berkman are on hold.
Strasburg update
Last week we talked about the
incredible run of bad luck
the
Washington Nationals
have been confronted with recently in terms of injuries. Just when it seemed as if they could not possibly be presented with any more bad news, ace pitcher
Stephen Strasburg
was forced to leave Sunday's game against the
Baltimore Orioles
in the fifth inning ... because of his biceps? At least that's how manager Davey Johnson described the situation.
As for Strasburg, he seemed to downplay the incident when speaking with reporters after the game, relating it to arm fatigue and suggesting it is just a byproduct of returning from his 2010 elbow procedure. "It's all part of coming back from Tommy John [surgery]," Strasburg said. "It's something I have to be smart about."
[+] Enlarge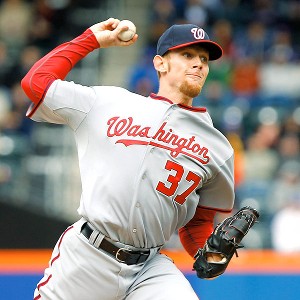 Debby Wong/US PresswireStephen Strasburg might bear watching over the next few starts after leaving Sunday's game early.
So is this something to really be concerned about, or is it much ado about nothing? The reality is it might be a little of both. On one hand, Strasburg is correct. It is not uncommon following Tommy John surgery and the associated recovery that pitchers have little dips and dives in their performance, comfort level or both. We often hear of pitchers who develop symptoms such as forearm tightness or stiffness or who suffer from intermittent command struggles and are forced to back off their throwing a bit until they settle. Strasburg also referenced going out of his routine after his previous start, increasing his work in the weight room and the bullpen, something he called "a little immature," according to the Washington Times. It's possible that veering from a structured routine, even minimally, can lead to problems, especially if that structure contributed to a smooth return from surgery with no real setback along the way. Perhaps this is just a minor speed bump as a result of that altered routine.
On the other hand, it's worth remembering that Strasburg had shoulder inflammation that sent him to the DL just weeks before he tore his ulnar collateral ligament. The data of pitchers returning from Tommy John surgery suggests there might be a relationship between the elbow procedure and subsequent shoulder issues leading to DL placements (read:
Josh Johnson
). Is it possible Strasburg could be headed that direction?
It's certainly feasible that any major league pitcher could be beset by shoulder problems at some point in his career; in fact, it is almost expected that given their profession, most pitchers will sustain some form of elbow or shoulder injury. But in Strasburg's case, there has already been a DL placement related to the shoulder, which makes any shoulder-like symptoms now a bit more worrisome. If, in fact, Strasburg has any existing damage to a structure that does not heal independently, such as the labrum, there is an increased likelihood that it will present a recurring problem at some point in time. Davey Johnson said Strasburg's issue was with his biceps, but the specific location within the biceps becomes relevant. If it is the portion of the biceps tendon that attaches to the labrum, it becomes more significant than if it is general soreness or tightness in the muscle belly itself.
There are a number of questions raised by the incident, most of which are not likely to be answered directly. Before we can become either dismissive or obsessive about Strasburg's latest incident, however, it is worth watching to see how he responds. The Nationals have indicated they do not expect him to miss his next start. Amanda Comak of the Washington Times
reported via Twitter
on Monday that Strasburg was participating in the pitchers' flying disc match (hmmm). In the meantime, expect him to return to his structured routine. If questions remain as to whether the Nationals will adhere to the innings limit originally set for Strasburg at the start of the season, they seem to be diminishing with every yellow flag.
Other injuries
Texas Rangers
pitcher
Neftali Feliz
has been placed on the DL with
right elbow inflammation
. There was some concern about his health this spring when he was experiencing shoulder stiffness. After backing off his work for a few days he resumed throwing and was able to start the season on time. His performance, however, has been up and down this year as he has transitioned from a closer role to the rotation. It's unclear when the elbow began to bother him but he is being forced to rest it now. An MRI revealed only inflammation, according to ESPNDallas.com, but the pitcher will be shut down from throwing for a month to protect the elbow. Feliz will then resume a progressive throwing program. A more precise timetable is impossible to project until Feliz picks up a ball again and then, naturally, it will be dependent on no further recurrence of symptoms.
Dan Hayes of the North County Times is reporting
San Diego Padres
pitcher
Cory Luebke
will undergo Tommy John surgery Wednesday. Luebke had been evaluating his options, including an attempted rehabilitation period, but appeared recently to be leaning toward surgery. It can't be overemphasized that a pitcher needs to be afforded the time and the latitude to carefully evaluate his options before embarking on such an intensive procedure and lengthy recovery process. Once he is fully committed to the idea that surgery is indeed the best option, the road becomes more about going forward than looking back at the what-ifs, a necessary step in a successful return. Luebke should be expected to return at some point in 2013.
Los Angeles Angels
outfielder
Vernon Wells
was expected to be placed on the DL after suffering a thumb injury Sunday while stealing second base. After an MRI Monday, it became clear he would miss more than 15 days. Wells
announced via Twitter
that he would be undergoing surgery Tuesday to repair a torn ligament in his thumb. Expect him to be out a minimum of two months.
Boston Red Sox
outfielder
Cody Ross
has been diagnosed with a fracture of the navicular bone in his left foot. The team has not indicated yet what the plans are for treatment or how long Ross is expected to be sidelined, but plan for at least a couple of months (six weeks for the bone to hopefully heal followed by rehab games).
June, 2, 2011
6/02/11
9:50
PM ET
May, 10, 2011
5/10/11
5:53
PM ET
[+] Enlarge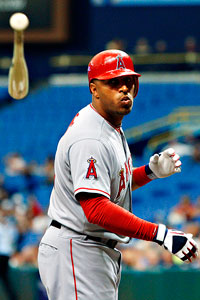 Kim Klement/US PresswireVernon Wells will be out at least the next two weeks because of a strained groin.
• A sound defeat by the
Chicago White Sox
wasn't the only loss the
Los Angeles Angels
suffered Monday. The team also saw outfielder
Vernon Wells
exit the game in the fourth inning after straining his right groin. Wells has been placed on the disabled list, and as he is 32 years old, there's a decent chance the recovery time will extend beyond two weeks. Wells wasn't exactly lighting it up at the plate this spring, but his veteran presence was valued by his teammates and coaches. Although he managed to avoid the DL the past two seasons, Wells dealt with several significant injuries the two seasons prior (shoulder, hamstring and wrist). Considering the workload he has delivered across the bulk of his career, it stands to reason his body might show some signs of yielding to wear and tear, and this injury might be the first evidence. According to the Angels' website, Wells will be evaluated by team doctors Tuesday, after which the team hopes to learn more about his prognosis.
• Meanwhile, Wells' former team, Toronto, is deciding whether to place
Adam Lind
on the disabled list. Lind has been dealing with back spasms for several days and left Saturday's game early when his back stiffened. According to the Toronto Sun,
Toronto Blue Jays
manager John Farrell described Lind's condition as "day-to-day right now. He is symptom-free when it comes to neurological, but the spasms are strong." Lind was scheduled for an MRI on Monday, but even in the absence of significant findings, if Lind continues to be limited by pain and spasms, the team could opt to move him to the DL. Farrell hinted that direction, saying, "If there's no improvement, we'd have to consider the next step."
Keeping an eye on ...
We always hear about injuries as they happen, but once players are relegated to the DL, they can disappear off the radar, particularly if they are out for an extended period of time. It just so happens that many fantasy owners have several players whom they are "waiting on" in hopes of a triumphant return. Whether to hang on and continue to wait out their absence or drop them to open up a roster spot can be a constant source of angst.
Chase Utley, 2B, Philadelphia Phillies:
Perhaps no single player's return has been more sought after by fans and fantasy owners than Utley's. Out since spring training with
chronic degenerative issues in his right knee
involving his patellar tendon (which anchors the quadriceps muscle to the tibia or shinbone) and his patella (kneecap), Utley has persevered through a graded -- and very cautious -- rehab progression in the hope that he can return successfully for the bulk of the season. This approach seems to be paying dividends in terms of the progress Utley has been able to make so far. The biggest question at this point no longer seems to be whether he will make a return (as he appears poised to do just that if there are no setbacks in his rehab outings) but whether he can stay on the field once he does. As I wrote in March when Utley's condition was outlined by the Phillies' team physician:
Unfortunately, cartilage damage is not reversible. It comes down to whether the condition can be effectively managed (i.e., whether he can play through it).
ESPN baseball writer Jayson Stark crafted an excellent piece in March that captured the
essence of Utley as an athlete who gives 110 percent percent every time he takes the field
. As admirable as that quality is from a work ethic perspective, it might challenge Utley when it comes to managing his condition going forward. There is reason to be encouraged. Utley hasn't said much about his knee, but when he has spoken, he has sounded resigned to the fact that this is a slow process that requires careful evaluation after each bump up in activity. When some were suggesting that Utley's light jogging and defensive drills in mid-April signaled an imminent return, Utley was quick to caution about looking too far ahead. Utley told reporters, "The next step is just to continue doing what I'm doing and to hope that it responds well, and so far it has."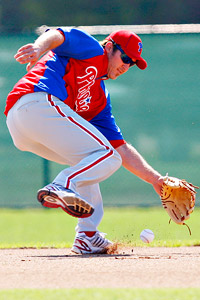 Kim Klement/US PresswireChase Utley still has to take things easy in the field although hitting hasn't been a major issue so far.
His knee has continued to respond well to a very stepwise progression. Utley has participated in two extended spring training games, going 5-for-7 with two home runs in his first outing Saturday. It's worth noting that Utley was taking batting practice in spring training, even when the knee was at its worst, as swinging the bat was never an issue that caused pain. But in that first extended spring training outing, Utley was limited to alternating defensive innings played in an effort to control the activities that typically have been more stressful for his knee. The best news to come out of that outing was not his production at the plate, but the fact that he felt fine the next day. In Utley's second extended spring training outing, he played back-to-back defensive innings for the first time and, as the Philadelphia Inquirer noted, he made a leaping defensive play -- and landed -- without incident. While his 1-for-7 hitting didn't make the newswires that day, his increased defensive activity might have been even more significant.
Tuesday brings the next big test, as Utley will begin a rehab assignment with Class A Clearwater. Not only does this signal a less-controlled environment, but it will be his first time playing on consecutive days. According to Todd Zolecki of MLB.com, Utley is expected to serve as DH, so he will not be playing the field back-to-back days, another hurdle he will need to cross before returning to the majors. But his return is indeed inching closer since a rehab assignment officially starts a 20-day countdown clock. Barring a setback, the expectation is that Utley will be activated within that timeframe.
Utley's story is encouraging and his success thus far is without a doubt a testament to his unwavering work ethic, not to mention the valuable care and supervision of the rehab staff around him and the organization's support of a slow-progressing program. The question no one can answer, however, is what will happen once Utley rejoins the Phillies. How will his knee hold up over days, weeks, even months? Will he play every day? And should he? As of today, three veteran members of the Phillies' starting lineup,
Shane Victorino
,
Jimmy Rollins
and
Placido Polanco
-- all age 30 or older -- have yet to have a day off, not counting the forced day off April 16 due to weather. Utley, age 32, is not known for being one to slow down or remove himself at the first sign of discomfort. In the interest of enduring the bulk of the season, he might have to learn to do just that.
Kendrys Morales, 1B, Los Angeles Angels:
Morales' activity has stalled in recent weeks as the ankle, which has kept him on the DL since the start of the season, continues to be problematic. Morales underwent surgery last summer after breaking his ankle during a celebration at home plate. His failure to tolerate running has persisted since spring training, and he now is going to visit Dr. Thomas Clanton, a foot-and-ankle specialist, at the Steadman-Hawkins Clinic in Vail, Colo., for consultation. According to the Los Angeles Times, Tim Mead, the team's vice president of communications said, "This is something the Angels recommended to get an optimal course of treatment." Whether the consult results in reassurance and reinforcement, or redirection of his program, Morales ultimately needs to get moving ... literally. As the Times noted, Morales was shut down after receiving an injection into the joint last week, and until he can run full speed, he simply can't play. The team now hints at June as the soonest return date for Morales. Until he has resumed some type of running program, it's hard to be confident in any timetable whatsoever.
Rafael Furcal, SS, Los Angeles Dodgers:
Furcal broke his thumb on a headfirst slide in early April and was so dejected after the injury that he hinted at possible retirement. But the hardworking Furcal turned that frown upside down and got to work. He's made enough progress that manager Don Mattingly says Furcal could be headed for a rehab assignment later this week. Initial projections had Furcal out from four to six weeks, and he currently stands at the one-month mark. He has been doing some drills and taking batting practice but still experiences some discomfort when swinging right-handed. According to the Dodgers' website, Mattingly will not send Furcal on a rehab assignment until that discomfort resolves. "I don't want him going out until he's not feeling that anymore," Mattingly said. "I don't want him to push it and do something that sets him back." Fantasy owners should keep an eye on Furcal, as he could rejoin the team within another week.
In closing:
•
Oakland Athletics
reliever
Andrew Bailey
, out since the start of the season with a forearm strain, is scheduled to throw a simulated game Tuesday. He is likely another week away at least from returning to the team but is inching closer.
• Philadelphia Phillies closer
Brad Lidge
has targeted a pre-All-Star break return but still has some work to do to get there. Lidge has a partial rotator cuff tear and has been on the DL since the season began, although he has been throwing on flat ground without incident. The good news is that he has progressed to the point where he could throw off the mound soon. The Philadelphia Daily News reports that test could come within the next 10 days.
• The news is less encouraging for
Seattle Mariners
closer
David Aardsma
. Aardsma has been on the mend following surgery to repair a labral tear in his hip and now has been shut down for a few days with forearm stiffness. Aardsma underwent an MRI on Friday as a precautionary measure, according to the Mariners' website. While the team indicates this is not a major concern, it still represents a delay in his return. As is often the case with pitchers who miss extensive time, even if the injury is not in the throwing arm, there might be setbacks in returning to competitive form associated with the extended absence from throwing.
April, 5, 2009
4/05/09
4:18
PM ET
By
Stephania Bell, ESPN.com
| ESPN.com
AL East
[+] Enlarge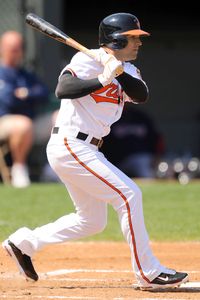 Rob Tringali/Getty ImagesBrian Roberts will be a key to many teams' fantasy hopes, especially in steals.
Baltimore Orioles: Brian Roberts
Roberts has missed a few games late this spring as a result of a respiratory infection and back spasms, which often go hand in hand for obvious reasons. Orioles fans may have become a little nervous when the Baltimore Sun reported that the pain on his left side was near the oblique muscles. Oblique abdominal injuries are notoriously slow-healing and can severely limit a hitter's swing, but it appears that Roberts may have dodged a bullet. He played in the team's final spring games, meaning he'll be ready to start the season. If this is indeed a minor muscular issue associated with his recent illness, there should not be lingering concern for Roberts' health.
Boston Red Sox: John Smoltz
Smoltz was my choice for injury comeback story of the year as of New Year's Day, and if anything, I'm even
more
encouraged now. Smoltz, who has shown his ability to come back from injury in the past (following multiple elbow surgeries) has been progressing even better than expected after significant shoulder surgery. The historical relationship between members of the Red Sox rehab staff and Smoltz's surgeon, Dr. James Andrews, inspires confidence that he will continue to be brought along at an appropriate pace, which is key to his successful return. Add in Smoltz's competitive fire, along with the fact that he has already thrown several bullpen sessions with a full mix of pitches, and he could be a dangerous addition by June.
New York Yankees: Alex Rodriguez
Rodriguez certainly gave everyone a lot to talk about this year, but the issues surrounding his hip are the ones of most immediate concern to the Yankees. Following surgery to repair a torn labrum, Rodriguez is on a focused, aggressive rehab plan in Vail, Colo., absent of distraction and closely supervised. He reportedly is on target to return to the team in mid-May, if not sooner. Keep in mind that Rodriguez awaits a more extensive follow-up procedure in the offseason, and he will have to quickly make up for valuable lost spring training time. To have success at his position offensively he needs to swing for power and slide without hesitation. On the defensive side, he has to rush bunts, dive for grounders and, perhaps most challenging, throw across his body on the run. That is a lot to expect just nine weeks after surgery, especially with the whole world watching. And make no mistake, everyone will be watching.
Toronto Blue Jays: Vernon Wells
Last year, Wells missed significant time due to a strained left hamstring and a broken wrist. This spring, Wells has already been bothered by the same hamstring and wrist. No need for a medical background to know that this is not good. Hamstring injuries are known to be annoyingly recurrent, but having the problem crop up so early for Wells is cause for concern when the first of 162 games has yet to be played. As far as the wrist issue, it is not unusual to have stiffness and soreness in the area of a prior fracture, but once again, the fact that this is rearing up so early is of concern. Manager Cito Gaston remains hopeful that these are minor issues, but this is unlikely to be the last we've seen of these injuries for Wells.
Tampa Bay Rays: B.J. Upton
Upton will start the season on the DL, but not to worry. He is recovering nicely from offseason surgery to repair a torn labrum in his left (non-throwing) shoulder. Upton's power decline last year can be definitively linked to the instability in his shoulder, which has now been addressed. The timetable all along seemed to suggest that Upton would open his season in the warm weather at Tropicana Field. That plan was confirmed after Upton took a pitch to the hand in a spring game, which fortunately resulted in only a bruise, but gave the team reason to rest him a few extra days. Expect good things from Upton once his shoulder -- and his bat -- heat up.
AL Central
Sign up today for the most customizable free Fantasy Baseball game out there. You set the rules, scoring, everything. Sign Up Today!
Chicago White Sox: Jose Contreras
Contreras' 2008 season came to an abrupt halt when he tore his Achilles tendon in August, necessitating surgery. Although he was originally projected to be out until perhaps the All-Star break, Contreras has exceeded expectations. Between shedding 30 excess pounds and rehabbing diligently, he has put himself into position to start the season on schedule. His pitch location still needs some work, but his velocity is up and, most importantly, Contreras feels fine physically. At 37, he's not the youngest guy in the rotation, but he's certainly working as if he has something to prove. Keep an eye on him.
Cleveland Indians: Jake Westbrook
It seems like every year there's someone who's expected to return midseason following Tommy John surgery (ulnar collateral ligament reconstruction) the previous year. Westbrook is one of those guys this year with a twist: he also had hip surgery during the same time frame. It actually makes sense since the rehab following Tommy John surgery is so extensive. Adding the hip procedure in order to recover from both simultaneously seems to have been a wise move, but as a result, Westbrook's return may take a bit longer. As of the start of the season, the Indians are hoping he rejoins the team in June and he is already throwing fastballs from a mound. Most pitchers require an additional nine to 12 months to truly regain their form following this type of elbow surgery, however, so Indians fans need to temper expectations accordingly.
Detroit Tigers: Jeremy Bonderman
Bonderman missed the last four months of the 2008 season when he underwent surgery to correct a circulatory issue in his throwing arm. The surgery involved clearance of a blood clot, along with resection of a rib to alleviate compression on the involved blood vessel which passes from the neck through the shoulder to the arm. It seemed as if his recovery was moving along well enough until Bonderman developed soreness in the shoulder. That soreness translated into a delayed progression and, most recently, velocity issues. Bonderman will begin the season on the DL and there is no timetable for his return. It is not uncommon for some of these post-surgical problems to linger following this type of ailment, but it certainly leaves a big question mark as to Bonderman's status for 2009.
Kansas City Royals: John Bale
Bale will be useful to the Royals in middle relief ... once he can join the team. Bale is recovering from thyroid surgery, not something you see every day on the injury list, and will start the season on the DL. Bale has had a long list of injuries in the past few years, including a self-inflicted hand injury last year that sidelined him for an extensive period of time. The positive note here is that Bale's recovery from the thyroid surgery should be fairly straightforward. Unlike soft tissue problems that continue to recur, this should no longer present an issue for him. Once he gets his strength and his spring work in, Bale should be ready to go.
Minnesota Twins: Joe Mauer
This ranks right up there with the most unusual of baseball injuries. Then again, Mauer has a history of complicated and unique injuries. Mauer underwent surgery last fall to address a kidney obstruction, with the hope that it would remove the back pain he had been experiencing late in the season. After some initial relief, the symptoms returned and prevented him from running
at all
this spring. Further testing revealed inflammation at Mauer's right sacroiliac joint (where the spine meets the pelvis). The finding in and of itself is highly unusual, especially in the absence of trauma, even more so following an offseason of rest and recuperation from surgery. The Twins insist that new medication should be enough to address the problem, but inflammation is generally a symptom, not a source, meaning the possibility of recurrence exists. Mauer will start on the DL and the team has not issued a timetable for his return.
Where should they go?

Check out a new tool from ESPN Insider: the Draft Analyzer. With it, you can figure out where a player should go in your fantasy MLB draft, relative to value. Draft Analyzer
AL WestLos Angeles Angels: John Lackey
Lackey made this column last year, not something an athlete strives to repeat. He started the season on the DL but went on to finish out the year strong. His reappearance here for essentially the same condition does not bode so well. Lackey has inflammation in his right (throwing) elbow and is resting the arm following a cortisone injection. An MRI reportedly showed no major structural damage and the Angels expect to have him back within a few weeks. So why the concern? Because with the exception of last season, Lackey has made at least 30 starts per year since his rookie season in 2002, which adds up to a lot of mileage on a thrower's arm. Although he has shown great durability to this point, one has to wonder whether this episode signals that cumulative trauma is beginning to take its toll.
Oakland Athletics: Joey Devine
He has one of the best names in professional sports ... and now he's paying a visit to one of the
biggest
names in professional sports. Devine will be examined by Dr. James Andrews next week for a consultation on his ailing right (throwing) elbow. The fact that Devine requires a trip to the well-known orthopedic surgeon is bad enough; what's worse is that this is a recurrence of a problem that caused him to miss two months last year. Devine was
divine
when he returned to action in 2008, but serious symptoms this early generally do not signal good times ahead. He will join teammate
Justin Duchscherer
on the DL to start the season. The A's have to hope that Devine's stay is just temporary.
Seattle Mariners: Erik Bedard
Bedard never really got it going in 2008 after experiencing a variety of ailments, but ultimately it was his shoulder that ended his season prematurely. He underwent arthroscopic surgery to address a cyst and shape the labrum, but did not require major reconstruction. So far the spring has been relatively uneventful for Bedard, minus a few missed days for a sore gluteus maximus (yep, buttock muscles). He claims all is well heading into the start of the season but a note of caution is in order. Bedard has suffered a number of soft tissue injuries across his career, including an ulnar collateral ligament injury that required Tommy John surgery before he joined the majors. With oblique, hip, back and shoulder problems all surfacing within the past two years, the Mariners may not be out of the woods.
Texas Rangers: Chris Davis
Davis is another player who brought a leftover condition from last season to this year's spring training. Davis has patellar tendinitis, or inflammation of the tendon that anchors the quadriceps muscle (on the front of the thigh) to the shinbone (tibia). The tendon is also attached to the kneecap, or patella, hence the name. The condition is common in basketball players and others involved in jumping sports, less so in baseball. Although the fact that Davis suffered from this late last year is of concern, it does not appear serious. Nonetheless, he is an up-and-comer, so managing his symptoms will be key to extending him throughout the season.
July, 15, 2008
7/15/08
1:03
PM ET
Hurray! It's time for the All-Star break! Besides all the fanfare and enjoyment that accompanies this spectacular three-day event, I am most excited for the brief period of rest that all baseball players will enjoy. Yes, even those who are participating in the Home Run Derby and the All-Star Game itself are included, since their appearances will be less demanding than a regular game. And yes, a few more players managed to get added to the disabled list in the first half of the season, coming in just under the wire, too. Here's my injury blog to wrap the first half of the season:
[+] Enlarge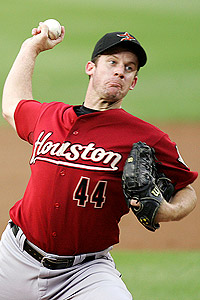 AP Photo/Haraz N. GhanbariThe DL or not the DL is the Astros question with Roy Oswalt.
Roy Oswalt, P, Houston Astros:
Oswalt has been struggling for a bit with what the team has called a left hip abductor strain. Most recently, Oswalt had to leave Friday's game after just one inning because of the pain in his hip and was still sore the next day. According to the Astros' official Web site, no decision is likely expected until Friday as to whether Oswalt will head to the disabled list or remain in the rotation. Interestingly, Oswalt told the Houston Chronicle on July 7 that he had received an injection in his back the prior weekend and that he then felt "great." He said he had been experiencing sciatic pain associated with a disc problem in his back. He also indicated this was not the first episode of this type of pain. Disc problems in the lower back often result in pain and weakness of hip muscles, so Oswalt's abductor strain (a muscle that helps control the stability of the pelvis over the leg, in his case his landing leg) may well be a consequence of his issues with his back. So the concern is that this problem could linger, and it may be more complicated than a straightforward muscle strain. One thing is certain; rest is good. Given the fact that this has been troublesome for a while, I would not be surprised to see Oswalt end up on the disabled list to try to get it under control. Stay tuned.
Erik Bedard, P, Seattle Mariners:
Deja vu, non? His last outing was a five-inning appearance on Independence Day. When manager Jim Riggleman reported the next day that Bedard didn't feel right, it sounded as if the hip and back that have ailed him since early in the season were still giving him trouble. But lo and behold, Bedard has a new troublesome spot, his throwing shoulder. Bedard was placed on the disabled list with what the team is calling "stiffness" in his throwing shoulder. The variety of nonspecific musculoskeletal ailments that Bedard has suffered so far this season is unsettling, but perhaps some comfort can be taken in the fact that none of them appear serious in their own right. Of greater concern is Bedard's overall durability across the demands of a season. Remember, he ended the 2007 season on the disabled list with an oblique injury, and since then he has struggled to maintain his health. The move to the disabled list for this shoulder episode sounds precautionary on the part of the Mariners, and the timing of the All-Star break may have made the decision to place him there easier.
Vernon Wells, OF, Toronto Blue Jays:
Oh, things are blue in Toronto, all right. A less than steamrolling offense just lost the guy who managed to lead that offense in home runs and runs batted in, despite missing three weeks earlier in the season with a broken wrist. Wells is out with a Grade II left hamstring strain, apparently suffered when he hyperextended his knee while trying to steal third base Wednesday night. The location of the injury is near the knee itself where the hamstring tendons attach, which typically requires some extra healing time. A Grade II or moderate strain represents a wide range of injury, so it is hard to say exactly what percent of the hamstring is damaged. The best hint comes from the team's own indication on their official Web site that Wells will be out
at least
4-6 weeks. Unlike with his wrist, Wells will not be able to push this return time up much because of the risk not only of reinjury but also of more severe injury. Somehow the Blue Jays will try to muster up some offense from elsewhere.
[+] Enlarge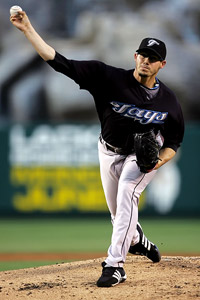 Jeff Gross/Getty ImagesMcgowan is just another name to add to the bad injury luck for the Jays.
Dustin McGowan, P, Toronto Blue Jays:
The aforementioned Jays will be hurting a little more on the defensive side also, now that McGowan is sidelined with a small rotator cuff tear in his pitching shoulder. The good news is that this tear has been present since at least last year, and on MRI the images from this year compared to last year appear no different, according to the Blue Jays' official Web site. In other words, the tear has not increased in size. Why the symptoms? It is a fascinating concept, but one that reminds us that the picture does not always tell the whole story. Many pitchers have evidence on imaging such as this (small cuff tears, biceps tendon damage) of the wear and tear their job places on their shoulders, yet they can still perform. But all of a sudden, some trigger -- and it may be an unknown one -- comes along to aggravate that weak area, and pain and inflammation result. The solution is a familiar refrain: Rest and rehab. So this is exactly what McGowan will do for the next month or so to allow his shoulder to recuperate from this apparently minor setback. McGowan is scheduled to seek a second opinion this week, so there is a small possibility that the program changes, but it appears for now that he will avoid surgery.
Aaron Harang, P, Cincinnati Reds:
Harang has been placed on the disabled list with a forearm strain, but the good news for the Reds is that all of his imaging tests came back negative, indicating no serious structural damage. The team's statements suggest that the problem is musculature in nature and that there are no concerns about elbow ligament damage, always a reassuring bit of news for a pitcher. He has been instructed not to pick up a baseball for at least one week, according to the Cincinnati Enquirer, while he undergoes treatment (plus that all-important antidote, rest). He will be eligible to pitch again July 24, and it sounds at this point as if he will make that target.
Bobby Jenks, P, Chicago White Sox:
It might seem a bit unusual for a pitcher to have an upper back injury on the opposite side of his throwing arm, but that is exactly what is sidelining the White Sox closer right now. Jenks was placed on the disabled list last week, but he had not pitched since June 29, so the move was retroactive to the end of June. Jenks had been feeling tightness in the upper back since late June but tried to persevere. The exact location of his pain seems to have moved around somewhat, which is certainly not unusual in this area. Pain under the shoulder blade on the left upper back could range from a muscular problem to a minor joint sprain in the neck, upper back or even the rib area. All scans (CT and MRI) came back negative, according to the Chicago Sun-Times, but Jenks acknowledged the value in resting now in order to be ready to make a second-half push.
And in the good news department...
Right now, the good news is that there's a little break! Here's to hoping for a healthy and happy All-Star event, and to all those nursing sore shoulders and hampered hamstrings, sit back, relax, rehab and we look forward to your productive second half of the season.
June, 7, 2008
6/07/08
12:30
PM ET
I performed a little experiment about 10 days ago. I went on the DL myself, suffering with a miserable spring cold, the one you feel like you shouldn't have when it's 80 degrees and sunny outside. I followed up my DL stint with a week's vacation, my first real vacation in two years. I thought maybe the injuries would decide to vacation simultaneously. Wrong. I came back to learn that Big Papi and The Big Hurt were ailing, that
John Smoltz
was hovering somewhere between season-ending and career-ending surgery and that hamstring injuries continue to plague the league. So today I officially return to the lineup and try to make sense of some of what has happened in such a seemingly short time.
[+] Enlarge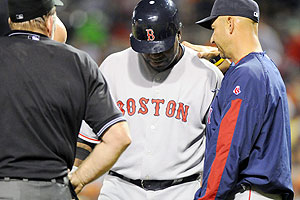 AP Photo/ Steve RuarkOrtiz's outlook is very positive.
David Ortiz, DH, Boston Red Sox:
Ortiz tore the extensor carpi ulnaris (ECU) tendon sheath in his left hand on what otherwise appeared to be a normal swing on May 31. The ECU is a forearm muscle that extends (extensor) the wrist (carpi) and ulnarly deviates the hand (bends the hand towards the pinky side) as a result of its attachment on the ulna, the forearm bone on the pinky side, hence the name ulnaris. The tendon is the component that attaches the muscle to the bone and transfers the force of the muscle contraction to the bone resulting in motion. The tendon is encased in a sheath, and this tissue is what Ortiz actually injured, which is a far better scenario than tearing the tendon itself. The current problem for Ortiz is that he is experiencing a painful clicking in the wrist as the tendon slips without the protective sheath intact. I spoke with Dr. Kate Gray, an orthopedic hand surgeon at Kaiser Permanente in San Jose, Calif., who completed her hand fellowship training at the prestigious Hand Center of San Antonio where
the
textbook on hand surgery is written. Gray, who says that this injury is more commonly seen in tennis players (which makes sense if you look at how they grip the racket), adds that treatment for this condition is most often non-surgical, and usually the tissue is able to heal with a period of immobilization. A recent Boston Herald report supports this concept and the Red Sox are collaborating with Dr. Thomas Graham, who expresses great confidence that Ortiz can have an excellent non-surgical recovery. Graham relates Ortiz's case to that of the
Philadelphia Phillies'
Pat Burrell
, who sustained a similar injury in 2004. Burrell was able to return successfully without surgery (Graham's recommendation) after one month.
According to Gray, the immobilization period is typically four weeks, although a high-level athlete like Ortiz might be able to decrease that time frame. To that end, Ortiz is now sporting a rather large cast that immobilizes his wrist and forearm so that the tendon does not continue to snap and the sheath has the opportunity to heal. He will be re-evaluated in two-to-three weeks, and if the healing is sufficient, he will be able to gradually resume baseball activities. Although the team is not committing to a timetable, Burrell's experience would suggest that approximately one month is reasonable if the healing proceeds normally. Incidentally, if he continues to experience clicking, but the clicking is no longer painful, then Ortiz could continue to play and, if necessary, undergo a surgical procedure to address the problem in the offseason. The functionality of his wrist will ultimately determine the next steps, but it sounds as if Ortiz's early prognosis is very promising.
John Smoltz, P, Atlanta Braves:
Tuesday was a bad day for John Smoltz. He woke up with so much pain in his throwing shoulder after his first post-DL closer outing Monday that he knew his only option was surgery. Smoltz announced in a news conference Wednesday that he would undergo season-ending surgery to address the issues with his rotator cuff, biceps tendon and whatever else they might encounter once he is under the knife. Although Smoltz says he will do everything in his power to attempt to come back and pitch next year, the odds are not in his favor. Smoltz has overcome many obstacles in the past when many counted him out, so if anyone can persevere here, he would be the guy. For more details on Smoltz's injury and what he faces, you can read my
detailed Smoltz analysis
from Wednesday.
Carlos Pena, 1B, Tampa Bay Rays:
Pena was hit on the hand by a pitch and suffered a small fracture of his left index finger. Now we know it can't have been too serious since he was able to stay in the game, and even managed to produce a home run! But the fact that a crack was discovered afterward meant that Pena needs to take some time to allow the bone to heal, which is why he was placed on the DL. The good news is that the injury is to the index finger of his dominant hand, so less motion is required at this digit to grip the bat effectively. It might be more of an issue with grip for throwing the baseball, but since Pena is a first baseman, he doesn't have the same throwing demands (distance or frequency) as other position players. At this point it does not appear he will miss more than the minimum time on the DL, according to the Rays' official Web site, assuming the healing continues without a setback. Pena is eligible to come off the DL on June 19.
[+] Enlarge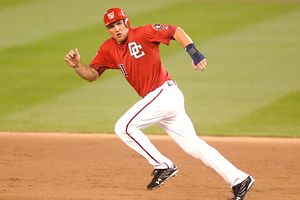 Mitchell Layton/Getty ImagesZimmerman is hoping for a quick return.
Ryan Zimmerman, 3B, Washington Nationals:
Zimmerman originally injured his left shoulder on a head first slide against the Orioles back in May. He continued to try to fight through the discomfort but it persisted, primarily when swinging the bat. A subsequent MRI revealed a slight labral tear, according to the Washington Times, which fits with the symptoms Zimmerman was having. The Nationals decided to place him on the DL in the hopes that the pain and inflammation will settle enough with rest to allow Zimmerman to finish out the season. The primary limiting factor is discomfort, not a structural integrity issue, but when the pain is present it is enough to impede the power of Zimmerman's swing, rendering him far less effective at the plate. Fielding wouldn't be as significant of an issue for him, and obviously he could still make his throws since the injury is to his non-throwing arm, but any diving catches towards the left would threaten to aggravate the condition. Zimmerman will be on anti-inflammatories while he rests the arm, and only once he starts to resume activity will it become clearer whether he can persevere or whether surgery is imminent. In the meantime, the Nationals are consulting with several surgeons regarding Zimmerman's situation, but judging from how these types of problems are typically managed, expect Zimmerman to play through the season after a period of rest, but expect that his productivity may be up and down depending how the shoulder is responding.
Daisuke Matsuzaka, P, Boston Red Sox:
This is not what Red Sox fans wanted to see. Rotator cuff problems in one of your pitching aces can never be construed as a good thing, even if it is not uncommon. Luckily, it sounds as if Matsuzaka is dealing with a mild cuff strain and is expected to begin a throwing program Saturday, starting with throwing on flat ground according to the Providence Journal. The timetables on these throwing programs are always variable and moving on to each subsequent step depends upon how the prior step was tolerated. Suffice it to say that the Red Sox will play it cautiously so as to avoid any setbacks, and anticipate weeks, not days, before he returns.
Jake Westbrook, P, Cleveland Indians:
No sooner did Westbrook return from a DL stint for a strained intercostal (rib) muscle then he turned right around and got back on the DL train with a different ailment. This latest one is of far more concern because it is his throwing elbow. Out with what is being called elbow inflammation, Westbrook had an MRI Tuesday but the results are not yet known. According to the Indians' official Web site, Westbrook was slated to see Dr. Lewis Yocum for a second opinion Friday, another not-so-good sign. Westbrook has been through surgery on this elbow before for bone spur removal and ulnar nerve transposition (where the position of the nerve is altered slightly so that it does not rub against or over the elbow). He also dealt with inflammation in the elbow last year. Elbow problems are often the Achilles' heel for pitchers and this latest setback does not sound so good for Westbrook and the Indians. Stay tuned to see what develops over the next week.
Jacoby Ellsbury, OF, Boston Red Sox:
It was a beautiful catch! But anyone watching Thursday knew right away that it was also a painful one as Ellsbury stood up after the dive, shaking his right wrist, clearly in discomfort. Initial X-rays were negative and a subsequent MRI came back "really clean" according to manager Terry Francona in a Boston Herald report. Currently the team is calling Ellsbury's injury, in which his right hand got folded up underneath him, a wrist strain, and although he did not play Friday in order to rest his sore wrist, this does not appear to be a long-term issue. Since this is his non-throwing hand, Ellsbury could be back in the lineup in a matter of days, as soon as he feels he can adequately perform at his position.
Frank Thomas, DH, Oakland Athletics:
You turn 40 and everything falls apart! Or at least that must be how Thomas feels after celebrating the big 4-0 on May 27 and subsequently exiting the game early with an injury
on the same day
. Thomas has a quadriceps muscle strain and according to the A's official Web site, the MRI showed significant inflammation. Have you noticed the size of those quadriceps? Of course you have. Even Thomas knows that with his age, his power and his muscle girth, he does not want to risk rupturing the quad, so a move to the DL was the smart thing to do. Knowing the extent of the inflammation and how these muscle strains can be slow to respond, expect his stint to go beyond the 15-day minimum.
And in the good news department...Vernon Wells, OF, Toronto Blue Jays:
Wells, who went on the DL for a fractured left wrist he sustained while diving to make a catch on May 9, is apparently healing quite nicely. Wells was originally projected to be out 4-to-6 weeks, a normal timeframe for a fracture of this type. But he is already back in rehab games and the team expects he could join them by next week according to an AP report. Keep in mind that wrist injuries sometimes affect plate productivity as the athlete adjusts to regain full strength, but Wells is making contact during his rehab assignment, so this is good news for the Jays.
May, 11, 2008
5/11/08
12:02
PM ET
Things are blue in the land of the Blue Jays today as they lose their team leader in RBIs for up to two months, and one of their regular relievers for at least a couple of weeks. Meanwhile, the Angels add yet another infielder to their ever-expanding disabled list, although this latest edition is not altogether a surprise.
Vernon Wells, OF, Toronto Blue Jays:
By Friday night we knew that Wells would be out of the lineup Saturday. By mid-day Saturday the news was much worse. An MRI revealed a fracture in Wells' left wrist, the one he landed on while making an amazing diving catch Friday. Now he will be sidelined for at least six weeks while the bone repairs itself. As is often the case with these wrist injuries, there is likely to be extra time tacked on to allow the athlete to get the normal range of motion necessary to grip the bat and the strength to swing effectively. If there's any silver lining it's the fact that Wells injured his non-throwing hand, so he will not need to worry about is ability to make the big throws from centerfield. Another bit of good news is that the fracture is clean. Wells told the National Post that the "bone is still right in line," which lends itself to a better outcome. Wells also tweaked his right hamstring during the catch, but he should have plenty of time to get his leg in shape while the wrist heals. After shoulder problems hampered Wells for much of last season, this has to be a big disappointment. The Blue Jays just have to be hoping that when he does return, he will be able to pick up where he left off.
Jeremy Accardo, RP, Blue Jays:
Accardo was placed on the 15-day DL with a strained right (throwing) forearm according to the Toronto Star. At this point there is no indication as to the severity of the strain, but obviously there was enough concern to pull him back for two weeks. Accardo struggled particularly in the early part of the season, but was still relied upon to intermittently spell closer
B.J. Ryan
so that Ryan, who underwent Tommy John surgery in 2007, did not pitch on consecutive days. Just recently however, Ryan was cleared by his surgeon to pitch on consecutive days, according to an Associated Press report, so the impact of Accardo's departure at this point in time may not be as severe. Ryan will still only pitch one inning per outing however, so Accardo will likely return in a setup role, minimizing his fantasy impact.
Etc:
Following up on my earlier Angels report,
Chone Figgins
has now been placed on the 15-day DL retroactive to May 4 while his hamstring recovers. According to the Los Angeles Times, the Angels felt that Figgins would not be ready to return for at least another week, thus the decision was made to officially add him to the ever-growing list of middle infielders on the DL. He joins teammates
Howie Kendrick
who has also been battling a hamstring strain and
Maicer Izturis
who has been dealing with low back issues.