Stephania Bell:

Vicente Padilla
May, 25, 2011
5/25/11
5:58
PM ET
The pitching ranks seem to be thinning around the league as more and more hurlers are forced onto the disabled list. For some, the rest of the season -- and part of the next one -- is lost. For others, there is every expectation they will return. But when? And with what level of confidence that the injury is behind them? As usual, it is very disappointing to not have a crystal ball handy to avoid laboring over the what-if and what-could-be scenarios. But in the absence of that crystal ball, labor we must.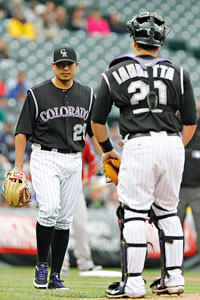 AP Photo/Barry GutierrezJorge De La Rosa finishes the season 5-2 with a 3.51 ERA and 52 strikeouts in 59 innings.
Jorge De La Rosa, P, Colorado Rockies:
He suffered a complete tear of his ulnar collateral ligament Tuesday, and now the southpaw's season is over, the Denver Post reports. As devastating as the news is for De La Rosa, at least there's a relative certainty of knowing what lies ahead for the next year. De La Rosa is expected to undergo the all-too-common Tommy John reconstruction procedure, followed by a lengthy, laborious rehab. The upside is that the success rate is incredibly high following this surgery and the path is well-documented by those who have traveled down it before. The downside is, well, obvious. De La Rosa loses the rest of this season (and part of next) and has to spend most of that time away from his teammates while he recovers. The team loses one of its aces and the only starting lefty on the squad.
De La Rosa started the season by developing a blood blister during his first outing. Although it initially appeared as if it might threaten his subsequent start, he healed quickly and heated up, becoming one of the Rockies' most effective starters. That came to a sudden end in the third inning of the opening game of Tuesday's doubleheader when De La Rosa was forced to leave early because of pain in his left elbow. Prior to this injury, you have to go back to 2007 to see when he last dealt with an issue in his throwing elbow. At that time, De La Rosa suffered what was termed an elbow strain and missed more than a month, then struggled in his return. In fact, his struggles persisted for some time as he bounced from the
Kansas City Royals
to the Rockies, which in hindsight leads to the natural question as to whether the elbow was a factor. He eventually turned the corner, however, improving his effectiveness until a torn tendon pulley in the middle finger of his throwing hand caused him to miss 10 weeks in 2010. He returned for the latter half of the 2010 season and was off to perhaps his best start ever in 2011, until this latest setback.
We should not expect De La Rosa to return before June of next year, and that, of course, is a soft timetable depending on how things evolve from here. At 30, he is neither the youngest nor the oldest to suffer this injury and he can take comfort in knowing that others have come back to deliver career years afterward.
Josh Johnson, P, Florida Marlins:
After Johnson appeared to suffer no severe injury following a hit to his right forearm in a game early last week, it seemed as if he was out of the woods. Clearly that was not the case. Johnson was placed on the DL retroactive to May 17 with what the team is calling inflammation in his throwing (right) shoulder, the same term used to describe what ended his 2010 season somewhat prematurely. According to the Miami Herald, Johnson says he has felt some measure of discomfort in the shoulder "pretty much the whole year" but could always work it out before pitching. This is not particularly encouraging, especially given his recent history. Johnson has rested the arm since being placed on the DL and has indicated that it feels much improved with rest. While there is no hint at this point that Johnson's absence will exceed the 15-day timetable, the concerns about whether this is just a minor speed bump or an indicator of things to come remain.
Matt Garza, P, Chicago Cubs:
After relaying to the team that he was dealing with some tightness and soreness in his throwing elbow, Garza found himself missing a start and ultimately making a trip to the DL, something he was trying to avoid. No doubt the Cubs are hoping this heads off a more serious issue for their recently acquired starter. The results of Garza's MRI, to the relief of the organization, did not show any major structural damage, according to the Chicago Sun-Times.
Interestingly, the imaging did show a bone bruise, and the question is how it got there. Bone bruises can be the result of direct trauma or, within a joint, the result of excessive motion of one bone on the other, often from instability, which causes bruising. For instance, when an individual tears the ACL in the knee, it is not unusual to get an accompanying bone bruise from the contact of the bony ends as they exceed normal motion. Naturally it leads to the question of whether excessive motion within Garza's elbow might have resulted in this injury (which would raise bigger concerns about the long-term health of his elbow perhaps). A vigorous hyperextension potentially could bruise the joint as well. As the Sun-Times reports, the Cubs' medical staff hypothesizes the stress of power pitching might have led to a pitch which created the bruise. Continuing to pitch might then have aggravated it. Without knowing the precise location of Garza's bone bruise, it is difficult to appreciate the exact implications of the injury, but in any case, rest is the single best mode of allowing it to heal. The big test will be once Garza returns to throwing to see how his elbow responds. That test might come soon, as Garza is eligible to return June 3 and the team sounds optimistic he will meet that target.
[+] Enlarge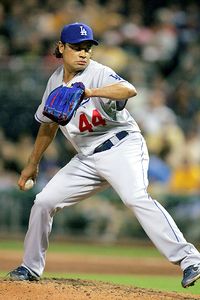 Charles LeClaire/US PresswireVicente Padilla had been looking decent as the Dodgers' closer when he got hurt.
Vicente Padilla, P, Los Angeles Dodgers:
The Dodgers have not had much luck cementing the closer position thanks in part to both injury and ineffectiveness. Padilla, who seemed to have the lock on the position earlier this month, began to struggle with a sore forearm last week, the same forearm on which he had surgery in February. That surgery was done to release an entrapment of the posterior interosseous nerve, a branch of the radial nerve that travels through the back side of the forearm. Tightness in the supinator muscles, which rotate the forearm (to turn it palm up), and the wrist extensors can compress and irritate the nerve. Even after tight tissue in the area is released, there is always the potential for tightness to return or even some scar tissue to develop, despite efforts to keep the area loose through stretching and soft tissue work. After all, there is no way to avoid using these muscles as part of the act of pitching, so it presents an ongoing management challenge.
Stan Conte, director of medical services for the Dodgers, says Padilla has responded well to a cortisone injection and potentially could begin a rehab assignment soon, which would have him returning at or close to his 15-day window. The good news here is that this does not appear to be serious and some brief downtime might go a long way toward preventing a disabling recurrence of Padilla's injury. Naturally, the Dodgers would have preferred that all their closers weren't having issues simultaneously, but Padilla seems to be in the best shape for a near return.
Jonathan Broxton
(elbow inflammation) has played some catch but has no definitive timetable for his return, and Hong Chih-Kuo (anxiety disorder) is out indefinitely.
Quick hits
•
Philadelphia Phillies
outfielder
Shane Victorino
is making some progress from his hamstring strain, doing agility drills and taking batting practice. The Philadelphia Inquirer reports he could begin a rehab assignment this weekend. He is eligible to return June 3, and the Phillies have hinted at having him back on time.
The good news is Victorino reportedly has not dealt with hamstring injuries in the past. The not-so good news is the Philadelphia Inquirer reported that the day Victorino got hurt, he had been experiencing pain in his low back and hip prior to feeling it in the hamstring. If indeed Victorino has low-back issues, which are contributing to the hamstring symptoms, the injury might not be totally behind him, even after he returns.
• Don't expect
Cleveland Indians
designated hitter
Travis Hafner
back anytime soon. He has an oblique strain that is likely to keep him out the better part of a month. Hitters need their core strength for power. He will not be rushed back. But hey, on the bright side, the Indians expect to get
Grady Sizemore
back this weekend, according to MLB.com. After he ran the bases without incident Wednesday, the team has confidence that his knee is progressing in the right direction. Sizemore had been dealing with a bone bruise in his right knee following a hard slide. He underwent microfracture surgery in his left knee in the offseason.
•
Toronto Blue Jays
first baseman
Adam Lind
has seen some progression of his baseball activity (swinging the bat, fielding drills) down at the team's Florida facility. Although his move to the DL last week took some by surprise, he has appeared to make steady progress since he's been there. The team appears hopeful he could return to extended spring training action this week, according to the Jays' website. Perhaps most notably, it sounds as if the team plans to share his workload, at least initially, with
Juan Rivera
when he returns so as not to overwork him.
March, 18, 2011
3/18/11
11:35
AM ET
The mood was festive on St. Patrick's Day in Glendale, Ariz., as the
Los Angeles Dodgers
hosted the
Arizona Diamondbacks
. The Dodgers sported green jerseys and caps in honor of the occasion and there were leprechauns on hand for the opening ceremonies.
The best sight for fans of both teams, however, had to be the uneventful (read: healthy) participation of several key players.
[+] Enlarge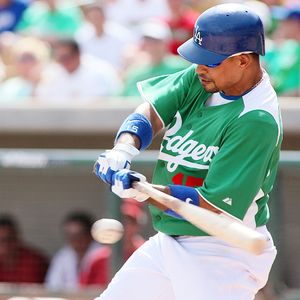 Jake Roth/US PresswireRafael Furcal was limited to just 97 games in 2010 because of injuries.
For the Dodgers, shortstop
Rafael Furcal
batted in his usual leadoff spot. Furcal has battled hamstring issues in the past that have caused him to miss significant time. Questions about his durability (he is now 33) and whether he will be able to maintain his speed have crept up. But Furcal is also known for being an exceptionally hard worker who takes his health seriously. The Dodgers have to be hoping that he will be able to replicate a season healthwise similar to 2009, when he played in 150 games.
Right fielder
Andre Ethier
scored a run in the bottom of the fourth when fellow outfielder
Matt Kemp
hit one out of the park that brought him home. Ethier, who had a tricky right pinkie injury last season that affected his performance at the plate, is eager to have a healthier 2011. As the Los Angeles Times reported earlier this year, Ethier also dealt with knee and ankle issues in 2010, which affected his play especially late in the season. If Ethier is able to finish out this year the way he started the last one, the Dodgers could be in for a treat.
The Dodgers do have a couple of players who are nursing injuries. Pitcher
Jon Garland
is out with an oblique abdominal injury and likely will start the season on the disabled list, according to the team's website. Perhaps more noteworthy than Garland's injury is the fact he has been on the DL only once, in 2001 after he was hit by a line drive. With right-handed starters who sustain this injury averaging just over 30 days on the disabled list, the Dodgers have to be hoping that Garland is indeed "average." If all goes well, he could return in April, but the primary goal is to ensure that there are no recurrences once he does return.
Pitcher
Vicente Padilla
underwent surgery on his right (throwing) forearm in February to alleviate pain caused by undue pressure on the nerve there. Nerve entrapments of this type are commonly seen in individuals with highly developed musculature in the forearm yet are not frequently reported in pitchers. The Dodgers' website reports Padilla is expected to be sidelined until May. His return to competition will undoubtedly depend on how his throwing progression proceeds over the next several weeks.
The Diamondbacks could use a little luck of the Irish after dropping nine straight games in Cactus League play. Their good fortune may lie in the health of a couple of key players who dealt with injuries in 2010. Outfielder
Justin Upton
has showed no signs of holding back at the plate this spring. Upton injured his left shoulder late last year in what he called a "freak" injury (swinging at a bad pitch), according to the Diamondbacks' website, and his season ended prematurely as a result. Upton did not require offseason surgery, instead undergoing a course of rehab to strengthen his shoulder. So far it appears to be working for him.
Diamondbacks catcher
Miguel Montero
is off to a fresh start this spring as well. Last year, Montero tore the meniscus in his right knee, a particularly challenging injury for a catcher, given the amount of time spent in the crouch position. His offensive performance upon his return seemed to take a step back and, according to the Phoenix examiner.com, Montero never felt fully healthy. With the long-term health of his knees a consideration, Montero skipped winter ball, instead staying in Phoenix to train over the offseason. If he stays healthy, there's no reason to think he can't deliver on the expectations set for him a year ago.