Stephania Bell:

Vincent Brown
October, 30, 2012
10/30/12
6:29
PM ET
Week 8 is in the books! The season is approaching the halfway mark, the point where some fantasy teams attempting to reach the playoffs must decide whether to fish or cut bait when it comes to players with injury concerns. Unfortunately, there are still a number of question marks out there with players whose return status is unclear.
[+] Enlarge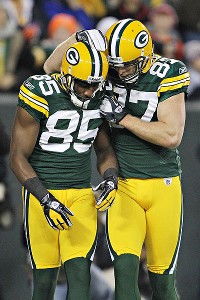 Jonathan Daniel/Getty ImagesGreg Jennings may not be back for a while, but Jordy Nelson could return this week.
Green Bay Packers
wide receiver
Greg Jennings
was impacted by Hurricane Sandy in an unusual way. Jennings was scheduled to undergo abdominal surgery in Philadelphia on Tuesday, but due to travel difficulties associated with the storm, surgery has been postponed. No word as of yet as to how long until Jennings' operation is rescheduled. While a delay of a few days is not likely to significantly impact his overall recovery, every week counts. It would not be a surprise if he doesn't return until December.
Jacksonville Jaguars
running back
Maurice Jones-Drew
(foot) has already been ruled out for Week 9, according to coach Mike Mularkey, but there is no definitive word on when to expect him back. (I still expect him to return this season, but whether it's in the next two or three weeks or more than a month away is unclear.).
San Diego Chargers
wide receiver
Vincent Brown
was an exciting prospect in the preseason, then a fractured ankle sent him to IR/designated for return. The question now is when he will return, as he has yet to practice and hasn't even begun running. Head coach Norv Turner acknowledged Monday, "I don't expect him back real soon." Brown was always projected to miss at least eight weeks and the Chargers indicated he was on track throughout his recovery process. Once he became eligible to join the team in practice, though, his absence became more noteworthy. It's not a huge surprise given the challenges of regaining functional strength and mobility in an ankle after a fracture, even if the bone has healed. Still, given the notion that Brown is still multiple weeks away from a return, fantasy owners should consider looking elsewhere for midseason help.
There are some other players whose status is worth tracking. Here's who we're keeping an eye on heading into Week 9:
Peyton Manning, QB Denver Broncos, (thumb):
The Broncos have to be breathing a sigh of relief that Manning did not suffer a more serious injury when he hit his thumb on a helmet. Manning said afterward he was "lucky" that the impact was on the nail (as opposed to further down on the bone itself) and coach John Fox told reporters Monday that Manning's thumb was fine. Whew.
[+] Enlarge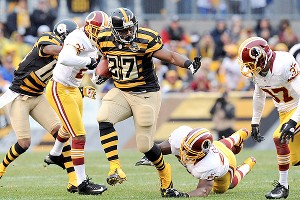 AP Photo/Don WrightJonathan Dwyer has two straight 100-yard rushing games, but now he's dealing with the injury bug.
Rashard Mendenhall (Achilles), Jonathan Dwyer (quad) and Isaac Redman (ankle), RBs, Pittsburgh Steelers:
The three lead running backs for the Steelers are all on the injury report and there is some uncertainty around the status of each. Mendenhall strained his Achilles in Week 6 and has not practiced since. Although the indications are that the injury was not serious, the Steelers would prefer it not become serious, and Mendenhall is still early in his return from ACL surgery. Last week, head coach Mike Tomlin indicated Mendenhall was making progress and he will begin individual drills Wednesday. It would not be surprising if he is able to return this week, although much depends on how he responds to increased work.
Redman is still recovering from an ankle injury also sustained in Week 6. He did make it back to limited practice late last week and, if he gets through a week of practice, he should be available by Sunday. Dwyer got the start last Sunday with both Mendenhall and Redman sidelined, but he was reported to have a strained right quad after the game, leaving the question as to who will be available (and starting) this week. On Monday, Tomlin announced that Dwyer would not practice Wednesday but could be back in the mix Thursday. In other words, this situation will not likely shake out until late in the week.
DeMarco Murray (foot) and Felix Jones (knee), RBs, Dallas Cowboys:
Murray has been out since suffering a foot sprain in Week 6 but it sounds as if he is making some progress. According to the Dallas Morning News, head coach Jason Garrett said, "It seems like he's moving around a little bit better." Garrett also cautioned that it is the type of injury that warrants caution and that Murray is day-to-day. Foot injuries are very tricky, even those that don't require surgery, as we have seen in the past (Exhibit A: Raiders running back
Darren McFadden
, who was unable to return after his midseason injury last year). Murray moving better is a far cry from hard running and making sharp cuts in practice. Consider me skeptical until we see evidence that he can do these things without limitation before declaring him ready to return. In the meantime, Jones entered the Week 8 game with a bone bruise in his knee and managed to escape without further injury. Jones would likely get the start again if Murray remains out.
Dez Bryant, WR, Dallas Cowboys (hip):
Anyone watching the Cowboys this weekend probably saw the spectacular catch that Bryant made in the end zone late in the game, the one that was just fingertips shy of a touchdown. While many were watching the multiple replays of the catch, some may have noticed that Bryant seemed a bit shaken up on the play and even appeared to be limping as he left the field. He did return to finish the game but there were still questions about his hip. On Monday, coach Jason Garrett told reporters the Cowboys did not think the injury was "that severe." It appears Bryant should be fine to play in Week 9.
Jordy Nelson, WR, Green Bay Packers (hamstring):
Nelson was out in Week 8 because of a hamstring strain suffered in last Wednesday's practice. Nelson should get back to practice this week. How he responds should offer further clues about his availability for Sunday.
Calvin Johnson, WR, Detroit Lions (knee):
Johnson is on the playing field weekly despite being a regular on the injury report, so it hardly merits a mention. Most of the time. This week, however, Johnson made some postgame comments suggesting his knee is more of a problem than he has let on. When referencing a dropped pass, Johnson told reporters, "It's tough to stick my foot in the ground with my knee hurting, but that's not [an] excuse." Johnson is not typically one to make excuses, nor is he one to complain about physical ailments, but his words suggest that the pain is literally impacting his performance. Will that alter his status heading into Week 9? Don't count on it. Coach Jim Schwartz said of Johnson Monday that he is "plowing through," suggesting that he will continue to do so until or unless it becomes physically impossible. Expect Johnson to get a big break in practice this week to help preserve him for Sunday.
Ben Tate, RB, Houston Texans (hamstring):
Tate was dealing with a toe injury recently, and now he's got a strained hamstring. As Texans head coach Gary Kubiak told reporters Monday, "It seems like it's been one thing after another." The Houston Chronicle reports that Tate maintained a regular rehab schedule during the Texans' bye week in the hopes of being ready for Monday practice, yet he still could not participate. The cumulative injuries have prompted Kubiak to suggest that Tate will miss some time to try to get his health right. No indication whether that time is the span of a few days or more than a week, but it hints at an absence for Week 9.
Justin Forsett
suddenly becomes more interesting.
[+] Enlarge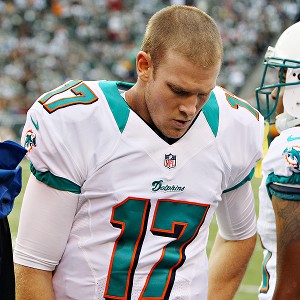 AP Photo/Seth WenigThe Dolphins cruised to a win in Week 8, even with Ryan Tannehill leaving with an injury.
Ryan Tannehill, QB, Miami Dolphins (knee):
Tannehill suffered a bone bruise in his left knee along with a quadriceps contusion (deep bruise) early in Week 8 and
Matt Moore
came in to finish the game. According to ESPN news reports, an MRI did not reveal any more specific structural damage, but Tannehill's status for Sunday remains uncertain.
Wes Welker, WR, New England Patriots, (ankle):
Welker sprained his left ankle in the fourth quarter of the Patriots' London game against the
St. Louis Rams
and did not return. As reported by ESPN Boston, Welker said his foot got "stuck in the turf" and he remained walking the sidelines following the injury. There doesn't seem to be much concern about Welker's chances for Week 10, as he will have the benefit of a bye week to recover.
Aaron Hernandez, TE, New England Patriots (ankle):
Hernandez, who did not travel with the team to London, should also benefit from the bye week. Although Hernandez has returned to play since injuring his ankle in Week 2, he was still experiencing some limitations with mobility and agility. Eliminating a long road trip combined with two weeks of relative rest and focused treatment should have Hernandez in better shape by Week 10.
October, 23, 2012
10/23/12
11:43
AM ET
Week 7 is in the books! Another week, another player out for the season. On Monday night, the
Detroit Lions
lost wide receiver
Nate Burleson
to a broken leg. Burleson landed awkwardly, then went to the ground and immediately clutched his right leg.
Washington Redskins
tight end
Fred Davis
tore his left Achilles early in Sunday's game, and the team wasted no time reaching out to
Chris Cooley
to replace him. Cooley was a star tight end for the Redskins not so long ago, before his recent injury issues prompted the team to let him go this summer.
Naturally there are other injury situations worth tracking. Here's who we're keeping an eye on heading into Week 8.
Running Backs
[+] Enlarge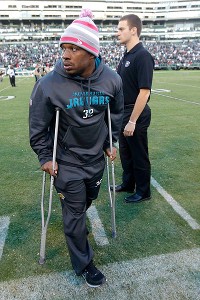 AP Photo/Marcio Jose SanchezMaurice Jones-Drew will be out at least for Week 8, and maybe more, with a foot injury.
Maurice Jones-Drew, Jacksonville Jaguars (foot):
Jones-Drew, the perennial picture of health at a position where players are virtually guaranteed to get injured, finally appeared to succumb to the inevitable. After playing in every game last season, Jones-Drew was forced to leave in Week 7 because of injury and may be out for an extended period. Jones-Drew injured his foot almost immediately in Sunday's game, and although he has not been definitively diagnosed with a Lisfranc injury, coach Mike Mularkey would not rule out the possibility. Jones-Drew was seen on the sideline with crutches for the remainder of the game -- not necessarily unusual immediately following a foot injury. Still, the fact they did not want him putting weight on the foot does suggest a somewhat elevated level of concern.
Jones-Drew already has been ruled out for Sunday's game, and Mularkey noted when he spoke with reporters Monday that he could miss extended time. More information should emerge in the coming days, but fantasy owners should plan on a multiweek absence.
Rashad Jennings
stepped in to replace Jones-Drew and probably will be one of the most popular guys on the waiver wire this week.
Trent Richardson, Cleveland Browns (rib):
Richardson entered Sunday's game with a right-side rib cartilage injury. Although he was able to practice on a limited basis during the week, the injury made itself known early on and Richardson was essentially benched for the second half. According to The (Cleveland) Plain Dealer, coach Pat Shurmur removed Richardson because he "wasn't quite effective," acknowledging the injury likely played a role. Richardson maintains he does not want to sit out and hopes to play this week. The challenge with damage to the rib cartilage is that the tissue is notoriously slow to heal. Many players who suffer this type of injury are dealing with pain that lingers for weeks, although it gradually subsides with rest. Repeated contact can make it more difficult for the pain to resolve. Typically it comes down to how well a player can function in the presence of pain. Richardson saw that firsthand when he tried to go from limited practice to full speed -- his body was not yet ready to cooperate. We'll see how he responds over the course of the week.
Quarterbacks
Blaine Gabbert, Jacksonville Jaguars (shoulder):
Gabbert looked to be in significant pain after hurting his left (non-throwing) shoulder and now we might know why. According to ESPN's Ed Werder, Gabbert reportedly suffered a torn labrum and will get a second opinion Tuesday from Dr. James Andrews. There is no word yet as to whether Gabbert will play Sunday.
And we're keeping an eye on
Jimmy Graham, TE, New Orleans Saints (ankle):
Graham did not play Sunday after sustaining an ankle injury in Week 5. The fact that Graham did make it onto the practice field last week is certainly an encouraging sign, and it sounds as if the Saints are optimistic about his progress. According to Mike Triplett of the New Orleans Times-Picayune, interim coach Joe Vitt said they would test Graham on Wednesday and that right now they "feel good" about him.
[+] Enlarge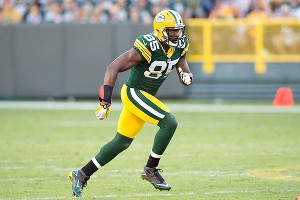 AP Photo/David StlukaGreg Jennings has just 12 fantasy points in standard leagues this year because of his injuries.
Greg Jennings, WR, Green Bay Packers (groin):
Jennings could return to practice at the end of this week, according to the Milwaukee Journal Sentinel. First, he will need to test the groin by running, which is slated for Thursday. If all goes well, he could be allowed to progress his activity in practice. These are the logical next steps in what has been a very steady, graded rehab approach for Jennings since aggravating the groin injury earlier this month. Both Jennings and the Packers have said he will not return until he is fully healthy, and it is in both their interests to ensure that to the degree possible. Ultimately, in-game testing is unique in the type of demands it puts on a player, but it certainly appears that Jennings has been guarded against overdoing it thus far. It's too soon to say whether he would be able to return to play this week but a return to practice would signal he is not far off.
Pierre Garcon, WR, Washington Redskins (foot):
Last week, we learned the source of Garcon's pain was a sprained capsule (the thicker tissue that covers a joint). This week, there are reports that the damage is more involved. USA Today Sports reports that Garcon is also dealing with a torn tendon, citing a source briefed on the specifics of the injury. The report suggested that Garcon could be held out through the team's bye (Nov. 11). While the news hints at further damage than initially conveyed, it doesn't change the team's approach, which is to have Garcon let the foot rest. The question becomes how much the extended rest will help the condition. Certainly the pain and inflammation should settle down, but one wonders whether it will return when Garcon resumes running and practice activities. Only time will tell. The bottom line for fantasy owners is that it appears it will be several more weeks before Garcon potentially returns.
DeMarco Murray (foot) and Felix Jones (knee), RBs, Dallas Cowboys:
Murray missed Week 7 with a foot injury and Jones got the start in his place. Unfortunately, it didn't take long for Jones to exit the field with an injury of his own. On the second play of the game, he injured his neck, but it was deemed to be mild and he later returned. A knee bruise forced Jones to leave the game a second time, and it's not clear whether that will be something that limits him this week. Meanwhile, ESPNDallas.com reports the Cowboys are hopeful Murray can return this week from his sprained left foot. It seems like a quick recovery for a guy who was on crutches and in a boot just last week, but the real test will be at practice, when Murray tests the foot. No word yet as to when that might happen.
Donald Brown, RB, Indianapolis Colts (knee):
Brown underwent arthroscopic surgery two weeks ago, and the return timetable indicated two to three weeks. Philip B. Wilson of the Indianapolis Star reported Monday that Colts offensive coordinator Bruce Arians said Brown is close to returning but may not be quite ready for Week 8. Two weeks sounded a bit quick, given that following surgery, even if relatively minor, a key to a successful return is having regained enough muscular strength to protect the joint. It will be interesting to see how much work Brown gets in practice this week.
Frank Gore, RB, San Francisco 49ers (ribs):
Gore suffered bruised ribs in the team's Thursday night game and was held out for the final minutes. Their next game is Oct. 29, a Monday night game, and the extra time between games undoubtedly will help. The question then is will Gore's soreness have decreased enough to allow him to play. So far it sounds positive. According to the Sacramento Bee, Gore put in a full practice Monday and expects he will be ready to play in Week 8.
Vincent Brown WR, San Diego Chargers (ankle):
Brown suffered a fracture in the preseason and was placed on the new designation of injured reserve/designated to return. He has been largely invisible to the media during his rehab, but the team has insisted that his recovery is on track. However, Wednesday was the first day Brown was eligible to rejoin the team in practice, and he did not. Given Brown's absence and given coach Norv Turner's comments about Brown going "one step at a time" on the team's official website, the earlier hope that Brown could return by Nov. 1 seems to be fading. "He has not been on the field yet. It will be a while before we give you specific timing on when he'll be able to play," Turner said. It's not clear whether Brown has even tried running yet. As of now, it appears he has a ways to go before there is any talk of game action.