Stephania Bell:

Warrick Dunn
November, 12, 2008
11/12/08
2:31
PM ET
Tatum Bell
has packed his bags and headed off to Denver to help fill a gap in the Broncos' injury-depleted backfield. Will this partnership be better the second time around?
Larry Johnson
will be active for the Chiefs this week, and just in time, as the ankle problem ailing
Jamaal Charles
has him questionable for Sunday.
Warrick Dunn
is feeling better, and the Buccaneers have to be happy about that, since
Earnest Graham
's knee sprain may keep him sidelined this week.
Games of musical chairs are being played at running back everywhere around the league. Who else will be stepping into or out of your fantasy rotation this week? Based on early practice reports, here's what we're hearing on the injury front so far:
Clinton Portis, RB, Redskins:
Portis has a grade 2 medial collateral ligament (MCL) sprain that could sideline him this week, according to the Washington Post. We all know that Portis has been taking his share of hits with his big workload so far this year and has proved extremely resilient, but a grade 2 MCL sprain is a compromising injury for a running back.
The Post reports that Portis said on John Thompson's radio show that he was having more pain in his knee late last week, which led to further evaluation and the ultimate diagnosis. Portis also stated that as of Tuesday he was just starting to bend his knee and could not fully straighten it, either. This is not unusual for an MCL injury, as some of the ligament fibers are stretched when the knee is bent and others are stretched when the knee is extended. As the ligament is trying to heal, it is important not to overstretch those fibers, so initially the knee is restricted from the extremes of the range of motion.
If Portis was still lacking range of motion Tuesday, it's almost impossible to imagine that he could regain full motion and have enough strength and stability to perform in a game. Remember
Willie Parker
just returned (against the Redskins, in fact) after missing about a month with a similar injury.
LaDainian Tomlinson
tried to play in the 2007 AFC Championship game but lasted only a few plays because of a grade 2 MCL injury. Running backs' rapid directional changes stress the MCL significantly, and pain or a sense of instability will render them far less effective. This injury typically requires a few weeks of recovery, but a grade 2 (moderate) sprain represents a big range in terms of the extent of damage to the tissue -- the time frame for recovery is not automatic. If Portis is able to participate in practice late in the week, it bodes well for an earlier recovery, but even then, it would be a big surprise to see him in the lineup Sunday.
[+] Enlarge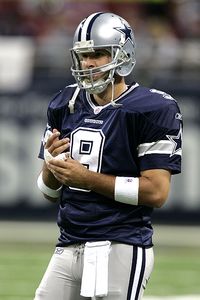 AP Photo/Jeff RobersonRomo makes his return to the Dallas lineup this week.
Tony Romo, QB, and Felix Jones, RB, Cowboys:
The Cowboys are excited that Romo is back under center this week -- right on time, based on projections made after Romo first broke the little finger on his throwing hand. According to the Cowboys' official Web site, Romo returned to practice Monday and is throwing with "more zip on the ball," coach Wade Phillips said. Everything is pointing toward Romo's practicing all week and starting Sunday. He'll likely be a bit rusty after missing a month, but his finger should be on its way to being well healed. It was a wise decision for the Cowboys to allow Romo to rest and let his finger heal properly, ensuring less risk of complications for his throwing hand down the road. It will be a tough contest against the Redskins, but you can count on Romo's throwing the ball plenty.
The Cowboys' running game, however, may still be without the services of Felix Jones. Jones missed practice Monday, as he is still recovering from his hamstring injury. Missing the first day of practice after a bye week is not a good sign, but the first news of Jones' injury (that it was located closer to the knee) suggested that it could take longer to heal fully. For his part, Jones told the Cowboys' official Web site that he is very close to ready and hopes to return to practice Wednesday and play Sunday. He was able to run full speed last week but has worked solely on the side so far. If Jones demonstrates that he can go full speed in practice toward the latter part of the week, then he has a chance to play. That play, however, is likely to be limited, as the team is likely to ease him back so as not to risk re-injury. Fantasy owners should have a backup in place, though -- you know how finicky these muscle strains can be, especially as an athlete pushes himself toward full gear.
Tight end
Jason Witten
returned to practice Monday and is feeling better. Expect him back in the lineup Sunday, probably with some extra cushion around his still-healing rib, as he's a favorite Romo target.
Some other players to keep an eye on as the week progresses:
• The Broncos have added Tatum Bell to their roster. Bell and fullback
Peyton Hillis
are basically the only backs left standing.
Selvin Young
aggravated his groin injury in the Thursday night game and is unlikely to be available for a while. Meanwhile, tight end
Tony Scheffler
showed that he could play, but he was clearly still hurting. Hopefully the longer stretch between games this week will help him.
[+] Enlarge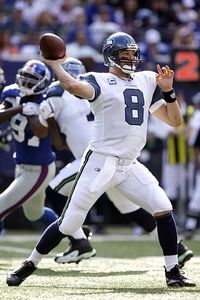 Rich Kane/US PresswireHasselbeck's return should help the Seattle offense immensely.
• Seahawks quarterback
Matt Hasselbeck
and receiver
Deion Branch
could both be back in the lineup this week. The Seattle Times reports that coach Mike Holmgren is "cautiously optimistic" that they will be ready. Hasselbeck has regained strength in his leg, which allowed him to return to practice. Given the extent of his time off and the fact that he may not be at full strength (or in game shape), temper any expectations about what Hasselbeck can deliver. Meanwhile, Branch has recently been dealing with a painful bruised heel, which, along with a still-recovering ACL-reconstructed knee on the other side, has kept him out of the lineup for most of the season. As ESPN's John Clayton points out, though, the Seahawks have just released receiver
Keary Colbert
, a sign that Holmgren's optimism about Branch's return is well-founded. By Friday we should have a better indication as to what both players can do, but it's looking promising.
• Over in Pittsburgh, coach Mike Tomlin has taken a slightly different approach this week when it comes to quarterback
Ben Roethlisberger
. According to the Pittsburgh Post-Gazette, Tomlin wants to see Roethlisberger practice more early in the week before he commits to him as the Sunday starter. Roethlisberger, who suffered an acromioclavicular joint sprain in the season opener, has been nagged by the shoulder throughout the season, a condition that has not been helped by being knocked down and sacked. The trend has been for Roethlisberger to rest his arm to varying degrees during the week, practice some Friday then play Sunday. The trend has also been that Roethlisberger's performance declines as the game goes on, especially in the fourth quarter. There are likely multiple reasons for this, including some poor decision-making on Roethlisberger's part, which he openly acknowledges. But it is also probable that his shoulder plays a role in his ineffectiveness late in the game. As he takes a beating over the 60-minute contest, any pain or swelling that he incurs in the shoulder will make it more difficult for the muscles around the shoulder to function properly. This will in turn affect his throwing, limiting both his distance and his accuracy. Perhaps Tomlin's notion of seeing Roethlisberger in practice more is not a bad one from an injury perspective, in that if he is fatiguing in practice, it may be a good indicator that he will struggle to complete a game. And then there are all the other obvious benefits of practicing with the team throughout the week. And what about "Fast" Willie Parker? He may be wearing a harness for his injured shoulder, but he is expected to practice Wednesday and play Sunday.
• Bears quarterback
Kyle Orton
is determined to return to the field Sunday, but will he be able to do it? We don't know yet because the Bears will have their first practice Wednesday. Although his determination is admirable, it will really come down to functionality. Can he move effectively enough on that ankle to justify a start? This may come down to another game-time decision, but we should have a better clue by Friday. Stay tuned.
• Good early news for
Steven Jackson
fantasy owners. The St. Louis Post-Dispatch is reporting that Jackson was on the practice field Wednesday morning sharing first-team reps in 11-on-11 drills with teammate
Antonio Pittman
, who started last week in place of the injured Jackson. The fact that Jackson was running through team drills is a good sign that his quad is recovering, but it is still early. Coach Jim Haslett has made it clear that Jackson will need to go through a full practice at full speed before he is allowed to play, but this is the best start to a practice week that Jackson has had since the injury. Friday will be critical.
• Everyone is excited in Tampa Bay. Running back
Carnell Williams
, coming off a devastating injury (torn patellar tendon) more than a year ago, has worked extremely hard to get himself back to the playing field. Well, all that hard work has paid off. The Buccaneers have decided to activate Williams off the physically unable to perform list, and the move has come just in time. Teammate Earnest Graham is dealing with a knee sprain that will likely sideline him this week, as he has not been able to return to practice. Warrick Dunn, who missed the Bucs' last contest with a pinched nerve, has returned to practice and is hopeful that he'll play this weekend. Don't expect much from Cadillac at first; he will be brought back very gradually as his recovery is still in progress. By the time fantasy playoffs roll around, though, he could become a worthy flex player. You may want to grab him before anyone else notices.
As usual, practice throughout the week will give us a better hint as to what the final status of these players will be heading into Week 11. See you Friday at the injury chat, and we'll have the latest injury updates affecting Week 11 in the Saturday blog!
November, 1, 2008
11/01/08
10:10
PM ET
Bad weather and airport delays during my West Coast travels have me hustling to get the news out to you. So without further ado, here's what we know as we head into the Week 9 contests.
Willie Parker, RB, Steelers:
After a successful week of practice, including Saturday, it appears (fingers crossed) that Parker, labeled as probable, will play Monday. Parker has been working his way back from a sprained medial collateral ligament (MCL) in his left knee which he originally injured in Week 3. Then, just when it looked as if he was ready to return, a misstep set him back and he has missed two additional weeks.
Parker and his fantasy owners have been eagerly anticipating his return, but don't get too excited just yet. Given the fact that he has already suffered one setback, no one wants to set him up for another, so the team plans to bring him back gradually. In other words, expect
Mewelde Moore
to continue to see a fair amount of action this week.
Steven Jackson, RB, Rams:
The quad strain that kept Jackson out of last week's game continued to limit him in practice throughout the week, although he was able to do a bit more Friday. Nonetheless, his official designation remains questionable and again this week coach Jim Haslett stated that Jackson would be a game-time decision. Last week it was tightness in the muscle that Jackson felt during warm-ups that kept him from going, so it did literally come down to how he felt minutes before the game.
But wait! Perhaps you won't have to wait until just before kickoff to find out about Jackson's status. In a late post on his official Web site Saturday, SJ39.com, Jackson announced to all his fans that the leg is feeling good enough for him to play against the Cardinals on Sunday. He notes that it is a big game and he is going to "give everything [he's] got" to get the Rams a win. In case you still don't believe? Jackson's words: "So to be clear. I am playing. Be ready." Don't know if that's directed at fantasy owners or the Cardinals, but it sounds convincing. Although he was limited this week, and perhaps a little more so than expected given that he was considering suiting up last week, he may have been protecting his leg to save up for the weekend. It's looking promising.
Joseph Addai, RB, Dominic Rhodes, RB, and Reggie Wayne, WR, Colts:
Addai has been absent for a few weeks because of a hamstring strain but there is reason to get (a little) excited. Addai, although listed as questionable, is expected to play, and possibly start when the Colts face the Patriots on Sunday night. Addai has been practicing all week without a setback, a positive sign of his progress.
The reason we can get only a little excited is because the Colts plan to have Addai share time with Rhodes, who has been filling in ably during his absence. According to Tom James of the Terre Haute Tribune-Star, Tony Dungy was very clear on that point even as Addai improved in practice throughout the week. "Joseph will start if he's ready to go and 100 percent. But Dom is going to get a lot of carries and continue to do a good job for us either way. If Joe's not 100 percent, then we'll start Dom," the Colts coach said. There's a twist, though. Rhodes himself was added to the injury report this week with an ankle ailment and is listed as questionable. Despite that, he was fully practicing Thursday and Friday, so he should be on the field. Addai and Rhodes are likely to split the work to ensure that neither is overburdened.
Meanwhile, Wayne has been limited by a sore knee all week. The Colts have not issued any specifics related to his injury, indicating only that he tweaked the knee against the Titans. Early in the week, Dungy sounded optimistic that this apparently minor ailment wouldn't hold Wayne back. But as the week went on, and Wayne did not practice Thursday as originally expected, it appeared the situation was a bit more serious. On Friday, Wayne did only limited work and has been tagged as questionable. Here's why we're concerned. This is a guy who, until this week, has not missed practice since his rookie year in 2001. The knee is bothering him. That being said, Wayne did tell the Indianapolis Star that he is "ready to go." Look for Wayne to be a game-time decision, but consider that he may not be in tip-top form.
Other noteworthy items
&#8226
Clinton Portis
ended the week with a probable designation, so you can feel safe that he will play Monday. His hip is still sore and he sprained an ankle last week, so the team kept his practice to a minimum, but he is good to go. Teammate
Santana Moss
is less of a sure thing, however; his hamstring strain kept him out of practice the entire week. He is listed as questionable and even coach Jim Zorn made it clear in comments to the Washington Post that he did not want Moss to start, only to find out minutes into the game that he couldn't continue: "I want him to go out and, if he's going to play, participate fully in the game." Given Moss' extensive hamstring injury history (2004, 2006 and 2007) and his reliance on speed and explosiveness, I would be leery of counting on his availability.
&#8226
Jason Witten
remains a game-time decision with his fractured rib. Witten, known for his pain tolerance, is feeling enough pain that his daily activities are limited, and he has not practiced all week. He is very
Brian Westbrook
-esque in his ability to show up Sunday and play well, even if he does not practice during the week, but even Westbrook sat out a week with a rib fracture. Witten may very well follow suit.
&#8226 Speaking of Westbrook, the Eagles now have him and
Kevin Curtis
back in the mix. It also appears that they will add
Reggie Brown
to the list of players returning to the lineup from injury. Brown has missed multiple games this year because of various muscle strains, the latest being a groin injury. Brown did practice all week, is listed as probable and is expected to play. Teammate
DeSean Jackson
also showed up on the injury report with a shoulder ailment but it appears minor because he did not miss any practice time. He too is listed as probable and is expected to play.
&#8226 Buccaneers coach Jon Gruden acknowledged earlier in the week that Dunn should not have played last week. Although Dunn seemed to downplay the symptoms of his pinched nerve last week, it clearly was more problematic than he expected. Dunn did not practice all week and is unlikely to play Sunday. More work for
Earnest Graham
.
&#8226 The Bears have to be happy that
Devin Hester
was completely off the injury report this week. Teammate
Brandon Lloyd
, however, was not. Lloyd is still listed as questionable with a sprained knee and has not been a full participant in practice all week. Do not be surprised if he is held out again Sunday.
&#8226 What to make of the Broncos' injury report? It looks as if the entire running back corps is questionable, along with a receiver and a tight end. Running backs
Selvin Young
(groin) and
Ryan Torain
(elbow) are the
more
questionable of the backs on the list. Young is still limited in practice. Torain, although he is doing well in practice, has never played a down of professional ball and coach Mike Shanahan has hinted that he wants to give him just a little more healing time before subjecting him to the big boy hits. Pittman (bruised ribs) was able to practice all week, suggesting that he will indeed be ready to play. Meanwhile, tight end
Tony Scheffler
continues to be limited by his groin injury and receiver
Brandon Stokley
is still recovering from his concussion. They both practiced on a limited basis and could play, but their status is not exactly confidence inspiring.
&#8226
Willis McGahee
has been listed as questionable because of an ankle injury. There has been nothing out of Baltimore to suggest that this is serious, and the fact that he was limited in practice this week can probably be interpreted as a protective maneuver. Check game day inactives, but expect him to play.
&#8226 Raiders rookie
Darren McFadden
is nursing two bad toes. When you have two ailing feet, your designation is doubtful, as McFadden's is, and when you haven't practiced all week, you can expect that you'll be watching from the sidelines in your street clothes. And maybe a boot. More work for
Justin Fargas
.
Out:
This is a list of key fantasy players, not including those who have been moved to Injured Reserve status, who are officially listed as additions to the "Out" listing for Week 9.
Carson Palmer, QB, Bengals:
Palmer's elbow problems are not news, but his status is worth repeating. The Bengals have a bye next week, and after that we should learn whether Palmer will attempt to return at all this season.
Matt Hasselbeck, QB, Seahawks:
Hasselbeck continues to have weakness in his leg related to sciatic nerve compromise. This is a waiting game and is not likely to be over quickly.
Tony Romo, QB, Cowboys:
Out again this week with the broken pinkie, as expected. Bye next week. Likely return to start in Week 11.
LaMont Jordan, RB, and Sammy Morris, RB, Patriots:
Well, Morris' downgrade posted in the Boston Globe Saturday was no surprise. Why the Patriots didn't list him as out on Friday is a mystery since it seemed as if everyone knew his knee would keep him out again this week. But Jordan was downgraded to out (from questionable) on Saturday along with Morris, apparently as a result of the nagging calf problem.
BenJarvus Green-Ellis
and
Kevin Faulk
are the Sunday tandem.
Champ Bailey, CB, Broncos:
If you were watching Denver's last game two Mondays ago, you saw Bailey reach down to his inner thigh in the middle of a play, a sure sign of a groin injury. Unfortunately for Denver, it sounds as if it was a significant strain. Bailey is out this week and is expected to miss several more.
Josh Reed, WR, Bills:
Reed has an Achilles injury that will sideline him this week.
L.J. Smith, TE, Eagles:
Smith suffered a concussion last week and it was not pretty. He was unable to practice all week and will watch from the sidelines while he continues to recover.
Deion Branch, WR, Seahawks:
Branch continues to be plagued by the heel injury he sustained a few weeks ago. The Seahawks recognized that he would not go early in the week and made the announcement that he would sit out alongside his quarterback.
Ladell Betts, RB, Redskins:
Betts' knee injury from Week 7 will keep him out for the big Monday night contest against the Steelers. The Redskins have a bye in Week 10, so look for Betts to increase his activity in Week 11.
Shawn Springs, CB, Redskins:
Springs has a calf injury that has been problematic and will sideline him Monday night. All the more important that teammate
Carlos Rogers
' calf injury does not appear quite so serious, and his return to practice late in the week suggests that he will be available against the Steelers.
Be sure to check out our site Sunday for pregame chats and Fantasy Football Now at noon ET. Good luck in Week 9!
October, 29, 2008
10/29/08
8:59
PM ET
How are teams holding up at the halfway mark of the season? Here's how some of the injury news is shaping up in Week 9.
Jason Witten, TE, Cowboys:
The results are in. ESPN's Ed Werder reports that Witten's MRI confirmed that he indeed suffered a fractured rib. Witten, however, has already informed the Cowboys' coaching staff that he intends to try to play through the injury. Can he do it? There is no arguing with Witten's ability to play through pain. He has already played this season with a separated shoulder, and has played while recovering from a broken jaw in the past. It is possible to help alleviate some of the pain through an injection of painkiller into the rib, and protective padding can be placed over the affected rib to help protect against contact. Neither mechanism is likely to eliminate pain, however. The question will become whether Witten can run (think: breathe deeply), twist (making a reception), absorb contact and protect the football adequately despite the injury. Last Sunday after the injury, Witten attempted to return to the game, but pain eventually forced him out. A week of rest should help to some degree, but rib fractures are nothing to sneeze at (sneezing
really
hurts!) and Witten is a target for contact while on the field, which means his pain will increase as the game goes on. Even Witten, according to Werder, said his prognosis was "not great." Fantasy owners should have a backup plan in case the rib gets the better of Witten this week.
Clinton Portis, RB, and Santana Moss, WR, Redskins:
Portis has been the workhorse of the Redskins without a doubt, and his body is paying the price. Prior to Week 7 Portis was dealing with a hip flexor strain that forced him to miss most of practice that week and resulted in a questionable designation. Not only did Portis play in Week 7, he racked up 175 yards. Portis was again limited in practice to some degree heading into Week 8, then turned in another solid performance but emerged from that contest with a sprained ankle. The Washington Post reports that coach Jim Zorn acknowledges that Portis is tired and beat up, but that he expects him to play Monday night. The extra day heading into the game undoubtedly helps, but the bye week the Redskins have in Week 10 will help even more for the second half of the season.
Meanwhile teammate Santana Moss is dealing with a hamstring injury, unfortunately nothing new for the spry receiver. The Post reports that Moss has some swelling in the hamstring but the team is hopeful that the extra day this week will allow Moss to be available Monday. The concern here, as it is for any running back or receiver, is whether the athlete risks making the injury worse by playing. When the athlete is one who has a history of soft tissue injuries, the risk dial does get turned up. Moss battled hamstring injuries in 2004 and 2006, and in 2007 he dealt with hamstring and groin injuries that cost him a couple of early regular-season games. Moss has amazing quickness and is probably the Redskins' most potent receiving threat. But those skills are dependent on healthy hamstrings. Even though Zorn has told the Post that he does not think the hamstring will keep him out Monday, Moss may end up as a game-time decision.
Some other players to keep an eye on as the week progresses
&#8226 Colts running back
Joseph Addai
could return this week. He returned to practice Wednesday and, if he responds well, is expected to take the field this Sunday according to coach Tony Dungy. The day after is often critical in revealing how healing tissue responds to the stress of increased work, so we should know more Thursday afternoon. Interestingly, fellow running back
Dominic Rhodes
, who has been starting while Addai has been sidelined, did not practice Wednesday because of an ankle injury. Receiver
Reggie Wayne
did not participate either because of a knee issue. The team has not issued any specifics related to their injuries.
&#8226 Seahawks quarterback
Matt Hasselbeck
continues to struggle with weakness in his leg related to his sciatic nerve problems. He will be out again in Week 9, which does not come as a great surprise. Teammate
Deion Branch
is also struggling with his heel and he has been declared out for Sunday as well.
&#8226 After his initial declaration that he thought
Steven Jackson
would be ready for Sunday's contest, Rams coach Jim Haslett said Wednesday that Jackson's status would be a "day-to-day thing" according to the Bellevue News-Democrat. Jackson was able to participate in only about one-third of the team's offensive drills Wednesday, making his Sunday status a bit more dubious. These muscle strains are never a sure thing. The hope would be that as the week goes on Jackson is able to do more, but it could be another game-time decision.
&#8226 Bears receiver
Brandon Lloyd
, who has missed three games with a sprained knee, was listed as a limited participant in Wednesday's practice, suggesting he is not yet back to full strength. The Lake County News-Sun reports that Lloyd does see progress and hints that there's "a possibility" that he could be 100 percent by Sunday. The good news for the Bears is that wide receiver/kick returner
Devin Hester
was not on the practice injury report Wednesday so his strained quad must have benefited from the week of rest.
&#8226 Eagles receiver
Reggie Brown
was able to participate fully in practice Wednesday as he attempts to return to the lineup from a groin strain. Teammate
Kevin Curtis
, who returned in Week 8 from sports hernia surgery, remains a starter so Brown would likely come in at the No. 3 spot if he returns Sunday. Although Curtis had only three catches, he played almost every snap, so he appears fully healthy. Curtis' stamina is still recovering from the time off but he is not being limited by his recent surgery.
&#8226 Two bum toes? Apparently so for the Raiders'
Darren McFadden
. He first injured his right big toe in mid-September and that injury has nagged him since. Two weeks ago, however, McFadden injured his left big toe, which ultimately is what forced him (somewhat surprisingly) out of last Sunday's contest according to news reports. McFadden was unable to practice Wednesday and is now sporting a protective boot on the left foot. An injury to both big toes is death to a running back's productivity. We have seen how much
San Diego Chargers
ace running back
LaDainian Tomlinson
has struggled in the first half of the season with pushing off one ailing toe (which by the way is much improved as evidenced by the resurgence of his trademark spin move in London). McFadden's performance has dropped off since Week 2, which not coincidentally is when he first injured himself. With both feet giving him trouble, do not be surprised if McFadden is unable to play this Sunday.
&#8226 Bucs coach Jon Gruden told the Tampa Tribune that in retrospect the team should not have allowed running back
Warrick Dunn
to suit up Sunday. Apparently the pinched nerve in his neck/back was bothering him more than anyone let on and Dunn, although tough enough to willingly take the field, could not perform at his usual level. Dunn did not practice Wednesday and Gruden's tone did not imply great confidence for the upcoming week. If Dunn does not go Sunday, then teammate
Earnest Graham
's fantasy stock rises.
As usual, practice throughout the week will give us a better hint as to what the final status of these players will be heading into Week 9. Remember there are bye weeks for New Orleans, San Francisco, San Diego and Carolina so we will not get much information on player injury updates for those teams until next week. See you Friday at the injury chat and we'll have the latest injury updates affecting Week 9 in the Saturday blog!
October, 25, 2008
10/25/08
2:02
PM ET
The biggest news this week revolved around a player who was a first-rounder in most fantasy-league drafts this year but isn't playing for anyone right now.
New England Patriots
quarterback and all-American guy
Tom Brady
, recovering from an ACL reconstruction (along with an MCL injury), is now also fighting an infection in his surgical knee. Infections are one of the unfortunate, uncommon risks associated with any surgical procedure and can occur for an infinite number of reasons. The good news, and the most important factor, is that Brady's medical team is treating this aggressively and proactively.
Incidentally, Brady was the beneficiary of having his surgery performed by one of the premier orthopedic surgeons in the country, if not the world: Dr. Neal ElAttrache of the Kerlan-Jobe Clinic in Los Angeles. You may have heard on ESPN's "First Take" the renowned Dr. James Andrews offering his esteemed opinion of Dr. ElAttrache, and indicating that Andrews was consulted on the Brady case at ElAttrache's request since the initial discovery of a complication. Andrews was quick to point out that the correct measures to address the infection have been and continue to be in place, and that Brady appears to be "winning" the infection battle. It is too early to know the outcome with any degree of certainty, but it is very reasonable to expect that Brady could still be on track to recover within his originally projected timetable. In other words, he could still be ready to start the 2009 season.
So do not despair, fantasy owners, at least not over Brady. Besides, there are plenty of other injuries affecting your fantasy rosters that can keep you awake at night. Here's what we know as we head into the Week 8 contests.
[+] Enlarge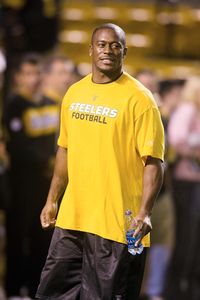 Michael Fabus/Getty ImagesParker will miss yet another game this week.
Willie Parker, RB, Steelers:
The setback Parker suffered last week to his sprained left medial collateral ligament is still affecting him enough that he will not take the field in Week 8. Parker is officially listed as doubtful, but there is no real expectation he will play.
A sprained left MCL will make any lateral motion difficult, especially planting and cutting toward the inside (right side) as it places increased strain on that ligament. In addition to the movement, Parker's knee has to be able to withstand contact before he can confidently return to competition. Parker was able to practice Wednesday but was limited Thursday and did not practice at all Friday. It appears the team will cross their collective fingers and hope that another week will allow him to return, but this remains a day-to-day situation. In the meantime,
Mewelde Moore
gets the start.
Sammy Morris, RB, and LaMont Jordan, RB, Patriots:
Morris and Jordan are listed as doubtful, and neither is expected to play Sunday. It's a good thing the Patriots plan ahead. They are nothing if not deep at the running back position, and that is paying off right now. Last week, the Patriots placed running back
Laurence Maroney
on injured reserve because of continued problems in his shoulder. "That's OK," said the Patriots. "We have Sammy Morris." Well, they had him for 138 yards in the first half of Monday night's game, but Morris did not return in the second half because of a knee injury (which may keep him out for more than one week). "That's OK," said the Patriots. "We have LaMont Jordan returning this week." Well, he
was
planning to return, until he apparently suffered a setback. After participating Wednesday in a walkthrough session, Jordan did not participate in practice Thursday or Friday, leading to speculation that he did not respond so well to the light workout.
So who do the Patriots have handling the work now?
Heath Evans
has been used primarily as a blocking fullback, but he could touch the ball more (which he did late last year when Morris was out for the season and both Maroney and Faulk were banged up).
Kevin Faulk
will probably see an increase in his workload also, but don't discount recently promoted
BenJarvus Green-Ellis
, who showed up in the second half of Monday night's game for 65 yards and a score. Unfortunately it's a bit of a fantasy gamble as to who's featured, but if Patriots offensive coordinator Josh McDaniels' comments are any indication, Green-Ellis could be the go-to guy. The Boston Herald reported that McDaniels liked what he saw from Green-Ellis on Monday night. "He knows where the hole is at, he finds it, he hits it, and he is not going to try to do much sideline-to-sideline running," McDaniels said. "Obviously, when he got his opportunities in the second half last week, he made the most of them."
Laveranues Coles, WR, and Jerricho Cotchery, WR, Jets:
Brett Favre
has found a couple of favorite targets in New York, but will he have either of them available to him Sunday? It appears that of the two, Coles, who is designated as probable, has a better chance of seeing the field, while Cotchery, listed as questionable, may be a game-time decision.
Coles, who has been nursing a quad strain throughout the season yet has managed to play through it and put up some great games, suffered his third concussion in less than two years last week. With the well-deserved serious attention given to head injuries, Coles was watched carefully this week and did not practice Wednesday or Thursday. Coles was cleared and returned to full practice Friday, however, which indicates he was feeling much better by the end of the week. After any head injury, it is equally important to assess the day-after response to exercise, but assuming Coles felt well Saturday morning, expect to see him suited up Sunday.
Teammate Cotchery was listed on the injury report early in the week with an "undisclosed" injury that forced him out early from Sunday's game. The Jets listed Cotchery on the injury report late this week with a "shoulder" ailment. He was only a limited participant in practice throughout the week, and the questionable designation makes him a likely game-time decision.
Other noteworthy items
&#8226 The much-anticipated return of Eagles running back
Brian Westbrook
should take place in Philly this week. Westbrook used the bye week to nurse his rib and ankle injuries. He managed a full week of practice, is listed as probable and is expected to start. Is he 100 percent? Probably not quite yet, but he is a guy who performs when he plays. Meanwhile, teammate
Reggie Brown
, who has been on the injury report with an Achilles, hamstring and now a groin strain, is listed as questionable. With the team getting wide receiver
Kevin Curtis
back from sports hernia surgery (he is off the injury report and listed as a starter), do not expect Brown to be pressed back into service. Expect Curtis and rookie
DeSean Jackson
to serve as the Eagles' primary receivers.
[+] Enlarge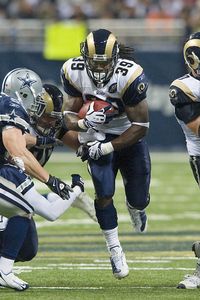 Scott Rovak/US PresswireExpect Jackson on the field, but just how much will he offer?
&#8226 In St. Louis, running back
Steven Jackson
seemed to escape major injury, suffering what the team referred to as a "mild" strain of his right quadriceps muscle. Jackson is listed as questionable. Coach Jim Haslett told the St. Louis Post-Dispatch that Jackson has a 50-50 shot of playing and will be a game-time decision. Jackson did practice for the first time all week Friday but was not running at full speed. It seems likely Jackson will indeed suit up against the Patriots, but he may not be at full strength. What does that translate to in terms of his function? Maybe he's not quite as explosive, not quite as able to drive a pile without the full contribution of those extremely well-developed muscles on the front of his thigh. And there's always the risk of further injury whenever the muscle starts out a little compromised. If Jackson takes the field, though, which I suspect at this point he will, it's impossible to keep him out of your fantasy lineup, because he remains an offensive threat.
&#8226
San Diego Chargers
receiver
Chris Chambers
was upgraded to questionable this week after being doubtful last week, but his availability will be a game-time decision. Chambers was a limited participant in practice throughout the week, but the ankle still does not appear to be fully healed. Keep in mind that the weather in London, site of this week's matchup against the Saints, is expected to be rainy and cold. A slippery field is not a great playing surface for a balky ankle, and with a bye upcoming in Week 9, don't be surprised if Chambers is held out with the long-term picture in mind.
&#8226 We already know that New Orleans will be without running back
Reggie Bush
, who is recovering from knee surgery. Tight end
Jeremy Shockey
, who expressed frustration after experiencing pain early in last week's game, is listed as probable and is expected to play Sunday. Shockey is still on the recovery path from sports hernia surgery, and all things considered, will likely be limited in the number of plays he sees. That allows Shockey to get some playing time in but reduces the risk of a setback.
&#8226 Tampa has plenty of folks on its injury report this week. Wide receiver
Joey Galloway
has been on the list for weeks now with a foot injury and it appeared he would make his debut last week after increasing his practice activity. But it was not to be. Will it be any different in Week 8? Galloway again is officially listed as questionable, and it will again come down to a game-time decision for him, based on how his foot feels during warm-ups. Either way, ESPN's John Clayton says Galloway will probably not start; starting duty will go to
Michael Clayton
and
Antonio Bryant
. Meanwhile
Ike Hilliard
, who left the field following a scary concussion last week, is also listed as questionable. Hilliard was still experiencing post-concussion symptoms during the week but was able to fully practice Friday. If he does not experience any post-practice symptoms, he could be available, but the team may opt to let him sit this one out simply as a precautionary measure. And then there's running back
Warrick Dunn
, who is also listed as questionable on the team injury report with a "back" injury. The Tampa Tribune described Dunn's injury as a pinched nerve. Dunn's comments in the Tribune (he said he could move around, turn his neck) suggest that the injury was not severe. If Dunn is moving well in pregame warm-ups, expect him to play Sunday.
&#8226 Once again, the
Seattle Seahawks
likely will be without the services of wide receiver
Deion Branch
, who continues to be unable to practice because of a bruised heel (to go along with his recently reconstructed ACL in the opposite leg). He is again listed as questionable, but just as was the case last week, is really not expected to play.
&#8226 Indianapolis running back
Joseph Addai
was upgraded to questionable this week, despite the fact that he has not really done anything in practice this week. Addai is not expected to play when the Colts face the Titans on Monday night. Although Addai is reportedly feeling better, he and the team are looking at the long-term picture and are trying to avoid rushing him back and perhaps setting up a bigger injury. Tom James of the Terre Haute Star-Tribune reported that Addai is looking at his injury in the context of what is ultimately best for the team. "You want to be out there," Addai said. "But if you go out there and get hurt again, you'll be hurting your team. It's not just about yourself; it's about the team. So you have to make the right decision." Of course, your fantasy team is hurting without him. This scenario with Addai may extend beyond this week, so plan accordingly.
&#8226 Finally, the Cardinals are excited about the prospect of seeing wide receiver
Anquan Boldin
back on the field Sunday. Boldin is listed as questionable but is expected to see some action, just not a full slate of snaps. Boldin is coming off a significant injury to his skull that required some impressive hardware (eight plates as well as some wiring) to stabilize. Boldin did practice on a limited basis all week and appeared no worse for wear. Expect the Cardinals to utilize him on a limited basis to allow him to test himself in a game situation without overdoing it.
Out:
This is a list of key fantasy players, not including those who have been moved to Injured Reserve status, who are officially listed as additions to the "Out" listing for Week 8.
Carson Palmer, QB, Bengals:
Not that this is a surprise. But the murmurs have turned to rumblings that Palmer may be headed for a full-season shutdown. No matter whether Palmer takes the field again for the Bengals this season, he should not be taking up space on your fantasy roster. It's time to move on.
Matt Hasselbeck, QB, Seahawks:
Last week I thought a targeted return in Week 8 from his sciatic nerve ailment sounded optimistic. Well, it was. Hasselbeck continues to have weakness in his leg, and this should be considered a long-term rehab issue. He has yet to practice and will not be able to until he can pass specific strength tests. This could take a while.
Ladell Betts, RB, Redskins:
Betts will miss another week with the knee injury that sidelined him in Week 7.
Shaun Alexander
remains waiting in the wings to back up teammate
Clinton Portis
if necessary.
Felix Jones, RB, Cowboys:
This was always a two- to four-week injury. Unlike some of the other Cowboys whose status was in question until game time last week, Jones' status was never up for debate. He likely will not be close to returning until after the Cowboys' bye week.
Tony Romo, QB, Cowboys:
Well, at least we're not wondering up until game time. Even though all signs pointed to Romo's sitting out last week, he was listed as the No. 2 quarterback Sunday but never saw a snap. This week we learned that Romo never felt comfortable handling the ball, and consequently he will wait until the finger is healed before he returns. Smart move. Don't expect him back until after the Week 10 bye.
Reggie Bush, RB, Saints:
Bush is recovering from meniscal surgery on his knee and did not make the trip across the pond with his teammates. He will likely be sidelined for at least a month.
Be sure to check out our site Sunday for pregame chats and Fantasy Football Now at noon ET. Good luck in Week 8!
September, 6, 2007
9/06/07
12:06
PM ET
Running Back Concerns (Part 2)
Thomas Jones, Jets:
Jones' injury has not been publicly discussed other than by his agent, Drew Rosenhaus, who informed the media that Jones suffered a calf strain three weeks ago. The calf muscles (gastrocnemius and soleus) are responsible for propelling the body forward when the foot pushes off the ground; they are recruited to work harder when driving against resistance (i.e., blockers) or when pivoting while on the ball of the foot. The calf works in a more explosive manner when jumping. Like other muscle strains, the degree of severity dictates the time to recovery and, no, the Jets have not indicated the degree of injury. We do know that Jones had been restricted to conditioning and light activity, until returning to limited practice on Wednesday.
One concern with calf injuries has to do with the location. A muscle strain in the belly of the calf muscle is not as worrisome as a strain near the musculotendinous junction, which, just as it sounds, is where the muscle ends and the tendon begins. The calf muscle is attached to the heel by virtue of its tendon, the Achilles, and a ruptured Achilles tendon would be a season-ender. For the record, Fox Sports' Adam Schein reported that Jones' injury began as an Achilles strain that evolved into a calf strain. The rest period for Jones during the preseason makes sense for the long haul, but he may be a bit slow out of the gate as a result. Jones remains a solid fantasy option for the season, but temper expectations early, as he may not be at full strength for Week 1.
Clinton Portis, Redskins:
Whenever a problem in spring minicamps is still a problem in training camp, there is reason to suspect that it will continue to be a problem as the season begins. Portis has been dealing with patellar tendinitis since the spring, and has practiced minimally with the team this summer in an effort to rest the knee before the season. Rest is indeed the best medicine for this condition; the question is whether that rest period was sufficient.
The patellar tendon is the thick tendon that anchors the quadriceps muscle (on the front of the thigh) to its attachment just below the knee on the tibia (main bone of the lower leg). Tendons transfer load from muscle to bone and can become inflamed and irritated when they are repeatedly subjected to high loads. This can be a result of overuse, as is most often the case with runners and jumpers (in fact it is sometimes called "jumper's knee"). Also, rapid shifts between acceleration and deceleration combined with directional changes, which a running back does frequently as part of his game, can place increased load on the tendon, making it more susceptible to injury. Portis was kept from cutting drills in practice until late August, indicating that there was still concern about him aggravating the knee. Furthermore, he has been so limited in practice that his football conditioning may not be game-ready. Portis was going to be sharing the load with
Ladell Betts
this season anyway, but if Portis's knee acts up early on, then Betts may end up being the feature back. Portis fantasy owners beware: A Week 1 start is risky, as we have not seen enough of him this preseason to feel confident that he can deliver.
Warrick Dunn, Falcons:
There is nothing tiny about back surgery. But when a pinched nerve is sending shooting, electric shock-like pain down the legs, spinal surgery seems like a small price to pay. Dunn underwent microdiscectomy, a procedure done to remove the piece of offending spinal disc (cushion between the vertebrae) with minimal collateral damage to surrounding tissue. It is the minimalism of the procedure that allows the athlete to heal more quickly and therefore return to sport sooner. Make no mistake, spine surgery is still a serious matter, and as such, Dunn was expected to perform specific rehabilitative exercises to strengthen various muscles that help support the back. Yet he was able to return to practice only three weeks after surgery, a testament to his excellent physical condition. Success rates for this surgery have been reported to be as high as 90-95 percent and Dunn's rapid return and participation suggest that he will do well as far as his back is concerned. Sharing time with
Jerious Norwood
may hamper Dunn's fantasy contributions more than his spine.
Brandon Jackson, Packers:
Jackson sustained a mild concussion during practice approximately two weeks ago, but returned to practice last Sunday. Every concussion must be taken seriously (see
Trent Green
, QB injury update), and the Packers certainly did that by holding Jackson out of remaining practices. But Jackson's injury, by all accounts, appears to have been mild. He is the starter for Week 1, so if you have him, use him accordingly.
Vernand Morency, Packers:
It seems as if Green Bay's backfield is spending a lot of time in the training room. Morency has been dealing with patellar tendinitis since the beginning of training camp (see Clinton Portis). Like Portis, Morency has been resting, but he returned to practice in a limited fashion this week. Given that his knee has only bothered him for the past few weeks, the rest should help the condition to resolve completely, making it a short-term issue for him. Morency may play this week as a third-down back, but his action is likely to be restricted. His health should continue to improve over the next few weeks, and with it, so should his fantasy value.
Travis Henry, Broncos:
Henry ushered in a fresh football start in 2007 with his new team, and a new injury. Henry sprained his left medial collateral ligament (MCL), the ligament that helps stabilize the inner aspect of the knee joint. It was reported to be a Grade I sprain (the most minor), and Henry was encouraged to rest the knee and let it heal through the remainder of the preseason. Henry rejoined practice last week and indicated that the knee felt great, except for some apprehension (not pain!) when running laterally. This is not surprising since the MCL tends to be stressed during lateral cutting. Now that Henry has had a little more practice time under his belt, he should be in good shape for Week 1 and the uneasiness should have subsided. Since Henry has had a tendency to get nicked up in the past, he will want to convince Denver that it made the right choice in bringing him in. Henry has great fantasy potential in his new home.