Stephania Bell:

Washington Nationals
March, 6, 2013
3/06/13
2:57
PM ET
Nationals third baseman
Ryan Zimmerman
is acutely aware of how much his struggles with his right (throwing) shoulder affected him last season. The pain, which limited his hitting early on, and the restriction in his AC joint, which affected his ability to throw, were well known. The mental strain brought on by the situation was not as well-known but was equally difficult for Zimmerman.
"You're struggling in front of 50,000 fans," Zimmerman said. "As baseball players our place where we're comfortable is on the field. And then I wasn't. It's not something I had ever experienced before."
Zimmerman first began experiencing discomfort in the shoulder last spring, but it was mild and intermittent and he didn't think much of it. The pain worsened during the season, and the first area of his game affected was his hitting. "I was compensating by guarding to avoid the pain," Zimmerman said, demonstrating how he would avoid fully extending on his swing so he could keep his shoulder back in close to his body. (Incidentally, that position retracts the shoulder blade, or scapula, which also controls the position of the AC joint.) Two early cortisone shots did not help, and as the season progressed, Zimmerman knew something needed to change because he had become, as he calls it, "an easy out."
"We tried one more shot in a slightly different location," Zimmerman said, "and there was an immediate difference." At that point, hitting was no longer painful, and that was evident in the form of his sudden turnaround at the plate. But throwing became a huge problem.
Zimmerman
Zimmerman said he couldn't feel where his arm was supposed to be to make a throw. He demonstrated moving his arm to different release points, searching for the right spot in space to position himself to throw the ball. The pain was no longer an issue, but restriction in the joint limited his movement and he experienced a lack of control and coordination of his arm. His defensive play clearly suffered as a result and Zimmerman just tried to get through the season, even taking one more injection to help diffuse the pain.
He knew surgery in the postseason was inevitable, but he wasn't sure until the October procedure was complete what exactly was required. Initial MRIs had shown inflammation in the area, but an MRI arthrogram (in which dye is injected into the region to better enhance the image) taken just before surgery hinted at a larger rotator cuff concern. Thankfully, the cuff turned out to be fine and the bulk of the problem was limited to the AC joint. Zimmerman says his surgeon, Nationals team physician Wieme Douoguih, essentially cleaned up the area by shaving down the edges of the bone and creating more space in the joint.
Zimmerman noticed the new motion right away, even remarking that he felt a little loose, especially near the front of his collarbone (where it attaches to the sternum or chest). As a result of overcompensating for stiffness at the far end of the joint, near his shoulder, Zimmerman's body had found a way to get more motion at the near end, not necessarily desirable. "I felt a lot of clicking in the front," Zimmerman said, pointing toward the sternoclavicular (SC) joint. He was quick to add that once he began to regain strength around his chest, upper back and shoulder, that mobility and the "loose" sensation have subsided. The joint now feels completely normal.
There is no longer any pain like before, according to Zimmerman, although he does acknowledge that he still gets sore and he is still regaining his strength. Hitting is not an issue at all, and his throwing is improving as he works through a progressive throwing program. Zimmerman appreciates that manager Davey Johnson has allowed him to increase his activity at a gradual pace, recognizing there are 162 games in the regular season and spring training is long.
On Tuesday, Zimmerman threw across the diamond for the first time since surgery and looked like he had indeed found that natural release point once again. The look on his face after batting practice said plenty, but he summed it up in a single phrase. "There's a lot more to smile about this spring."
Ramos returns behind the plate
Ramos
Since tearing the lateral meniscus and ACL in his right knee last May,
Wilson Ramos
has been on the long road to recovery, culminating in Tuesday's appearance -- his first since the injury -- behind home plate. Ramos has done all the requisite drills. He's blocked balls behind the plate, he's run the bases, he even added sliding just last week. But until this week, he had not functioned as a catcher in a game situation in nearly a year.
Ramos was clearly beaming when I spoke to him at his locker. Not only did he say he was "excited" about playing in a game at least five times, but the smile on his face conveyed how much he had been anticipating this moment. He acknowledged that today represented a big step. "It's not the same as blocking, bullpens," Ramos said, adding, "It's faster, you are more excited." He gestured with his hands and looked around as if he were scanning the field to make his point. "Thinking about plays, where the ball is coming from, where you need to throw ... it's more ... excited."
The play that sent Ramos to the DL for months was so seemingly minor; he still appeared bewildered that the result was so drastic. He leaned over casually to scoop up a ball when his knee collapsed. The next thing he knew, his season was over. After meniscal repair in June, Ramos underwent ACL reconstruction approximately six weeks later. The main focus in therapy initially, as is typical, was regaining motion. "Up and down, up and down with my knee," said Ramos. As he moved through the phases of rehab, he could feel his knee getting stronger but remained apprehensive about performing some of the higher-level drills.
"I was nervous about sliding," Ramos said, "because I always bend my right knee, not my left." But after he got through slide drills and realized he was fine, Ramos was eager to get back behind the plate. He says the power in his right leg is not quite the same as his left, but that is to be expected. So is the stiffness he still feels in the morning, which disappears as he warms up. The knee will continue to improve even after the regular season is underway.
Tuesday marked a major milestone for Ramos as he caught three innings, even if the opponent was a largely minor league
Houston Astros
squad. He moved freely behind the plate, blocking several balls by dropping to his knees without hesitation.
And that is a good reason to be excited.
Haren gets in better shape
Haren
Dan Haren
went on the DL for the first time in his career last season due to back stiffness. Despite his stoicism, the ailing back was clearly impacting his performance. He was able to return shortly after the 15-day minimum and remained relatively healthy across the remainder of the season, even if his results on the mound were somewhat inconsistent.
Haren stayed on a rehab program throughout the offseason, working several days a week with a physical therapist in California. He seemed to clearly grasp the importance of maintaining a combined strength and flexibility regimen to keep himself healthy going forward. "I like to understand what's going on," Haren said regarding why he took such an interest in the particulars of his rehab program. "Then I can report back to the [athletic] training staff what works and what doesn't."
He also recognized there was more to the issue than his spine.
"As you know, with back problems, you're not just treating the back, you're treating everything around it," Haren said. He worked on flexibility for his hips in particular. (His hip was said to be a reason some teams shied away from trading for him at the end of last season.) He also targeted core strengthening and he lost some weight. Most importantly, he says he feels great this spring and he intends to maintain his new regimen. Haren knows firsthand that regardless of how durable he has been, with age comes the risk of the wear and tear of the job catching up to the body. He's hopeful that his attention to his rehab and conditioning program will keep that at bay a while longer.
March, 4, 2012
3/04/12
6:30
PM ET
VIERA, Fla. -- It was a dark and stormy day ... until
Washington Nationals
ace
Stephen Strasburg
took the mound at Space Coast Stadium, that is. Torrential rain and gusty winds looked as if it could threaten Strasburg's Sunday start, but an hour before game time, the clouds were gone and the sun was shining.
Perhaps the turnaround in the weather just in time for Strasburg to make his spring debut is a sign of good things to come, and his first performance of the 2012 Grapefruit League season was solid. From a health perspective, his outing was uneventful (as expected, considering Strasburg is almost 18 months removed from Tommy John surgery on his right elbow). Given that he made several late-season starts in 2011, Strasburg has already proven that he has recovered sufficiently enough to face major league hitters. Still, with the prospect of pitching for his first full season since the injury still on the horizon, the natural questions facing Strasburg at this point are the same for any pitcher following this surgery. Will he recover his trademark velocity? Is he going to struggle with command or lack consistency? While one 44-pitch spring training outing is not going to yield definitive answers, there's every reason to be optimistic about Strasburg's progress and projections going forward.
[+] Enlarge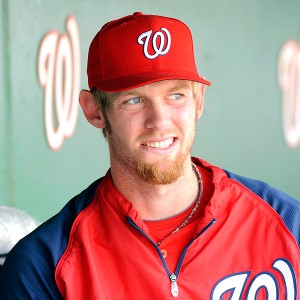 Brad Mills/US PresswireStephen Strasburg was able to get five starts in at the end of 2011, posting a 1.50 ERA in them.
Strasburg's velocity looked on par, but his command was a bit shaky against the
Houston Astros
. Although he had good location on some of his early pitches, the third inning was not so kind. After striking out
Chris Johnson
to start the inning, Strasburg gave up a home run to catcher
Chris Snyder
, followed by a double to center fielder
Jordan Schafer
, who then advanced to third on a wild pitch. Strasburg retired 'Stros shortstop
Marwin Gonzalez
on strikes before exiting the game. After the game, Strasburg acknowledged that he was "a little erratic at times" but added that he knew his command would get better with more repetitions and fine-tuning his mechanics.
Given where Strasburg is in his overall recovery process and fresh off the offseason, his command challenges were not unexpected, and the takeaway from this start was largely positive. His delivery looked smooth and effortless. Even Strasburg described this first outing as "pretty much a breeze" as far as how his arm felt. He noted that all the work he put in during the offseason seemed to help prevent any between-inning fatigue, and he was pleased with his initial effort. He also noted that it was "big" for him to be able to come back late last year with no setbacks, giving him the confidence to focus on the year ahead. The Nationals already have indicated they will limit Strasburg to 160 innings in 2012, just as they did with their other young ace,
Jordan Zimmermann
, when he returned from the exact same injury. It's as if the road map for Strasburg has been nicely laid out by his teammate, and given Zimmermann's success, don't expect the Nationals to detour from that plan, barring some sort of setback.
While Strasburg was certainly the most notable player for me to check in on Sunday, there are a couple of other guys worth a mention. Nats first baseman
Adam LaRoche
is coming off surgery to repair a torn labrum in his left shoulder, an injury that ended his 2011 season last June. LaRoche has been swinging a bat and throwing in spring training and originally had his sights set on a Sunday return. But it now appears LaRoche will instead make his spring debut on Wednesday, according to the Nationals' website. So far his progress has him on track to be ready for the start of the season, assuming he doesn't have any setbacks.
While I didn't get to see much of LaRoche, I did get a look at Nats third baseman
Ryan Zimmerman
, who was in the starting lineup against the Astros. Zimmerman struggled early last season with an abdominal strain before undergoing surgery in May for a sports hernia. Once he returned to action, it took some time for him to regain his power, but he rebounded to have a strong second half. Translation: Zimmerman enters the 2012 season fully healthy.
In the pitching department, Nats relief pitcher
Brad Lidge
delivered a scoreless seventh inning Sunday. Lidge, formerly of the
Philadelphia Phillies
, started each of the past two seasons on the disabled list. In 2010, he was coming off elbow surgery; in 2011, he was battling a rotator cuff strain. If he can get through spring training without any issues, he likely will serve as a middle reliever in front of Nationals closer
Drew Storen
.
According to Strasburg, the Nationals under manager Davey Johnson are gradually building up as they approach the regular season, focusing on getting better every day. Given the length of the season, that's certainly a tactic that could pay off in terms of the health of their players. At least that's what the Nationals are hoping for.
August, 27, 2010
8/27/10
3:19
PM ET
Earlier this week, I
detailed the potential issues
regarding
Washington Nationals
phenom
Stephen Strasburg
's latest arm injury and how there were concerns about how Tommy John surgery could potentially be in play.
Well, there's now a collective sigh of resignation in the nation's capital as Strasburg appears to be facing reconstructive surgery on that ulnar collateral ligament in his throwing arm. The team announced Friday that Strasburg has a "significant" tear in his ligament and will be following up with Dr. Lewis Yocum, the Kerlan-Jobe surgeon who performed a similar procedure on teammate
Jordan Zimmermann
.
In a most unusual happenstance of timing, Zimmermann returned to the mound Thursday, his first appearance for the Nationals since his surgery. Perhaps that could be viewed as a sign of encouragement for Strasburg, to see a teammate return following this particular surgery and its associated lengthy rehab. Zimmermann underwent his surgery in August 2009 and is making his return almost precisely one year later.
Should the same be expected for Strasburg? Not necessarily. While there is every reason to be optimistic about a full recovery, the time frame may be more extensive. The range for return has been described as 12 to 18 months, but typically averages around 14 months, even without setbacks. And don't forget, Strasburg was on the disabled list with a shoulder issue before the elbow ailment surfaced. It will be critical that every step is taken to ensure a "total body" recovery before returning the Nationals' prize pitcher to the mound.
The future can still be bright for this young ace, but it may be a delayed celebration.
For more on Strasburg's fantasy value, check out Eric Karabell's blog on how to deal with the youngster in keeper leagues.
August, 24, 2010
8/24/10
2:50
PM ET
The
Washington Nationals
, their fans and
Stephen Strasburg
's fantasy owners continue to hold their collective breath while awaiting more definitive information regarding the phenom's elbow. We know that Nationals manager Jim Riggleman has said the team will "proceed with caution," which so far looks like it will start with a trip to the disabled list, but will it mean we have seen the last of Strasburg this season?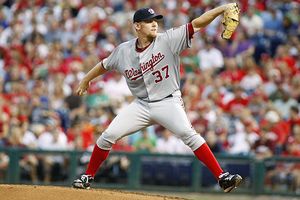 Jeff Conner/Icon SMIIf Stephen Strasburg's rookie season is indeed over, he finishes the year with a 5-3 record, 2.91 ERA and 92 strikeouts in 68 innings.
My suspicion -- and the consensus amongst other baseball health care professionals with whom I've spoken in the past two days -- is that Strasburg is not likely to pitch again this season. The 22-year-old pitching phenom has had two injuries in close proximity to one another (shoulder inflammation in July and the elbow injury now), which increases the overall level of concern surrounding the health of his arm. Even if this latest setback turns out to be relatively minor, back-to-back issues in the two most vulnerable body parts for a pitcher has to render the Strasburg decision-makers particularly wary.
As far as the injury itself, the extent of it is being determined. Nationals general manager Mike Rizzo told reporters that Strasburg is scheduled to undergo a second imaging test with dye, but at this point they are still working off the diagnosis of a flexor tendon strain.
The following is an excerpt from a
preseason piece
I wrote about
Oakland Athletics
pitcher
Ben Sheets
, who entered the 2010 season coming off a flexor tendon repair.
Overuse of the flexor-pronator (the muscle group on the front side of the forearm that controls downward wrist motion and some forearm rotation) is not uncommon in pitchers and failure (or partial failure) of the tendon (which anchors that muscle group to the bone at the inner aspect of the elbow) is not unusual. ... The issue is whether the flexor tendon tear is an isolated injury or whether there is other structural damage present which, even if insignificant now, could manifest itself in the future.
While Sheets' flexor tendon injury was significant enough to warrant surgical repair, the team's description of a "flexor strain" in the case of Strasburg suggests that the tissue damage to the tendon is less severe. Strains happen in varying degrees, all of which represent some form of tissue damage, but organizations tend to use the word "tear" only when describing a more severe injury. The more concerning issue is referenced in the second part of the paragraph above which is whether the flexor tendon represents an isolated injury or whether there is other structural damage present. And the structure everyone is worried about is the ulnar collateral (Tommy John) ligament.
The ulnar collateral ligament and the flexor tendon both have attachments at the medial epicondyle, a small bony projection at the base of the inner arm just above the elbow joint. So while the term "forearm strain" is conveniently used to describe a flexor tendon strain in lay terms, the truth of the matter is that the strain is to the tendon which is anchored at the medial or inner elbow. The word "flexor" refers to the fact that the muscles involved are those that flex the wrist. They make up the bulk of the palm-side up aspect of the forearm. (This group is actually often referred to as the flexor-pronator mass because the pronator muscle, which rotates the forearm from palm-up to palm-down, also attaches at the same location.) The word "tendon" describes the stronger fibrous element of tissue that connects muscle to bone and helps transmit the contractile forces of the muscle to that bone, creating movement. When the tendon is damaged, movement can be weak and painful.
Ligaments anchor bone to bone. The ulnar collateral or Tommy John ligament connects the humerus (arm bone) to the ulna (inner forearm bone) to reinforce the inner aspect of the elbow joint. When this ligament fails, as it often does with pitchers, the elbow becomes unstable and the arm can no longer function in the same way, especially if it is asked to throw balls at high speeds. Tommy John surgery involves using a graft from another tendon in the body to reinforce stability on the inner aspect of the elbow.
The act of pitching places incredible strain on the inner side of the elbow joint. Biomechanical studies have repeatedly shown failure of cadaver tissue at simulated throws of high speed. In live humans there are a bevy of muscular reinforcements that permit pitching to occur without failure ... for a while. But as we've seen time and again, most pitchers do ultimately suffer an injury either at the elbow or the shoulder, another joint subjected to excessive loads with repeated throwing, as the tissue ultimately gives way. Some pitchers have been able to avoid major injury but those tend to be the exceptions. The challenge for everyone who provides medical care for these athletes is not knowing when, where and how a devastating injury will occur.
While the Nationals have to be hopeful that this injury to Strasburg is of the minor variety, the anatomy of the elbow tells them that this is a warning sign. Strasburg's inner elbow is making it known that it is under stress and why wouldn't it be? He consistently throws in the vicinity of 100 mph, which is awesome to behold but is also biomechanically unsustainable. If some are wondering why the team would take a chance on someone who throws that hard, just consider that there are numerous pitchers who throw at dramatically lower velocities who still suffer ligament failure. As of yet, this is simply a risk associated with repetitive throwing of a baseball without any magic formula as to which players will ultimately be more susceptible.
The best immediate outcome for the Nationals is that this is simply a minor strain of the flexor tendon and that the second MRI shows the ulnar collateral ligament to appear healthy and intact. The ensuing treatment would then consist of rest, rehabilitation and a gradual return to a throwing program which, in all likelihood, would not lead to a return to competitive throwing until next season. If that is indeed the case, then the Nationals, their fans and fantasy owners could exhale with relief. For now.
June, 15, 2010
6/15/10
10:57
AM ET
We've seen, heard and felt the excitement -- all well deserved -- surrounding
Washington Nationals
rookie pitcher
Stephen Strasburg
. Just imagine what life would be like for the Nationals if they had another youngster in the wings who could help them deliver a one-two punch in the starting rotation.
As it turns out, they already do.
Jordan Zimmermann
, the team's heralded pre-Strasburg pitching prospect, didn't get a chance to fully show what he was capable of in the majors before being sidelined by an ulnar collateral ligament tear. Zimmermann was injured in 2009 after 16 starts and it began, rather unremarkably, when he noticed stiffness and discomfort in his right elbow between innings. A short course of rest and rehabilitation proved unsuccessful, but due to the lack of significant pain, Zimmermann was not overly concerned. As reported on the Nationals' website, that quickly changed when he learned that 90 percent of the ligament was torn. Zimmermann's season thus ended abruptly and he underwent the all-too-familiar Tommy John ligament reconstruction procedure in August.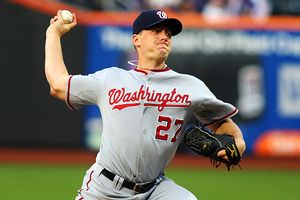 Michael Stobe/US PresswireJordan Zimmermann was 3-5 with a 4.63 ERA and 92 strikeouts in 16 starts in 2009 before undergoing Tommy John surgery.
Following surgery, the club expected Zimmermann to miss the bulk of the 2010 season for a rehab process that typically requires upwards of a year. By February, however, he was doing well enough to be throwing from flat ground, giving the team hopes that he might return by September. In March, a confident, young Zimmermann told the Washington Post he was feeling so good since surgery that "before you know it, I'll be throwing in games again."
By late March, Zimmermann had progressed to pitching off a mound, and the club's challenge at that point was to rein him in. General manager Mike Rizzo made it clear that while Zimmermann was doing extremely well in his recovery, he would not be pitching in a real game before August.
The trick with any rehab this lengthy is to balance the enthusiasm of an athlete who is feeling good and progressing well with the science of tissue healing. If an athlete is tentative and needs to be encouraged, pushed, goaded, or even screamed at, it is the job of the medical staff to do so or else complications can arise. But problems can also come about when an athlete is ahead of schedule and is champing at the bit to do more than what is being asked. Inflammatory conditions like tendinitis can result from overworking parts that have been on the shelf for months, and other secondary injuries can develop. In the worst-case scenario, a new ligament repair could fail if the athlete is allowed to proceed at whim. And no one wants to reset the clock on a Tommy John surgery.
The reason there is often a range of time given for recovery from Tommy John surgery, usually between 12 to 18 months, is precisely because individuals heal at different rates. Beyond this issue of the healing graft itself, there may be other concerns for a particular athlete, such as a history of shoulder problems, for instance, or perhaps mechanical flaws, which now have to be addressed in conjunction with the post-surgery rehab. Athletes who do well continue to drive the timeline for this procedure downward, but since there is no way to see inside the elbow to know precisely at the cellular level how the healing is progressing, the decision to speed up rehab becomes a law of averages based on prior experience. And that decision is dependent on close communication between the athlete and the medical staff.
This helps explain the determination by the Nationals to keep Zimmermann at bay until August, no matter how good he looks now. In fact, team president Stan Kasten recently told the Washington Post that while Zimmermann is expected to return this season, it's not clear whether that will be as a starter or as a reliever. Even though Zimmermann's velocity has consistently hovered in the mid-90s during simulated games, there are still hurdles to cross which include building endurance and restoring his repertoire of pitches. That all takes time. Other young pitchers have returned from this procedure with high hopes out of the gate, only to struggle with command (
Francisco Liriano
comes to mind). It often takes into their second year back from injury to return to form.
There is no doubt that youth and general health have helped Zimmermann with his recovery thus far. The Nationals have every reason to be excited that he will be able to contribute soon. But they are wise to be cautious in their expectations early on, and fans should do the same.