SweetSpot:

2012 award predictions
July, 13, 2012
7/13/12
2:15
PM ET
As we began the second half, it's a fun time to revisit some predictions. I polled the SweetSpot network bloggers before the season on their
award predictions
. Obviously, not everything has happened as we thought it would. (
Tim Lincecum
for Cy Young? I think not.) Here are some revised picks, and your chance to vote on who you think will win the MVP and Cy Young awards.
American League MVP
Preseason balloting
1.
Miguel Cabrera
2.
Albert Pujols
3.
Evan Longoria
New pick
1.
Mike Trout
(10 votes)
2.
Robinson Cano
(4 votes)
3.
Josh Hamilton
(2 votes)
My pick:
Cano. Working in Trout's favor is that he's new and exciting, which makes for headlines. But Cano is having his best year, and could hit 35 home runs and approach 50 doubles, amazing production for a second baseman. If he matches his first half, I believe Trout can win, but even a little slide opens the door for Cano, Hamilton or Cabrera.
National League MVP
Preseason balloting
1.
Joey Votto
2.
Troy Tulowitzki
3.
Justin Upton
New pick
1. Joey Votto (8 votes)
2.
Andrew McCutchen
(7 votes)
3.
David Wright
(1 vote)
My pick:
Votto. Right now it looks like we have two clear favorites in Votto and McCutchen. If both perform close to what they did in the first half, the deciding factor is likely: Which team makes the playoffs? I'll go with Votto, since the Reds are probably the better bet to make the postseason. Under that thinking, don't count out
Carlos Beltran
. He leads the NL in RBIs, and MVP voters still love themselves some ribbies; if the Cardinals overtake the Reds and Pirates, Beltran becomes a viable candidate.
American League Cy Young
Preseason balloting
1.
Justin Verlander
2.
Felix Hernandez
3.
CC Sabathia
New picks
1. Justin Verlander (11 votes)
2.
David Price
(2 votes)
3.
Jered Weaver
(2 votes)
4. Felix Hernandez (1 vote)
My pick:
Verlander. Price was my preseason pick, and at 11-4, 2.82, he's still a strong candidate. But I think this might come down to Verlander (9-5, 2.58) and Weaver (10-1, 1.96). Verlander's big edge is that he's pitched 36 more innings than Weaver, due to Weaver's stint on the DL. But if the Angels' ace finishes 21-3 or so with an ERA in the low 2s, he could sneak in.
National League Cy Young
Preseason balloting
1.
Roy Halladay
2.
Clayton Kershaw
3. Tim Lincecum
New picks
1.
R.A. Dickey
(5 votes)
2.
Matt Cain
(4 votes)
3.
Gio Gonzalez
(4 votes)
4.
Stephen Strasburg
(2 votes)
5.
Zack Greinke
(1 vote)
My pick:
Dickey. In what appears to be the most wide-open category, this could go in any direction. It wouldn't surprise me to see Kershaw (6-5, 2.91) have a huge second half and get in the running for his second straight Cy Young. Dickey is 12-1, 2.40, he's got the innings (two-third of an inning behind league leader Kershaw) and strikeouts (five behind league leader Strasburg). Dickey's story could help push him over the top in a toss-up vote.
American League rookie
Preseason balloting
1.
Matt Moore
2.
Yu Darvish
3.
Jesus Montero
New picks
1. Mike Trout (16 votes)
My pick:
Trout. Moore and Darvish picked up 31 of the 37 first-place votes in our preseason voting, and Trout finished fourth in the balloting. He did pick up one first-place vote; unfortunately, I didn't keep the ballots, so I can't call out the one blogger who voted for Trout. Whoever you are, take a bow.
National League rookie
Preseason balloting
1.
Devin Mesoraco
2.
Yonder Alonso
3.
Bryce Harper
New picks
1. Bryce Harper (13 votes)
2.
Wilin Rosario
(2 votes)
3.
Wade Miley
(1 vote)
My pick:
Harper. As our Reds blogger Chad Dotson wrote to me, "Harper will win, although he isn't out-hitting fellow rookie
Todd Frazier
." It will be interesting to see what the voters will do if Miley -- 9-5, 3.04 -- ends up with 16 or 17 wins and ERA in the low 3s. But assuming Harper doesn't fall apart in the second half, he should win. Mesoraco, the preseason favorite, is hitting just .214 with five home runs in a part-time role.
American League playoff picks
AL East: Yankees (15 votes)
AL Central: White Sox (7 votes), Tigers (7 votes), Indians (1 vote)
AL West: Rangers (14 votes), Angels (1 vote)
Wild cards: Angels (14 votes), Rays (6 votes), Red Sox (5 votes), White Sox (3 votes), Rangers (1 vote), Orioles (1 vote)
My picks:
Yankees, Tigers, Rangers (division winners); Angels, Red Sox (wild cards). I wasn't as high on the Tigers before the season as most, but the way I see the AL Central: The White Sox got big first halves from
A.J. Pierzynski
,
Paul Konerko
,
Adam Dunn
,
Chris Sale
and
Jake Peavy
-- and they're still only 3.5 up on the Tigers. I was surprised only one blogger picked the Angels to win the AL West even though they're only 4 games behind the Rangers. I, too, will go with Texas. And nobody picks the A's to make the playoffs? They're only 2.5 out of the wild card!
National League playoff picks
NL East: Nationals (13 votes), Braves (2 votes)
NL Central: Reds (8 votes), Cardinals (6 votes), Pirates (1 vote)
NL West: Giants (9 votes), Dodgers (5 votes), Diamondbacks (1 vote)
Wild cards: Braves (9 votes), Pirates (7 votes), Cardinals (5 votes), Reds (4 votes), Giants (3 votes), Nationals (2 votes)
My picks:
Nationals, Cardinals, Giants (division winners); Reds, Diamondbacks (wild cards). Who knows what will happen in the National League. I think we'll end up with a five-way tie for the two wild cards. What are the rules for that? Anyway, there is a lot of belief in the Pirates -- or maybe believing with hearts instead of minds.
April, 2, 2012
4/02/12
9:00
AM ET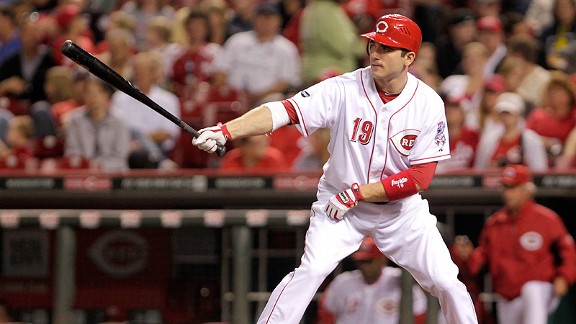 John Sommers II/Getty ImagesJoey Votto was the 2010 NL MVP and finished sixth in the voting in 2011.
Albert Pujols
and
Prince Fielder
, two of 2011's top-five finishers in the NL MVP voting, switched leagues, making the 2012 race potentially wide open.
Ryan Braun
and
Matt Kemp
finished 1-2 in the 2011 voting, but Braun will have to show he can put up the same numbers without Fielder hitting behind him, and Kemp faces the same problem as 2011 -- his team isn't a good bet to make the playoffs. SweetSpot bloggers must like the Reds' chances of returning to the playoffs because they voted
Joey Votto
as the clear preseason favorite as he finished first or second on 25 of 39 ballots.
Points on a 14-9-8-7-6 basis.
April, 2, 2012
4/02/12
1:55
AM ET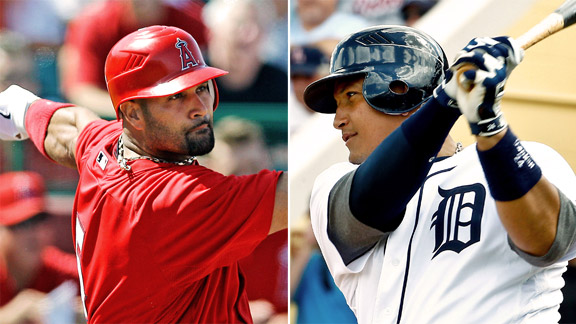 AP Photo/US PresswireAlbert Pujols has won three MVP awards but Miguel Cabrera seeks his first.
The SweetSpot network bloggers have weighed in and
Miguel Cabrera
is their preseason prediction for AL MVP. While Cabrera collected 17 of 38 first-place votes and
Albert Pujols
just four, the final points total was close as Pujols picked up more second- and third-place votes. Cabrera has finished in the top five of MVP voting five times in his career with his highest result a second-place finish in 2010.
Evan Longoria
collected the second-most first-place votes to place third in the voting. The blog network apparently doesn't foresee repeat performances from
Justin Verlander
and
Jacoby Ellsbury
, last season's top two finishers in the MVP vote, as neither finished in the top 10.
Points on a 14-9-8-7-6 basis.
March, 30, 2012
3/30/12
4:23
PM ET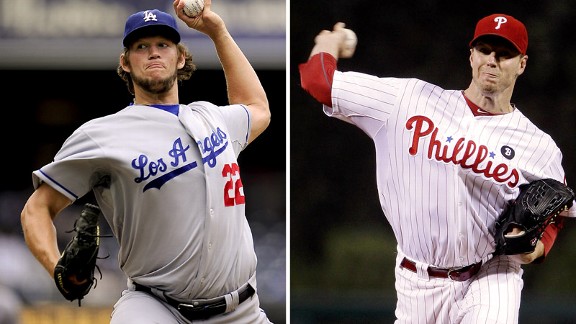 Getty ImagesClayton Kershaw won the NL Cy Young Award in 2011. Roy Halladay won it in 2010.
Considering the Phillies have three Cy Young candidates by themselves, it's not easy picking a three-man Cy Young ballot in the National League. Roy Halladay collected 14 of 39 first-place votes to edge out Clayton Kershaw, with nine different pitchers receiving first-place votes. Aces everywhere, it seems.
Points on a 7-4-3 basis.
March, 29, 2012
3/29/12
2:00
PM ET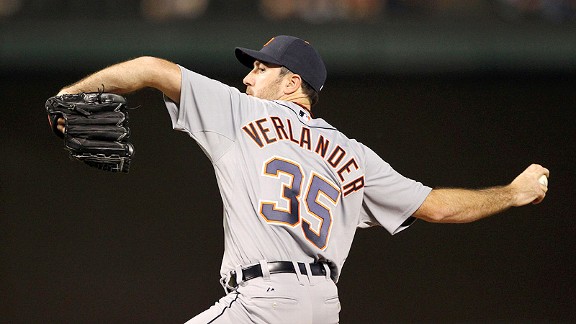 Matthew Emmons/US PresswireJustin Verlander walked away with the AL MVP and Cy Young trophies after going 24-5, 2.40 ERA.
Today's staff prediction from the SweetSpot blog network: the AL Cy Young Award.
Justin Verlander
received 11 of 38 first-place votes as eight different pitchers received first-place nominations. Yes, there are a lot of ace-level starters right now. The last AL pitcher to win back-to-back Cy Young Awards was
Pedro Martinez
in 1999-2000.
March, 28, 2012
3/28/12
5:29
PM ET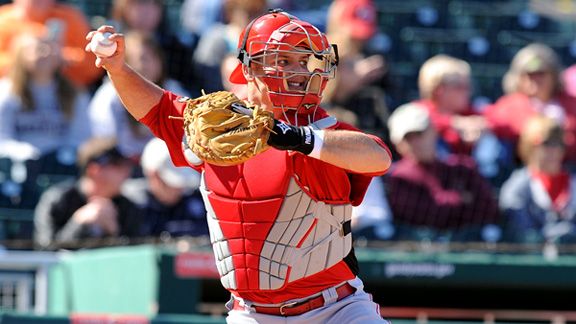 Norm Hall/Getty ImagesThe Reds' Devin Mesoraco hopes to become the third catcher in five years to win NL rookie honors.
More staff predictions from the SweetSpot network bloggers: Nine different players received first-place votes for NL rookie of the year, suggesting a wide-open race.
Cincinnati Reds
catcher
Devin Mesoraco
tops the balloting, just edging out former teammate
Yonder Alonso
, now with the Padres. Bryce Harper and Trevor Bauer, two players starting the year in the minors, both fared well in the voting.
Voting on a 5-3-1 basis.
March, 27, 2012
3/27/12
2:40
PM ET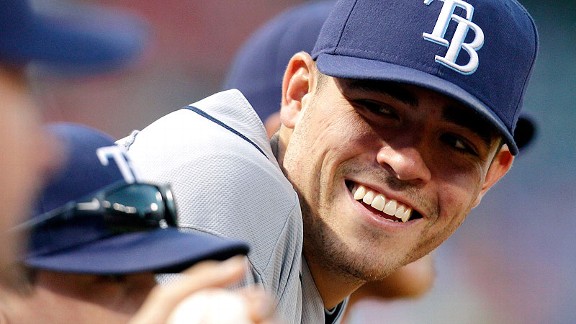 AP Photo/Tony GutierrezMatt Moore's dominant playoff performance last fall has set up high expectations for 2012.
I polled the SweetSpot blog network writers for all of their preseason award predictions. We'll start today with the AL rookie of the year voting results. Our cast of bloggers sees Tampa Bay's
Matt Moore
the favorite in a three-way race with Rangers' right-hander
Yu Darvish
and Mariners designated hitter
Jesus Montero
. Throw in Angels outfielder
Mike Trout
and a slew other rookies who may start the season in the majors or appear later in the year --
Yoenis Cespedes
,
Addison Reed
, Danny Hultzen,
Jarrod Parker
,
Jacob Turner
among others -- and this has the potential to be one of the best rookie crops in years.
(Five points for first-place vote, three for second, one for third.)