SweetSpot:

50 greatest Yankees
April, 8, 2011
4/08/11
2:15
PM ET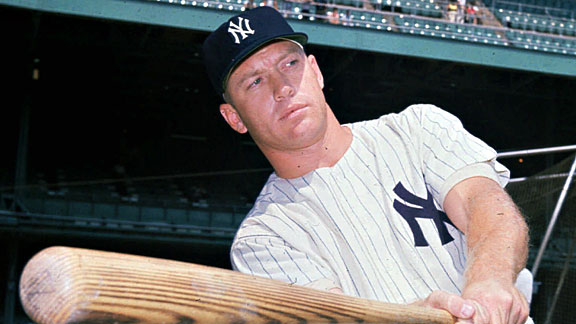 AP PhotoMickey Mantle won three MVP Awards and finished second three other times.
We're back with the much-anticipated final installment of my 50 greatest Yankees of all time. Here's ESPNNewYork's
top 50 and photo gallery
and here are the first two parts of my series,
Nos. 50 through 31
and
30 through 16
. The panel's ranking is in parenthesis.
15. Don Mattingly, 1B (11)
One of the prettiest swings you'll ever see. He was really only a great player for six seasons, before his back started to go, and just kind of hung around for six years after that. Is he more beloved than Jeter among Yankees fans?
14. Andy Pettitte, P (16)
Is he a Hall of Famer? The quick argument against him is that he finished in the top 10 in his league in ERA just three times. Bert Blyleven, who took 14 years to get inducted, finished in the top 10 on 10 occasions, including seven times in the top five. Jack Morris, similar to Pettitte in many regards, finished in the top 10 fives times and has struggled to get over the Hall of Fame hump. I think Pettitte faces the same obstacles, with 240 wins but a mediocre career ERA. Certainly, his 19 career postseason wins (more than any other pitcher) will give him a chance for election.
13. Thurman Munson, C (12)
When did the Yankees institute their no facial hair policy? One of the iconic baseball images of my youth was Munson's mustache and bushy sideburns. He looked tough and gritty and pugnacious, and by all accounts that's exactly what he was. Would he have made the Hall of Fame if he hadn't died? I'm not so sure. His bat had pretty much dried up his final seasons, with a .373 slugging percentage in 1978 and .374 in 1979. He never did walk much, so his on-base percentage was tied to his batting average. He was still a long ways from 2,000 hits and unlikely to make any more All-Star teams (he made seven).
12. Bernie Williams, OF (19)
Yankee most valuable players, according to
Baseball-Reference
's WAR (wins above replacement) statistic:
1995: Bernie Williams, 6.0
1996:
Mariano Rivera
, 5.4; Bernie Williams, 4.8
1997: Andy Pettitte, 7.6;
David Cone
, 6.7; Bernie Williams, 6.4
1998:
Derek Jeter
, 7.8; Bernie Williams, 6.1
1999: Derek Jeter, 8.0; Bernie Williams, 5.0
2000:
Jorge Posada
, 5.7; Bernie Williams, 5.0
2001:
Mike Mussina
, 6.5;
Roger Clemens
, 5.4; Bernie Williams, 4.0
2002:
Jason Giambi
, 7.3;
Alfonso Soriano
, 4.7; Bernie Williams, 4.4
Williams wasn't usually the
best
player on the team, but during his eight-year peak (he topped .300 each season), he was always one of the three most valuable on the team. The advanced fielding metrics actually rate him as a poor center fielder, although he looked smooth out there to me, other than his weak throwing arm (he won four Gold Gloves). He performed well in the postseason (.275/.371/.480) and delivered as many critical playoff hits as Derek Jeter, just without as much fanfare or adoration from the media.
11. Red Ruffing, P (9)
Ruffing began his career with the Red Sox and went 39-96 with their awful teams of the 1920s. Traded to the Yankees for backup outfielder Cedric Durst and $50,000 in 1930, Ruffing apparently changed his motion slightly, became a Hall of Famer by going 231-124 with the Yankees and winning 20 games each season from 1936-39, when the Yankees won four straight World Series. He relied primarily on his fastball and a slider that the "Neyer/James Guide to Pitching" reports that "there's an abundance of evidence suggesting that he was among the first to throw a good one."
10. Bill Dickey, C (10)
One of the best-hitting catchers of all time, Dickey fashioned a .313/.382/.486 career line, impressive even for the high-octane offense of the 1930s. Later, he helped mentor Yogi Berra, who always gave credit to Dickey for helping him develop his catching skills.
9. Mariano Rivera, P (5)
He might have been pretty good if he had ever developed a second pitch.
8. Jorge Posada, C (21)
Posada ahead of Rivera? It's a close call, but I'll take the great-hitting catcher with solid defense (Posada was never great at blocking pitches but his arm was average or slightly above for most of his career) over the legendary closer. Their career value is similar: 52.9 WAR for Rivera, 46.0 for Posada. But generally speaking, the closer position is overrated; Rivera's
most valuable
season was actually 1996, when he served as John Wetteland's setup guy and pitched 107 innings. It's perhaps instructive that the season Posada missed with injury (2008) was the one season the Yankees didn't make the playoffs since the two joined the club.
7. Whitey Ford, P (8)
Ford went 236-106 with the Yankees, but won 20 games just twice -- 25 in 1961 and 24 in 1963. That was primarily because Casey Stengel never believed in Ford's durability (he was 5-foot-10), so didn't work him hard. His career high in starts under Stengel was 33 and he topped 230 innings just once. After Stengel was fired following the 1960 season, Ford averaged 37 starts and 260 innings over the next five seasons. His World Series record was excellent as well -- 10-8 with a 2.71 ERA in 22 starts.
6. Joe DiMaggio, OF (3)
DiMaggio played 13 seasons in the majors, appeared in 10 World Series and won nine of them. Perhaps no player in baseball history has ever been so identified as a "winner" as DiMaggio. So why rank DiMaggio only sixth? I'll admit: Something about him just rubs me the wrong way. He frequently held out, battled injuries and he had a lot of great teammates who chipped in with the winning. Of course, he was a devastating hitter who was severely penalized by the huge dimensions in left-center at Yankee Stadium when he played (he hit 213 home runs on the road in his career, 148 at home). His fielding was probably more average than great and nobody stole bases in his day (he had 30 career steals).
5. Derek Jeter, SS (7)
An amazingly consistent and durable player (his only injury came in 2003), Jeter is less than 300 runs away from passing Babe Ruth for the most runs scored in Yankees history. B-R actually ranks Jeter as the most valuable offensive player in the American League in 1999 and 2006, and that's why I gave him the nod over DiMaggio: A great-hitting shortstop who has played nearly every game for 16-plus seasons is more difficult to find than a great center fielder.
[+] Enlarge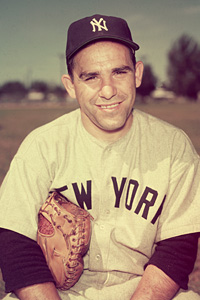 Photo by Hulton Archive/Getty ImagesYogi Berra was a three-time MVP with the Yankees.
4. Yogi Berra, C (6)
Behind the "Yogisms" caricature, it's easy to forget how great he was: A three-time MVP who during his 1950-56 peak caught an average of 142 games per season, hitting .295/.364/.502 with 27 homers and 108 RBIs per season. Yogi's power was underrated: he finished in the top 10 in the AL in homers every season from 1949 through 1957. Casey Stengel loved to fiddle with his lineups, platoon and move players around, but the one constant he had was Yogi behind the plate.
3. Lou Gehrig, 1B (2)
It's often portrayed that Yankee scout Paul Krichell "discovered" Gehrig, a testament to the Yankees digging in haystacks to find their Hall of Famers. Sounds good, but it's not accurate. Gehrig was quite well known by the time the Yankees signed him. As a high school senior, Gehrig hit a grand slam at Wrigley Field, as his School of Commerce team defeated Lane Tech of Chicago. "Gherrig, a 17-year-old boy, who played first base for the easterners and who came here touted as the 'Babe' Ruth of the high schools of New York, lived up to his reputation by driving the ball over the right field wall of Cubs park for a home run with the bases filled," intoned one paper. His exploits at Columbia were well covered by the New York papers. A 1937 AP report says Gehrig was to make $37,000, tops in the majors. The story also indicates the Yankees would have by far the highest payroll, around $368,000 for the "hired hands." Of course, that salary barely pushed Gehrig above his own manager's $35,000 salary.
2. Mickey Mantle, OF (4)
You often read or hear things like, "Just imagine how good Mickey Mantle would have been if he hadn't hurt his knee or drank so much." That might be true, but it also undersells Mantle's dominance. He won three MVP awards and finished second in the voting three other times. Baseball-Reference has Mantle as the AL's best player six times (and its best offensive player nine times). Since 1950, according to B-R, 13 AL players have compiled 10 or more WAR in one season. Mantle's 1956 season ranks No. 1, his 1957 season No. 2 and his 1961 season (when Roger Maris won the MVP award) No. 4. You can make an argument that his 1956 Triple Crown season is the greatest season ever. He hit .353/.464/.705, played a good center field, ran the bases and hit .444 with runners in scoring position. With 52 home runs, he hit 20
more
than any other AL hitter, was one of six to drive in 100 runs (he drove in 130) and one of three to score 100 (132).
1. Babe Ruth, OF (1)
Babe Ruth won only one MVP award in his career, but that of course is misleading. For much of his career there was either (A) no award given, or (B) he was ineligible (for a short time, previous winners couldn't win again). So how many would he have won? And by that, I don't mean how many years was he the best player in the American League (12, according to Baseball-Reference, including once as a pitcher), but how many times would he have likely been voted the winner, keeping in mind voters (by today's standards, at least) are usually reluctant to give it to the same player year after year and players on pennant winners have an advantage. Ruth probably would have won in 1916 (as a pitcher with the Red Sox), 1920, 1921, 1923 (the year he actually won), 1926 and 1928. I have him finishing second in 1919 (to Eddie Cicotte, who won 29 games for the pennant-winning White Sox), 1924 (to Walter Johnson, who led the Senators to the pennant) and 1927 (to Gehrig).
Follow David Schoenfield on Twitter at @dschoenfield. Follow the SweetSpot blog at @espn_sweet_spot.
April, 7, 2011
4/07/11
5:10
PM ET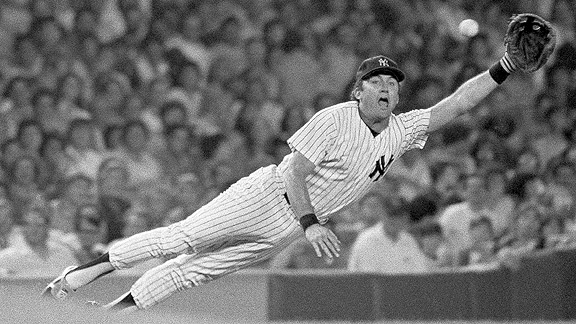 AP Photo/Ron FrehmFew third basemen could play the hot corner like Graig Nettles.
Last week, ESPNNewYork.com ran its list of the
50 greatest Yankees of all time
. I was part of the voting committee and ran
Nos. 50 through 31
on Wednesday. Here are Nos. 30 through 16. The overall panel ranking is in parenthesis.
30. Vic Raschi, P (39)
The ace of the Yankees staff along with Allie Reynolds when they won five straight World Series from 1949-53, Raschi was 120-50 with New York, annually placing among the league leaders in ERA, wins, innings, strikeouts and WHIP. He relied primarily on a high fastball, mixing in an occasional curve or change. He was at best in the World Series, posting a 2.24 ERA in 60 innings, including a two-hit shutout in Game 1 in 1950 and a three-hitter in Game 2 in 1952.
29. Roger Maris, OF (22)
His greatest play was one nobody talks about: In the bottom of the ninth of Game 7 of the World Series, Felipe Alou doubled into the right-field corner with two outs and Willie Mays on first. Maris somehow cut the ball off (Alou was a right-handed batter) before it reached the wall, holding Mays at third base. When Willie McCovey then lined out, the Yankees won 1-0.
28. Lefty Gomez, P (14)
It's really a shame we don't give guys nicknames like "Goofy" anymore. Gomez was spectacular in 1934 and 1937, years he led the AL in wins, ERA and strikeouts, and went 6-0, 2.86 in seven career World Series starts. He mixed in less impressive years but won 189 games in pinstripes.
27. Gil McDougald, IF (47)
A gifted infielder who played third, second and short -- basically, wherever Casey Stengel needed him -- and hit 10-15 home runs a season, got on base and played in eight World Series in his 10 seasons with the Yankees. Largely forgotten now, but he was a five-time All-Star, finished in the top 10 in the AL MVP voting three times, and if players were described as "glue" guys in the '50s, McDougald would have been described as the "ultimate glue guy."
26. Tony Lazzeri, 2B (18)
The Hall of Famer drove in 100 runs seven times -- only
Jeff Kent
with eight has more as a second baseman. Lazzeri had one of the great days in baseball history on May 24, 1936, when he hit three home runs, a triple and drove in 11 runs.
25. Mel Stottlemyre, P (31)
More famous now for being Joe Torre's pitching coach for many years, Stottlemyre went 164-139 in pinstripes and pitched 250-plus innings nine seasons in a row -- with a high of 303 in 1969 -- before his arm finally gave out. His rookie season was 1964, the last year of the dynasty, and thus his only World Series appearance.
24. Roy White, OF (44)
Spent his entire career with the Yankees. Vastly underrated while still active -- he had a broad-based range of skills that didn't stand out, plus most people at that time had no idea that drawing a lot of walks was a good thing -- Bill James has written how he was a better player than Jim Rice. (
Baseball-Reference agrees
, giving White a career WAR of 44.5 compared to Rice's 41.5.) His best seasons came during offensive doldrums of the late '60s and early '70s and B-R rates him as the best position player in the AL in 1971, when he hit .292/.388/.469, big numbers for the era. The MVP voters didn't agree: He didn't receive a single vote.
23. Charlie Keller, OF (36)
Had Hall of Fame numbers through age 29, combining power and 100-plus walks a year, but a ruptured disc in his back ruined the second half of his career.
22. Allie Reynolds, P (26)
"Superchief" (he was one-quarter Creek Indian) was Casey Stengel's secret weapon during the Yankees' five straight titles from 1949-53, starting and relieving as needed. He went 7-2 in his World Series career with a 2.79 ERA, posting five complete games and four saves. In 1952 against the Dodgers, he pitched a four-hit shutout in Game 4, saved Game 6, and pitched three innings of relief to win Game 7. He delivered 131 of his 182 career victories with the Yankees, after coming in a trade with Cleveland for Joe Gordon.
21. Graig Nettles, 3B (29)
One of the great heists in Yankee history was stealing Nettles from the Indians after the 1972 season for John Ellis, Jerry Kenney, Charlie Spikes and Rusty Torres; there's a reason you've never heard of any of those guys. A gifted fielder who remained a productive hitter with the Yankees into his late 30s, during the 1977-78 World Series years Nettles finished fifth and sixth in the AL MVP voting -- ahead of Reggie Jackson both seasons.
20. Phil Rizzuto, SS (20)
Would rate higher if you want to give extra credit for his announcing career.
[+] Enlarge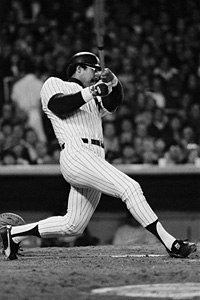 AP File PhotoReggie Jackson made an impact in his five seasons with the Yankees.
19. Reggie Jackson, OF (15)
Reggie was a Yankee for only five seasons, so it's difficult to place him much higher. While still a great hitter in the Bronx, his fielding became an issue and he was no longer one of the very best players in the league as he had been with the A's (Baseball-Reference has him as the AL's best player three seasons with Oakland). But he obviously was dynamic, memorable and his three-homer World Series game in 1977 gave the Yankees their first World Series title since 1962 and cemented his legend status.
18. Alex Rodriguez, 3B (13)
A-Rod has averaged 38 home runs, 120 RBIs, 107 runs and a .952 OPS with the Yankees. He's won two MVP awards. He won a World Series. His place as an all-time great Yankee is deserved and should be unquestioned by now. In fact, he even finally qualifies as a True Yankee.
17. Ron Guidry, P (17)
I can still remember sitting in the family station wagon and hearing the report on the radio that Rice had edged out Guidry for the 1978 AL MVP Award. Rice received 20 first-place votes, Guidry the other eight. I wasn't a Yankees fan, but I was angry that Guidry didn't win the award. I mean,
25-3
just sounded surreal. He never came close to that season again, of course, but he won 20 twice more and finished with 170 career wins.
16. Willie Randolph, 2B (33)
A tremendously underrated player (check his ranking from our panel) who did everything well except hit for power. Even then, he was one of the best offensive second baseman in baseball. Here are his annual rankings among all second basemen via Baseball Prospectus' VORP statistic (runs produced above a replacement-level second baseman): 5th, 7th, 3rd, 4th, 1st (1980), 12th, 8th, 13th, 6th, 9th, 5th, 2nd (1987), 27th, 12th (no longer with Yankees), 27th, 6th, 21st. Factor in that he was a very good glove man and a good baserunner who had more than 2,200 career hits, and you can make a Hall of Fame case for him.
Follow David Schoenfield on Twitter at @dschoenfield. Follow the SweetSpot blog at @espn_sweet_spot.