September, 25, 2013
Sep 25
1:22
AM ET
By
Anna McDonald
| ESPN.com
ST. LOUIS -- On Michael Wacha's ninth career start and just 15th major league appearance, he was one out away from a no-hitter.
Wacha, 22, said he knew from the first inning he had a no-hitter going.
"You know if you give up a hit or not," said Wacha giving an honest assessment about what he was feeling during the game. "I was just going out there every inning, just pounding the strike zone."
As the game continued, he said, he kept focusing on the fact that this was an important game for the Cardinals to win.
"That [is] just the main focus coming out right now -- this last week of baseball, every win is crucial, so that was just the mindset going into this game," Wacha said. "Let's win this game and stay in first place."
[+] Enlarge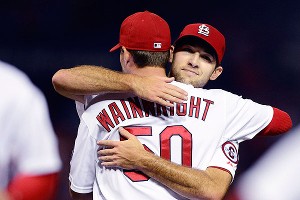 Jeff Curry/USA TODAY SportsMichael Wacha could enjoy Tuesday night, even after a no-hitter barely got away from him.
Wacha cruised through the first four innings, but then in the fifth with two outs,
Adam LaRoche
reached base on a fielding error by second baseman
Matt Carpenter
. Wacha didn't unravel after LaRoche reached base, though. On a 96 mph fastball
Wilson Ramos
lined out to right fielder
Carlos Beltran
for the final out of the inning.
"Wow. The stuff, the composure," manager
Mike Matheny
said about Wacha's night after the game. "He was able to tune everything out. For a kid to do that against a lineup like this at this time of the season, it's hard to really get your head around that."
In the sixth with two outs
Denard Span
tried to bunt his way on base. The ball came down the line to third baseman
David Freese
.
"I was going to barehand it to first, then I saw it moving. I was going to let it go and, you know, the stadium let Denard [Span] know how they felt about that," Freese said referring to the fans booing Span. "I think I just had to scamper after it. Once I got it in the mitt, I wasn't nervous."
Span ended up grounding to second baseman Matt Carpenter for the final out of the inning.
After
Ryan Zimmerman
walked to lead off the seventh, Wacha retired the next three batters, but it was the moment in the eighth inning when the ball soared through the air off Anthony Rendon's bat that the crowd at Busch Stadium held their breath ... right up until left fielder
Shane Robinson
made a great catch for the final out of the eighth inning.
"It was a pretty special night," Wacha said. "The defense was playing great behind me. That's the only reason I was able to go that long, because Shane Robinson is making great plays. I mean, everyone on the field was making plays. It was just an unbelievable night."
Steve Lombardozzi grounded out for the first out, then Span was called out on strikes, but Ryan Zimmerman singled on a ground ball that just tipped Wacha's glove.
Pete Kozma
tried to get the out at first, but Zimmerman was safe.
"He made a heck of an effort on it," Wacha said about Kozma's throw.
"I think we all kind had a smile on our face because we knew what kind of outing Wacha just threw out there," Freese said. "And more importantly, getting that win so young in the big leagues, and he's so mature for his lack of time up here. It's a huge win at this point in the season."
The Cardinals come into the clubhouse confident and ready to win each game, Freese said, and Wacha showcased one of the reasons why on Tuesday night, keeping the Cardinals in first place two games ahead of Pittsburgh.
"We understand what's at stake," Freese said. "We understand that we kind of control our own destiny, but tonight it's Michael Wacha's night."
Wacha said everything about Tuesday night felt great, even the ice bath at the end of the game.
"It was cold, but it was a good cold," Wacha reflected.
June, 28, 2013
Jun 28
1:30
PM ET
By
Anna McDonald
| ESPN.com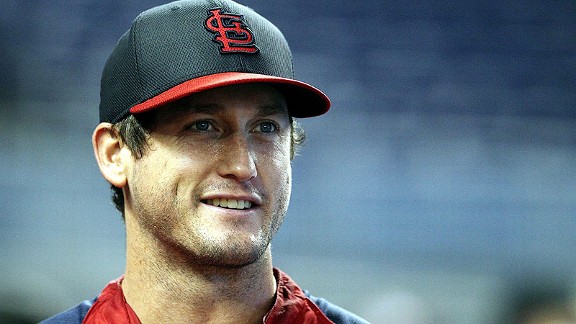 Marc Serota/Getty ImagesDavid Freese is focused these days on getting the Cardinals back to the World Series.
ST. LOUIS -- People say time is, what, money? An illusion? That it flies? For
David Freese
, time diminishes the memory.
Here in this great Midwestern baseball heaven, time has lessened what it felt like for him when the baseball, shining bright against the dark green grass beyond the outfield wall, sent the Cardinals to Game 7 of the 2011 World Series.
"As far as that moment, it seems like it was light years away," Freese said.
Yet it was just two years ago.
"I think it kind of stamps me as far as Cardinals history because it was so much on the national stage," Freese said. "But personally, it fades. It fades a little bit."
Freese believes when he is retired that the memory will come back. He said it will mean more then, but now, in true Cardinals fashion, Freese has moved on.
"I want to do it all again," he said. "I want to get back to the World Series and try to win another one."
The Cardinals third baseman is 30 years old, but with a late start to his major league career, he will not become a free agent until after the 2015 season. This spring, in his first year of eligibility, he avoided arbitration when he agreed to a one-year, $3.15 million contract with St. Louis.
He is the hometown hero with no long-term commitment. This raises an interesting baseball question: In a team's formula for placing value on players, do October heroics factor in?
Freese was a primary reason for one of the greatest moments in World Series history -- while driving in 21 runs in 18 games that postseason -- yet the Cardinals have not given him a long-term contract. Baseball people understand this. The past, and even postseason stardom, is no longer a stepping stone to the future. Smart teams base contracts on future projections, not past performance.
"The bottom line, especially with a team that demands winning, you have to be productive," Freese said. "I understand going through arbitration that your cost rises, so you have to do your part. I think if I just do my part, I have the potential to be around for a while."
Freese knows one of the keys for him playing well is his health. He played a career-high 144 games last year but missed the start of this season with a back strain and then a few more games with a thumb injury.
"I had those surgeries a few years ago, and it just kept building," Freese said. "I think when I was coming up in the minors, I was proving that I was a guy that could handle third base. I had some injuries then got in the weight room and stayed healthy, and now things are coming together."
Freese enters Friday batting .276, but the interesting thing is what he's done in high-leverage situations (when the game is closest), hitting .326. With two strikes, he has a .348 OBP, fourth highest in the majors.
Most guys in the big leagues understand the physical aspect of an at-bat, Freese said, but he believes his ability to hit when the game, or an at-bat, is on the line is all mental.
[+] Enlarge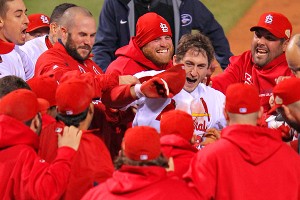 Doug Pensinger/Getty ImagesTeammates mob David Freese after his 11th-inning homer won Game 6 of the 2011 World Series.
"It just starts with confidence on the on-deck circle," he said. "That's something that you have to understand. You have to walk up to the plate with confidence. Just understand that you need to wait for a pitch and have patience. I think the key for every AB is to stay in your zone, to have an approach and understand, no matter the count, you still need to battle and focus."
Hitting coach John Mabry said Freese has a good approach at the plate in high-leverage situations because he's a good player in every situation.
"Good players have that unique ability to drive people in," Mabry said. "He's one of those players. He changes the game when he's in the lineup."
Talk about clutch ability being nonexistent, but Freese is earning a reputation as a tough out in big situations. The value in a hitter like Freese is not in how the memory of those clutch moments remains in the minds of the fans but how opposing teams remember them.
Ron Washington knows about this. He understands. Even now, the Rangers manager said that when Freese comes up to the plate in a high-leverage situation, he thinks, "I'm not going to let him beat me."
"I've seen him do it," Washington said.
The memory of Freese beating the Rangers hasn't faded for Washington like it has for Freese.
"No," Washington said adamantly. "No, no. You walk him. He can beat you. It's
[Jon] Jay
behind him, so I'm saying, 'Freese or Jay?' I'm going to let Jay beat me. No disrespect to Jay either because he's a pretty good player, but I'll feel better if he did it than Freese."
* * *
David Giuntoli, star of the NBC drama "Grimm," was at Busch Stadium to throw out the first pitch for a recent game against the Rangers. The St. Louis native stopped Freese as he was coming off the field for batting practice.
"I'm a big fan of yours," Giuntoli said to Freese.
Freese shook his hand, and they talked for a bit. He has such a humble way of taking all the attention in stride, and this goes over well with fans.
"I just want to be a guy that played the game hard and tried to play with a smile on my face," Freese said.
Yet there is a lot of pressure on him on and off the field.
"But that's what is cool about this," he said. "Seeing kids wearing my jersey at games, having kids running around wanting to be big leaguers and wanting to be a Cardinal, that's what is special. It's not just in St. Louis; there's kids around this country that want to be
St. Louis Cardinals
, and that's really cool."
The Cardinals franchise is married to winning, not stars. They have a highly regarded second-base prospect in Kolten Wong, and
Matt Carpenter
can play third.
This year during spring training,
Joe Mauer
said playing for the Twins is all he's ever known. Hometown heroes like Mauer are rare in baseball, and there's some nostalgia lost in this. If Freese doesn't end up being a Cardinal for life, while it might be a rational business decision -- he'll be 33 in 2016, after all -- there's something sad about the hometown kid being shipped away.
"I know he's dangerous," Washington said. "It doesn't matter if he's struggling or not. One swing of the bat and he can hurt you."
Ultimately, this is the aspect Freese adds to the Cardinals. Nothing in his numbers can change Washington's belief that at any point Freese can beat you.
The moment that will always define Freese might have faded, but while he says, "I'd love to be a Cardinal forever," only time will tell.
August, 8, 2012
8/08/12
2:54
AM ET
By
Anna McDonald
| ESPN.com
St. LOUIS -- After the final out hits his glove, San Francisco Giants catcher
Buster Posey
walks back to the dugout with his mask in his hand. It's a familiar but often overlooked sight on the baseball field: A catcher's quick change from team quarterback to hitter as he takes the bulky catching gear off and prepares for his next at bat.
For many teams, the opposing catcher is not the guy in the lineup pitchers worry about facing. They earn their keep with their defense behind the plate. But this year, four catchers --
Carlos Ruiz
,
Joe Mauer
,
Yadier Molina
and Posey -- are batting above .300. Could it be that 2012 is the year of the catcher?
Facing
Lance Lynn
with runners on first and second in the top of the first, Posey hit his 18th homer of the season. It was another stellar performance, strengthening what could become an MVP season for Posey.
After missing most of the 2011 season from an ankle injury, the result of a horrific collision at home plate, the 2012 All-Star is, as Giants manager Bruce Bochy describes, "one of the elite young players in the game."
[+] Enlarge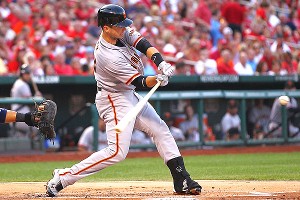 Dilip Vishwanat/Getty ImagesBuster Posey clouted his 18th HR of the season on Tuesday.
At the start of the season Posey was just excited to be back on the field.
"I wanted to be back with the guys and be able to compete again," Posey said about the first few months of 2012. "The injury last year put the game in perspective for me. I realized how quick you can be gone [from baseball]. I just wanted to get back."
After Tuesday's game, Bochy described Posey as "one of those hitters you want up there with men on base, the game on the line." Posey is batting .328 this season. Since the All-Star break, Posey has the highest average (.458) and the most RBIs (30) in the majors.
"He's in a real nice groove right now," Bochy said.
In a tight division race with the Dodgers, Posey's role on the team will, just as it was in 2010, be pivotal to the Giants' postseason hopes. Extending his hitting streak Tuesday to 11 games, Posey said that in every at-bat he's just trying to keep the same approach at the plate.
"It's going to change depending on the pitcher, depending where runners are on base ... whether it's late in the game or not," Posey said. "I'm just trying to take everything into account and just have a simple approach: go up there and get the barrel on the ball."
With his offensive production needed in the lineup and in an effort to take some of the physical strain of catching off of him, Posey has played 17 games at first base this year. Bochy says he has held up this season better than he thought he would.
"It's a credit to his conditioning and how hard he worked during his rehab," Bochy said. "His legs are fresh at this point. You're in the dog days, that's what you want, for your catcher to be fresh at this point."
While playing first base does not involve as much pregame preparation as playing catcher does, Posey says the groundwork given to him by pitching coach Dave Righetti and bullpen coach Mark Gardner allow him to stay on top of the demands catching requires while occasionally playing first base.
"It's a little bit easier to come up with a game plan when I have such trust and confidence," Posey said about the communication and analysis that Righetti and Gardner give him.
While the catcher is the most dynamic position in all of baseball, it is also the most dangerous. On a night when the Giants play the St. Louis Cardinals, they have a visible reminder of just how fragile a catcher's career can be. Cardinals manager Mike Matheny had a career-ending concussion in 2006 when playing with the Giants. Bochy recognizes what happened to Matheny, but also says when it comes to Posey, his team leader in RBIs and home runs, he doesn't worry about him getting injured behind the plate.
"Sure, there's some risks wherever you're at -- catching, baserunning," Bochy said. "[Catching is] what he wants to do; it's where we want him. Unfortunately there are some risks with this game."
There have been times during the season when Bochy has asked Posey if he needs an extra day at first base but Posey has told him he feels good and would rather catch. Posey was always an outstanding athlete, a ballplayer often recruited for his hitting but not always as a catcher. On the recommendation of his coaches, he made the transition from shortstop to catcher during his sophomore season at Florida State University.
"I think what I fell in love with was just how involved you are all the time," Posey said about why he enjoyed the position of catcher right away. "When you're playing a different position your mind tends to wander. You can't do that with catching."
He says he likes the challenge of catching, the intricacies, the mind games and all the adjustments he has to make during the game. Still, when asked if it ever crosses his mind that with his offensive production he might have more longevity to his career if he played a different position he thinks about it for a minute and answers with feeling.
"Right now my mindset is, this is what I enjoy doing," Posey said. "I feel blessed that I'm able to do it. I'm going to play it to its fullest and not try to look too far in advance as to where I might be in five to six years. Hopefully I'm still catching. That's what I'd like to do; I really just enjoy playing the position."
January, 19, 2012
1/19/12
4:30
PM ET
By
Anna McDonald
| ESPN.com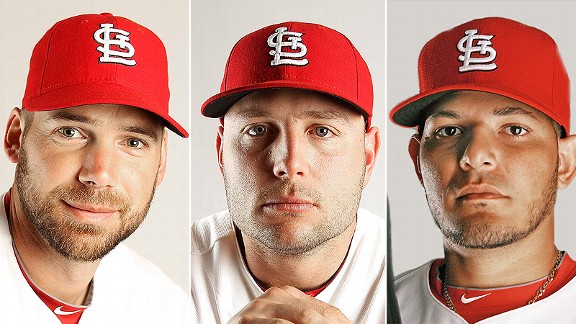 Getty ImagesWithout Albert Pujols and Tony La Russa, the Cardinals will turn to other veterans for leadership.
ST. LOUIS --
St. Louis Cardinals
outfielder
Allen Craig
had a pretty good idea the final out of the World Series might be coming toward the left side of the diamond. He remembers the buzz in the stadium as
David Murphy
was up to bat. As the ball came his way, he was thinking, this could be it, the final out, World Series champions.
As grandfathers and grandmothers tell their story each will have their own memories, but when the man who caught the final out tells how it happened he will not have the ball to show for it.
After the game Craig heard that Tony La Russa was interested in the ball. Once the celebration on the field was over, La Russa pulled the team into the weight room and told them he was retiring.
During that meeting, Craig said he was thinking, "I'm not going to be the guy who keeps the ball. That's just not going to happen."
That night he handed it to La Russa. For Craig, the thrill and memory of catching the final out of the World Series was enough. "That's all I need," he said.
Great baseball stories usually come from the unexpected. Craig's act of giving the ball to La Russa sums up the offseason for the Cardinals: The thrills and championship of 2011, first baseman
Albert Pujols
, La Russa and pitching coach Dave Duncan are now just a memory.
* * * *
How do the Cardinals move forward? Some teams have to fill holes; without Pujols, the Cardinals have to fill a crater.
"He's a great player, he's a good friend,"
Matt Holliday
said of losing Pujols. "I'm disappointed he's not going to be here, but I think as players we understand that it was a possibility."
Lance Berkman
said he was surprised Pujols ended up signing with the Angels. "Certainly if you asked me at this time last year I would have said, 'Hey, there's absolutely no way he's going to go anywhere but be here his entire career.' It's hard to imagine Albert playing for anyone else."
Berkman knows it's just part of the business of baseball. "I thought I was always going to be in Houston and here I am a happy member of the St. Louis Cardinals," he said. "So, you can't ever tell in this day and age."
Players move on, managers and coaches move on, the front office changes. Still, for any team in baseball there's a need for a "face of the franchise."
Adam Wainwright
appreciates his name being mentioned in that picture and joked, "You'd think they'd pick a prettier face."
For Wainwright, if he's going to be the leader of the Cardinals he wants it to happen naturally and if it doesn't, "so be it."
Holliday's career .315/.388/.541 line is impressive and he now has the longest and highest-value contract on the team. Maybe he is the new face of the franchise.
"I'm willing to do whatever, whatever it takes," Holliday said. "I've played on teams that didn't have Albert before. I've batted third before. I've played in a World Series before. I'm available for whatever is asked of me."
Berkman joked about Holliday or himself being the face of the franchise, "We were both wondering if it would be too early to ask for No. 5."
With Berkman moving to first base,
Carlos Beltran
was signed to help replace Pujols' production at the plate.
"I know Pujols is a hole maybe no one can fill," Beltran said. "But with myself, with Berkman, with Holliday, I think there are three guys there that can put juice in the middle of the order."
Staff leader
Chris Carpenter
is mostly worried about what he does best: Focusing on
Yadier Molina
's glove. "My roles never change even with him (Pujols) here," Carpenter said. "We work together trying to control the things we need to control."
* * * *
Maybe the role of a leader is overrated. After all, if a team is winning, does it matter if there's a strong presence in the clubhouse?
"It's definitely important to have strong leadership on a team," Craig said. "Starting with the manager. Obviously Tony is gone but the main reason why they hired Mike Matheny is that he is just a natural leader being a catcher. All you hear about is how he is a respected guy, he knows the game, and he's a great leader."
Carpenter, who pitched to Matheny while he was still catching, told a story about his new manager.
"I'll never forget there was a game, I was going out and I wasn't throwing the ball real well, my stuff wasn't real good," Carpenter recalled. "I was giving up some hits, some runs and he came out and was like, 'Listen, I know you don't have your best stuff.' Just follow me, let's concentrate on getting the ball down and just throw what I put down there."
The next thing Carpenter knew it was seven innings later. "I gave up a couple of runs but I got through it and gave my team a chance to win."
Carpenter thinks Molina will step up off the field. "Yadier is going to have a huge presence in that clubhouse this year with taking over a role that he might not have been 100 percent used to," Carpenter said. "But I think he's going to evolve into that leader that we need."
Relief pitcher
Mitchell Boggs
says Molina gives "every single guy that comes out of the bullpen or starts a lot of confidence."
Kyle Lohse
echoed those thoughts, saying, "There are so many different things he does. Whether it's the studying of the hitters to being able to stay a step ahead of them, he does all that so well. He's very smart back there."
* * * *
On the last day of the Cardinals Winter Warm-Up, the annual event to benefit the Cardinals Care charity, there was a noticeable influx of kids in the crowd, a buzz of excitement.
Peggy Phillips, who has volunteered for the Winter Warm-Up for 16 years, explained why: "It's
David Freese
's day," Phillips said. "It was always crowded on Albert Pujols' day."
Freese knows there's more pressure on him now with all the attention he is receiving, but his role as hometown hero hasn't changed what's most important to him and what he hopes to bring to the Cardinals organization.
"I think the kids are the best part about this," Freese said of his busy offseason. "As hectic as it is, as crazy as everything gets, every time you see the excitement of a kid, it makes you realize it's all worth it."
It seems everyone on the team is ready and willing to step up and be a leader. It's fitting, isn't it? Call it Cardinal luck. Or maybe it's just having the right guys in place at the right time. But whatever it's called, one thing is certain: The only way to survive the loss of a player like Pujols and a manager like La Russa is to fill the void with an entire team.
"We've got lots of really good older players that are good at leading people," Holliday said. "I think our clubhouse will be fine."
December, 1, 2011
12/01/11
2:00
PM ET
By
Anna McDonald
| ESPN.com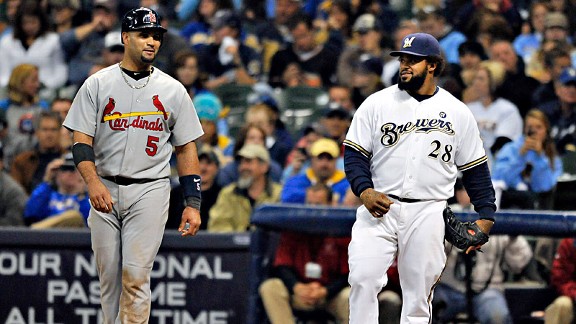 Jeff Curry/US PresswireBoth Albert Pujols and Prince Fielder -- and their agents -- will have decisions to make this offseason.
Branch Rickey once said "Baseball is a game of inches" and that is true. It is also a game of decisions and unpredictability. Hundreds and thousands of decisions over the course of a season by players, managers, coaches, owners and everyone involved in the game ultimately produce a baseball season no one could ever anticipate. Every year the beautiful, unpredictable seasons we witness begin with the offseason free-agent market.
This year, the biggest name is
Albert Pujols
. At 31, it's his first foray into the free-agent market.
Imagine if, after his first four seasons in the majors, instead of signing a seven-year extension in 2004 for $111 million, Pujols had instead signed a shorter deal.
October 30, 2007.
As expected Albert Pujols has filed for free agency. The Cardinals have fired general manager Walt Jocketty and new GM John Mozeliak's first task will be to sign Pujols to a monster long-term deal. This will not be an easy task, even though he's coming off the fewest home runs of his career (32) and his RBI production dropped to a career-low 103. The Yankees and Red Sox do not have first basemen locked into long-term contracts. They could make a move for Pujols ...
When Pujols signed that seven-year contract, he said he wouldn't give the Cardinals a discount. Now, looking back, considering the number of wins he brought to St. Louis, that contract is perceived as quite a discount.
"There's something about that first bout of money," said Vince Gennaro, author of "Diamond Dollars: The Economics of Winning in Baseball" and a consultant to major league teams. "We've seen
Ryan Braun
and
Evan Longoria
do it. In this case, [Dan Lozano, agent for Pujols] probably could have gotten Albert his 30 or 40 million and then looked for the kill -- whereas, he took a much, much, bigger security blanket."
If Pujols had signed a four-year deal following the 2004 season, he would have been eligible for free agency at the age of 27, which is where
Prince Fielder
is now. At the age of 27, Pujols had six All-Star Game appearances, one MVP award, one Rookie of the Year award, two World Series appearances and one World Series championship. In the same categories, Fielder has three All-Star game appearances and two top-three MVP finishes.
Here is a closer look at the first seven seasons for Pujols and Fielder (which includes a September call-up for Fielder), taking their average per 162 games:
Pujols: .332/.420/.620, 42 HR, 128 RBIs, 88 BB, 67 SO, 167 OPS+
Fielder: .282/.390/.540, 38 HR, 107 RBIs, 92 BB, 107 SO, 143 OPS+
Looking at those numbers, and factoring in Pujols' edge over Fielder in fielding and baserunning, you can see where the offers he would have received would have dwarfed what Fielder will eventually get. An interesting dynamic with this year's free agent class are the agents for Pujols (Dan Lozano) and Fielder (Scott Boras) and how they will manage the market.
"I'm envisioning Boras' whole selling pitch being: When have you seen a player of this caliber come to the free agent market after his age-27 season?" Gennaro said about Fielder. "And that's what Albert could have had -- exactly what he would have had -- if he went in 2007."
Baseball is a game of decisions and unpredictability. In 2004, Pujols choose long-term stability in the form of $111 million.
What if Pujols stays healthy and ages well for the next eight years?
September 3, 2019.
The view from the stands in 2019 hasn't changed much from the Cardinals' World Series championship in 2011, the return to the World Series in 2012 and another title in 2018. That's the beauty of baseball; once you're sitting in the stadium watching the game, taking in all the sights and sounds, it's timeless. Three trips to the World Series in nine years and yet St. Louis has never seen the hustle and bustle like it is witnessing today when Pujols could be entering into the 700 home run club ...
If Pujols averages his worst season in home runs (which was 32 in 2007), at the end of an eight-year contract he would be sitting at 701 career home runs. His worst single season hit total was 173, which would put him at 3,457 career hits. Pujols had his worst RBI year in 2011, with 99. If he matches that total every year for eight years he would be sitting on 2,121 RBIs.
The revenue stream for a ballplayer and a team when breaking records and joining milestones like the 3,000-hit club or 700-home run club is tricky to predict because it depends upon the market where the team resides. Which major league team can financially capitalize on these records and milestones?
"If he were doing that as a Yankee it would be frankly considerably more in terms of dollars for the team and probably personally for him than if he is doing it in a smaller market," Gennaro said. "Now, St. Louis is that sort of hybrid -- small in size but big in baseball. It really is a terrific baseball market."
If Pujols remains in St. Louis, the team would be in a strong position to capitalize on those milestones because of the dynamic pricing the Cardinals put in place in 2011.
"You think back to the
Barry Bonds
home run chase, what you saw was the StubHub folks in the secondary market going nuts for $1,000 seats when he got to 700 home runs," Gennaro said. "Now the Cardinals themselves can play in that game."
Reaching milestones for ballplayers only involve a handful of games but Gennaro says there are other ways for teams to capitalize on the records with merchandise and things of that nature. "I think the Cardinals are in a pretty good position with their rabid fan base," he said.
In defining what the market values in free agency Gennaro has completed extensive fan and consumer research with teams on the topic of star power, or marquee value.
"One of the things that I've seen is that fans personalize the team brand through its star players," Gennaro said. "So, the marquee value of a player has to do with his ability to create that bond between himself and the fan. I do think there is a clear residual value that a team maintains even after the player is gone. It is even greater when a player plays his whole career with one team and then walks off into the sunset as Stan Musial did."
What if the team who is willing to pay Pujols the most is the Cubs?
October 29, 2014.
Wrigley Field has always had its own mystique. All the Cubs fans who have lived and died without seeing a World Series championship, today is for them. The desire and the dream permanently hovering in the air above Wrigley for 106 years is no longer a bunch of hollow hopes. There are words, there are pictures which will try to capture this day as the Cubs have won the World Series, but you have to be here to feel it. It's finally real. The two men who made this day possible, Albert Pujols and Theo Epstein, stand together holding the World Series trophy under the confetti ...
"There is the sort of double switch. The double hit," Gennaro said. "If [Pujols] leaves the Cardinals and joins the Cubs that's the kind of thing that can really be an interesting game changer."
Pujols leaving the National League Central for another team in the American League or other divisions in the National League would have a lesser impact on the Cardinals then if he went to a division rival.
"The Cardinals are a fairly rational organization and they will choose to make this a financial decision," Gennaro said. "If you had a winning team without Pujols or a non-competitive team -- not a 60-win team, but a .500 win team -- that finishes in third or fourth place in the Central Division with Pujols, which would bode better financially for the Cardinals? Despite Albert's attraction in value, I would have to say it would be the winning ballclub. I think one of the things you have to be sure of if you are St. Louis, if you are going after him, is that you have enough payroll space left over after you pay Albert to build a competitive team around him."
Gennaro believes it would not be wise for the team to now gravitate toward selling stars and not wins. Of course, the last thing the Cardinals would want would be for the rival Cubs to acquire Pujols. The reasons extend far beyond fan loyalty to financial implications for both teams. But baseball is a game of decisions and unpredictability. If, in 2014, that unpredictability takes the Cubs to their first World Series championship in 106 years because Theo Epstein engineered a run of winning baseball with Albert Pujols as the cornerstone, the story of Pujols would be complete.
Are the Cubs actually courting Pujols? Can they put together a plan to win a World Series
without
a player like Pujols? Can the Cardinals afford to let the Cubs have him?
A game of decisions.
Anna McDonald contributes to Page 2 and the Yankees blog It's About the Money. You can follow her on Twitter @anna_mcdonald.
September, 23, 2011
9/23/11
4:00
PM ET
By
Anna McDonald
| ESPN.com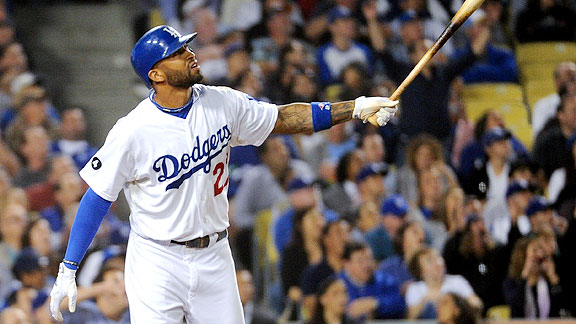 Harry How/Getty ImagesMatt Kemp ranks first in RBIs, second in home runs and third in batting average in the NL.
Over the course of the 2011 season "most valuable" has been defined many ways.
On a summer evening at Miller Park,
Prince Fielder
hit a deep fly ball to left field. His home run in the bottom of the second on July 27 put the Brewers up 1-0 against the Cubs and they went on to win 2-0. This "valuable" at-bat by Fielder helped put the Brewers in first place in the National League Central, where they have remained.
Most valuable can also be seen on paper, with a little math and statistics.
Ryan Braun
, with his National League-leading .330 batting average and .584 slugging percentage, looks every bit as good as
Matt Kemp
and his league-leading 8.2 Wins Above Replacement.
And then there are the ballplayers having the most valuable seasons of their careers. While Blue Jays right fielder
Jose Bautista
is enjoying a major league-leading 42 home runs, it is hard to imagine where the Yankees would be without
Curtis Granderson
, the majors' top RBI guy. Bautista's team will be watching the playoffs from home and Granderson is hitting only .270. Maybe
Justin Verlander
's magical year outshines both of them?
Back in August the MVP voters received their ballots. The voters were told the same thing that fans and bloggers and columnists have argued all season, that there is "no clear-cut definition of what Most Valuable means."
The Baseball Writers' Association of America does give some guidelines to its voters. Only regular-season performances are eligible for the MVP and they request the ballot be turned in "by the end of the season." Many years tight division races come down to the last day. If a ballot is turned in well before the season ends, could a voter miss the late-season performances?
"Most voters turn in their ballots after the last game," Jack O'Connell, the BBWAA secretary-treasurer said via email. "The majority of ballots arrive the day after the season ends."
The ballot also explains how voters should consider the actual value of a player to his team, that is, strength of offense and defense. The number of games played, general character, disposition, loyalty and effort are to be considered as well. Voters are told to remember former winners are eligible and members of the committee may vote for more than one member of a team.
Jimmy Rollins
, the 2007 MVP winner with the Phillies, evaluates the honor this way: "It's an award that says you had the greatest impact on the outcome of your team's success, and without you for that season, the team would not have had the success that it did."
Historically, voters place a huge importance on playing for a team that reaches the postseason, yet the BBWAA states on the ballot "the MVP candidate need not come from a playoff contending team." Why would the association not define this more clearly?
"How much clearer can it be?" O'Connell said. "If voters place more emphasis on players from contending teams, it is because those players' impact is considered greater because of their team's success. That is one way value is measured. It is still a subjective process."
In a baseball world filled with advanced statistics like WAR and FIP (fielding-independent pitching), a subjective process will always stir debate.
"Unless it is somebody who is so far ahead of everybody else, it is really hard to go out every year and say one guy is so deserving of the Most Valuable Player Award," said Jack Clark, the former major league All-Star first baseman and now a radio host in St. Louis.
Clark finished third in the 1987 MVP vote, a year Andre Dawson was considered a questionable winner. Teammate Ozzie Smith placed second. At the time, there weren't defensive metrics that evaluated play-by-play data to rate Smith's value in the field, but everyone knew Smith was special.
"As many home runs as myself or Andre Dawson could hit, Ozzie Smith would take the hits and runs away from the other team," Clark said. "He would crush them defensively like no one in the game has ever seen. He's 'The Wizard.' He did something magical that you paid to watch and he elevated his teammates because the pitchers are not afraid to throw a strike. He not only could get one out, he could get two outs."
Moving away from traditional statistics like home runs, RBIs and batting averages, many voters now take into consideration statistics like WAR -- a statistic that, if around in 1987, would undoubtedly have helped Smith or Clark beat out Dawson.
"For batters, all WAR really is, is a combination of batting, fielding and replacement-level by position, that's it," Dave Studenmund, editor for the "Hardball Times Annual 2012" said. "The last two things are new and people aren't used to them. What's more, we ought to be questioning them frequently."
One of the main complications with WAR is the fielding component and how to measure it. Just how much does a ballplayer's fielding skill impact a team's win total?
"I think it depends on what position they play," former major leaguer
John Mabry
said. "Obviously, there is more weight to shortstop, catcher and center fielder, but at the same time you can be the best at your position, like a corner position. For example,
Albert Pujols
makes plays no other first basemen will try to make. The stuff he is willing to do when the game is on the line is what separates him from other first basemen."
Mabry believes the best fielders have a measurable skill they add to their team's win totals.
"They are always positioned right," Mabry said about the best fielders. "They always stop the runner from advancing in crucial situations, they always get the double play, they know when to throw to a base and they know when to throw to a cut off. There are all kinds of things throughout all different positions that make a player a really good fielder."
Mabry believes evaluating outfielders is a complicated process. An outfielder's skill in being able to get into the right position on the field is extremely important.
"The outfielders move as a unit," Mabry said. "They know how their pitcher is pitching the hitter. Another example, back in the day, Jimmy Edmonds would look at the signs from the catcher and he would know what pitch the pitcher was going to pitch to the hitter."
Mabry described Edmonds as being able to position himself perfectly. Edmonds would also communicate to the other outfielders and tell them when the ball was potentially coming their way.
"He would make all the outfielders better as well," Mabry added. "There's a guy that lifts his teammates up as well."
The new defensive metrics attempt to evaluate all of this. Voters who consider defense might consider some of the new metrics as a rationale to put Granderson or Braun lower on their ballots. Baseball Info Solutions' Defensive Runs Saved rates Granderson as 16 runs worse than an average center fielder, while fellow MVP candidate
Jacoby Ellsbury
rates as 11 runs better than average. Braun rates as five runs worse than an average left fielder, compared to Kemp's two runs better than the average center fielder.
At the bottom of the MVP ballot the BBWAA voters are given one last gentle reminder, "Keep in mind that all players are eligible for MVP, including pitchers and designated hitters."
Clark believes the MVP should be reserved for "the most valuable player, the most valuable person, the most valuable product on the field every day."
The complicated process of choosing the most valuable player is difficult because it is an award evaluating just one year. In baseball, several years of statistics and observations give us a much better evaluation of true talent.
But, the beautiful part of baseball is every year any player has a chance to shine, a chance to rise above their true talent level and add valuable wins to their team. This is what the MVP award measures.
Maybe they help their team into the playoffs, like Justin Verlander. Maybe, like Bautista, their performance separates them from other players, and maybe, as in the case of the Dodgers' Kemp, they help bring a dying team back to life.
The bottom line: Who came through the most when the game and season were on the line, played above and beyond their ability and brought their team the farthest? Measure it by what is seen at the ballpark or what is calculated on paper -- or both -- but ultimately, the MVP should answer the question, which ballplayer had a season we should never forget?
"The Dodgers have hung in there," Clark said. "They are not going to win anything. They are not going to the playoffs. Looking at the individual players, what they are doing, where they had to come from and the pressures they've been under, I really believe the Dodgers have the MVP, CY Young and manager of the year. And I played for the Giants. I never was a Dodger fan."
Anna McDonald is a contributor for ESPN's Page 2 and covers the Yankees for the It's About the Money, part of the SweetSpot Network. You can follow her on Twitter at @Anna__McDonald.