February, 23, 2015
Feb 23
12:36
PM ET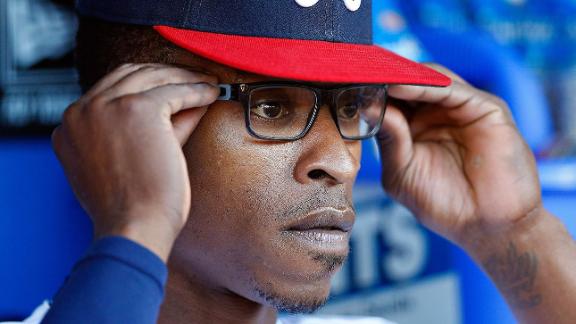 Before I did a news hit about B.J. Upton announcing he wants to go by
his given name of Melvin Upton Jr.
, I looked into some numbers to see what has caused his troubles since he joined the Braves two seasons ago.
To no surprise, he's striking out more -- not a good thing considering that he already had a high strikeout rate with the Rays. But even when Upton does make contact, he's hitting fewer fly balls, thus the decline in isolated power as well as batting average. Here:
Rays, 2011-2012
Strikeout rate: 25.9 percent
Swing-and-miss rate: 28.9 percent
Fly-ball rate: 41.1 percent
Home run/fly-ball rate: 15.0 percent
Walk rate: 9.1 percent
Line-drive rate: 17.8 percent
BABIP: .296
Braves, 2013-2014
Strikeout rate: 31.5 percent
Swing-and-miss rate: 33.9 percent
Fly-ball rate: 34.6 percent
Home run/fly-ball rate: 9.9 percent
Walk rate: 9.8 percent
Line-drive rate: 20.1 percent
BABIP: .277
More strikeouts, more overall swings and misses, fewer home runs on the fly balls he does hit, a lower batting average on balls in play ... there are many reasons why Upton has hit .198 in his two seasons with the Braves. One number does offer a small ray of optimism, however: His line-drive rate on contact has actually been higher with the Braves -- although his batting hasn't been quite as good. He hit .676 on line drives with the Rays in 2011-12 and has hit .606 with the Braves. So he's probably been a little unlucky on line drives; still, a few extra hits wouldn't have changed his overall batting line all that much.
If there's one area that explains Upton's decline, aside from the increased strikeouts, it's his production on fly balls:
With Braves: .170 AVG/.166 OBP/.500 SLG
With Rays: .249/.241/.774
Here's the weird thing. His average fly-ball distance with Tampa was 399 feet; with the Braves, it's 398 feet. With the Rays, he hit 46 home runs out of 315 fly balls; with the Braves, just 17 out of 205. And no, it's not a ballpark issue. According to "The Bill James Handbook," Tampa Bay rated as a tougher home run park for right-handed batters from 2012-14 than Atlanta did. (In 2011 and '12, Upton hit 26 of his 51 home runs at home, so he wasn't necessarily benefiting from the other AL East parks, either.)
Upton pulls most of his home runs. He just hasn't been able to pull the ball often enough with the Braves. Here are his fly-ball charts from his final two years with the Rays and his two with the Braves:
ESPN
His inability to pull the ball is a reflection of his overall struggles against inside pitches:
Rays, 2011-12 versus inside: .276/.375/.526
Braves, 2013-14 versus inside: .207/.303/.396
Considering Upton has always struggled against outer-edge stuff, if he's not hitting the inside stuff, he's not hitting.
So, that's the problem. Is there a solution? Is it a mechanical issue? A mental issue? Just a slower bat? He's only 30, so it's not necessarily a bat-speed issue. In the past, Upton has talked about using his legs more. Last spring, it was about developing a shorter swing. Some have suggested he open his stance up.
New Braves hitting coach Kevin Seitzer -- Atlanta's fourth in six seasons -- is known from his Kansas City and Toronto days for stressing contact and using the whole field. He's already spent some time working with Upton in the offseason and
indicated that
they're working on a mechanical tweak and shorter swing. Sounds like last spring.
My best guess? Upton has had two awful seasons, and expecting a return to his previous level is optimistic thinking at this point. He likely had a comfort zone in Tampa with Joe Maddon, one that can't be replicated. With every strikeout, the pressure mounts. Maybe a little tweak will fix things, but if it was that simple, it's two years later and we're still seeking that tweak. Maybe a good start will get him going. The Braves have to hope so -- he still has three years remaining on his contract.