March, 3, 2015
Mar 3
10:20
AM ET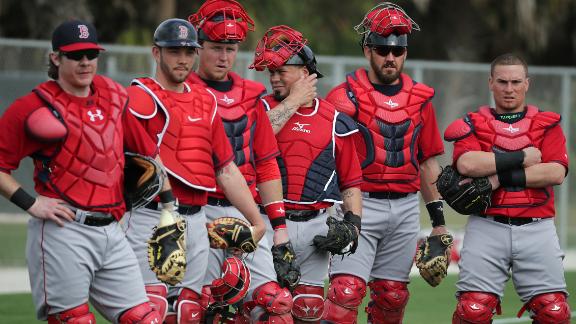 We have games! Real games! Well, real spring training games, which are better than games against college teams and much better than reports about a pitcher who looked good throwing batting practice. We start the spring training schedule with five games between major league teams Tuesday, a few more Wednesday and then a full slate Thursday, complete with box scores and highlights and Class A players we've never heard of.
Here are 10 things I'm watching this spring training ... I mean, I'm just listing these 10. I could have listed more. But this is a start.
Matt Harvey's return
Back in 2013, Harvey wasn't simply a product of New York hype, but the absolute real deal. He made 26 starts before injuring his elbow and check out his triple-slash line compared to the game's other top starters that year:
Clayton Kershaw
: .195/.244/.277
Jose Fernandez
: .182/.257/.265
Matt Harvey: .209/.248/.282
Madison Bumgarner
: .203/.270/.307
Max Scherzer
: .198/.254/.329
[+] Enlarge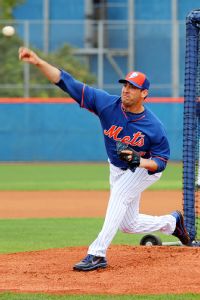 Adam Rubin/ESPNNewYork.comMatt Harvey is scheduled to make his spring debut Friday.
Only Kershaw allowed a lower on-base percentage and no starter allowed a lower isolated power figure than Harvey, who gave up just seven home runs in 178.1 innings. The Mets fancy themselves wild-card contenders on the strength of their rotation and because Harvey's Tommy John surgery occurred in October 2013, he's had more rehab time than most starters returning from the surgery, leading to optimism that Harvey could throw 200 innings. Pitching coach Dan Warthen said Monday that 180 to 190 innings is more realistic.
We also got this news Monday: His curveball looks even better than it did prior to the injury.
From Adam Rubin of ESPNNewYork
:
During his major league career, Harvey has thrown his curveball 12.4 percent of the time. It was a pitch he used more frequently while at UNC to complement his fastball. Harvey has found it very sharp of late, especially during Monday's session when he was using it to get batters to chase down in the zone while simulating two-strike counts.

"I don't know if I figured out something in my mechanics or it just magically appeared, but it's nice having that and it felt good out there," Harvey said.
Harvey's spring debut is Friday, when he's expected to throw 35 pitches.
Giancarlo Stanton back in the batter's box
Let's face it: Until Stanton cracks that first 450-foot home run, we're going to be wondering about any psychological effects from his gruesome broken jaw and how he reacts after seeing something high and tight. I wrote about his
ability to punish inside fastballs
and the expectation that pitchers will test him there early on, even in spring training.
Shortstop battle in Seattle
Tristan Cockcroft wrote about some
intriguing position battles here
, but this might be the most important one to watch with the Mariners coming off an 87-win season. In theory,
Brad Miller
and
Chris Taylor
would make for a perfect platoon with Miller against right-handers and Taylor against left-handers, but how many playoff teams can you think of that platooned at shortstop? What makes it tricky is both shortstops have upside -- Miller as a shortstop with double-digit home run power and above-average offense, Taylor as a high-average hitter with better defense -- but neither is a guarantee to reach that potential. As Tristan pointed out, Miller hit .410 and slugged .836 in spring training a year ago; if he hits like that again, it will be hard for Lloyd McClendon to pass him over.
Bryce Harper swinging hard
I know, I know ... but HE'S STILL JUST 22. But doesn't that postseason performance in a losing effort get you pumped up? He missed 62 games with a thumb injury a year ago. Healthy, this should be his 30-homer breakout season. "After losing [Adam] LaRoche, I have to step up a little bit," he told MLB.com the other day. I believe he will, starting in spring training.
Corey Kluber and that Cleveland rotation
The reigning American League Cy Young winner will have to prove that it's one thing to perform but another thing to perform with high expectations. He ended 2014 on a dominant roll -- a 1.73 ERA over his final 14 starts -- so let's see where he picks up. His rotation mates also finished strong, as the rotation had a 2.68 ERA over the final two months.
Carlos Carrasco
had a 1.30 ERA in 10 starts, T.J. House a 2.25 ERA in nine starts and
Danny Salazar
and
Trevor Bauer
have big arms. It's an exciting young group that now has experience to go with talent.
The Cubs' kids
Kris Bryant ...
Jorge Soler
...
Javier Baez
... Addison Russell. And don't sleep on
Arismendy Alcantara
. Oh, and it's easy to forget that
Anthony Rizzo
is just 25.
New Cubans and old Cubans
[+] Enlarge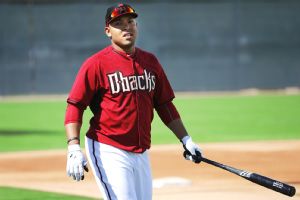 AP Photo/Ross D. FranklinThe Diamondbacks signed Yasmany Tomas to a six-year deal this offseason.
We saw Red Sox center fielder
Rusney Castillo
debut at the end of 2014, one of nine players born in Cuba to debut in 2014, the first season we've had at least eight Cubans debut since 1955. This will be our first extended look at him in game action. We'll also get our first look at some of the new Cubans, headlined by Diamondbacks outfielder/third baseman
Yasmany Tomas
and Red Sox infielder Yoan Moncada (although you'll likely to have to check out the back diamonds to see him). If you get bored with the new guys, you can just check in on
Jose Abreu
,
Yasiel Puig
and
Yoenis Cespedes
, now sharing a lineup with
Miguel Cabrera
.
Speaking of: Miguel Cabrera and Justin Verlander
Miggy had offseason surgery on his right foot and ankle, injuries that help explain why he dropped from 44 home runs in both 2012 and 2013 to 25. Verlander, who had surgery on his core after the 2013 season that may have affected his 2014 performance, came to camp with added muscle and manager Brad Ausmus is already excited about what he's seeing. "That's the best I've seen Ver stuff-wise, off the mound, since I've gotten this job," he said following Sunday's batting practice session. Verlander makes his spring debut Saturday. Don't close the window just yet on this group of Tigers.
Mike Trout doing Mike Trout stuff
But I also want to see the adjustments he makes against those high fastballs he struggled against in 2014.
The Padres' new outfield
We expect
Matt Kemp
,
Justin Upton
and
Wil Myers
to produce at the plate, but the key thing to watch in spring training will be Myers' adjustment to center field. The Padres are playing some high-stakes poker in believing he'll have the range to play the position.
Mookie Betts
OK, that's 11 things. But I want to see Mookie as well ... and Madison Bumgarner ... and Clayton Kershaw ... and Felix Hernandez ... and Andrew McCutchen ... and Adam Wainwright ... and George Springer ... and Josh Donaldson ... and Joey Votto ...