SweetSpot:

Defensive player of month
September, 30, 2014
Sep 30
9:27
AM ET
Amazingly, we almost got through a full season without naming
Atlanta Braves
shortstop
Andrelton Simmons
our Defensive Player of the Month.
Alas, Simmons finally won our vote for September. He won on the strength of five Defensive Runs Saved, which trailed only
Brandon Crawford
of the
San Francisco Giants
among shortstops. Crawford had seven Defensive Runs Saved, but Simmons garnered more favor for having nine Good Fielding Plays and only two Misplays and Errors compared to Crawford's 10 and 7 for the month.
After a slow start, Simmons finished the season with 28 Defensive Runs Saved and should be a lock to win the National League Gold Glove at shortstop.
Simmons didn't lead the league in Defensive Runs Saved. His teammate
Jason Heyward
did, finishing with 32. Simmons placed tied for second with
New York Mets
outfielder
Juan Lagares
, who won this award in August.
Simmons had 14 Defensive Runs Saved in his first 109 games, than had 14 in his last 37 games of the season (helped by plays like
this one
).
At one point in mid-August,
Cincinnati Reds
shortstop
Zack Cozart
had a seven-run advantage over Simmons for the most of any shortstop. He finished nine runs
behind
Simmons for the season.
So even though the Braves offense may have gone in the tank at the end of the season, at least one defender was playing pretty hard and pretty well on the defensive end.
* * * *
Amarista
I also want to give a salute to
San Diego Padres
utility man
Alexi Amarista
, who finished as the runner-up in our voting. Amarista had only one Defensive Run Saved for the month, but was credited with 25 Good Fielding Plays by the video trackers at Baseball Info Solutions, by far the most of anyone for September.
Examples of the handiwork by the player known as "Superninja" to the Padres broadcast crew can be seen
here
,
here
and
here
.
Amarista played five different positions this season. Shortstop was his best, the one at which he got seven of his 10 Defensive Runs Saved.
August, 4, 2014
Aug 4
11:37
AM ET
You may recall that
we recently pointed out
San Francisco Giants
third baseman Pablo Sandoval's outstanding defensive prowess this season.
As it turned out, much of that success came in July.
Sandoval was a near-unanimous selection by our 10-voter panel for our Defensive Player of the Month award for July. He received nine of the possible 10 votes.
Sandoval finished the month tied with
Andrelton Simmons
and
Alexi Amarista
for the major league lead with eight defensive runs saved. Per video review by Baseball Info Solutions, he had 19 good gielding plays (think plays that would earn a "Web Gem nominee") and only one defensive misplay and error (plays that have a negative consequence, whether scored an error or not).
The latter is a remarkable stat. The
19 good fielding plays
were seven more than anyone else at the position, and to do that while making only one misplay is amazing.
For comparison's sake, here are how some of the game's other top defenders at the hot corner fared for July:
In fairness, a number of other good players had very good defensive months. Here are two others we haven't shone the spotlight on much this season.
Jackie Bradley Jr, Red Sox CF
Bradley edged out Simmons for second place by having the best month of any outfielder. He had seven defensive runs saved in July, which tied for the most among outfielders. He also had six
good fielding plays
and only three defensive misplays and errors.
Bradley has inched his way near the top of the defensive runs saved leaderboard for center fielders and could be a strong candidate for a Gold Glove Award. His 15 defensive runs saved rank third at the position, second in the American League behind
Jarrod Dyson
's 16.
He is also beloved by the other primary defensive metric, UZR, which rates him third highest in the outfield in the majors, trailing only
Alex Gordon
and
Jason Heyward
.
Alexi Amarista, Padres
Though Amarista placed sixth in our voting, we felt his play merited mention. As noted, he tied Simmons (who placed third in our voting) and Sandoval for most defensive runs saved this month.
Amarista spent much of the month filling in at shortstop for injured teammate
Everth Cabrera
. Amarista entered this season with only 160 innings played at that position, but in 220 innings in 2014 he has eight defensive runs saved.
Amarista excels at two things
, one of which is his conversion rate on turning double plays: He's at 68 percent (17 converted in 25 opportunities when he either fielded a ball or was a relay man in a double-play situation).
The other is that he does a nice job of covering ground. The Padres allowed opponents to reach base safely on only 20 percent of ground balls hit to the left of second base in July, the lowest rate in the majors by far (next best were the Brewers and Giants at 23 percent).
From April to June, the Padres ranked 13th, with a 28 percent rate.
Major League Baseball doesn't give a Gold Glove to utility players, but Amarista has strong qualifications (he could win a Fielding Bible award, which is voted on by Baseball Info Solutions and others, including this author, at season's end). He also has positive defensive runs saved totals this season at third base and center field.
July, 2, 2014
Jul 2
10:00
AM ET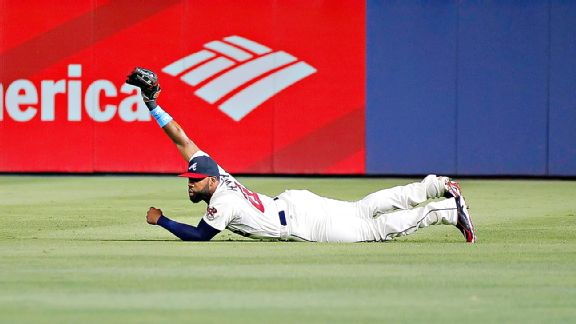 AP Photo/Todd Kirkland
Jason Heyward has provided many moments of frustration for opposing hitters.
Perhaps you saw it not long ago on "Sunday Night Baseball," one defensive whiz robbing another, with
Jason Heyward
coming in to make one impressive catch
against
Mike Trout
and then
racing back
to make another such play.
Heyward may not have quite the flash of Trout, but he's racked up great defensive numbers consistently all season.
He won our June voting for the Defensive Player of the Month, beating out
Cincinnati Reds
shortstop
Zack Cozart
,
Boston Red Sox
second baseman
Dustin Pedroia
and
Kansas City Royals
left fielder
Alex Gordon
, who finished second, third and fourth, respectively. He joined
Troy Tulowitzki
(
April
) and
Yoenis Cespedes
(
May
) as winners this season.
Heyward tied for the major league lead with eight Defensive Runs Saved in June. He was credited with six "Good Fielding Plays" (think Web-Gem nominees), all for terrific catches, and went the entire month without a Defensive Misplay or error.
Heyward ended June with 24 Defensive Runs Saved for the season. That has been compiled largely based on his ability to catch balls hit to the deepest part of right field (in fact, that makes up almost the entirety of those 24 Runs Saved).
Heyward caught 53 of 55 balls hit to spots at speeds for which the expected play rate was greater than 50 percent, according to data provided by Baseball Info Solutions (in other words, he made just about all the plays he should make).
He also made seven catches on balls with an expected out rate of 50 percent or less, one shy of the most by an outfielder for the month.
He closed out the month with a
fantastic diving catch
against Mets shortstop
Ruben Tejada
in a game the Braves rallied to win.
"Jason Heyward? He does everything," Mets manager Terry Collins said on Tuesday. "He can run. He's got great range in the outfield. Since I've watched him play, he's made plays that beat us. How about the diving catch he made last year -- the
diving catch on
Justin Turner
against
[Craig] Kimbrel
? Tremendous play. Saved the game.
"Then he makes the play last night in foul territory down the line. I mean, he can throw, he can run. I've always liked the way he plays. He plays the game right. I wish he'd have a day off once in a while."
Heyward's own manager isn't planning to give him more than the occasional breather, and for good reason.
"Jason is a real game-changer in the outfield," said Braves manager Fredi Gonzalez. "With the things he can do to beat you, he can change a game just by his pure presence in the field. There are not too many outfielders in our league who have that type of impact on the game."
June, 3, 2014
Jun 3
10:00
AM ET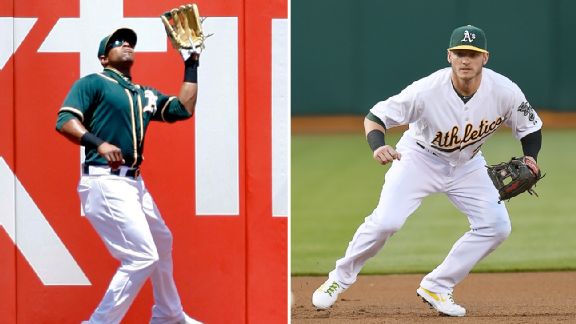 Getty ImagesYoenis Cespedes and Josh Donaldson excelled on defense for the Athletics in May.
The
Oakland Athletics
had the best ERA in the American League in May, and one reason for that was that they had the outfielder with the most Defensive Runs Saved and the infielder with the most Defensive Runs Saved of anyone all month.
Those two players --
Yoenis Cespedes
and
Josh Donaldson
-- finished one-two in our voting for Defensive Player of the Month.
The award is given each month after balloting by ESPN.com writers, members of ESPN Stats & Information and video scouts for Baseball Info Solutions (BIS), which tracks defensive data. Cespedes got five first-place votes and finished with 31 points (we vote with a 5-3-1 system for first through third place), one more first-place and two more points than Donaldson. Troy Tulowitzki
won the award
for April.
Cespedes turned a good month into a great month with a flourish in the final game of May, when
he threw two runners out at the plate
, propelling him to a tie for the Runs Saved lead with Mets outfielder
Juan Lagares
, with 10 apiece.
Even without that final game, this was one of Cespedes' best defensive months in his career. Baseball Info Solutions charted him with eight "Good Fielding Plays" (think Web Gem nominees) and only one Defensive Misplay & Error.
In his first two seasons, Cespedes had 30 Good Plays and 41 Misplays. But May pushed his totals for 2014 to 11 and 6. After catching 28 of 35 balls hit into his zone (the areas in which most left fielders turn batted balls into outs) in April, Cespedes snagged 30 of 32 in May, and had 10 "Out of Zone" catches (up from seven in April). He's also already matched his 2013 total for "baserunner kills" (the term for throwing out a runner without needing a cutoff man) with five.
His infield teammate, Donaldson, already has a pretty stellar rep for his defensive play and solidified that with eight defensive runs saved at the hot corner last month. His 12 Defensive Runs Saved this season lead major league third basemen and already match his total from 2013, when he finished fourth-best in the majors at third base.
Donaldson tied
Jean Segura
for the lead in Good Fielding Plays with 18 and had only five misplays and errors. He's greatly improved his ratio of good plays to misplays, from 63 and 53 in 2013 to 28 and 14 in 2014. Like Cespedes, Donaldson improved on his Revised Zone Rating, going from turning 56 of 73 balls hit into his zone into outs in April to 57 of 67 in May.
Donaldson's presence makes the Athletics' left side of the infield very formidable. The Athletics turned 81 percent of ground balls hit to the left of the second-base bag into outs in May, easily the highest rate of any team (the Pirates finished second at 78 percent).
A few weeks ago, when we asked
Eduardo Perez
for a list of defenders who had impressed him in 2014, he put Donaldson at the top of his list. "I like him a lot," Perez said. "He expects every ball to be hit to him, and he's really good from side to side."
Donaldson excels most at handling balls hit closest to the third-base line,
whether it's due to his positioning or quickness
. Our internal batted-ball tracker had the Athletics giving up hits on only 19 percent of ground balls hit closest to the third-base line in May, well below the average of 35 percent.
Donaldson didn't just have a great defensive May. He had a great offensive one as well, with eight home runs, a .417 on-base percentage and a .990 OPS. Combine his defense and his offensive and you get a Wins Above Replacement total of 2.6, which even outpaced homer-slugging
Edwin Encarnacion
for best in the AL for the month.
Mark Simon helps oversee the ESPN Stats & Information blog and regularly tweets defensive stats on Twitter at @msimonespn
May, 2, 2014
May 2
10:56
AM ET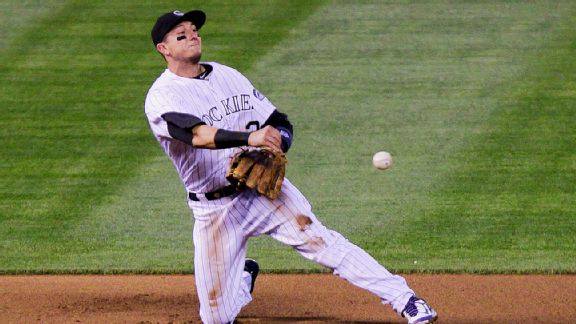 AP Photo/Barry GutierrezTroy Tulowitzki's month was filled with great play after great play.
Colorado Rockies
shortstop
Troy Tulowitzki
had a heck of a month, hitting .364 with seven home runs and a 1.205 OPS.
But you don't get to 3.0 Wins Above Replacement for a month without being a great defensive player, too.
Tulowitzki was.
He won our balloting for Defensive Player of the Month for April, edging out the major league leader in Defensive Runs Saved, Braves outfielder
Jason Heyward
.
Balloting consisted of ESPN.com writers, members of ESPN Stats & Information and Baseball Info Solutions, and Baseball Tonight analyst
Doug Glanville
, each of whom ranked their top three defenders on a 5-3-1 point scale.
Tulowitzki was named first on seven of the 16 ballots and finished with 57 points, seven more than Heyward, who got six first-place votes. Tulowitzki's teammate
Nolan Arenado
placed third, capturing the remaining three first-place votes and 22 points.
Tulowitzki finished the month with 10 Defensive Runs Saved. No other shortstop had more than six. His three Web Gems were second-most of any shortstop (
Alcides Escobar
had five).
Perhaps most impressive about Tulowitzki was the video review work done by Baseball Info Solutions, which categorizes plays into about 30 categories of Good Fielding Plays and about 60 categories of Defensive Misplays & Errors.
Tulowitzki finished April with 16 Good Fielding Plays and only one Defensive Misplay & Error. That was a better ratio than even flawless Braves shortstop
Andrelton Simmons
, who had 12 Good Plays and one Misplay & Error.
Our favorite Tulowitzki stat is one we cited a few weeks ago (and also pays tribute to Arenado): Rockies opponents have reached on only 21 percent of ground balls hit to the left of the second-base bag. That rated best in the majors.
The Tulowitzki highlight reel for April was pretty impressive. You can get a look at a few of his best plays
here
and
here
.
The latter immensely impressed Rockies first-base coach Eric Young, who is back with the team after previously coaching for the
Arizona Diamondbacks
.
"Tulo's range is unbelievable, but more importantly, he has a knack for positioning himself very well," Young said Thursday. "As for him making the
Derek Jeter
acrobatic throw, Tulo is, by far, the only shortstop in the game to imitate [that] consistently. "Making throws on the run in any direction sets him apart from the rest. Watching him play defense is just as much a joy as watching him hit every day."
October, 2, 2012
10/02/12
11:44
AM ET
Getty Images/Jeff GrossOpposing hitters saw this "look what I just caught" expression from Mike Trout many times in 2012.
Who was baseball's best defender in 2012?
Each month during the season, we convened a group of about a dozen voters (among them ESPN.com writers, former players and those who study this material daily at Baseball Info Solutions) to pick Major League Baseball's best defensive player.

It has been a fun and educational process to study the numbers, look at the highlight reels and make a decision. (Our top candidates are noted in the poll on the right.) But when it comes to picking a Defensive Player of the Year, it's a really close call.
Ten of us ranked the top three defensive players, and we awarded points on a 5-3-1 scale.
The winner in our voting?
Angels rookie center fielder
Mike Trout
.
Trout edged out our May Defensive Player of the Month, Mariners shortstop
Brendan Ryan
, who received six of our 10 first-place votes. Ryan received the other four firsts and finished second in the voting.
Cardinals catcher
Yadier Molina
and Cubs second baseman
Darwin Barney
finished tied for third. Braves center fielder
Michael Bourn
placed fifth.
Why Trout won
Simply put, Trout won our Defensive Player of the Year Award because he went above and beyond when it came to turning batted balls into outs.
When we say above and beyond, we refer both to extra effort and to literally going above and beyond -- as in above and beyond the outfield wall.
Four times this season, Trout raced back to the fence, timed his leap, extended his left arm well over the wall, and came down with the baseball in his glove.
Trout robbed
J.J. Hardy
of a homer on June 27, stole one from
Gordon Beckham
on Aug. 4, snatched another from Miguel Olivo on Aug. 11 and pilfered one from
Prince Fielder
to end a game on Sept. 8.
Trout is one of four players since 2004 to have four home run robberies in a season, joining
Nook Logan
(2005 Tigers), Gary Matthews Jr. (2006 Rangers) and
Adam Jones
(2009 Orioles).
But those four catches don't necessarily tell the whole story. They account for a chunk of Trout's 23 Defensive Runs Saved in a little under 900 innings playing center field this season.
It's not just home runs that Trout robs. He also takes away lots of doubles and triples. He's adept at making difficult catches like Sunday's play against the Rangers'
Ian Kinsler
look routine.
With Trout's help (as well as that of
Torii Hunter
and
Peter Bourjos
), the Angels entered Monday ranked second in the majors in fewest doubles and triples allowed, trailing only the
Tampa Bay Rays
.
Baseball Info Solutions computes plus-minus ratings for outfielders based on their ability to get to the balls hit to all different parts of the field. There is a rating for shallow flies, for medium-range flies and for deep flies. A fielder is rewarded if he makes a play on a ball hit to a spot in which others usually don't.
Trout rates as an average center fielder on shallow flies. But he excels in medium-range flies and deep flies.
Trout's reward on medium-depth and deep balls is a big one; he's a plus-33, meaning he's 33 "bases" better than the average center fielder. That's the best in the majors. The next-best outfielder,
Denard Span
, rates seven bases behind him.
What do you think?
The other candidates on our ballots had comparable areas in which they excelled.
Ryan's ability to convert double plays is unmatched. Molina's control (and basically elimination) of the running game is amazing. Barney came out of nowhere to become an all-around star. Bourn was good at getting to balls of all types.
But in the end, our voters decided that Trout was the best of the best.
Do you agree? Vote in our poll and leave your thoughts in the comments section.
August, 2, 2012
8/02/12
11:33
AM ET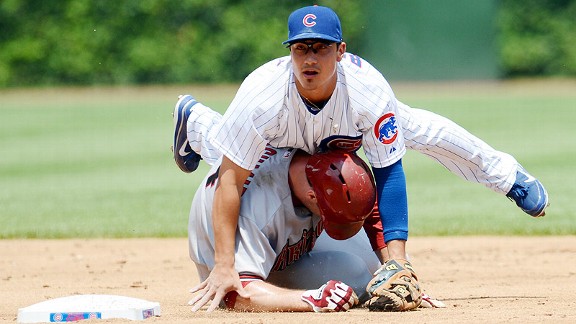 U.S. Presswire/Jerry LaiDarwin Barney's defense has been one of the best things to come out of the Cubs 2012 season.
Who was the best defensive player of the month for July?
For the first time, our panel of voters didn't have a consensus choice. The margin was narrow, but Cubs second baseman
Darwin Barney
edged out Yankees first baseman
Mark Teixeira
and Athletics right fielder
Josh Reddick
.
Because the voting was so close, it seemed only fair to salute all three in this space. Let's take a closer look at their performances.
Darwin Barney, Cubs 2B
When Baseball Info Solutions made adjustments to its defensive metrics a few weeks ago, we thought that Barney would be among those to take a big hit.
But Barney's numbers turned out to be legit all along. The Cubs second baseman ended the month as the game's most valuable defender, with 27 Defensive Runs Saved for the season, eight coming in July.
Cubs manager Dale Sveum has prioritized defensive positioning, and that seems to have benefited Barney, who has a high rating on both balls hit
to the right
of where a second baseman makes most plays (10 plays better than average, and
to the left
(12 plays better than average).
The Cubs have given up a lot of hits this season, but it's not the fault of their middle infield. The average team allows a runner to reach on about 43 percent of balls hit over the second base bag, or a few degrees to the right or left. The Cubs have allowed only 39 percent.
But Barney passes the eye test, too. He had 16 of what the BIS video-trackers call "Good Fielding Plays" in July, and only five Defensive Misplays & Errors. He excelled in turning the double play, with four of his Good Plays related to that skill, one shy of the best by a second baseman this month (Dan Uggla's five).
Barney's 3-to-1 Good Play/Misplay ratio has held up all season and is more than twice the ratio that Barney posted as a rookie in 2011, when his Good Play/Misplay & Error rate was 47 to 42.
Mark Teixeira, Yankees 1B
"Baseball Tonight" analyst Rick Sutcliffe has said just how much he values the defense of a player like Teixeira.
"A good defensive first baseman can make an entire infield" he's said on a number of occasions.
Teixeira had the best defensive month of any first baseman, with 19 Good Fielding Plays and only three Defensive Misplays & Errors. That's right on par with his season ratio of 60 GFP/10 DM&E. He was one of two first basemen this month (Mark Reynolds being the other) with multiple Web Gems.
But where Teixeira really stood out was in his Defensive Runs Saved total. First basemen don't typically accumulate a lot of Runs Saved, but Teixeira nearly matched his total of eight from April to June by netting seven Runs Saved in July.
Why was his rating so high?
It probably had something to do with
these
three
plays
, the best examples of his athleticism and range.
Those types of plays show that Teixeira is able to get to more balls to his right than the typical first baseman, and he reaps the statistical rewards in his Runs Saved total as a result.
Josh Reddick, Athletics RF
Reddick's name came to our attention when
Ichiro Suzuki
was traded to the Yankees a couple of weeks ago. We weren't surprised to see Ichiro at the top of the Defensive Runs Saved leaderboard, but were a little surprised to see Reddick right alongside.
The transition from Boston's tricky triangle and right-field corner to Oakland's cavernous outfield has been a smooth one for Reddick, who had eight Defensive Runs Saved, and a Good Play/Misplay & Error rate of 9 to 5 for the month.
The skill set that earned Reddick recognition in July was one that nearly injured him -- his ability to go back and get balls. Twice during Oakland's sizzling July, Reddick made a
wall-crashing
,
game-ending
catch, the second one knocking him woozy (he was back for Oakland's next series).
He also made like
Spiderman
, hanging on to the right-field wall at the Rogers Centre to make a twisting grab that might have been among the fanciest-looking plays of the month. It earned him his third No. 1 Web Gem of the season (his second of the month), one shy of Alexei Ramirez for the major-league lead.
Reddick's range rating (known to the BIS folks as plus-minus) ended July the same as his season rating in Boston in 2011 (he's saved 15 bases more than the average defender).
But he's solidified himself as one of the game's best with his throwing arm. He's cut back on the rate of runners advancing on balls he's fielded from 63 percent in 2011 to 45 percent in 2012.
It's not that runners aren't trying to take bases on him. It's that Reddick is gunning them down.
He's thrown out nine attempting to advance, including three in the past month. He finished July with 11 assists for the season, one shy of
Jeff Francoeur
for the major league lead.
July, 2, 2012
7/02/12
1:00
PM ET
You've got to be a pretty good defender to win defensive player of the month honors over a guy who made eight Web Gems this month and another who made several terrific plays and arguably the best catch of the season a few days ago.
But when our panel voted on June's pick for this award, Atlanta Braves rookie shortstop
Andrelton Simmons
handily beat out Reds second baseman
Brandon Phillips
and Angels center fielder
Mike Trout
. Simmons received eight of 11 first-place votes. Phillips, who leads the majors in Web Gems, got two first-place votes. Trout edged Phillips for second place in the voting.
Simmons joined April winner
Jerry Hairston Jr.
and May winner
Brendan Ryan
as our monthly honorees.
If you caught Saturday's "Baseball Tonight," you would have seen some of
the
many
plays
by Simmons that wowed ESPN baseball analyst Doug Glanville, who quickly gained an appreciation for Simmons' abilities.
We worked with our writers to get the opinions of others who would appreciate the value of Simmons' defense. The replies via e-mail included:
"To go along with great hands, arm and athleticism, he has excellent awareness on the field. His ball exchange and quickness of his arm are the true separators. The quickness of the exchange on his relays and DP turns are as good as I have ever seen, and have been instrumental in saving a number of games."
--Braves general manager Frank Wren.
"Excellent reads, footwork, instincts, controlled aggression, and a quick compact arm. He made all the plays for me -- to the left, to the right, on the backhand, in the hole, topped. He's an excellent athlete with great body control."
--An NL scout who saw Simmons four times this month
"For someone as young as he is, and who has played the position as little as he has -- he was a pitcher -- it's extremely impressive to be as good as he is. In my mind, he's only going to get better."
--Another NL scout
"The early returns are that he's an elite defender. He can make plays that few others can. He also has that 'I want it hit to me when it counts' thing going on."
--ESPN analyst Aaron Boone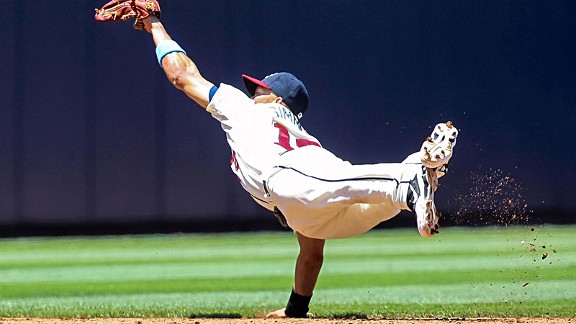 Daniel Shirey-US PresswireSimmons already looks like a Gold Glove-caliber defender at shortstop for the Braves.
The numbers back up all their assertions. The 22-year-old Simmons has changed the defensive culture of the Braves' infield.
In the first two months of the season, the Braves went with
Tyler Pastornicky
over Simmons at shortstop, and the results weren't good. According to the advanced metrics provided by Baseball Info Solutions, Pastoricky's defense cost the Braves 15 runs. Most significantly, the Braves' infield defense was a sieve. It allowed hitters to reach on 28 percent of their ground balls.
That changed immediately. In Simmons' first three games, the Braves converted outs on 23 of 27 ground balls, and Simmons helped turn three double plays. That success rate held through the entire month. Simmons has been credited with 10 defensive runs saved already, an impressive total for a single month.
Baseball Info Solutions does video review as well and credited Simmons with 19 "good fielding plays" (think "Web-Gem nominees"), the most of any shortstop.
The Braves' infield allowed hitters to reach on 21 percent of ground balls. Simmons was involved in 22 double-play opportunities and converted 20 (that's about six better than what the average shortstop converts).
Simmons has quickly adapted to the major league game on both sides of the field. He's hitting .333 through his first month, and he's missed on only 13 percent of the swings he's taken, well better than the major league average.
But it's his glove that has impressed the most. He might not be in Kansas City next week, but he could be a regular in future Midsummer Classics.
As one other scout told our writers: "Defensively, he's already an All-Star type."
Thanks to Jerry Crasnick, Adam Rubin and Andrew Marchand for their help.
June, 1, 2012
6/01/12
10:00
AM ET
By
Mark Simon, ESPN Stats & Information
| ESPN.com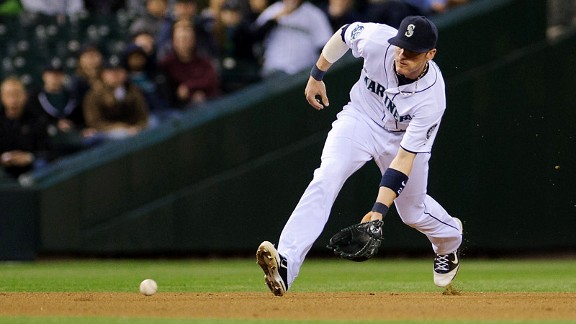 US Presswire/Steven BisigBrendan Ryan was baseball's standard-setter on the defensive side for the month of May.
Seattle Mariners
shortstop
Brendan Ryan
had to think when we asked him if he had a favorite play in May.
"There weren't any between-the-legs, bare-hand, behind-the-neck crazy plays for me," Ryan said with a laugh.
That might be true, but the sum of Ryan's work this month was statistically impressive. He was the winner of our voting for Defensive Player of the Month for May. Dodgers utility man
Jerry Hairston Jr.
won the award for April
.
Ryan had 13 Defensive Runs Saved for the month, second-most in the majors to Blue Jays third baseman
Brett Lawrie
.
He had 17 Good Fielding Plays and only four Defensive Misplays & Errors (see explanation in the accompanying chart). His 4-to-1 Good Play/Misplay ratio is far above average for a shortstop.
Lawrie benefited from turning outs in unusual spots on the field due to the Blue Jays' frequent extreme defensive shifts. Ryan's tally is almost entirely non-shift-based.
He was given 10 "Good Play" credits by Baseball Info Solutions' video-tracking team for recording an unlikely ground-ball out, five for his work starting or serving as relay man on a double play, one for an assist on an attempted baserunner advance, and one for a pop-up catch.
"His anticipation of plays, and his reactions, make the tough plays, really tough plays, almost seem simple," Mariners manager Eric Wedge said. "He slows the game down and can make reads that most players won't even come close to. And the thing that I think separates him is his uncanny ability to always know where he is on the field. He can field a ball in center field, turn on a dime, and know exactly where he is to make an accurate throw to first base. You can't teach that stuff."
So what did Ryan do right this month? As he noted, he's not making the super-flashy play, though he did net a pair of Web Gems.
In the past couple weeks, Ryan
twice
made
the play for which he has become most identified, going deep into the shortstop-third base hole, almost into left field, to thwart Rangers second baseman
Ian Kinsler
.
"There are a lot of guys defensively who are underrated, and he's one of them," Kinsler said afterwards.
These are the plays that tend to add to a shortstop's Runs Saved because so few shortstops make them (the recently published book "Fielding Bible III" goes into this in great depth).
Ryan talked about his defense at length in a recent interview on
FanGraphs
. We asked him to elaborate further on the thought process that goes into this type of play.
"You rely a lot on feel and projecting where the ball is going to go, and trust that the ball will be hit that way," he said. "You don't want to move too early. It's like you want to get a cheater's head start in a sprint. You want your feet off the ground when the ball crosses the plate, so your feet are on the ground when the ball is hit, and you can explode to whichever side you need."
Ryan said knowing the hitter helps.
"Ian Kinsler likes to get the bat head out. His home runs are typically to left-center. His swing path is such that he's not going to get a ton of ground balls up the middle. With his swing, if he hits a ground ball, he's going to top a lot of them into the six-hole. So I'm going to shade him to the right. Though if it's a fastball from
Jason Vargas
, I might shade him up the middle. If it's a cutter in, it's probably going to be hit to my backhand side."
There is a mental aspect to defense that Ryan has put a lot of time into mastering. This dates back to his time in the
St. Louis Cardinals
organization a few years ago.
"I made an error in Double-A that ended a game," Ryan said. "I was (with) Springfield and we were in Wichita. Right before the play, I was thinking, 'If a ball is hit to me and I make an error here, we lose,' and then it happened. It was a horrible feeling, because I knew if I backhanded the ball, we'd be going extra innings."
"I said to myself after that play that I would never think that way again. You know you can play defense. Why would you think that way?"
It has been a while since Ryan thought that way. Wedge said that Ryan's abilities have progressed to being "beyond any defensive statistic."
That led to us asking Ryan how we could best evaluate defensive play. He came up with an idea that we found intriguing.
"The Olympics are coming up ... you know how they have the guy on the bobsled," Ryan said. "He sets the mark, and then when you see other people competing, you see the lead racer as like a ghost figure (compared to where the current racer is). It would be cool to be able to do that, and to see which players could get to the ball from where. It would be really cool to watch a game on TV and see that."
May, 2, 2012
5/02/12
10:48
AM ET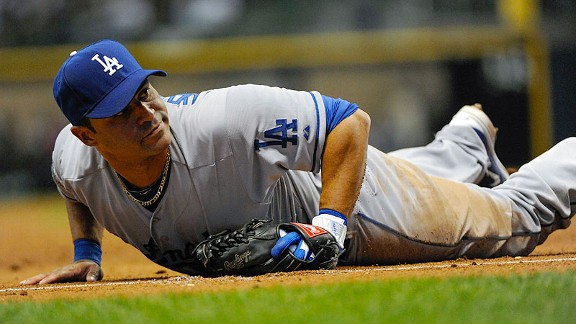 Benny Sieu/US PresswireJerry Hairston Jr. didn't mind getting a little dirt on his uniform to make good defensive plays in April.
Major League Baseball rewards its best offensive players and its top pitchers with Player of the Month Awards. But it does not salute a Defensive Player of the Month with the same level of reverence.
We're here to fill that void, with the help of the folks from Baseball Info Solutions (BIS). BIS has a team of video trackers who watch every play of every game, charting where balls are hit, which ones are turned into outs and which are not, and categorizing plays into approximately 30 groups of Good Fielding Plays and 50 groups of Defensive Misplays.
BIS data is also used in the computation of a stat called Defensive Runs Saved, which measures value relative to others at the same position. How Runs Saved are calculated is explained in the chart on the right.
We came up with a list of nominees using this data and our Web Gem tracking (which allows us to measure "Great Fielding Plays"), then had a 10-person panel cast their votes. The panel came from our Stats & Information crew, writers Dave Schoenfield and Jayson Stark and ESPN baseball analyst Chris Singleton.
Our winner for April is an unlikely selection in that he's not the first person that comes to mind when you think of defensive standouts --
Los Angeles Dodgers
utilityman Jerry Hairston Jr.
Hairston was able to make the good play and the great play. He finished April tied with
Ryan Zimmerman
for the major league lead with four Web Gems (including the No. 1 Gem on consecutive nights). He was credited with one Defensive Run Saved at second base, one at third base and two in left field.
Hairston finished April with a Good Play/Misplay tally of 11 to 1 in only 15 games in his first month with the Dodgers.
His highlight-reel play came on April 19 against the
Milwaukee Brewers
while playing third base, when
he robbed
Alex Gonzalez
of the game-tying hit in the eighth inning with a diving stop and throw from his knees on a groundball down the line.
The next day, he missed on a similar diving attempt against
Jose Altuve
of the Astros, but then
sprinted into foul territory and threw a strike to second base
to nail Altuve's attempt at an extra-base hit.
Hairston got six of our 10 first-place votes, and even someone who voted him second-best was quite impressed. "No matter where you put him on the field, he posseses the ability to make a dynamic play," Singleton said. "His value as a utility player is as high as anyone on the defensive side."
Dodgers manager Don Mattingly agreed, saying, "Jerry's been great from the standpoint of wherever we put him, he's made some unbelievable plays."
Alex Gordon, Royals
Though Gordon didn't hit at the level he did in 2011, his advanced defensive stats were of Gold Glove caliber, and that earned him runner-up status for April.
Gordon had seven Defensive Runs Saved in left field for April, and finished with a 9 to 1 tally in Good Plays/Misplays, including a
home run robbery
on
Danny Valencia
.
Gordon's rating was high partly because of the component that measures the deterrent value of one's throwing arm. There were 18 situations in which Gordon fielded a ball, and a baserunner had a chance to advance an extra base (score on a sacrifice fly, go first to third on a single, etc). He only had one assist, but it was a nifty one, nailing
Albert Pujols
at the plate. But Gordon only allowed the runner to advance three times, thus netting a deterrent rate worth two runs.
"You can never truly appreciate with the naked eye just how well Gordon takes routes to the ball on base hits," Singleton said. "It gets overlooked, but it's huge when you're an outfielder and can shut the running game down like a catcher does."
Freddy Galvis, Phillies
If there was an award for Defensive Rookie of the Month, Galvis would edge out
Kirk Nieuwenhuis
of the Mets for top honors. He finished with a Good Play Misplay tally of 14 to 3 and tallied three Defensive Runs Saved. He won No. 1 Web Gem honors twice, good enough to finish third in our voting.
Jamey Carroll, Twins
Carroll finished with two Defensive Runs Saved, but was impressive in the way in which he made plays. His 16 Good Fielding Plays were the most among shortstops. He made only two Misplays all month, and his 8 to 1 ratio was among the best for infielders.
Albert Pujols, Angels
Though Pujols struggled offensively, he didn't let his power outage impact his defense.
Pujols tied with
Adrian Gonzalez
for the most Defensive Runs Saved among first basemen with three, and had a Good Play/Misplay ratio of 14 to 2. Pujols was rewarded both for his ability to handle difficult throws (for which he was credited with nine Good Fielding Plays), and his ability to turn batted balls into outs. One of the few bright spots for the Angels in April was that they allowed a .197 batting average on groundballs, fourth-best in the American League, behind the Indians, Athletics and Blue Jays.
Also considered
: Ryan Zimmerman (Nationals 3B),
Paul Goldschmidt
(Diamondbacks 1B),
Josh Hamilton
(Rangers OF),
Aaron Hill
(Diamondbacks 2B), and
Dustin Pedroia
(Red Sox 2B).