December, 12, 2014
Dec 12
11:26
AM ET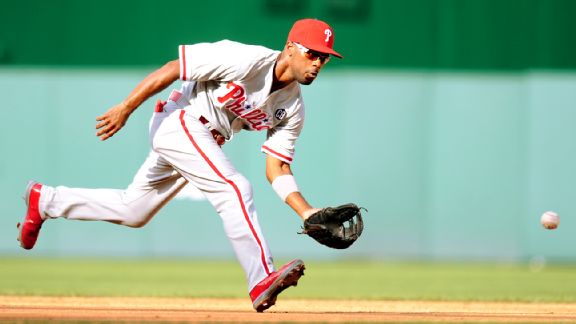 Mitchell Layton/Getty Images
It was quite the exciting winter meetings. A few thoughts on some of those recent transactions ...
1. Dodgers trade Matt Kemp and Dee Gordon, acquire Howie Kendrick, Jimmy Rollins and Yasmani Grandal.
It's risky blowing up a 94-win team, and although trading Kemp certainly helps clear some of the logjam in the outfield and gives the Dodgers additional money to play with, this series of transactions doesn't have as much to do with improving clubhouse chemistry or making manager Don Mattingly's life any easier as it does with something far less complicated: improving the team's defense.
New team president Andrew Friedman came from Tampa Bay, where the Rays turned their franchise around in 2008 by improving the team's defense and emphasizing it ever since. General manager Farhan Zaidi came from Oakland, where the A's had also made defense a bigger priority in recent seasons.
The Dodgers arguably ended up improving their defense at
five
positions:
Shortstop
: Rollins >
Hanley Ramirez
Second base
: Kendrick > Gordon
Center field
: Pederson >
Yasiel Puig
Right field
: Puig > Kemp
Catcher
: Grandal >
A.J. Ellis
Look at the upgrades, based on 2014 defensive runs saved per 1,200 innings:
SS:
+16 runs
2B:
+11 runs
CF:
Puig rated as average here; Pederson projects as average or slightly above.
RF:
+10 runs
C:
Friedman loves pitch framing, and Grandal rates very well here while Ellis rates as one of the worst in the majors. Grandal isn't a great overall defensive catcher -- he had trouble throwing out runners -- but you have to believe the Dodgers' internal metrics rate Grandal has a sizable upgrade.
Yes, the Dodgers have lost two guys from the middle of the order, but Rollins (17 home runs in 2014) could replace much of Ramirez's power, Pederson projects as a 20-homer guy if he plays every day, and Kendrick is an offensive upgrade over Gordon. The Dodgers also replaced two injury-prone players in Ramirez and Kemp.
Los Angeles Times columnist Bill Plaschke
predictably ripped the Kemp trade
, but when you view the big picture, it looks like a terrific series of moves to me (not even factoring in the
Brandon McCarthy
signing).
2. Padres acquire Kemp.
My friend Ted the Mariners fan emailed me after hearing about this trade, saying, "We couldn't beat this?"
It may look like a low return for Kemp, but Kemp's reputation exceeds his actual value by a large factor. You're not just trading for Kemp; you're also getting his contract. He's a 30-year-old outfielder who played below-average defense even in right field and had injury issues the past three seasons. FanGraphs valued him at just 4.6 WAR total over the past three seasons and just 1.8 in 2014 despite hitting .287/.346/.506. If Kemp can stay healthy and match his second-half production over the next several years, the Padres won't regret the deal. But Kemp isn't the superstar some fans think he is.
3. Tigers acquire Yoenis Cespedes and Alfredo Simon, trade away Rick Porcello and Eugenio Suarez.
Overall, I'd say the Tigers are just spinning their wheels in the mud so far if you factor in the loss of
Torii Hunter
and the assumed departure of
Max Scherzer
. (GM Dave Dombrowski said the club will no longer negotiate with Scherzer and agent Scott Boras.) Cespedes is certainly a defensive upgrade over Hunter, and if he can spike his OBP back over .300, the Tigers will certainly roll out what should be one of the better offenses in the league:
2B
Ian Kinsler
RF
J.D. Martinez
1B
Miguel Cabrera
DH
Victor Martinez
LF Cespedes
3B
Nick Castellanos
C
Alex Avila
CF
Anthony Gose
/
Rajai Davis
SS
Jose Iglesias
Even then, the lineup could have OBP issues once you get past Cabrera and Victor Martinez, especially if J.D. Martinez doesn't maintain his 2014 level of play.
I don't like the Simon trade, in which Detroit gave up Suarez for one year of a pitcher who has had half of a good season in the rotation ... and that half was fueled by a low BABIP. The downgrade from Porcello to Simon could be significant, and I think Suarez is going to be the better player than Iglesias.
4. Red Sox add Porcello, Justin Masterson and Wade Miley (trade pending) to the rotation.
Boston had better have good infield defense with this group. Throw in
Clay Buchholz
and
Joe Kelly
and the Red Sox should have the staff that will throw the most ground balls in the majors, probably by a large margin. (Paul Swydan of FanGraphs has a piece on Boston's
ground ball fetish
.)
How good is it, however? The Steamer projection system actually projects Boston to have the
sixth-best rotation
in the majors via WAR -- but the fifth-worst ERA. Seems like there's a wide range of potential outcomes here based on those figures and some park adjustments going on that help those WAR numbers. Everyone seems to think the Red Sox will still make another move, either signing
James Shields
or trading for
Cole Hamels
. I'm not as sure about that. Considering the lack of top starters across the AL East, the Red Sox may just stick with this group, keep all those young starters they have and see if
Henry Owens
,
Matt Barnes
or
Eduardo Rodriguez
develop enough to help out later in the season.
5. Marlins acquire Gordon, Mat Latos and Dan Haren -- if he doesn't retire.
The Marlins' second basemen hit .236/.303/.334 in 2014, compared with Gordon's .289/.326/.378, so it looks like a small offensive upgrade, especially when you factor in Gordon's speed. But Gordon had just a .300 OBP in the second half (when he drew only four walks). He does, however, provide dynamic speed -- an element the Marlins lacked -- and if Gordon can learn to draw a few more walks, the top of the lineup has potential:

2B Gordon
LF
Christian Yelich
RF
Giancarlo Stanton
3B
Casey McGehee
CF
Marcell Ozuna
1B To be acquired?
C
Jarrod Saltalamacchia
SS
Adeiny Hechavarria
OK, the Marlins need a better cleanup hitter. Latos is a big gamble coming off a season during which his velocity declined nearly 2 mph as he battled bone chips in his elbow and eventually had surgery. A rotation of Latos,
Henderson Alvarez
,
Nathan Eovaldi
,
Jarred Cosart
,
Tom Koehler
, Haren and eventually
Jose Fernandez
, who is expected to return at midseason, has potential -- especially if youngsters Eovaldi and Cosart develop consistency. But it could also feature a bunch of No. 4s. Call me lukewarm on the Marlins' moves so far.
6. Angels acquire Andrew Heaney for Kendrick.
It's hard to fault the Angels for making this move, in which they picked up Heaney and his potential, plus six years of team control for Kendrick, who hits free agency after the season. But losing Kendrick without a clear replacement on hand could be a huge blow. Kendrick was the club's second-most-valuable player last season behind
Mike Trout
. I'll be curious to see what happens at second base, as
Josh Rutledge
, acquired from the Rockies, projects as about a one-win player, if that. That's a four-win decline from what Kendrick provided in 2014, and if
Garrett Richards
and
Matt Shoemaker
regress, the Angels will face in a tough battle for the playoffs a year after racking up the most wins in the majors in 2014.
7. White Sox acquire Jeff Samardzija, sign David Robertson and Adam LaRoche.
You have to love the job Rick Hahn has done the past two offseasons, signing
Jose Abreu
and stealing
Adam Eaton
from the Diamondbacks last year, and now landing Samardzija, Robertson and LaRoche. I'd still pick the White Sox to finish fourth in the AL Central, but if they add another starter or outfielder it could be a great four-team race.
8. Cubs sign Jon Lester, trade for Miguel Montero.
Did you know
Doug Fister
has a lower career ERA (3.34) than Lester (3.58) and roughly the same postseason ERA (2.57 for Lester vs. 2.60 for Fister)?
9. Twins sign Ervin Santana.
Hey, he could be the new
Ricky Nolasco
! (Sorry, Twins fans.) OK, Santana is probably better than Nolasco, but $54 million seems like a lot for a guy who just posted a 3.95 ERA in the National League and whose best season of the past three came in Kansas City, where he played in a good pitcher's park in front of a terrific defense that complemented his fly ball tendencies.
10. Pirates re-sign Francisco Liriano.
At three years and $39 million, this was a good deal for Pittsburgh, which got a solid starter who didn't break the payroll. You always worry about his health and the potential that he'll lose his command at any time, but he's had two good seasons now -- and pitching coach Ray Searage seems to get the most out of his starters.
11. Cardinals sign Mark Reynolds.
St. Louis definitely needed a right-handed power bat, either to platoon with
Matt Adams
or to come off the bench. We saw the Giants' lefty relievers exploit the Cardinals in the NLCS. Reynolds can fill in at first and third, and for $2 million, he's an inexpensive pickup who could pay small dividends.
12. A's do a bunch of stuff.
More to come on this in a separate post later today.
13. Royals sign Kendrys Morales for two years, $17 million.
What?!?!?!?