June, 12, 2014
Jun 12
12:03
PM ET
Ever wonder why baseball sees more father-son combos reach the highest level than the NFL or NBA? Two answers: Because baseball is harder to play, you have to start at a younger age and sons of major leaguers are obviously exposed to the sport as soon as they start walking; since size is an important attribute, at least at certain positions, to playing in the NFL or NBA, the group of eligible athletes is somewhat self-selective (although you would think the sons of NBA players would tend to be taller).
Anyway, learning baseball, especially the skills to hit a baseball, requires years of repetition. Those early advantages that sons of major leaguers have can pay off in the long run. This year's draft once again saw some familiar names selected. Witness:
--Nick Gordon, SS (son of Tom and brother of Dee), 5th overall pick by the Twins
--Brandon Leibrandt, LHP (son of Charlie), 6th round by Phillies
--Luke Dykstra, SS (son of Lenny), 7th round by the Braves
--Drew Stankiewicz, SS (son of Andy), 11th round by the Phillies
--Kevin Cron, 1B (son of Chris, brother of C.J.), 14th round by the Diamondbacks
--Ryan Ripken, 1B (son of Cal), 15th round by the Nationals
--Lukas Schiraldi, RHP (son of Calvin), 15th round by the Mariners
--Cliff Brantley, OF (son of Cliff), 19th round by the Blue Jays
--Dominic Jose, OF (son of Felix), 24th round by the Yankees
--Brandon Bonilla, LHP (son of Bobby), 25th round by the Orioles
--Mike Fitzgerald, C (son of Mike), 27th round by the Padres
--Mariano Rivera III, RHP, 29th round by the Yankees
--Elliot Cary, OF (son of Chuck), 32nd round by the Nationals
--Hunter Bross, OF (son of Terry), 34th round by Dodgers
--Dave Hollins, 3B (son of Dave), 35th round by Tigers
--Logan Browning, LHP (son of Tom), 36th round by the Reds
--Yan Rivera, SS (son of Luis), 36th round by the Blue Jays
--Patrick Mahomes, RHP (son of Pat), 37th round by the Tigers
--Gavin Sheets, 1B (son of Larry), 37th round by the Braves
--Jed Sprague, 1B (son of Ed, grandson of Ed), 37th round by the White Sox
--J.J. Franco, 2B (son of John), 38th round by the Braves
--Magglio Ordonez Jr., 1B, 38th round by the Tigers
--Benito Santiago Jr., C, 38th round by the Giants
--Grayson Byrd, SS (son of Paul), 39th round by the Braves
--James Lynch, OF (son of Ed), 39th round by the Blue Jays
--Dalton Guthrie, SS (son of Mark), 40th round by the Twins
Rivera Jr. went 2-5 with a 5.40 ERA for Iona College. He has not yet
developed his dad's famous cutter
.
We also had brothers of current pros, most notably Bradley Zimmer, the 21st overall pick, joining his brother Kyle as a first-round selection. Kyle is the Royals' top prospect, a pitcher, while Bradley is an outfielder drafted by the Indians. Tampa Bay selected Casey Gillaspie, brother of White Sox third baseman Conor, with the 20th overall pick. Also cool: In the second round, the Indians drafted pitcher Grant Hockin, grandson of the late Harmon Killebrew.
(Thanks to
this article on MLB.com
for help.)
As for next year: Daz Cameron, son of Mike, is
apparently just like his dad
: A toolsy outfielder with a power/speed combo. He could go in the first round.
June, 4, 2014
Jun 4
1:38
PM ET
Baseball's First-Year Player Draft begins Thursday and the first round is going to be heavy in pitching -- including heavy in high school pitching. Left-hander
Brady Aiken is expected
to become just the third high school pitcher selected first overall (after David Clyde in 1973 and Brien Taylor in 1991). High schoolers Tyler Kolek and Touki Toussaint are also projected as top-10 picks and all told Keith Law has six high school pitchers going in the first round of his
mock draft
.
With Aiken and Kolek expected to go in the top three, I thought it would be interesting to go back and check out the history of high school pitchers in the first round.
The draft began in 1965 and in the early years teams placed an emphasis on high schoolers. In part, this was because college baseball wasn't as advanced as now, but there was also some old-school bias against college players. In the first draft, 15 of the 20 first-round picks were high school players. The next year, 16 of 20 first-rounders were high schoolers. In 1970, 21 of 24 first-round picks were high schoolers and in 1971 all 24 first-rounders were high school players.
That was also the year the 11 high school pitchers were selected in the first round, the most ever. Two of them -- Frank Tanana and Rick Rhoden would go on to lengthy MLB careers -- but none of the five pitchers that went in the top 10 did much (combined career Wins Above Replacement for those five: 2.7). Meanwhile, the Phillies drafted a shortstop from Ohio University named Mike Schmidt in the second round.
Let's break up the draft into five-year chunks to check some data and results on high school pitchers to see how trends have changed over the years.
1965-1969
Total first rounders: 29
Top-10 picks: 16
Top five choices: Jon Matlack (39.7 WAR), Gary Nolan (25.9), Joe Coleman (23.7), J.R. Richard (22.3), Don Gullet (18.5).
Others with 10+ WAR: Ken Brett.
Nolan and Gullett reached the majors as teenagers with the Reds but arm injuries shortened their careers. Coleman actually debuted in September of 1965, the year he was drafted; he'd throw four straight years of 280 innings from ages 24 to 27 and was never the same after that.
1970-1974
Total first rounders: 37
Top-10 picks: 15
Top five choices: Frank Tanana (57.9), Rick Rhoden (35.9), Rick Sutcliffe (34.3), Scott McGregor (20.4), Larry Christenson (10.6).
Others with 10+ WAR: None.
As you can see, not a lot of success in this period. Of the 15 pitchers who went in the top 10, only Christenson reached even 4.0 career WAR. The five high schoolers who went in the top in 1971 is tied for the most ever. Their names: Jay Franklin, Roy Branch, Roy Thomas, Roger Quiroga and David Sloan. Certainly, it was a combination of bad picks, injuries and mismanagement that led to the failure for pitchers to develop in these years, as was the case of Clyde -- taken first overall by the Rangers in 1973 and immediately rushed to the majors.
Franklin was drafted second overall by the Padres and started 14 games for Class A Tri-City of the Northwest League that summer, completing eight of them while striking out 134 in 108 innings. The Padres actually called him up that September and he gave up three home runs -- one to Hank Aaron -- in the one game he started. That would be the only game he started in the majors. The next year he hurt his elbow and then his shoulder and missed the entire season. He pitched five more years in the minors but never made it back. A sign of the times in the pre-Tommy John surgery days.
Later, he was diagnosed with paranoid schizophrenia. In 2011, he was living in a group home in Virginia. "I feel like I let a lot of people down because they were expecting so much out of me,"
Franklin told the Washington Post
. "When I hurt my arm and didn't make it, it was a big disappointment, not only to me, but I'm sure also for my family. ... I just accept the past, that's all you can do. You can't get away from it. I can't get away from it. I have to go on and try to forget about it."
1975-1979
Total first rounders: 30
Top-10 picks: 14
Top five choices: Bruce Hurst (34.8), Mike Morgan (26.6), Bill Gullickson (23.6), Richard Dotson (16.3), Steve Trout (13.5).
Others with 10+ WAR: Scott Garrelts.
Draft philosophies began changing during this period. In 1975, a record-low 188 high school players were signed and in 1977, for the first time, more college players were drafted than high school players. Basically, teams were scrimping on money and signing college players was cheaper. This was also the era when several teams pooled their resources for the Major League Scouting Bureau, allowing them to save money.
1980-1984
Total first rounders: 23
Top-10 picks: 6
Top five choices: Dwight Gooden (53.2), Duane Ward (10.6), Brian Holman (9.3), Ron Robinson (8.2), Pete Smith (5.2).
Others with 10+ WAR: None.
In 1980 and '84, no high school pitchers were selected in the top 10. The college game had gained a lot of ground -- in part, because teams hadn't escalated signing bonuses at all, even for top picks. Rick Monday, the first pick in 1965, received $104,000. Darryl Strawberry, the first pick in 1980, received $152,000. Even in 1987, Ken Griffey Jr. signed for $160,000. Kids not drafted high didn't receive near those bonuses, thus making college an easier decision. Teams had also undoubtedly sensed that drafting high school pitchers was risky and college players were paying a high dividend.
1985-1989
Total first rounders: 18
Top-10 picks: 6
Top five choices: Alex Fernandez (28.9), Steve Avery (14.0), Kent Mercker (12.5), Brian Bohanon (8.9), Tommy Greene (7.1).
Others with 10+ WAR: None.
Fernandez, drafted 24th by the Brewers in 1988, didn't actually sign; the White Sox would draft him again, fourth overall in 1990. Note that three of the five pitchers who made it were drafted by the Braves -- Avery, Mercker and Greene. The highest-drafted high schoolers in this period were Avery, Willie Banks by the Twins and Roger Salked by the Mariners, all taken third overall. Banks never developed while Salked was a top prospect until he hurt his arm.
1990-1994
Total first rounders: 25
Top-10 picks: 7
Top five choices: Chris Carpenter (34.5), Steve Karsay (11.2), Shawn Estes (11.2), Jamey Wright (10.1), Todd Ritchie (6.3).
Others with 10+ WAR: None.
Andrew Marchand of ESPNNewYork has a terrific piece on the
oral history of Taylor
, the left-hander with the big fastball the Yankees took first overall in 1991. While Taylor hurt his shoulder in a bar fight, you can see there was a low success rate from this period, with only Carpenter having a significant big league career. You do wonder: Was the failure of many of the pitchers from this era one reason offense soared beginning in the mid-'90s, or did the steroids-inflated offense cause some of these guys to fail?
1995-1999
Total first rounders: 35
Top-10 picks: 8
Top five choices: Roy Halladay (64.7), CC Sabathia (55.0), Josh Beckett (35.2), Kerry Wood (27.7), Jon Garland (22.5).
Others with 10+ WAR: Gil Meche, Jake Westbrook, Brett Myers.
Halladay went 17th overall in 1995 and Sabathia 20th overall in 1998. Beckett, taken second overall in 1999, is one of just three high school pitchers taken in the top three since 1990 (James Taillon, second in 2010, and Chris Gruler, third in 2002, are the others).
2000-2004
Total first rounders: 33
Top-10 picks: 14
Top five choices: Zack Greinke (39.1), Cole Hamels (35.7), Matt Cain (32.8), Adam Wainwright (32.5), John Danks (20.9).
Others with 10+ WAR: Scott Kazmir, Chad Billingsley, Gio Gonzalez, Gavin Floyd.
An upswing in top-10 picks returned in this period, although only Greinke of the players listed above was a top-10 guy. While teams were getting much better at developing pitchers and keeping them healthy, five high schoolers went in the top 10 in 2000 and none reached the majors -- Mike Stodolka, Matt Harrington, Matt Wheatland, Mark Phillips and Joe Torres. Meanwhile, Wainwright went 29th that year. Still, we had a higher success rate for this period than any other, and you have to think that managing workloads in the minor leagues was a big reason why (and perhaps, just better scouting).
2005-2009
Total first rounders: 25
Top-10 picks: 6
Top five choices: Clayton Kershaw (34.1), Madison Bumgarner (13.3), Rick Porcello (8.0), Jarrod Parker (6.0), Shelby Miller (4.1).
Zack Wheeler is also in the group. Gerrit Cole was unsigned by the Yankees after going 28th overall in 2008. The highest-drafted high schooler in this period was Matt Hobgood, fifth overall by the Orioles in 2009. Kershaw went seventh in 2006 -- after five college pitchers.
2010-2013
Total first rounders: 24
Top-10 picks: 6
Jose Fernandez and Dylan Bundy are the two high schoolers to have reached the majors -- and both underwent Tommy John surgery, as has Taillon.
June, 6, 2013
6/06/13
12:30
PM ET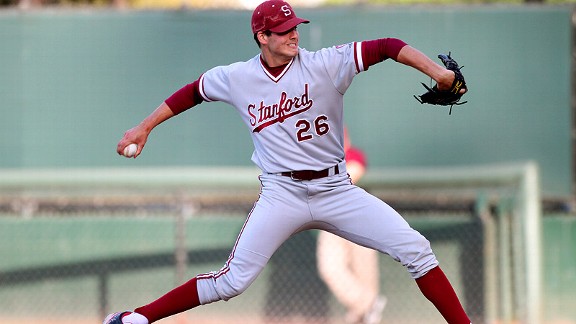 Larry Goren/AP PhotoIf rich teams bought all the top prospects like Mark Appel, would it impact the standings?
It's draft day, when we all get excited about players most of us have actually never seen play.
As you read all the draft coverage from Keith Law and others -- here are Keith's
top 100 prospects

-- I wanted to point to a couple columns discussing the draft itself that I found interesting.
Joe Sheehan is in favor of abolishing the draft. (
Subscribe to Joe's excellent newsletter here
). As Joe wrote, many fans believe doing so would just funnel the top prospect to the Yankees, Red Sox and other big-market teams. I agree with Joe that we don't necessarily
know
if this would be true. Here's what Joe wrote the other day:
The ability to use a massive revenue stream internationally hasn't been a huge advantage for the Yankees or any large-market team over the long term, so why would we expect it to be so domestically? Miguel Cabrera signed with the Marlins. Felix Hernandez signed with the Mariners, as did Shin-Soo Choo. The Reds nabbed Johnny Cueto and Aroldis Chapman. The Twins have Miguel Sano. The Pirates have Luis Heredia.

Frankly, giving high-revenue teams more opportunities to make big mistakes seems like a good way to enhance competitive balance. Take a look at the top of some recent drafts and you'll find that being among the very best amateur players is no guarantee of success. Yes, maybe a Stephen Strasburg -- who has yet to qualify for an ERA crown, by the way -- or a Bryce Harper ends up with a large-market team more often. So will Dustin Ackley and Donovan Tate and Bubba Starling and Cristian Colon. Just being able to buy the highest-rated amateurs will be no guarantee of success. Making the right choices among those amateurs remains a skill. Player development remains a skill. Eliminating the draft will certainly allow for greater variety in player acquisition strategies, with teams shifting money from year to year from major-league budgets to amateur budgets as needs change. Teams could make big splashes in one year and then go cheap in the next.
But Joe could be wrong. Maybe this year the Yankees decide to spend $50 million to sign Mark Appel, Jonathan Gray and Kris Bryant, simply outbidding other teams, and all three could turn into All-Star players.
We simply don't know what would happen; as Joe also mentioned, perhaps the biggest long-term ramification of the current system that caps money spent on the draft is you could lose two-sport stars to other sports because of lower signing bonuses. That gets back to the draft's
primary
purpose, to limit signing bonuses. The draft began in 1965, not so much as an outrage over the Yankees winning all the time, but the fact that bonuses had escalated. In 1964, a college outfielder from Wisconsin named Rick Reichardt signed with the Angels for $200,000, more than the highest-paid players were receiving at the time. Owners weren't interested in helping the Kansas City A's; they wanted to limit the negotiating leverage for the Rick Reichardts. So in 1965, the "competitive balance" draft was initiated.
Even if that were the goal -- to funnel the best amateur players to help create more competitive balance -- does the draft really do that? Dave Cameron of FanGraphs
wrote the other day
that the draft doesn't necessarily help the small-market teams:
The Boston Red Sox have a $336 million revenue estimate, second in baseball to only the Yankees. Again, by any kind of financial calculation you want to make, the Red Sox are a well off organization. They pick seventh, one spot ahead of the Kansas City Royals, who have estimated revenues almost exactly half of what Boston has access to.

We can keep going. The 11th pick belongs to the Mets, who have $232 million in estimated revenues. At #16, we have the Phillies, with $279 million in estimated revenues. The Dodgers ($245 million and owners with apparently no concern for the luxury tax) are picking 18th. The Tampa Bay Rays, the franchise with the lowest revenue estimate at $167 million, pick 21st. The A's, who have the second lowest revenue estimate at $173 million, pick 24th.
There was a contentious debate in the reader comments. Do you reward teams simply because they are unable to generate revenue? Do you reward tanking or make the draft order based on a three-year running record instead of one? (The Mariners, for example, would draft second instead of 12th.)
What do you think?
January, 7, 2013
1/07/13
12:05
PM ET
Some stuff out there on the Internet, Hall of Fame related …
1. Joe Posnanski with a fun post on the
Topps numbering system
-- if you collected cards, you remember the best players would get card No. 100 or 300 or whatever, stars would get No. 250 or 450, and minor stars would get the other cards ending in 0. And Mario Mendoza would always get No. 78 or No. 253 or the like. So Joe checked all the big names -- I have no idea how long this took him -- and awarded points each time a player got a card ending in 0, with more points for a "prime" card (ending in 00 or 50). Jack Morris, as it turns out, appeared only once on a "prime" card -- No. 450 in 1982. That's it. So Topps definitely didn't view Morris as a Hall of Famer.
(Here's
Joe's Hall of Fame ballot
.)
2. OK, OK, maybe that's not the most scientific analysis. But it
is
one argument that contradicts the view that many are now holding that Morris was viewed as a huge star while active. You can argue that Morris was more widely respected by those
in
the game than outside, but that doesn't make him a better pitcher than he was. ESPN Insider Dan Szymborski compares
Morris to first-time ballot guy Curt Schilling
. The Morris-Schilling comparison is an interesting case study, because there will be many voters who will vote for Morris but not Schilling (largely because Morris had 40 more wins), but as Dan points out, Morris' "edge" in wins isn't that valuable -- Schilling would have to go 38-40 to match Morris' record. And if Morris' trump card is his Game 7 performance, Schilling can counter with the fact that he's one of the greatest postseason pitchers of all time, with an overall record far superior to Morris' (11-2, 2.23 ERA in 19 starts versus 7-4, 3.80 in 13 starts). Basically, there isn't a rational reason for voting for Morris but excluding Schilling.
3. Joe Sheehan had a strong take on the Hall of Fame in one of his recent newsletters (
subscribe here
):
What we've seen is that Hall voting in the modern era has moved away from the stats -- because when the voters made arguments about the stats, they got crushed by the outsiders -- and towards the narrative, because the writers could make up whatever they wanted. So Bruce Sutter wasn't a guy with five good years and just eight in which he did anything, with 23 WAR and a save total that wasn't at all impressive just a few years after he retired … no, he was a split-fingered pioneer who revolutionized the closer role and was a critical piece on a World Champion, and look at that beard!

[snip]

Now, we have Jack Morris, and once again, the statistical case for Morris was tried and found lacking a decade ago, from his postseason work to his "best pitcher of the 1980s" to "pitching to the score". The traditional voters were beaten on the stats, so they brought in the stories of him being a bulldog, of Opening Day starts (a stat that has never before and will never again be part of a Hall of Fame case), of one night in October, and they created a legend, and that legend -- that narrative -- is what will be elected to the Hall.
Joe's point is that on his first five years on the ballot, Morris never received more than 26 percent of the vote. The rejection of his 3.90 career ERA, at that time, was pretty sound. You can argue that this is why we give players 15 years on the ballot. But those 15 years also allow narratives -- like Sutter, like Morris, like Jim Rice -- to build momentum.
By the way, you knew who else was a World Series hero? Mickey Lolich, who won three games for the Tigers in 1968, beating Bob Gibson in Game 7. He was a good pitcher as well: 217 wins, 3.44 ERA, career WAR a little higher than Morris', had a season in which he started 45 games and pitched 376 innings (the first of four straight 300-inning seasons). In his fourth year on the ballot, he received -- get this -- 26 percent of the vote. But that was it. He declined thereafter, oddly falling from 26 percent to 11 percent in one year. His narrative never developed, and memories of him faded away.
4. Tim Marchman of the Wall Street Journal says it's
time to give the vote to ... the fans
:
The problem is simple: The elections are carried out by writers who have been members of the Baseball Writers Association of America for at least 10 years, and consequently, the debates aren't about baseball or ballplayers but about sportswriting and sportswriters -- much less interesting subjects.

An obvious solution -- one so elegant it's surprising it wasn't put in place decades ago -- is to simply strip writers of the vote and give it to the public. Writers and traditionalists would cry to the heavens, and all would fret over the perils of mass democracy, but we'd at least be rid of an inherently toxic structure.

[snip]

The worst element, though, is that the writers debating all of this have the franchise even though there's no real reason for them to have it: They have no special knowledge of the game relative to anyone else, and they've never done a good job.
I will say this: Based on voting results I've seen on the past on ESPN.com, fans would be tougher than the writers. Many think giving fans the vote (or part of it) would lead to more absurd selections or fan favorites. Actually, the opposite is true: It would lead to fewer selections. The fans, for example, certainly wouldn't have voted in Sutter or Rice. Put it this way: It's hard enough getting 75 percent consensus from 500-plus writers; it would be near impossible getting 75 percent consensus from an even larger bloc of fans, excepting only the obvious candidates.
5. Somebody has been
counting published ballots
, and as of Dec. 27 (and 114 ballots, or 20 percent of last year's total), NOBODY will make it in this year. That early roll call had Craig Biggio, Jeff Bagwell, Mike Piazza and Tim Raines all over 60 percent, but nobody at 70 percent. Roger Clemens and Barry Bonds were both at 44.7 percent. I predicted the other day that
Biggio and Morris would make it
, but I won't be surprised if neither does.
Giving us a Hall of Fame ceremony this summer of Jacob Ruppert (owner, died 1939), Hank O'Day (umpire, died 1935) and Deacon White (played when catchers caught the ball barehanded, died 1939).
Can't wait.
January, 3, 2013
1/03/13
10:00
AM ET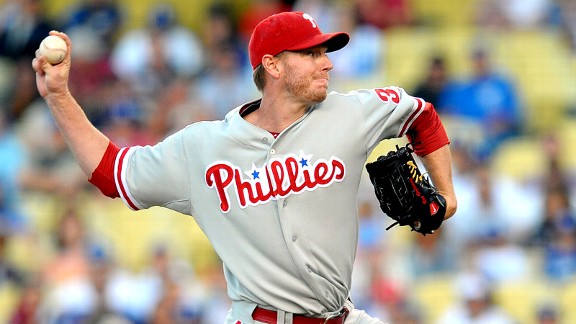 AP PhotosLanding a star like Roy Halladay in the second half of the first round is a rare happening.
One of the big stories of the offseason has been what has happened to the nine free agents who received qualifying offers. Teams had to decide whether to offer their free agents a one-year, $13.3 million contract in order to receive draft-pick compensation if the player signed with another team. The nine players extended such an offer were
Josh Hamilton
,
Zack Greinke
,
Hiroki Kuroda
,
David Ortiz
,
Nick Swisher
,
Michael Bourn
,
Kyle Lohse
,
Rafael Soriano
and
Adam LaRoche
.
Hamilton and Greinke were the top two free agents on the market, Kuroda and Ortiz re-signed with the Yankees and Red Sox, respectively, and Swisher signed with Cleveland, which since it owns a protected top-10 pick, had to forfeit its second-round pick instead of a first-rounder. The other four players remain unsigned, and there has been speculation it's because they're tied to a draft pick -- but not so good, as in the case of Hamilton and Greinke, to entice a big contract . Of course, three of those players are Scott Boras clients, so there are mitigating factors here.
Anyway, it raises the question: What is a draft pick worth? If you're the
Texas Rangers
and you're interested in signing Bourn but would have to give up the 24th pick in the draft, do you still make the plunge?
I went back to all drafts since 1990 to determine the value of each pick, 11 through 30. That's 23 drafts worth of first-rounders. The draft began in 1965, but rules have changed through the years, scouting has improved (high school players were overdrafted in the early years, for example) and by 1990, the college game was fully mature. So let's start there.
Using Baseball-Reference.com, we can add up the total Wins Above Replacement for each draft slot. I divided by 20 to get an average value per slot -- obviously, most players from the past three drafts have yet to reach the majors. Certainly, that average will go up as players accumulate value, but it does give us a decent estimate of what to expect from each slot.
11. Total WAR: 50.4 (2.5 per player)
Best picks:
Andrew McCutchen
,
Max Scherzer
, Shawn Estes,
Neil Walker
In the minors: George Springer
Until the Pirates tabbed McCutchen in 2005, journeyman lefty Estes had been the best player with the 11th pick, making this sort of the black hole of draft positions. Other than Scherzer, there is little else on the horizon, as recent picks like
Justin Smoak
and Tyler Matzek haven't developed.
12. Total WAR: 179.2 (9.0 per player)
Best picks: Nomar Garciaparra,
Jered Weaver
, Billy Wagner, Matt Morris,
Jay Bruce
In the minors: Taylor Jungmann
Some good depth here as well with guys like
Brett Myers
,
Joe Saunders
and Doug Glanville. Wagner, Garciaparra and Morris were taken in 1993-95, all college players.
13. Total WAR: 150.8 (7.5 per player)
Best picks: Manny Ramirez,
Paul Konerko
,
Aaron Hill
,
Chris Sale
In the minors: Brandon Nimmo
Manny accounts for 64.8 of that 150.8 WAR, or 43 percent.
14. Total WAR: 109.8 (5.5 per player)
Best picks: Derrek Lee, Cliff Floyd, Jason Varitek,
Jason Heyward
,
Billy Butler
In the minors: Jose Fernandez
Heyward will end up as the best player on the list.
15. Total WAR: 113.8 (5.7 per player)
Best picks:
Chase Utley
,
Chris Carpenter
, Scott Kazmir,
Stephen Drew
In the minors: Jed Bradley
It's a big drop after those top four players, as the fifth-most valuable has been spare outfielder
Gabe Gross
.
16. Total WAR: 120.8 (6.0 per player)
Best picks:
Lance Berkman
, Shawn Green, Nick Swisher,
Brett Lawrie
In the minors: Lucas Giolito
Lawrie was a Brewers draft pick, traded to the Blue Jays for
Shaun Marcum
.
17. Total WAR: 127.3 (6.4 per player)
Best picks:
Roy Halladay
,
Cole Hamels
, Jeromy Burnitz,
Brad Lidge
In the minors: C.J. Cron
One Hall of Famer, one potential Hall of Famer, a closer who had a couple great years and not much else.
18. Total WAR: 15.1 (0.8 per player)
Best picks:
R.A. Dickey
,
Ike Davis
, Aaron Heilman
In the minors: Kaleb Cowart
And Dickey's value came after he had been let go by four different organizations.
19. Total WAR: 67.7 (3.4 per player)
Best picks:
Alex Rios
, Shannon Stewart,
James Loney
In the minors:
Shelby Miller
This is how difficult it is to extract value from the draft: James Loney was a good first-round pick.
20. Total WAR: 238.7 (11.9 per player)
Best picks: Mike Mussina,
CC Sabathia
,
Torii Hunter
, Adam Kennedy,
Denard Span
In the minors: Tyler Anderson
Two future Hall of Fame pitchers makes this the highest-rated slot here. However, the slot hasn't seen much productivity since Span was selected in 2002.
21. Total WAR: 56.6 (2.8 per player)
Best picks: Jason Varitek (did not sign),
Jake Westbrook
,
Ian Kennedy
In the minors: Lucas Sims
We're counting Varitek in the above total, although the Twins failed to sign him.
22. Total WAR: 94.1 (4.7 per player)
Best picks:
Jayson Werth
, Rick Helling,
Jeremy Guthrie
, Gil Meche,
Matt Thornton
In the minors: Kolten Wong
If we go back before 1990, we get Craig Biggio (1987) and Rafael Palmeiro (1985).
23. Total WAR: 79.1 (4.0 per player)
Best picks:
Jason Kendall
, Aaron Sele,
Jacoby Ellsbury
,
Jeff Francoeur
,
Phil Hughes
In the minors: Christian Yelich
Whatever happened to Bubba Crosby?
24. Total WAR: 51.3 (2.6 per player)
Best picks: Rondell White,
Chad Billingsley
,
Joe Blanton
In the minors: Taylor Guerrieri
No. 4 on the list of best picks:
Brian Bogusevic
. As you can see, getting value is becoming far less likely the lower you go.
25. Total WAR: 58.4 (2.9 per player)
Best picks:
Matt Cain
,
Mike Trout
,
Matt Garza
, Bobby Crosby
In the minors: Joe Ross
Well, OK, then you have Cain and Trout. The odds are slim, but those two names are why teams are reluctant to give up any first-round pick, even one in the 20s, even knowing it's dumb luck as much as anything.
26. Total WAR: 8.7 (0.4 per player)
Best picks: Brent Gates, Jeremy Bonderman, Kelly Wunsch
In the minors: Blake Swihart
This might be the first and only time you'll see Kelly Wunsch's name appear in this blog.
27. Total WAR: 6.6 (0.3 per player)
Best picks:
Rick Porcello
,
Sergio Santos
,
Joey Devine
In the minors: Nick Franklin
Hey, back in 1967, the A's got Vida Blue here.
28. Total WAR: 54.9 (2.7 per player)
Best picks: Charles Johnson,
Colby Rasmus
,
Daric Barton
,
Ben Revere
In the minors: Gerrit Cole (did not sign)
Cole, now in the Pirates system after going first overall in 2011, was originally drafted by the Yankees.
29. Total WAR: 46.9 (2.3 per player)
Best picks:
Adam Wainwright
, Jay Payton,
Carlos Quentin
In the minors: Joe Panik
Wainwright is one of many recent first-rounders the Braves selected out of Georgia, but they traded him as a minor leaguer to the Cardinals for J.D. Drew.
30. Total WAR: 18.4 (0.9 per player)
Best picks: Noah Lowry, Jack Cust, Russ Johnson
In the minors:
Casey Kelly
Best 30th pick of all time: Mike Schmidt.
* * * *
What conclusions can we draw from all this? Since 1990, we're talking 459 players who have been drafted 11th to 30th (with Jason Varitek being drafted twice). The number of "star" players is about 30 -- or less than one in 10, even allowing for those yet to develop.
Most of these picks don't reach the majors or reach it only for a cup of coffee. Some have a a year or two of limited value. Some turn into decent journeyman-type players like Joe Saunders or Joe Blanton. But few accumulate even 10 career WAR. If you sign Michael Bourn to a 4-year or 5-year contract, you'll almost certainly receive that in value (while paying a premium for that value).
Certainly having a pick closer to 10th is more valuable than having a pick closer to 30th. This arguably points to an inequity with the current rules. The Mariners, for example, have the 12th pick in this year's draft. They could be interested in Bourn (and have money to spend), but losing the 12th pick is a lot different than the Rangers losing the 24th pick. Basically, the system helps the teams that are already good (a group that tends to lean towards teams with deeper pockets) since picks late in the first round rarely produce significant big league talent; the system also helps protect the bad teams since they won't lose their first-round pick.
Of course, there is no perfect system. But if I'm the Rangers and if paying Bourn isn't the ultimate issue, I wouldn't worry about losing that first-round pick. Odds are that player isn't Mike Trout or Matt Cain anyway.
November, 14, 2011
11/14/11
1:42
PM ET
In 2009, when the
Washington Nationals
drafted
Stephen Strasburg
-- a pitcher many scouts called the best prospect they had ever seen -- they eventually signed him to a deal worth $15.1 million, including a $7.5 million signing bonus.
When Cuban free agent
Aroldis Chapman
-- like Strasburg, a hard-thrower, but far less refined as a pitcher -- signed with the Reds a few months later, he received a six-year deal worth $30.25 million.
Back in 1996, a little-known draft loophole allowed
Travis Lee
,
Matt White
and
John Patterson
to become free agents. Lee had been the second pick, Patterson the fifth and White the seventh. The first pick in that year's draft,
Kris Benson
, received a $2 million signing bonus. Free to negotiate with any team, White signed for $10.2 million, Lee for $10 million and Patterson for $6.075 million.
Still think the draft is fair?
Buster Olney reports that MLB and the players' union are close to agreement on
a new draft structure
that will penalize teams who go over slot in signing drafted players.
Don't fool yourself: This isn't about making the playing field more level for small-market teams; it's about the owners finding ways to cut costs and limiting signing bonuses is an easy target. The players' union is apparently willing to concede that it's not important for amateur players to receive fair-market value for their talents. As we clearly saw with the Chapman contract in comparison with Strasburg, or with what happened in 1996, in a true free market the top prospects would receive far larger bonuses than they do now.
According to Olney's report, the penalties for going over cumulative slot money would be severe -- a tax the first time, followed by the potential loss of a first- or second-round pick the second time. That second penalty could be harsh enough to dissuade even deep-pocketed teams like the Yankees or Red Sox from going over slot.
The current system of slotting recommendations never worked, because some teams followed the guidelines while others didn't. If a prospect was believed to desire a large bonus, he would often slide in the draft to a team willing to go over slot. Smart teams would draft players believed to be headed for college in later rounds and give them first- or second-round money. If this proposal goes through, that dynamic could change -- clearly, that's what Bud Selig and the majority of owners are hopeful what happens.
The draft rules have never been challenged in court, but I wonder if this system will eventually lead us in that direction. Or maybe we'll just see Scott Boras take a kid from Orange County and have him become a citizen of the Dominican Republic ... where he wouldn't be subject to the draft.
June, 4, 2011
6/04/11
10:00
AM ET
By
Conor Dowley
| ESPN.com
With the 2011 first-year player draft on Monday evening, fans across the country are licking their chops thinking of the players their team might be able to get. What kind of discourages a lot of people from the prospect world, however, is how long it takes a lot of these guys to reach the majors, assuming they ever do. Fans get excited when a guy can fly through the minors and help the big-league team sooner rather than later.
From recent drafts, guys like
Mike Leake
and
Chris Sale
come to mind. Leake debuted in the Cincinnati Reds' rotation last season without ever having pitched in the minors after being drafted in 2009 and signing late. He had a pretty decent season helping a team that wound up in the playoffs. Sale threw just 10 1/3 innings in the Chicago White Sox's farm system after being a 2010 first-round pick before getting called up for his big-league debut in the bullpen. He's has been a big part of their late-inning game since.
So who could be the one who zips right to the big leagues from this draft? I'm not sure there are any guys in this class who will do it in less than a year, but there are a few players who could easily make short work of the minors and get to the majors well ahead of the curve.
Any conversation about players who move fast has to start with Gerrit Cole. Regarded by many as the top pitcher in the draft, and one of the candidates for the No. 1 overall pick, Cole could step onto a major league mound tomorrow and offer two plus pitches (his fastball and changeup), and an above-average one that could become a plus pitch in his slider. The changeup being as good as it is will be a huge factor in how quickly he advances. Cole is a power pitcher and having that type of changeup gives him a lot of wiggle room to work with.
The one thing that might hold Cole back is his command. He's had some rough outings with UCLA lately, and it has largely been chalked up to his command drifting. If he can get that down and do it more consistently, he could become a scary pitcher to face at any level. When he comes up is going to depend largely on how his command comes along, but it wouldn't shock me in the slightest if he's up around the All-Star break in 2012.
A consideration for Cole's potentially speedy ascent through the minors is the Scott Boras factor. Boras will be "advising" Cole in his negotiations, which almost certainly means that he's going to get a big pile of cash given what sort of pitcher he is and where he's likely going to be taken. That sort of money could encourage his team to push him through even faster so they can try to get a better return on their investment. On the flip side, they could take it slower with Cole in order to protect him. It's going to be intriguing to see how that situation works out.
Another potential top-five pick is Virginia lefty Danny Hultzen, and he's also a guy who could move through the minors quickly. Unlike Cole, he's not a terribly flashy pitcher, but he does have three solid pitches and the command and smarts on the mound to get a lot out of them. Hultzen's changeup might be his best pitch, and much like Cole, it will give help him speed up his time in the minors and give him some room for error once he reaches the majors. Since he doesn't have the same kind of stuff as Cole, it's harder to project how fast he'll move. But if Hultzen gets with a team that is willing to be aggressive with him and he finds early success, he too could be an All-Star break call-up.
One last hurler who could be a quick riser -- but who doesn't get mentioned as much as Cole or Hultzen -- is right-hander Matt Barnes. Barnes is a University of Connecticut product, throws out a mid-90s fastball, and has an interesting variety of secondary pitches. None of them really stand out as a plus pitch, but almost all of them are at least useful, and the changeup is at least an average pitch. That sort of arsenal reminds one of
James Shields
, but with a bit more oompf. Like Cole, he needs to solidify his command, but his issues seem to stem from needing to get his mechanics a bit more consistent, especially on the secondary stuff. If he can do that, he could be up by the end of 2012, or early in 2013.
Of course, guessing when prospects might arrive in the majors is far from a perfect science. Any of these guys could get hurt, especially since they're pitchers, or have an utterly horrible time adjusting to professional baseball. Someone else that I completely dismissed for this piece could shock everyone and rocket their way up to the majors. That's part of what makes this game fun and interesting.
Conor Dowley writes about the Mariners for the SweetSpot Network at ProBall NW and about their minor-league system at Mariners Farm Review.