SweetSpot:

Greatest season
March, 9, 2012
3/09/12
5:20
PM ET
A quick final note related to our
Greatest Season Ever
bracket.
Reynolds
Babe Ruth struck out 81 times in 693 plate appearances in 1921, an 11.7 percent strikeout rate. That's pretty impressive in 2011 terms -- akin to
Dustin Pedroia
, who fanned in 11.6 percent of his plate appearances.
However, compared to the typical 1921 hitter, Ruth's strikeout rate was pretty astronomical. The average American League hitter in 1921 (including pitchers) fanned in 7.4 percent of his plate appearances. We don't have exact totals for position players, but if we remove No. 9 hitters from the totals, position players struck out in 6.3 percent of their plate appearances. Which means Ruth fanned 85.7 percent more often than the average 1921 hitter.
In 2011, the average AL hitter struck out in 17.9 percent of his plate appearances. So if Ruth fanned 85.7 percent more often than average, that translates to a 2011 strikeout rate of 33.3 percent. That's not
Mark Reynolds
territory -- that's beyond Reynolds territory (he fanned in 31.6 percent of his PAs in 2011). Over the 693 PAs Ruth had in 1921, that equates to 231 strikeouts.
OK, OK, I know ... no, I'm not really comparing Babe Ruth to Mark Reynolds. But there is an important lesson to learn here: Ruth's approach worked in 1921 precisely because he could still generate mammoth power totals, but not do it at the expense of the ridiculous strikeout totals we see now. Reynolds hit 37 home runs in 2011, but it came at the expense of a .221 average and 196 strikeouts.
For
his
time, Ruth did strike out a lot, comparable to Reynolds in our own time. If we did the whole time machine thing, Ruth would certainly adjust to the more skilled pitching of 2011, but at what end? Would his power totals drop? How much would his batting average decline if his strikeouts increased? Just some food for thought as we consider how the game has changed in the past 90 years.
March, 9, 2012
3/09/12
11:00
AM ET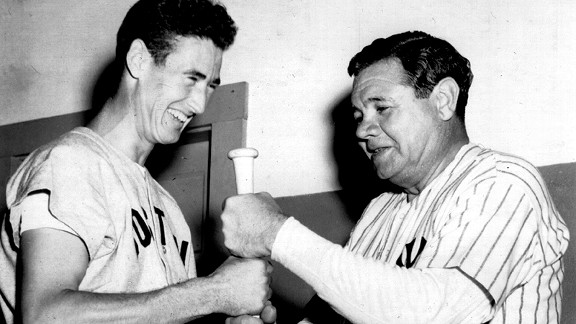 Mark Rucker/Transcendental Graphics/Getty ImagesA 20-year-old rookie Ted Williams has fun with a retired Babe Ruth in 1939.
It's not surprising that Babe Ruth and Ted Williams reached the finals of our
Greatest Season Ever bracket
. In Ruth, you have the most iconic player of all time; in Williams, you have the owner of perhaps the most iconic season of all time.
Maybe it's a little surprising that a season that occurred 91 years ago and another that occurred 71 years ago made our final round -- as I wrote the other day, try to imagine such a result in any other sport. But it speaks to the legacy that baseball holds over us, the importance of its history as our national pastime, the weight and consideration we still give to statistics and magical numbers and, yes, the iconic status of two hitters whose great seasons came before the game was integrated.
On a pure statistical level, Ruth and Williams are the two greatest hitters of all time. In offense-only career wins above replacement, Ruth ranks No. 1 and Williams ranks No. 6 (despite missing nearly five full seasons to military service). In career OPS, Ruth and Williams rank first and second. In adjusted OPS, they still rank one and two. In career runs created, Ruth ranks second (behind Barry Bonds) and Williams ranks sixth despite the missed time. In adjusted batting wins, Ruth is first and Williams essentially tied for third with Ty Cobb (Bonds is second). In a statistic called offensive winning percentage, which calculates how an entire lineup of Ruth or Williams would fare with an average pitching staff and average defense, Ruth rates first and Williams second. The figures: .858 and .857. (All rankings from Baseball-Reference.com.)
Now, I have no doubt that if you put
Albert Pujols
into a time machine that took him back to 1921, he'd put up numbers comparable to Ruth's. I'm sure if you brought Ruth back in the time machine to 2011 that he'd be able to match Pujols' numbers. But he was the evolutionary figure, the guy who swung hard every time, who was willing to sacrifice strikeouts if it led to more home runs. He brought power to the game, leaving John McGraw's "inside baseball" in the dust. Look, was it
easier
in Ruth's time? Of course it was. The pitchers didn't throw as hard; this is fact, not speculation, best indicated by the nugget that Ruth used a 52-ounce bat early in his career. His bats did get lighter (he was one of the first batters to start using a thinner handle to better whip his stick through the strike zone), but you wouldn't be able to consistently get around on 95 mph fastballs with a 52-ounce or 48-ounce or 44-ounce bat.
An interesting comparison between Ruth and Williams is they both grew up in troubled circumstances. Ruth's father owned a saloon, and young George Herman Ruth was always in trouble. Nobody knows the exact reasons Ruth was initially sent away to St. Mary's Industrial School for Boys. (His sister claimed it was because Ruth simply refused to go to school.) He first went there when he was 8, more permanently when he turned 10. Reports vary on whether his mother (until she died) and father visited him at the school. Williams' father abandoned the family, and Bill James quotes Williams as once saying, "Well, I wouldn't have wanted to be married to a woman like that, either."
As James writes, "By the time he was 20, Williams was insecure, moody and filled with hate. ... He had a lot more in common with Ty Cobb than Babe Ruth." That passion fueled Williams as a hitter. But he was not a fan favorite the first part of his career, even in Boston. There were times he didn't hustle, there were times he made obscene gestures to fans and he famously feuded with reporters. Ruth, of course, was beloved, a hulking, gregarious figure who lived a big life and hit big home runs. It's been 76 years since he played his last game, and he still looms large over the sport as the widely regarded greatest player of all time.
Ruth, in 1921, hit .378 with 59 home runs, 171 RBIs and 177 runs scored. He drew 145 walks, struck out 81 times, had a .512 on-base percentage and slugged .846. Williams hit .406 in 1941, refusing to sit on the final day of the season with a .400 average and went 6-for-8 in a doubleheader. He drew 147 walks and struck out just 37 times, leading the league with 37 home runs and 135 runs scored. His .553 on-base percentage is the third-highest single-season total of all time, behind two of Bonds' seasons. Of course, Williams is the last guy to hit .400. Amazingly, he didn't win the MVP Award that season, losing out to Joe DiMaggio, although Williams actually outhit DiMaggio during the latter's 56-game hitting streak.
Ruth or Williams?
Who gets your vote?
Follow David Schoenfield on Twitter @dschoenfield.
March, 8, 2012
3/08/12
1:02
PM ET
The voters have spoken: They like outfielders who put up monster numbers in the pre-expansion era.
It's not too surprising, of course, that Babe Ruth, Mickey Mantle, Ted Williams and Stan Musial are our semifinalists in the Greatest Season Ever bracket. Ruth, Williams and Mantle were three of the top four seeds. But as I wrote Wednesday, it was
arguably easier to put up big numbers in the old days
.
Let's take a closer look at the two semifinal matchups (
vote here!
).

Mantle

Ruth
Babe Ruth 1921 versus Mickey Mantle 1956
Ruth came over to the Yankees in 1920 and exploded with 54 home runs, a mind-numbing total at the time that shattered his record of 29 set the previous season. As often noted, Ruth hit more home runs in 1920 than every American League team. In 1921, he upped his mark to 59, still better than five AL teams.
Ruth set the all-time record with 119 extra-base hits, added 44 doubles and 16 triples. Remember, this wasn't the fat, big-bellied Ruth we remember. In 1921, he was still a slim, powerful athlete, as opposed to just a powerful slugger. It should be noted, however, that hitting 16 triples wasn't a rare feat back then: Ruth ranked fourth in the AL that year. Outfielders played much more shallow so it was easier to leg out three-baggers.
Ruth scored 177 runs, tied for second all-time (Billy Hamilton scored 198 in 1894, a crazy ridiculous season that would require a post of its own). The Yankees did score a lot of runs that year -- 948 -- but Bob Meusel was the only other hitter in the lineup in the top 10 in the AL in OPS.
Ruth did tower over the rest of the league -- the No. 2 AL guy in OPS was Harry Heilmann at 1.051, well behind Ruth's 1.359. The No. 2 guys in WAR were Tris Speaker and Ty Cobb at 6.6, well behind Ruth's 14.0. To some extent, Ruth's dominance has perhaps been exaggerated a bit. Yes, he was the first guy to put up these kinds of numbers. But in 1922, Rogers Hornsby hit .401 with 42 home runs. The same year Ken Williams of the St. Louis Browns hit 39 home runs and drove in 155 runs. In 1923, Cy Williams tied Ruth for the major league lead with 41 home runs. Soon thereafter, sluggers like Lou Gehrig and Jimmie Foxx were putting up comparable numbers.
Ruth played mostly left field in 1921, and Baseball-Reference.com estimates his defense as about average. (For his career, they do rate him a little above average overall.)
Ruth led the Yankees to their first pennant, but it ended in a disappointing World Series loss to the Giants in eight games (it was a best-of-nine that year). Ruth .313/.476/.500 with one home run and four RBIs, but was limited to six games as he battled an infected arm and a knee injury suffered in Game 5. He didn't play in Game 6 or 7 (both Yankees losses) and pinch-hit in the ninth inning of Game 8 with the Yankees down 1-0, but grounded out.
Mickey Mantle was 24 years in 1956, already a four-time All-Star and the reigning AL home run champion. But he took his game to a new level in 1956, hitting .353/.464/.705 with 52 home runs and 130 RBIs to win the Triple Crown. He led the AL with 132 runs and 376 total bases and was the unanimous MVP as the Yankees won the pennant by nine games.
Like Ruth, Mantle dominated his contemporaries. His 52 home runs were 20 more than Vic Wertz, the No. 2 guy, and Yogi Berra was the only other American Leaguer to reach 30. His 132 runs were 23 more than any other player and he was one of only two players (Al Kaline was the other) with 300 total bases.
Unlike with Ruth, we know Mantle's splits, and he was incredible with runners on base, hitting .444 with runners in scoring position and .392 with men on base. In so-called "late and close" situations he hit .373/.481/.791, with eight home runs in 67 at-bats.
He hit .325 with 10 home runs against second-place Cleveland.
Mantle was never in the class of Willie Mays on defense, but in 1956 he was still young and fast, his knees not yet completely ravaged. He rates as a slightly above-average center fielder and an excellent baserunner.
He capped the season with a World Series victory, hitting three home runs, including one in Don Larsen's 2-0 perfect game victory in Game 5.

Williams

Musial
Stan Musial 1948 versus Ted Williams 1941
Stan the Man did everything in 1948, leading the National League in average, OBP, slugging, runs, hits, RBIs, doubles, triples and total bases. He just missed the Triple Crown, hitting 39 home runs, one behind Ralph Kiner and Johnny Mize. His 1.159 OPS was nearly 200 points better than Mize's .959.
His 11.5 WAR was well ahead of Mize, the No. 2 guy at 6.9.
Musial scored 135 runs and drove in 131 despite having little help in the St. Louis lineup outside of Enos Slaughter -- the Cardinals scored 742 runs. Backup Ron Northey was second on the team with 13 home runs.
Musial hit .415 on the road with 23 of his 39 home runs.
He also stepped up against the Cardinals' main rivals. The Cardinals finished in second place behind Boston, but Musial hit .443 against the Braves and .391 with eight home runs against third-place Brooklyn.
Musial split his time among all three outfield positions, starting 61 games in center, 51 in right and 41 in left. He rates as a slightly above-average defender. Somehow, he wasn't the unanimous MVP, collecting 18 of 24 first-place votes.
Ted Williams was just 22 years old and in his third season in 1941. He'd hit .327 as a rookie and .344 in 1940. Nobody expected this kind of season, especially after he broke a bone in his right ankle in spring training, which limited him to pinch-hitting the first two weeks of the season.
Once he got going, Williams hit .436 in May, .372 in June, .429 in July, .402 in August and .397 in September.
Despite leading the AL in average, OBP, slugging and home runs and runs scored, Williams lost the MVP vote to Joe DiMaggio of the pennant-winning Yankees, 291 points to 254 points.
During DiMaggio's 56-game hitting streak, he hit .408/.463/.717 with 15 home runs and 55 RBIs. Over the same calendar stretch, Williams hit .412/.540/.684 with 50 RBIs.
Against the Yankees, Williams hit .471 although with just two home runs.
Williams slugged .735, a figure no AL hitter has matched since.
His 1.288 OPS is a figure topped only by Babe Ruth and Barry Bonds.
Hit .553 OBP is third-highest in MLB history, behind two Bonds seasons.
March, 7, 2012
3/07/12
12:33
PM ET
Here are the debut seasons of the 15 greatest position players in baseball history, according to Baseball-Reference.com's WAR (wins above replacement-level) statistic, listed in chronological order:
1897 (Honus Wagner)
1905 (Ty Cobb)
1906 (Eddie Collins)
1907 (Tris Speaker)
1914 (Babe Ruth)
1915 (Rogers Hornsby)
1923 (Lou Gehrig)
1926 (Mel Ott)
1939 (Ted Williams)
1941 (Stan Musial)
1951 (Willie Mays)
1951 (Mickey Mantle)
1954 (Hank Aaron)
1979 (Rickey Henderson)
1986 (Barry Bonds)
You see the issue here, right? Only two of the greatest 15 players debuted in the past 55 years. Yes, I cheated a little. If I'd listed the top 20 players,
Alex Rodriguez
slides on to the list; if I listed the top 30,
Albert Pujols
joins the list.
Chipper Jones
is the only other active player in the top 50. But the point is: WAR suggests the greatest of the greatest played 50 years ago or 75 years ago or more than 100 years ago.
As the paleontologist Stephen Jay Gould wrote in his essay "The Extinction of the .400 Hitter," there are common explanations for this: "The first, naive and moral, simply acknowledges with a sigh that there were giants in the earth in those days. Something in us needs to castigate the present in the light of an unrealistically rosy past." Gould also cites the simple explanation that pitching and fielding have improved.
There is another layer to the argument, something that sabermetricians from Bill James to Richard Cramer have argued, that the skill of the average player has increased through time, thus making it more difficult to exceed the norm like Ty Cobb or Babe Ruth or Rogers Hornsby did. Gould writes that "The disappearance of the .400 hitter is largely the result of a more general phenomenon -- a decrease in the variation of batting average as the game standardized its methods of play -- and not an intrinsically driven trend warranting a special explanation in itself."
Gould was writing about hitting .400, but the same idea can be carried over to WAR. Essentially, the reason the list of greatest players ever is backlogged with players from the early 20th century is the game hadn't fully developed yet. We saw more extreme results, as it was easier for the best players to excel in a sport that wasn't fully mature.
Here's an example. Hornsby's 1922 season, when he hit .401 with 42 home runs, was included in our
Greatest Season Ever bracket
. Hornsby
was
the best hitter in the National League that season. His WAR is calculated, in part, by comparing him to the other second basemen in the NL from that season. Besides Hornsby, there were nine other second basemen who accumulated at least 300 plate appearances:
Hornsby, Cardinals: 1.181 OPS (704 PAs)
Cotton Tierney, Pirates: .893 OPS (487 PAs)
Lew Fonseca, Reds: .882 OPS (318 PAs)
Frankie Frisch, Giants: .824 OPS (582 PAs)
Frank Parkinson, Phillies: .757 OPS (618 PAs)
Johnny Rawlings, Giants: .729 OPS (346 PAs)
Sam Bohne, Reds, .705 OPS (435 PAs)
Zeb Terry, Cubs, .677 OPS (571 PAs)
Ivy Olson, Dodgers, .653 OPS (595 PAs)
Larry Kopf, Braves, .630 OPS (530 PAs)
The overall National League OPS in 1922 was .753.
Now, compare that to National League second basemen in 2011. Running a similar query, we get a list of 17 players, ranging from
Rickie Weeks
(.818 OPS) to
Jonathan Herrera
(.612 OPS). And Herrera was an extreme case; the next-lowest OPS belonged to
Aaron Miles
at .660. The overall NL OPS in 2011 was .710, so only Herrera was more than 50 points below the league-average OPS figure. In 1922 there were three second basemen (nearly half the league; remember, there were only eight teams in the league back then) at least 75 points below the league-average OPS. I'm not going to suggest I completely understand how WAR is calculated, but I believe this suggests the replacement-level floor in 2011 was much higher than it was in 1922. Weeks isn't Hornsby, but even if he was, it would be more difficult for him to obtain the same level of WAR since the level of play is stronger in 2011.
That doesn't mean Hornsby wasn't a great player or didn't have a terrific season; I'm suggesting it was
easier
for him to excel against a weaker caliber of competition. It's like it would be if somebody invented a new version of chess or something: Initially, there would be a few people who excelled at the game, but over time others would catch on, adapt and learn the skills necessary to compete.
That's what happens in baseball. I would hope that most of you believe the quality of the game improves over time. Trust me: Babe Ruth didn't face many 6-foot-4 pitchers who threw 95 mph. (In fact, from 1920 through 1935, Baseball-Reference lists 35 pitchers at least 6-4, only 16 of whom pitched at least 100 innings in their
careers
. In 2011 alone, Baseball-Reference lists 218 pitchers at 6-4 or taller, 58 of whom threw at least 100 innings.)
At some point this becomes a philosophical argument, I suppose, because in the end you can only mathematically compare a player to his contemporaries. But while I believe there were giants back in 1922, I also believe there are giants in 2012.
* * * *
OK, the quarterfinals. Ken Griffey Jr. upset
Barry Bonds
in the second round, proving (not surprisingly) that there is no love for Bonds' 2001 season. I do wonder how he would have fared if I had chosen his magnificent 1993 season. The matchups:
1921 Babe Ruth versus 1967 Carl Yastrzemski: Our first of two Yankees-Red Sox battles. Can Yaz stop the Babe? I suspect not.
1911 Ty Cobb versus 1956 Mickey Mantle: Should be a close one. Mantle won the Triple Crown, but Cobb hit .420, stole 83 bases and scored 147 runs.
1997 Ken Griffey Jr. versus 1948 Stan Musial: I suspect many of you may know this, but Griffey and Musial were both born in Donora, Pa.
1927 Lou Gehrig versus 1941 Ted Williams: Williams hit .406, but Gehrig hit .373 with 47 home runs and 175 RBIs. Gehrig in an upset?
Follow David Schoenfield on Twitter @dschoenfield.
March, 6, 2012
3/06/12
12:52
PM ET
We've moved on to the second round of the
Greatest MLB Season Ever bracket
. All top-10 seeds advanced, but there were three upsets; interestingly, all involved shortstops.
Alex Rodriguez
lost to Ken Griffey Jr. in a Mariners death duel (got destroyed, actually, 87 percent to 13 percent); Hank Aaron defeated Robin Yount, 61 to 39 percent; and Jimmie Foxx creamed Cal Ripken, 71 to 29 percent. Maybe I'll have to write up a post on the value of positional scarcity.
[+] Enlarge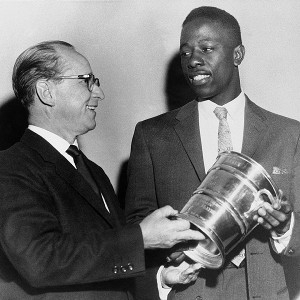 AP File PhotoThe Milwaukee Braves' Hank Aaron was named the NL's MVP in 1957.
I'm not surprised about Rodriguez; even though I chose one of his "pre-steroid" seasons, he's not exactly a fan favorite. Griffey has no PED stain on his reputation, a huge advantage in a popular vote like this. I was surprised Ripken lost so easily to Foxx, despite Foxx's awesome power numbers in 1932 (58 home runs, 169 RBIs). Ripken remains one of the most beloved players ever, and while his raw numbers in 1991 might not immediately impress (.323, 34 home runs, 114 RBIs), those were tremendous numbers for that season and especially tremendous for a shortstop in the pre-Rodriguez/Jeter/Garciaparra era.
But here's what stands out to me: Baseball fans still show great respect for the old guys. Foxx beat Ripken. Aaron over Yount. Stan Musial over George Brett. Joe DiMaggio edged out
Albert Pujols
in the closest first-round vote, 52 to 48 percent. Ty Cobb easily outvoted Rickey Henderson. In fact, in every matchup in which there was a sizable generation gap, the older guy won. Now, some of these weren't necessarily surprises -- it's not surprising that Mickey Mantle would beat Mike Piazza, for example -- but could you imagine this happening in other sports? No football fan thinks Bronko Nagurski was better than Walter Payton or Emmitt Smith. Sammy Baugh wouldn't outpoll Peyton Manning. George Mikan wouldn't beat out Shaquille O'Neal. Bob Cousy doesn't beat out Magic Johnson or even a more modern guy such as Dwyane Wade.
But in baseball, we cling to the past. Yes, the sport has been around longer, so the framework of the game hasn't changed dramatically like it has in football or basketball. I always wonder why people will argue that football and basketball athletes have improved, but not baseball players. Of course, baseball players in 2012 are bigger, stronger and more athletic than the players Babe Ruth faced in 1921. Pitchers throw harder. Outfielders cover more ground. Infielders have stronger arms. That's the way sports evolve.
* * * *
OK, a quick look at Round 2 in which the matchups get a lot tougher to decide:
Babe Ruth 1921 versus Joe DiMaggio 1941: The Babe remains the overwhelming favorite to win the tournament, but Yankees fans will be torn here. DiMaggio had the historic 56-game hitting streak and should get a boost from playing a brilliant center field.

Carl Yastrzemski 1967 versus Honus Wagner 1908: Two guys who utterly dominated their leagues. Fans respect the old guys, but Wagner's stats were compiled in the dead ball era and might not impress the voting public.

Ty Cobb 1911 versus Joe Morgan: I've made my case for Morgan. Not that Cobb was a slouch. Note that while Cobb hit .420 to Morgan's .327. Their OBPs were essentially identical (.467 to .466). And while 1911 was the dead ball era, consider this: The OPS in the 1911 AL was .696; the OPS in the 1975 NL was .696.

Rogers Hornsby 1922 versus Mickey Mantle 1956: The Mick won the Triple Crown, but Hornsby hit .401 with 42 home runs and 152 RBIs. I expect a close vote.

Barry Bonds 2001 versus Ken Griffey Jr. 1997: The most intriguing matchup of the second round. Bonds beat out Johnny Bench 65 to 35 percent, and while it was a decisive victory it's also clear that many voters held PED usage against Bonds. With a tougher second-round matchup, it will be interesting to see how he fares.

Stan Musial 1948 versus Willie Mays 1962: What makes this even more interesting is that Musial played a lot of center field in 1948. Not saying he played it as well as Mays, but it makes his season more impressive than at first glance.

Hank Aaron 1957 versus Lou Gehrig 1927: Two MVP winners, two beloved players. Both World Series champions as well. I'll say Gehrig pulls it out.

Jimmie Foxx 1932 versus Ted Williams 1941: No matter the era, 58 home runs and 169 RBIs are impressive. But so is .406. I'll predict Teddy Ballgame rolls on.
March, 5, 2012
3/05/12
6:55
PM ET
Hack Wilson set the all-time RBI mark playing for the
Chicago Cubs
, driving in 191 runs, including a remarkable 53 in August alone.
But was it an all-time great season?
If you're not familiar with Wilson, he was a
short, muscle-bound outfielder
, kind of built like a pumped-up version of Kirby Puckett with a big barrel chest and neck thicker than a redwood; listed at 5-foot-6, he was shorter even than Puckett.
Originally signed by John McGraw and the Giants, the Cubs eventually acquired him and Wilson had a stretch of five seasons from 1926 to 1930 where he was one of the best players in the National League, leading the circuit four times in home runs and twice in RBIs. He took a prodigious cut -- he also led the league all five years in strikeouts -- and also lived a prodigious nightlife, a lifestyle that ultimately undermined his career. For one season, the high-octane year of 1930, everything aligned perfectly for Wilson. (By the way, Bill Chastain, who covers the Rays for MLB.com, has a new book out on Wilson,
"Hack's 191: Hack Wilson and His Incredible 1930 Season."
He hit .356/.454/.723 with 56 home runs (an NL record that stood until
Mark McGwire
broke it in 1998). Besides the home runs and RBIs, he led the NL in slugging percentage and OPS while ranking second in on-base percentage and 10th in batting average. His OPS ranks tied for 24th best since 1901 (but only eight different players rank ahead of him) and he played a key position in center field.
So why did I give Wilson the 32nd and final seed in our
greatest season tournament
?
Many of you will know this, but Wilson's 1930 season is prima facie in understanding the context a player's numbers were compiled in. The National League hit .303 that year; so if you hit .300, you were a below-average hitter in terms of batting average. Wilson hit .356, but Bill Terry hit .401 and Babe Herman hit .393 and Chuck Klein hit .386. Wilson had a 1.177 OPS but eight others players were over 1.000. In fact, the basic runs created formula has Klein creating 193 runs, one more than Wilson.
Wilson still rates as the best offensive player in the league, but his advantage was diminished a bit by playing in Wrigley Field. The Cubs posted an .892 team OPS at home, .824 on the road. Wilson loved Wrigley that year, hitting .388 with 33 home runs there versus .324 with 23 home runs on the road. He had a remarkable 116 RBIs in 78 home games.
Wilson's value -- at least on Baseball-Reference -- is further knocked down by its defensive system, which ranks Wilson as a poor center fielder that year. He received 8.4 wins above replacement for his offense, but -1.0 for his defense. (He did commit 19 errors, a high total even for 1930.)
Now, about those RBIs. We don't have play-by-play data, so we can't evaluate how Wilson fared with runners in scoring position or with men on base, but suffice it say he had some quality tablesetters in front of him. Woody English spent most of the season batting second and he posted a .430 OBP. Kiki Cuyler was the No. 3 hitter and he posted a .428 OBP. Both were also in scoring position a lot -- English had 36 doubles and 17 triples while Cuyler had 50 doubles and 17 triples. The two combined for just 27 home runs, so they didn't do a lot of clearing the bases.
Here's what's amazing, however: Second baseman Footsie Blair was the Cubs' regular leadoff hitter (111 starts there) and his OBP was a lousy .306, which ranked 75th of 79 NL regulars. Imagine if the Cubs had even a mediocre leadoff hitter that year. Wilson would have easily driven in 200-plus runs from his cleanup spot.
So while the RBI record makes it an iconic season and a fun one to consider, I don't believe it deserves serious consideration for "best ever."
March, 5, 2012
3/05/12
4:45
PM ET
I seeded Carl Yastrzemski eighth in our 32-player
greatest season of all time bracket
, which puts him on a collision course to meet Babe Ruth in the quarterfinals.
There is a case to be made that Yaz's 1967 season was the best ever. Here are the bullet points in his favor:
Won the Triple Crown (he actually tied Harmon Killebrew for the home run title). But he also led the AL in on-base percentage, slugging percentage, runs scored, total bases and hits. In other words, everything that matters most.
He put up an impressive .326/.418/.622 line in a pretty good year for pitchers. It wasn't 1968 (when Yaz won the batting title with a .301 average), but the AL hit just .236/.303/.351 that year. Compare that to the 2011 NL overall line of .253/.319/.391.
Yaz's dominance can be seen in the leaderboards. For example, while his .622 slugging percentage would have been good enough to lead the AL in 2011, the No. 10 man in 1967 slugged just .447. In 2011, 36 AL batters slugged at least .447. Likewise, he scored 112 runs in a league where only one other player reached the century mark and the No. 10 guy scored just 79. He was also just one of two hitters to drive in 100.
Not only was he the best offensive player in the league, he was also one of the best defensive players. Baseball-Reference credits him with 2.7 WAR on defense, the second-best total in the AL behind Brooks Robinson. A master of the Green Monster and decoying runners, B-R ranks Yaz's season as one of the top 20 defensive seasons ever by a left fielder.
If you like clutch, few batters can match the mesmerizing clutch hitting of Yaz down the stretch. With the Impossible Dream Red Sox fighting for the pennant (they had finished in ninth place the year before), he hit .417/.504/.760 in September with nine home runs and 26 RBIs in 27 games. He was even bigger the final 13 games, hitting .500 with 18 RBIs. And then there were the final two games, both Boston victories to clinch the pennant by one game. In Game 161, against the Twins (who led the Sox by one game), Yaz went 3-for-4 with four RBIs, including a go-ahead RBI single in the fifth and a three-run homer in the seventh that gave Boston a 6-2 lead. In Game 162, with the teams tied, Yaz went 4-for-4, including a game-tying two-run single in the fifth. In the eighth, Bob Allison singled to make it 5-3 but Yaz killed the rally when he nailed Allison trying to stretch the hit into a double. Talk about carrying a team.
Yaz's 12.2 WAR ranks tied for 10th all time on the Baseball-Reference single-season list. Ahead of him are four Babe Ruth seasons from the 1920s, two Barry Bonds seasons, a Rogers Hornsby season from 1924 and two Mickey Mantle years. Other than the Bonds seasons that you may wish to put an asterisk next to, Yaz's '67 is the most modern in the top 10. It's harder for more modern players to outclass their contemporaries, but Yaz was 4.9 wins ahead of the No. 2 position player in the league, Al Kaline.
So that's the case: Dominance compared to peers, great numbers, clutch hitting.
Go here to vote in the entire bracket
.
Follow David Schoenfield on Twitter @dschoenfield.
March, 5, 2012
3/05/12
1:30
PM ET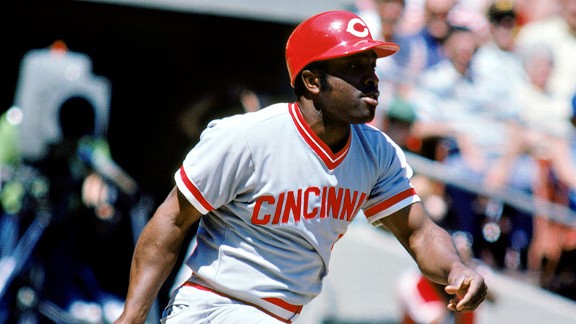 Rich Pilling/Getty ImagesIn the mid-1970s, Joe Morgan was the best all-around player in baseball -- by a large margin.
In 1975, Joe Morgan hit .327 with 17 home runs and 94 RBIs. Those traditional statistics may not seem impressive, but Morgan's season ranks as one of the best in the game's history.
As we begin voting Monday on the
greatest individual season of all time
, consider Morgan's value that season:
He drew 132 walks, giving him a league-leading .466 on-base percentage (the highest figure, by the way, in either league between Mickey Mantle in 1962 and Wade Boggs in 1988).

Because of his ability to get on base, he created a lot of runs --about 145, 17 more than the No. 2 hitter in the league, Greg Luzinski. But he created his runs in an efficient manner. He used up 354 outs; Luzinski, by comparison, used up 443 outs. So Morgan created more runs while using up 89 fewer outs.

He stole 67 bases in 77 attempts. Factor in his speed, and he was one of the best baserunners in the league.

He was an outstanding defensive second baseman, not only winning a Gold Glove but also ranking as the third-best overall defensive player in the National League in 1975, according to Baseball-Reference.com.

He did all this in an era when second basemen usually produced little at the plate. In 1975, National League second basemen hit a collective .267/.330/.353 (BA/OBP/SLG) -- with just 80 home runs. Morgan hit nearly one quarter of all home runs by National League second basemen. In 2011 terms, that would be akin to a second baseman hitting close to 50 home runs.

The Reds won 108 games, Morgan was the near-unanimous MVP winner, and he even drove in the winning run in the ninth inning of Game 7 of the World Series.
Add it up, and you end up with a player who was the best hitter in the league and one of the best defenders and baserunners in his league, and he did so while towering over other players at his position and playing on a championship team.
The wins above replacement statistic attempts to capture all this. In 1975, Morgan's Baseball-Reference WAR was 12.0, the best of his career and easily the best in the National League. During his 1972 to 1976 peak, Morgan rated as the best player in the NL four times, at least acording to Baseball-Reference.
In 1975, Morgan was a full five wins better than Mike Schmidt, an astonishing total. Only 12 times since 1901 has a player recorded a bWAR of at least 4.5 wins higher than the No. 2 position player in his league:
1921 AL: Babe Ruth (14.0) over Ty Cobb/Tris Speaker (6.6)
1924 AL: Babe Ruth (11.9) over Harry Heilmann (6.2)
1956 AL: Mickey Mantle (12.9) over Yogi Berra (7.3)
2002 NL: Barry Bonds (12.2) over Jim Edmonds (7.2)
1975 NL: Joe Morgan (12.0) over Mike Schmidt (7.0)
1924 NL: Rogers Hornsby (13.0) over Frankie Frisch (8.0)
1967 AL: Carl Yastrzemski (12.2) over Al Kaline (7.3)
1946 AL: Ted Williams (11.8) over Johnny Pesky (6.9)
1923 AL: Babe Ruth (14.7) over Harry Heilmann (9.8)
1926 AL: Babe Ruth (12.0) over Goose Goslin (7.2)
1922 NL: Rogers Hornsby (10.7) over Dave Bancroft (5.9)
1948 NL: Stan Musial (11.5) over Johnny Mize (6.9)
For what it's worth, only three of those 12 seasons ended in a World Series title -- Morgan, Mantle and Ruth in 1923.
So maybe Joe Morgan didn't hit 73 home runs or drive in 191 runs or bat .400. But his 1975 season ranks as sleeper candidate for greatest individual season of all time.
* * * *
It wasn't easy picking the 32 best seasons. I had two rules: Only one season per player, so we'd end up with a bracket of 32 different players; and I considered only seasons since 1901 (sorry, Ross Barnes fans).
It was important to get a diverse list of eras as well as positions. I did put a little more emphasis on more recent decades; basically, the quality of the game has improved over time, thus making it more difficult to post seasons with huge WAR totals like Ruth put up. Here is the breakdown by decade:
1900s -- 1
1910s -- 3
1920s -- 3
1930s -- 2
1940s -- 4
1950s -- 3
1960s -- 2
1970s -- 3
1980s -- 3
1990s -- 4
2000s -- 4
And by position:
C -- 2; Johnny Bench, Mike Piazza.
1B -- 3; Lou Gehrig, Jimmie Foxx, Rod Carew.
2B -- 4; Eddie Collins, Rogers Hornsby, Jackie Robinson, Joe Morgan.
3B -- 2; George Brett, Mike Schmidt.
SS -- 5; Honus Wagner, Ernie Banks, Robin Yount, Cal Ripken, Alex Rodriguez.
LF -- 6; Babe Ruth, Ted Williams, Carl Yastrzemski, Rickey Henderson, Barry Bonds, Albert Pujols. (Ruth played left field in 1921, and Pujols primarily played left in 2003.)
CF – 8; Ty Cobb, Tris Speaker, Hack Wilson, Joe DiMaggio, Stan Musial, Mickey Mantle, Willie Mays, Ken Griffey Jr. (Musial started at all three outfield positions in 1948 but played the most in center.)
RF -- 2; Hank Aaron, Sammy Sosa.
So there are our 32 players. I didn't necessarily pick each player's highest WAR season. In some cases, a player's iconic season -- like Ted Williams' .406 year or Hank Aaron's 1957 MVP campaign -- was selected. In some instances, maybe a player had other things in his favor that would help him to potentially fare better in the voting, like a big RBI total. Certainly, WAR is a good baseline to use because it helps us adjust for differences in eras, but it shouldn't be the only factor in determining the better season between two players. Was what Williams accomplished in 1941 more impressive than what Morgan accomplished in 1975? Is Yount being the best hitter in his league while playing shortstop more impressive than what Babe Ruth did in 1921 against an inferior brand of pitching? Maybe you prefer the all-around brilliance of Mays or DiMaggio over the pure hitting dominance of Rogers Hornsby or Lou Gehrig.
Which seasons just missed the cut? There were seven players who had a bWAR season of at least 10.0 who didn't make the bracket -- Lou Boudreau, Jason Giambi, Ron Santo, Adrian Beltre, Home Run Baker, Norm Cash and Matt Kemp. Sorry, guys. (Just noticed there are three third basemen there; too late now to change the final 32, unfortunately.)
So get to the bracket and start voting
. We'll do one round per day this week, culminating in the final matchup on Friday.
Let the debates begin.
Follow David Schoenfield on Twitter @dschoenfield.