September, 29, 2011
9/29/11
4:00
PM ET
A plea to Bud Selig, the players union, the TV networks and whoever greenlighted Ken Burns' second "Baseball'' documentary. Whatever you do, please, please, PLEASE do not screw up the playoff format by adding two more wild cards.
The theory behind this discussed change is that it supposedly would add needed drama to the regular season but not even screenwriter Aaron Sorkin could surpass the drama of the past week.
The
Tampa Bay Rays
, a team that covers its payroll by passing a hat between innings and stationing its general manager on highway exit ramps with a sign reading "Anything will help," overcame a nine-game deficit in September to beat out a Red Sox team with a payroll $119 million higher. They turned a triple play against the Yankees and rallied to win Tuesday night. In Wednesday night's regular-season finale, they overcame a 7-0 deficit
in the eighth inning
and hit a two-out, game-tying home run in the ninth and then won on a walk-off homer in the 12th to take the American League wild-card spot and ensure a dozen more books about Boston's suffering.
[+] Enlarge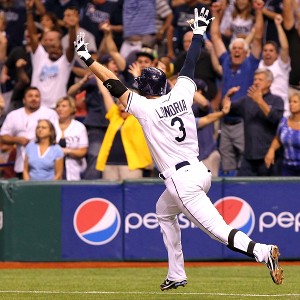 Kim Klement/US PresswireEvan Longoria's home run sent Tampa Bay to the playoffs.
And you thought the coke machine bit in "Moneyball'' was unbelievable.
The thing is, all that was happening in Tampa Bay at the same time the Red Sox were blowing a 3-2 lead with two out in the ninth in Baltimore. When
Evan Longoria
waited in the on-deck circle before his home run, the Rays were in danger of their season ending before the night did. Within three minutes, Longoria had homered and the Rays were spraying champagne.
I would call it baseball's greatest comeback that did not include Roy Hobbs leaving a hospital maternity ward except it wasn't even the greatest comeback of the season. That distinction goes to the
St. Louis Cardinals
, who rallied back from a 10.5-game deficit in late August to catch Atlanta for the wild-card lead Tuesday, then earned the postseason spot when
Chris Carpenter
shut out Houston while Atlanta blew a lead in the ninth and lost to the Phillies in 13 innings.
Does anyone have any cuticles left?
I don't know whether this was the greatest single most thrilling night in baseball history but it's certainly in the starting lineup. And it was made more dramatic by the wonder of modern media, which allowed fans to switch between games on TV and receive updates on other games via Twitter, emails, Facebook, Gamecasts and for all I know, ham radio. I don't know about you, but I may spend the postseason on the DL with carpal tunnel from all the truly "digital" media that kept my fingers busy.
And baseball wants to mess with this? Great. Maybe it can swing a partnership with New Coke, too.
Part of the reasoning for a second wild card is it would give meaning to more September games. This would be known as the Yankees-Red Sox Rule, because no one seems to care about any other team's situation. Except, this month showed that Boston and Atlanta, seemingly safe with their big leads, had plenty to play for the final four weeks. And Tampa Bay proved that it is as much of an AL East power as Boston, what with three postseason appearances in the past four years.
Baseball already has enough postseason teams. The sport's beauty -- what sets it apart from the others -- is the 162-game season that gradually builds tension and suspense day by day over the course of six months. Adding more teams to the postseason damages that. In a foolish attempt to add more meaning to late regular-season games, baseball would make the regular season less meaningful.
Sure, there would be frantic, late-season battles for a second wild-card spot, but the more teams you let in, the less we'll care about any race. And that's not even addressing the potential logistical nightmares of adding another round of playoffs (if there was a tie for the second wild-card spot, the World Series would get beat in the ratings by "A Charlie Brown Christmas'' ).
No matter how many teams baseball adds, it can't top career minor leaguer
Dan Johnson
homering down the right-field line with two outs in the ninth or Longoria homering down the left-field line in the 12th. Keep the postseason the way it is. The past few weeks are ample evidence that eight is definitely enough.
Although fans in Boston and Atlanta may disagree. If they've stopped cursing, that is.
Jim Caple is a senior writer for ESPN.com. You can follow him on Twitter @jimcaple.
May, 25, 2011
5/25/11
5:01
PM ET
Fred Wilpon furthered his candidacy for worst owner in baseball this week when he ripped everyone but Mr. Met in The New Yorker, then told Sports Illustrated that the Mets are "bleeding money." He thus violated two cardinal rules of ownership. One, he criticized his own players while maintaining exorbitant ticket prices to see them play. Two, he complained about his situation. Like anyone cares about a billionaire's financial problems.
But is all that -- and the lack of a Mets world championship since 1986 -- enough to snag the worst baseball owner title? Read Off-Base's completely objective and scientifically based ranking of baseball's owners:
1. John Henry, Red Sox:
In case you hadn't heard, the Red Sox hadn't won the World Series for at least a couple years before Henry took over. Now with two recent world championships and a spiffed-up Fenway Park always overflowing with "Sweet Caroline"-singing fans, Red Sox Nation is so rich and powerful that NATO should declare a no-fly zone over Boston.
2. Nolan Ryan, Rangers:
Sure, this is way premature. Nolan's group hasn't owned the team for even a year yet. But when you're rating owners, premature is a good thing because, given enough time, all owners eventually do something to alienate fans (some quicker than others -- see Tom Ricketts). Although Nolan is just one of 17 investors, he's the CEO who calls the shots, and he played a major role in the Rangers' reaching the World Series.
And if a pitcher with a 5-9 record and 4.82 ERA asks for $6 million in arbitration, Nolan can tell him, "Son, back in my day, if I had an ERA over 4.00, struck out fewer than 300 batters and didn't throw at least one no-hitter, shoot, I would be too embarrassed to go out in public, let alone howl about needing a raise. I would just go home to Alvin, Texas, and build up my arm strength by installing more air-conditioning units in the winter. Now, why don't you just take our $600,000 offer, cover up those tattoos and go work on your cutter."
Click here to read the rest of Jim Caple's owner rankings.
May, 12, 2011
5/12/11
9:52
PM ET
There was a lot of grousing about the uniforms. ... I guess because we're the Pilots we have to have captain's uniforms. They have stripes on the sleeve, scrambled eggs on the (bill) of the cap and blue socks with yellow stripes. Also there are blue and yellow stripes down the sides of the pants. We look like g------ clowns. The only worse uniforms are the ones they wear in (AAA) Vancouver.
-- Jim Bouton describing the 1969 Seattle Pilots caps and uniforms in "Ball Four"
On Wednesday, SweetSpot's Cap Week brought you
10 very questionable baseball caps
. Today I give you the cap that tops them all.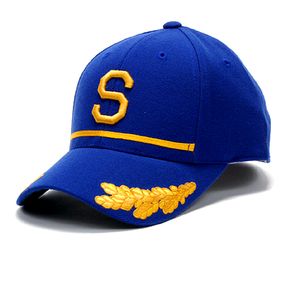 I don't know who within the Seattle Pilots organization came up with the idea of putting the scrambled egg design on the bill of the cap to mimic an airline pilot but I'm sure it sounded like a good idea while they all were throwing back scotch and sodas in the meeting room.
"Hey, we're Pilots, right? Let's have them wear airline pilot's hats! Wouldn't that look terrific?"
Unfortunately, when the caps actually arrived, no one had sobered up enough to say, "No, on second thought this cap does not look terrific. This looks like s---."
(Even worse, no one suggested, "Hey, as long as we're dressing up the players like pilots, let's dress up the ball girls like
sexy stews!
")
The scrambled egg design was one of those clever but misguided ideas akin to the old Angels caps that had a white "halo" on the crown. The halo didn't work because it didn't look like a halo at all. And the scrambled egg design didn't, either. As they say in "Spinal Tap," there is such a fine line between being clever and stupid. The caps didn't make players look like airline pilots or navy admirals or, for that matter, major leaguers. It just made them look ridiculous.
Seattle fans endured these embarrassing caps for one summer before Bud Selig hi-jacked the Pilots and moved them to Milwaukee. Seattle got another team in 1977 but cap design had not improved much by then. The
original Mariners cap logo
was an M formed by an upside-down trident. Supposedly, the upside-down trident was a symbol of bad luck and the Mariners never came close to a winning season while wearing it.
(The old Mariners had a lot of awful ideas, such as hiring Maury Wills as manager or
using a tugboat
to bring relievers in from the bullpen. The boat was so ludicrous that relievers refused to ride in it. Instead, the tugboat slowly followed the pitcher, like a U-boat stalking a troop ship.)
Neither of the Seattle cap designs, however, was the most embarrassing in baseball history. No, that honor belongs to the very nice, very well-meaning mother who offered to put pinto emblems on the caps of my 1972 Columbia Ford Little League team. When she mentioned it, our whole team got very excited because we anticipated a dramatic silhouette of a horse rearing up and ready to charge. Instead, we got these caps, with a silhouette of a '72 Ford Pinto: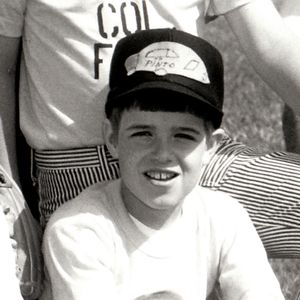 By the way, nice pants on the kid behind me in the photo. He actually played in those. And, yes, combined with the pinto logo on the cap and the yellow T-shirts, this was even a worse uniform look than Boog Powell in the
polyester red Cleveland disaster
.
ESPN.com senior writer Jim Caple writes the Off Base column for Page 2.